Yellowtail Teriyaki, or Buri no Teriyaki, is a classic fish dish in Japan. Simple and elegant with the perfect glaze of teriyaki sauce.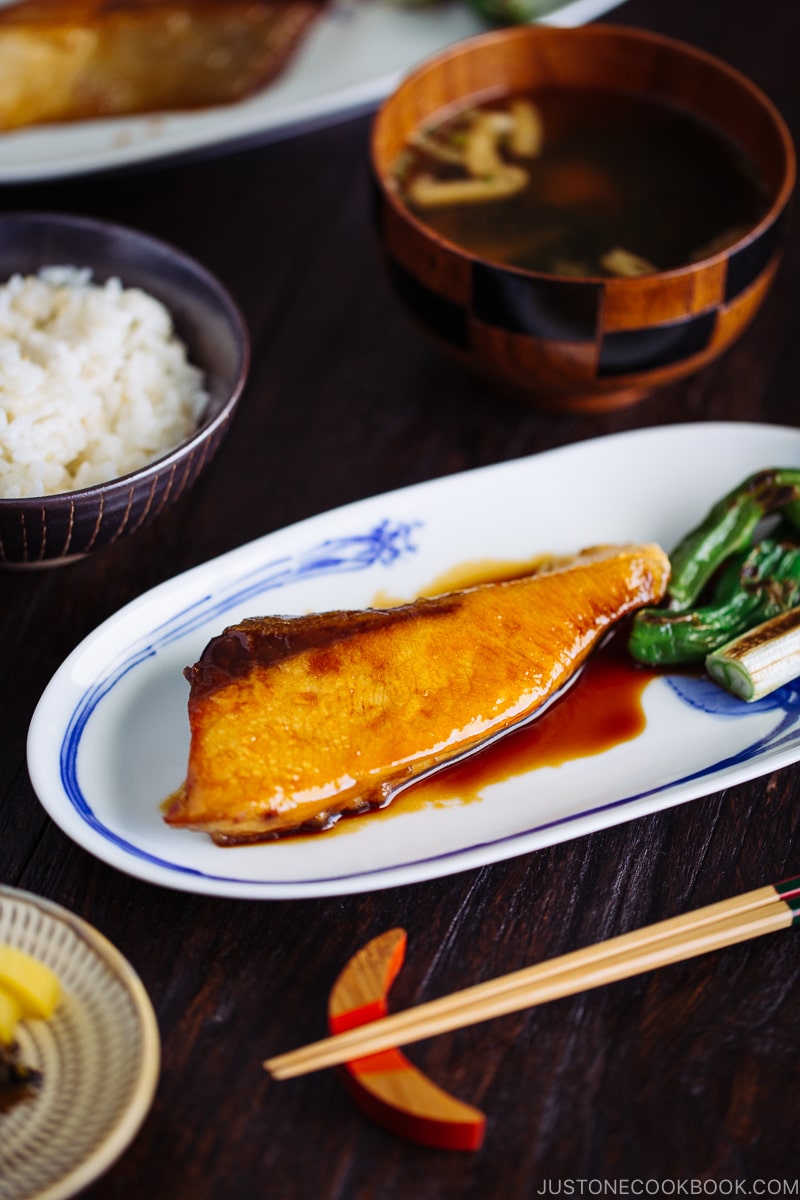 When you go to your favorite Japanese restaurants, have you seen Yellowtail Teriyaki on the menu? Probably not since Salmon Teriyaki and Yellowtail Collar (Hamachi Kama) are generally more popular menu items than yellowtail teriyaki. You may be surprised that's not the case in Japan. Yellowtail Teriyaki, or what we call Buri no Teriyaki (ぶりの照り焼き) in Japanese, is a staple dish in Japan households.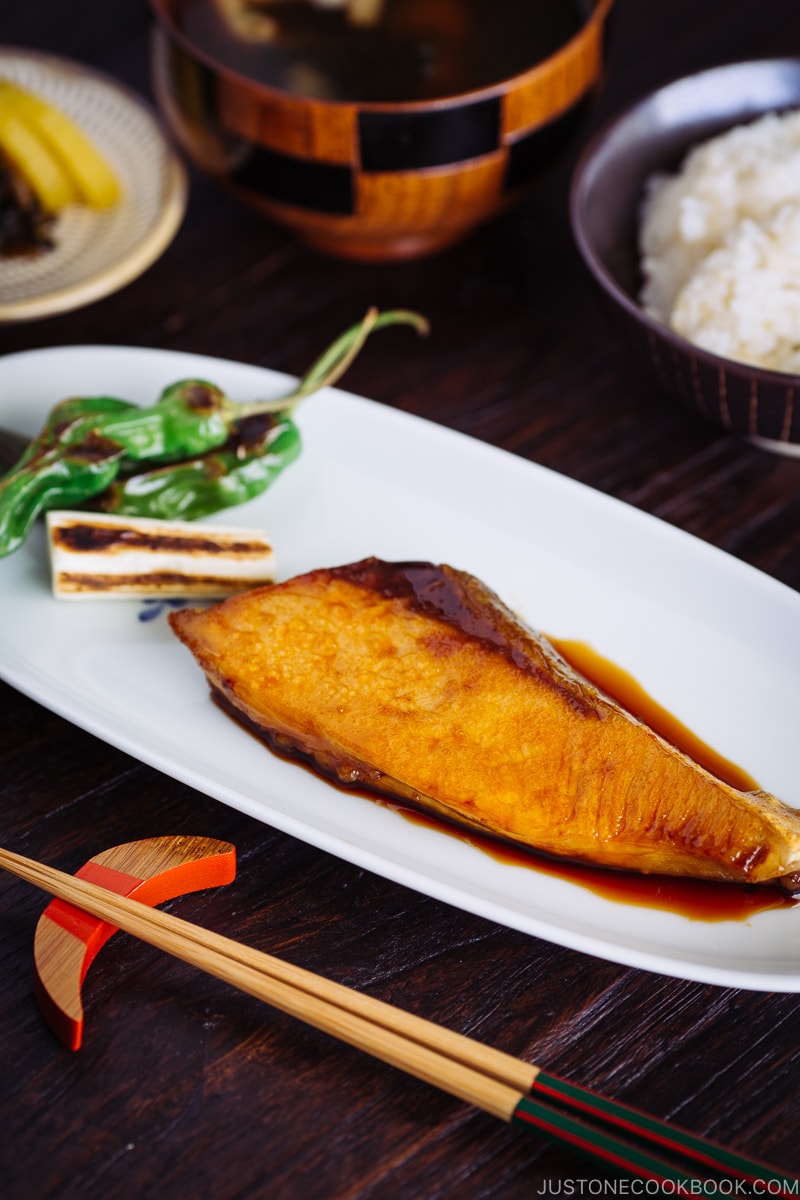 Yellowtail – A Fish with Many Names
Japanese love seafood, so we can get very detailed with our naming. A good example is Yellowtail – a fish that changes names as it grows. Traditionally, there were different names for wild yellowtail, according to size and age, and to make things more complicated, there were also different names between Tokyo and Osaka:
Age (Length) – Tokyo / Osaka name
6 months (10 cm) – Wakashi / Tsubasu
1 year (30 cm) – Inada /

Hamachi

3 years (60 cm) – Warasa / Mejiro
4 years (90 cm) –

Buri

/

Buri
If you think that's hard to remember, it's become even more confusing. Japanese differentiate yellowtail now by:
Farm / Small – Hamachi (not as much exercise for the fish, hence fatty with soft muscles and lighter colored flesh)

Wild / Large – Buri
And of course exceptions…
Wild / Small – Hamachi (Firmer flesh and darker color)
But let's keep this simple so you can remember when you're eating out or shopping. In general, the yellowtail "Hamachi" used for sushi and sashimi in the US and Japan is farmed. The larger, older, wild yellowtail "Buri" are caught in the fall in the Japan Sea. This seasonal Buri is called Kanburi (寒鰤) and it is nice and oily, and has so much flavor. It's enjoyed during fall/winter time in Japan, so Buri no Teriyaki is common during this time.
One more note: the English term for Hamachi is "yellowtail", and Kanpachi is "amberjack". However, because yellowtail can also be called "Japanese amberjack", a lot of people think they are the same fish.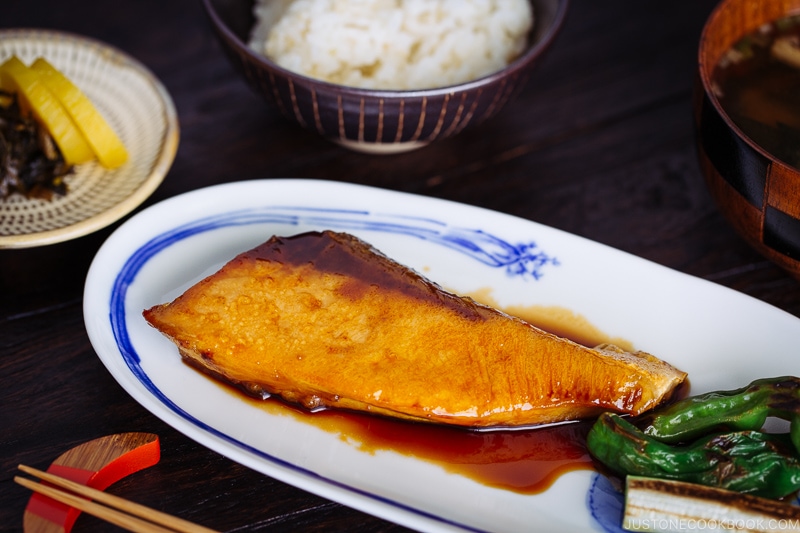 Why it's Important to Salt the Fish
Don't avoid sprinkling salt just because the Teriyaki Sauce is "salty" enough. The salt plays an important role in prepping, and here's why.
1. Adds umami
The protein itself has no taste. Sprinkling on salt will cause the proteolytic enzyme to kick in and the protein will change to glutamic acid or a delicious amino acid – the umami flavor!
2. Removes fishy smell
After leaving the salted fish for 10 minutes, the fish releases excess moisture, which also contains the unwanted fishy smell. Simply wipe off the excess moisture with a paper towel and the final dish will not have that fishy smell.
If you are using defrosted fish, it's not as fresh hence the fish might have a stronger fishy smell. In that case, leave the salt on for a little longer, about 15-20 minutes.
3. Removes excess moisture
As some moisture is withdrawn, the flesh is firmer and more elastic, and it's less likely the flesh is broken into pieces.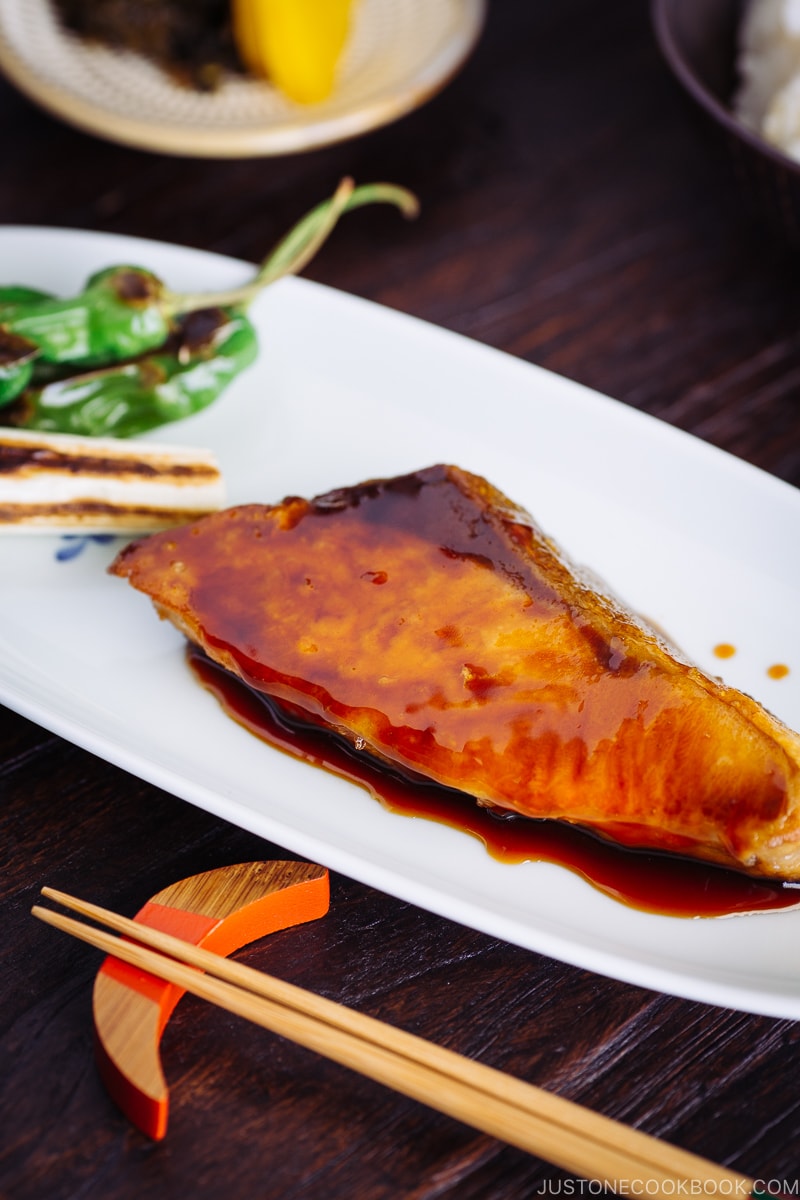 The Benefits of Coating Fish with Flour for Yellowtail Teriyaki
I occasionally receive questions on coating fish and meat with flour, so here are some reasons why it is important:
1. Maintains the shape
When seared on the frying pan, the fish coated with flour holds together stronger, which protects it from breaking apart.
2. Gives crispy texture
When coated with flour, the surface develops a nice crispy texture when cooked. It makes it so delicious!
3. Adds toasty flavor and aroma
The burnt/charred flour adds an extra toasty flavor.
4. Locks in the fat, juice, and umami
The flour acts as a protective barrier and sponge, preventing the umami from leaving the fish.
5. Thickens the sauce
As you cook the coated fish in the sauce, the flour slowly dissolves and creates a beautiful, thicker sauce.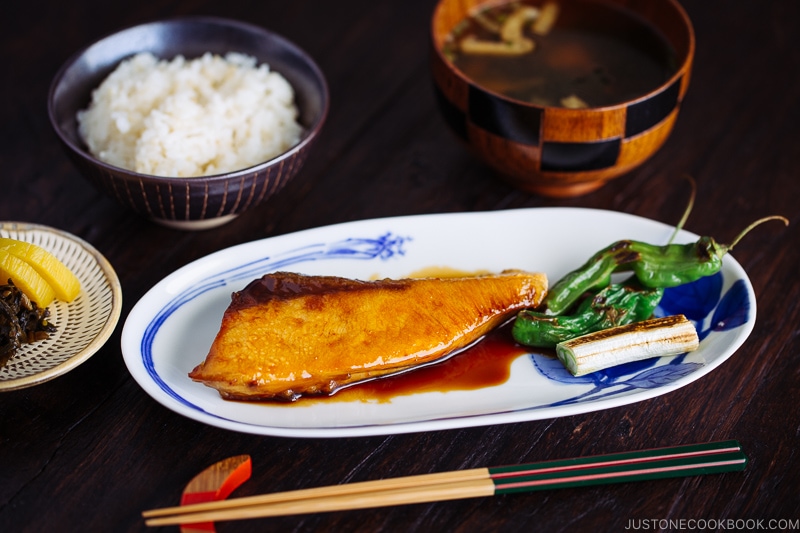 Simple enough to make on a weeknight yet elegant enough for company, Yellowtail Teriyaki pairs well with pan-grilled vegetables like Negi (long green onion) and shishito peppers. Serve along with steamed rice and miso soup, and you'd have a delicious meal at the dinner.
Wish to learn more about Japanese cooking? Sign up for our free newsletter to receive cooking tips & recipe updates! And stay in touch with me on Facebook, Pinterest, YouTube, and Instagram.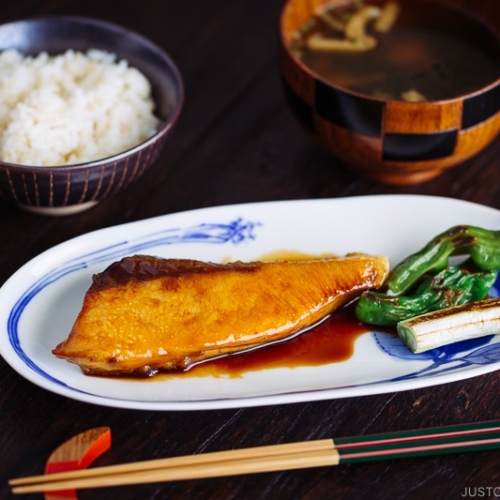 Yellowtail Teriyaki
Yellowtail Teriyaki, or Buri no Teriyaki, is a classic fish dish in Japan. Simple and elegant with the perfect glaze of teriyaki sauce.
Video
Ingredients
2

fillets

yellowtail (hamachi, buri)

(7.8 oz, 220 g)

1

tsp

kosher salt (Diamond Crystal; use half for table salt)

1

Tbsp

all-purpose flour (plain flour)

1

Tbsp

neutral-flavored oil (vegetable, rice bran, canola, etc.)
Japanese Ingredient Substitution:
If you want substitutes for Japanese condiments and ingredients, click
here
.
Instructions
Gather all the ingredients.
To Prepare Garnish (optional)
Cut the white part of Negi into 2-inch (5 cm) pieces. Make small slits (holes) on shishito peppers (poke the skin with a knife tip).

Heat a large frying pan and grill the Negi and shishito peppers (without applying any oil). When they achieve nice char, transfer to a plate and set aside.
To Make Yellowtail Teriyaki
Combine the seasonings in a bowl and whisk all together.

Sprinkle kosher salt on both sides of the fish and let it sit for 10 minutes. Then pat dry with a paper towel.

Coat all sides of the fish with all-purpose flour and remove excess flour.

Heat the oil in the frying pan over medium heat. Once the pan is hot, sear the fish skin for 15 seconds or so by pressing down on the pan. Then place the 'front' side of the fish down and cook till nicely seared, about 2-3 minutes. Tip: This front side that will be facing up when serving.

Flip the fish over and cover with the lid. Lower the heat a little bit and cook for additional 1-2 minutes.

Remove the lid and wipe off the excess oil in the frying pan. Pour the Teriyaki Sauce into the pan.

Spoon the sauce over the fish while the sauce is thickening. Do not flip over the fish as it can break down. Tilt the pan if necessary to scoop the sauce with a spoon. Once the sauce gets syrupy, turn off the heat.

Transfer the fish to a serving plate and drizzle the sauce over the fish. Serve the fish with grilled Negi and shishito peppers.
To Store
You can keep the leftovers in an airtight container and store in the refrigerator for 1 day and in the freezer for a week.
Nutrition
Calories:
231
kcal
·
Carbohydrates:
10
g
·
Protein:
24
g
·
Fat:
6
g
·
Saturated Fat:
4
g
·
Polyunsaturated Fat:
1
g
·
Monounsaturated Fat:
1
g
·
Cholesterol:
41
mg
·
Sodium:
744
mg
·
Potassium:
493
mg
·
Fiber:
1
g
·
Sugar:
8
g
·
Vitamin A:
197
IU
·
Vitamin C:
7
mg
·
Calcium:
41
mg
·
Iron:
1
mg
©JustOneCookbook.com Content and photographs are copyright protected. Sharing of this recipe is both encouraged and appreciated. Copying and/or pasting full recipes to any website or social media is strictly prohibited. Please view my photo use policy
here
.