Mame gohan, or Japanese green pea rice, is a classic rice dish that is often served during the springtime when the peas are in season.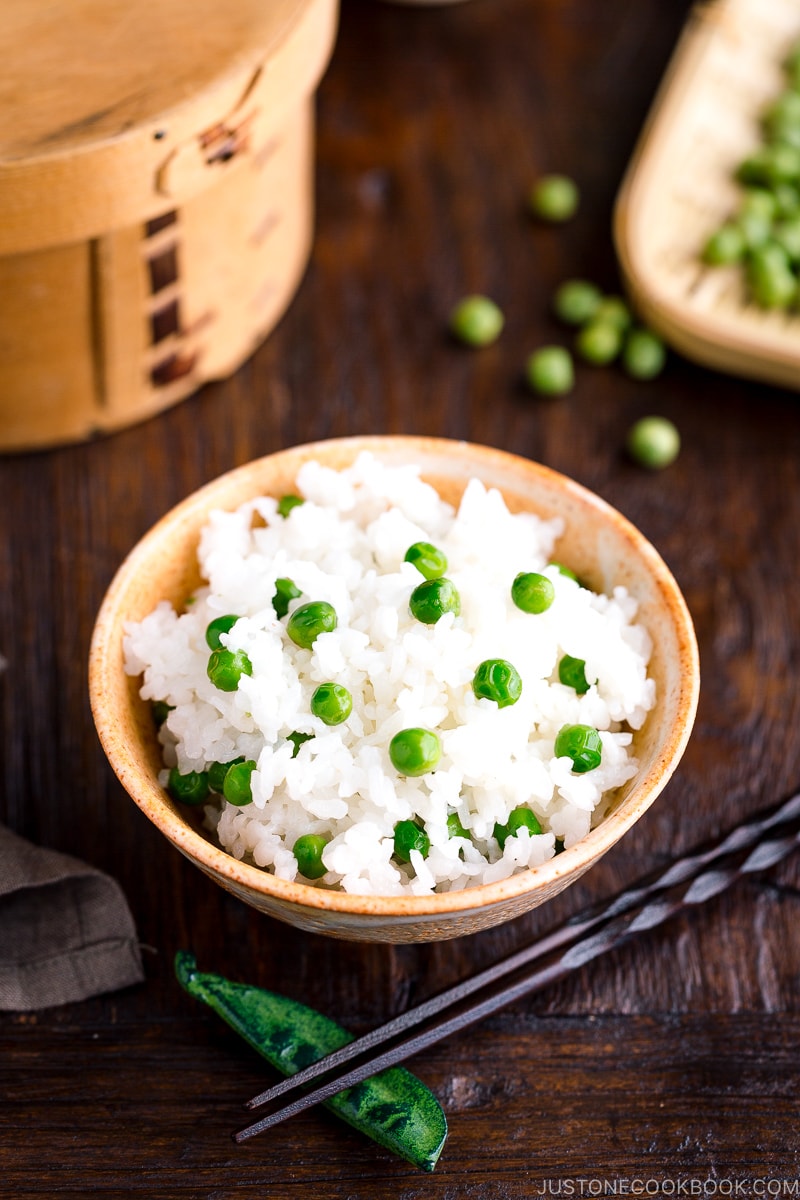 Mame Gohan (豆ご飯) is a humble dish. As you see, it's just simple steamed rice with green peas. I remember I didn't like eating peas that do not come in a pod. I love snap peas and sugar peas as I can eat the crispy and crunchy pod together with the peas inside. The reason is if the peas are not fresh or cooked properly, they are mushy and wrinkly and taste bland.
As I grew older, I appreciate subtle flavors in ingredients more. Since it's spring and peas are in season, I want to introduce you to Mame Gohan – a signature dish during spring in Japan. And don't worry, it's very tasty!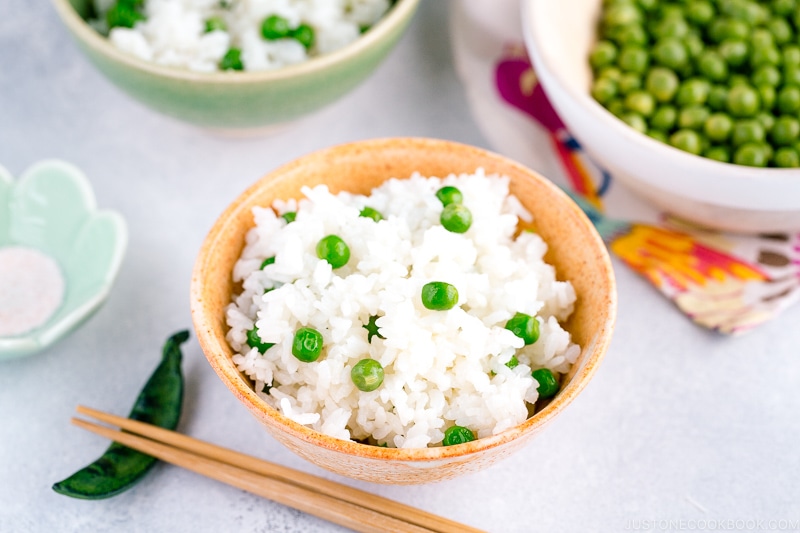 What is Mame Gohan
Many of you probably have never heard of Mame Gohan as Japanese restaurants outside of Japan (or even in Japan) don't serve this dish, but it is a classic home-cooked dish that most Japanese grow up eating during the springtime when peas are in season.
Mame (豆) means any type of bean or legume in Japanese, like edamame, and gohan means rice. However, when we say Mame Gohan, it usually refers to rice with green peas.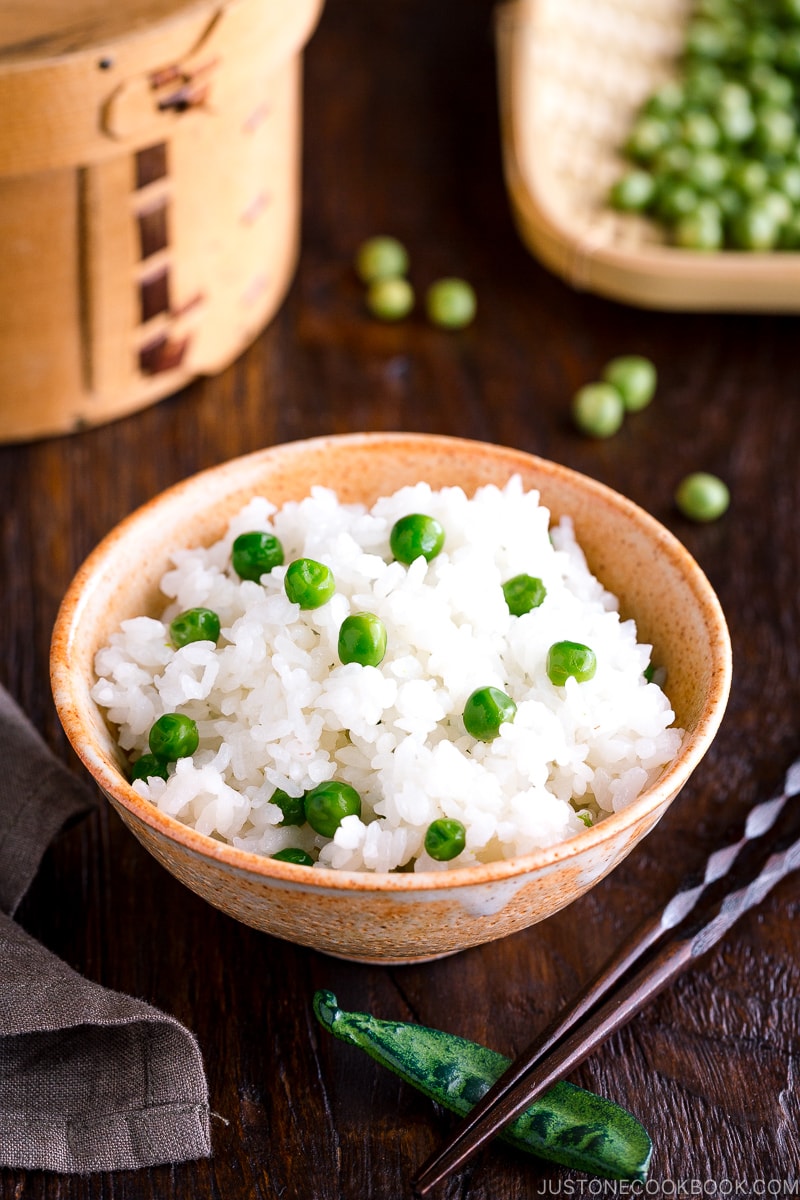 2 Ways to Make Mame Gohan
You can make Mame Gohan two ways. There is no "wrong" way to make it and everyone has their own preference.
Method 1 – Cook rice and peas together:
All you need is one pot or rice cooker for this method, so this is the convenient option. Plus, the rice will absorb nice flavors and aromatics from the fresh peas while cooking. However, the drawback is that green peas will slightly discolor after being cooked.
Method 2 – Cook rice and peas separately:
For the second method, peas and rice are cooked separately and mixed together afterwards. The best part about this method is that green peas can maintain their beautiful bright green color and crispness (the peas will not be overcooked).
What's my method? I cook rice and peas separately, but with a minor adjustment. Since Method 2 lacks flavors and aromatics from the green peas, my trick is to cook the rice with green peas' cooking liquid. The rice will absorb all the nice flavors from the green peas this way. You can enjoy crisp green peas and beautiful green color in the flavorful steamed rice.
Seasonings for Mame Gohan
How can green pea rice tastes so good? The key is to make it with fresh peas that are in season and cook it with kombu, salt, and sake.
Umami from kombu plays a big role in this dish, so I recommend not skipping it. Salt enhances and brings all the great flavors from the peas and binds together with rice. And sake adds subtle sweetness and umami from the fermented rice in sake.
All three things tie all the great flavors in this simple, humble dish.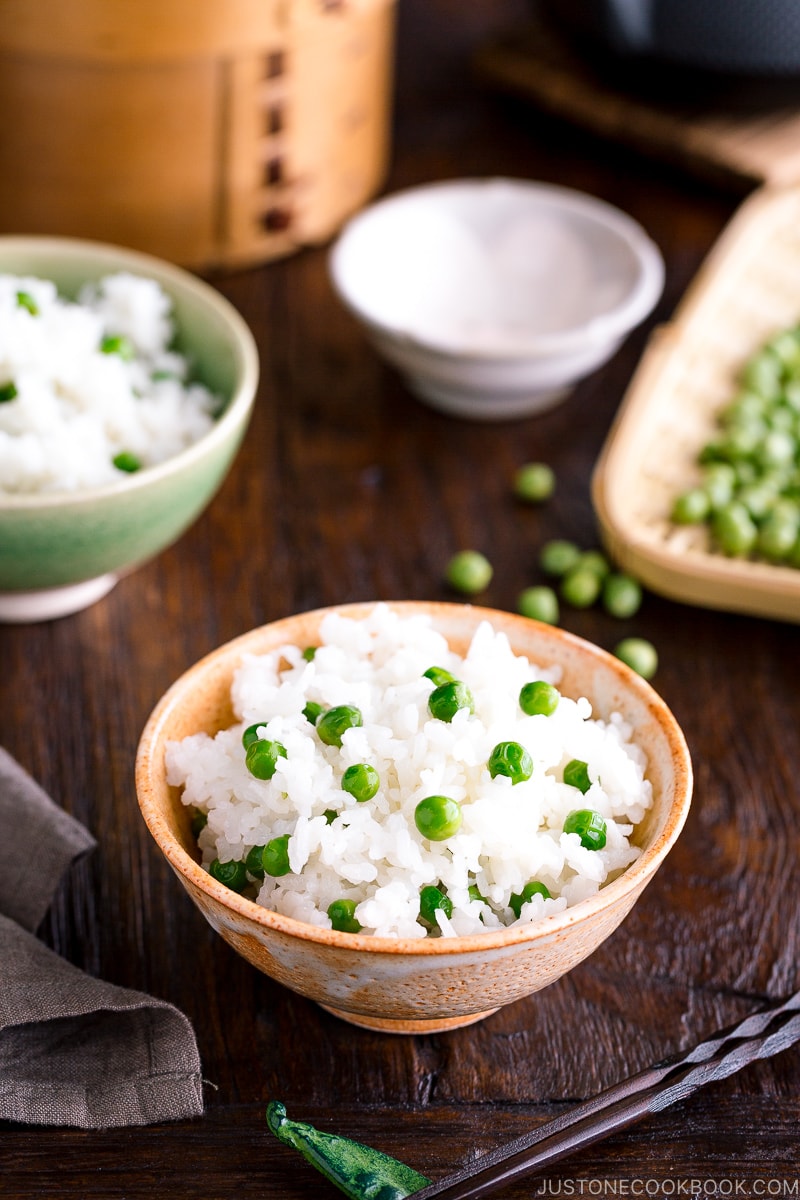 What Dishes Goes with Mame Gohan
I'd also like to suggest a few dishes to go with Mame Gohan. Since it's rice, it goes well with any Japanese dishes… but here are my suggestions. Hope you enjoy a bit of spring at meal time!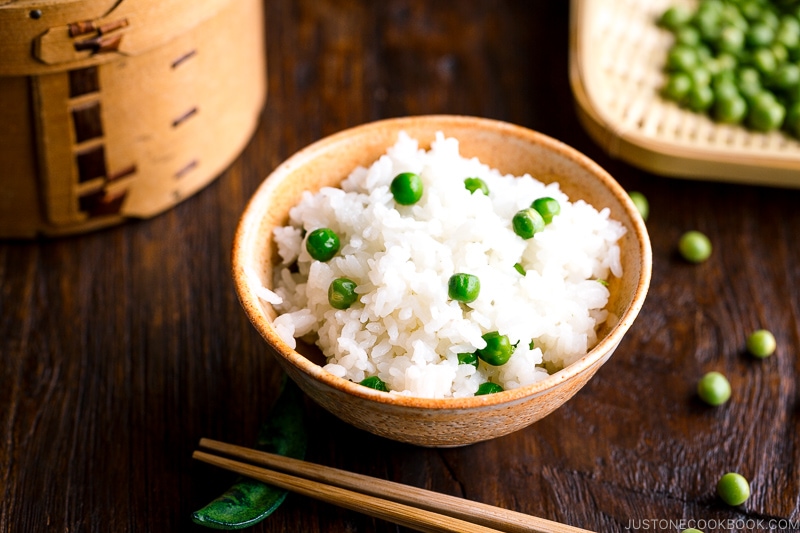 Sign up for the free Just One Cookbook newsletter delivered to your inbox! And stay in touch with me on Facebook, Pinterest, YouTube, and Instagram for all the latest updates.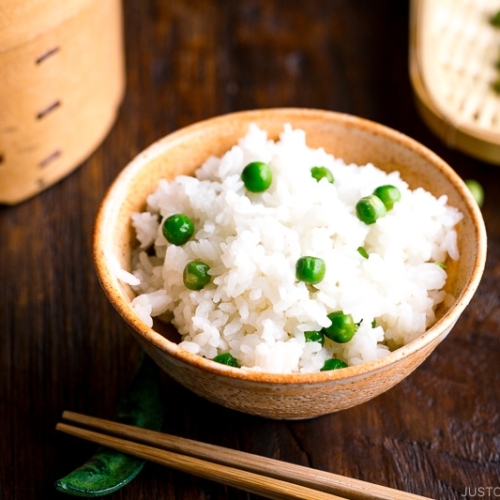 Mame Gohan (Green Pea Rice)
Mame gohan, or Japanese green pea rice, is a classic rice dish that is often served during the springtime when the peas are in season.
Japanese Ingredient Substitution:
If you want substitutes for Japanese condiments and ingredients, click
here
.
Instructions
Gather all the ingredients. Quickly rinse the green peas. Rinse the rice and drain well (click here to see the proper way to rinse rice).

In a medium saucepan, bring 2 cups (480 ml) water to boil and add ½ tsp kosher salt.

Add green peas and cook for 4 minutes, or until the peas are firm but tender (eat one and you'll see). Remove from the heat and let the peas cool in the cooking liquid. This will prevent from getting wrinkles.

Once the peas are cooled down, reserve 1 cup (240 ml) of cooking liquid.

In a rice cooker bowl, put rice that has been drained well. Then add 1 cup of the reserved liquid. Add water to the rice cooker's 2 cup line. Add ½ Tbsp sake and ½ tsp kosher salt and mix well. Place the kombu on top and start cooking the rice. For my family's preference, I usually add extra water, so in the image, you see the water is at 2 ½ cup line.

Once the rice is done cooking, discard the kombu.

Now we're ready to add peas. The peas will change color with the remaining heat. Therefore, I recommend NOT to keep the rice in the rice cooker for a longer time (no more than 2 hours). You have two choices: 1) you could add green peas to the portion you need, or 2) transfer the rice to an airtight container and store it, and serve it as you need.
To Store
Transfer the rice in airtight containers and close the lid to keep the moisture in. Let cool completely before storing the containers in the freezer (read my tutorial post).
Nutrition
Nutrition Facts
Mame Gohan (Green Pea Rice)
Amount per Serving
% Daily Value*
* Percent Daily Values are based on a 2000 calorie diet.
©JustOneCookbook.com Content and photographs are copyright protected. Sharing of this recipe is both encouraged and appreciated. Copying and/or pasting full recipes to any website or social media is strictly prohibited. Please view my photo use policy
here
.
Editor's Note: The post was originally published on April 19, 2017. It's been republished in March 2021.