Negi is the Japanese name for Welsh onion. It's longer and thicker and is used raw and cooked in Japanese cuisine.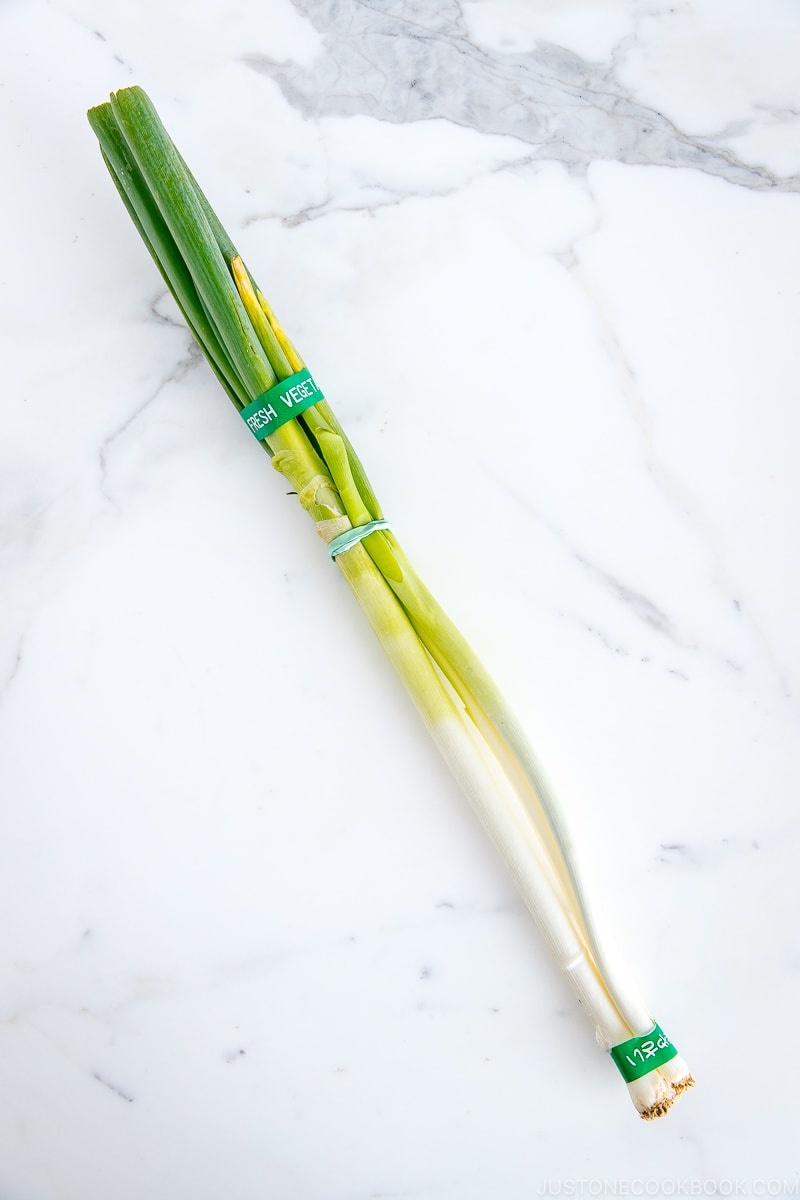 Negi (ネギ), Naga Negi ("long onion" 長ネギ), Shiro Negi ("white onion" 白ネギ), or Tokyo Negi (東京ネギ), refers to an allium with a thick and long white stem and hollow green tops. It can withstand long cooking and is great in stews, braises, and soups.
What Is Negi
Negi is the Japanese name for Allium fistulosum (Welsh onion). It can withstand prolonged cooking and thus is a popular addition to hot pots, miso soup, stews, and nimono.
The white stalks and green leaves are used in cooking and garnish. The white portion is used in braised and simmered dishes and nabemono (hot pot dishes). The green part is used as aromatics, like how we use scallions/green onions. It can also remove the odor of meats and fish while cooking.
What Does It Taste Like
The white part has a spicy and strong onion taste but becomes sweeter with a mild flavor when cooked.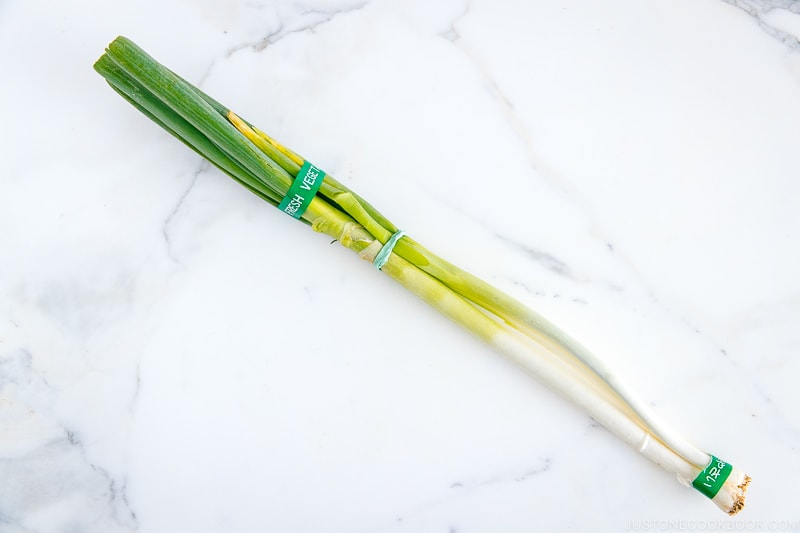 How To Use
Use the green vegetable in stir-fries, soups, and braises or as a garnish for noodles and rice bowls. Keep the green tops for soup stock, as a liner when steaming foods, or to remove the odor when cooking fish or meats.
The Japanese use the white section as a garnish called Shiraga Negi (白髪ネギ "white hair negi"). Not only does it add color to the dish (especially brown-colored foods), but it also serves as a spicy and refreshing palate cleanser.
You can also use it in non-Japanese cuisine as a substitute for leeks or onions. Cook with butter or olive oil and pair with cheese or béchamel. Use as a topping for pizzas and salads, in potato dishes like pot pies and gratins, omelets, and sautés, or pair with steak, pork chops, or grilled poultry.
Recipes Using Negi
Where To Buy
Find it at Japanese and Asian grocery stores, well-stocked stores, or your local farmer's market.
Substitute
Use scallions, leeks, garlic chives/Chinese chives, or spring onions. You can also use other Japanese long onions such as Kujo Negi (九条ねぎ), Banno Negi (博多万能ねぎ), Asatsuki (あさつき) or Wakegi (わけぎ), although these varieties may be difficult to find outside of Japan.
Health Benefits
Negi can support overall health by promoting digestion, providing vitamins (especially vitamin K and vitamin C), aiding in bone health, offering antioxidant protection, and potentially reducing the risk of chronic diseases. They also add flavor to dishes without adding too many calories, fats, or sodium.
---
Wish to learn more about Japanese cooking? Sign up for our free newsletter to receive cooking tips & recipe updates! And stay in touch with me on Facebook, Pinterest, YouTube, and Instagram.