Print Recipe
Jump To Recipe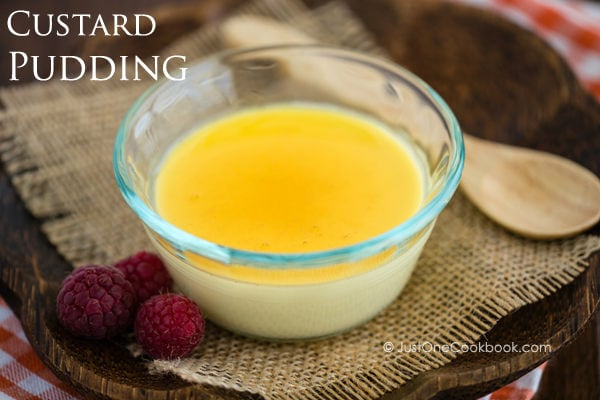 The recent Green Tea Steamed Cake was a real hit among Just One Cookbook readers and I received very supportive feedback from readers (thank you!).  Today I am excited to share my next "steam in a frying pan" recipe with you, and it's Custard Pudding.
In Japan we call this dessert "Purin".  Bakeries, pastry shops, supermarkets and convenience stores they all carry "Purin" or custard pudding.  I grew up eating custard pudding more frequently than eating cookies.  There are many flavors of custard pudding in Japan, ranging from chocolate to pumpkin to green tea.  Custard pudding also happens to be one of my family's favorite dessert and I make this quite often.
I previously shared no bake/no steam Crème Caramel on Just One Cookbook before, but that recipe is more tedious.  Today's custard pudding on the other hand is SUPER easy, and when I say easy, I really mean it.  It doesn't take much time to prepare and tastes heavenly.  This is a great homemade dessert to impress your guests for dinner parties and you won't believe how simple it is until you make it!  Just mix the ingredients, steam, refrigerate, and enjoy!
Don't want to miss a recipe? Sign up for the FREE Just One Cookbook newsletter delivered to your inbox! And stay in touch on Facebook, Google+, Pinterest, and Instagram for all the latest updates. Thank you so much for reading, and till next time!
Custard Pudding
Ingredients
1

cup

milk

(1 cup = 240 ml)

3

large eggs

3

Tbsp

granulated sugar

½

tsp

vanilla
For caramel sauce:
3

Tbsp

water

1½

Tbsp

granulated sugar

1½

Tbsp

water

(adding later)
Instructions
Gather all the ingredients.

Cover the lid with kitchen cloth to prevent the water dripping onto custard pudding from condensation. Fill the large skillet with water about 1 inch height and start boiling water.


Combine eggs and sugar in a medium bowl and whisk very well.


Add milk and vanilla and whisk all together.


Run the mixture through a fine sieve and divide the mixture into individual ramekins.


Once water is boiling, turn the heat to low and place the ramekins into the skillet gently. Cover with the lid and steam the custard pudding for 10 minutes.


Turn off the heat but do not open the lid. Steam with remaining heat for another 10 minutes. After 10 minutes, let it cool on wire rack. When it's room temperature, move to refrigerator to chill, for about 2-3 hours.


Before serving, make caramel sauce. Place 3 Tbsp. water and sugar in a small saucepan over medium low heat and stir until sugar has dissolved.


When sugar has dissolved, increase the heat to high and swirl the saucepan once in awhile to caramelize evenly. The mixture will start to bubble. It will take some time for the mixture to turn from a light amber color to a dark amber color.


When the mixture turns to a desired brown color, add 1 ½ Tbsp. water. The mixture will bubble vigorously, so be careful. Whisk the mixture and turn off the heat.


Set aside to cool completely. If the caramel is too hard after cooling, reheat it and add more water. Pour the caramel sauce over the custard pudding and serve.

Recipe Notes
Recipe by Namiko Chen of Just One Cookbook. All images and content on this site are copyright protected. Please do not use my images without my permission. If you'd like to share this recipe on your site, please re-write the recipe in your own words and link to this post as the original source. Thank you.