Creamy, rich, and bursting with bold matcha flavors, this irresistible matcha tiramisu consists of matcha-soaked ladyfingers layered with a light and airy mascarpone custard filling. It's a classic tiramisu dessert with a Japanese twist!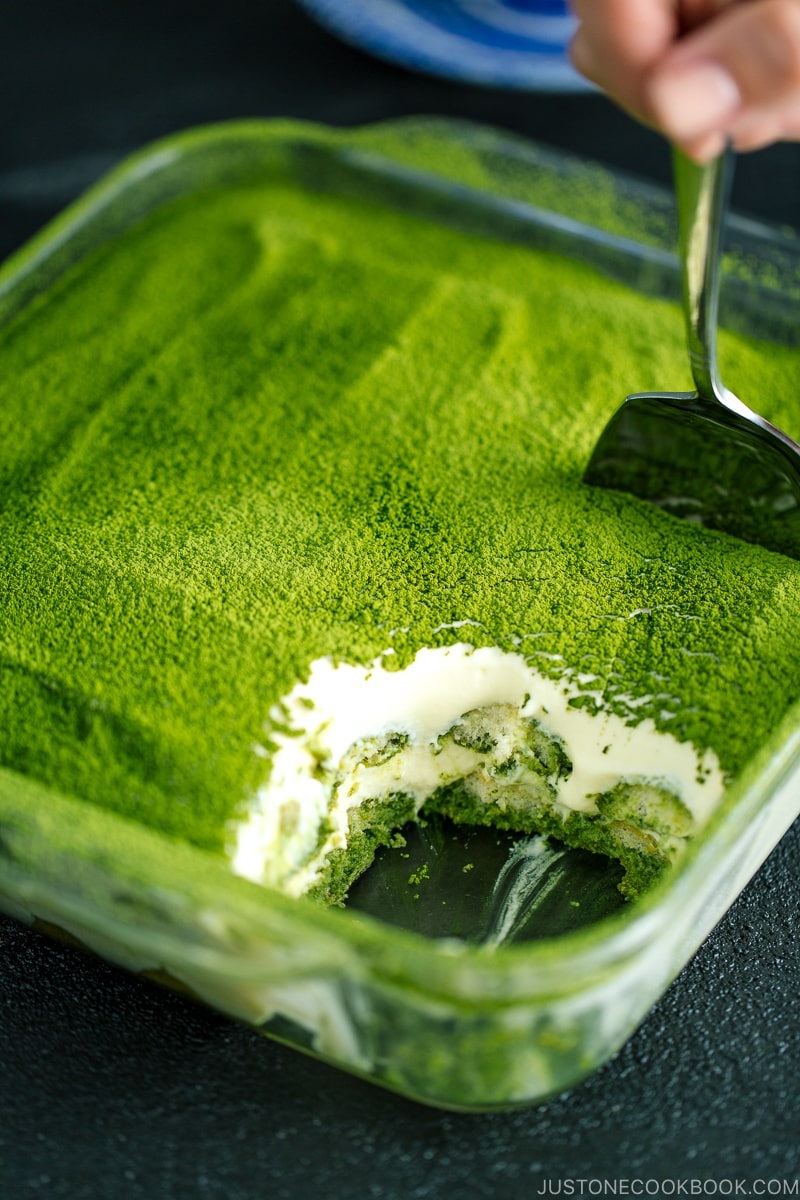 Tiramisu (ティラミス) is one of Mr. JOC's top three favorite desserts, and he's been asking me to make it for a long, long time. We both love matcha, so I decided to put a Japanese spin on this elegant dessert, Matcha Tiramisu (抹茶ティラミス).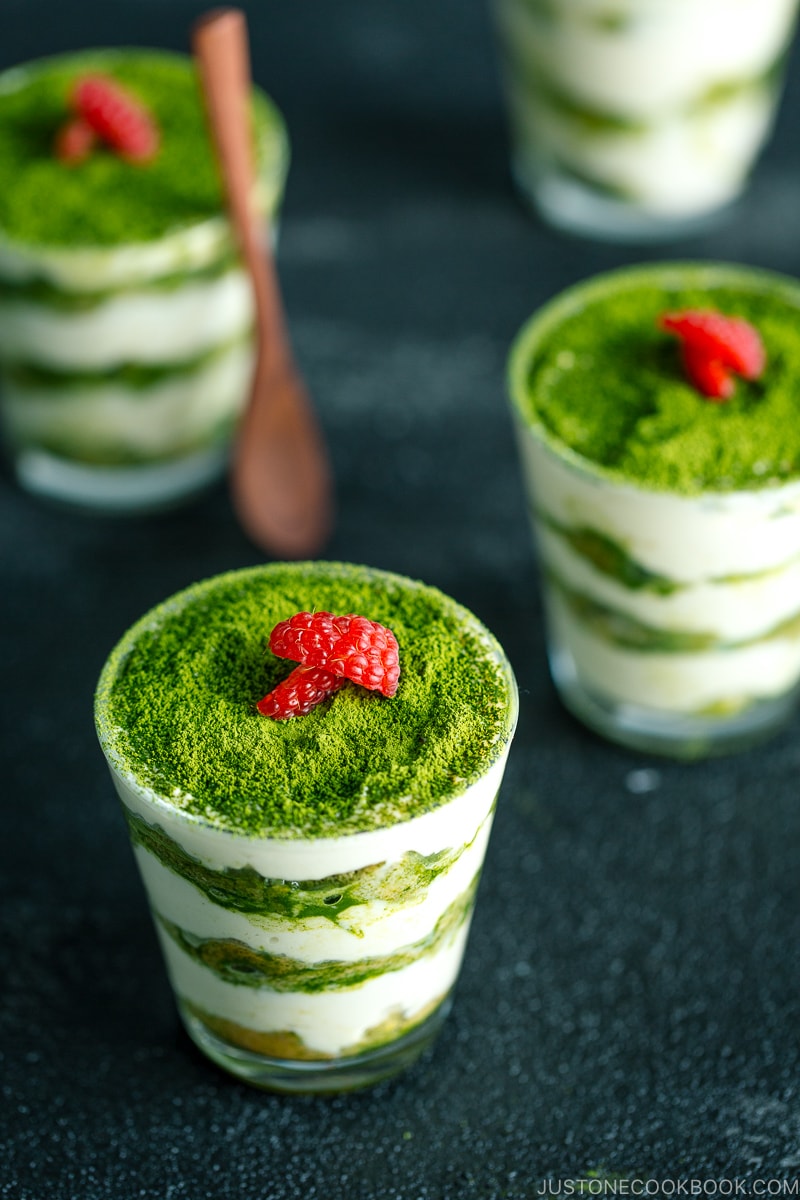 Matcha Tiramisu, A Really Simple Dessert
Tiramisu is actually a very simple, easy-to-make dessert. Basically, this dessert involves two steps:
Make the mascarpone custard filling with egg yolks, egg whites, sugar, and mascarpone cheese.
Assemble the tiramisu by layering the custard filling and ladyfingers (biscotti savoiardi).
Once done, this no-bake dessert just needs to be chilled before serving, and that's it!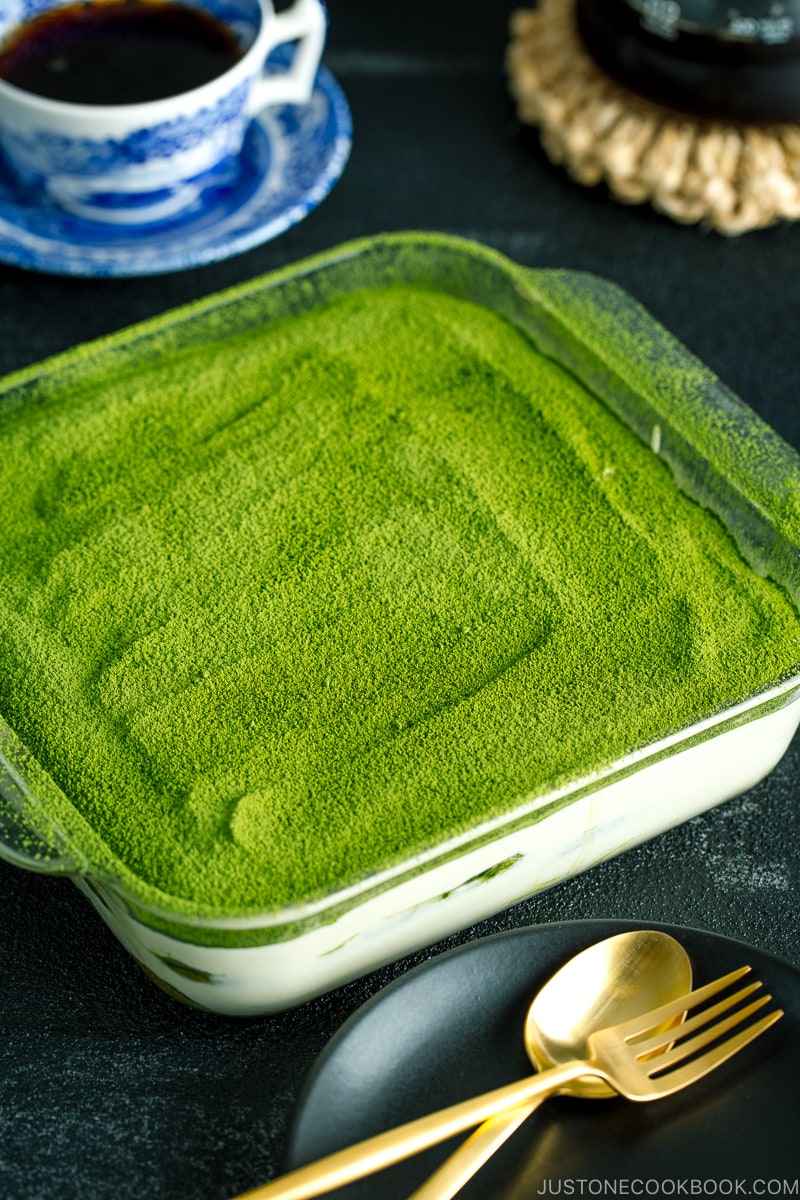 Here's the Catch and What You Can Do
Everyone loves tiramisu at the restaurant but I always wondered why I rarely see the homemade versions at potlucks and dinner parties. Now I know why.
The classic Italian Tiramisu includes raw eggs (both egg yolks and whites). If I was in Japan, I won't be too concerned about consuming raw eggs; however, here in the U.S., they are not safe to consume due to the possible risk of salmonella.
Now in order to avoid the possible risk, you have a few options.
Option 1: Use pasteurized eggs (which could be hard to find at your local grocery stores)
Option 2: Pasteurize your own eggs (you can follow my recipe, but you'll need an immersion circulator)
Option 3: Swap egg whites with heavy cream (commonly practiced) and cook egg yolks till 160 ­ºF (71 ºC) (not so commonly practiced).
I thought I'd go with Option 3 as it sounds easier. Next, I'll talk about what I learned from my experience.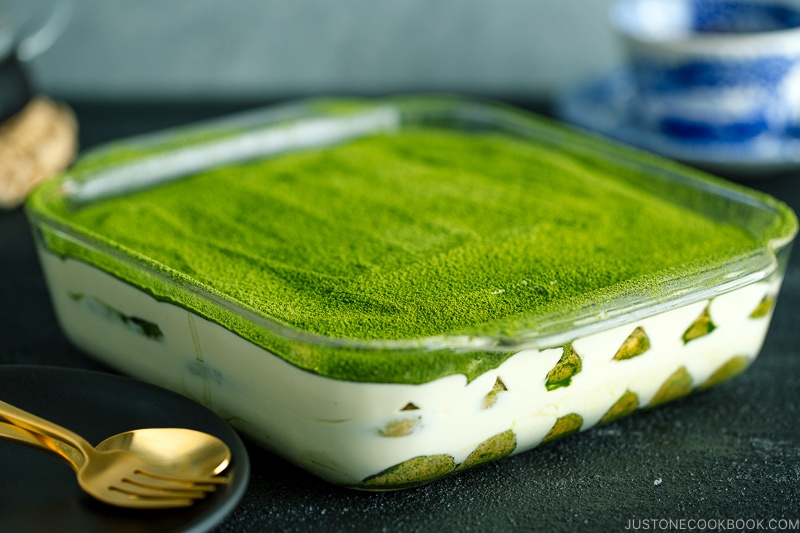 2 Must-Have Kitchen Tools for Making Matcha Tiramisu
Option 3 didn't turn out to be as simple as I expected, and here's why.
Tiramisu recipe requires a lot of whisking/beating. You have to beat the egg whites (or heavy cream) and you have to whisk the egg yolk mixture really fast while heating so it won't become scrambled eggs. There is no rest in between once you start.
At first, I thought my hand whisking would be good enough. Oh my gosh, after whisking vigorously for close to 10 minutes, I thought my arms were going to fall off. I had to switch over to my hand mixer which saved my life, seriously.
You will also need an instant-read thermometer. Why such a fancy thermometer?
It really comes down to prompt temperature control when you are mixing the egg mixture. Once the temperature of the egg yolks reaches 160 ­ºF (71 ºC), you want to immediately remove from heat and stop it from further cooking. Otherwise, you will end up with scrambled eggs. I appreciate my thermometer even more after making Tiramisu.
If you're a big fan of tiramisu and want to make this recipe frequently, I highly recommend investing in these two kitchen tools.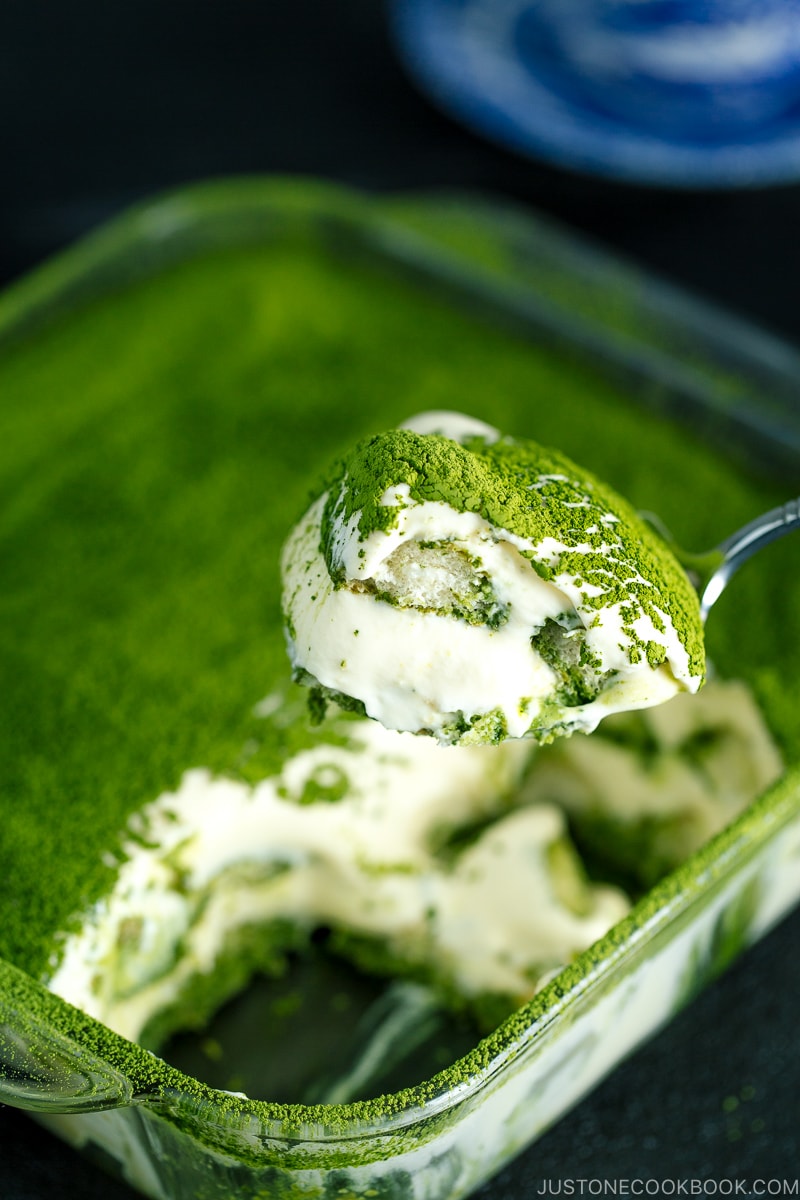 Almost Finish – Layering Matcha Tiramisu
Once you have the custard filling ready, the rest of the preparation is super easy. There is no more arm work involved.
If I may add one tip, I would suggest 3 layers instead of 2, especially if you are not into creamy desserts (like me). Adding extra ladyfingers gives more texture to the tiramisu. For 3 layers, you'll need 36 ladyfingers (1.5 boxes). I think I'd like that better, but Mr. JOC is happy with the recipe as it is. JOC reader Merilda tried with 3 layers and her feedback is left on the comment below.
Make sure to dust the matcha powder RIGHT BEFORE serving, so the matcha won't absorb the moisture from the tiramisu and ruin the presentation.
Speaking of matcha, it's very important to use decent quality matcha for the obvious reason: beautiful green color and distinct matcha flavor. There are so many brands of matcha available online, and many of you asked me which one I recommend.
To be honest, I am very happy with Maeda-en brand matcha (not sponsored) that I can purchase at my local Japanese grocery stores (or Amazon). It's decent quality for baking and making sweets. I don't recommend buying any matcha that's cheaper than this brand. Matcha is expensive even in Japan, and if you're about to get a big bag or cheaper brand of matcha, don't be surprised when you see yellow-green matcha with an awful bitter taste (FYI, matcha needs to be consumed in 2-3 weeks, so don't get a big bag.).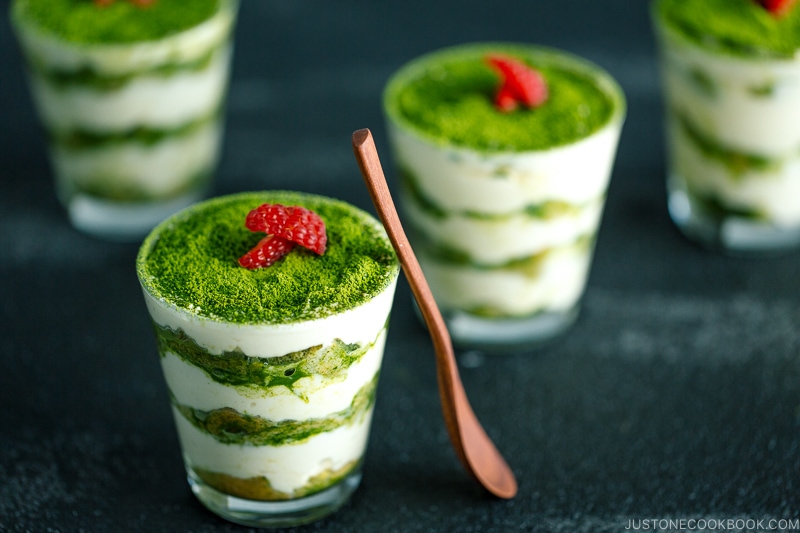 How to Make Individual-Serving Matcha Tiramisu
When I was going to make this recipe, I couldn't decide if I want to serve Matcha Tiramisu in one big serving dish or individual serving dishes.
Personally, I like the look of individual serving dishes as it shows the layers clearly. My glass containers actually came from Tiramisu that we bought from Costco. They are pretty useful when you make tiramisu or parfaits.
Since many of you probably have a large serving dish, I created this recipe that works for both. If you're making one single serving, then you'll need an 8-inch-square baking dish (20 x 20 cm). If you have an individual serving dishes (180 ml each), you will roughly need 8 of them.
The layering process is exactly the same – you just need to cut the ladyfingers to fit into your individual containers.
Whether you make one big Matcha Tiramisu or single-serving dishes, this dessert will be a hit! With an electric hand mixer and an instant-read thermometer, you'll be fully equipped to make this delicious recipe to wow your guests!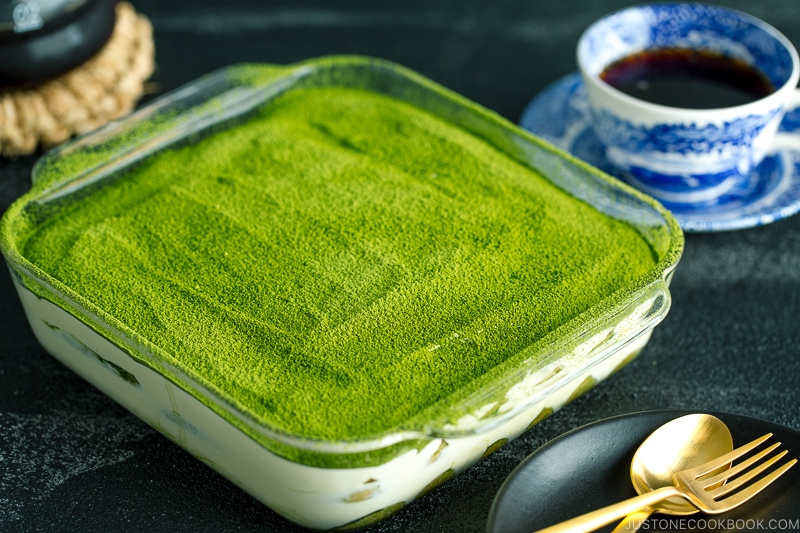 Sign up for the free Just One Cookbook newsletter delivered to your inbox! And stay in touch with me on Facebook, Pinterest, YouTube, and Instagram for all the latest updates.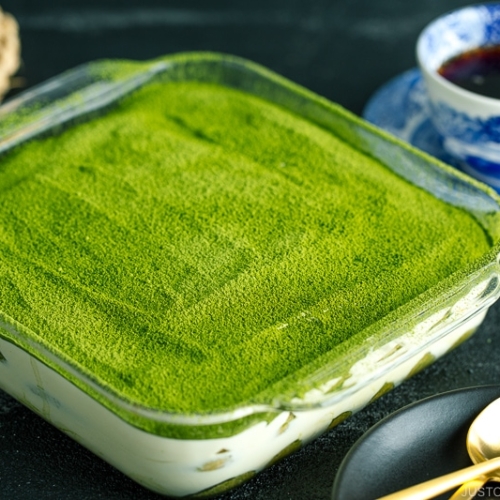 Matcha Tiramisu
Creamy, rich, and bursting with bold matcha flavors, this irresistible matcha tiramisu consists matcha soaked ladyfingers layered with a light and airy mascarpone custard filling. It's a classic tiramisu dessert with Japanese twist!
Servings:
1
8×8 baking dish or 8 180ml-individual dishes
Ingredients
3

large egg yolks

(19 g x 3 = 57 g; room temperature)

⅓

cup

sugar

(divided)

2

Tbsp

marsala wine

(highly recommend, missing a kick without it)

8

oz

mascarpone cheese

(use 1 package mascarpone; room temperature)

1 ½

cup

heavy whipping cream

(chilled)

½

cup

water

1 ½

Tbsp

matcha (green tea powder)

(9 g)

24

ladyfingers

(for 3 layers, you will need 36; read the post)

2

Tbsp

matcha (green tea powder)

(for dusting)
Japanese Ingredient Substitution:
If you want substitutes for Japanese condiments and ingredients, click
here
.
Instructions
Gather all the ingredients and equipments. You will need a medium saucepan, a heatproof mixing bowl (to set over the saucepan), and 2 large bowls. Make sure one of the large bowls can fit the mixing bowl and fill it with ice water, and set aside for Step 6.

In the saucepan, fill with 2 inches of water. Set the mixing bowl over and make sure the bottom of the bowl does not touch the water. Remove the bowl (will use it shortly for egg custard), and bring the water to barely a simmer, and reduce the heat to low.
To make the custard:
In the heatproof mixing bowl, add egg yolks, marsala wine, and 3 Tbsp granulated sugar (out of ⅓ cup) and start whisking with a handheld electric mixer.

Set the bowl over the saucepan of barely simmering water and continue to beat the eggs. Keep your instant thermometer handy as you will be checking the temperature of the egg mixture. To consume Tiramisu safely, heat the egg yolk mixture until it reaches 160ºF (71ºC), about 10 minutes. 160ºF is close enough to turn the eggs into scrambled eggs; therefore, I highly recommend both an electric mixer and an instant-read thermometer for this process (please read my post).

Cook, beating constantly, until the custard is light and thick.

Continue whisking (I use level 3 of 5-speed hand mixer throughout the time).

Once the custard reaches 160ºF (71ºC), immediately remove the bowl from the saucepan and set in a large bowl of ice water. Let it cool down for 1 minute to quickly stop cooking.

Put the mascarpone in another large bowl and soften it with a silicone spatula. Gradually fold the custard into the mascarpone.

Take note: the egg yolk mixture does get cooked a bit on the side of the bowl from the double boiler. Do not scrape off to use it.

Gently fold in until just smooth (the custard will be grainy if over mixed).

In a large bowl (you can reuse the bowl from ice bath, but make sure it's completely dry), beat heavy (whipping) cream until foamy, and gradually add the rest of sugar.

Beat until medium peak forms.

Gradually fold in the heavy cream mixture into the mascarpone mixture.

Fold in the mixture until well combined.
To assemble:
Combine the hot water (175ºF/80ºC) and matcha powder and whisk until there is no lumps.  Transfer to a flat-bottom container that fits ladyfingers.

One at a time, quickly dip both sides of the ladyfingers in the matcha mixture until soaked but not soggy. Place them on the bottom of an 8"x8" (20×20 cm) baking dish, arranging 2 rows of 6 ladyfingers each.

Spread half of the mascarpone custard over the ladyfingers. Smooth out the surface.

Dip the remaining ladyfingers in the matcha mixture and place them on top of the custard.

Top with the remaining custard, smooth out the top, and cover with a sheet of plastic wrap to cover the cream. Refrigerate for at least 4 hours, preferably overnight.

Before serving, dust with matcha powder and enjoy!
To Store
You can keep the leftovers in an airtight container and store in the refrigerator for up to 3 days.
Nutrition
Serving:
1
8×8 baking dish
·
Calories:
3837
kcal
·
Carbohydrates:
238
g
·
Protein:
87
g
·
Fat:
273
g
·
Saturated Fat:
160
g
·
Polyunsaturated Fat:
12
g
·
Monounsaturated Fat:
56
g
·
Cholesterol:
1918
mg
·
Sodium:
680
mg
·
Potassium:
657
mg
·
Fiber:
3
g
·
Sugar:
63
g
·
Vitamin A:
13338
IU
·
Vitamin C:
2
mg
·
Calcium:
767
mg
·
Iron:
21
mg
©JustOneCookbook.com Content and photographs are copyright protected. Sharing of this recipe is both encouraged and appreciated. Copying and/or pasting full recipes to any website or social media is strictly prohibited. Please view my photo use policy
here
.