This Matcha Chiffon Cake is spongy, moist, and light as a cloud. Its lightly sweet flavor balances perfectly with earthy and savory notes from Japanese green tea powder. With its soft green matcha color, you'll love this popular Japanese cake as a light afternoon snack.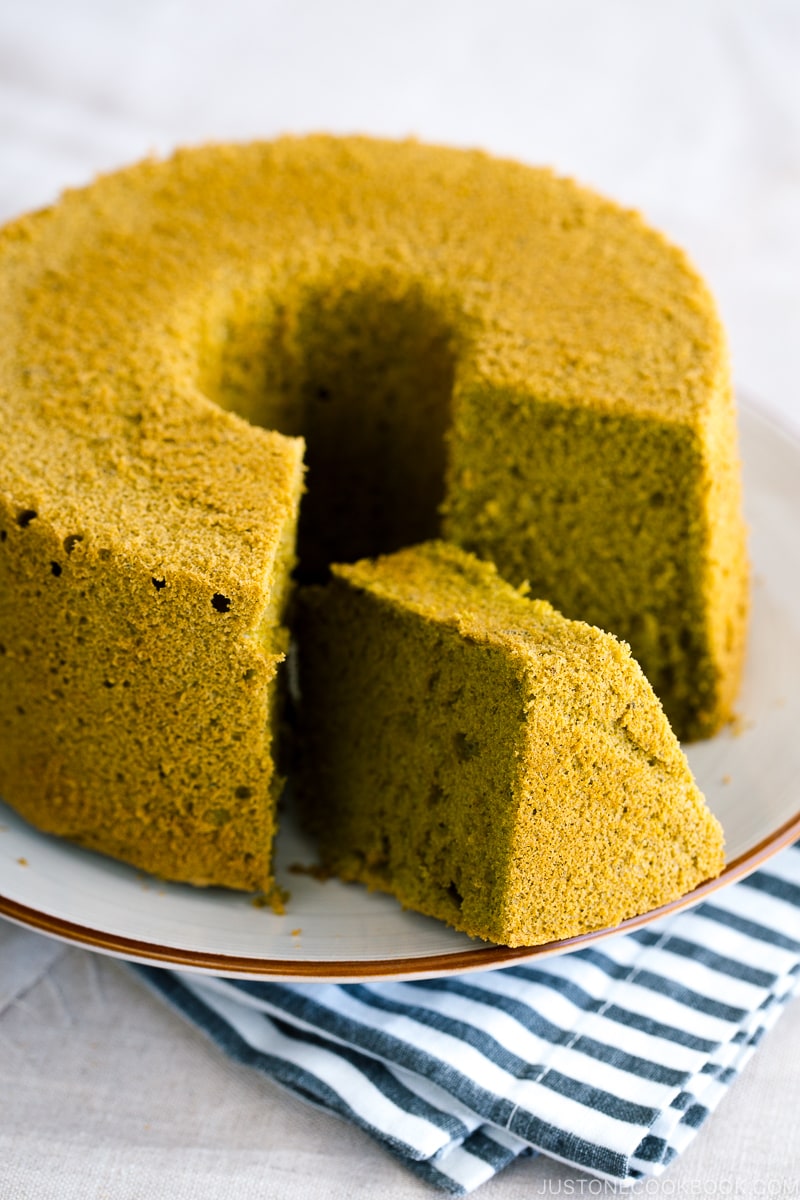 Making chiffon cake was one of my dreams since I started baking regularly last year. I always thought it was going to be difficult to make a chiffon cake. However, after some lengthy experiments with my Castella recipe, this Matcha Chiffon Cake (抹茶シフォンケーキ) was a lot easier than I expected.
If you are new to chiffon cake, it is a very light sponge cake made with vegetable oil, eggs, sugar, flour, and whatever flavor you want to add. You beat the egg whites and fold them into the oil-based cake batter so that the cake will get a fluffy texture.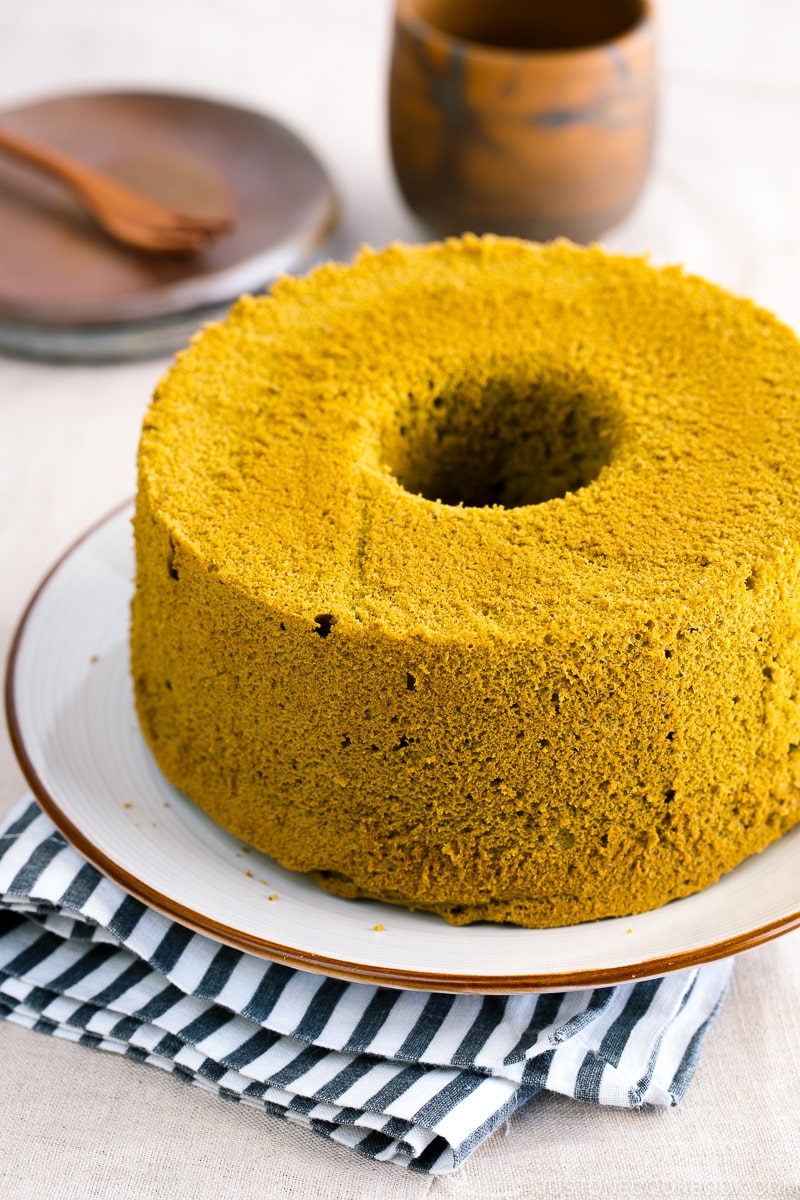 Tips on Making Matcha Chiffon Cake
1. Use the correct chiffon cake pan.
The best types are the aluminum ones with a removable base (Do not use non-stick bakeware for chiffon cake – it will not work).
I bought 17-cm and 20-cm aluminum chiffon cake pans while I was in Japan because I wanted to follow a Japanese chiffon cake recipe. If you are interested in the same pan and know someone in Japan who can receive the package for you, you can purchase one from Rakuten (かっぱ橋浅井商店つなぎ目のない17cmシフォンケーキ型). They are great!
Or, you can order this 17-cm aluminum chiffon cake pan online from Nihon Ichiban which ships internationally.
If you have a different size chiffon cake pan, then check the conversion of the ingredients in this post.
2. Do not grease the mold.
The cake needs to cling to the sides and center of the pan for support as it rises or it will collapse.
3. Use good matcha.
You want to be able to taste the subtle matcha flavor, so I recommend using good quality matcha (green tea powder). When it comes to chiffon cakes, I like them to be simple. No sweet frosting necessary. A good reason to enjoy more than 1 slice.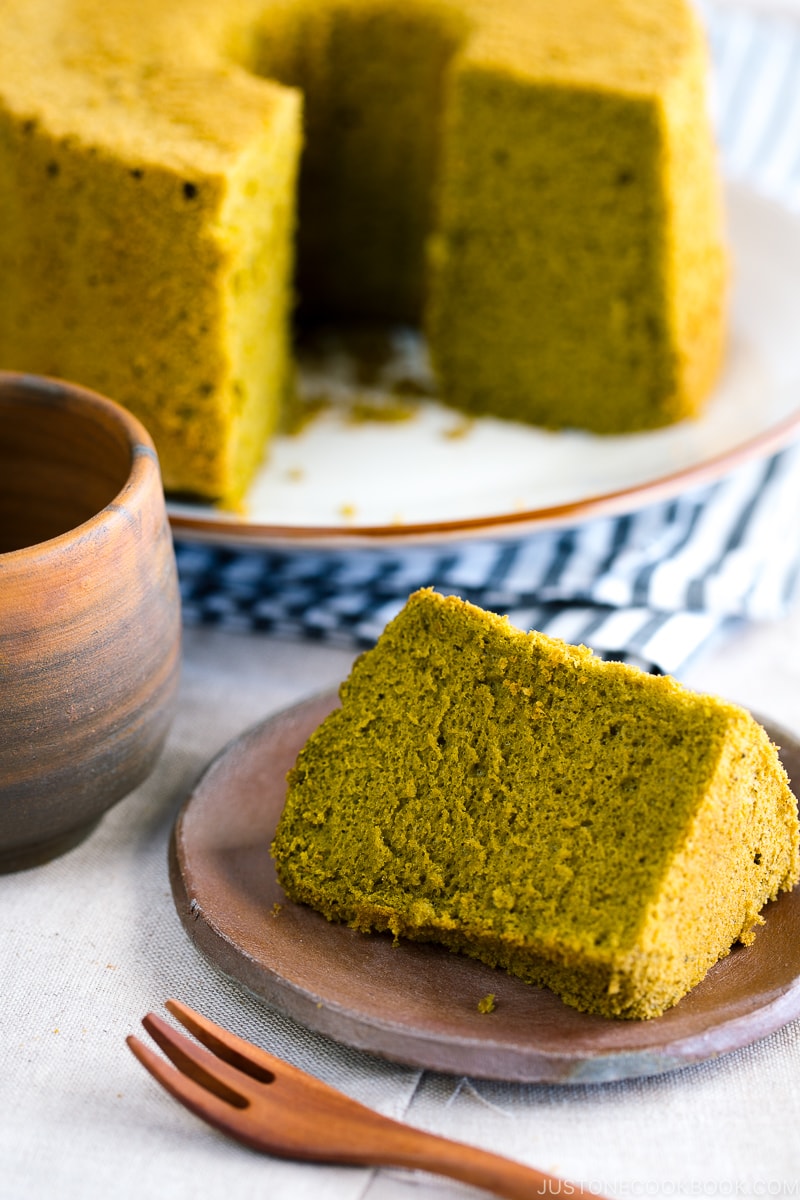 You only use 3 tablespoons of oil for this recipe, so you can expect a very light cake. If no one was looking, I would probably eat the entire 17 cm (about 7 inches) cake all by myself!
If you follow the recipe closely, you can expect a fluffy, light, and moist Matcha Chiffon Cake. It turned out just like the chiffon cake that I have tried in Japan and dreamed of making myself.
If you are a fan of not-so-sweet desserts, this is for you. Knowing how easy it is to make chiffon cakes now, I am going to try making other flavors soon. What would be your favorite flavor?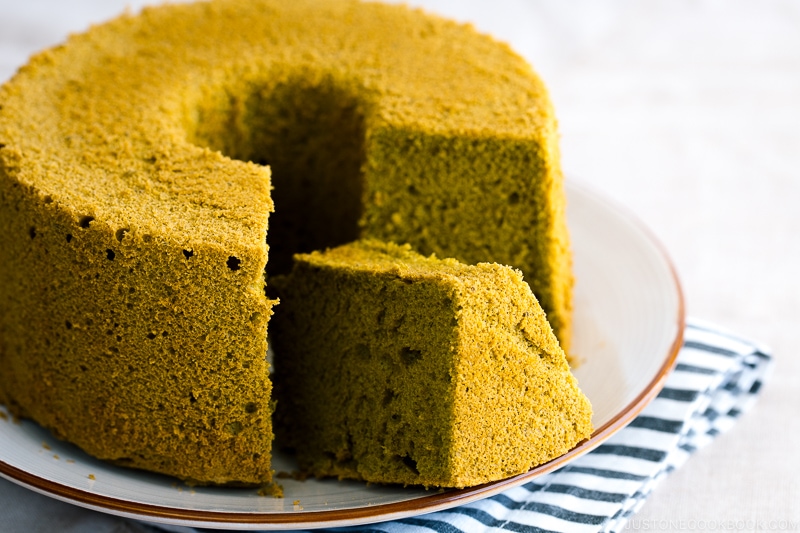 Wish to learn more about Japanese cooking? Sign up for our free newsletter to receive cooking tips & recipe updates! And stay in touch with me on Facebook, Pinterest, YouTube, and Instagram.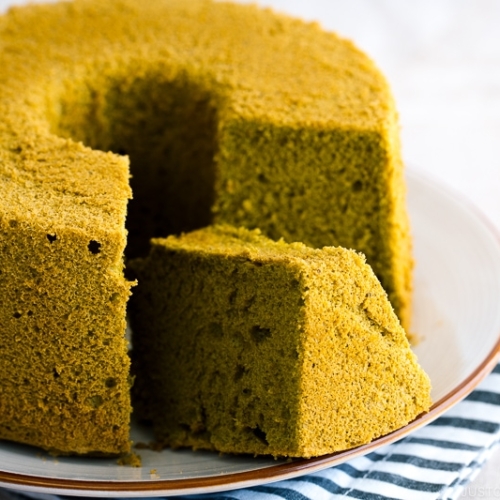 Matcha Chiffon Cake
This Matcha Chiffon Cake is spongy, moist, and light as a cloud. Its mildly sweet flavor balances perfectly with earthy and savory notes from Japanese green tea powder. With its soft green matcha color, you'll love this popular Japanese cake as a light afternoon snack.
Video
Servings:
1
17-cm (about 7 inch) cake
Ingredients
3

large eggs (50 g each w/o shell)

(yolks and whites separated)

½

cup

sugar

(measure ½ cup and remove 1 Tbsp, to be precise; divided into thirds)

3

Tbsp

neutral-flavored oil (vegetable, rice bran, canola, etc.)

(measure 3 Tbsp and remove 1 tsp, to be precise)

¼

cup

water

⅔

cup

cake flour (measure ⅔ cup and remove 2 tsp, to be precise; 1 cup should weigh 120 g; if you're using a cup measurement, please follow this method; otherwise, you may scoop more flour than you need; see my Notes below for how to make Homemade Cake Flour)

1

heaping Tbsp

matcha (green tea powder)

(1 Tbsp matcha is 6 g)

1

tsp

baking powder
Japanese Ingredient Substitution:
If you want substitutes for Japanese condiments and ingredients, click
here
.
Instructions
Gather all the ingredients. I highly encourage you to use metric measurements using a kitchen scale for this recipe. Click on the "Metric" button at the top of the recipe to convert the ingredient measurements to metric. Keep the eggs whites in a stand mixer bowl; refrigerate or freeze the bowl and egg whites for 15 minutes until cold. (It's okay if the egg whites are partially frozen). Tip: In Japan, we chill the egg whites to make smooth, fine-textured meringue and do not use cream of tartar.

Preheat the oven to 340ºF (170ºC). For a convection oven, reduce the cooking temperature by 25ºF (15ºC). You will need a 17-cm (7-inch) chiffon cake pan. If you have a different size pan, read this post to adjust the ingredient measurements. Make sure you use an aluminum pan with a removable base (read my blog post for more details). Please see my Notes at the end of this recipe for additional details on ingredients, equipment, and techniques.
To Mix the Batter
Start mixing the batter. In a large bowl, beat the egg yolks and one-third of the sugar with a hand whisk. Whisk vigorously until it's a creamy pale yellow color. Then, add the oil and water and beat with a whisk to combine.

To a flour sifter or fine-mesh sieve, add the cake flour, matcha, and baking powder. Sift one-third of this flour mixture into the egg yolk mixture. Whisk by hand to incorporate the dry ingredients well. Check that there are no lumps in the batter, then sift another one-third of the flour mixture into the bowl. Mix to incorporate. Then, sift in the rest of the flour mixture and whisk until just combined; do not overmix. Make sure there are no lumps in the batter. Set aside while you beat the meringue.
To Make the Meringue
Take out the bowl of egg whites from the refrigerator or freezer. Set the bowl on the stand mixer with a whisk attachment (I used the KitchenAid Professional Series). Start whipping the egg whites on medium-low speed (Speed 4) until the egg whites are bubbly, opaque, and foamy.

Add another one-third of the sugar and continue whisking for 30 seconds. Then, increase the mixer speed to high (Speed 10) and gradually add the remaining sugar in small increments. Beat vigorously until stiff peaks form (see the next step for how to check). It takes about 2 minutes of beating at high speed to reach stiff peaks. Tip: I usually pause beating when the egg whites are almost done. Take off the whisk attachment from the mixer and use it to hand-mix the looser egg whites near the bowl's edge into the stiffer whites near the center until it's all homogenous in texture. Then, put the whisk back on and continue beating.

To check for stiff peaks, pull up your whisk. The meringue in the bowl or on the whisk should be firm enough to hold a peak, pointing straight up (or maybe folding over a little bit just at the very tips). By this time, the meringue should have a glossy texture, too. Tip: If you overbeat the meringue, it will become very stiff and grainy and won't incorporate into the batter at all.
To Fold In the Meringue
Using a spatula or hand whisk, add one-third of the meringue into the batter. Mix well by hand until it's homogeneous.

Gently fold in the rest of the meringue in 2 or 3 increments. Take care not to deflate the air bubbles in the meringue and batter as you fold. Once it's well combined and homogenous, fold the batter one last time and scrape the sides and bottom of the bowl to make sure there is no matcha accumulation. The final batter should fall in ribbons when you lift the spatula or whisk.
To Bake
Prepare an ungreased 17-cm (7-inch) chiffon cake pan. From 6-8 inches high, pour the batter into the pan at just one spot to prevent air pockets from forming. While holding the removable base in place, gently tap the pan a few times on the work surface to release any air pockets in the batter. Run a wooden skewer through the batter to release any remaining air pockets.

Put the cake pan on the middle rack of the preheated oven. Bake at 340ºF (170ºC) for 30 minutes. To check if it's finished baking, insert a toothpick or wooden skewer into the middle of the cake. If it comes out clean and the top of the cake springs back when gently pressed, it's done. Tip: If the top of the cake gets dark too quickly, cover the top loosely with aluminum foil to prevent burning. (The cake may be too close to the heat source.)

Remove the cake pan from the oven and gently drop the pan onto the work surface to shock the cake. This stops the cake from shrinking. To cool the cake, prepare a tall, heavy bottle with a long neck, such as a glass wine bottle. Invert the center tube of the cake pan onto the bottle's neck and let the cake cool completely in its pan. Cooling the cake upside down helps it stretch downward and maintain its loft.

Once the cake is completely cool, run a long offset spatula around the outer edge of the pan and a small offset spatula around the inner tube. Gently take out the removable base and cake from the outer pan. Then, run the offset spatula along the bottom of the cake to release it from the base. Tip: I used to use a knife for this step, but the tip of the knife tends to poke the cake while moving around, so I now recommend using offset spatulas.

Invert the cake with the removable base onto a plate or cake stand. The cake will slide off the inner tube. Chiffon cake is served "upside down" with the flat bottom on top.
To Serve
I serve the Matcha Chiffon Cake as is, but you may dust the top with confectioners' sugar, if you'd like (optional). Slice and enjoy.
To Store
I strongly recommend consuming the cake sooner for the best freshness. However, you can keep the cake covered on a plate or stand at room temperature in a cooler place for 1-2 days. To keep it longer, wrap individual slices in plastic wrap or put in an airtight container and store in the refrigerator for 3 days or in the freezer for 2 weeks.
Notes
All-Purpose Flour vs. Cake Flour:
All-purpose flour and cake flour do not perform the same. Cake flour is more delicate, and if you use all-purpose flour instead of cake flour, the texture will be dense and tough.
Homemade Cake Flour:
To make 1 cup cake flour, take one level cup of all-purpose flour, remove 2 Tbsp, and then add 2 Tbsp of cornstarch. Be sure to sift the flour 3-4 times to distribute the cornstarch well.
Tips for Beating Egg Whites:
Make sure your beaters and mixing bowl are clean and dry. A speck of oil or egg yolk on either one can minimize the volume of the beaten egg whites.
Avoid plastic bowls, as even clean ones may hold oily residue that can affect the beaten quality of the egg whites.
Use a bowl that's wide enough to keep the beaters from being buried in the egg whites.
Do not overbeat or underbeat the egg whites or your cake may fall. Egg whites should have a stiff p

eak, pointing straight up (or maybe a little bit folding over just at the very tips).
Chiffon Cake Pan:
Make sure you use the right chiffon cake pan. The best types are aluminum with a removable base. Make sure it is NOT nonstick. Do not grease the mold because the cake needs to cling to the sides and center of the pan for support as it rises or it will collapse.
Recipe adapted from Chiffon Cake Book by Junko Fukuda.
Nutrition
Serving:
1
17-cm cake
·
Calories:
1173
kcal
·
Carbohydrates:
143
g
·
Protein:
33
g
·
Fat:
52
g
·
Saturated Fat:
11
g
·
Polyunsaturated Fat:
24
g
·
Monounsaturated Fat:
14
g
·
Trans Fat:
1
g
·
Cholesterol:
553
mg
·
Sodium:
616
mg
·
Potassium:
294
mg
·
Fiber:
2
g
·
Sugar:
86
g
·
Vitamin A:
1237
IU
·
Calcium:
328
mg
·
Iron:
4
mg
©JustOneCookbook.com Content and photographs are copyright protected. Sharing of this recipe is both encouraged and appreciated. Copying and/or pasting full recipes to any website or social media is strictly prohibited. Please view my photo use policy
here
.