Treat yourself to this super-moist Japanese sponge cake with a hint of honey! Made with only 4 ingredients, Castella Cake is a very popular confection in Japan.
Japanese Castella Cake, or Kasutera (カステラ) in Japanese, is a popular Japanese honey sponge cake that was originally introduced by the Portuguese merchants to the Nagasaki area in the 16th century. The name is derived from Portuguese Pão de Castela, meaning "bread from Castile". Castella is made of just 4 basic ingredients: bread flour, eggs, sugar, and honey.
A dark brown top and bottom crusts with a creamy yellow center give a beautiful contrast to the sponge cake. This delicate cake is very moist, smooth, bouncy, and has just enough sweetness with a fragrance of honey.
The difference between Japanese honey sponge cake and regular western sponge cake is that Japanese Castella is more delicate and bouncy in texture. It is raised solely by egg foam. There is no butter, oil, or any leavening agent like salt or baking powder. It also uses bread flour (higher gluten content) instead of regular flour to achieve the result. The flavor is very light with mild sweetness. Therefore the cake is delightful to enjoy green tea or iced coffee during summertime.
You can tell by its popularity as Castella is being sold everywhere in Japan, from departmental stores, and specialty sweet stores to convenience stores. They often come in a slim rectangle box in simple plastic packaging for an everyday snack or fanciful packaging for gifting.
Traditionally, Japanese Castella cake is baked slowly in a wooden frame to create a soft smooth texture for the sponge because a metal baking pan would transfer the heat too fast and it would become too dry. I assume most of you would not have a wooden frame readily available, so my Castella recipe uses a standard 1-lb loaf pan.
I searched for Castella recipes in Japanese and found hundreds of recipes available online. The majority of them use just the same 4 ingredients with slightly different measurements for each recipe. I started to experiment with measurements for each ingredient for my 1-lb loaf pan. Then I increased to two pans as my family really loves this light and moist Japanese Castella Cake for oyatsu (snack).
Before I move on to the recipe, I want to mention that it took me a very long time to finalize this recipe. Since then, I have been using this exact recipe many times and it worked each time. However, please understand that everyone's oven works differently and you may need to adjust the recipe according to your oven.
Japanese Castella Cake Baking Notes:
The key to a successful Castella is in the beating of the eggs and baking time. Even after trying many times, I still wish to improve the slightly wrinkled top (Any tips, anyone?). Otherwise, the texture and flavor is just perfect!
Before I realized that I needed to create my own recipe that works for my oven, I had tried many other Castella recipes I found online. However, I failed miserably despite the beautiful pictures shared in those recipes. Here are some of the tips I learned from my experience in achieving the perfect texture:
Failure 1: A hard and dense layer formed at the bottom of the cake although the top layer turned out beautifully.
Tips:
There needs to be enough air beaten into the batter for the cake to rise. Make sure to beat the eggs based on the time specified. The texture will be thick and the color will be pale yellow. When you stop the mixer and lift the whisk attachment, the mixture should fall into ribbons.
Sift the flour two times to loosen.
Failure 2: The cake sank in the middle during the baking, or after I pulled it out from the oven.
Tips:
Bake it longer until the cake is firm and fully cooked inside.
Do not over-mix the batter when you add the flour mixture.
Must use bread flour.
A lot of recipes suggested to bake at a higher temperature and covering the cake with aluminum foil to prevent the cake from browning further and finish baking. However, this made the cake start to sink immediately and it didn't work for me… Therefore, I couldn't bake at a higher temperature than 320 ºF (160 ºC).
Some recipes suggest baking it at a higher temperature to brown the top first, then changing to a lower temperature to continue baking. But being unable to cover the top with aluminum foil, my only option was to bake at 320 ºF (160 ºC) and slowly brown the top without overcooking inside of the cake.
You may need to tweak my recipe in order to get the perfect result. I have also seen some recipes that require extra steps and ingredients, but I made this recipe as simple as possible without losing authentic flavor. I hope my recipe works for you and you will get to enjoy Castella with your family and friends.
I've also included a 3-minute Japanese Castella Cake recipe video above, so I hope you will check it out.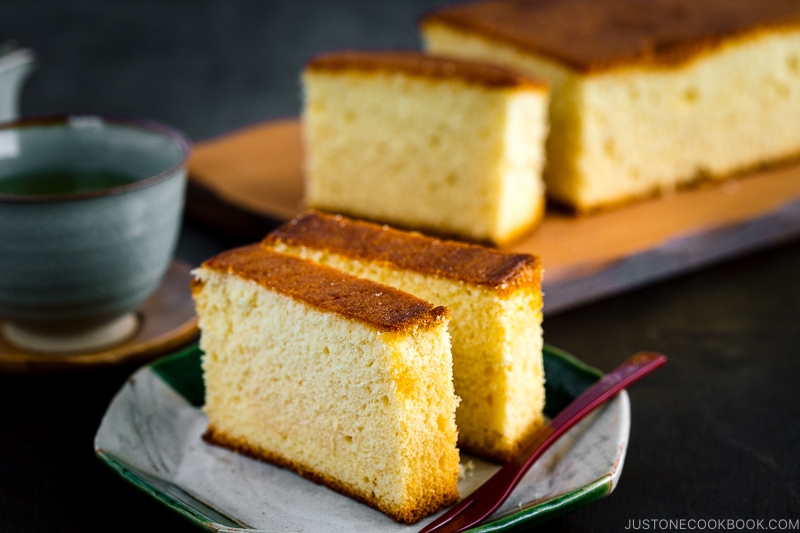 Wish to learn more about Japanese cooking? Sign up for our free newsletter to receive cooking tips & recipe updates! And stay in touch with me on Facebook, Pinterest, YouTube, and Instagram.
Japanese Castella Cake
Treat yourself to this super-moist Japanese sponge cake with a hint of honey! Made with only 4 ingredients, Castella Cake is a very popular confection in Japan. Try this delicately sweet cake for your weekend baking project. It makes the perfect holiday or hostess gift, too.
Video
Servings:
2
Castella Cakes
Ingredients
6

large eggs (50 g each w/o shell)

(at room temperature—very important!)

1

cup

sugar

1⅔

cup

bread flour

(Castella has an elastic, bouncy texture from bread flour; you cannot achieve this texture using all-purpose flour)

⅓

cup

honey

(5 Tbsp + 1 tsp to be precise for 2 cakes)

2½

Tbsp

water

(warm)
For the Honey Syrup
1

Tbsp

honey

½

Tbsp

water

(warm)
Japanese Ingredient Substitution:
If you want substitutes for Japanese condiments and ingredients, click
here
.
Instructions
Gather all the ingredients. Preheat the oven to 320ºF (160ºC). For a convection oven, reduce the oven temperature by 25ºF (15ºC) to 295ºF (145ºC).

Cut the parchment paper to fit the baking pans (see the video for this process). You will need two loaf pans (8½ x 4½ x 2¾ inches, or 22 x 11 x 7 cm). If your pans are smaller, add the excess batter to another smaller pan and use a shorter bake time.
To Make the Batter
Sift the bread flour twice with either a sifter or fine-meshed strainer. Holding the handle of the strainer with one hand and tapping it gently with the other, the flour will gradually sift through the strainer.

Add the warm water to the honey and whisk well.

Fit a stand mixer with the whisk attachment. Crack the eggs into the bowl of the mixer and vigorously whisk until combined.

Beat the eggs and sugar on high speed (Speed 10) for 5 minutes. If you beat the eggs with a handheld mixer, it will take more time. The beaten eggs will quadruple in volume. The texture will be thick and the color will be pale yellow. When you stop the mixer and lift the whisk attachment, the mixture should fall in ribbons.

Add the honey mixture into the egg mixture and whisk on low speed (Speed 2) until combined, about 30 seconds.

Add the bread flour in three parts. Add one-third of the bread flour and whisk at low speed (Speed 2) for 15 seconds. Then, add another third and whisk for another 15 seconds. Finally, add the last remaining portion and whisk until just combined for about 1 minute. Do not overmix.
To Bake
Spray the loaf pans with oil and distribute it evenly with a pastry brush.

Put the parchment paper in the pans and make sure the paper sticks to the pans. If is does not, apply more oil to the pan, spread it evenly with a brush, and place the parchment paper again.

Pour the batter into the pans about 80% full.

Using a skewer, draw a zigzag line through the batter to remove the air bubbles in the batter.

Level the batter by holding each pan 2 inches above the counter and dropping it flat onto the counter. Do this several times to release the air bubbles.

Bake at 320ºF (160ºC) in the middle rack of the oven for 35 to 40 minutes (I bake my cakes for 35 minutes), or until golden brown and a skewer inserted in the center comes out clean. Turn off the oven, at which point I open and leave my oven door ajar for a few minutes. Then, I take out the cakes. When done, the cake sides will pull away from the pan slightly; the top will be flat and feel spongy when pressed with a finger.
To Apply the Syrup and Chill Overnight
To make the honey syrup, mix the honey and warm water in a bowl. Immediately apply the honey syrup over the tops of the hot cakes with a pastry brush.

For each cake, place a sheet of plastic wrap on the countertop. Take out the hot cakes from the pan and place them top down on the plastic wrap. Gently peel off the parchment paper.

Immediately wrap the cakes with the plastic film to retain moisture. Bring the cake to room temperature. Then, put the wrapped cakes in the refrigerator and store them overnight (or at least 12 hours), keeping the top side facing down. This will help the cakes develop a fine and moist texture.
To Serve
Remove the cake from the refrigerator. Bring the cake to room temperature. Slice off the four sides of the cake with a sharp bread knife. Then, cut the cake into ¾- to 1-inch-thick slices (you will get 7-8 slices total). Serve it with tea or coffee, if you'd like.
To Store
To save for later, wrap individual pieces with plastic wrap. You can store at room temperature for up to 3-4 days, 5-7 days in the refrigerator, and 1 month in the freezer.
Nutrition
Serving:
1
loaf
·
Calories:
1116
kcal
·
Carbohydrates:
215
g
·
Protein:
31
g
·
Fat:
16
g
·
Saturated Fat:
5
g
·
Polyunsaturated Fat:
4
g
·
Monounsaturated Fat:
6
g
·
Trans Fat:
1
g
·
Cholesterol:
558
mg
·
Sodium:
218
mg
·
Potassium:
335
mg
·
Fiber:
3
g
·
Sugar:
142
g
·
Vitamin A:
812
IU
·
Vitamin C:
1
mg
·
Calcium:
106
mg
·
Iron:
4
mg
©JustOneCookbook.com Content and photographs are copyright protected. Sharing of this recipe is both encouraged and appreciated. Copying and/or pasting full recipes to any website or social media is strictly prohibited. Please view my photo use policy
here
.