Light, spongy and airy with nice fragrance from earl grey tea, this delightful Earl Grey Chiffon Cake is a perfect dessert for your afternoon tea!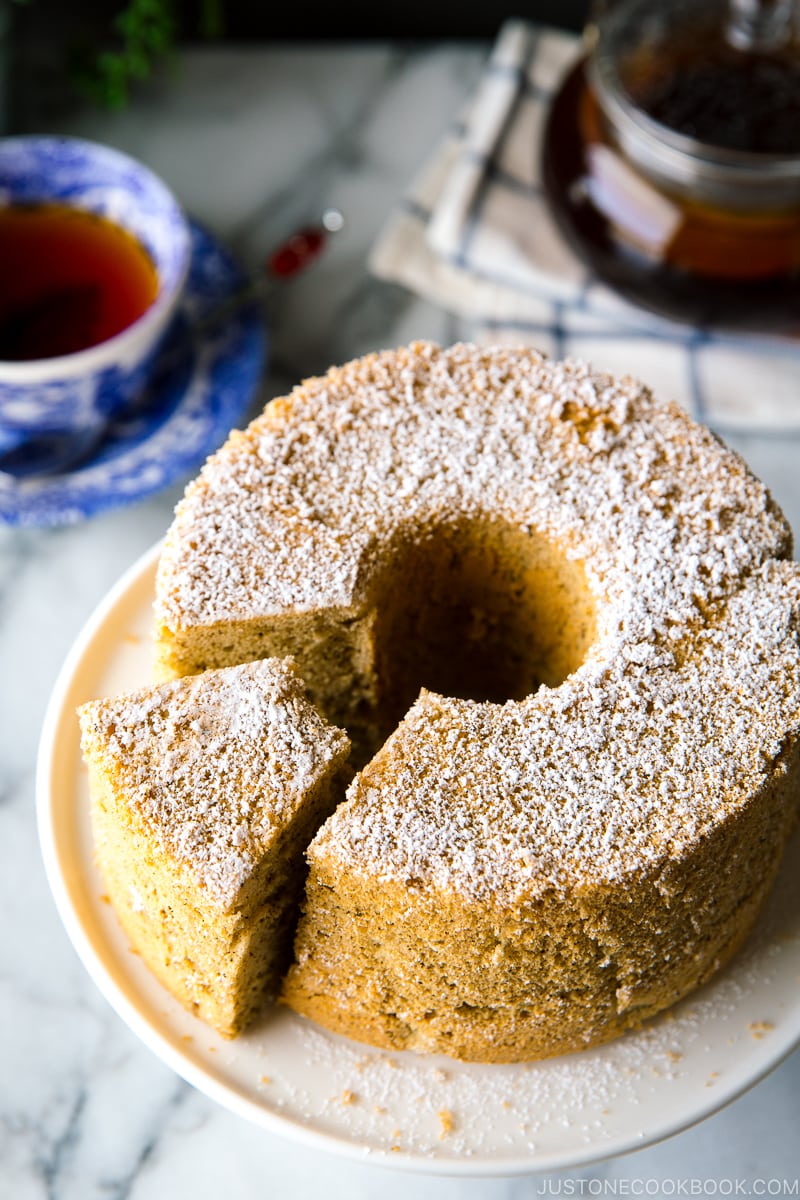 Have you tried Earl Grey flavored baked goods before? How about baking with tea leaves? If you haven't, you must try this Earl Grey chiffon cake. Earl Grey is a tea blend with delightful and calming citrus flavor. The citrus flavor comes from oil extracted from the rind of a bergamot orange.
As Earl Grey is my all-time favorite tea, all kinds of baked goods infused with Earl Grey tea are my top choices in bakeries. Given my love for sweet, I would even rank any Earl Grey flavored baked goods higher than chocolate. I am not kidding! From Earl Grey cookies, Earl Grey pound cake to this Earl Grey chiffon, I can never resist any of them.
Watch How To Make Earl Grey Chiffon Cake
Spongy and airy Earl Grey Chiffon Cake, made with Earl Grey tea and perfect for a snack or dessert.
Tea-Infused Baked Goods
After living in the U.S., I realized tea-infused baked goods are not as popular compared to Japan. This actually motivated me to learn how to bake so that I can enjoy my favorite Earl Grey baked goods at home.
If you haven't tried making a chiffon cake before, you will have to trust me when I say it's one of the easiest cakes to bake. Not an experienced baker? Not to worry. I used to think it would be intimidating to bake chiffon cake as well, but it turned out to be less challenging than I had presumed. Once you understand the simple techniques, it will be one of your favorite cake recipes to bake at home.
Tips to Make Airy Chiffon Cake
The most crucial part to make a successful chiffon cake is to make perfect meringue and fold it into batter correctly.
Meringue
In Japan, the majority of recipes call for cold egg whites to make meringue (and we don't use cream of tartar). If you already know how to make meringue with room temperature egg whites and cream of tartar, please use your own method. Otherwise, you can follow my detailed instructions in the recipe.
Fold In
When you finish making meringue, make sure to fold in egg whites gently so the tiny bubbles don't deflate. If you deflate the egg whites too much, the cake will not be fluffy.
How to Make the Perfect Chiffon Cake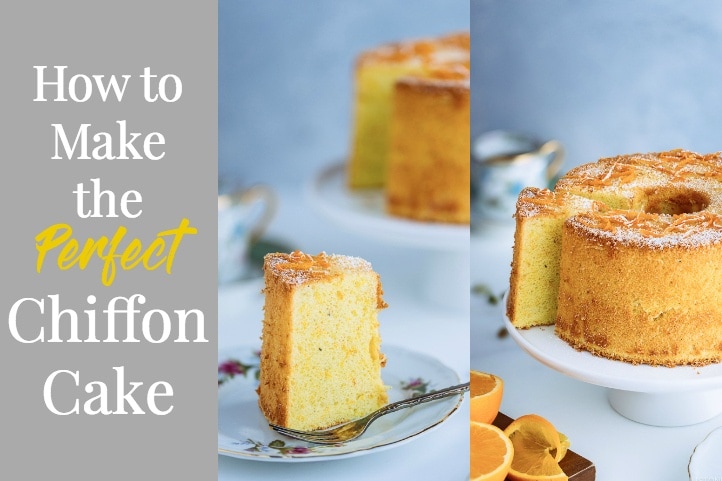 Have a question on chiffon cake making?
Do you have a different size chiffon cake pan?
I answered your questions in this post.
Itadakimasu!
Chiffon cakes are my daughter's favorite cake because she can help me make them and we enjoy making different types together. What I like best about chiffon cakes is they are so fluffy and bouncy, and not too sweet. The sponge-like texture is exceptionally light and airy that I feel like I can gobble up half of the cake myself.
It is also slightly healthier than other types of baked goods that use plenty of butter. This earl grey chiffon cake recipe uses just 3 Tbsp. of oil. With a faint citrus aroma, it makes the perfect cake to enjoy in the idyllic afternoon when you have some good friends over.
If you don't like Earl Grey, try my Green Tea Chiffon Cake or Meyer Lemon Chiffon Cake.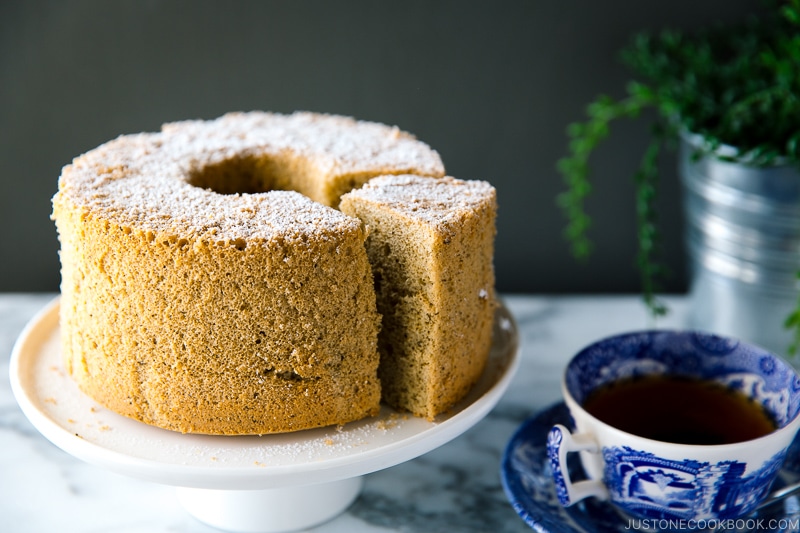 Wish to learn more about Japanese cooking? Sign up for our free newsletter to receive cooking tips & recipe updates! And stay in touch with me on Facebook, Pinterest, YouTube, and Instagram.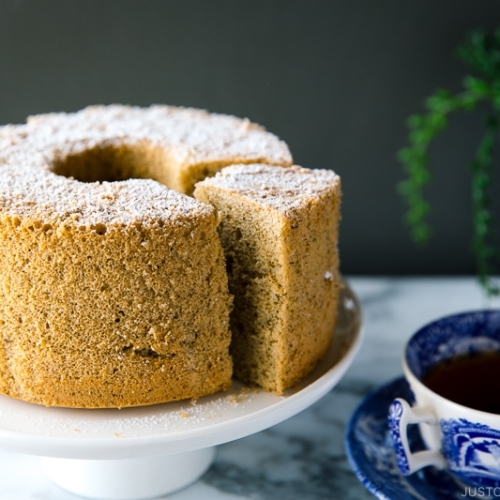 Earl Grey Chiffon Cake
Light, spongy and airy with nice fragrance from earl grey tea, this delightful Earl Grey Chiffon Cake is a perfect dessert for your afternoon tea!
Video
Servings:
1
17-cm (7") chiffon cake
Ingredients
2

tsp

earl grey loose tea leaves

(for step 2)

1

Tbsp

earl grey loose tea leaves

(for step 3)

6

Tbsp

hot water

3

large eggs (50 g each w/o shell)

½

cup

sugar

(measure ½ cup and remove 1 Tbsp to be precise; 3 oz; separated)

3

Tbsp

neutral-flavored oil (vegetable, rice bran, canola, etc.)

(measure 3 Tbsp and remove 1 tsp to be precise)

⅔

cup

cake flour (measure ⅔ cup and remove 2 tsp to be precise; If you're using a cup measurement, please follow this method to measure. Otherwise, the amount of flour tends to be more than you need. You can make your Homemade Cake Flour.)

1

tsp

baking powder
Japanese Ingredient Substitution:
If you want substitutes for Japanese condiments and ingredients, click
here
.
Instructions
Gather all the ingredients. Preheat the oven to 340ºF (170ºC). For a convection oven, reduce cooking temperature by 25ºF (15ºC0. You will also need a 17cm (7") chiffon cake pan. If you have a different size chiffon cake pan, please read this post. Make sure you use the correct chiffon cake pan. The best types are the aluminum ones with a removable base (Do not use non-stick bakeware for chiffon cake – it will not work). Do not grease the mold because the cake needs to cling on the sides and center of the pan for support as it rises or it will collapse.

Put 2 tsp Earl Grey loose tea leaves in a food processor (I used a Nutribullet here) and grind them to fine powder. Alternatively, you can use a mortar and pestle to grind tea leaves, or put tea leaves in a bag and crush them.


Put 1 Tbsp. Earl Grey loose tea leaves in a fine sieve over a bowl and pour 6 Tbsp (90 ml) of hot water to seep a strong tea. After cooling down, remove the tea leaves and use ONLY 4 Tbsp (60 ml) Earl Grey tea and set aside.


Separate 3 eggs to whites and yolks. Keep the egg whites in the refrigerator (or freezer) until you're ready to use.

In a large bowl, whisk 3 egg yolks and roughly ⅓ of 85 g sugar.

Add 3 Tbsp vegetable oil, 4 Tbsp tea, and whisk all together until combined.

Add the powdered Earl Grey tea in the egg mixture and mix well.


Sift 75 g cake flour and 1 tsp baking powder into the egg mixture in 3 increments. Whisk until totally incorporated and make sure there are no lumps.

Using a stand mixer (make sure there is no trace of water or oil), whip the chilled egg whites on medium-low sped (speed 4) till opaque, foamy and bubbly. If you put the egg whites in the freezer, the surface and edges may be frozen already, but that's okay. You can add half-frozen egg whites into the bowl. Add ⅓ of the remaining sugar and continue whipping. After 30 seconds or so, increase the stand mixer speed to high (speed 10) and add the remaining sugar slowly in small increments. It takes about 2-3 minutes until stiff peaks form (from the moment you switched to speed 10, but this is just a rough guide and it will vary based on stand mixers.). To check on stiff peaks, pull up your whisk and see if the egg whites go straight up (stiff peak) and just the tip is soft enough that it folds over, like taking a bow.

Using a spatula, fold in ⅓ of the egg whites to the batter until the mixture is homogeneous.


Fold in the rest of egg whites in 2-3 increments and mix gently until the mixture is homogeneous.


Pour the batter into the ungreased 17 cm (7") chiffon cake pan in same location to prevent from foaming more bubbles. To remove or prevent air pockets before baking, run a skewer (chopstick, knife or spatula) through the batter and then drop gently a few times.


Bake in the preheated oven for 30-35 minutes, or until a toothpick inserted comes out clean and the top of the cake springs back when gently pressed. If the top gets burn too quickly, cover the top loosely with aluminum foil.


The cake must be cooled upside down in its pan so that it stretch down instead of collapsing. Stick the cake pan on a tall heavy bottle or invert the cake pan onto a cooling rack (if you use angel food cake pan). Let it cool completely. To extract the cake, run a thin sharp knife or thin offset spatula around both the outer and inner edge of the cake and then tap the cake out onto a serving plate.


Dust powder sugar on top, if you like.

Notes
Tips for beating egg whites:
Make sure your beaters and mixing bowl are clean and dry. A speck of oil or egg yolk on either one can minimize the volume of the beaten egg whites.
 Avoid plastic bowls -- even clean ones may hold oily residue that can affect the beating quality of the egg whites.
Use a bowl that's wide enough to keep the beaters from being buried in the egg whites.
Do not overbeat or underbeat egg whites -- your cake may fall. Egg whites should be stiff but not dry.
Recipe adapted from Chiffon Cake Book by Junko Fukuda.
Nutrition
Serving:
1
17" chiffon cake
·
Calories:
1236
kcal
·
Carbohydrates:
157
g
·
Protein:
28
g
·
Fat:
58
g
·
Saturated Fat:
39
g
·
Polyunsaturated Fat:
4
g
·
Monounsaturated Fat:
10
g
·
Trans Fat:
1
g
·
Cholesterol:
558
mg
·
Sodium:
640
mg
·
Potassium:
285
mg
·
Fiber:
2
g
·
Sugar:
101
g
·
Vitamin A:
812
IU
·
Calcium:
344
mg
·
Iron:
4
mg
©JustOneCookbook.com Content and photographs are copyright protected. Sharing of this recipe is both encouraged and appreciated. Copying and/or pasting full recipes to any website or social media is strictly prohibited. Please view my photo use policy
here
.
Editor's Note: This post was originally published on June 7, 2015. The blog content has been updated with more information.