Take advantage of citrus season and make this delicate Meyer Lemon Chiffon Cake. Reminiscent of my favorite Japanese yuzu, Meyer lemons have an incredibly refreshing fragrance and tart sweetness that's perfect for desserts. A light and airy Japanese cake that's bursting with the sweet smell of lemons, it's guaranteed to brighten up your day! Top it with powdered sugar or my optional Meyer Lemon Icing Glaze.
Bright, sweet, and tart. Citrus fruits are the sunshine of the cold season. Right here in California, I am so grateful to find fresh Meyer lemons at my local farmers market from the start of November all the way through May. Said to be a cross between a lemon and a mandarin orange, Meyer Lemons remind me of my favorite Japanese Yuzu. Both citrus fruits have an incredibly refreshing aroma and fragrance that they are best used in dressings and desserts.
Whenever I scoop up some of these seasonal fruits, I can't wait to make this Meyer Lemon Chiffon Cake. A light, airy cake that is bursting with the sweet scent of lemons. It's a perfect slice of cake to enjoy with coffee or tea!
What is Meyer Lemon?
Some of you may not have heard of Meyer lemons. I didn't know anything about it until I came to the United States. When I Googled Meyer lemon, I found out they originated in China (that was unexpected) and were brought to the U.S. by Frank Meyer – which explains the name.
But Meyers lemons didn't become popular until the end of the 1990s when chefs like Alice Waters at Chez Panisse started to use in "California Cuisine" and Martha Stewart featured them in her recipes (source).
Meyer lemons are moderately acidic and do not have the tangy flavor of regular lemons. They even taste slightly sweet. My favorite part of Meyer lemons is their rinds. They smell so good that if there were a pile of Meyer lemon zest I feel like I could dive right in!
Another Meyer lemon recipe: Meyer Lemon Pound Cake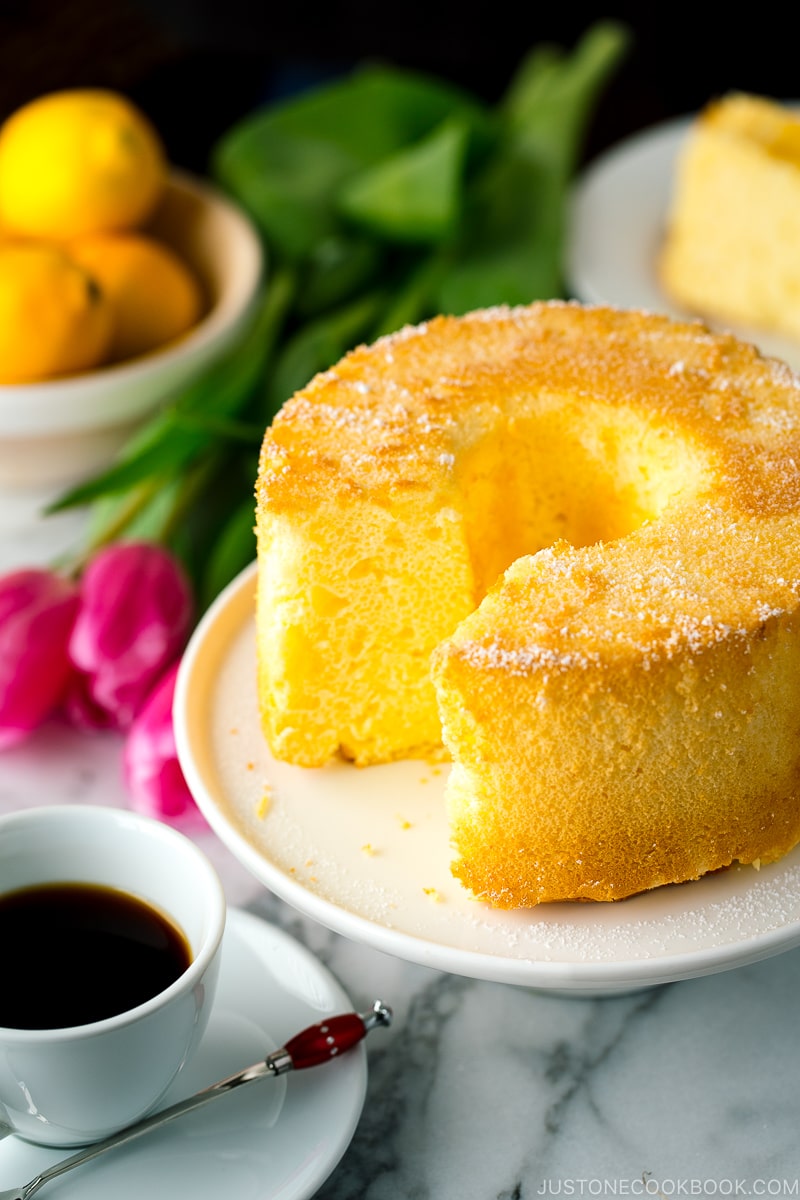 Airy, Fluffy, Not-So-Sweet Meyer Lemon Chiffon Cake
Chiffon cake has been one of my favorite desserts to make at home. Once you learn the trick of making a delicate, frothy meringue, the rest of it is rather straightforward.
Popular Dessert Cake In Japan
The Japanese love a good cake! As the texture is light and airy, chiffon cakes are a popular dessert cake in Japan. They are made of simple ingredients like oil, eggs, sugar, flour, and flavorings. Personally, I enjoy making chiffon cakes at home because I can balance the taste with a key flavor so it's not overly sweet. With their intense and natural sweetness, Meyer lemons make an excellent flavoring for the cake.
Can we substitute regular lemons for Meyer Lemons?
Yes, you can, in most recipes. Just keep in mind that the Meyer lemon is less tart and slightly sweeter. You probably want to increase the amount of sugar a tiny bit and use less juice. I haven't tested this chiffon cake recipe with regular lemons. If I tried it one day, I'll write down the measurement in the recipe (please remind me).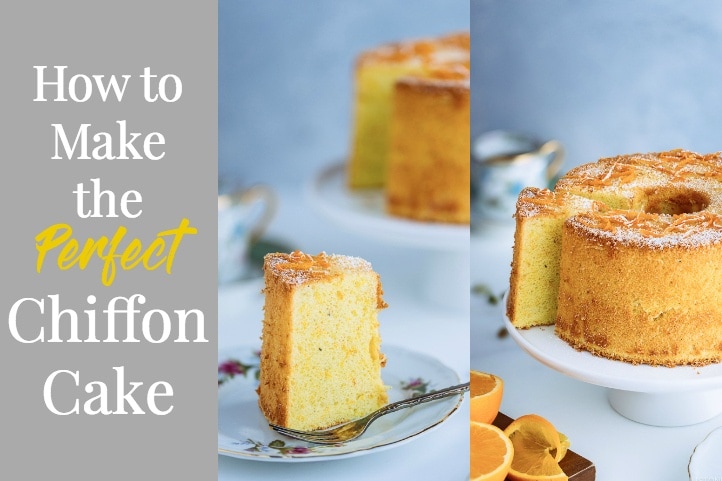 How to Make The Perfect Chiffon Cake
If you are a beginner baker and wish to give this chiffon cake a try, you will want to master the technique of whisking the meringue (beaten egg whites). Just like any baking project, it takes some practice, but the result is always rewarding.
I have a comprehensive guide on How to Make The Perfect Chiffon Cake for your reference. You'll find everything you need to know, including the right baking pan, troubleshooting, and FAQs. Have a read before you start.
And while the citrus fruit is still in season, I hope you grab a bag and make this delightful Meyer Lemon Chiffon Cake!
More Amazing Dessert Cake Recipes You'll Love: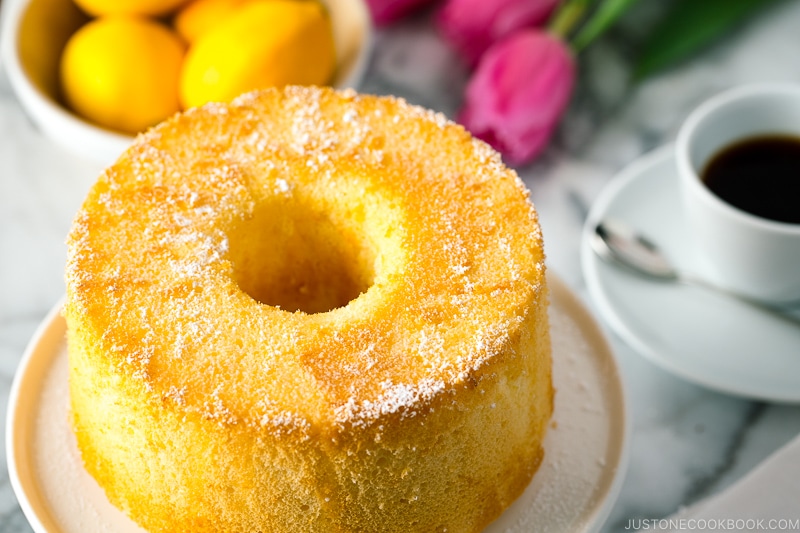 Wish to learn more about Japanese cooking? Sign up for our free newsletter to receive cooking tips & recipe updates! And stay in touch with me on Facebook, Pinterest, YouTube, and Instagram.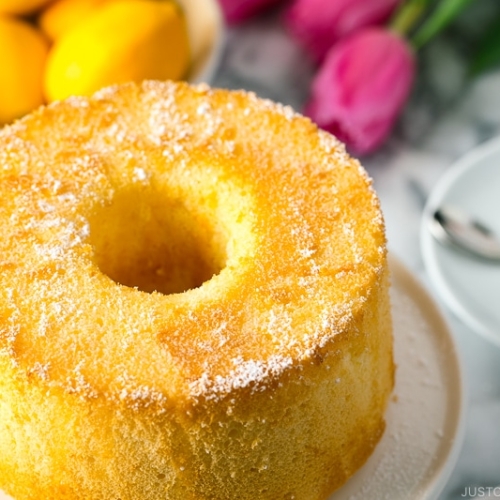 Meyer Lemon Chiffon Cake
Take advantage of citrus season and make this delicate Meyer Lemon Chiffon Cake. Reminiscent of my favorite Japanese yuzu, Meyer lemons have an incredibly refreshing fragrance and tart sweetness that's perfect for desserts. A light and airy Japanese cake that's bursting with the sweet smell of lemons, it's guaranteed to brighten up your day! Top it with powdered sugar or my optional Meyer Lemon Icing Glaze.
Video
Servings:
1
17-cm (7″) cake
Ingredients
3

large eggs (50 g each w/o shell)

(yolks and whites separated)

½

cup

sugar

(measure ½ cup and remove 1 Tbsp, to be precise; divided into thirds)

3

Tbsp

neutral-flavored oil (vegetable, rice bran, canola, etc.)

(measure 3 Tbsp and remove 1 tsp, to be precise)

2

Meyer lemons

(for the zest and ¼ cup (60 ml) of juice)

⅔

cup

cake flour (measure ⅔ cup and remove 2 tsp, to be precise; 1 cup should weigh 120 g; if you're using a cup measurement, please follow this method; otherwise, you may scoop more flour than you need; see my Notes below for how to make Homemade Cake Flour)

1

tsp

baking powder
For Serving
2

Tbsp

confectioners' sugar/powdered sugar

(for dusting on the cake; optional)
For the Meyer Lemon Icing Glaze (optional)
½

cup

confectioners' sugar/powdered sugar

½

Meyer lemon

(for 1 Tbsp juice)
Japanese Ingredient Substitution:
If you want substitutes for Japanese condiments and ingredients, click
here
.
Instructions
Before You Start…
Gather all the ingredients. I highly encourage you to use metric measurements using a kitchen scale for this recipe. Click on the "Metric" button at the top of the recipe to convert the ingredient measurements to metric. You will also need a 17-cm (7-inch) chiffon cake pan. If you have a different size pan, read this post to adjust the ingredient measurements. Make sure you use an aluminum pan with a removable base (read my blog post for more details). Please see my Notes at the end of this recipe for additional details on ingredients, equipment, and techniques.

Preheat the oven to 340ºF (170ºC). For a convection oven, reduce cooking temperature by 25ºF (15ºC). Separate the egg yolks and whites, and keep the whites in a small bowl or a stand mixer bowl. Refrigerate or freeze the mixer bowl and the egg whites for 15 minutes until cold. (It's okay if the egg whites are partially frozen). Tip: In Japan, we chill the egg whites to make smooth, fine-textured meringue and do not use cream of tartar.
To Mix the Batter
Start mixing the batter. In a large bowl, beat the egg yolks and one-third of the sugar with a hand whisk. Whisk vigorously until it's a creamy, pale yellow color.

Next, add the oil and the zest of one or two Meyer lemons. Tip: I love the intense fragrance and sweetness of Meyer lemons, so I use the zest of two lemons. You can use one, if you'd prefer.

Cut the Meyer lemons in half. Juice all four halves into a measuring cup.

Measure 4 Tbsp (¼ cup or 60 ml) of lemon juice. If you don't have enough, add water.

Add the lemon juice to the egg mixture and whisk well.

To a flour sifter or fine-mesh sieve, add the cake flour and baking powder. Sift one-third of this flour mixture into the egg yolk mixture. Whisk by hand to incorporate the dry ingredients well. Check that there are no lumps in the batter, then sift another one-third of the flour mixture into the bowl. Mix to incorporate. Then, sift in the rest of the flour mixture and whisk until just combined; do not overmix. Make sure there are no lumps in the batter. Set aside while you beat the meringue.
To Make the Meringue
Take out the egg whites and the mixing bowl from the refrigerator or freezer. Set the bowl on the stand mixer with a whisk attachment (I used the KitchenAid Professional Series). Start whipping the egg whites on medium-low speed (Speed 4) until the egg whites are bubbly, opaque, and foamy. Add another one-third of the remaining sugar and continue whisking.

After 30 seconds or so, increase the mixer speed to high (Speed 10) and gradually add the remaining sugar in small increments. Beat vigorously until stiff peaks form (see the next step for how to check). It takes about 2 minutes of beating at high speed to reach stiff peaks. Tip: I usually pause beating when the egg whites are almost done. Take off the whisk attachment from the mixer and use it to hand-mix the looser egg whites near the bowl's edge into the stiffer whites near the center until it's all homogenous in texture. Then, put the whisk back on and continue beating.

To check for stiff peaks, pull up your whisk. The meringue in the bowl or on the whisk should be firm enough to hold a peak, pointing straight up (or maybe folding over a little bit just at the very tips). By this time, the meringue should have a glossy texture, too. Tip: If you overbeat the meringue, it will become very stiff and grainy and won't incorporate into the batter at all.
To Fold In the Meringue
Using a spatula or hand whisk, add one-third of the meringue into the batter. Mix well by hand until it's homogeneous.

Gently fold in the rest of the meringue in 2 or 3 increments. Take care not to deflate the air bubbles in the meringue and batter as you fold. Once it's well combined and homogenous, fold the batter one last time and scrape the sides and bottom of the bowl to make sure there is no zest accumulation. The final batter should fall in ribbons when you lift the spatula or whisk.
To Bake
Prepare an ungreased 17-cm (7-inch) chiffon cake pan. From 6-8 inches high, pour the batter into the pan at just one spot to prevent air pockets from forming.

Run a wooden skewer through the batter to release any remaining air pockets. While holding the removable base in place, gently tap the pan a few times on the work surface to release any air pockets in the batter.

Put the cake pan on the middle rack of the preheated oven. Bake at 340ºF (170ºC) for 30 minutes. To check if it's finished baking, insert a toothpick or wooden skewer into the middle of the cake. If it comes out clean and the top of the cake springs back when gently pressed, it's done. Tip: If the top of the cake gets dark too quickly, cover the top loosely with aluminum foil to prevent burning. (The cake may be too close to the heat source.)

Remove the cake pan from the oven and gently drop the pan onto the work surface to shock the cake. This stops the cake from shrinking. To cool the cake, prepare a tall, heavy bottle with a long neck, such as a glass wine bottle. Invert the center tube of the cake pan onto the bottle's neck and let the cake cool completely in its pan. Cooling the cake upside down helps it stretch downward and maintain its loft.

Once the cake is completely cool, run a long offset spatula around the outer edge of the pan and a small offset spatula around the inner tube. Tip: I used to use a knife for this step, but the tip of the knife tends to poke the cake while moving around, so I now recommend using offset spatulas.

Gently take out the removable base and cake from the outer pan. Then, run the offset spatula along the bottom of the cake to release it from the base. Invert the cake with the removable base onto a plate or cake stand. The cake will slide off the inner tube. Chiffon cake is served "upside down" with the flat bottom on top.
To Serve
Dust the top of the cake with confectioners' sugar (optional), if you'd like. Alternatively, you can top the cake with Meyer Lemon Icing Glaze (optional). To make the glaze, place the powdered sugar in a small bowl and stir in 1 Tbsp Meyer lemon juice using half a lemon. The glaze should be thick, but pourable. Add more sugar or Meyer lemon juice as necessary to achieve the desired consistency. Drizzle over the cake using a spoon. Slice and enjoy!
To Store
I strongly recommend consuming the cake sooner for the best freshness. However, you can keep the cake covered on a plate or stand at room temperature in a cooler place for 1-2 days. To keep it longer, wrap individual slices in plastic wrap or put in an airtight container and store in the refrigerator for 3 days or in the freezer for 2 weeks.
Notes
All-Purpose Flour vs. Cake Flour:
All-purpose flour and cake flour do not perform the same. Cake flour is more delicate, and if you use all-purpose flour instead of cake flour, the texture will be dense and tough.
Homemade Cake Flour:
To make 1 cup cake flour, take one level cup of all-purpose flour, remove 2 Tbsp, and then add 2 Tbsp of cornstarch. Be sure to sift the flour 3-4 times to distribute the cornstarch well.
Tips for Beating Egg Whites:
Make sure your beaters and mixing bowl are clean and dry. A speck of oil or egg yolk on either one can minimize the volume of the beaten egg whites.
Avoid plastic bowls, as even clean ones may hold oily residue that can affect the beaten quality of the egg whites.
Use a bowl that's wide enough to keep the beaters from being buried in the egg whites.
Do not overbeat or underbeat the egg whites or your cake may fall. Egg whites should have a stiff p

eak, pointing straight up (or maybe a little bit folding over just at the very tips).
Chiffon Cake Pan:
Make sure you use the right chiffon cake pan. The best types are aluminum with a removable base. Make sure it is NOT nonstick. Do not grease the mold because the cake needs to cling to the sides and center of the pan for support as it rises or it will collapse.
Nutrition
Serving:
7
inch cake
·
Calories:
1492
kcal
·
Carbohydrates:
224
g
·
Protein:
28
g
·
Fat:
58
g
·
Saturated Fat:
39
g
·
Trans Fat:
1
g
·
Cholesterol:
558
mg
·
Sodium:
642
mg
·
Potassium:
381
mg
·
Fiber:
3
g
·
Sugar:
162
g
·
Vitamin A:
822
IU
·
Vitamin C:
45
mg
·
Calcium:
352
mg
·
Iron:
4
mg
©JustOneCookbook.com Content and photographs are copyright protected. Sharing of this recipe is both encouraged and appreciated. Copying and/or pasting full recipes to any website or social media is strictly prohibited. Please view my photo use policy
here
.
Editor's Note: The post was originally published on Mar 2, 2016. It has been edited and republished in February 2020.