Airy, bouncy, and lightly sweet, Orange Chiffon Cake pairs the citrusy fragrance of orange zest with the warm aroma and delicate spice of cardamom. This soft and moist dessert is served with a dusting of confectioners' sugar and topped with curly ribbons of orange peel. Enjoy this delicious Japanese pastry with a cup of coffee or Earl Grey tea.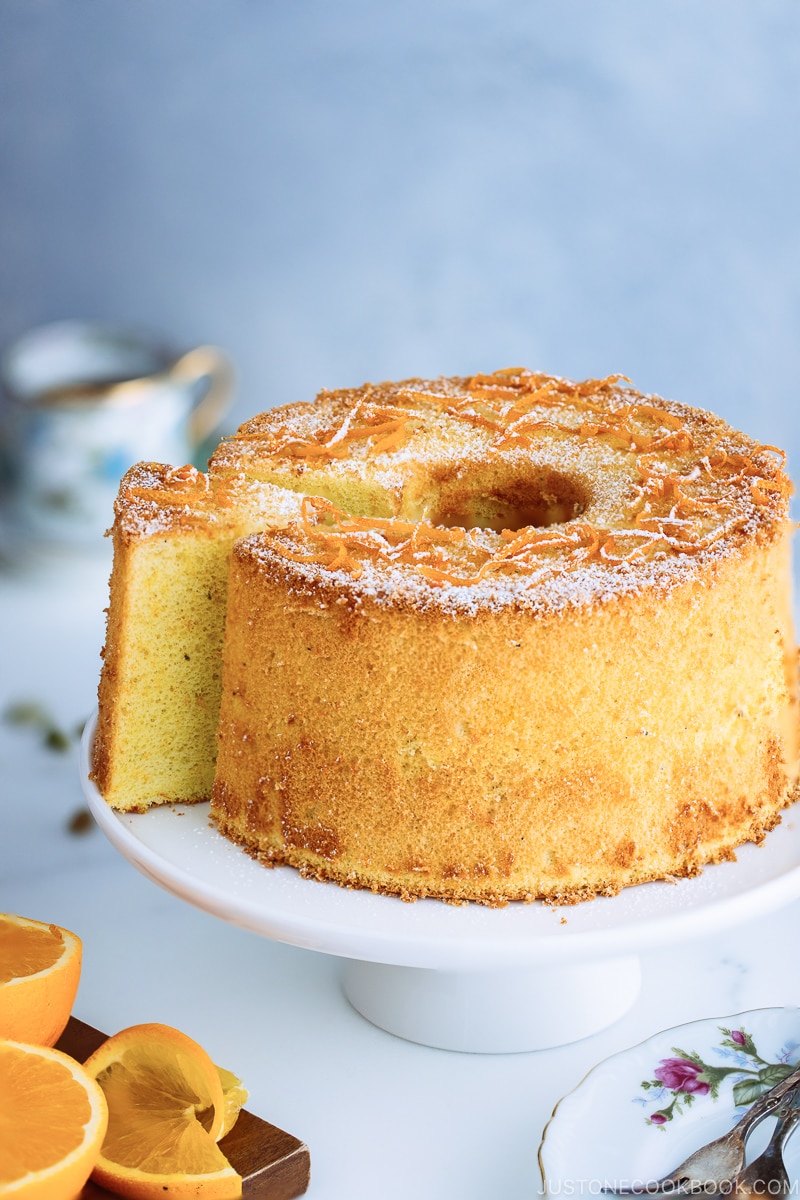 With abundant navel oranges in the kitchen, I knew exactly what I wanted to make — Orange Chiffon Cake (オレンジシフォンケーキ). My daughter loves chiffon cake, and many JOC readers have specifically requested this recipe for a long time. To make it extra special and wow-worthy, I sneaked in a pinch of cardamom for a charming flavor.
Navel Oranges + Cardamom Flavor
I fell in love with cardamom when my Indian neighbor, who became my very good friend, made Chai every time our kids had a playdate at her house (I shared her recipe here). The cardamom pods smelled so inviting and delicious. It was a new spice that I had never seen or tasted in Japan.
When I was looking for a unique flavor that would complement orange, cardamom came to mind. I don't remember exactly what dish I had tried, but it must have been a dessert that immediately caught my tastebuds off guard with the combination. Like clove, but more subtle, cardamom pairs beautifully with citrus flavors, adding warmth and depth that makes this chiffon cake so memorable.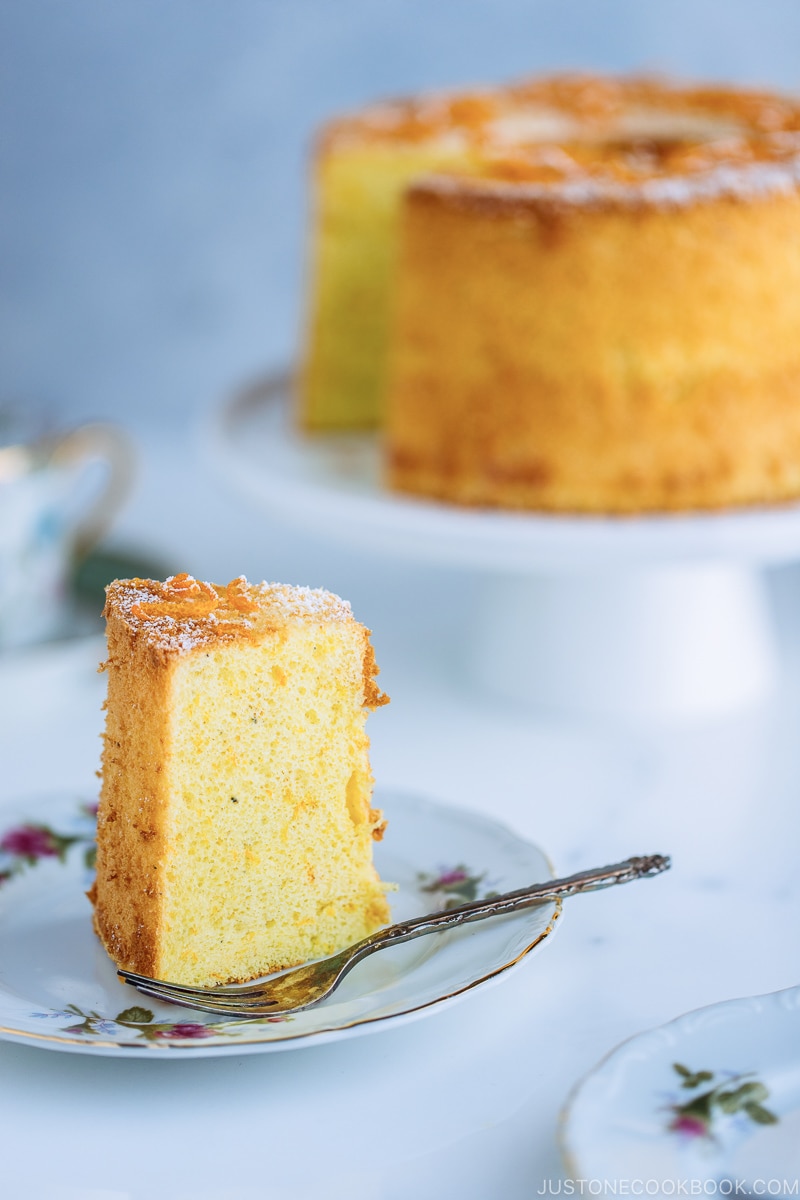 Ingredients for Orange Chiffon Cake
I love making chiffon cakes as the ingredients are so simple. Eggs, sugar, and flour are the ingredients we usually have in the pantry, right? For the flavoring, you can literally work with anything you can think of – black teas, coffee, spices, seasonal fruits, or more unique Japanese flavors like matcha or black sesame. It is probably one of the most versatile cakes to make at home.
Another reason I like chiffon cake is it's never too sweet. If you're familiar with Japanese (or Asian) sweets, they are in general not overly sweet or laden with sugar, so you can enjoy the baked treats and not feel bogged down.
Navel Oranges: What's your favorite kind of orange? I love navel oranges as they are sweet and juicy, which I used to make this chiffon cake. You can also use Cara Cara Oranges since they are in season right now.
Cardamom: This highly aromatic spice adds a hint of pine-like fragrance and delicate yet spicy flavor to the chiffon cake. Although you can do without cardamom for the recipe, I'd recommend giving it a try. You should be able to find cardamom in the spice aisle at any major grocery store or specialty spice shop. If you're not sure what else to do with it after baking the chiffon cake, use cardamom just like you would with cinnamon. Try a pinch of the spice with your cold brew coffee, baked goods, curries, or roast meats. It can be a game-changer.
Neutral Oil: Use canola or vegetable oil; please do not use olive oil or other kinds of oil.
Cake Flour: I'll talk more about it in detail below. If you are making a chiffon cake, use cake flour, not all-purpose flour. At least you can make homemade cake flour with all-purpose flour and cornstarch (See Notes in the recipe below).
Eggs: I use large eggs for all my recipes on the blog as they are the standard size in American recipes.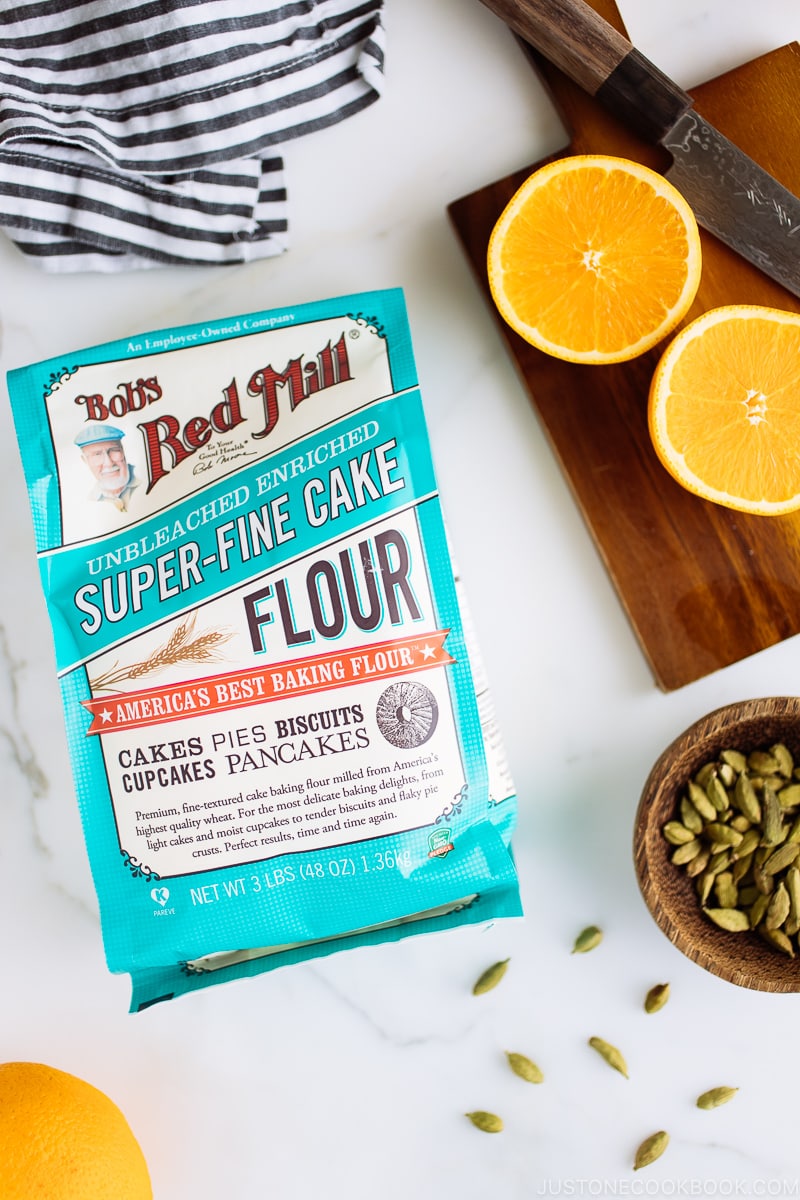 My Favorite: Super-Fine Unbleached Cake Flour from Bob's Red Mill®
This post was sponsored by Bob's Red Mill®. I couldn't be any more thrilled when I get to work with Bob's Red Mill® to develop this Orange Chiffon Cake recipe. When comes to baking and breakfast products, I highly recommend Bob's Red Mill®. Have you tried any of their flours or other products before? What I genuinely admire about the company is that they use honest ingredients and methods for their wide range of products, which I think it's important for consumers.
As an employee-owned company, Bob's Red Mill® uses high-quality whole grains to satisfy all vegan, paleo, and gluten-free friendly cooking and baking needs. From almond flour, cake mixes, and coconut flour to various grains, it offers the largest lines of organic, whole-grain foods in the country. You can be assured that all of its products are certified Kosher and made with ingredients grown from non-GMO seeds. If you're curious, you can go to the website and learn more about the founder, Bob Moore, and his mission too.
To achieve the perfect light texture for the chiffon cake, I used Super-Fine Unbleached Cake Flour from Bob's Red Mill®. Because it is sifted to a very fine texture, the cake flour is fantastic for all sorts of cakes – especially delicate ones like chiffon cakes. You should be able to find the cake flour at any major grocery store. Alternatively, you can also buy it on Amazon.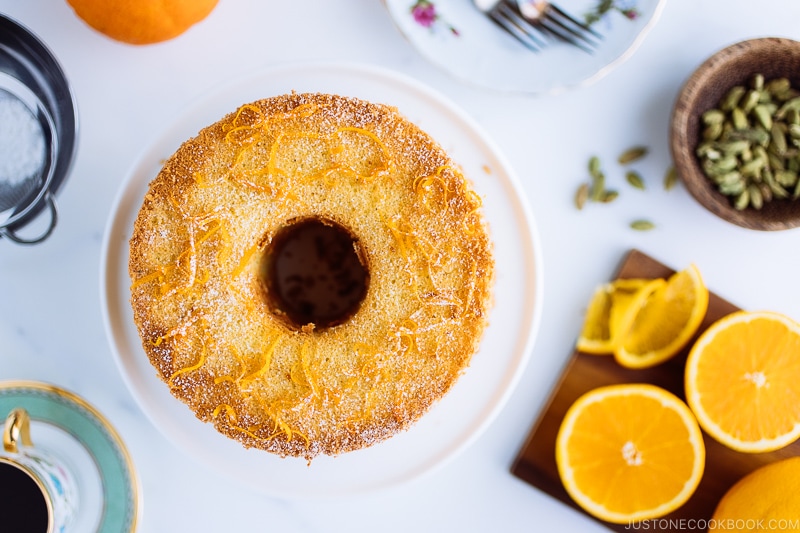 First Time Making Chiffon Cake?
I've shared some helpful tips on How to Make the Perfect Chiffon Cake – Tips & Troubleshoot. Take a look before you start making your first chiffon cake.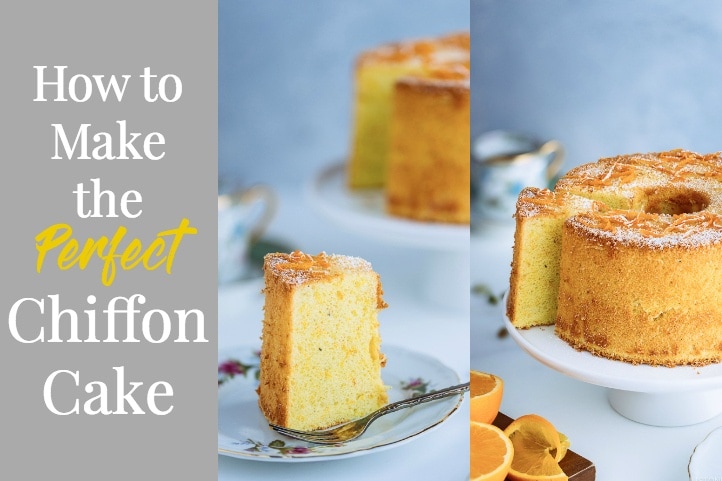 I also want to go over some kitchen tools that I use in this recipe. I know some of you have never baked or rarely bake, but I would love to try making this Orange Chiffon Cake.
Chiffon Cake Pan: It's important to get a chiffon cake pan to make a chiffon cake to maintain the height structure and airiness. Aluminum material works best, and make sure it doesn't come with a non-stick coating. Why? Because the batter needs to cling to the wall of the cake pan and climb up tall with the help of beaten egg whites. A nonstick pan is slippery and the batter will slide down and flop. You can get this 7-inch angel food cake pan on Amazon or a Japanese chiffon cake pan on Nihon Ichiban (ships internationally).
Zester 1: This zester features several sharp holes at the tip of the tool which works brilliantly in zesting off any citrus fruits. There is also another larger hole that allows you to peel off long curly strips for garnishes. With the two different features, you can create zest in different textures.
Zester 2: Microplane is a versatile tool to have in every kitchen. You can get very fine zest and triple the amount from any citrus fruits. It is particularly useful for baking when you need the citrus flavors to be dispersed into the batter. Aside from zesting, you can also use it to grate cheese and ginger.
Hand Mixer: I still use a stand mixer (even though it doesn't show up in my recipe videos/photos), but this hand mixer has been pretty handy and helpful for our filming (easy to show you the process). It takes a little longer than a more powerful stand mixer, but it still does a great job. So if you don't want to spend too much money on equipment you don't use often and don't want to lose your arm from whipping egg whites with a whisk, I strongly recommend this hand mixer.
Other Delicious Chiffon Cake Flavors
Chiffon cakes are very popular sweets in Japan. Not only it's cleverly designed to feed a crowd on many occasions, it also keeps so well that you could serve it for breakfast or afternoon tea for the whole week. So far I have the following flavors of chiffon cakes:
Have you tried any other interesting chiffon cake you'd like to make at home? Let me know in the comments below. Maybe I'll be able to share the recipe next time.
Sign up for the free Just One Cookbook newsletter delivered to your inbox! And stay in touch with me on Facebook, Pinterest, YouTube, and Instagram for all the latest updates.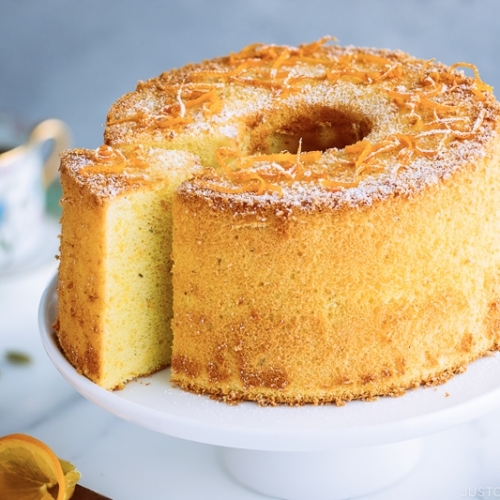 Orange Chiffon Cake
Airy, bouncy, and lightly sweet, Orange Chiffon Cake pairs the citrusy fragrance of orange zest with the warm aroma and delicate spice of cardamom. This soft and moist dessert is served with a dusting of confectioners' sugar and topped with curly ribbons of orange peel. Enjoy this delicious Japanese pastry with a cup of coffee or Earl Grey tea.
Servings:
1
17-cm (7-inch) cake
Ingredients
3

large eggs (50 g each w/o shell)

(yolks and whites separated)

10

pods

cardamom

(for ½ tsp ground cardamom)

3-4

oranges

(for the zest and 4 Tbsp (60 ml) of juice; I used navel oranges)

½

cup

sugar

(measure ½ cup and remove 1 Tbsp, to be precise; divided into thirds)

3

Tbsp

neutral-flavored oil

(measure 3 Tbsp and remove 1 tsp, to be precise)

⅔

cup

cake flour (measure ⅔ cup and remove 2 tsp, to be precise; 1 cup should weigh 120 g; if you're using a cup measurement, please follow this method; otherwise, you may scoop more flour than you need; see my Notes below for how to make Homemade Cake Flour)

1

tsp

baking powder
For Serving
1-2

Tbsp

orange zest

(long curly strips; see blog post for more information)

1

Tbsp

confectioners' sugar

(for dusting; optional)
Japanese Ingredient Substitution:
If you want substitutes for Japanese condiments and ingredients, click
here
.
Instructions
Gather all the ingredients. I highly encourage you to use metric measurements using a kitchen scale for this recipe. Click on the "Metric" button at the top of the recipe to convert the ingredient measurements to metric. Preheat the oven to 340ºF (170ºC). For a convection oven, reduce cooking temperature by 25ºF (15ºC). You will need a 17-cm (7-inch) chiffon cake pan. If you have a different size pan, read this post to adjust the ingredient measurements. Make sure you use an aluminum pan with a removable base (read my blog post for more details). Please see my Notes at the end of this recipe for additional details on ingredients, equipment, and techniques.

Keep the egg yolks in a medium bowl and the egg whites in a large bowl. If you plan to use a stand mixer, keep the egg whites in the stand mixer bowl. Refrigerate or freeze the bowl and egg whites for 15 minutes until cold. (It's okay if the egg whites are partially frozen). Tip: In Japan, we chill the egg whites to make smooth, fine-textured meringue and do not use cream of tartar.

Crush the cardamom pods and remove the shell. Grind the seeds to a fine powder. You will need ½ tsp finely ground cardamom. Set aside.

Next, zest the oranges. As I mentioned in the blog post, I use two types of testers for more texture and flavor—a microplane for fine zest and a citrus zester for long curly strips. For the cake batter, reserve 2-3 Tbsp of fine zest and some of the strips. Reserve another 1-2 Tbsps of the long curly strips for decorating the cake. Set aside.

Cut one or two of the oranges in half and juice them until you get 4 Tbsp (60 ml) of fresh orange juice. Set aside.
To Mix the Batter
Start mixing the batter. In a large bowl, beat the egg yolks and one-third of the sugar with a hand whisk. Whisk vigorously until it's a creamy pale yellow color.

Then, add the oil, ground cardamom, and the orange zest for the cake batter and whisk well.

Add the juice from the oranges to the egg mixture and whisk well.

To a flour sifter or fine-mesh sieve, add the cake flour and baking powder. Sift one-third of this flour mixture into the egg yolk mixture. Whisk by hand to incorporate the dry ingredients well. Check that there are no lumps in the batter, then sift another one-third of the flour mixture into the bowl. Mix to incorporate. Then, sift in the rest of the flour mixture and whisk until just combined; do not overmix. Make sure there are no lumps in the batter. Set aside while you beat the meringue.
To Make the Meringue
Take out the bowl of egg whites from the refrigerator or freezer. Using an electric hand mixer or a stand mixer with a whisk attachment, start whipping the egg whites on medium-low speed (or Speed 4 on a KitchenAid stand mixer) until the egg whites are bubbly, opaque, and foamy.

Add another one-third of the sugar and continue whisking for 30 seconds. Then, increase the mixer speed to high (or Speed 10 on a stand mixer) and gradually add the remaining sugar in small increments.

Beat vigorously until stiff peaks form (see the next step for how to check). It takes about 2 minutes of beating at high speed to reach stiff peaks. Tip: When using a stand mixer, I usually pause beating when the egg whites are almost done. I take off the whisk attachment from the mixer and use it to hand-mix the looser egg whites near the bowl's edge into the stiffer whites near the center until it's all homogenous in texture. Then, put the whisk back on and continue beating.

To check for stiff peaks, pull up your beaters or whisk. The meringue in the bowl or on the whisk should be firm enough to hold a peak, pointing straight up (or maybe folding over a little bit just at the very tips). By this time, the meringue should have a glossy texture, too. Tip: If you overbeat the meringue, it will become very stiff and grainy and won't incorporate into the batter at all.
To Fold In the Meringue
Using a spatula or hand whisk, add one-third of the meringue into the batter. Mix well by hand until it's homogeneous.

Gently fold in another one-third of the meringue. Take care not to deflate the air bubbles in the meringue and batter as you fold.

Finally, transfer the batter into the bowl with the remaining egg whites. Gently fold the egg whites into the batter without breaking the air bubbles. Once it's well combined and homogenous, fold the batter one last time and scrape the sides and bottom of the bowl to make sure there is no zest accumulation. The final batter should fall in ribbons when you lift the spatula or whisk.
To Bake
Prepare an ungreased 17-cm (7-inch) chiffon cake pan. From 6-8 inches high, pour the batter into the pan at just one spot to prevent air pockets from forming.

Run a wooden skewer through the batter to release any remaining air pockets. While holding the removable base in place, gently tap the pan a few times on the work surface to release any air pockets in the batter.

Put the cake pan on the middle rack of the preheated oven. Bake at 340ºF (170ºC) for 30 minutes. To check if it's finished baking, insert a toothpick or wooden skewer into the middle of the cake. If it comes out clean and the top of the cake springs back when gently pressed, it's done. Tip: If the top of the cake gets dark too quickly, cover the top loosely with aluminum foil to prevent burning. (The cake may be too close to the heat source.)

Remove the cake pan from the oven and gently drop the pan onto the work surface to shock the cake. This stops the cake from shrinking. To cool the cake, prepare a tall, heavy bottle with a long neck, such as a glass wine bottle. Invert the center tube of the cake pan onto the bottle's neck and let the cake cool completely in its pan. Cooling the cake upside down helps it stretch downward and maintain its loft.

Once the cake is completely cool, run a long offset spatula around the outer edge of the pan and a small offset spatula around the inner tube. Gently take out the removable base and cake from the outer pan. Then, run the offset spatula along the bottom of the cake to release it from the base. Tip: I used to use a knife for this step, but the tip of the knife tends to poke the cake while moving around, so I now recommend using offset spatulas.
To Serve
Invert the cake with the removable base onto a plate or cake stand. The cake will slide off the inner tube. Chiffon cake is served "upside down" with the flat bottom on top. Dust the top with confectioners' sugar (optional) and sprinkle it with the long curly strips of orange zest. Slice and enjoy!
To Store
I strongly recommend consuming the cake sooner for the best freshness. However, you can keep the cake covered on a plate or stand at room temperature in a cooler place for 1-2 days. To keep it longer, wrap individual slices in plastic wrap or put in an airtight container and store in the refrigerator for 3 days or in the freezer for 2 weeks.
Notes
All-Purpose Flour vs. Cake Flour:
All-purpose flour and cake flour do not perform the same. Cake flour is more delicate, and if you use all-purpose flour instead of cake flour, the texture will be dense and tough.
Homemade Cake Flour:
To make 1 cup cake flour, take one level cup of all-purpose flour, remove 2 Tbsp, and then add 2 Tbsp of cornstarch. Be sure to sift the flour 3-4 times to distribute the cornstarch well.
Tips for Beating Egg Whites:
Make sure your beaters and mixing bowl are clean and dry. A speck of oil or egg yolk on either one can minimize the volume of the beaten egg whites.
Avoid plastic bowls, as even clean ones may hold oily residue that can affect the beaten quality of the egg whites.
Use a bowl that's wide enough to keep the beaters from being buried in the egg whites.
Do not overbeat or underbeat the egg whites or your cake may fall. Egg whites should have a stiff p

eak, pointing straight up (or maybe a little bit folding over just at the very tips).
Chiffon Cake Pan:
Make sure you use the right chiffon cake pan. The best types are aluminum with a removable base. Make sure it is NOT nonstick. Do not grease the mold because the cake needs to cling to the sides and center of the pan for support as it rises or it will collapse.
Recipe adapted from Chiffon Cake Book by Junko Fukuda.
Nutrition
Nutrition Facts
Orange Chiffon Cake
Serving Size
7 inch whole cake
Amount per Serving
% Daily Value*
* Percent Daily Values are based on a 2000 calorie diet.
©JustOneCookbook.com Content and photographs are copyright protected. Sharing of this recipe is both encouraged and appreciated. Copying and/or pasting full recipes to any website or social media is strictly prohibited. Please view my photo use policy
here
.