This classic Chocolate Chiffon Cake is airy, light, and spongy with a rich chocolate flavor and mild sweetness. Extremely popular in Japan, chiffon cakes are found in cafes and pastry shops across the country. This showstopper recipe will soon be your favorite dessert to enjoy with a cup of coffee or earl grey tea, too.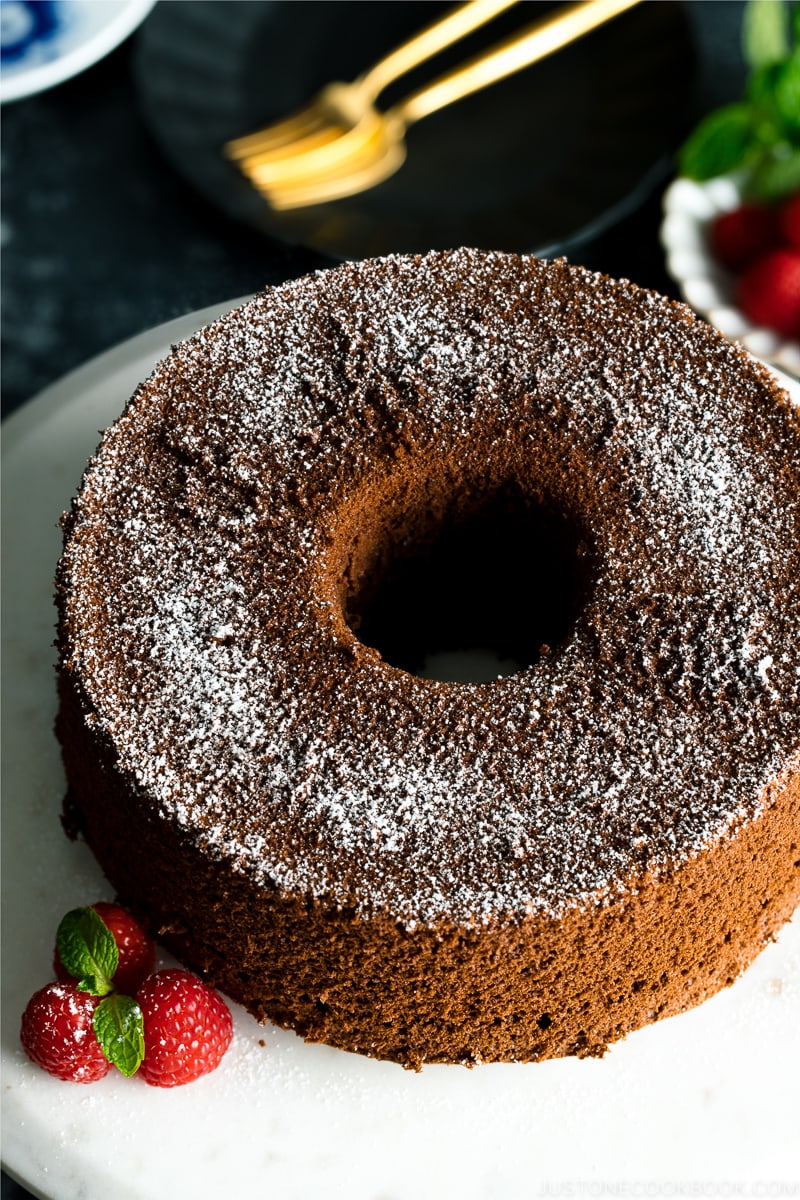 Chiffon cakes are extremely popular in Japan, probably more so than in the U.S. You can find all kinds of chiffon cake flavors in coffee shops, pastry shops, and sweets stores. From Green Tea Chiffon Cake to Black Sesame Chiffon Cake, unique Japanese flavors are all the rage and they are the ones you want to try when you're in Japan.
Today we're going classic. Because we can never have enough chocolate in our life, here is the much anticipated Chocolate Chiffon Cake!
Why You Should Make This Chocolate Chiffon Cake
This is, without a doubt, the best chocolate chiffon cake my family loves!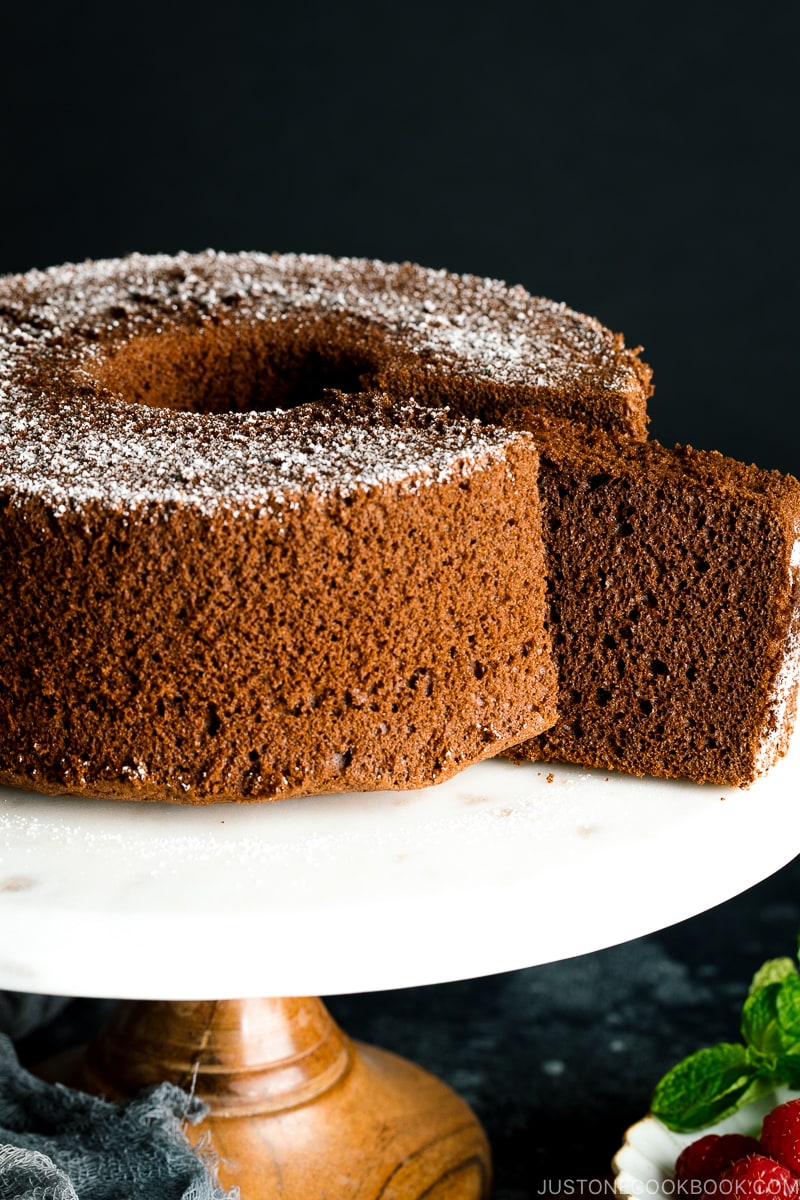 How to Make Chocolate Chiffon Cake
Ingredients You'll Need
Each ingredient serves an important role in this cake. For the best results, I do not recommend making substitutions unless stated otherwise.
Eggs: I use American large eggs and one large egg is about 50 grams without a shell (56.7 g with a shell).
Granulated sugar: I use granulated white sugar for baking.
Neutral flavored oil: I use untoasted sesame oil (no flavor) for this recipe. You can use canola or vegetable oil.
Whole milk: I used cow's milk but you can use other types of milk or water.
Vanilla extract: Use good quality vanilla to add flavor.
Cake flour: Do not substitute! For chiffon cake, you need cake flour (薄力粉 Hakurikiko if you're in Japan). Can't find it? You can make it yourself with all-purpose flour and cornstarch (See Notes in my recipe).
Baking powder: Some people do not use BP for a chiffon cake, but I use it for lifting.
Dutch-processed cocoa powder: We've been using the Droste brand of cocoa powder (mostly used by my daughter who bakes) and we love it. I found this article online that explains a bit more about which cocoa powder you should buy (in short, they recommend Droste brand). You can purchase it on Amazon (but comes with a pack of 3)
Overview: Cooking Steps
You can make this chocolate chiffon cake with a simple whisk and bowl, but I highly recommend using an electric mixer or a stand mixer for beating egg whites to save your arm from falling off.
Mix wet ingredients in one bowl and add dry ingredients.
Beat the egg whites in another bowl with the electric mixer or stand mixer, and then combine with the batter.
Pour the batter into the 20-cm (8-inch) chiffon cake pan and bake for 40 minutes!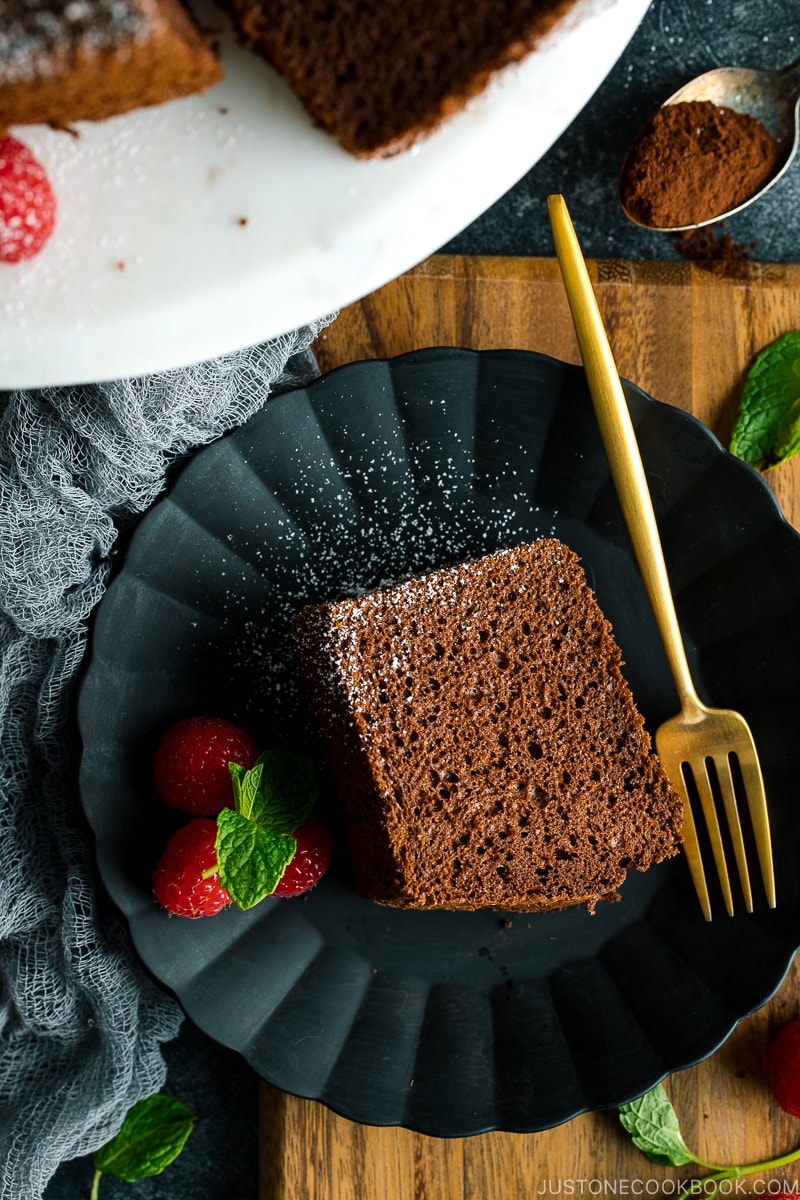 2 Tips to Make Perfect Meringue (Egg Whites)
Tip #1: Chill egg whites
I know, it's the total opposite of what you learned from American recipes. I've seen most of the American recipes use room-temperature egg whites to make the meringue. However, almost all (99%) Japanese chiffon cake recipes require cold, well-refrigerated, or sometimes half-frozen egg whites, to make meringue without cream of tartar. Chilled egg whites will make very fine and smooth meringue with small and strong air bubbles inside. They remain strong even in the oven and help the batter rise higher and fluffier. If you are not from the US, which method do you use?
Tip #2: Whisk until stiff peak with a tip that folds over
There is always discussion on how much you should beat the egg whites. From my experience, it's best to stop the mixer when you're close to finishing to check the condition of the peaks. When you lift the whisk, the egg whites in the bowl or on the whisk should be firm enough to go straight up and hold a stiff peak, but just the very tip may fold over a little, like taking a bow. The meringue should have a slightly glossy texture, too.
Then, switch from the hand-held electric mixer (or stand mixer) to a balloon whisk, and thoroughly mix the sides and center of egg whites a few times to get to the same consistency throughout.
How to Make Perfect Chiffon Cake
Chiffon cakes are one of the easiest cakes you can make at home. However, it took me some trial and error until I could make a really good one. Mostly because I had a hard time beating the egg whites and folding the batter correctly.
So I put together my tips in this post, including ingredient measurements for all the different chiffon cake pan sizes.
Enjoy this light, fluffy, yet rich chocolate chiffon cake with a cup of earl grey tea or coffee! It is a keeper, especially if you like chocolate and light spongy cakes.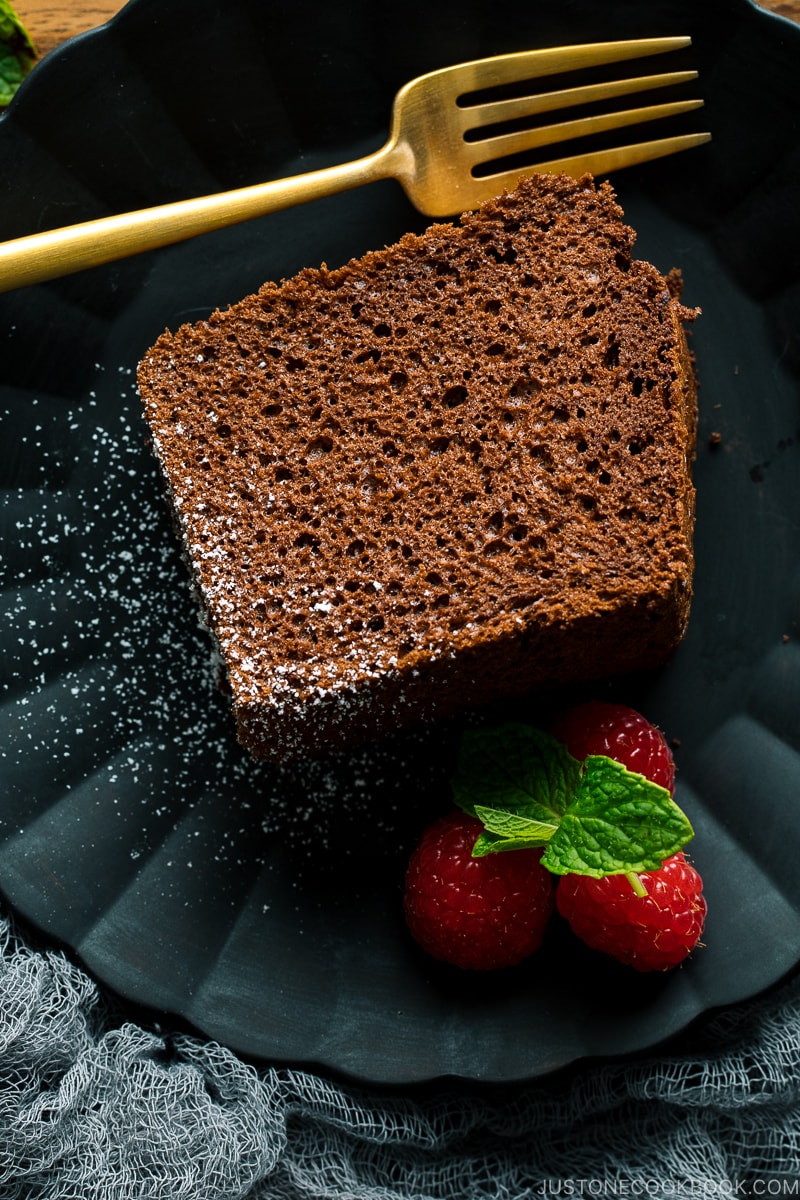 FAQs
How can I convert this recipe to a different chiffon cake pan size?
You can figure out ingredients (eggs, sugar, etc) for your pan that is 7 inches (17 cm), 8.5 inches (22 cm), 9 inches (23 cm), or 10 inches (25 cm) in this post.
Important! You have to take away some cake flour to replace it with cocoa powder for the chocolate chiffon cake, here's the measurement.
7 inches (17 cm): 25 g cocoa powder + 50 g cake flour
8 inches (20 cm): 40 g cocoa powder + 80 g cake flour
8.5 inches (22 cm): 50 g cocoa powder + 100 g cake flour
9 inches (23 cm): 60 g cocoa powder + 110 g cake flour
10 inches (25 cm): 70 g cocoa powder + 140 g cake flour
How about Double Chocolate Chiffon Cake?
I knew you would ask this question, so I did try making a Double Chocolate Chiffon Cake recipe several times. What do I mean by "double"? Chocolate is used two times: cocoa powder and melted chocolate.
I tried adjusting the ratio of the cocoa powder and melted chocolate to make the cake as light as possible, but the richer the chocolate cake is, the denser it gets. It loses the bouncy, airy, light "chiffon cake" texture. The cake resembles more like a pound cake, instead of a chiffon cake.
Another issue I had with double chocolate was that the cake does not rise as tall as the chiffon cake with only cocoa powder. For example, I would have to use a 7″ (17 cm) chiffon cake pan for the ingredients for 8″ (20 cm) chiffon cake to get a decent "chiffon cake" height.
In the end, I was not quite satisfied with the result (and can't call that "chiffon cake"), so I increased the cocoa powder in the batter to get more chocolate flavor. My chocolate to cake flour ratio is 1 to 2 (40 g cocoa powder: 80 g cake flour). If you decrease the cocoa powder to 20 g (1 to 6 ratio), the cake will become taller, but have less "chocolate-ty" taste.
Other Delicious Chiffon Cake Recipes
Wish to learn more about Japanese cooking? Sign up for our free newsletter to receive cooking tips & recipe updates! And stay in touch with me on Facebook, Pinterest, YouTube, and Instagram.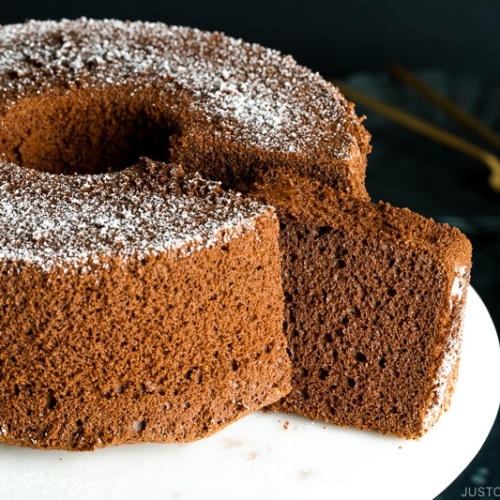 Chocolate Chiffon Cake
This classic Chocolate Chiffon Cake is airy, light, and spongy with a rich chocolate flavor and mild sweetness. Extremely popular in Japan, chiffon cakes are found in cafes and pastry shops across the country. This showstopper recipe will soon be your favorite dessert to enjoy with a cup of coffee or Earl Grey tea, too.
Video
Servings:
1
20-cm (8-inch) cake
Ingredients
⅔

cup

cake flour (if you're using a cup measurement, please follow this method; otherwise, you may scoop more flour than you need; 1 cup should weigh 120 g; you can make Homemade Cake Flour)

1¼

tsp

baking powder

½

cup

Dutch-processed cocoa powder

5

large eggs (50 g each w/o shell)

(separate into whites and yolks)

⅔

cup

granulated sugar

(divided in half)

¼

cup

neutral-flavored oil (vegetable, rice bran, canola, etc.)

(4 Tbsp)

⅓

cup

whole milk or water

(measure ⅓ cup and add 1½ Tbsp, to be precise)

1

tsp

vanilla extract
For Serving
1

Tbsp

confectioners' sugar/powdered sugar

(for dusting; optional)
Japanese Ingredient Substitution:
If you want substitutes for Japanese condiments and ingredients, click
here
.
Instructions
Gather all the ingredients. I highly encourage you to use metric measurements using a kitchen scale for this recipe. Click on the "Metric" button at the top of the recipe to convert the ingredient measurements to metric. Preheat the oven to 340ºF (170ºC). For a convection oven, reduce the baking temperature by 25ºF (15ºC). You will also need a 20-cm (8-inch) chiffon cake pan. If you have a different size pan, read this post to adjust the ingredients as well as the blog post of this recipe for the cocoa amount. Please see my Notes at the end of this recipe for additional details on ingredients and techniques.

In a bowl, combine the cake flour, baking powder, and Dutch-processed cocoa powder and mix well with a fork or whisk. Set aside these dry ingredients.

Separate the eggs into yolks and whites. Keep the egg whites in a stand mixer bowl and the egg yolks in a large mixing bowl.

Refrigerate or freeze the bowl with the egg whites for 15 minutes so both the bowl and egg whites are cold. (It's okay if the egg whites are partially frozen). Tip: In Japan, we chill the egg whites to make smooth, fine-textured meringue and do not use cream of tartar.
To Mix the Batter
Meanwhile, start making the batter. First, beat the egg yolks with a hand whisk (or stand mixer).

Add half of the granulated sugar. Whisk vigorously until it's a creamy pale yellow color.

Add the oil and beat with a whisk to combine.

Add the milk and vanilla extract and combine well.

Using a fine-mesh sieve, sift half of the dry ingredients into the bowl with the egg mixture. Using a hand whisk, mix well to combine.

Sift the rest of the dry ingredients into the bowl and whisk by hand until just combined; do not overmix. Make sure there are no lumps in the batter. Set aside while you beat the meringue.
To Make the Meringue
Take out the bowl of egg whites from the refrigerator or freezer. Set the bowl on the stand mixer with a whisk attachment (I used the KitchenAid Professional Series).

Start whipping the egg whites on medium speed (Speed 5) until the egg whites are bubbly, opaque, and foamy.

Gradually add the remaining half of the granulated sugar in small increments while whisking. Once you add all the sugar, increase to a higher speed (Speed 8) and beat vigorously until stiff peaks form (see the next step for how to check). Tip: I usually pause beating when the egg whites are almost done. Take off the whisk attachment from the mixer and use it to hand-mix the looser egg whites near the bowl's edge into the stiffer whites near the center until it's all homogenous in texture. Then, put the whisk back on and continue beating.

To check for stiff peaks, pull up your whisk. The egg whites in the bowl or on the whisk should be firm enough to hold a peak, pointing straight up (or maybe a little bit folding over just at the very tips). By this time, the meringue should have a glossy texture, too. If you overbeat the meringue, it will become very stiff and grainy and won't incorporate into the batter at all.
To Fold In the Meringue
Using a hand whisk, take one-quarter of the meringue from the bowl and add it to the batter. Whisk well by hand to combine until homogenous.

Take one-third of the meringue left in the bowl and this time, gently fold it into the batter without deflating the air bubbles in the meringue and batter.

Take another third and repeat the gentle folding process.

Take the final third and gently fold it in. Make sure to thoroughly mix without deflating the air bubbles.

The final batter should fall in ribbons when you lift the whisk. The image to the left below shows you what the ribbon stage looks like. Lastly, switch to a spatula and fold the batter one last time, scraping the sides and bottom of the bowl to make sure there is no chocolate accumulation.
To Bake
Prepare an ungreased 20-cm (8-inch) chiffon cake pan. From 6-8 inch high, pour the batter into the pan at just one spot to prevent air bubbles from forming. While holding the removable base in place, gently tap the cake pan on the work surface to release any air pockets in the batter.

Run a wooden skewer through the batter to release any remaining air pockets. Put the cake pan on the middle rack of the oven and bake at 340ºF (170ºC) for 35-40 minutes (40 minutes for my oven).

To check that it's done baking, insert a wooden skewer into the middle of the cake. If the skewer comes out clean and the top of the cake springs back when gently pressed, it's done. Tip: If the top of the cake gets dark too quickly, cover the top loosely with aluminum foil to prevent burning. (The cake may be too close to the heat source.)

Remove the cake pan from the oven and gently drop the pan onto the work surface to shock the cake. This stops the cake from shrinking.

Prepare a bottle with a long neck, such as a glass wine bottle. Invert the center tube of the cake pan onto the bottle's neck and let the cake cool completely in its pan. Cooling the cake upside down helps it stretch downward and maintain its loft.

Once the cake is completely cool, run a long offset spatula around the outer edge of the pan and a small offset spatula around the inner tube. Tip: I used to use a knife, but the tip of the knife tends to poke the cake while moving around, so I switched to offset spatulas.

Gently take out the removable base and cake from the outer pan. Then, run the offset spatula along the bottom of the cake to release it from the base.

Invert the cake with the removable base onto a plate or cake stand. The cake will slide off the inner tube. Chiffon cake is served "upside down" with the flat bottom on top.
To Serve
Dust the top of the cake with powdered sugar and decorate with raspberries and mint leaves, if you'd like. Slice and enjoy.
To Store
I strongly recommend consuming the cake sooner for the best freshness. However, you can keep the cake covered on a plate or stand at room temperature in a cooler place for 1-2 days. To keep it longer, wrap individual slices in plastic wrap or put in an airtight container and store in the refrigerator for 3 days or in the freezer for 2 weeks.
Notes
All-Purpose Flour vs. Cake Flour:
All-purpose flour and cake flour do not perform the same. Cake flour is more delicate, and if you use all-purpose flour instead of cake flour, the texture will be dense and tough.
Homemade Cake Flour:
To make 1 cup cake flour, take one level cup of all-purpose flour, remove 2 Tbsp, and then add 2 Tbsp of cornstarch. Be sure to sift the flour 3-4 times to distribute the cornstarch well.
Tips for Beating Egg Whites:
Make sure your beaters and mixing bowl are clean and dry. A speck of oil or egg yolk on either one can minimize the volume of the beaten egg whites.
Avoid plastic bowls, as even clean ones may hold oily residue that can affect the beaten quality of the egg whites.
Use a bowl that's wide enough to keep the beaters from being buried in the egg whites.
Do not overbeat or underbeat the egg whites or your cake may fall. Egg whites should have a stiff p

eak, pointing straight up (or maybe a little bit folding over just at the very tips).
Chiffon Cake Pan:
Make sure you use the right chiffon cake pan. The best types are aluminum with a removable base. Make sure it is NOT nonstick. Do not grease the mold because the cake needs to cling to the sides and center of the pan for support as it rises or it will collapse.
Nutrition
Serving:
8
inch cake
·
Calories:
1824
kcal
·
Carbohydrates:
227
g
·
Protein:
52
g
·
Fat:
90
g
·
Saturated Fat:
59
g
·
Trans Fat:
1
g
·
Cholesterol:
939
mg
·
Sodium:
936
mg
·
Potassium:
1164
mg
·
Fiber:
15
g
·
Sugar:
145
g
·
Vitamin A:
1499
IU
·
Calcium:
602
mg
·
Iron:
11
mg
©JustOneCookbook.com Content and photographs are copyright protected. Sharing of this recipe is both encouraged and appreciated. Copying and/or pasting full recipes to any website or social media is strictly prohibited. Please view my photo use policy
here
.
Editor's Note: This post was originally published on February 5, 2020. It's been republished with more helpful tips on November 23, 2022.