These jewel-like, sweet black soybeans called Kuromame, are a classic Osechi dish enjoyed during Oshogatsu – Japanese New Year. They are known to bring you good health for the new year!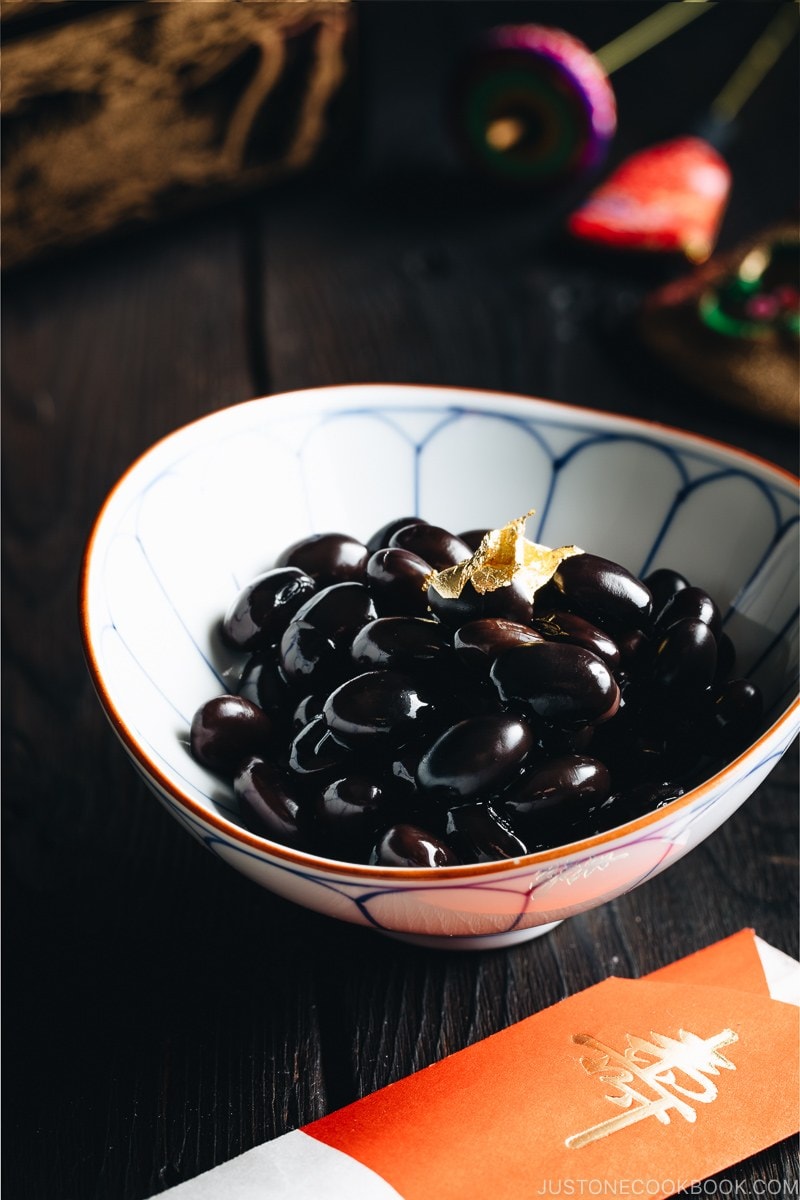 One of the easiest dishes you can make for the Japanese New Year (Oshogatsu) is Kuromame (黒豆) or sweet black soybeans. The soybeans are typically simmered on low heat over a long period of time in a syrup. To shorten the cooking process, we'll cook the soybeans using a pressure cooker. This Instant Pot Kuromame will save you hours in the kitchen, so you can make one more dish for Osechi!
What is Kuromame?
Kuromame (黒豆) is literary black (黒) soybeans (豆) in Japanese. The soybeans are simmered in a sauce made of water, sugar, soy sauce, and salt, and then let soak for another day to yield a strikingly glossy and black appearance. They are delightfully sweet with just a tinge of savory flavor. It is one of the "sweet" side dishes served along with other savory osechi foods.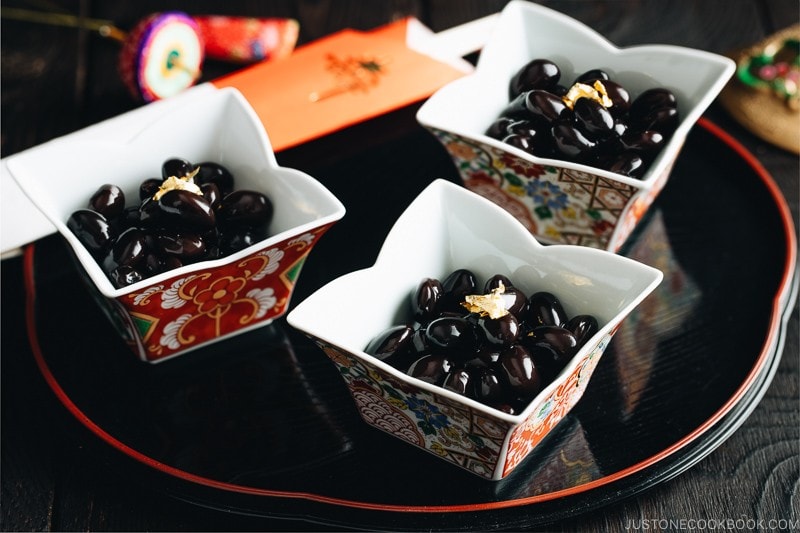 When making kuromame, we place a great focus on the color of the black soybeans. The shinier and more intensely black they are, the higher the praise. In addition to the color, it is also important that the skin of the soybeans is not wrinkled. Shiny, pearl-like black soybeans are a subtle yet important piece of osechi.
The Secret to Enhancing the Color of Black Soybeans
Dried beans need to be soaked before cooking. When you soak black soybeans in water, the water turns dark purplish and the beans lose their color and become brown or reddish. Once you simmer the beans in the same water, they will regain their black/black-ish color.
You may wonder how to make the black soybeans even MORE black. The answer is rusty iron nails. I know, I'm about to get some raised eyebrows…
Dubious it may sound, this technique has been passed down for generations. Why rusty nail? Well, the rust (iron oxide) from nails has a chemical reaction with anthocyanins (chemicals that are located in the skin of black beans), which makes the beans dark. What people do is to clean the nails and wrap in cheesecloth to soak with the beans.
Are there any cleaner and better "food-safety" alternative? Absolutely!
Use a cast iron deep pot. A cast-iron skillet is a bit too shallow.
Buy this Lucky Iron Fish® (not sponsored), which is available on Amazon.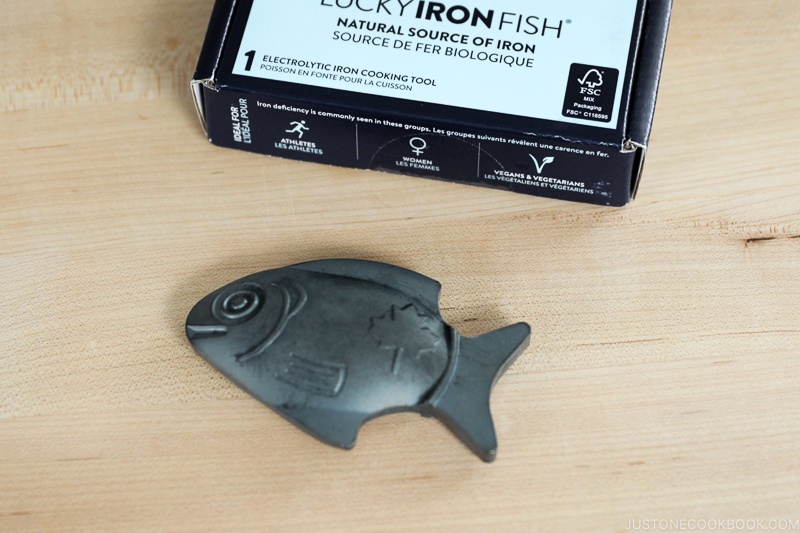 The Lucky Iron Fish is a small iron cooking tool that infuses your meals with a healthy amount of natural iron to help prevent iron deficiency and anemia. It's especially perfect for athletes, vegetarians, vegans, women, and kuromame makers like us!
All you need to do is to soak the Lucky Iron Fish in the water along with the black soybeans.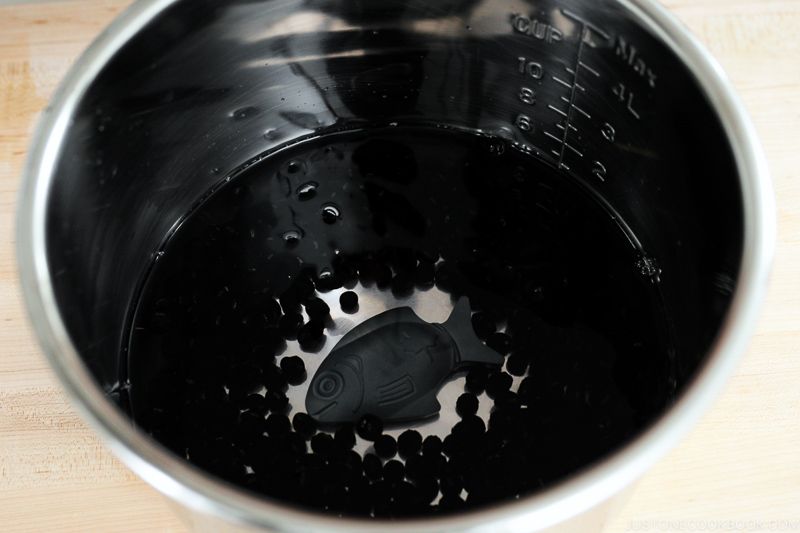 And after 4 hours of soaking, remove the iron fish (Update on 12/31/19: I kept the iron fish and pressure cook in the Instant Pot, and it was fine. I recommend leaving it in the pot.) Check out the color of the water. It turns completely black! Now you can proceed to cook the black soybeans.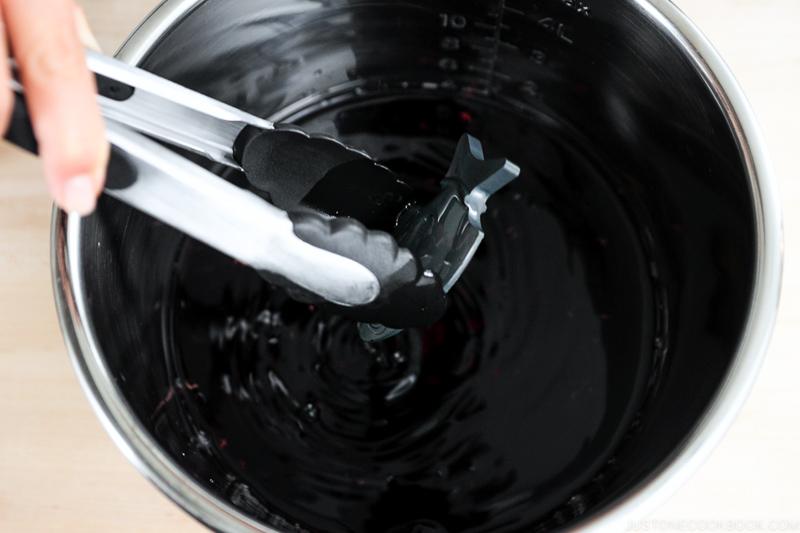 After pressure cooking, here is the final result of the kuromame.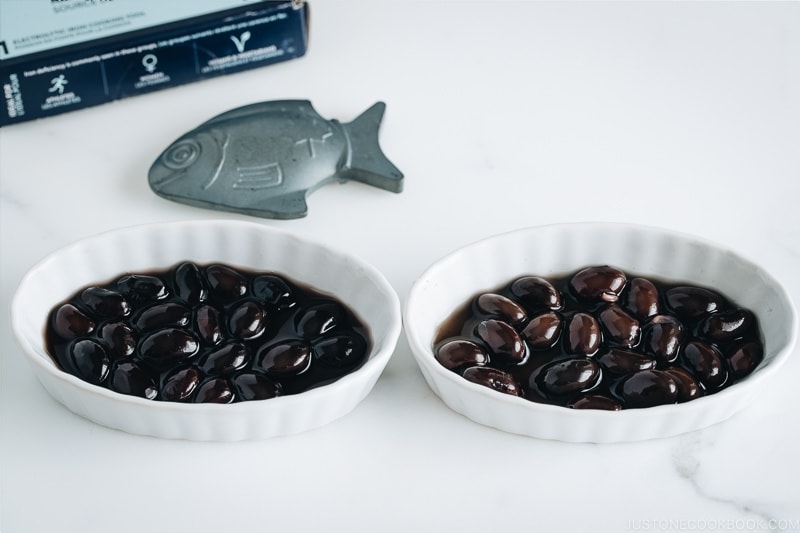 The result is pretty obvious. How about the taste? Whether you use the Lucky Iron Fish or not, they taste the same. What if you add the Lucky Iron Fish after cooking, does it become darker? No, it doesn't become darker. It's too late to rectify the color.
Now is it worth $30 for buying the lucky fish? It might be good for you if you…
make kuromame every year for the Japanese New Year.
need to impress your mother, mother-in-law, or Japanese guests who appreciate the beautiful black kuromame.
have someone who lacks iron in their diet and takes a supplement. You can cook other food with iron fish.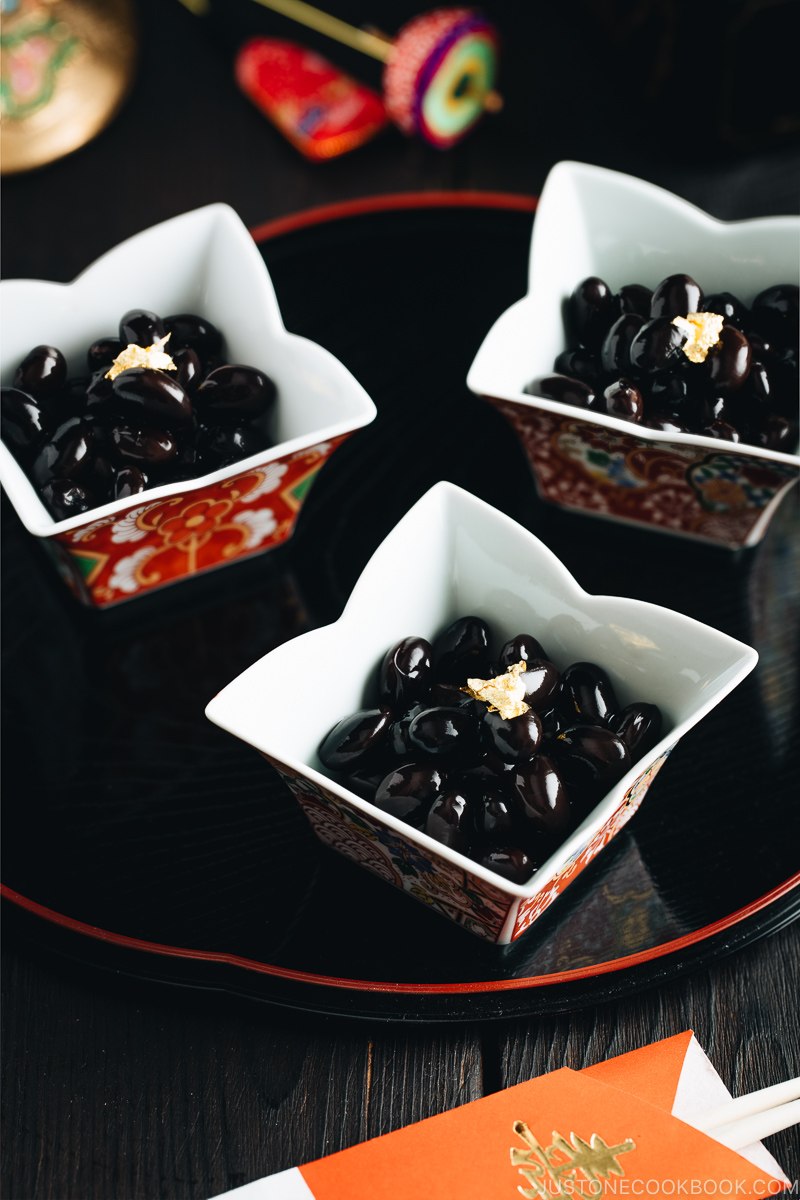 Don't Have an Instant Pot or Pressure Cooker?
Don't worry! I have the recipe for cooking kuromame in a pot on the stovetop. I learned that kuromame cooked on the stovetop with the iron fish actually has a richer color than kuromame cooked in the Instant Pot with the iron fish.
I hope you will include kuromame into your osechi menu. Here's to good health and happiness!
Japanese Ingredient Substitution: If you want to look for substitutes for Japanese condiments and ingredients, click here.
Sign up for the free Just One Cookbook newsletter delivered to your inbox! And stay in touch with me on Facebook, Pinterest, YouTube, and Instagram for all the latest updates.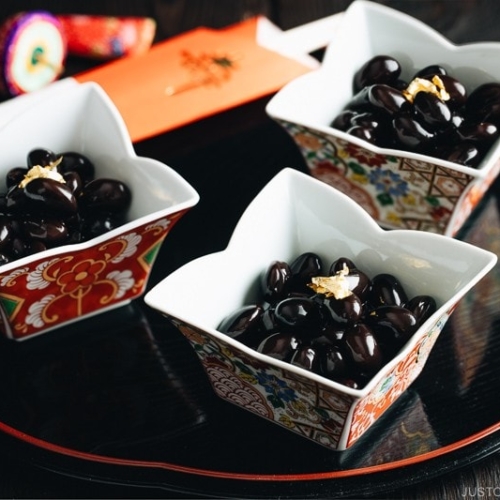 Instant Pot Kuromame
These jewel-like, sweet black soybeans called Kuromame, are a classic osechi dish enjoyed during oshogatsu—Japanese New Year. They are known to bring you good health for the new year!
Video
Ingredients
Seasonings
1

cup

sugar

2½

tsp

soy sauce

½

tsp

kosher salt (Diamond Crystal; use half for table salt)
Japanese Ingredient Substitution:
If you want substitutes for Japanese condiments and ingredients, click
here
.
Instructions
Gather all the ingredients. Please read and follow the black soybean package instructions. Some packages may say "soak overnight." My package directions say to soak 4-5 hours, so I soaked for 4 hours. For testing purpose, I tried soaking the same brand of soybeans overnight, and the beans came out a bit too soft. So you may need to test to see how long you want to soak your beans.
To Prepare the Black Soybeans
Gently rinse the black soybeans (kuromame) under cold water a few times. The skin is very fragile, so handle with care. Discard any damaged beans. Drain well.

Put the beans in the inner pot of the Instant Pot. Add 4 cups of water to the pot and let them soak for 4 hours (or overnight, depending on your package instruction).

To enhance the color of the soybeans, we use rusty iron nails or "Lucky Iron Fish" to cook with the beans. (Read more in the blog post.) If you use rusty iron nails, clean 2-3 nails, wrap in a cheesecloth and add in the pot. Or place "Lucky Iron Fish" in the water with the soybeans.
To Cook the Black Soybeans in Instant Pot
After 4 hours of soaking, put the inner pot back to the Instant Pot (keep the iron fish in the pot). Add 1 cup sugar, 2½ tsp soy sauce, and ½ tsp kosher salt. Mix well.

Close the lid and set to HIGH pressure for 15 minutes (It will take 10 minutes to pressurize). Make sure the steam release handle points at "sealing" and not "venting." The float valve goes up when pressurized.
Once Pressure Cooking Is Done…
When it's finished cooking, the Instant Pot will switch automatically to the "Keep Warm" mode. Let the pressure release naturally, about 45 minutes. Open the lid and take out the inner pot and remove the iron fish.

Pour the beans and sauce into a large airtight container. Let the beans cool uncovered.
To Store
Kuromame are ready to eat, but to yield a more striking black color, let the beans soak in the sauce for at least a day. Cover and refrigerate. You can keep for up to a week in the refrigerator, or 1 month in the freezer.
To Serve
Drain the liquid and serve the kuromame. If you like to make it more festive, you can garnish it with gold leaf on top.
The Leftover Liquid and Beans
Some use the leftover liquid to make black soybean latte, some use the beans to make pound cake, steamed cake, etc. My family usually finishes everything, so I never have leftovers.
Notes
Recipe by Namiko Chen of 
Just One Cookbook
. All images and content on this site are copyright protected. Please do not use my images without my permission. If you'd like to share this recipe on your site, please re-write the recipe in your own words and link to this post as the original source. Thank you.
Nutrition
Calories:
256
kcal
·
Carbohydrates:
24
g
·
Protein:
15
g
·
Fat:
8
g
·
Sodium:
160
mg
·
Potassium:
1
mg
·
Fiber:
10
g
·
Sugar:
26
g
·
Calcium:
148
mg
·
Iron:
3
mg
©JustOneCookbook.com Content and photographs are copyright protected. Sharing of this recipe is both encouraged and appreciated. Copying and/or pasting full recipes to any website or social media is strictly prohibited. Please view my photo use policy
here
.
Editor's Note: This post was originally published on December 25, 2018. It's been republished in December 2020.