These shiny, sweet black soybeans called Kuromame are served on New Year's Day as a part of Osechi Ryori (traditional New Year's meal) in Japan. They are delightfully sweet with just a tinge of savory flavor.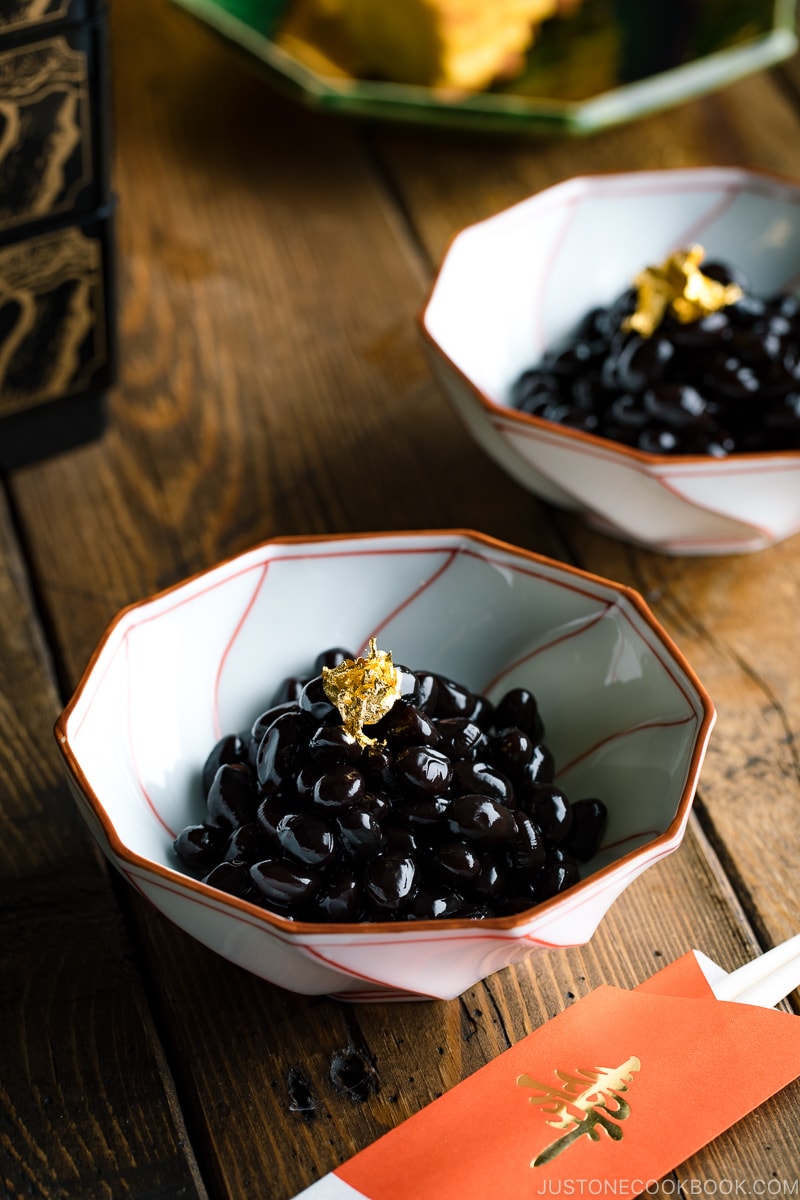 Kuromame (Sweet Black Soybeans) literally "black bean (黒豆)" in Japanese, and it is often served on New Year's Day as a part of Osechi Ryori (traditional New Year's meal). The shiny black beans are beautifully contrasting with red lacquer "jubako" (お重箱) container, which holds all different kinds of colorful traditional meals.
Eating kuromame is considered good for your health for the new year. My parents encouraged me to eat some kuromame on New Year's Day but this is actually one of my favorite items among all the New Year's dishes. Kuromame's sweet and slightly savory flavor can be quite addicting.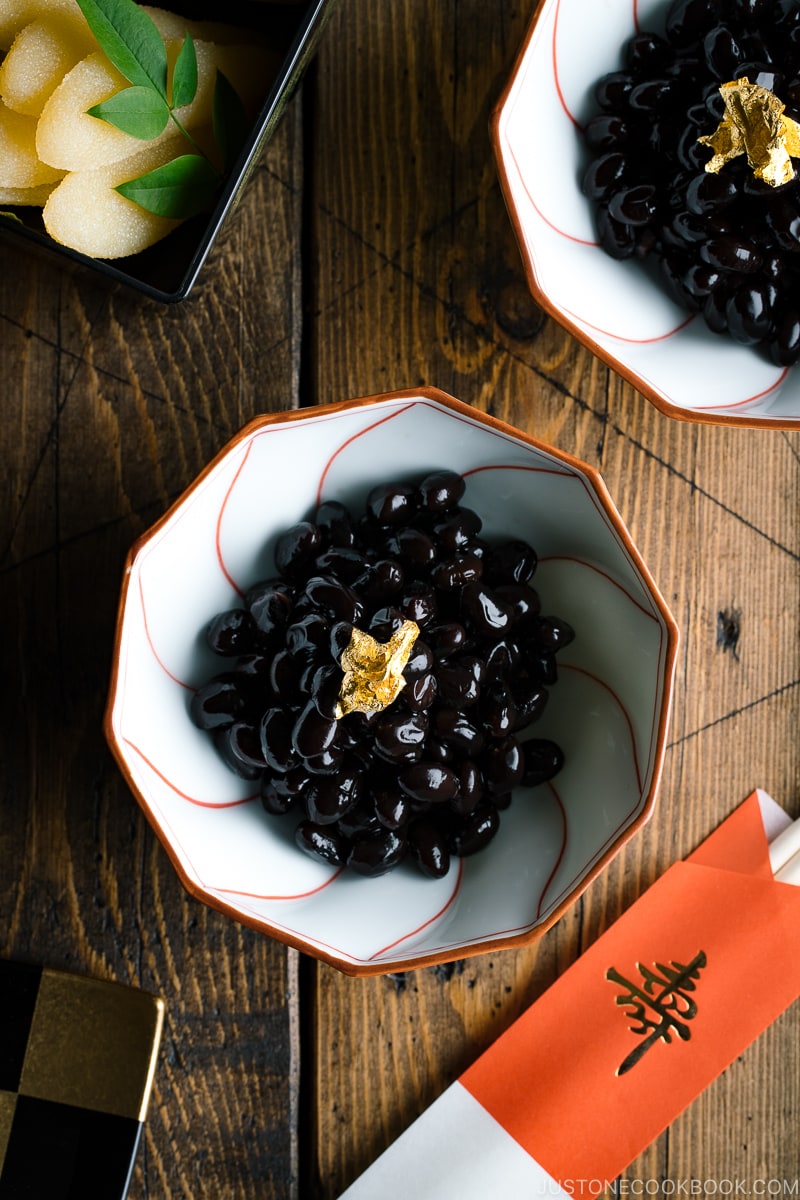 By the way, kuromame is black soybeans and not black beans. Kuromame recipe is pretty simple but the soybeans have to be soaked for overnight and simmered on very low heat for a long time, some recipes say to cook on low heat for 8 hours!
I only cook for 4 hours till my black soybeans are tender. I use a heavy-bottomed cast iron pot, which retains heat very well. Please test the doneness of your black soybeans and adjust your cooking time.
If you have an Instant Pot or a pressure cooker, you can speed up the cooking process (15-minute high-pressure cooking!). Check out my Instant Pot Kuromame recipe.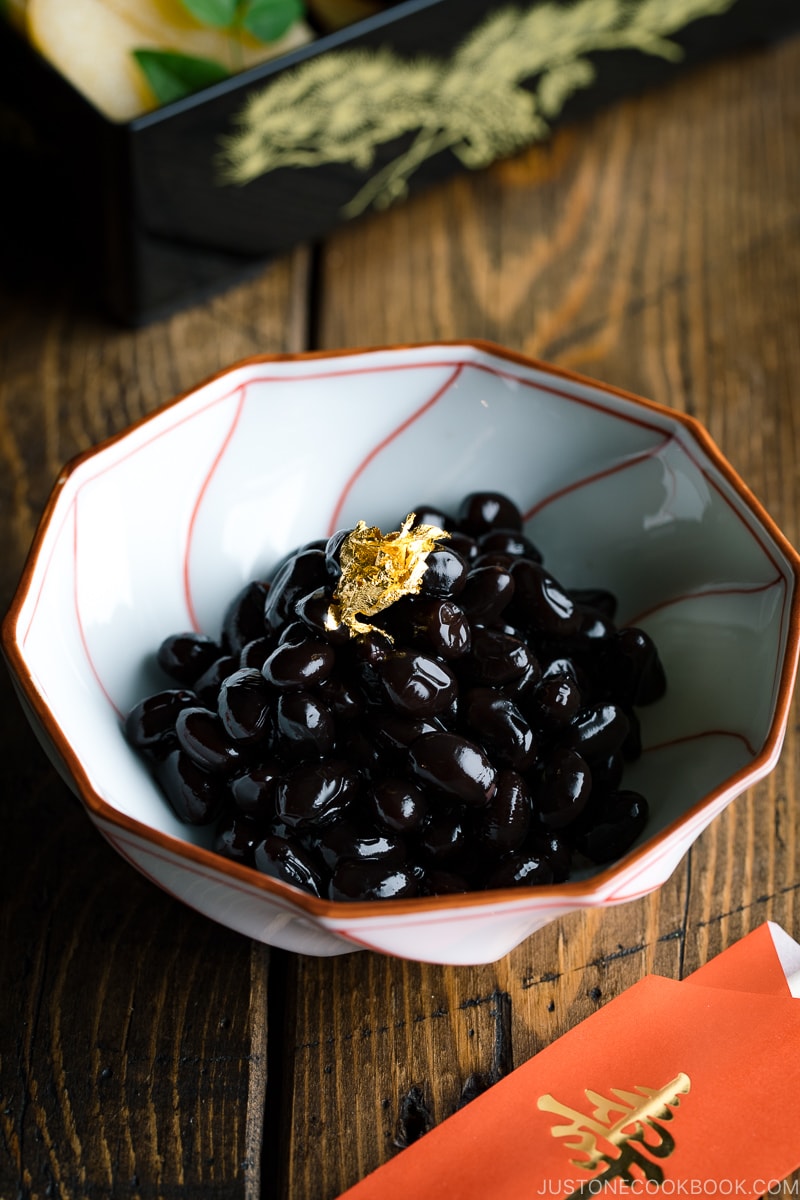 The Trick to Achieve Beautiful Black Color on Beans
Most of the traditional kuromame recipes require 2-3 "rusty" iron nails but it's hard to find them! So in my recipe, I used Lucky Iron Fish that I purchased on Amazon.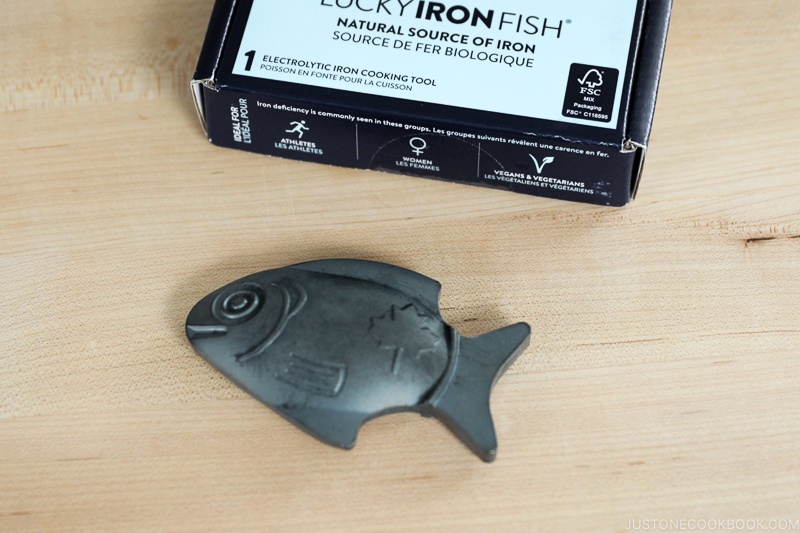 The reason why the Japanese put nails to cook kuromame is that rust (iron oxide) from nails has a chemical reaction with tannin in the beans, which helps the beans turn dark to a rich black color.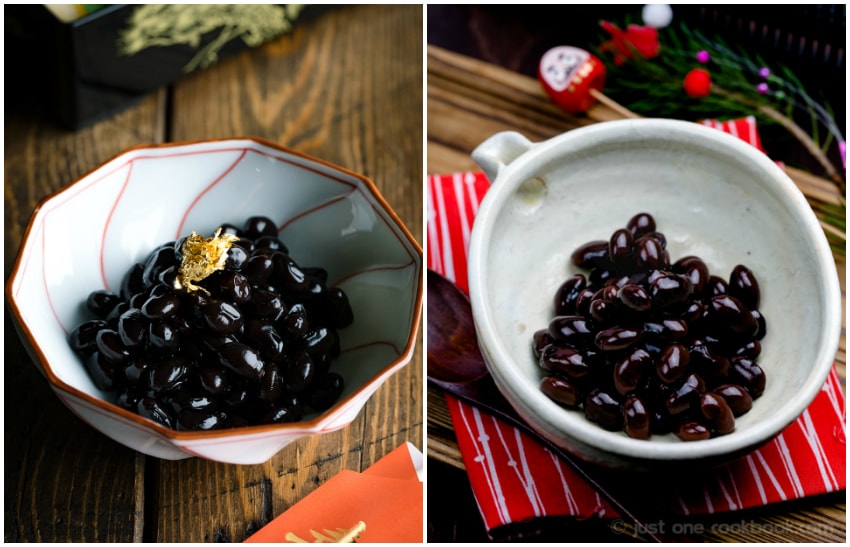 I hope this delicious kuromame will bring you health for the new year.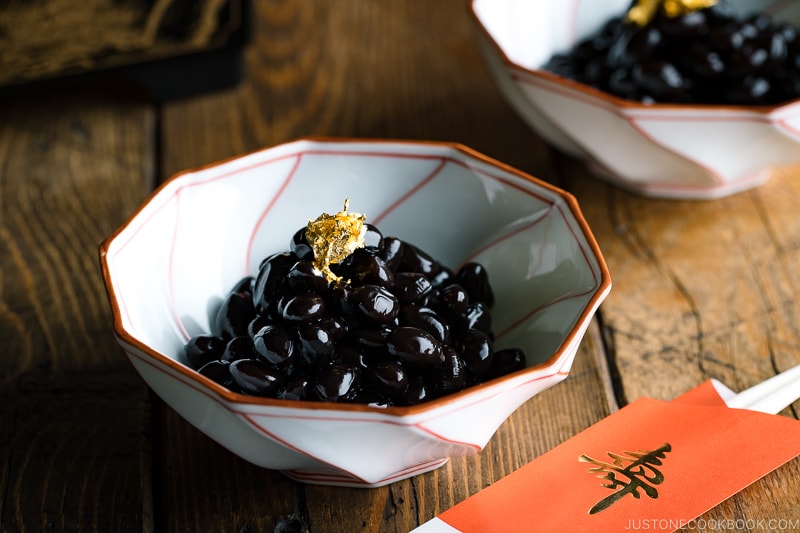 Pressure Cooker Kuromame
If you have an Instant Pot or a pressure cooker, check out my Instant Pot Kuromame recipe.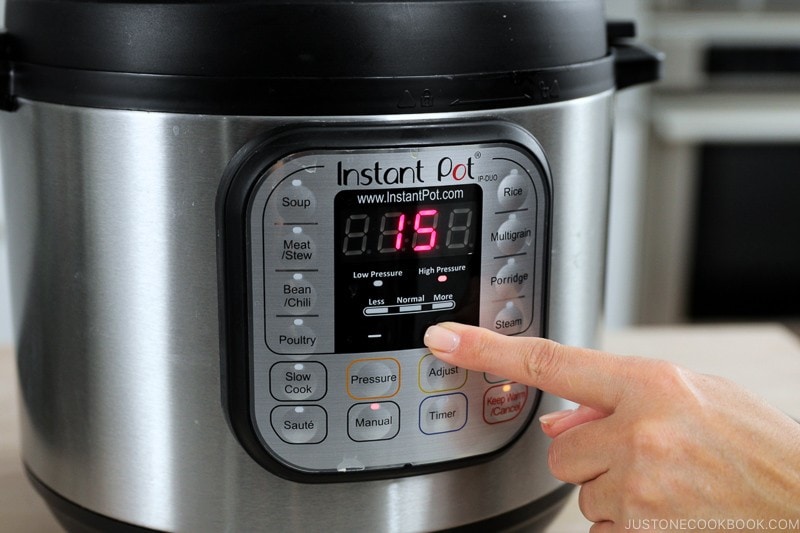 Wish to learn more about Japanese cooking? Sign up for our free newsletter to receive cooking tips & recipe updates! And stay in touch with me on Facebook, Pinterest, YouTube, and Instagram.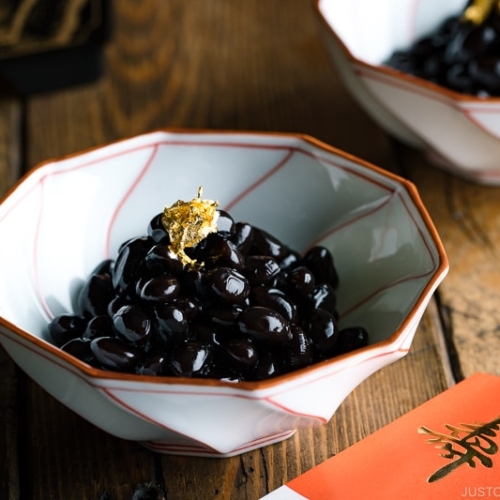 Kuromame (Sweet Black Soybeans)
These shiny black beans called Kuromame (Sweet Black Soybeans) are served on New Year's Day as a part of Osechi Ryori (traditional New Year's meal) in Japan.
Ingredients
1

cup

sugar

(7 oz; adjust the sweetness as you like. Typically, the ratio for black soybeans, sugar, and water is 1 : 1 : 6.)

5

cups

water

½

tsp

kosher salt (Diamond Crystal; use half for table salt)

1 ½

Tbsp

soy sauce
edible gold leaf flakes

(for garnish)
Japanese Ingredient Substitution:
If you want substitutes for Japanese condiments and ingredients, click
here
.
Instructions
Gather all the ingredients. You will also need an Otoshibuta (drop lid), a large pot with a lid, and 2-3 rusty iron nails (traditional method) in a cheesecloth or Iron Fish.

Rinse black soybeans under running water and discard any bad ones. Some beans have skin that is half-peeled off, but you don't have to throw them away.

Put black soybeans, water (1200 ml, 5 cups), and the rusty nails or Iron Fish in a large pot. Let it soak overnight (6-8 hours).

After soaking, add sugar and salt and gently mix. Keep the nails/Iron Fish in the pot.

Start cooking over medium heat.

When it's done, put an Otoshibuta and cover with a regular pot lid. The otoshibuta is to keep the soybeans under the cooking liquid (helps prevent the beans from getting wrinkles). Reduce heat to low and simmer (make sure the beans are not bouncing around) for 4 hours or until the beans are tender.

Check inside the pot a few times to make sure there is enough cooking liquid. If not enough, add about 1 cup water. Skim the surface if needed.

Check if the beans are tender by mashing a bean with two fingers. Remove the rusty nails/Iron Fish.

When the beans are tender, add soy sauce and mix well.

Remove from the heat and place the parchment paper on top of the surface to prevent the beans from getting wrinkles. Once cooled, keep in the refrigerator overnight so the soybeans will turn darker and absorb more flavor.
To Serve and Store
The following day, you can transfer the soybeans to an airtight container and store in the refrigerator for up to 4 days or in the freezer for up to a month.

Serve the soybeans chilled or at room temperature in a bowl.
Leftover Cooking Liquid
You can use the leftover cooking liquid to make jello (using gelatin, agar, or kanten), latte, sweets, bread, oshiruko (zenzai), and more!
Nutrition
Calories:
235
kcal
·
Carbohydrates:
35
g
·
Protein:
9
g
·
Fat:
5
g
·
Sodium:
177
mg
·
Potassium:
1
mg
·
Fiber:
6
g
·
Sugar:
37
g
·
Calcium:
96
mg
·
Iron:
2
mg
©JustOneCookbook.com Content and photographs are copyright protected. Sharing of this recipe is both encouraged and appreciated. Copying and/or pasting full recipes to any website or social media is strictly prohibited. Please view my photo use policy
here
.
Editor's Note: This post was originally published on December 27, 2012. New images have been added to the post in December 2019.