This is your guide to the most popular types of ramen and how they are classified in Japan. You'll also learn about its origin, how ramen has evolved and become one of the greatest dishes in the world, and more!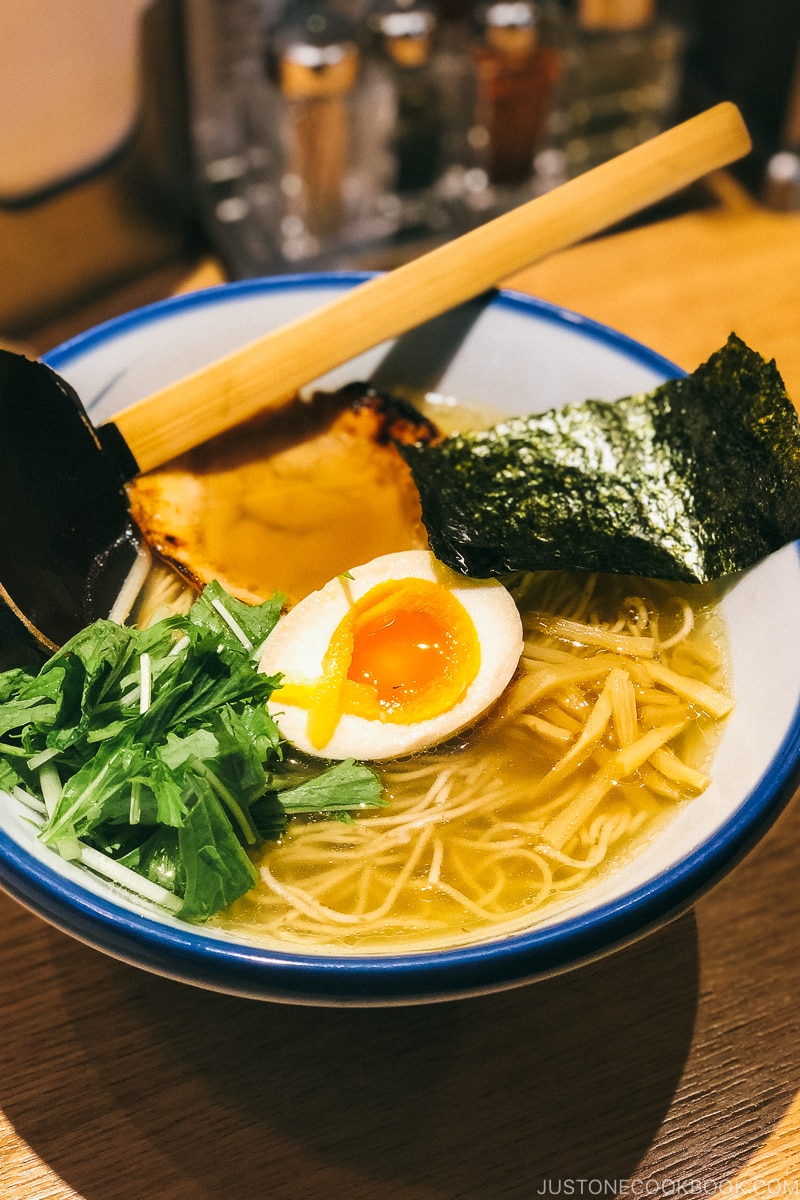 Hello ramen fans! How many types of ramen have you tried? And what are some of your favorite bowls?
Truth be told, one would need to spend a lifetime trying out all the different styles of ramen available in Japan. Each ramen—defined by regional styles and specialties—is abound with soup stocks, noodles, and toppings, all varied based on local ingredients, tastes, and cultures. Even outside of Japan, the burgeoning of ramen has brought a serious boom of ramen culture across the globe, expanding the realm of ramen beyond the traditional bowls.
While there's an infinite world of ramen, we are here to demystify the different types of ramen you'll want to know. Ready for your ramen adventure? Let's dive straight into this.

What is Ramen?
Ramen is a Japanese adaptation of the Chinese noodle dish called lamian (拉麺) and it consists of long wheat noodles served in a soup broth with a variety of toppings. Literally means 'pulled noodles', there are multiple etymologies associated with ramen, and the classic concept of ramen has evolved greatly and still is today.
Origin of Ramen in Japan
There are several theories about the origin of ramen in Japan. According to the Shin-Yokohama Raumen Museum, ramen was introduced to Japan at the end of the Edo period by the influx of Chinese immigrants who settled in Yokohama, Kobe, Nagasaki, and Hakodate. The expansion of Chinatowns (also called Nanjing towns) in these port cities opened a floodgate for Chinese cuisine that is to become a distinct part of Japanese food culture, known as chuka ryori.
In 1910, the first ramen shop named Raitaiken (来々軒) was opened in Akasusa, Tokyo. The main menu was "Nankin soba", which was named after Chinatowns and soba noodles. These noodle dishes spurred the popularity of ramen throughout Japan that ramen critic Hiroshi Osaki calls this year "the first year of ramen."
Following the success of Raitaiken, more Chinese restaurants opened up and ramen became a standard menu along with dishes like dumplings, fried rice, and shumai. Over the years, ramen has developed and transformed into a uniquely Japanese noodle dish.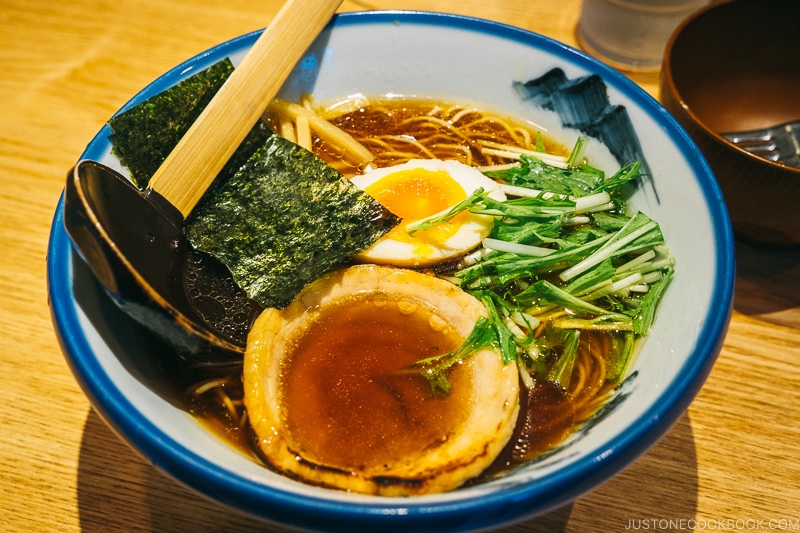 Ramen Today
Today, ramen is not only the soul food of Japan, its popularity also spans the globe as one of the most influential foods internationally.
The ramen craze phenomenon partly has to be credited to inventor Momofuku Ando who solidified ramen's reputation by developing the world's first instant ramen "Chicken Ramen" in 1958. By the late 20th century, instant noodles have spread all over the world, and major Japanese ramen chains, such as Ippudoand Ichiran started to expand globally and pushed the standard of quality Japanese ramen. 
Since then, the noodle dish comes in many forms, from the cheap fast food that comes in a cup to the Michelin awarded options. In Japan alone, you can find more than 32,000 ramen shops, with countless of them hidden behind train stations and department buildings or tucked in inconspicuous alleyways. While in the US, we have David Chang and Ivan Orkin that popularize ramen with their endeavors.
---
What Goes into a Bowl of Ramen
Before we get to the ramen types, let us first take a quick look at what makes up a bowl of ramen:
1. Soup
As one would expect, soup is the elemental factor that determines the greatness of a bowl of ramen. Ramen masters put a great deal of effort in concocting their own soup.
a) Soup Broth
Soup broth is the base of the soup and is made from umami-rich ingredients such as pork or chicken bones, dried seaweed, seafood, charred vegetables, lard and fats, and aromatics.
b) Tare (Sauce)
Tare or the sauce defines the key flavor of ramen. There are three primary tare: miso, salt, and soy sauce, and they can be combined with other seasonings such as mirin, sake, sugar, spices, or bean paste to create a rich sauce that will complete the soup broth.
2. Noodles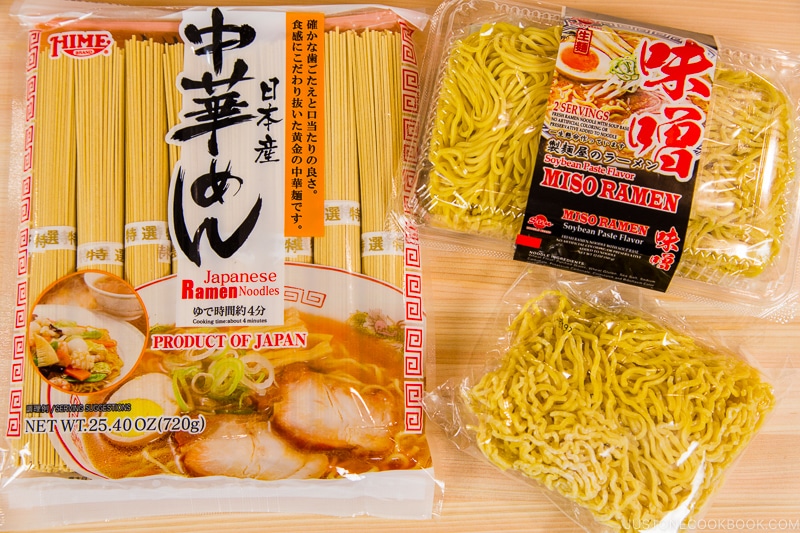 The next key component of ramen is noodles. Ramen noodles, also called soba (not to be confused with buckwheat soba), are made of wheat flour, salt, water, and kansui. And it's kansui, a type of alkaline solution, that gives ramen its distinct yellow tint and springy texture.
The noodles can be straight or wavy, or by varying thickness. Pay attention to the ramen packaging, and you'll spot numbers like no. 18, 20, 22, 24, 26, and 28, which basically tells you the cut of the noodles.
3. Toppings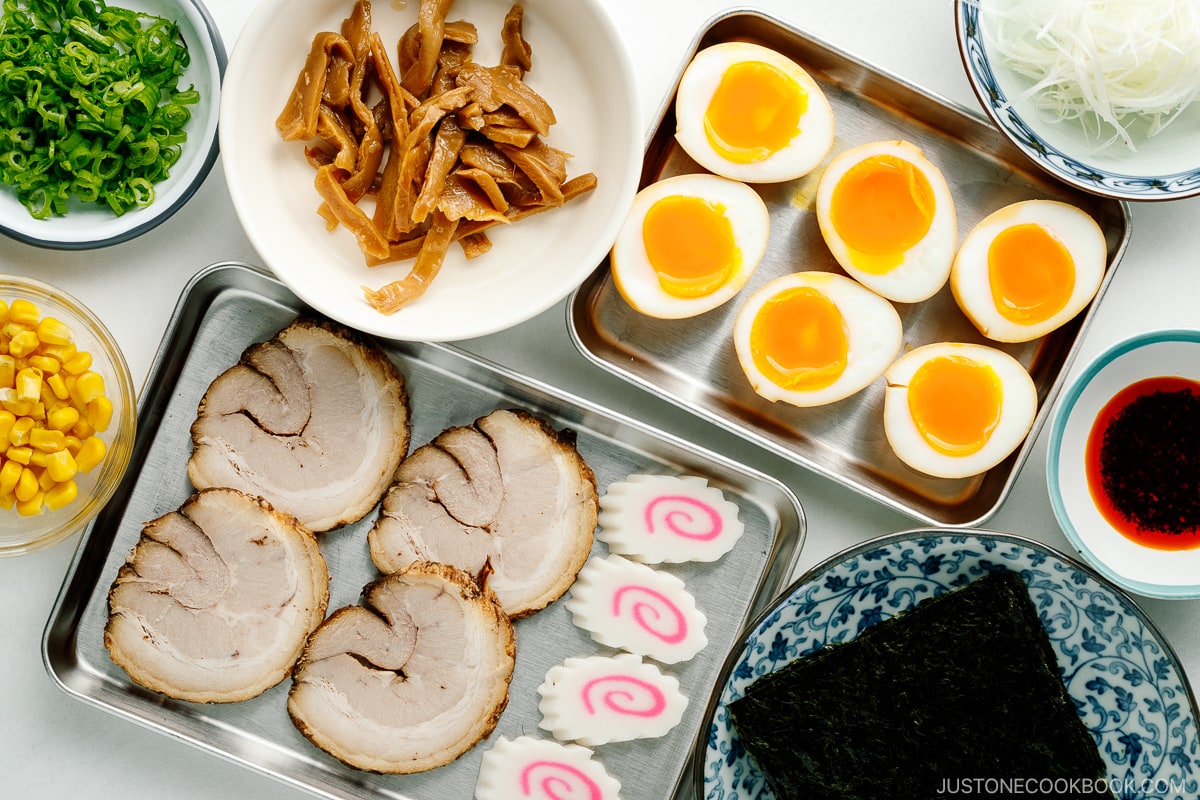 The last component: toppings. The options are endless, but some of the common features include tender chashu slices, jammy ramen eggs, menma (bamboo shoots), nori sheet, bean sprouts, fish cake, and negi (green onions).
The combination of ingredients sometimes define a special style of ramen, and there is even ramen that doesn't come with any toppings at all.
Read: Best Toppings to go with Your Homemade Ramen
---
3 Main Types of Ramen: By Tare
When you go to a ramen shop or ramen-ya in Japan, you'll often see ramen being categorized by the type of tare used in a particular bowl. The three primary tare flavors are: shio (salt, 塩), shoyu (soy sauce, 醤油), and Miso (fermented soybean paste, 味噌). These are the building blocks to develop different styles of ramen.
1. Shio Ramen 塩ラーメン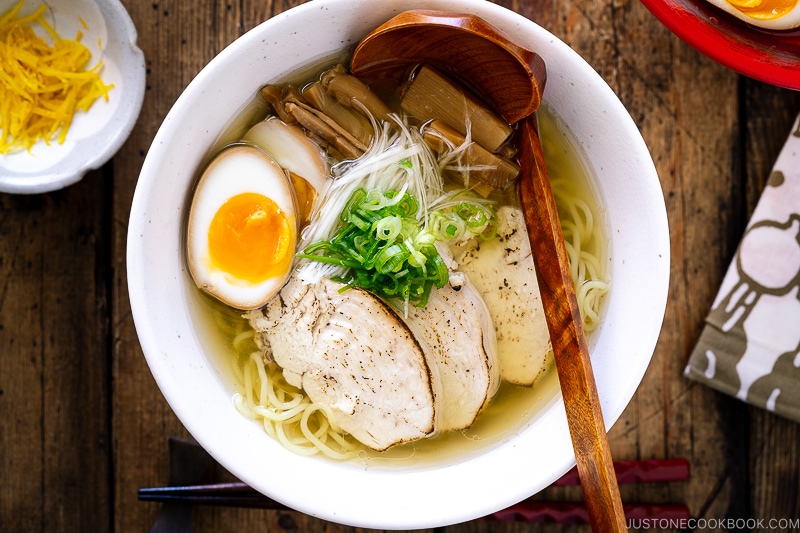 Shio means salt, so shio ramen is seasoned simply with salt tare. The soup is clear, delicate and light as it is simmered more slowly to concentrate the flavor and prevent cloudiness. The broth is often made with chicken broth (sometimes with addition of pork bones) and flavored with dried sardines, dashi stock, bonito flakes, seaweed, and vegetables.
Light colored to the point of almost translucent, shio ramen is salt-based ramen broth. It's also the lightest in terms of oil as it is boiled down to concentrate the flavor. Ramen shops would then dress up the broth with additions such as chicken, seafood, seaweed, and pork bones.
🍜 Get our Shio Ramen recipe!
2. Shoyu Ramen 醤油ラーメン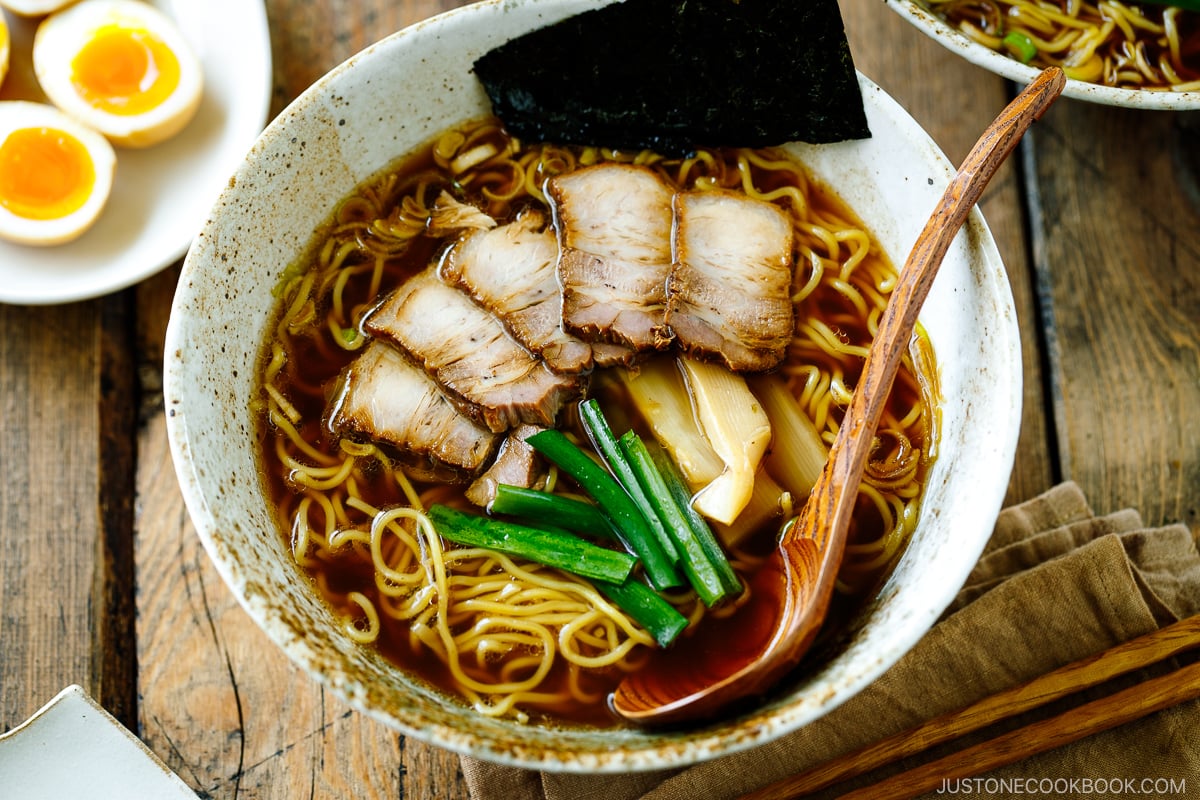 Seasoned with Japanese soy sauce, shoyu ramen is slightly more complex tasting than shio. The broth could partake a clear brown color that's light on the tongue or a dark cloudy color that's dense and rich, depending on what is additionally swirled into the broth.
Shoyu ramen— also called Tokyo Ramen —is the original Tokyo-style classic that reminds many of mom's homemade ramen or that nondescript ramen shop from childhood.
🍜 We have two versions of shoyu ramen on the blog: Shoyu Ramen from Bizentei and Nami's Spicy Shoyu Ramen.
3. Miso Ramen 味噌ラーメン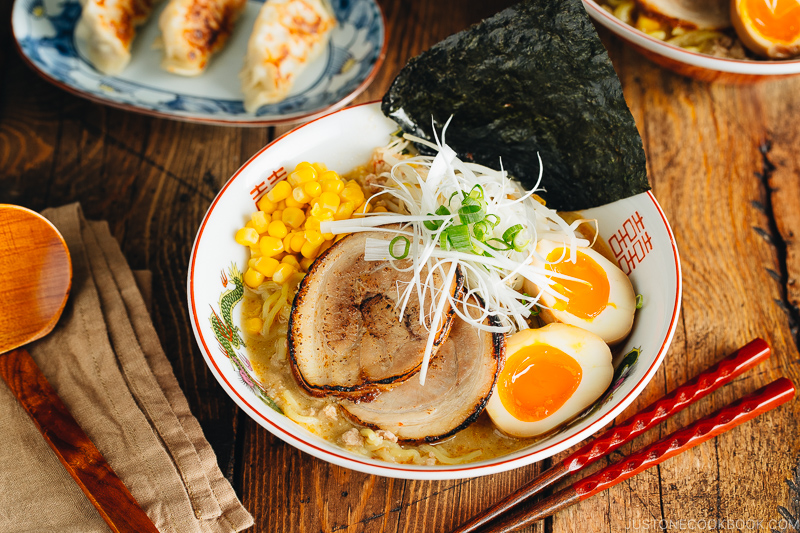 The most umami-rich of the three ramen and the heaviest, miso ramen is known for its deep richness and bold flavor. Miso ramen originates from the northern island of Hokkaido, but its popularity has spread across the country, where there are as many miso ramen broths as there is miso.
🍜 Get Nami's Highly Rated Miso Ramen Recipe.
---
Wait, How About Tonkotsu Ramen and Tori Paitan?
Interestingly, tonkotsu ramen receives such wild popularity in the US and other parts of the world that it is often being classified as the fourth type of ramen. However, we want to clarify that tonkotsu is not a tare (sauce) but a type of soup broth, and it might surprise you that tonkotsu ramen has lost its popularity over the past decade in Japan.
Taking over the rank is tori paitan ramen, especially among women who try to get extra collagen from the soup.
So, to be technically correct, we consider both tonkotsu ramen and tori paitan by soup categories, instead of grouping them together as the tare flavors. Let's talk more about the soup categories.
---
Ramen Type by Soup Categories
Besides tare (sauce), Japanese ramen experts also classify ramen by the types of soup stock. Called "dashi" in the ramen language, the soup stock plays the core part of ramen. There are two types of soup stock: Chintao soup and paitan soup.
1. Chintao Soup (清湯スープ)
Typical shoyu ramen, shio Ramen, and miso ramen discussed above are made with this soup broth. Chintao soup is clear and thin and is made with bones of pork, chicken, or both as well as vegetables and seafood. The soup stock is boiled down over low heat to prevent it from becoming cloudy, resulting in a clear soup.
Because of its light flavor, chintao soup is almost always made with Japanese traditional dashi ingredients. When you combine the unique and umami-loaded flavors in dashi with pork or chicken soup broth, you will have a real Japanese food experience. These umami-imparting ingredients are:
Katsuobushi
Dried anchovies (niboshi) and ago (pronounced 'agoh')
Kombu
Dried shiitake mushrooms
2. Paitan Soup (白湯スープ)
Tonkotsu ramen and tori paitan ramen are under this category. Paitan soup is creamy and thick and is made with pork bones (for tonkotsu) or chicken bones (for tori paitan).The soup stock is boiled over high heat for a long time (8-10 hours) until the bones are broken into pieces. Robust boiling on high heat will produce an emulsion, resulting in concentrated, thick cloudy soup with rich umami flavors.
Tonkotsu Ramen 豚骨ラーメン
One of the richest out there, tonkotsu ramen is a creamy and complex ramen made from pork bone broth. It is often regarded as the fourth type of ramen outside of Japan, however, it's important to note that tonkotsu (means "pork bone") is actually a soup broth, and not a flavor.
According to Tokyo Ramen Tours, tonkotsu is said to be invented by mistake. A ramen chef in Fukuoka–a prefecture on Kyushu island—accidentally let his pork bones boil for hours more than intended. It resulted in a cloudy and fatty broth but full of collagen and amazing flavor. Everyone loved it, and that gave birth to one of the most renowned ramens in the world.
Tori Paitan Ramen 鶏白ラーメン
Tori paitan ramen features chicken bone broth that is flavored by shio or shoyu. The near-white cloudy soup is made by simmering chicken bones and breast meat over high heat for a long time. It has a rich flavor but has a lighter taste compared to tonkotsu soup broth.
*Note: Some ramen shops add salt or soy sauce tare to their tonkotsu or tori paitan ramen, calling their menu Tonkotsu Shoyu Ramen, Tori Shio Paitan, Tori Paitan Shoyu Ramen, etc. Even though it includes "shoyu" in the menu name, the soup broth is very milky unlike typical shoyu ramen.
---
Ramen Type by Toppings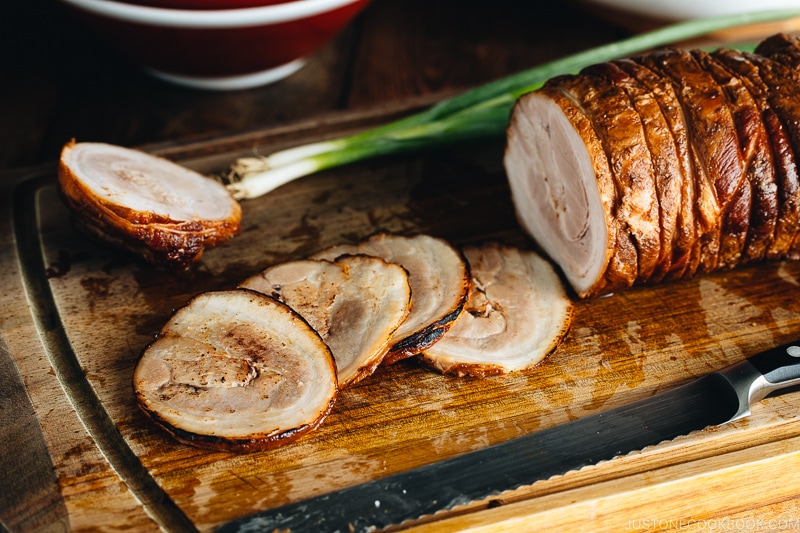 Another classification is by toppings. You can generally tell it by the name of ramen. It can be just one ingredient or a mix, but they become the focal point of the dish.
Chashu Ramen
As the name implies, chashu ramen is all about the delicious sliced meat. Some ramen shops specialize in offering chashu—braised or grilled, chicken or pork. As it is the main star of the ramen, you'd get extra slices in the bowl.
Negi Ramen
Negi refers to green onions in Japanese, and the traditional negi ramen is often covered by a huge green pile of fresh negi, and every slurp would be a mix of soup, noodles, and green onion. It can be topped with beef slices or other topping choices.
---
Ramen Type by Regional
1. Hokkaido Ramen (Hokkaido)
Hokkaido has 3 popular regional ramen types that are well-known throughout Japan.
Sapporo Ramen (Miso) – This regional specialty ramen is as famous as Sapporo beer, featuring curly medium-thick noodles with sliced meat, vegetables, and notably a pile of sweet corn and a big slab of butter. The hot soup broth can be flavored by soy sauce, salt, and miso, but the most popular flavor is the miso ramen. The rich and bold tasting miso soup has a lot of lard that keeps the soup from getting cold.
Asahikawa Ramen (Shoyu) – Complex and rich tasting, Asahikawa ramen is another famous ramen hailed from Hokkaido. The soup stock—called the double soup— is made with a combination of animal bones, such as pork bones and dried sardines. You can see the fatty sheen that sits on top of the soup as it serves as a method to keep the soup warm for a longer time, which is great for the long cold days.
Hakodate Ramen (Salt) – Hakodate's salt ramen is characterized by its delicately light taste and low oil content. Hakodate is close to the sea, but for some reason there are almost no ramen shops that use seafood in their soup stocks.
2. Kitakata Ramen (Fukushima)
Fun fact: Kitakata City in Fukushima Prefecture has one of the highest ratios of ramen shops to population in Japan. It is the staple food in the area and many people would eat ramen for breakfast before heading to work.
The ramen is characterized by locally-made thick noodles with a high water content that use the famous spring water. Because of its tasty noodles, the ramen bowls often come with a large portion of noodles.
3. Hakata Ramen (Kyushu)
Originated in Fukuoka, Hakata ramen is very similar to tonkotsu ramen. It features ultra-rich, milky white tonkotsu soup broth with thinner noodles and minimal toppings. Hakata ramen can include tare sauce like miso, shio, or shoyu, but it's left plain to spotlight the robust broth.
Hakata ramen is what most people think of when they hear pork bone ramen and is one of the most famous local ramens in Japan. Since the noodles are extremely thin and stretchy, most restaurants serve only a small portion of noodles, but you can always ask for a refill by saying 'kae-dama', which means 'more noodles please'. You might be able find Hakata ramen internationally as the Ippudo ramen shop offers it on its global menu.
---
Ramen Deviations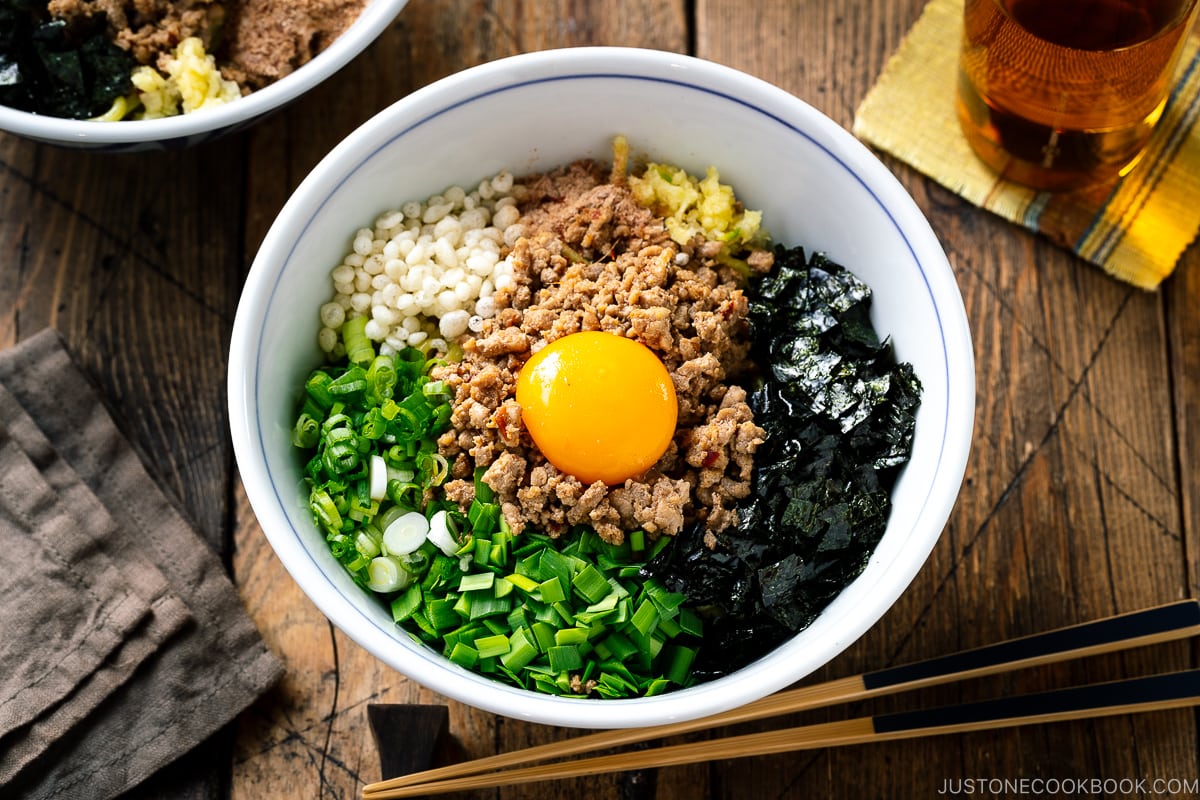 Now we come to a completely different league of ramens that doesn't fit into the above categories. They have their own unique features and characters and some of the most popular ones are Tsukemen, Mazesoba (Mazemen), and Abura soba.
---
Did You Enjoy this Japanese Ramen Guide?
We hope this article has stirred your curiosity and your senses! Share with us your favorite style of ramen and local ramen shops in the comment box below.