Iriko (niboshi) are dried anchovies. The Japanese use it to make dashi or munch on handfuls for a calcium-rich snack.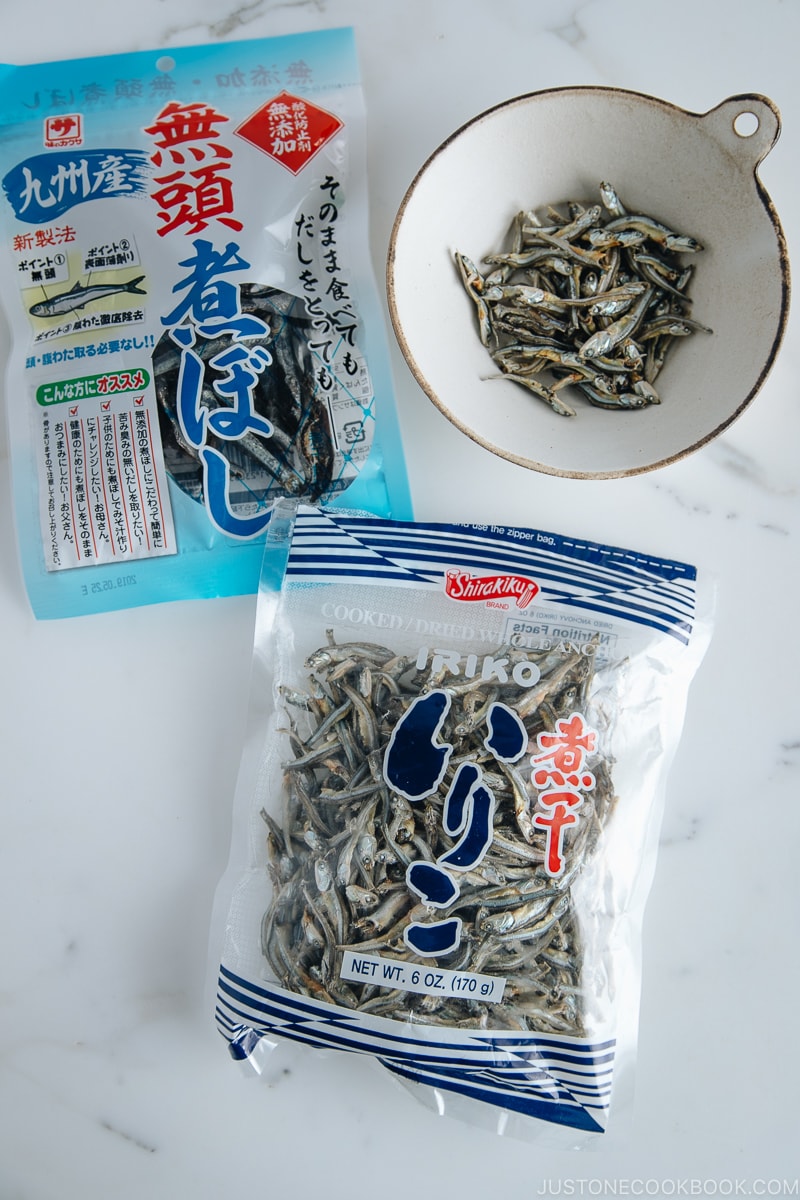 Iriko (いりこ), also called niboshi (煮干), are dried Japanese anchovies, specifically katakuchi iwashi (カタクチイワシ, Engraulis japonicus), boiled in salt water first before being dried. The bold, fishy flavor with a strong aroma is one of the vital umami contributors to dashi broth. You can also find dried baby anchovies used similarly in Korean, Chinese, and Southeast Asian cooking.
What Is Iriko (Niboshi)
Iriko (niboshi) are dried anchovies. It's usually called iriko in western Japan (Osaka area), where it's extensively used in dashi and other cooking, whereas niboshi is used in eastern Japan.
The fish vary in size from about 1.5″ to 3″ long, with the smaller ones with a milder taste and the larger ones with more umami. They are also known for their Omega-3 Fatty Acids and other health benefits such as calcium and protein.
Compared to shiitake, katsuobushi, or kombu dashi, iriko dashi has a more concentrated briny aroma and flavor. Use iriko dashi for miso soup, hot pot, udon, soba, and ramen noodle soups that can handle the pronounced flavor.
In Korean cuisine, it is used to make ​myulchi bokkeum (​멸치볶음), a side dish featuring stir-fried anchovies.
What Do They Taste
It has a fishy, concentrated taste with a slight bitterness from the guts and heads. It makes flavorful dashi with a strong umami presence.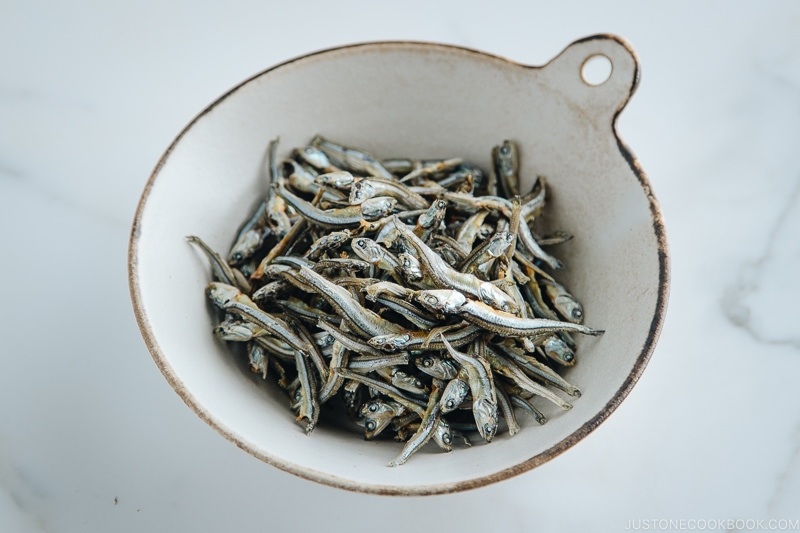 Iriko (Niboshi) vs. Tazukuri
In short, both iriko and niboshi are the same things! It's just a regional difference.
For iriko (niboshi), Engraulis japonica (カタクチイワシ) or Japanese anchovies are used, but occasionally other kinds such as Etrumeus sadina (ウルメイワシ) and Sardinops melanostictus (マイワシ) are also used.
Tazukuri (田作り) is another type of dried anchovy, specifically for the candied Japanese New Year dish called Tazukuri. Tazukuri is only available at Japanese grocery stores in December. Unlike iriko (niboshi), they are not boiled in salt water and are processed to dry immediately.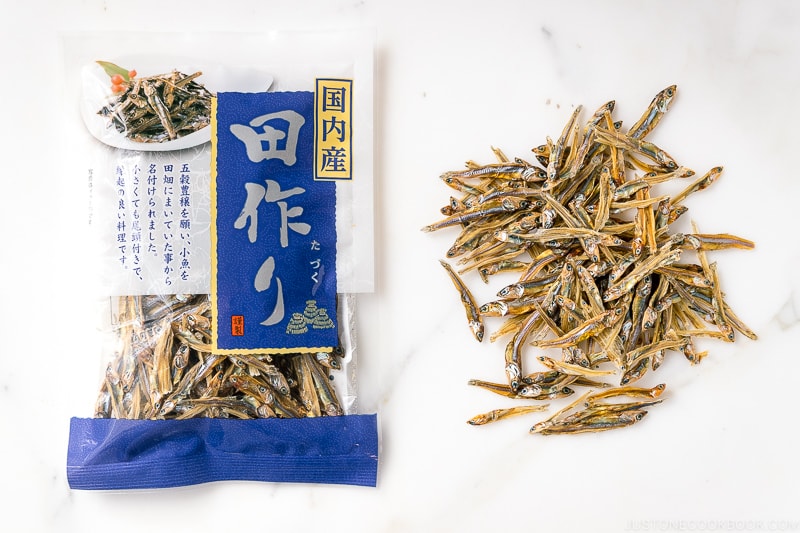 How To Use
Find packages in plastic bags (pictured above). You don't need to wash the anchovies beforehand. To make dashi stock, remove the heads and guts for a cleaner flavor, or skip the step and use them whole.
It's also a calcium-rich snack, as bar snacks with almonds and rice crackers.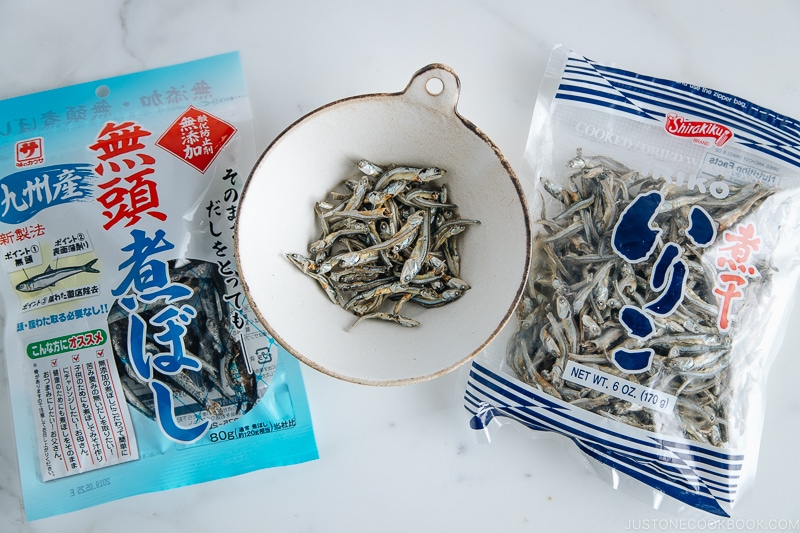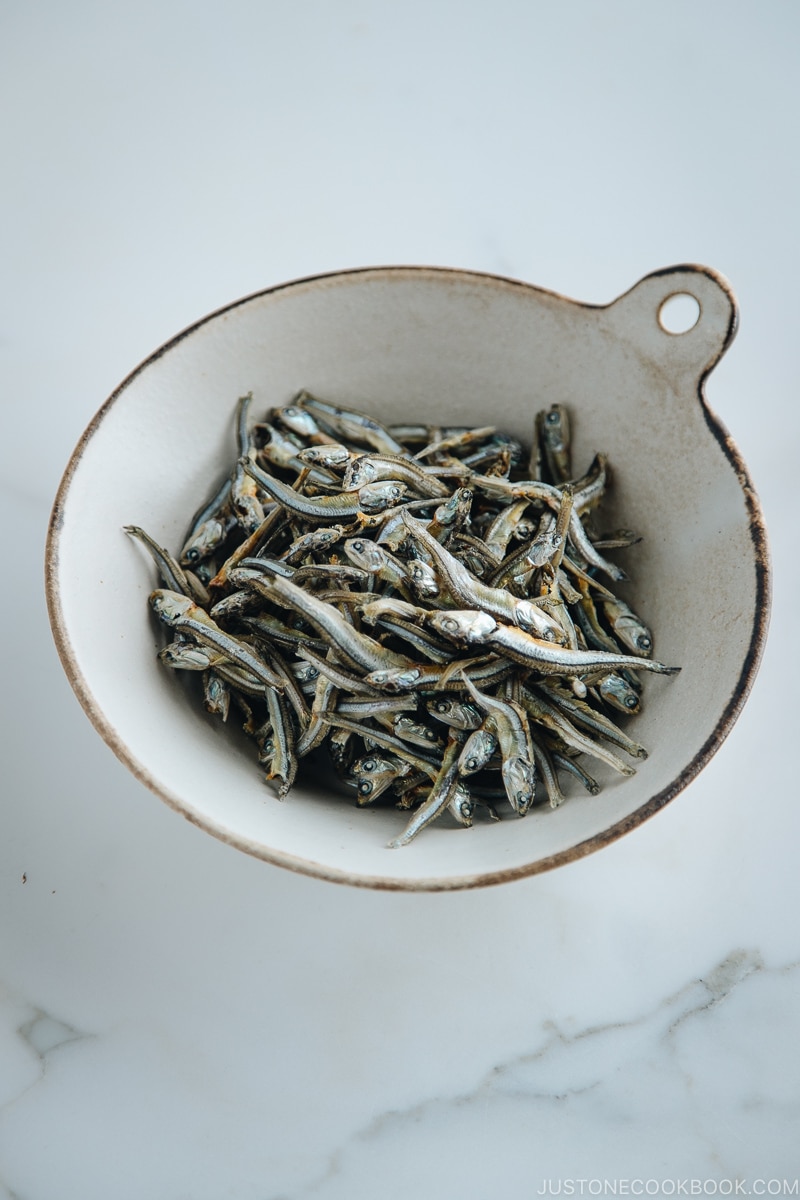 Recipes Using Niboshi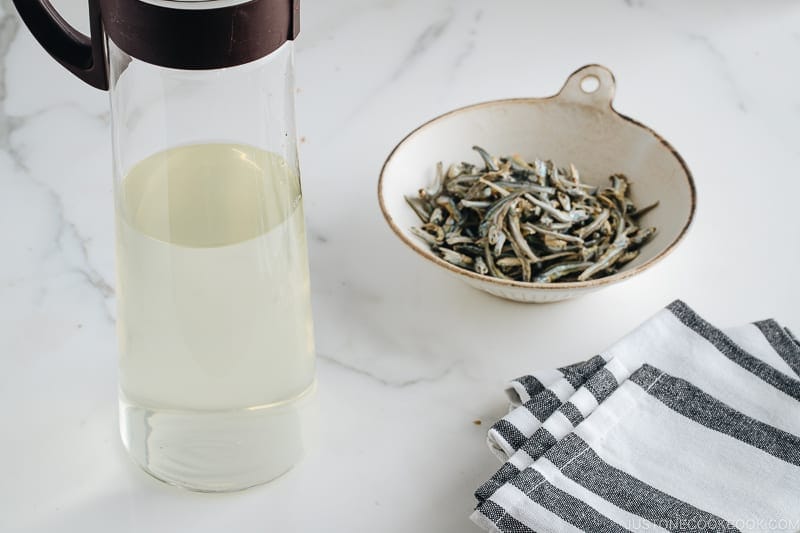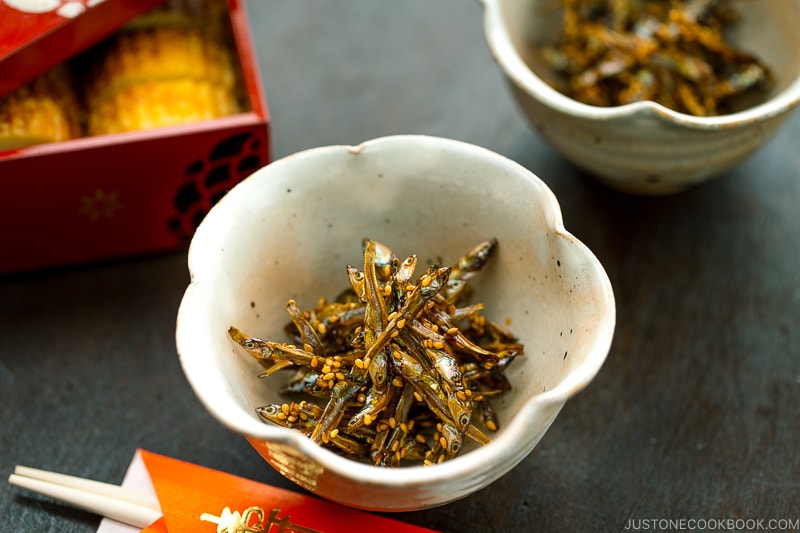 Where To Buy
You can find dried baby anchovies in most Japanese and Asian grocery stores. Japanese and Korean baby anchovies are interchangeable.
How To Choose The Best
Ensure the belly color hasn't turned yellowish or brown and that the body is intact and not broken into pieces.
How To Store
Keep in a cool and dry place, away from direct sunlight. You can store niboshi dashi in the freezer for a month or in the fridge for a few days.
---
Wish to learn more about Japanese cooking? Sign up for our free newsletter to receive cooking tips & recipe updates! And stay in touch with me on Facebook, Pinterest, YouTube, and Instagram.