Let's cook some Japanese Chinese food recipes today! In this roundup, you'll find a scrumptious selection of Chuka Ryori including our most popular gyoza, nikuman, tan-men, mapo dishes and more.
Chuka Ryori (中華料理) refers to Japanese Chinese cuisine, and it has a long history and important position in the Japanese food culture. Whether it's ramen, gyoza, or mapo tofu, these dishes were introduced from China to Japan but have been adapted over the years to suit Japanese taste.
Following our article on the history and background of Chuka Ryori, we've put together a selection of our best Japanese-Chinese food recipes that you can make at home. They are our readers' favorites, and we know you're going to enjoy them too!
18 Best Japanese-Chinese Food Recipes To Make At Home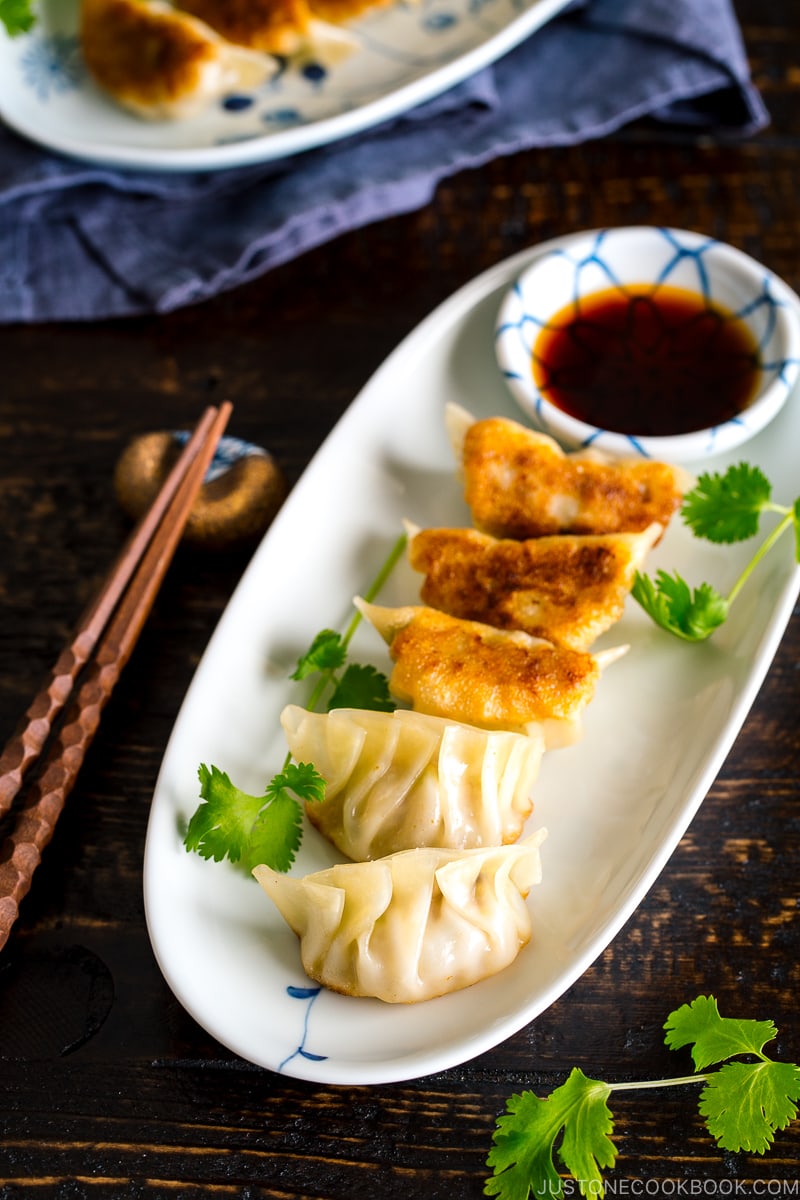 Possibly one of the most popular Chuka Ryori dishes, Gyoza needs no introduction. The key difference between the Japanese dumplings and Chinese counterparts? The cooking method. Gyoza are first pan-fried until crispy brown on the bottom, then steamed until the top is tender and the inside is juicy. The unique technique gives gyoza the 'best-of-both-world' texture. Give our 5-star recipe a try now!
Vegetarian? Don't miss out on Vegetable Gyoza.
♥ 'I have to thank you once again for your wonderful website. I make gyoza for the first time and am happy to report 100% success rate! I've always felt unsure about the seemingly complicated wrapping method but your photographic instructions were very helpful.' – Kitty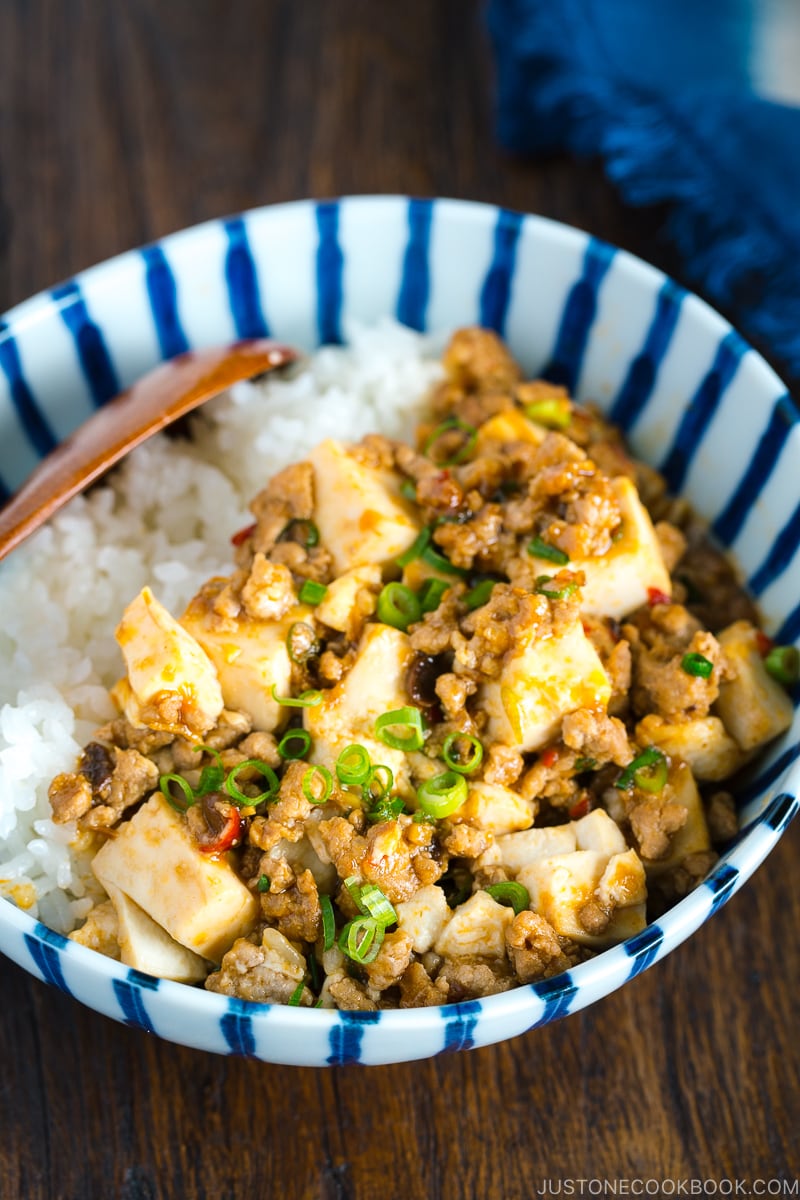 The Japanese adapted the famous Sichuan Mapo Tofu by cutting down on the spices yet keeping the flavors savory and bold. It comes together in 30 minutes. A must-keep for your weeknight meal.
♥ I just made the Mapo Tofu today. SO simple and fast, and more importantly, very delicious! I'm not surprised it's a favorite in your family! – Leo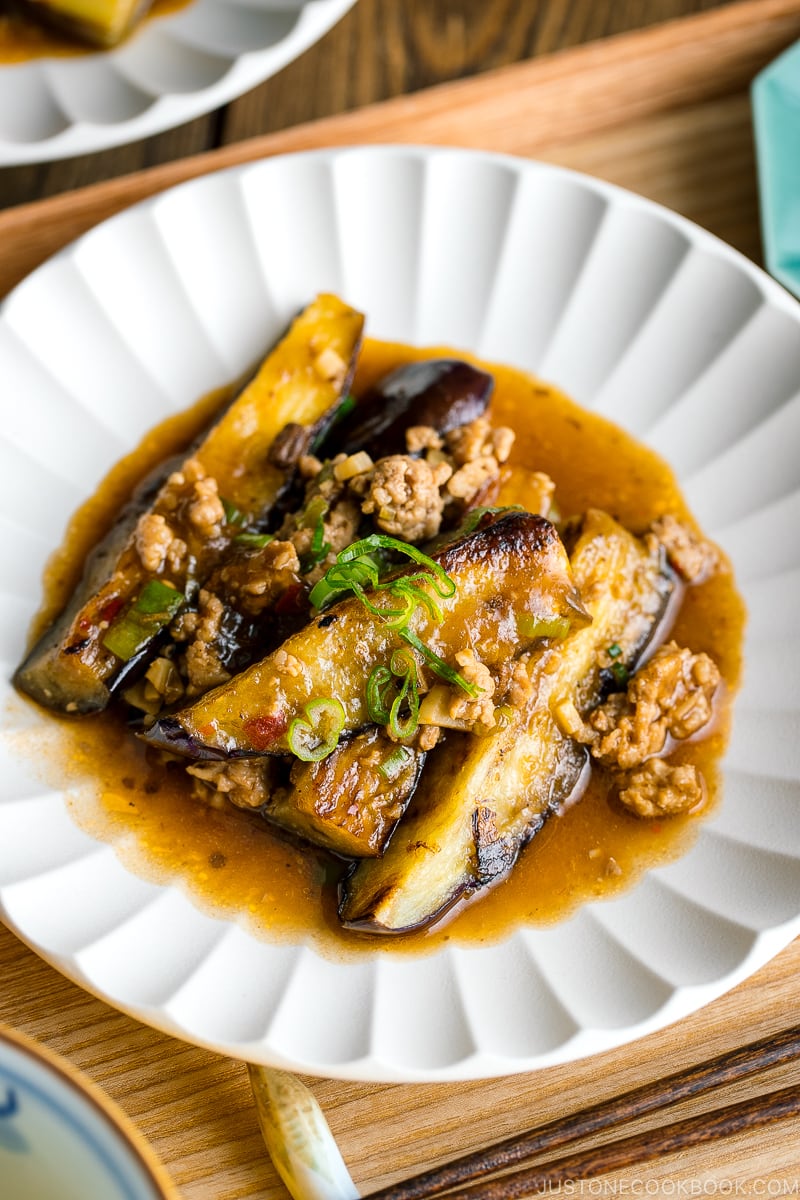 Another popular adaptation of Sichuan dish commonly known as Fish Fragrant Eggplant (魚香茄子), Mapo Eggplant is amazing when served over hot steamed rice. Here, eggplants are stir fried with ground pork and seasoned with a bold savory sauce.
♥ 'I made this recipe for a reluctant family and they loved it! It will be a good one for our regular rotation.' – Rita A
Who doesn't like a good simple stir fry? This Stir fry Vegetables (Yasai Itame) is loaded with plenty of vegetables and your choice of protein. Simply swap out the meat with tofu or mushrooms for a vegetarian meal. You can learn the best tips on stir frying in the blog post too!
♥ 'Once everything was chopped, it only took 15 minutes. I used a small meat tenderizer to make the pork even thiner. This recipe will definitely be added to the rotation of weeknight dinners!' – Stephanie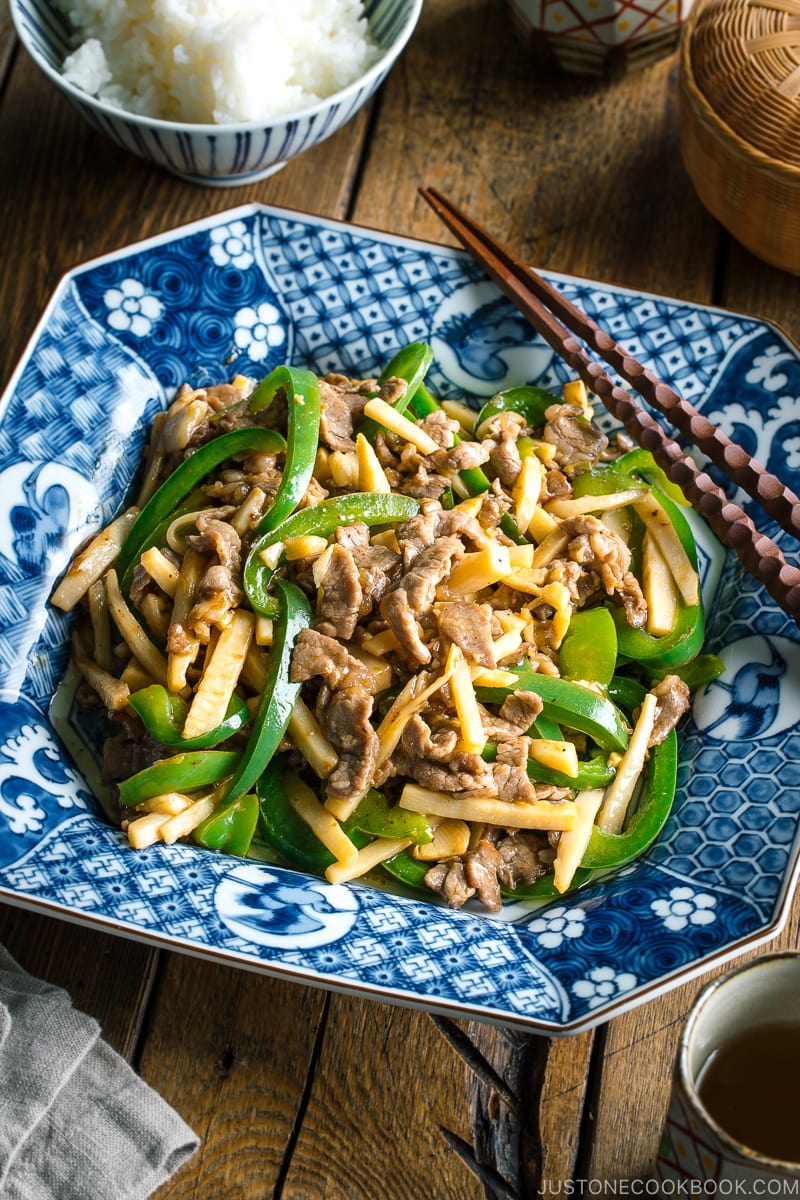 Beef and Green Pepper Stir Fry (Chinjao Rosu) is a staple in Japanese household. What makes it Japanese is the addition of bamboo shoots, which can be easily found at Asian or Japanese grocery stores.
♥ 'I made this recipe tonight for dinner and it was perfect for a cold evening served with rice and a side dish of bok choy. I am fairly new to this website but I can say that all of the recipes I have tried so far have been very successful and have increased my confidence in cooking.' – Kris H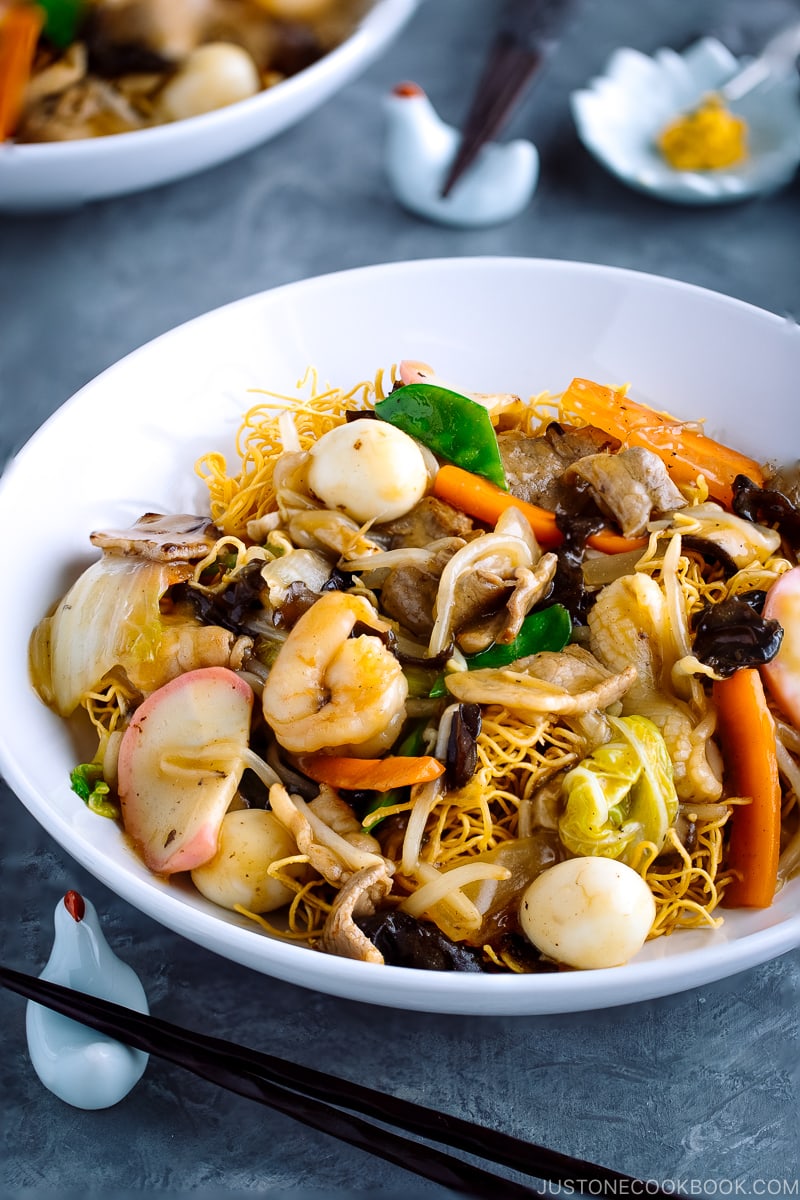 Sara Udon is the Japanese version of the classic Chinese dish – Crispy Noodles with Seafood 海鮮炒麵, featuring stir-fried seafood, sliced pork and vegetables, atop a bed of pan-fried egg noodles. You can make the recipe at home that rivals the ones served at the restaurants.
♥ 'I tried this yesterday & it came out so wonderfully! Thank you so much.' – Tene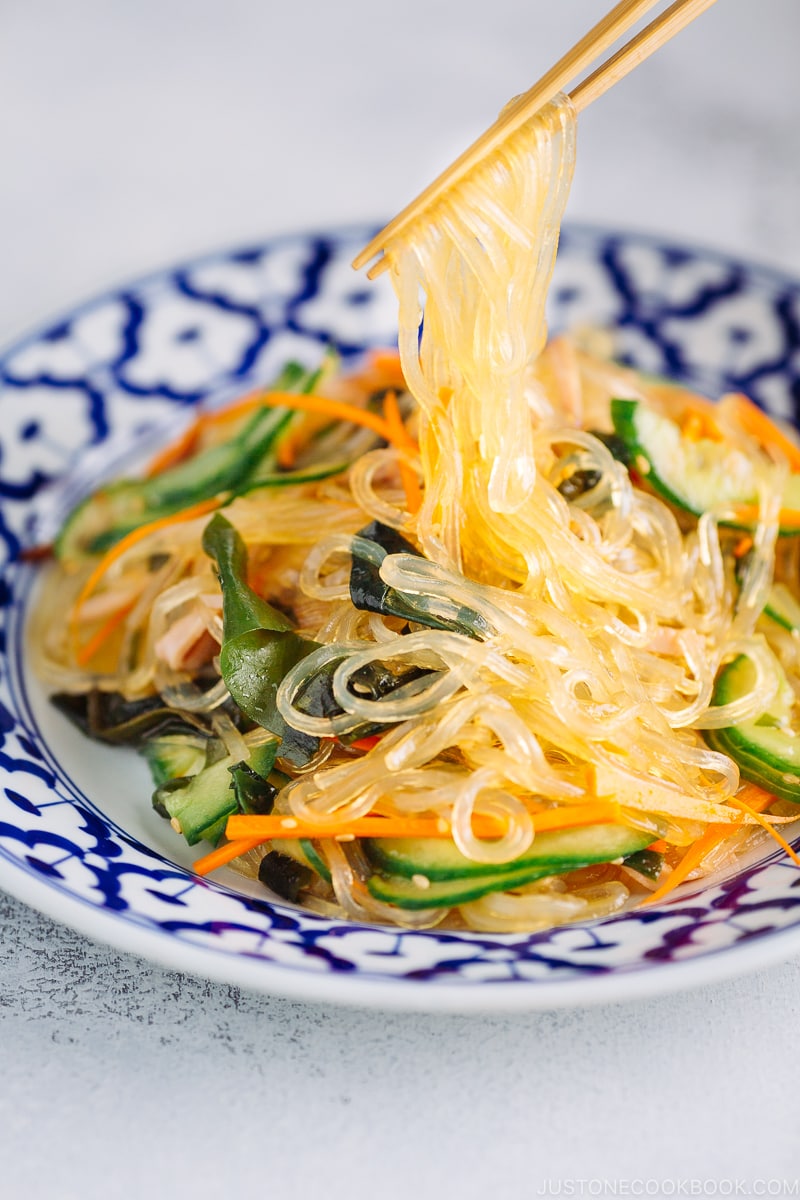 The glass noodles came to Japan from China during Kamakura period (1185-1333) as a vegan food for monks, and it's been used in the Japanese kitchen for almost 800 years. In this salad recipe, you have tangles of slippery chewy noodles, crisp vegetables, and salty ham, all tossed in a tangy sesame soy vinaigrette. So refreshing and tasty!
♥ 'I made this for a party and it was great because it was make-ahead. This is like Korean chap chae but easier! I added mushrooms and tomatoes too 🙂 So delicious.' – Cynthia C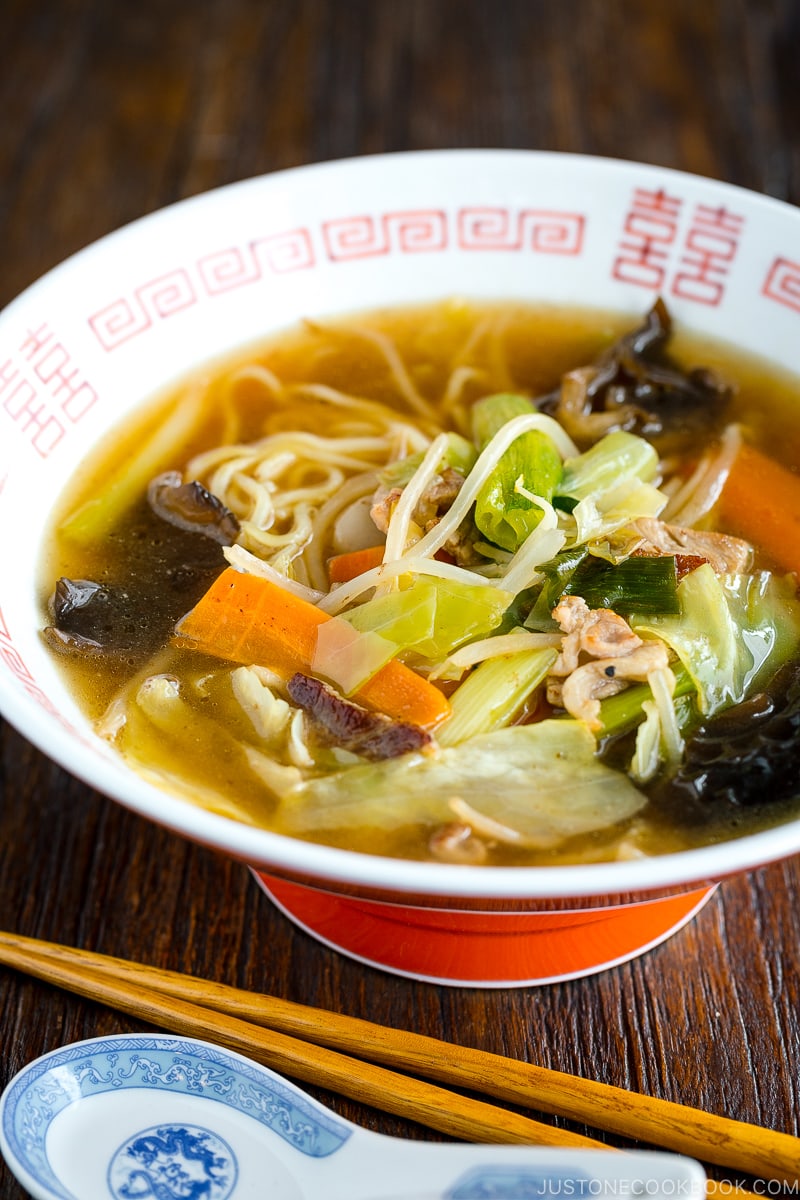 Don't underestimate the simplicity of this ramen soup noodle! There's plenty of flavors from the broth and the mixture of stir-fried vegetables and pork that topped the noodles. It also happens to be one of the quickest ramen recipes you can make at home!
♥ 'Thank you for this wonderful recipe! I cooked this soup in huge amount and whole family loves it. However, I totally failed to find chuka dashi. So, I substitute it with regular granulated chicken broth + regular dashi (1:1) and it tastes just great.' – Asa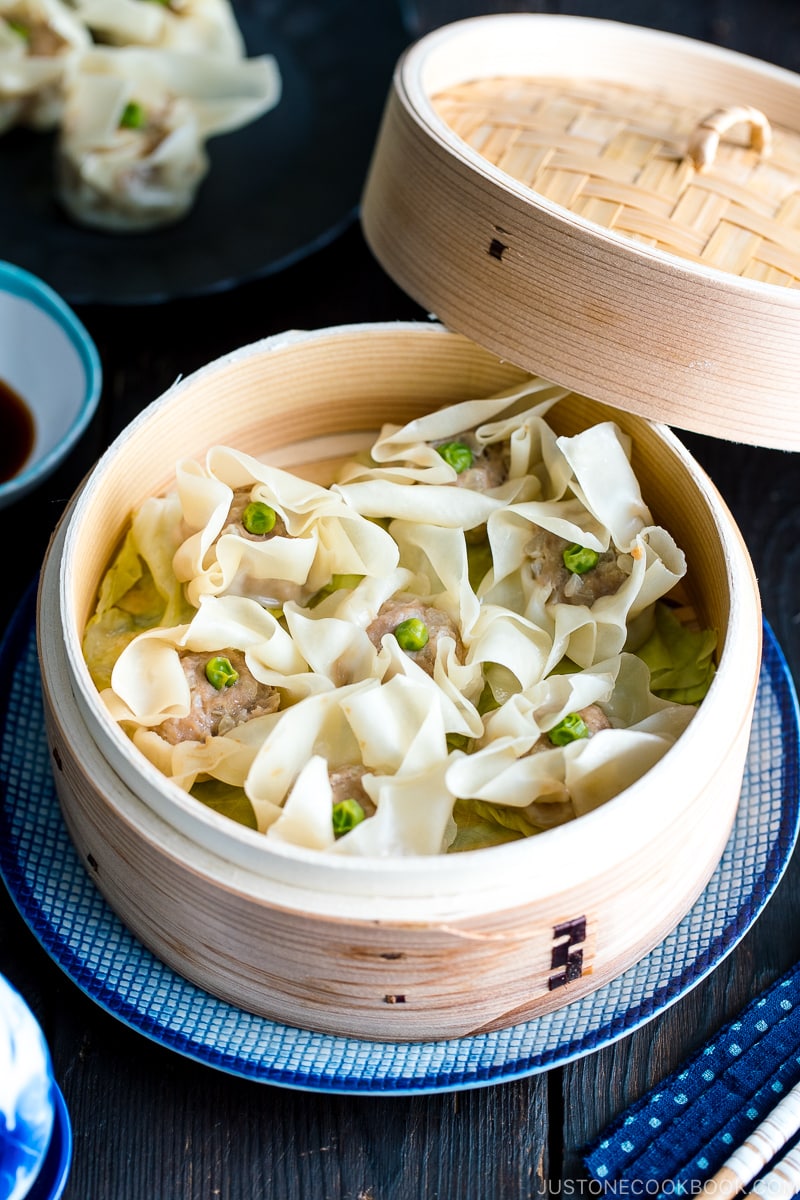 A popular dim sum item at Chinese restaurants, Shumai has become popular in Yokohama, Japan, since 1928! How to tell Japanese Shumai apart from the Chinese siumai? The green pea that crown the open steamed dumplings.
♥ 'This was a hit with my hubby! I added some finely diced water chestnut for some crunch. Thank you Nami!' – Roren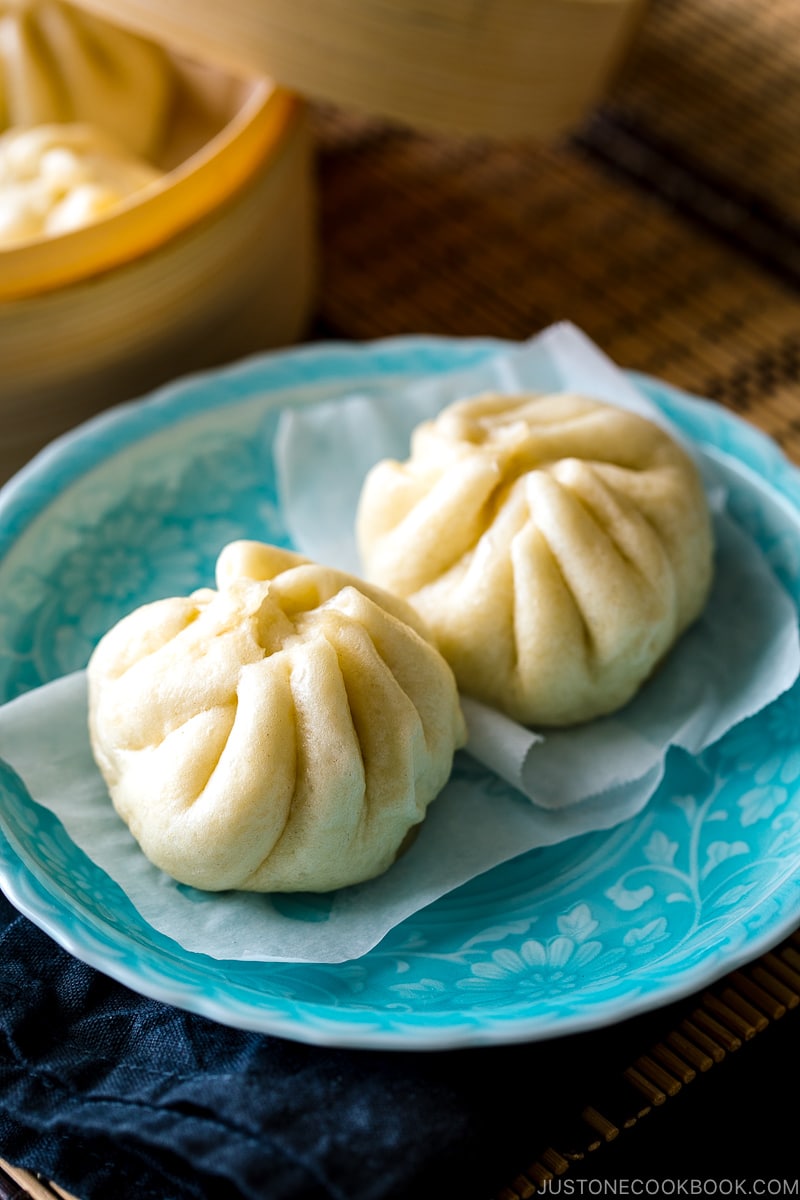 Another favorite of dim sum, Nikuman is the Japanese name for the Chinese baozi, also known as Chūka Man. In western Japan (西日本), they are called Buta Man (豚まん). The savory buns are usually steamed inside the bamboo steamer and taste the best when you enjoy them right out hot and fluffy.
♥ 'These are now in our regular rotation–so good!!! I make a big batch of filling, freeze half, then defrost and make the dough. LOVE this recipe. The best part–leftovers!!!' – Ilonka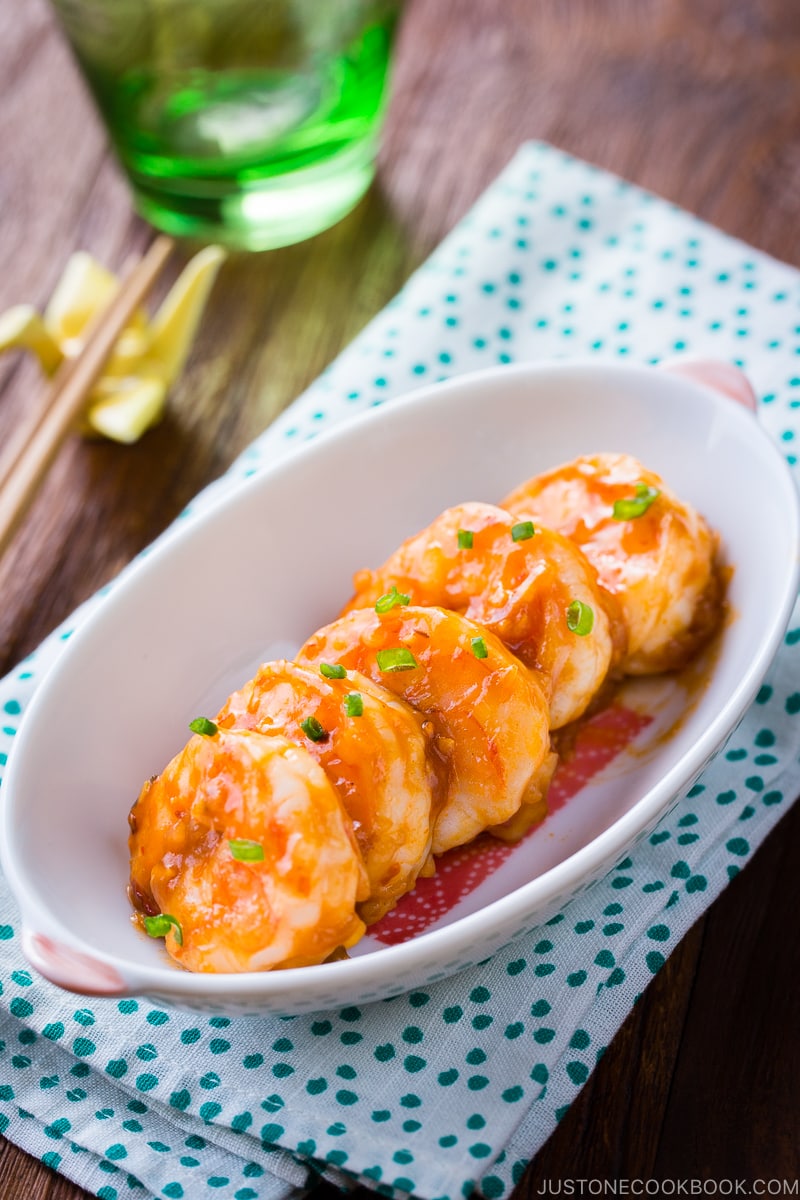 These succulent shrimp glazed in a sweet and spicy sauce was derived from Szechuan-style Kan Shao Shrimp (乾焼蝦仁) but adapted to less-spicy and sweet flavor suited for the Japanese taste.
♥ 'I cooked your Ebi shrimp this morning for my husband's bento and – as always – ate the leftover right away with cold rice for my breakfast! It tastes was wonderful and now definitely in my list of "quick delicious food". – Poca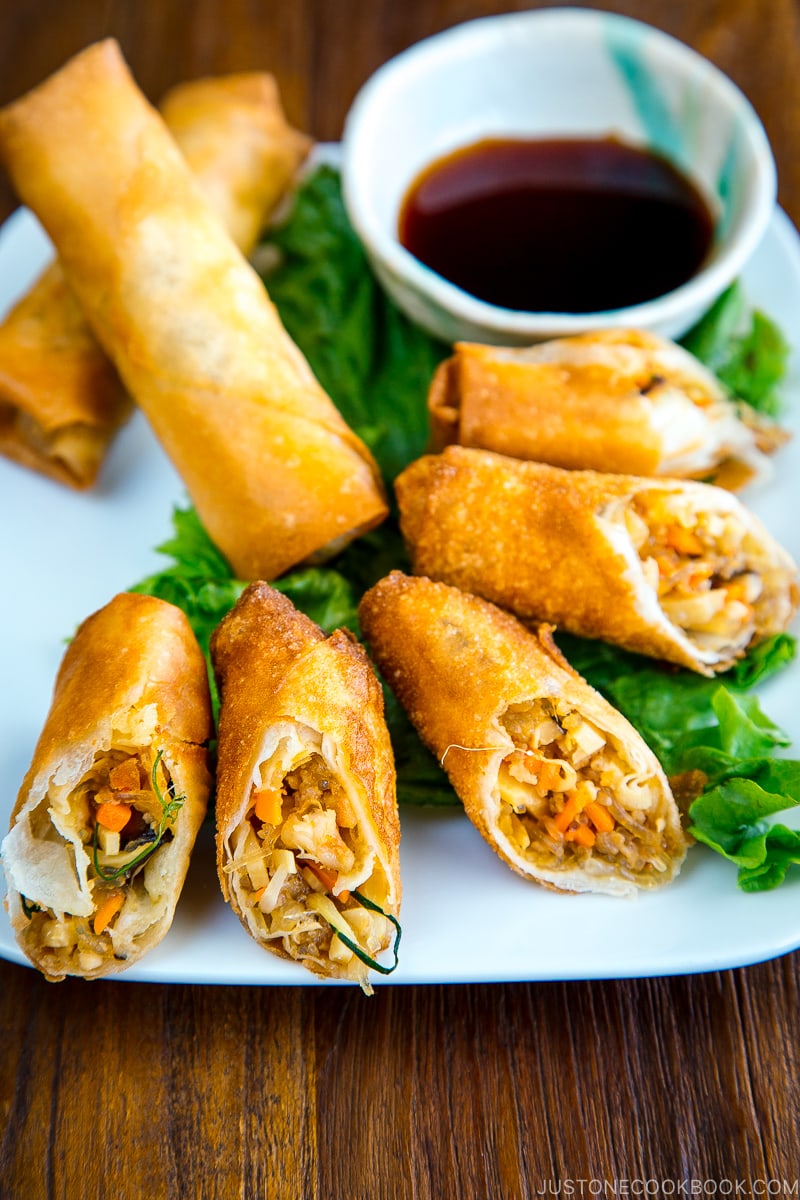 Crispy Spring Rolls are one of the tastiest handheld foods. Here, you have savory filling wrapped in pastry sheet and deep-fried till golden brown. Make more because they will be gone in seconds!
♥ 'I have celiac disease and used Vietnamese rice wrappers for these. Yum. Thank you so very much for your recipes! My family is grateful.' – Aimee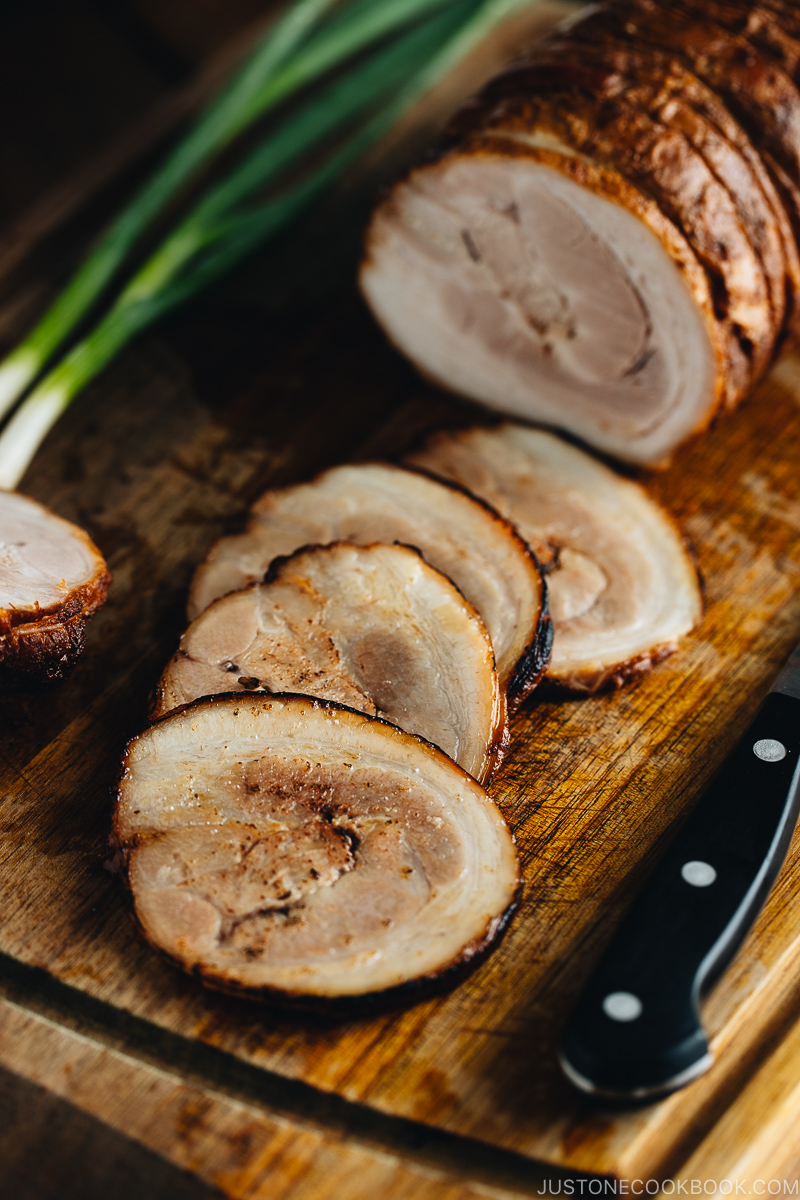 No one can resist the melt-in-your-mouth Chashu pork belly that top the bowl of ramen! Now you can make it at home with this easy recipe. Unlike the Chinese version, the Japanese chashu is prepared by by rolling it into a log and then braising it over low heat in a soy-based sauce. The succulent and fork-tender texture is what you're after.
♥ 'I lived in Japan for two years a couple years ago and I was starting to crave chashu and this was delicious. My wife who doesn't usually like beef or pork loved it and I wished I would have made more.' – Matt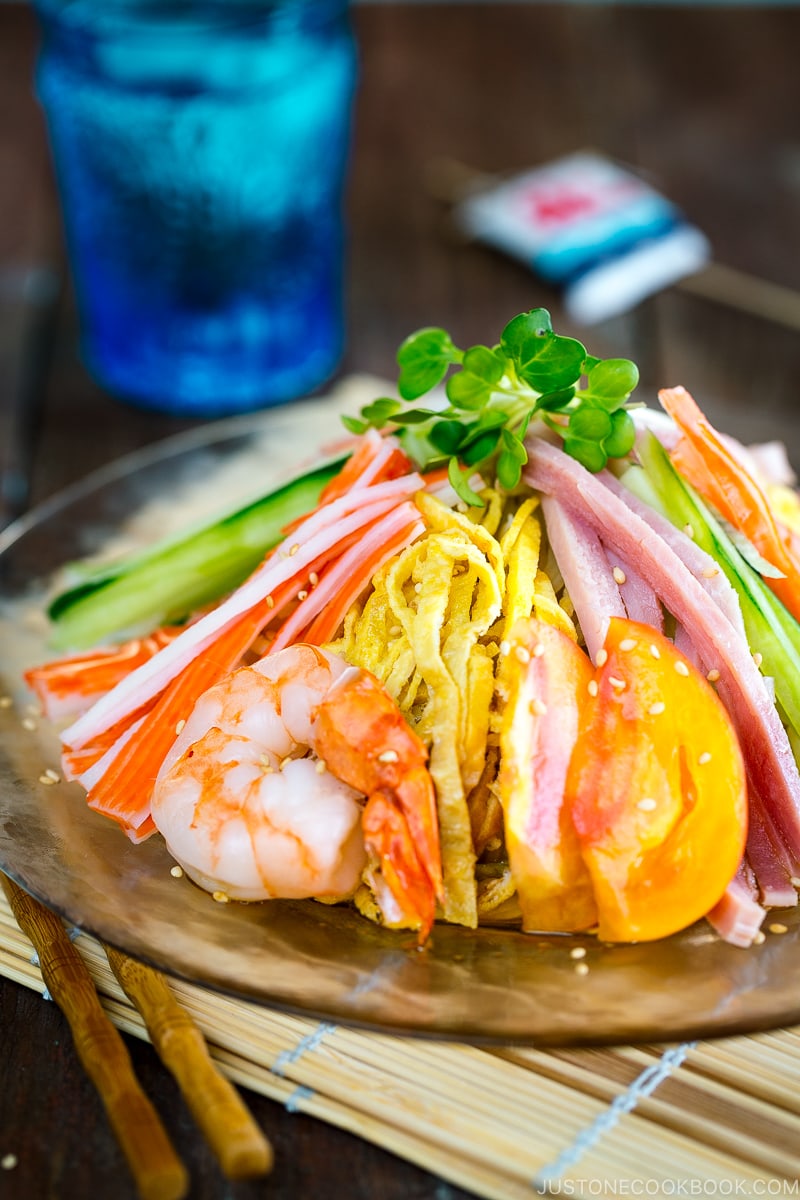 Hiyachi Chuka literally means "chilled Chinese". Despite the unimaginative translation, this chilled ramen noodles is anything but. The refreshing taste and colorful toppings make it a favorite during the warmer months. And you can certainly be creative with your toppings. Keep it vegetarian by using your favorite veggies.
Here's another delicious version – Hiyashi Chuka with Sesame Miso Sauce.
♥ 'My relative recently recommended that I eat hiyashi chuka since it's been so hot. I found your recipe and tried it out. The husband and I love it! I know that I could buy bottled sauce but the recipe that you provide is so tasty.' – Kathy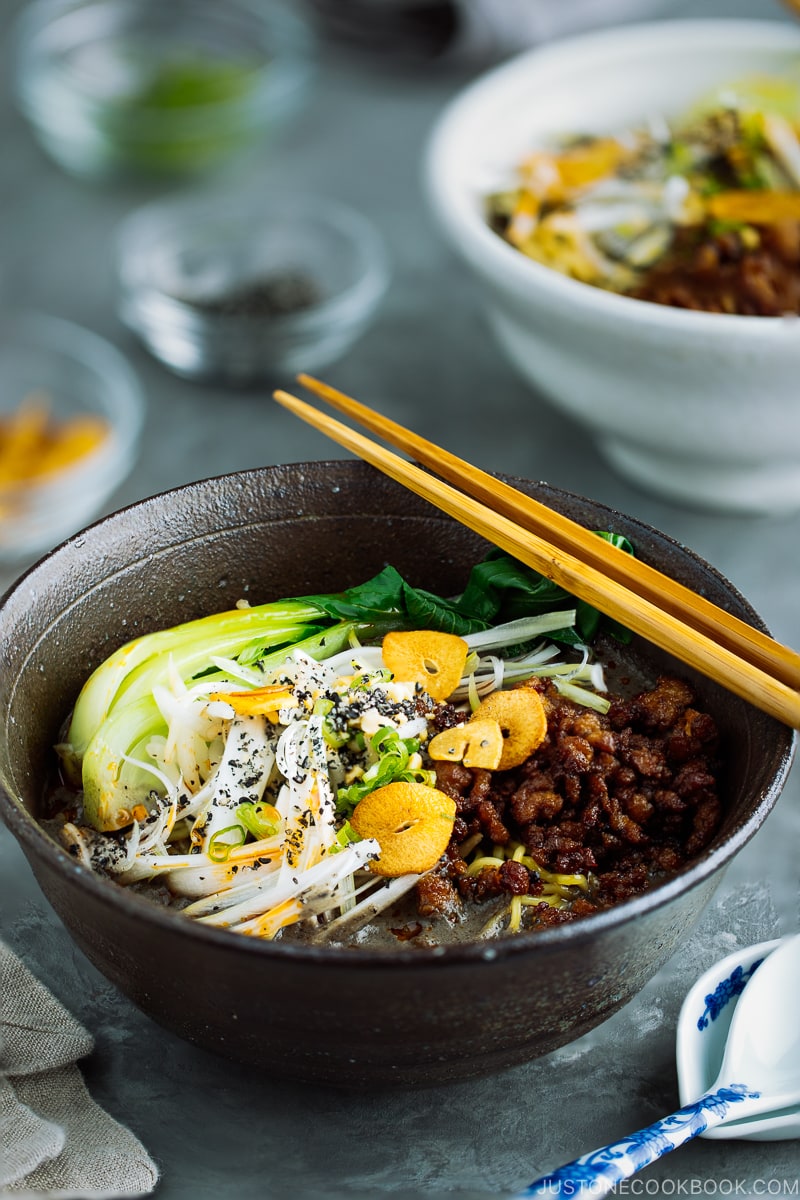 Black Sesame Tan Tan Men is a Japanese take on Dan Dan Noodles, the classic Sichuan noodle dish. With the addition of soy milk, the broth is creamier and nuttier. It highlights the black sesame flavor, and when served with chili oil and garlic chips, the noodle dish is absolutely sensational.
♥ 'This dish is amazing! Thanks for the photos of different ingredients to make finding them easier. All the parts of this recipe come together into something sublime.' – Karen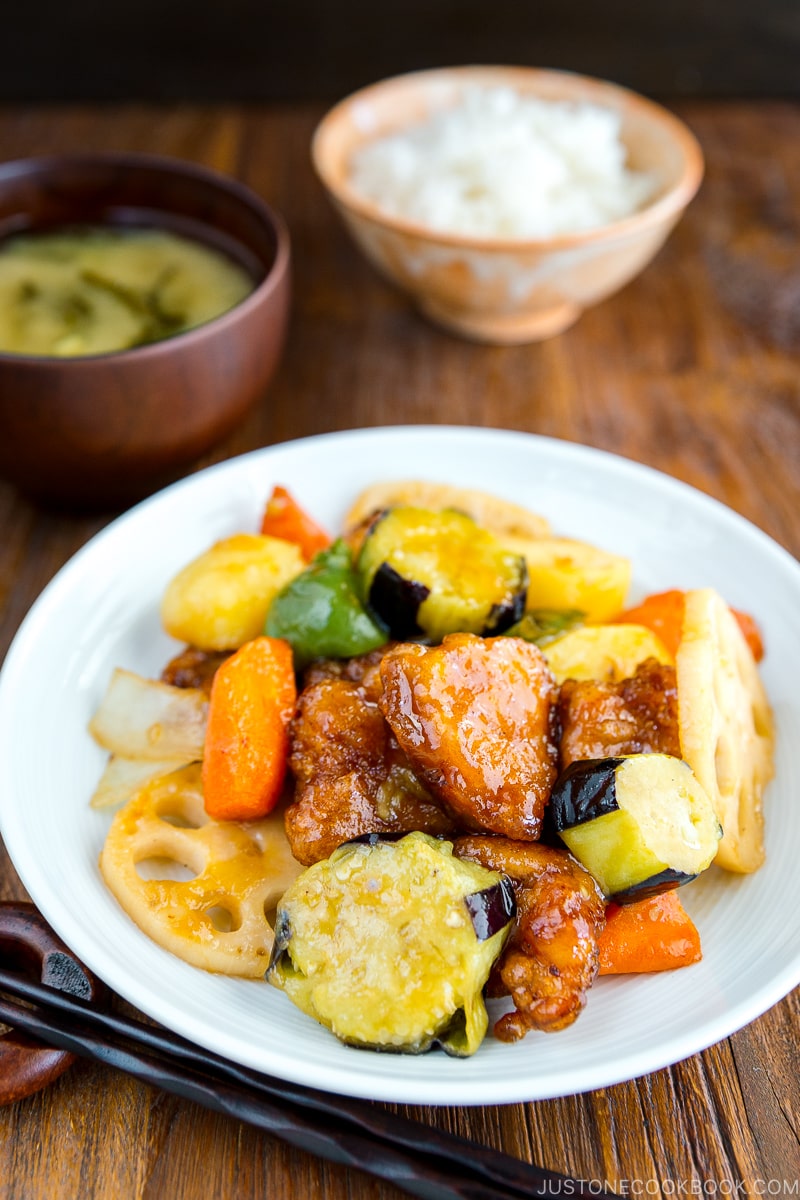 Similar to many Chinese sweet and sour chicken, the Japanese uses black rice vinegar in the sauce to create a deep, malty savory flavor. Apart from that, the Japanese version included many other vegetables such as potatoes, eggplants, and lotus root.
♥ 'Just cooked this tonight for dinner (sans lotus root). Was skeptical about the apple cider vinegar at first (been using ketchup for this type of dish)…. But lo and behold, I loved the combination of flavors 🙂 No leftovers again tonight'. – Gladys SY
Fried rice is the most genius meal created by the Chinese in honor of leftovers! In comparison, the Japanese-style fried rice uses short-grain rice so it has a stickier texture. When it comes to the ingredients, simple is always the best.
♥ 'I made this fried rice tonight and was amazed at how good the end result was! I've attempted fried rice many times, and ran into the same problems you highlighted in the recipe (mushy, too many additions, etc.). This recipe was so wonderfully simple and delicious. I never appreciated how important it is for the rice not to get smushed or damaged in the process – with your clear instructions in this recipe, that didn't happen.' – Emi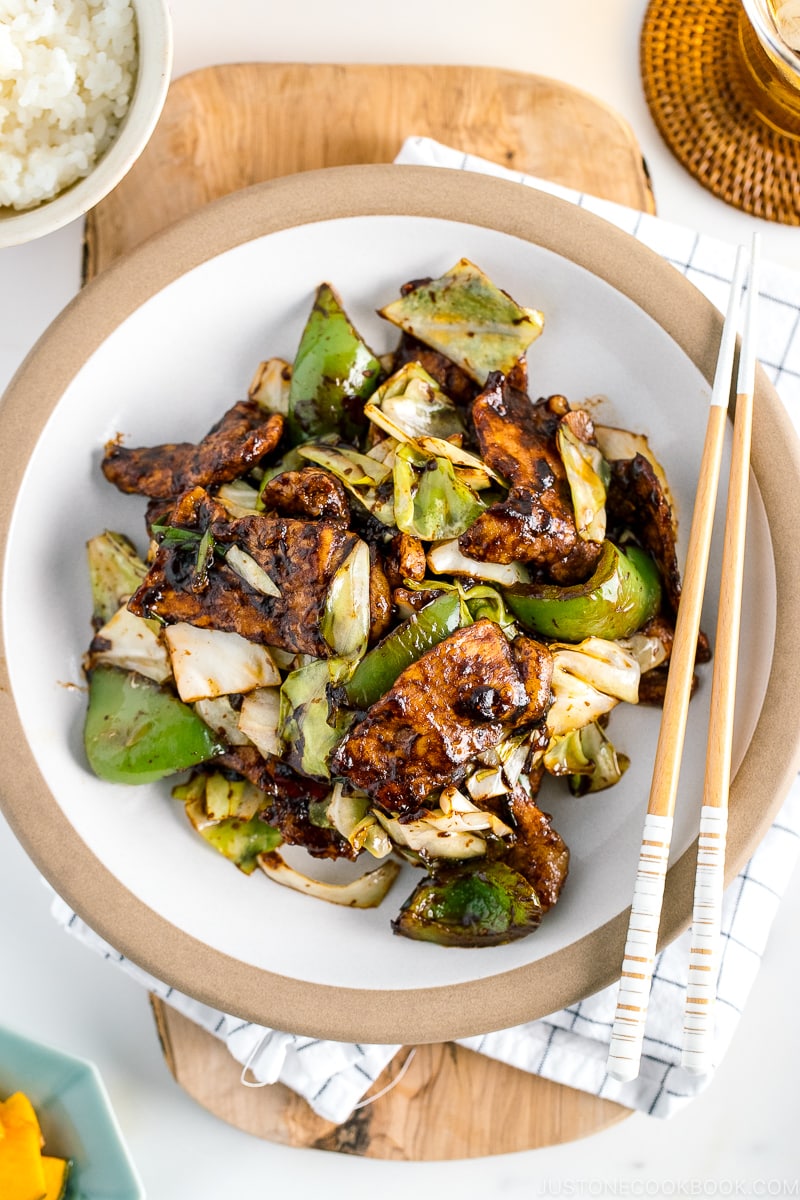 While virtual traveling might be the only trip option currently on the table, I love to get creative in ways to fill my wanderlust. One of my favorite ways to do this is to cook dishes that bring me somewhere far away, like this twice-cooked pork. The richness of the spices combined with the perfect texture of the pork allows me to travel to Japan from my dinner table!
---
Learn More About Chuka Ryori