Nikuman is Japanese steamed buns filled with delicious savory pork, shiitake mushroom, cabbage, and scallion. Learn how to make this favorite snack at home!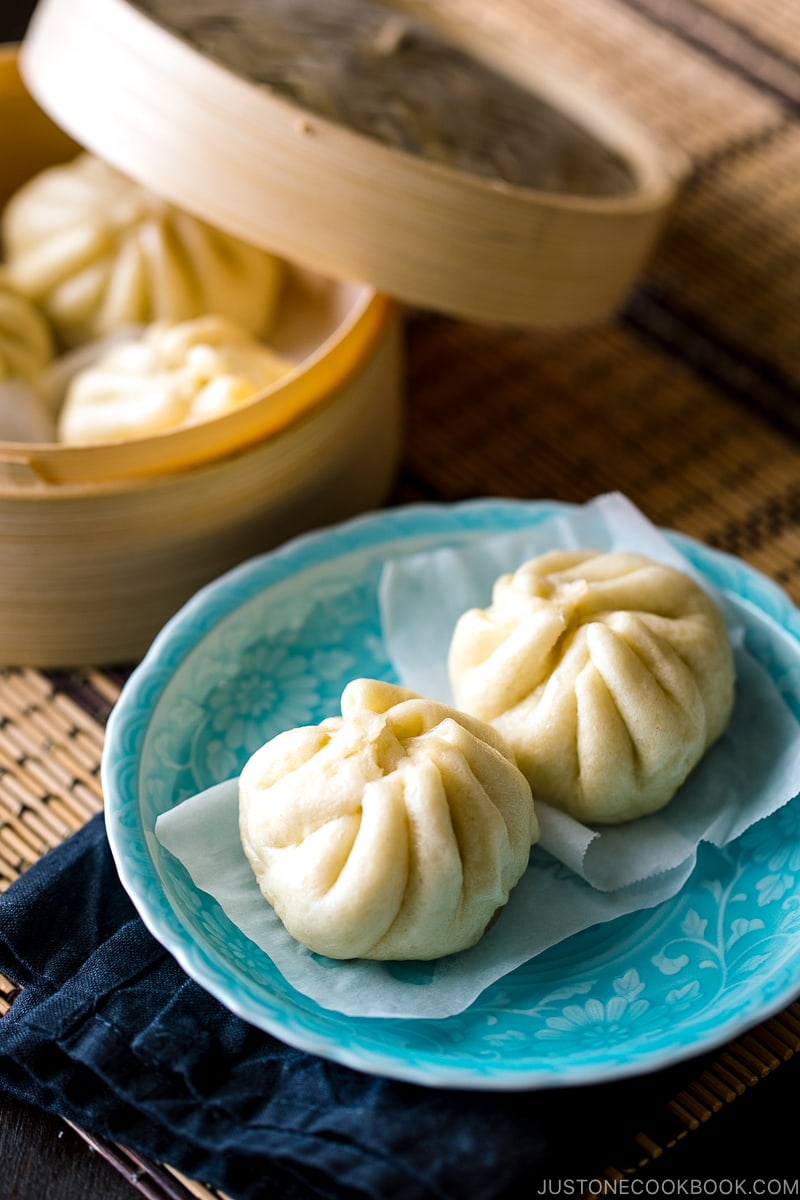 Do you have any food that evokes a special memory of your life? One of my dearest memories is snacking on a warm steamed bun called Nikuman during my commute home from college in the cold months. For me, Nikuman (肉まん), or Japanese-style Steamed Pork Bun, was not only my favorite winter snack but also a taste of nostalgia.
I used to stop by a convenience store for my Nikuman treat; the steaming hot bun kept my hands and heart warm. By the way, Japanese convenience stores sell not only snacks and drinks but a dizzying array of items like a mini supermarket. If you visit Japan, it's definitely one place you should take a peek inside – it's literally a "convenient" store.
What is Nikuman?
Nikuman is the Japanese name for the Chinese baozi (包子,肉包), also known as Chūka Man (中華まん). These steamed buns are made from flour dough and filled with meat and other ingredients. In western Japan (西日本) including Osaka, they are called Buta Man (豚まん).
The savory buns are usually steamed inside the bamboo steamer and taste the best when you enjoy them right out hot and fluffy. The texture of the buns is tenderly soft and moist, and when you take a bite, the inside is bursting with sweet-savory, juicy meat mixtures.
During the winter months in Japan, convenience stores sell hot steaming chūka man including Nikuman, Kare–man (curry flavor), An-man (with red bean paste), and Pizza-man (pizza flavor).
Yokohama, Japan's 2nd largest city I grew up in, has the largest Chinatown and I just loved walking around to see the traditional Chinese steamed buns that are as big as my face being sold at the stores. Or at least that's how I remembered as a small child.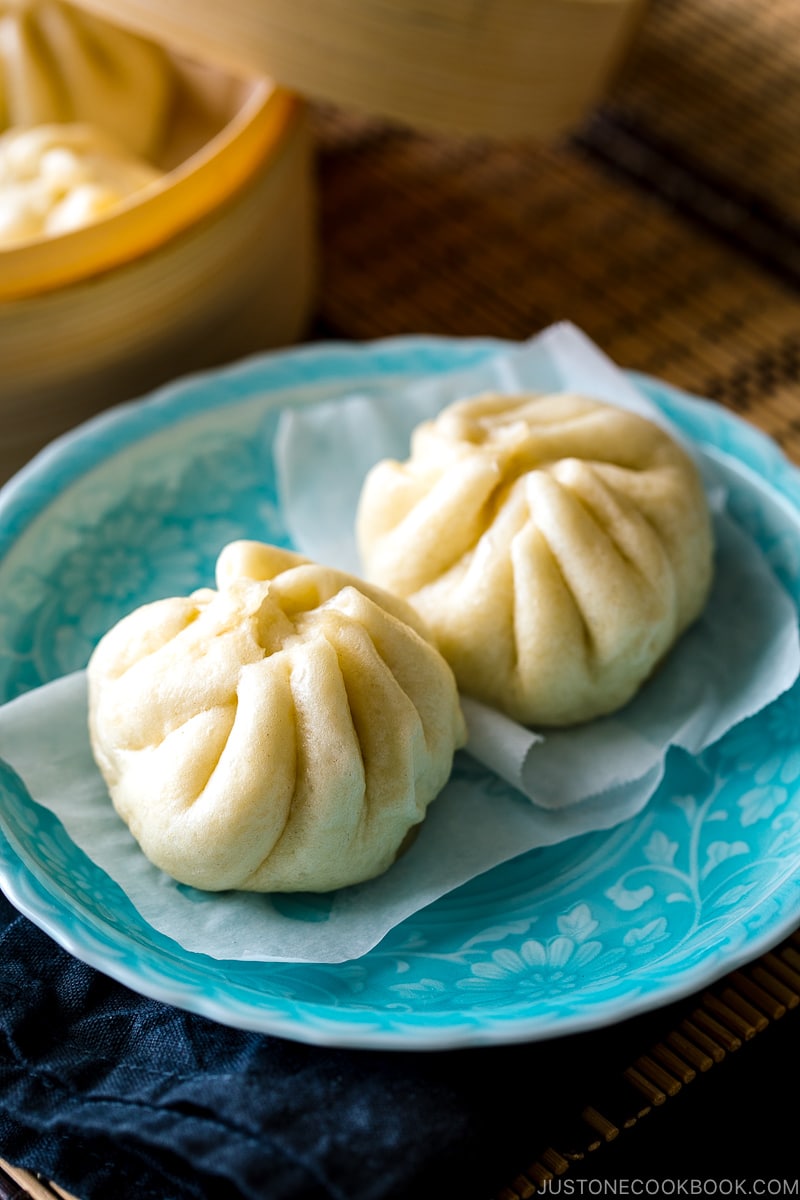 Homemade Nikuman
My mom used to buy packaged steamed buns from the store and they tasted pretty good as I remembered. I never thought this dish is something we could make at home until I visited my high school friend's house for lunch years ago.
She made homemade nikuman for us and I was very impressed that she made the pork buns from scratch. To my surprise, she told me that they are very easy to make. The buns were so good as they were freshly made and everyone loved them. Since then I started to make my own and my family simply can't get enough, especially my daughter who loves the soft white steamed buns.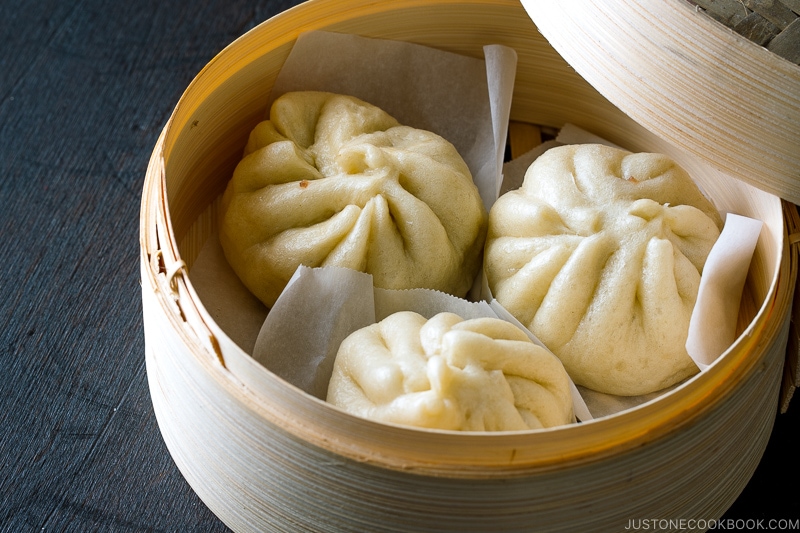 You might wonder if it's really worth your time to make the steamed buns at home, especially if you can just buy pre-packaged stuff from the grocery stores. But, let me tell you why you'll love the homemade buns:
Why We Make Nikuman at Home:
Healthier – Prepackaged steamed buns tend to have additives or less ideal ingredients. It's different when you make the buns from scratch.
Customization – Don't like pork? Then use your favorite ingredients for the fillings. Make it vegetarian or vegan. These steamed buns are for YOU! I like to make them in two sizes, big ones for the adults and small ones (like today's recipe) for the kids.
An approachable recipe – I was so glad when I discovered how easy it was to make my own steamed buns. Watch my video, and follow the step-by-step instructions. You'll see how easy and straightforward the recipe is.
Taste fresh and delicious – Nothing is better than food made fresh, right in your own kitchen. Steamed buns are definitely one of those dishes. These nikuman are so fresh tasting and satisfying!
Freezer-friendly – Leftovers can be kept frozen and reheated easily to enjoy later.
Making these steamed buns do pose some small challenges such as:
Requires to rest the dough for some time –

You have to let the dough rest and it's necessary for good steamed buns.

Needs lots of practice in folding and pleating – Making the steamed buns look good will require a little practice. But don't worry. I'll show you an easy method in the recipe and in my video tutorial, so you can follow along with confidence.
But don't worry, nothing is too hard to stop anyone from giving the recipe a try!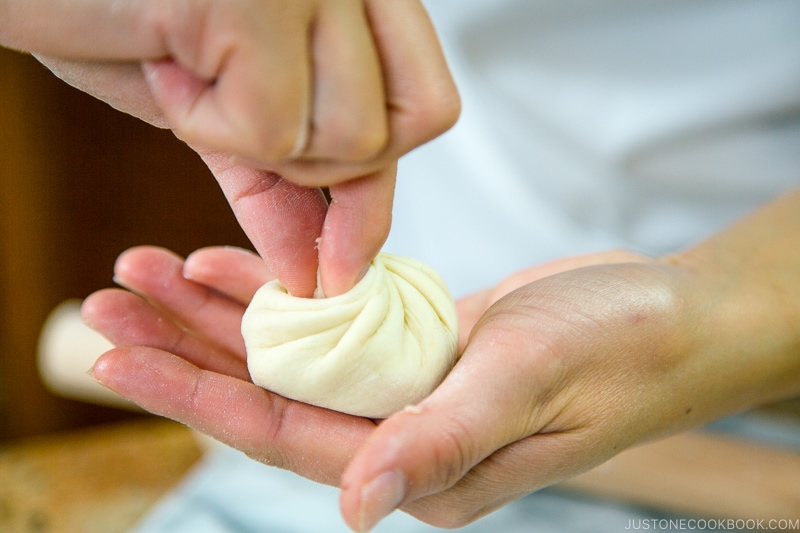 Mastering The Folding & Pleating for Steamed Pork Buns
This is the part that intimidates people most. For many years, I folded the dough with the EASY method I shared in my recipe. My Nikuman tasted great, but the look could be better.
When my friend Maggie of Ominivore's Cookbook shared her Kimchi Pork Steamed Bun recipe, she showed her mom's technique of folding and pleating in her youtube video. Since then, I've been wrapping my nikuman the same way. I still need to perfect my skill, but I've seen huge improvements with the method.
So I leave it up to you on how you want to wrap the dough. The nikuman taste great either way. Meanwhile, I'll keep practicing my folding and pleating!
PS: If you enjoyed these steamed pork buns, I think you ought to check out Shumai and Manju too!
Similar Savory and Sweet Treats You'll Enjoy: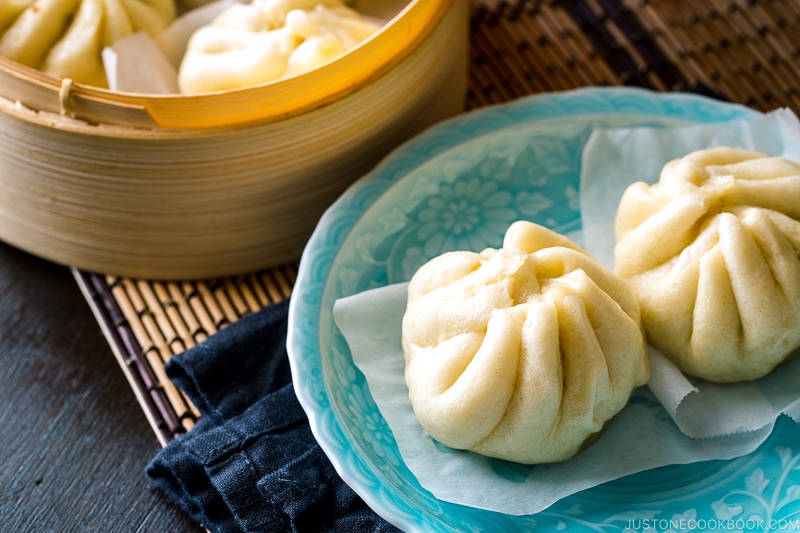 Wish to learn more about Japanese cooking? Sign up for our free newsletter to receive cooking tips & recipe updates! And stay in touch with me on Facebook, Pinterest, YouTube, and Instagram.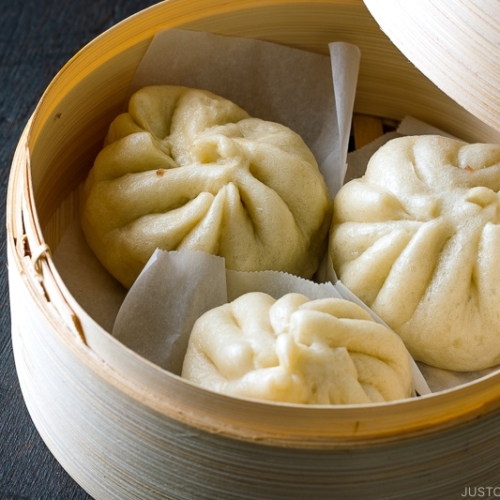 Nikuman (Steamed Pork Buns)
Nikuman is Japanese steamed buns filled with delicious savory pork, shiitake mushroom, cabbage, and scallion. Learn how to make this favorite snack at home!
Video
Ingredients
For the Dough
10.6

oz

all-purpose flour (plain flour)

(ROUGHLY 2⅓ cups for 20 buns, plus more for dusting; I strongly encourage you to use a kitchen scale to weigh your ingredients; if you use a measuring cup, follow this method: Fluff your flour with a spoon, sprinkle it into your measuring cup, and use a knife to level it off; otherwise, 1 cup of flour will weigh more than 120 g)

2

scant Tbsp

sugar

(20 g or just short of 2 Tbsp for 20 buns; 2 Tbsp granulated sugar is 25 g, but we only need 20 g)

½

tsp

Diamond Crystal kosher salt

1

tsp

baking powder

1

tsp

instant yeast

1

Tbsp

neutral-flavored oil

(plus more for coating the proofing bowl)

160-170

ml

water

(start with 160 ml of water and add more if needed; depending on the humidity in the air, you might need more or less)
For the Filling
½

cup

water

1

green onion/scallion

6.3

oz

green cabbage

(4 leaves)

1

tsp

Diamond Crystal kosher salt

¾

lb

ground pork

1

knob

ginger

(Roughly 1 inch, 2.5 cm; you'll need 2 tsp for 20 buns)

1

tsp

sugar

1

Tbsp

sake

1

Tbsp

soy sauce

1

Tbsp

roasted sesame oil

1

Tbsp

potato starch or cornstarch

freshly ground black pepper
For Serving
Japanese Ingredient Substitution:
If you want substitutes for Japanese condiments and ingredients, click
here
.
Instructions
Gather all the ingredients. I use a kitchen scale to measure my ingredients. Prepare one square piece of parchment paper for each bun you will make, about 3 inches x 3 inches (7.6 cm x 7.6 cm) for small buns. Set aside.
To Make the Dough
Put the flour, sugar, salt, baking powder, instant dry yeast, and oil in a large bowl. While mixing the ingredients with chopsticks or a wooden spoon, slowly pour the water into the bowl and mix with the other ingredients until they are incorporated and there are no dry spots of flour left in the bowl.

Lightly dust your hand with flour to keep the dough from sticking too much. Use your hand to knead the dough in the bowl, pressing it down and reshaping it until you can form it into a ball.

Sprinkle a working surface with flour. Transfer the dough onto the surface and start kneading. This is how I knead: First, press the top half of the dough, pushing forward slightly. Then pull it back and fold it in half and press it forward again with the heel of your hand twice. Then, turn the dough slightly, about 30 degrees, and repeat this process. Continue turning and kneading the dough for 10-15 minutes or until the dough becomes smooth and silky. Sprinkle the dough with a little bit of flour at a time to help decrease the stickiness.

Form the dough into a smooth, round shape, gently tucking the loose ends underneath. Coat the bottom of the bowl with oil and place the dough back in the bowl. Cover it with plastic wrap and put it in a warm place until the dough doubles in size, about 30-60 minutes.
To Prepare the Filling
While you're waiting for the dough to rise, make the filling. First, soak the dried shiitake mushrooms in ½ cup water. Place something heavy on top to completely submerge the shiitake. Set aside for 10-15 minutes.

Thinly slice the scallion. Remove the tough core of the cabbage leaves and chop the leaves into 1-inch (2.5 cm) pieces.

Sprinkle the chopped cabbage with the salt to draw out the excess water.

Once the shiitake mushrooms are rehydrated, squeeze the liquid out, cut off the tough stems, and mince the mushroom tops.

In a large bowl, combine the ground pork, scallion, and shiitake mushrooms. Squeeze the excess water out from the cabbage with your hands and add it to the bowl.

Grate the ginger (you'll need 2 tsp for 20 buns) and add it to the pork mixture, along with the sugar, sake, soy sauce, sesame oil, potato starch/cornstarch, and freshly ground black pepper.

Knead the mixture until it is well combined and looks pale and sticky. Set it aside (or cover with plastic wrap and keep in the fridge) until the dough is ready.
To Form the Buns
Once the dough has doubled in size, place it on the work surface that you've dusted with flour. Divide the dough in half and then roll each piece into a log. Cut each log into 5 even pieces and then cut each piece in half. You should have 20 pieces of dough. You can divide the dough into fewer pieces of dough to make bigger buns, if you wish. However, it's easier to work with a smaller piece of dough to make nice pleats when you wrap because it's hard to hold a big piece of dough plus filling in one hand. Form each piece of dough into a ball and dust the dough balls with flour to keep them from sticking to each other. Space each ball apart and cover loosely with a damp kitchen cloth to avoid drying out. Let them rest for 10 minutes.

Take a ball of dough and flatten it with your palm. Then roll it with a rolling pin into a round wrapper. Here's how I roll the dough: Hold the top of the dough with your left hand and use a rolling pin to roll out the dough with your right hand. You only need to roll up and down on the bottom half of the dough. After rolling 1-2 times, rotate the dough about 30 degrees with the left hand. Repeat this process until the dough becomes thin. The center of dough should be thicker than the edge.

Hold the dough with your left hand and seal the bun using your right index finger and thumb. First, pick up a corner of the dough with your right index finger and thumb and pinch together (left picture). Without moving your thumb, use your right index finger to pick up more dough and pinch it with your thumb while rotating the dough clockwise with your left hand (right picture).

Repeat this process about 10-12 times (for 10-12 pleats) until you seal the bun closed by pleat and pinching the last piece of dough tightly. Tips: Your left thumb should hold down the filling while you use your left fingers to turn the wrapper. Use your left index finger to help pleat the dough. Also, lift up the pinched pleats slightly while you make a new pleat so the filling stays inside the dough.

Once you finish sealing the last part of the dough, twist the pleats further with your right index finger and thumb to maintain a tight seal. If you're left-handed, reverse the directions.

Easy Alternative Option: Wrap the filling by bringing the dough up around the meat to the top, forming little pleats with the excess dough, then slightly twisting the dough to close it and pinching it firmly to join the edges.

Place the bun on a square piece of parchment paper that fits the bun. Cover the finished buns with plastic wrap and repeat this process with the rest of the dough. Let the buns rest for 20 minutes.
To Steam
Bring water to a boil in a large wok (or a pot) and set a steamer on top. Once the water is boiling, place the buns with their parchment paper squares in the steamer tray, leaving about 2 inches between each bun (as they will get larger while steaming). Close the lid and steam over high heat for 10 minutes for small buns (or 13 minutes for medium buns and 15 minutes for large buns). If you use a regular pot for steaming, wrap the lid with a kitchen cloth to prevent the condensation (formed on the lid) from dripping onto the buns. Serve the nikuman with karashi mustard and soy sauce. Enjoy immediately.
To Store
The buns keep well in the fridge until the next day and freeze well after steaming. Wrap them in plastic wrap and then pack them in freezer bags (I suggest to consume in 1 week). To reheat, steam the frozen buns for a couple of minutes.
Nutrition
Nutrition Facts
Nikuman (Steamed Pork Buns)
Amount per Serving
% Daily Value*
* Percent Daily Values are based on a 2000 calorie diet.
©JustOneCookbook.com Content and photographs are copyright protected. Sharing of this recipe is both encouraged and appreciated. Copying and/or pasting full recipes to any website or social media is strictly prohibited. Please view my photo use policy
here
.
Editor's Note: This post was originally published on Mar 16, 2015. It's been edited and republished in April 2020.