Let's make fresh and tender Gyoza Wrappers from scratch! All you need is salt, water, and flour. That's it! Watch the video tutorial and enjoy the fun and rewarding process.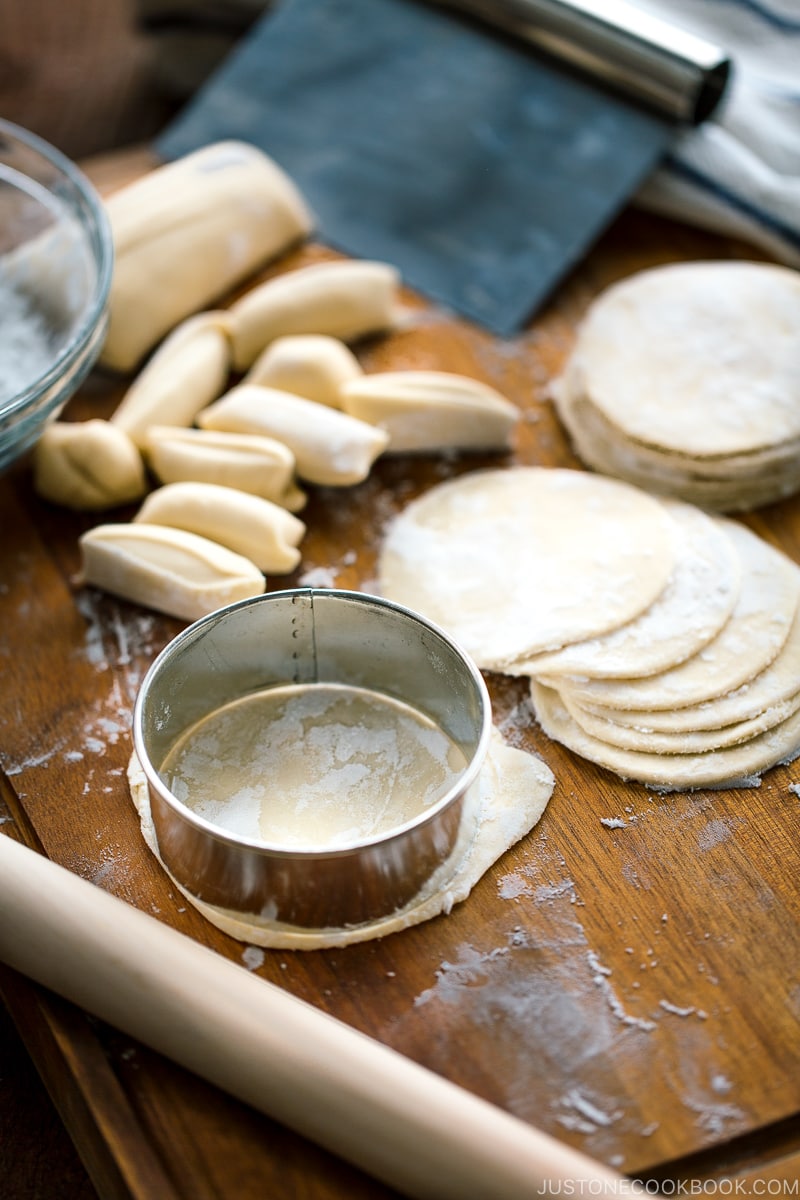 Gyoza wrappers are not one of those things that I usually make from scratch. While everything homemade is best in the ideal world, who has the time when you can easily buy them from grocery stores?
It wasn't until when I took upon the challenge of making homemade gyoza wrappers that I realized it wasn't as daunting and difficult as I'd thought. You'll need only salt, water, and flour! The experience is so rewarding that I know you'll enjoy making your own gyoza wrappers too.
What Are Gyoza Wrappers?
Gyoza wrappers are a thin and round flour pastry that wraps around the filling of gyoza or Japanese potstickers. The dough is made of wheat flour, water, and a pinch of salt. They get crispy when pan-fried or deep-fried and become a soft and tender, pasta-like texture when boiled.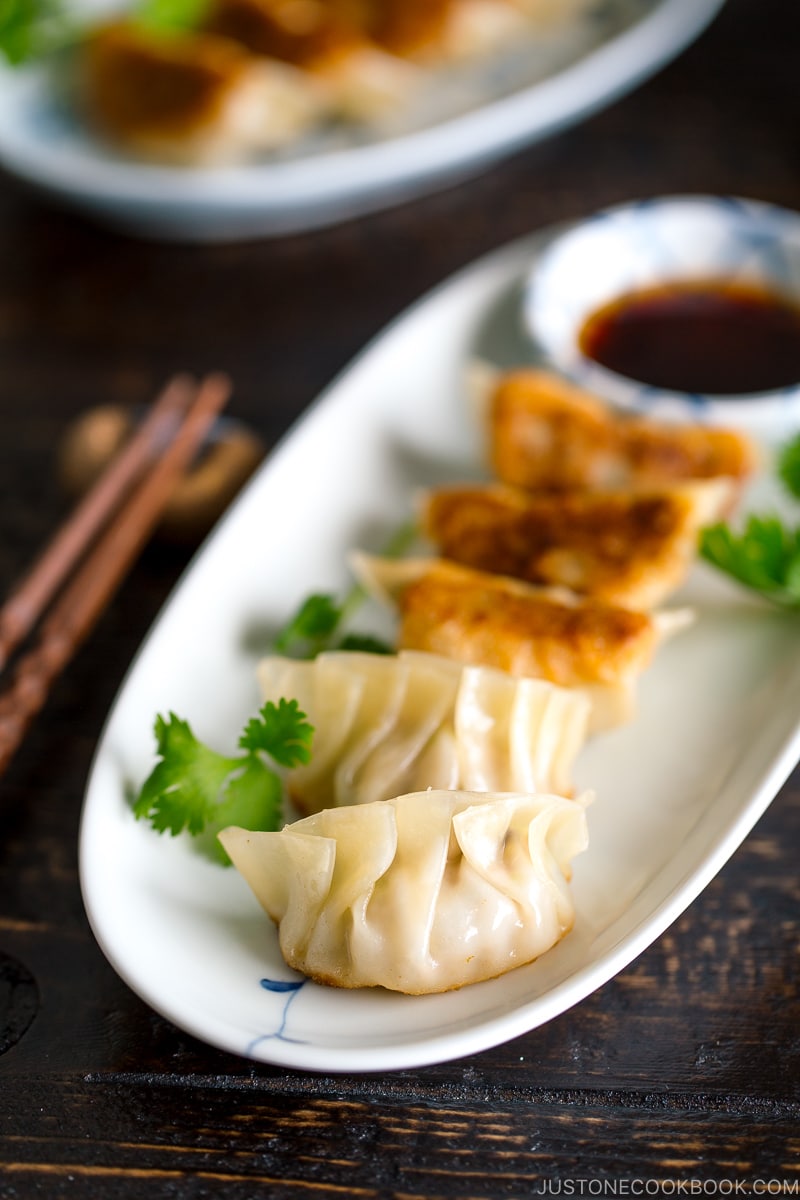 How to Make Gyoza Wrappers
The Ingredients You'll Need
All-purpose flour – Weigh your flour or use the "fluff and sprinkle" method and level it off.
Kosher salt
Water
Potato starch (cornstarch)
The Steps
Mix all the ingredients in a large bowl.
Knead the dough for 10 minutes, shape it into logs, and rest for 30 minutes.
Cut the dough into small pieces, flatten, and cut out into a circle shape using a cookie cutter.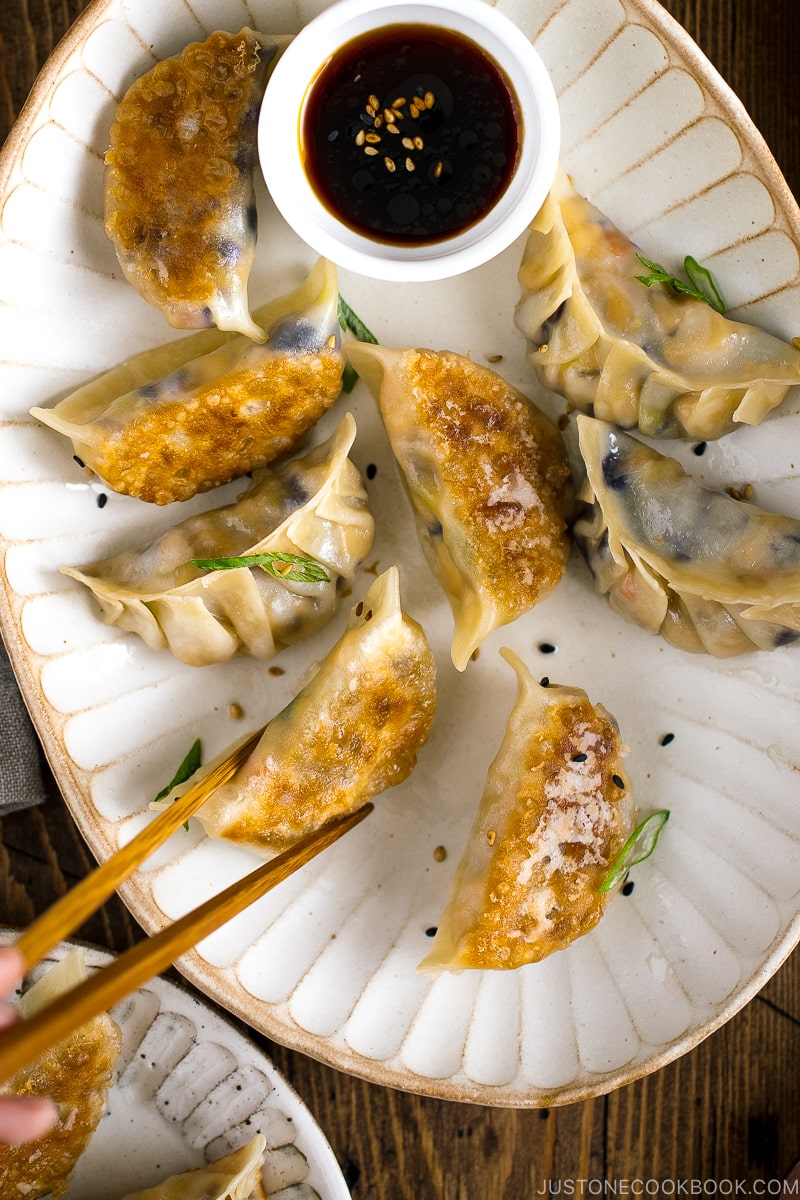 Japanese Gyoza & Chinese Potstickers
Japanese gyoza is very similar to Chinese potstickers. The main differences are in the size and thickness of the dumpling wrappers. Chinese potstickers' skin is typically thicker and the dumplings themselves are larger than gyoza.
If you are able to buy gyoza wrappers locally and want to save time, you can hop straight over to my gyoza recipes:
Homemade vs. Store-Bought Gyoza Wrappers
Homemade gyoza wrappers can be time-consuming, but I find the process extremely fulfilling and calming. Save it for the weekend or on an unhurried evening when you can enjoy the experience. Or make it a fun activity to do with family or friends. Gyoza party, anyone?
The beauty of the homemade wrappers is they are tender and fresh tasting, making them so much pliable to fold your filling. Also, there are no preservatives you have to worry about.
Seeing my family devouring the gyoza I made from scratch pleases me more than anything. It's worth the time!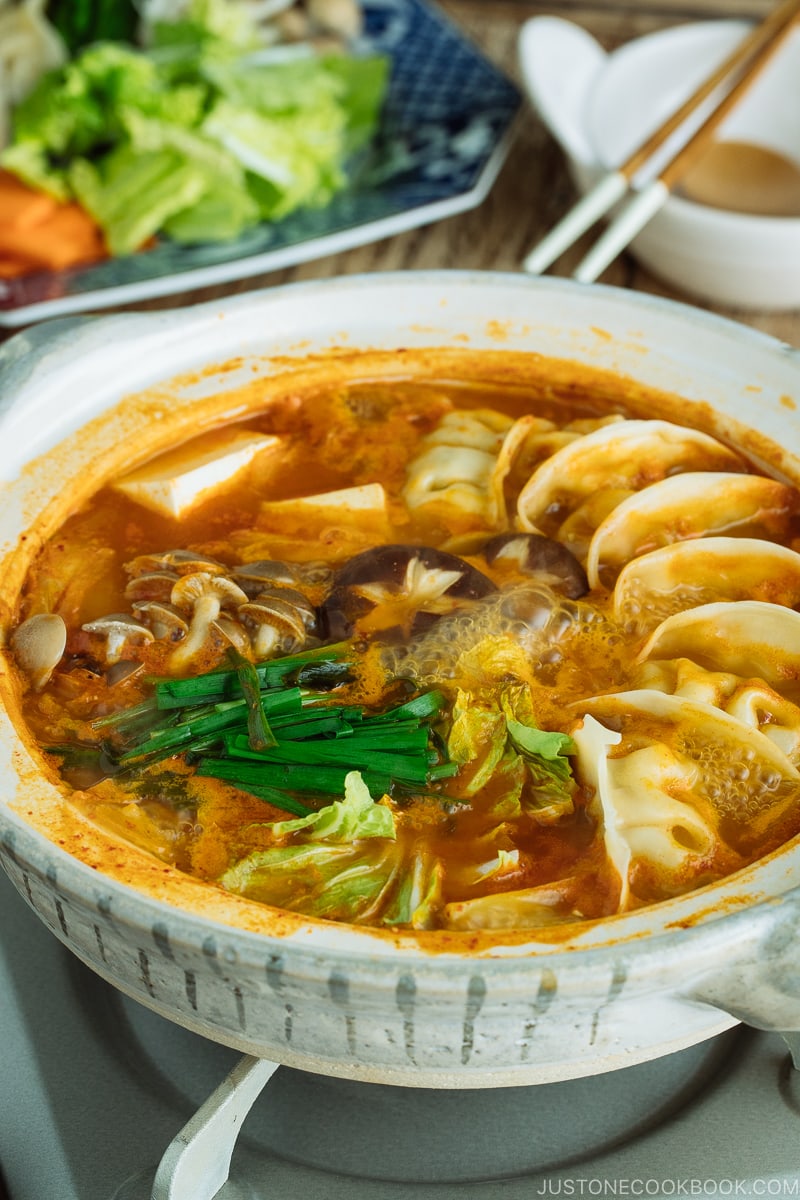 Ways to Use Gyoza Wrappers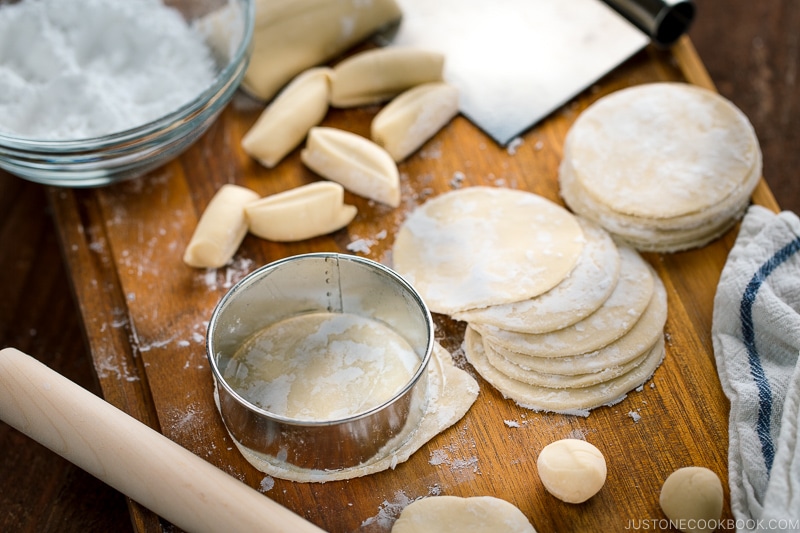 Wish to learn more about Japanese cooking? Sign up for our free newsletter to receive cooking tips & recipe updates! And stay in touch with me on Facebook, Pinterest, YouTube, and Instagram.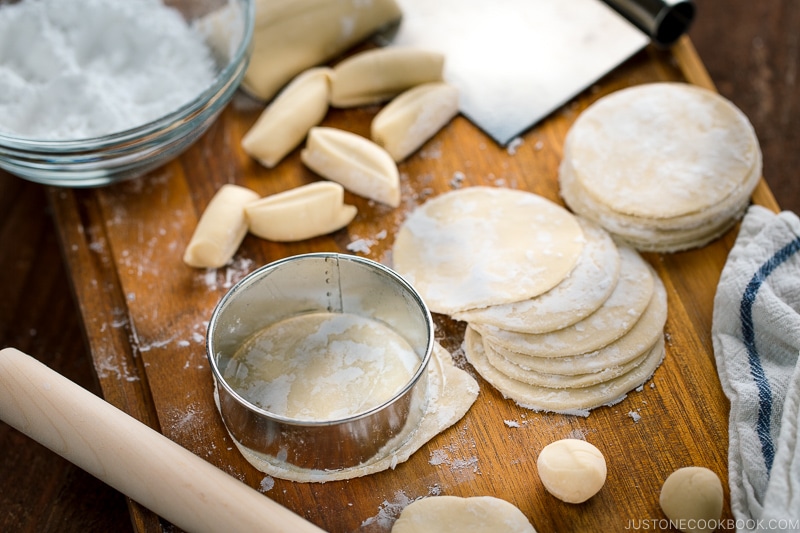 Gyoza (Japanese Potsticker) Wrappers
Let's make fresh and tender Gyoza Wrappers from scratch! All you need is salt, water, and flour. That's it! Watch the video tutorial and enjoy the fun and rewarding process. 
Video
Servings:
38
to 42 thin, 3-inch wrappers (using all the dough)
Ingredients
2

cups

all-purpose flour (plain flour)

(weigh your flour or use the "fluff and sprinkle" method and level it off; you can substitute

1

cup,

120

g bread flour +

1

cup,

120

g cake flour)

½

cup

water

(just-boiled hot water; plus more, as needed)

potato starch or cornstarch

(for rolling and dusting; or substitute flour if you're not freezing them)
Japanese Ingredient Substitution:
If you want substitutes for Japanese condiments and ingredients, click
here
.
Instructions
Before You Start
I highly encourage you to weigh your flour using a kitchen scale for this recipe. Click on the "Metric" button at the top of the recipe to convert the ingredient measurements to metric. If you're using a cup measurement, please follow the "fluff and sprinkle" method: Fluff your flour with a spoon, sprinkle the flour into your measuring cup, and level it off. Otherwise, you may scoop more flour than you need. 1 US cup of flour weighs 4.25 oz (120 g).

Gather all the ingredients.
To Make the Dough
Sift the flour into a large bowl.

Add the salt to the just-boiled hot water and stir until completely dissolved.

Add the hot water to the flour, a little at a time, stirring with a rubber spatula. Mix until the flour and water are combined completely. If the flour is still not incorporated, add more hot water, ½ Tbsp at a time, until you can form the mixture into a ball. You will eventually need to use your hands to do this. Tip: different brands of flour absorb water differently, so use more hot water as needed; I used about 120–150 ml.

Transfer the dough to a work surface and knead the dough for 10 minutes.

After 10 minutes, the texture of the dough will be much smoother. Use a dough scraper to cut the ball of dough in half (doesn't have to be an equal size).

Shape each half into a long log about 1½ inches (3.8 cm) in diameter, although it doesn't have to be perfect, especially if you use a cookie cutter later. Wrap each log with plastic wrap. Let it sit for 30 minutes.
To Roll the Wrappers
Unwrap the dough. Sprinkle a little potato starch on the work surface and cut each log crosswise into ¾ inch (2 cm) wide pieces. Since we'll be using a cookie cutter, don't worry if each piece of dough is a slightly different size. Tip: If you plan to freeze the wrappers, please use potato starch or cornstarch for dusting and rolling, as the wrappers tend to stick to each other if you use flour.

It's super important to cover the dough with a damp kitchen towel at all times to prevent it from drying.

Roll each piece of dough into a ball shape.

Press the ball onto the work surface.

Using a rolling pin, roll out the dough, but DO NOT flatten the TOP and BOTTOM edges. This is the trick to making a nice round shape.

Rotate the dough 90 degrees and repeat rolling the dough. Try to roll out the dough into a thin circle. If the dough is hard to roll out or shrinks back, let it rest a bit to relax the gluten and try again.

Cooker cutter (optional): If you want a perfectly round shape for your wrappers, cut your rolled dough circle with a 3-inch (8 cm) cookie cutter. If the dough rolls back, leave it for a few seconds, then try again to cut the dough. Remove the excess dough scraps and cover them with a damp towel. Later, combine all the scraps if they still squish together and haven't dried out. Re-roll the scraps and repeat the process.

Sprinkle each wrapper with potato starch and stack the wrappers. Make sure to cover them with a damp kitchen towel as you continue rolling the remaining dough. Once you've rolled out all the wrappers, they are ready to use. You can also freeze or refrigerate the wrappers to use later.
To Store the Wrappers for Later
Wrap the stacked gyoza wrappers with plastic wrap and store in the refrigerator for about 3–4 days and in the freezer for up to a month. Prior to use, defrost in the refrigerator overnight or on the counter for 60 minutes (depending on the amount and room temperature). Do not defrost in the microwave.
Nutrition
Nutrition Facts
Gyoza (Japanese Potsticker) Wrappers
Amount per Serving
% Daily Value*
* Percent Daily Values are based on a 2000 calorie diet.
©JustOneCookbook.com Content and photographs are copyright protected. Sharing of this recipe is both encouraged and appreciated. Copying and/or pasting full recipes to any website or social media is strictly prohibited. Please view my photo use policy
here
.
Editor's Note: The post was originally published on February 19, 2014. It's been updated and republished in July 2020.