Have you tried making gyoza wrappers from scratch? All you need is salt, water, and flour! It's that easy. You can either follow the written recipe or watch the cooking video  for visual instructions. And enjoy this fun, rewarding process!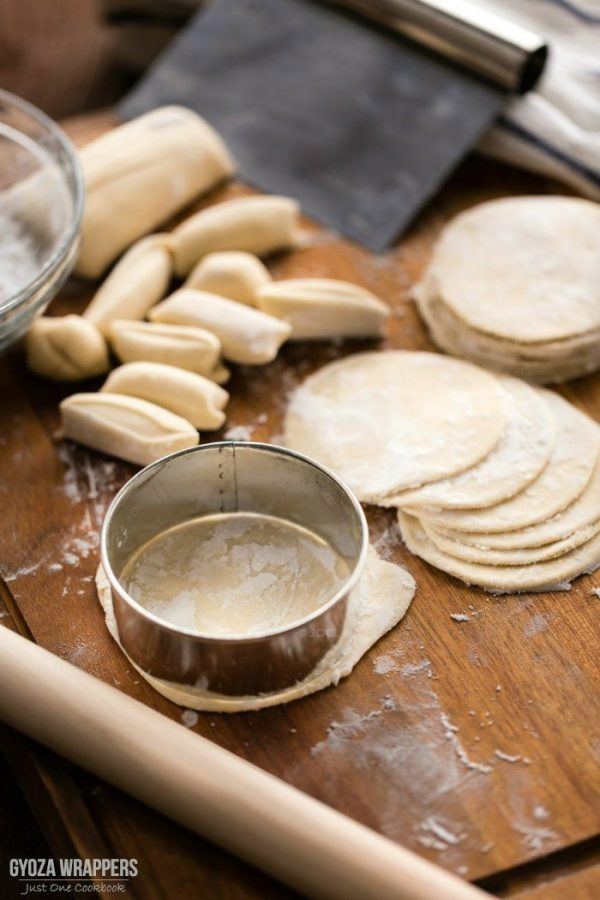 Making something from scratch is fun.  Making homemade Gyoza Wrappers was real fun.  When you make food from scratch, you know what's in the food (no ingredients that you can't pronounce), you get to select good ingredients, and the best part?  It's such a rewarding experience!
Watch How to Make Gyoza Wrappers 餃子の皮の作り方
Making gyoza wrappers from scratch is easy and fun, just need salt, water, and flour!
Difference between Japanese gyoza & Chinese potstickers
Japanese gyoza is very similar to Chinese potstickers, with the biggest difference in the size and thickness of gyoza wrappers.  Chinese potstickers skin are typically thicker and the potstickers themselves are larger than gyoza.  If you are able to buy gyoza wrappers locally and want to save time, you can skip this post and see my Gyoza Recipe here.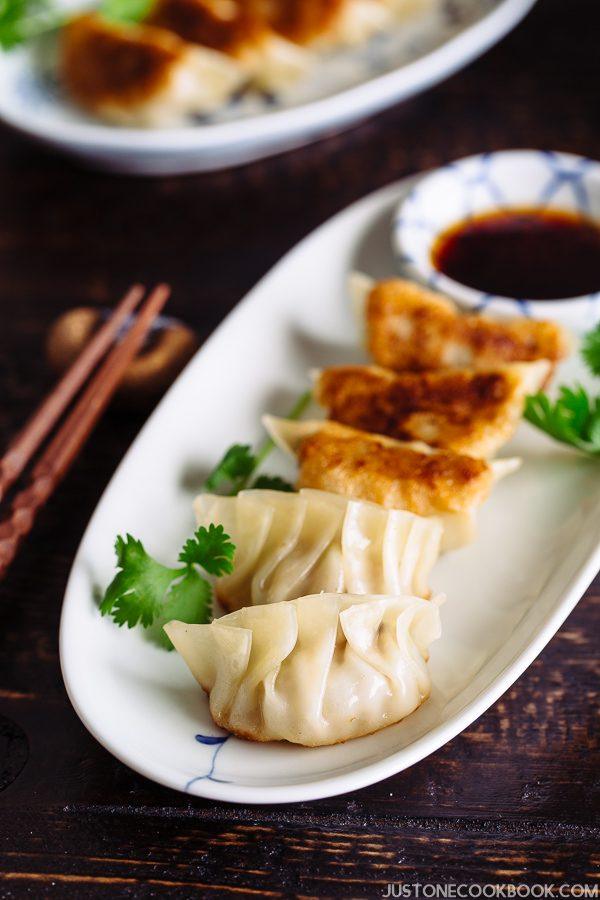 I want to thank the readers who requested and showed interest in this recipe.  To be honest, without your requests, I had never thought of making gyoza wrappers from scratch as I can easily get pre-made gyoza wrappers in nearby Japanese and Asian supermarkets.  Not to mention, our lives are all too busy for the "making from scratch" luxury.
That being said, it's could be a fun activity to make gyoza from scratch with your family or friends on weekends (gyoza party!).  I make gyoza at home about 1-2 times a month because it's one of my children's favorite food.  Homemade gyoza wrappers can be time consuming, but at the end, it's such a rewarding feeling to see my family devouring the gyoza I made from scratch.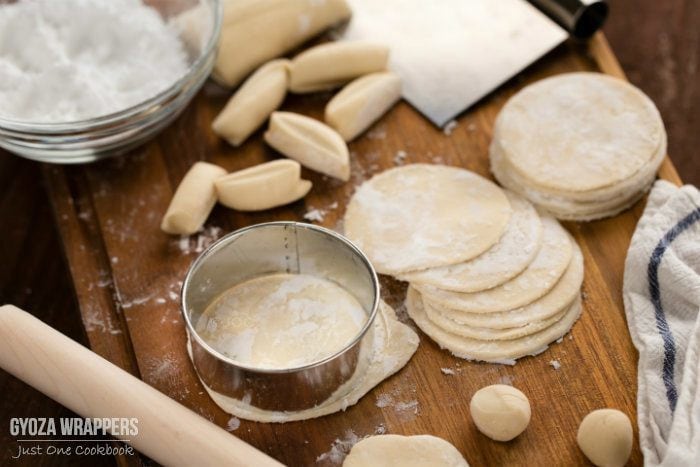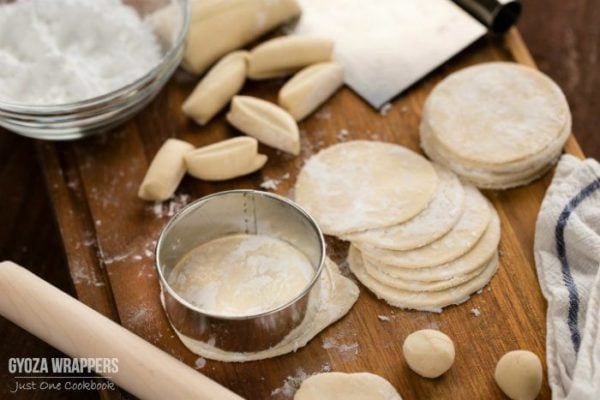 Don't want to miss a recipe? Sign up for the FREE Just One Cookbook newsletter delivered to your inbox! And stay in touch on Facebook, Google+, Pinterest, and Instagram for all the latest updates. Thank you so much for reading, and till next time!
Gyoza Wrapper
Have you tried making gyoza wrappers from scratch? All you need is salt, water, and flour! It's that easy. You can either follow the written recipe or watch the cooking video for visual instructions. And enjoy this fun, rewarding process!
Keyword:
gyoza skin, homemade
Servings
:
38
wrappers (thin 3 inch wrappers)
Ingredients
2

cups

all-purpose flour

(2 cups = 240 g or 120 g bread flour + 120 g cake flour) (See Notes)

½

tsp

salt (kosher or sea salt; use half if using table salt)

½

cup

water

(½ cup = 120 ml, should be around 120 - 150 ml, plus more if necessary) (Just boiled)

potato starch/cornstarch

(for dusting)
Instructions
Gather all the ingredients.

Before you start, you need to accurately measure flour. If you don't have a kitchen scale (I highly recommend you to get one), stir the flour in the bowl, scoop it up with a spoon into the 1-cup measuring cup, and level off the top. Put the flour into a medium bowl. The amount of flour shoud be close to standard 4.25 oz (120 g) per cup.


Sift the flour into a large bowl.


Add salt to just-boiled water and mix until completely dissolved.


Add the just-boiled water into the flour little by little, stirring with a rubber spatula. You will eventually need to use your hands to form the dough into a ball. If the flour is still separated, add 1/2 Tbsp. water at a time till you can form the texture into a ball.


Transfer the dough to the work surface and knead the dough for 10 minutes.


After 10 minutes, the texture of the dough will be much smoother. Cut the dough in half.


Shape each half into a long log, about 1½ inches in diameter (it doesn't have to be perfect if you're going to use a cookie cutter later). Wrap each log with plastic wrap. Let it sit for 30 minutes.


Unwrap the dough. Sprinkle a little potato starch on the work surface and cut each log crosswise into about 12 pieces (may vary depending on the log length and width). Since we'll be using a cookie cutter, don't worry if each piece of dough has slightly different size.


Cover the dough with damp kitchen towel at all time to prevent from drying.


For each piece of dough into a ball shape.


Press the ball onto the work surface.


Using a rolling pin, roll out the dough, but DO NOT roll out (flatten) the TOP and BOTTOM edge. This is a trick to make a nice round shape.


Rotate the dough 90 degrees and repeat rolling the dough to make a nice round shape. Try to roll out the dough to a thin circle.


If you want a perfect round shape for your wrappers, press down the 3-inch (8 cm) cookie cutter and remove excess dough. If the dough rolls back, leave it for a few seconds, and cut out. Cover the scraps with the damp towel. Later combine all the scraps as long as they still squish together and haven't dried out too much. Re-roll the scraps and repeat the process.


Sprinkle each wrapper with potato starch and stack the gyoza wrappers. Make sure to the wrappers covered with damp kitchen towel. Once all the dough is used, wrap the gyoza wrappers with plastic wrap and freeze or refrigerate until you're ready to use. You can keep gyoza wrappers for about 3-4 days in the refrigerator and up to a month in freezer. Defrost in the refrigerator prior to use.

Recipe Notes
Flour: Please measure accurately with a scale or method specified in the instructions?
You should be able to make 38 to 42 thin wrappers (3-inch diameter) using all the dough.
Read a few Japanese sites to learn basics on how to make gyoza wrappers, but this Japanese site (2019 - the site is no longer avaiable) was most helpful.
As different brands of flour will absorb water differently, please adjust the amount of water if necessary.
For making the gyoza fillings, please click here.
Equipment you will need:
Recipe by Namiko Chen of Just One Cookbook. All images and content on this site are copyright protected. Please do not use my images without my permission. If you'd like to share this recipe on your site, please re-write the recipe and link to this post as the original source. Thank you.