Pan-fried Chicken Shiso Gyoza – a quick and easy version. Instead of folding pleats, just fold in half to speed up the process. Then pan-fry and steam till chicken is cooked through. Enjoy with ponzu and yuzu kosho dipping sauce!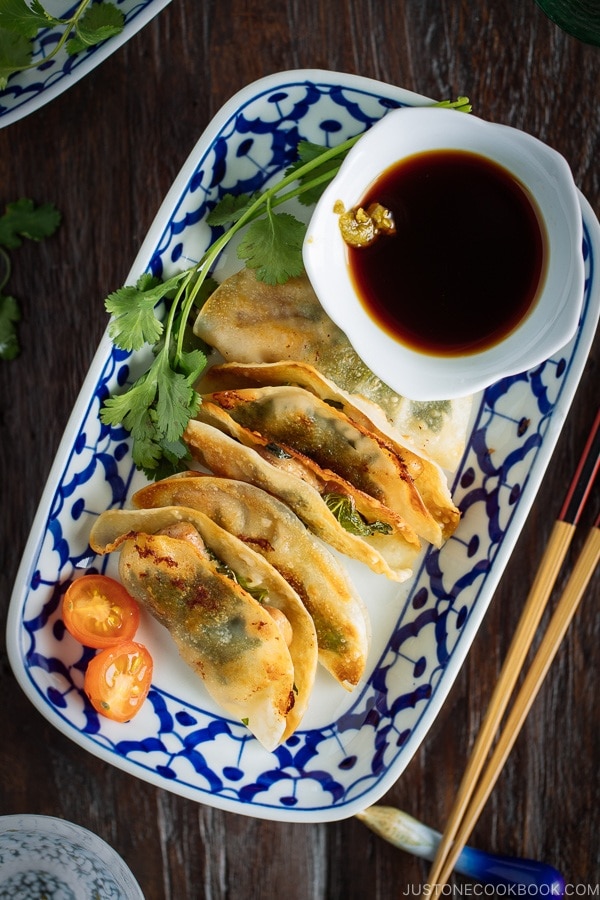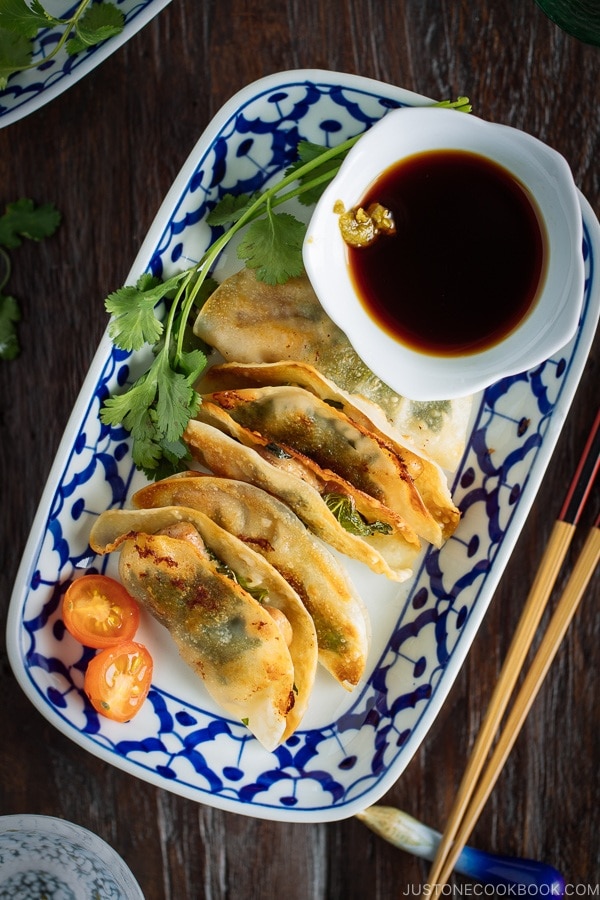 What do you do with leftover wrappers when you make gyoza – Japanese pan-fried dumplings? I usually keep the leftover wrappers for a quick appetizer on another day. One of the recipes I like to make is this Chicken Shiso Gyoza with Yuzu Kosho and Ponzu Sauce (しそ入り鶏餃子). It's probably one of the easiest chicken gyoza anyone can make on a lazy Friday afternoon!
Make Fold-in-Half Gyoza instead of Pleated Gyoza
When I make this chicken shiso gyoza with the leftover wrappers, I keep it really simple by folding the wrappers in half instead of pleating them like the classic gyoza. As for the fillings, I'd use whatever I have in the fridge. This quick version really speeds up the entire process of gyoza making, allowing me to make gyoza on the fly. Who wouldn't like that?
I didn't think I could make gyoza with so little effort until my friend introduced me to this recipe. I just love how easily adaptable it is. You can literally make endless variations of this gyoza recipe by using different cuts of meat, seafood, tofu, mushrooms, or vegetables.
If you're afraid of making gyoza at home because you don't know how to fold gyoza, this easy gyoza is a great one to start. All you need to do is to fold the gyoza wrapper in half. That's it! No fancy folding technique involved.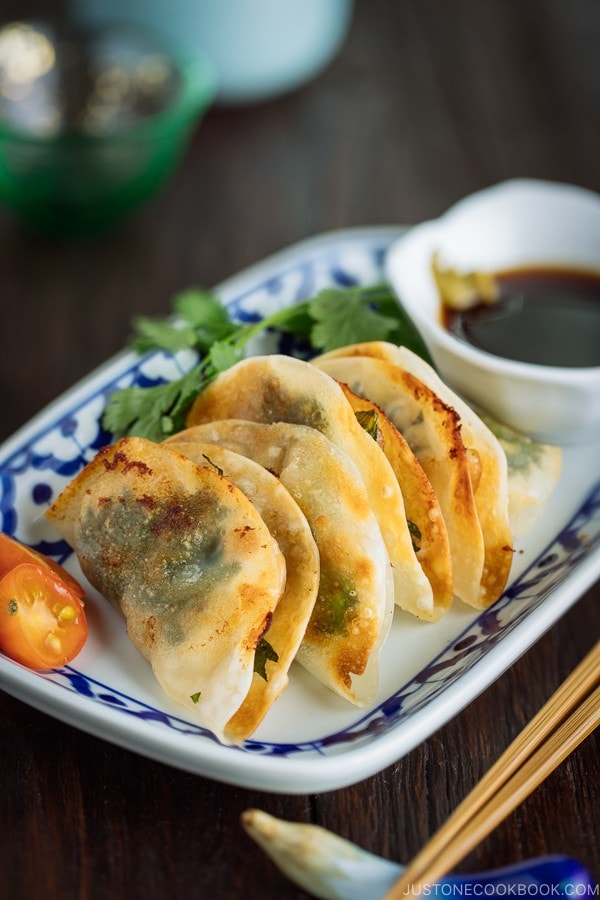 3 Tricks to Cook Chicken Shiso Gyoza Fast
1. Use "Sogigiri" Japanese Cutting Technique
This Japanese cutting technique called Sogigiri (削ぎ切り) increases the surface space of the ingredient so it'll cook faster. Whether you're using chicken, mushrooms or tofu for the filling, you can slice them this way.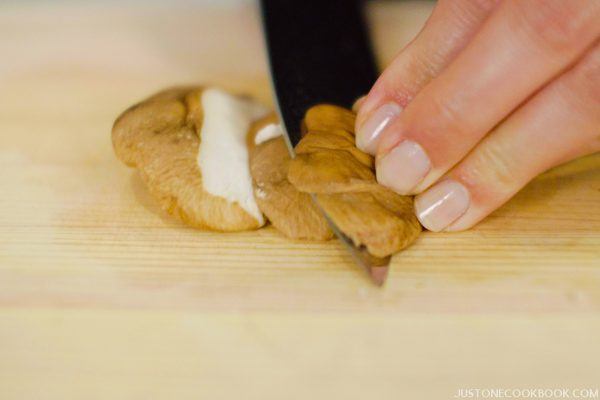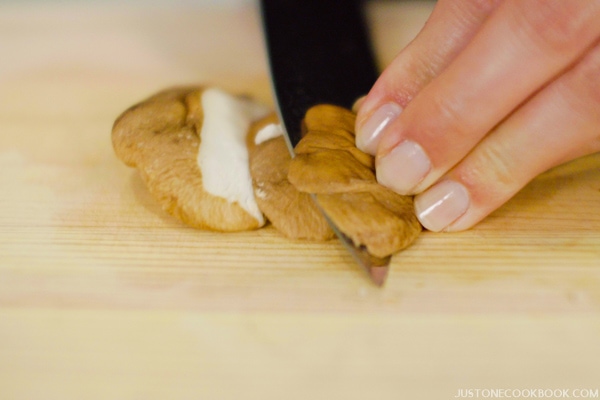 2. Cut Ingredients into Uniform Sizes
Keep this basic cooking tip in mind as it applies to all kinds of cooking. Cutting the ingredients into uniform sizes allows you to cook everything at the same rate and avoid overcooking or undercooking some pieces.
3. Do Not Overcrowd the Pan
To make the gyoza crispy, you need to make sure each piece of gyoza has a good contact with the heat. It's important to keep some distance between each piece of gyoza so the surface has contact with the hot frying pan.
Once both sides of the gyoza are nicely brown and crispy, they are ready to be savored! These easy chicken gyoza are really good with ponzu and yuzu kosho dipping sauce, but feel free to serve them with any dipping sauce you like.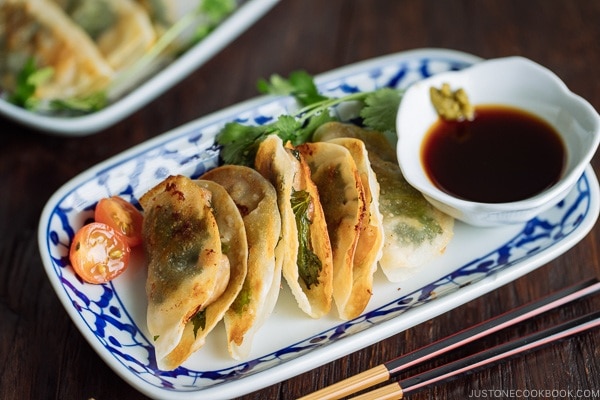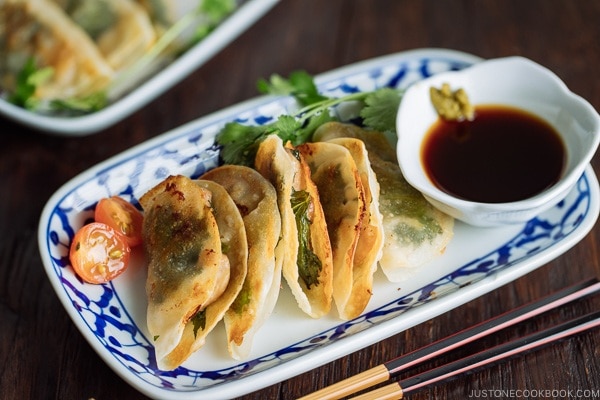 Wish to learn more about Japanese cooking? Sign up for our free newsletter to receive cooking tips & recipe updates! And stay in touch with me on Facebook, Pinterest, YouTube, and Instagram.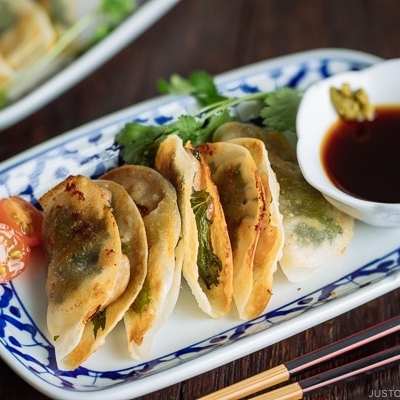 Chicken Shiso Gyoza with Yuzu Kosho & Ponzu Sauce
Quick & easy chicken gyoza! Instead of folding pleats, just fold in half to speed up the process. Then pan-fry and steam till chicken is cooked through.
Japanese Ingredient Substitution:
If you want substitutes for Japanese condiments and ingredients, click
here
.
Instructions
Gather all the ingredients.

Cut the chicken into bite size pieces. To cook the chicken faster and at an equal rate, make sure to cut into uniform sizes. I also use "Sogigiri" Japanese cutting technique (slice diagonally when cutting) to create a large surface of the chicken.

Season the chicken with freshly ground black pepper and kosher salt. Transfer the chicken to a small bowl.

Add 1 tsp sesame oil and 1 tsp soy sauce to the chicken and mix well together.

Place a shiso leaf on a gyoza wrapper, and put a few pieces of chicken on top.

Fold in half and press gently.

In a non-stick frying pan, heat 1 Tbsp sesame oil over medium heat. Place the gyoza on the pan in a single layer without over-wrapping.

Cover to cook until nicely browned. Then turn it over and cover to cook again.

When the chicken is cooked through, uncover and cook 1-2 minutes till the gyoza becomes crispy. Put some ponzu in a small bowl and put a small amount of yuzu kosho on the edge of the bowl or on a plate.
To Store
You can keep the leftovers in an airtight container and store in the refrigerator for up to 3 days and in the freezer for up to a month.
For Extra Gyoza Wrappers
If you have extra gyoza wrappers, you can put cheese inside and cook the same way in the pan. Kids love them!
Nutrition
Nutrition Facts
Chicken Shiso Gyoza with Yuzu Kosho & Ponzu Sauce
Amount per Serving
% Daily Value*
* Percent Daily Values are based on a 2000 calorie diet.
©JustOneCookbook.com Content and photographs are copyright protected. Sharing of this recipe is both encouraged and appreciated. Copying and/or pasting full recipes to any website or social media is strictly prohibited. Please view my photo use policy
here
.