Gyoza with Wings (or Hanetsuki Gyoza) is a type of Japanese dumpling filled with juicy, savory ingredients that is pan-fried to crispy perfection. They have a fancy look with crispy thin wings just ready for you to bite into.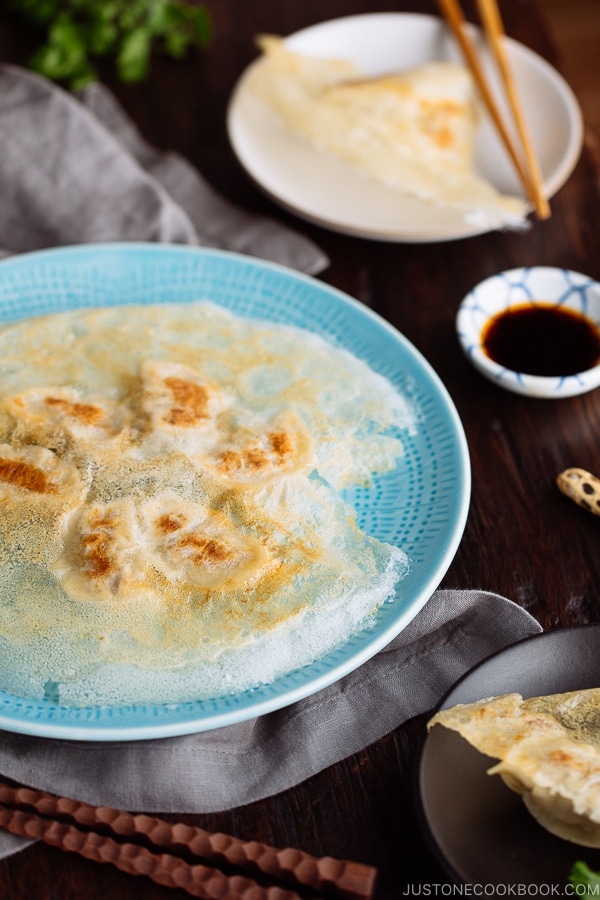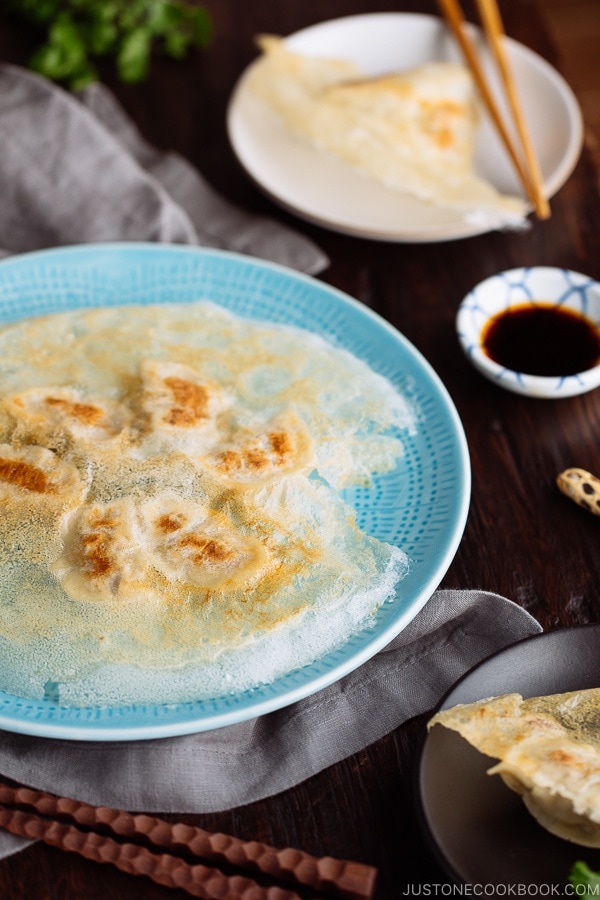 As far as Japanese dumplings go, you are probably most familiar with the classic gyoza that come in the crescent-shaped pouch with crisp bottoms and tender-white skins that have been pan-fried and steamed. But do you know there are some other great varieties of gyoza in Japan?
One of them is these eye-catching gyoza that are clumped together in a solid, thin crispy sheet of fried starch. Whenever I share these gyoza pictures from Japan on social media, I immediately received a lot of curious comments. To those who have yet to see them, these dumplings are known as Gyoza with Wings or Hanetsuki Gyoza (羽根つき餃子) in Japanese. They got their names from the super fun presentation where the gyoza look like they have wings when you break them apart from the crispy sheet.
Although this style of gyoza is quite common in Japan, it is still fairly unknown outside of Japan. So today we're going to make this at home! As I explained below, there are many varieties of 'wings' too. Hope you can figure out your favorite style wings and make these addicting Hanetsuki Gyoza at home!
Watch How to Make Gyoza with Wings (Hanetsuki Gyoza)
Gyoza with Wings (or Hanetsuki Gyoza) is a type of Japanese dumpling filled with juicy, savory ingredients that is pan-fried to crispy perfection. They have a fancy look with crispy thin wings just ready for you to bite into.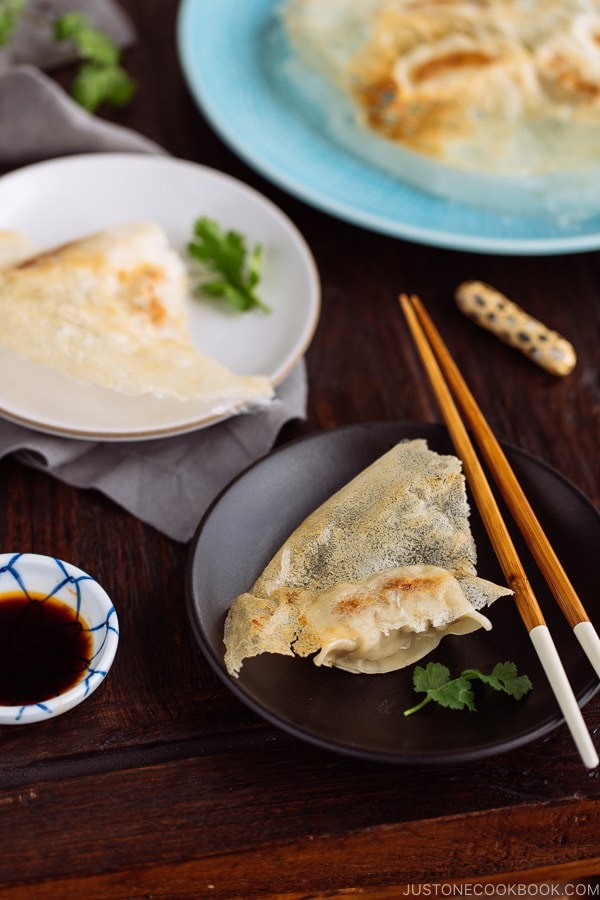 What is Hanetsuki Gyoza aka

Gyoza with Wings

?
Gyoza with Wings are pretty much the same dumplings as the classic gyoza. The only difference is its unique presentation where a group of gyoza are all connected with a crisp sheet of fried starch made out of flour and water. They look like they have wings and that's how they get their name – Gyoza with Wings or Hanetsuki Gyoza (羽根つき餃子).
This type of gyoza was created for the first time in Kamata, Tokyo about 30 years ago by the Japanese owner/chef at the restaurant Niihao (你好). He was one of the Japanese children left behind in China at the end of World War II. He got the idea of Hanetsuki Gyoza from a dumpling dish in Dalian.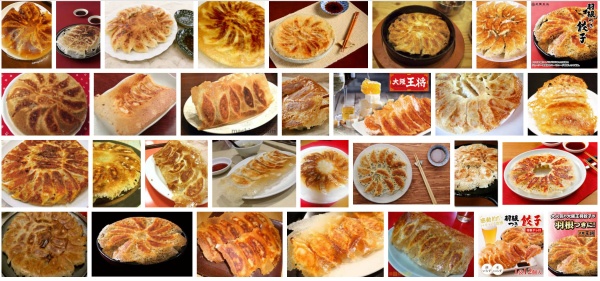 The rectangular or round shape are two common looks for Hanetsuki Gyoza. A rectangular shape Hanetsuki Gyoza are more commonly served at restaurants and most people make a round shape Hanetsuki Gyoza at home as it's easier to prepare, like one I shared in this post.
To make Gyoza with Wings, you can use either store-bought gyoza or homemade gyoza from scratch. I've covered some important tips and techniques for gyoza-making in my previous articles you can check out:
In this particular recipe, we'll focus on how to make the crispy wings and the pan frying technique.
5 Important Factors to Consider When Making Gyoza with Wings
1. Use a non-stick frying pan
With this recipe, you have to shake the pan while cooking and flip the pan to serve the gyoza. Therefore, a good quality non-stick frying pan works the best instead of heavy pan like cast iron skillet. In terms of the size of the pan, I think a 10-inch frying pan works the best.
2. Start with 6 gyoza, and increase the amount up to 10
For the first timer, practice with 6 gyoza first with smaller wings (you can use a 10-inch frying pan). As you increase the amount of gyoza, the pan gets heavy to handle.
3. Adjust the ratio for flour vs. water to your liking
When comes to making the wings, all the recipes are very similar where you need 1-2 tsp flour or potato starch for 100 ml of water. This flour mixture creates the type of wings you like and you can decide how thick or thin you wish your wings to be.
As shown in Google images above, there are many versions of Gyoza with Wings at home and restaurants. Some prefer thick crunchy wings while others prefer super thin and fragile wings (including me). Some prefer wings with more holes like lattice while others prefer no hole or almost no holes (my daughter is trypophobia – a fear or disgust of closely-packed holes).
So play with the amount of flour (1 tsp to 2 tsp), as well as the kind of flour – all-purpose flour, cake flour, potato starch, rice flour, or a mixture of some of these flours.
If you don't plan to serve the gyoza immediately, use flour instead of potato starch. Potato starch absorbs moisture so the wings will not stay crispy for too long.
4. Have a good control of the heat when pan-frying 
This could be the most difficult part when comes to pan-frying the gyoza. To be honest, I get nervous about burning the bottom of the gyoza, especially when the gyoza are meant for a party (or for blog/video) other than myself.
Every stove also functions differently. Since I am using an industrial stove, my "medium" heat could mean your "lower end of medium-high" heat. So it's important to pay attention to how your stove works.
When frying the gyoza prior to adding flour mixture, careful not to burn your gyoza. They will be in contact with the bottom of the pan for a bit longer as we have to wait for the wings to get brown and crisp. When the gyoza are relatively lighter in color (like my gyoza here), you can increase the heat to brown further. It's a bit tricky to peak the color of gyoza wing as you can't quite lift up the fragile sheet.
5. Sesame oil does the final trick for crispy gyoza
At the end of cooking gyoza, make sure to drizzle some sesame oil. Not only it gives a lovely nutty aroma, it also adds extra crunch and extra crispiness to the gyoza.
Aside from its WOW factor and imaginative name, these gyoza are really fun to eat. It's like breaking bread, only this time is breaking gyoza with crispy wings – Japanese style! Dumpling lovers, you have to try this at home!
Similar Recipes:
Don't want to miss a recipe? Sign up for the FREE Just One Cookbook newsletter delivered to your inbox! And stay in touch with me on Facebook, Pinterest, and Instagram for all the latest updates.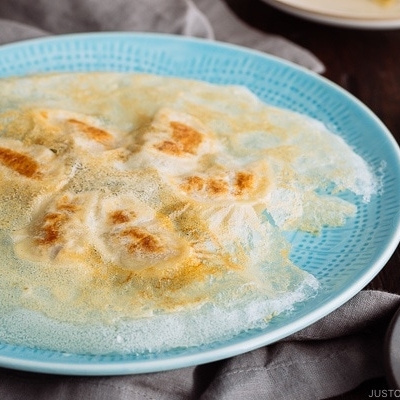 Gyoza with Wings
Gyoza with Wings (or Hanetsuki Gyoza) is a type of Japanese dumpling filled with juicy, savory ingredients that is pan-fried to crispy perfection. They have a fancy look with crispy thin wings just ready for you to bite into.
Video
Ingredients
6-8

gyoza

(you can use 10-15 gyoza with this recipe)

100

ml

water

(To make 100 ml, take away 1 Tbsp from ½ cup)

2

tsp

flour

(For a crunchy texture of wings, use cake flour or all-purpose flour. For a lighter and crispy texture, use potato starch (or cornstarch). I personally like flour rather than potato starch. You can also try half flour and half potato starch, too! For gluten-free, use rice flour. If you want to make wings with bigger holes like a lattice, use less flour, about 1 to 1 ½ tsp. If you want to make thicker and stronger wings, then add 2 ½ tsp flour.)

1

Tbsp

neutral-flavored oil

2

tsp

roasted sesame oil
Japanese Ingredient Substitution:
If you want substitutes for Japanese condiments and ingredients, click
here
.
Instructions
Gather ingredients. You can use homemade gyoza or store-bought gyoza for this recipe.

Combine 100 ml water and 2 tsp all-purpose flour.

Heat 1 Tbsp neutral flavor oil in a frying pan over medium to medium-high heat.

Cook the gyoza until the bottom is golden brown (more toward light golden brown).

Remove the hot frying pan from the heat and press on a damp cold towel for 3-5 seconds to cool the pan immediately.

Put the frying pan back to the heat. Whisk the flour mixture well one more time and pour the flour mixture into the pan. Cover the pan with a lid and cook on medium-low heat for 6-7 minutes.

If you have a glass lid, you can see the cooking process. If you don't have a glass lid, check the amount of the liquid once in a while.

When gyoza is cooked through (skin is more see-through) and the flour mixture is almost evaporated, open the lid.

Since the gyoza is cooked already, all you need to do is to let the water evaporated. When the edges of the wings start to peel off from the pan (see right picture below), drizzle sesame oil around the edge of the wings. Adjust the heat according to the color of the wings. If it's lighter, you can increase the heat slightly.

The sesame oil not only gives a delicious flavor, but also helps cook the flour mixture to make it crispy. Shake the pan a few times to detach the wings from the pan. You can use chopsticks to gently poke around the edges.

Put a plate over the gyoza and flip over. Tip: If you use a plate that's smaller than a frying pan, you can gently press the gyoza so it doesn't move around. It's much easier to flip than using a larger plate. Be very careful as the oil might drip from the pan while you flip.
Nutrition
Nutrition Facts
Gyoza with Wings
Amount per Serving
% Daily Value*
* Percent Daily Values are based on a 2000 calorie diet.
©JustOneCookbook.com Content and photographs are copyright protected. Sharing of this recipe is both encouraged and appreciated. Copying and/or pasting full recipes to any website or social media is strictly prohibited. Please view my photo use policy
here
.