Cooking a healthy meal for your family on a busy weeknight is made possible with this Stir-Fried Vegetables (Yasai Itame) recipe. Loaded with plenty of vegetables and your choice of protein, everything comes together in less than 30 minutes!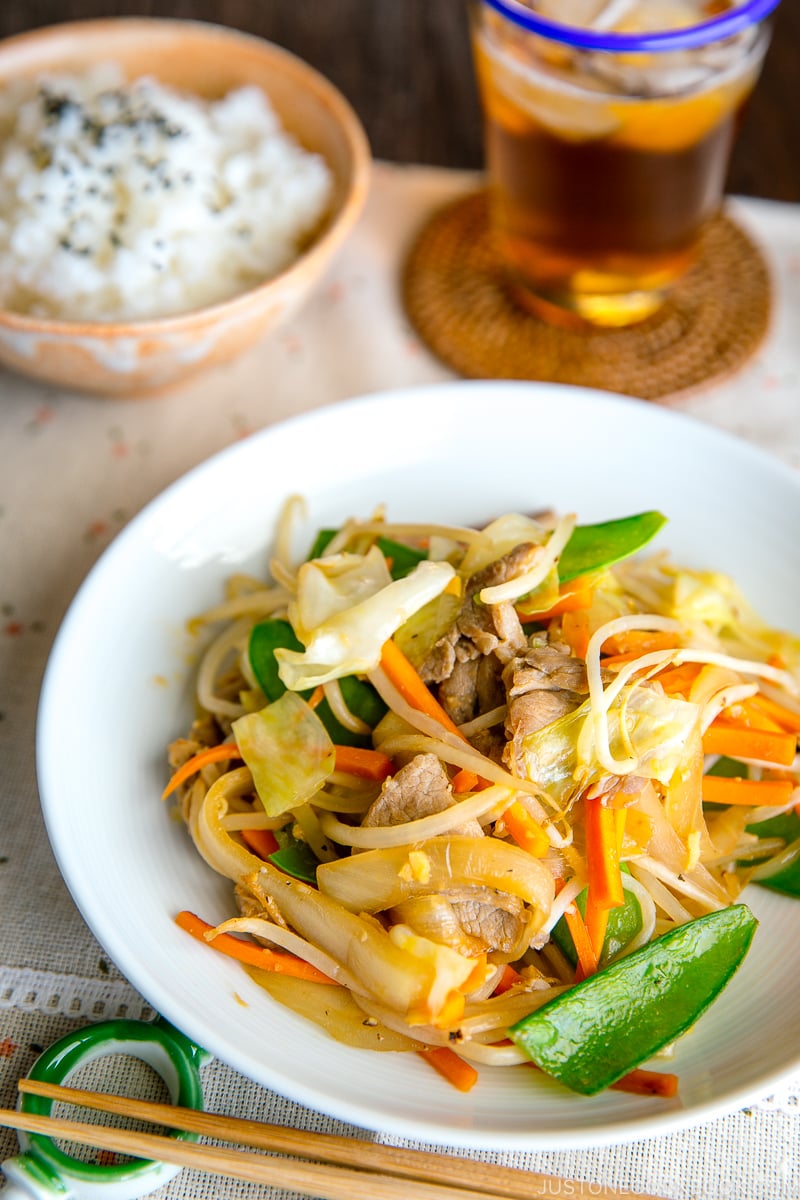 Many readers have told me that they are interested in quick and easy recipes that can be made in just 30 minutes or less. Today I'm really excited to share this easy and delicious Japanese Stir Fry vegetable dish called Yasai Itame (野菜炒め).
In Japanese, "yasai (野菜)" means vegetables and "itame (炒め)" is a noun form for the verb "itameru (炒める)" which means stir fry. From the name you might assume it's a vegetarian dish; however, Yasai Itame usually contains a small amount of thinly sliced pork or sausages.
FYI, I have this recipe categorized as Vegetarian & Vegan as you can easily make this into vegetarian/vegan-friendly by omitting the meat and oyster sauce. It's not by mistake – I just didn't want my vegetarian/vegan readers to miss this delicious recipe. 🙂
Watch How To Make Stir Fry Vegetables (Yasai Itame)
Savory and easy Yasai Itame (Japanese stir fry vegetables) with carrots, cabbage, snow peas, and bean sprout. Omit the sliced pork for a vegetarian version.
Why
Stir Fry Vegetables

?

I don't know the exact history of this simple dish, but Yasai Itame has been around for many years and it is a common home cooking dish You might see this dish served as Teishoku 定食 (lunch/dinner set) at Japanese diners. Personally, I feel the dish is underrated and I want to share the reasons why the stir fry vegetables should be made and enjoyed more often.
It's quick! – No time to cook? Throw in some ingredients and it's ready to serve in 15 minutes. Plus, this is an ideal summer dish as you don't have to stay in your kitchen for too long.
It's nutritious! – It's got vegetables and meat in one dish. And not just one kind of vegetables, but several colorful vegetables.
It's easy! – Once you learn a few tips on how to stir fry, it becomes a very handy kitchen skill.
It's versatile! – Don't worry too much about what goes well together. Stir fry dishes is great for using small bits and pieces of ingredients hidden in the refrigerator. You have some shiitake mushroom? Toss that in.
It's super simple, but DELICIOUS! – This is a basic Japanese dish that doesn't require fancy ingredients. If you are new to cooking or don't cook too often, this is a new repertoire you can count on.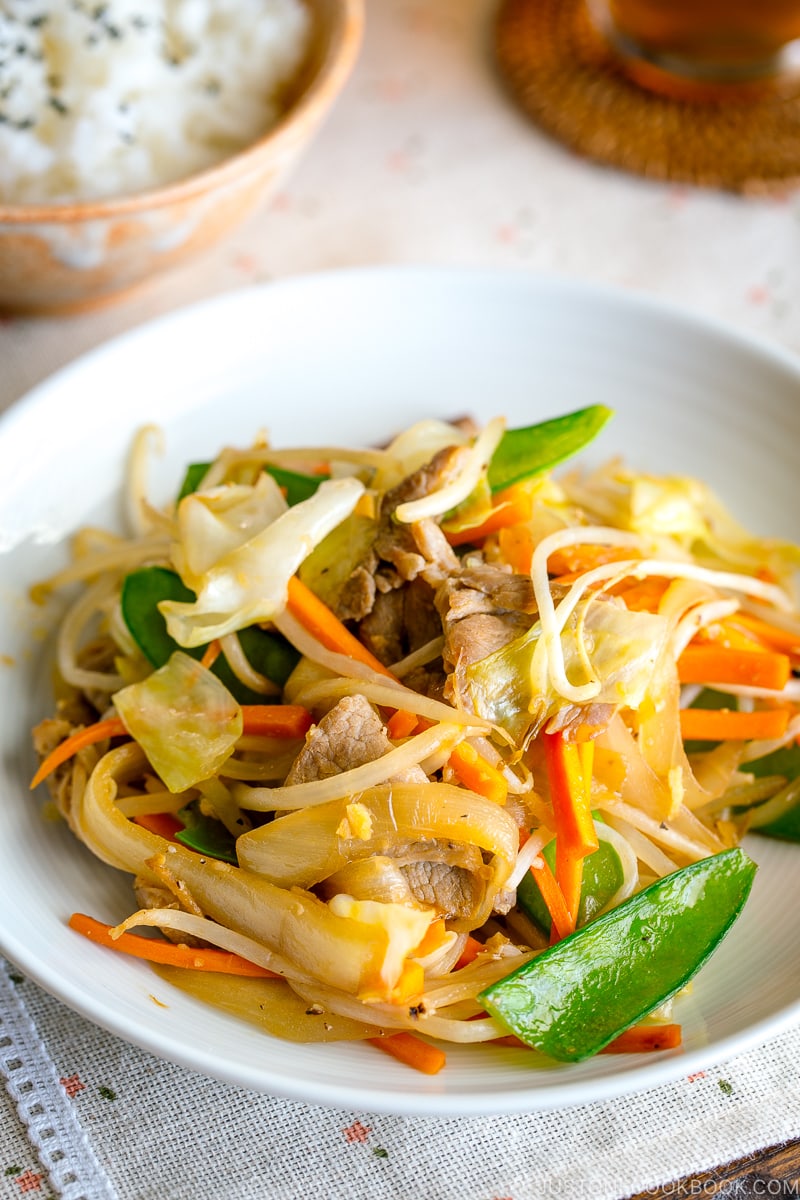 Stir Fry Vegetables (Yasai Itame) Tips
I put together a list of the things I do when I make stir fry dishes. Hope these tips will be helpful if you are new to stir fry dishes.
Prepare all the ingredients and seasonings before you start cooking. You won't be able to stop in the middle of the stir-frying process, so don't try to chop vegetables as you cook.
Either wash your ingredients ahead of time or remove the moisture before cooking. You don't want to add moisture to the stir fry dishes otherwise the ingredients get "steamed" and lose their crispiness.
Cut the ingredients into bite sizes so that they will all cook evenly and faster.
No wok? Use a big, flat-bottomed fry pan (details in next section).
Preheat your wok/fry pan before adding the oil and coat well with oil.
When you add the ingredients, they will reduce the temperature of the wok/fry pan. Make sure not to overcrowd the wok or frying pan with the ingredients. You want to give them enough room to make contact with the heated surface. It's important to stir fry without losing too much heat while cooking.
Cook thicker and harder vegetables first as they will take a longer time to cook.
Keep stirring and tossing so that all the ingredients are evenly cooked.
Make sure the rest of your meal is ready to serve or on the table already so that you can enjoy the stir fry dish immediately after cooking.

Do We Need a Wok?
If your question was whether stir fry dishes taste better when cooked in wok or fry pan, the answer would be easy. The wok would win every time. You just can't beat the flavor of charred ingredients cooked in a good carbon steel wok on very high heat.
I own this carbon steel wok and love it (see How to Season a Wok post); however, for this recipe, I used this All-Clad PFOA-free non-stick frying pan (12 inches). Many Japanese home cooks also use a frying pan to cook Yasai Itame. This recipe when cooked on a standard stove may not taste the same as a stir fry vegetable dish from a Chinese restaurant. However, please try this great home-cooked recipe because you don't need "proper" equipment for it to taste delicious.
As long as the pan gives the ingredients enough room to make contact with the heated surface, you can still make great stir fry dishes at home.
Now that we've covered the basics of cooking Yasai Itame, I hope you will have more reasons to incorporate healthy vegetables into your family cooking.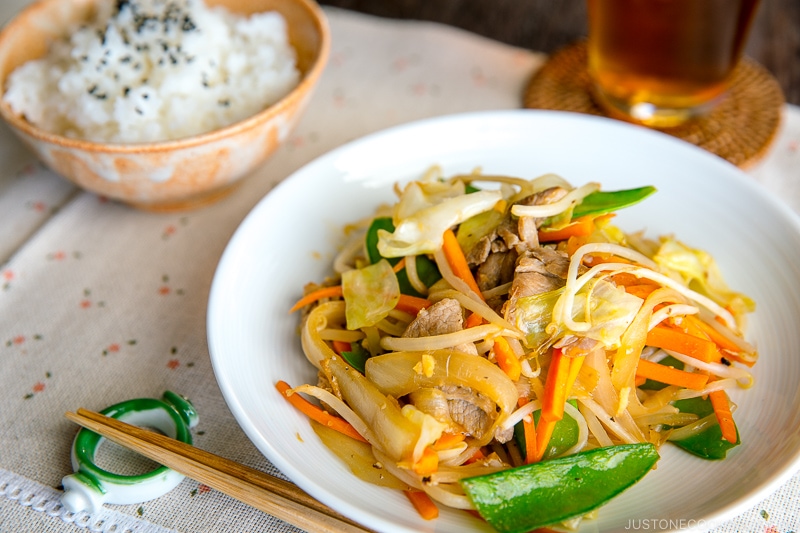 Japanese Ingredient Substitution: If you want to look for substitutes for Japanese condiments and ingredients, click here.
Wish to learn more about Japanese cooking? Sign up for our free newsletter to receive cooking tips & recipe updates! And stay in touch with me on Facebook, Pinterest, YouTube, and Instagram.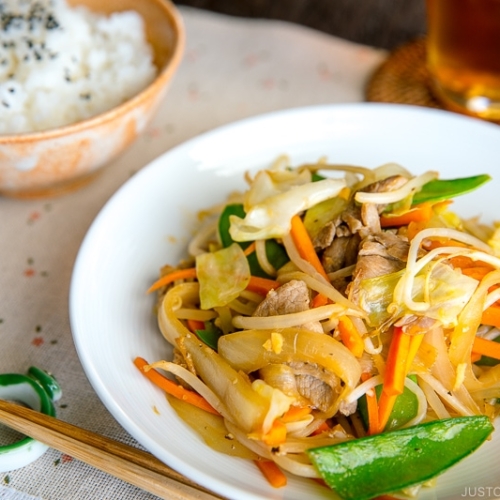 Stir-Fried Vegetables (Yasai Itame)
Cooking a healthy meal for your family on busy weeknight is made possible with this Stir-Fried Vegetables (Yasai Itame) recipe. Loaded with plenty of vegetables and your choice of protein, everything comes together in less than 30 minutes!
Video
Ingredients
6.5

oz

thinly sliced pork

(skip for vegetarian/vegan)

10

snow peas

(1 oz, 30 g)

¼

onion

(3 oz, 90 g)

¼

green cabbage

(7 oz, 200 g)

½

carrot

(3 oz, 90 g)

1

clove

garlic

1

knob

ginger

(1", 2.5 cm)

1

Tbsp

neutral-flavored oil (vegetable, rice bran, canola, etc.)

3.5

oz

bean sprouts

(2 cups; loosely packed)
For Seasonings
1

tsp

oyster sauce (skip or use vegetarian mushroom flavored stir fry sauce for vegetarian/vegan)

1

tsp

soy sauce

(for gluten-free, use GF soy sauce)

½

tsp

kosher salt (Diamond Crystal; use half for table salt)

freshly ground black pepper

2

tsp

roasted sesame oil
Japanese Ingredient Substitution:
If you want substitutes for Japanese condiments and ingredients, click
here
.
Instructions
Gather all the ingredients.

Cut the meat into smaller pieces if necessary, and marinate the meat with 1 tsp soy sauce and 1 tsp sake in a small bowl.


Remove the strings from snow peas and cut the onion into thin slices.


Cut the cabbage into 1" (2.5 cm) pieces.


Cut the carrot into 2" (5 cm) long slabs then cut into matchsticks.


Crush (or mince) the garlic and mince the ginger.


In a large frying pan or wok, heat 1 Tbsp vegetable oil on medium-high heat. Once it's hot, add the garlic and ginger. When fragrant, add the meat and cook until it's about 80% done. Alternatively, you can cook till no longer pink and take the meat out, then add your meat back in when all the veggies are cooked. This will prevent the meat from getting over-cooked.


Add the onion and stir fry until almost tender. Then add the carrot. If you are going to add other kinds of vegetables that are not in the recipe, start cooking the thicker and tougher vegetables first as they take a longer time to cook.


Once the carrot is getting tender, add the cabbage and snow peas. Continue to stir and toss the ingredients.


Then add the bean sprouts and toss one more time. Add 1 tsp oyster sauce and 1 tsp. soy sauce.

Add the salt, freshly ground black pepper, and drizzle 2 tsp sesame oil. Enjoy immediately, this dish is fantastic with rice and miso soup.
To Store
You can keep the leftovers in an airtight container and store in the refrigerator for 3 days or in the freezer for 2 weeks.
Nutrition
Calories:
158
kcal
·
Carbohydrates:
10
g
·
Protein:
13
g
·
Fat:
8
g
·
Saturated Fat:
4
g
·
Polyunsaturated Fat:
1
g
·
Monounsaturated Fat:
2
g
·
Cholesterol:
29
mg
·
Sodium:
390
mg
·
Potassium:
428
mg
·
Fiber:
3
g
·
Sugar:
5
g
·
Vitamin A:
3699
IU
·
Vitamin C:
30
mg
·
Calcium:
43
mg
·
Iron:
1
mg
©JustOneCookbook.com Content and photographs are copyright protected. Sharing of this recipe is both encouraged and appreciated. Copying and/or pasting full recipes to any website or social media is strictly prohibited. Please view my photo use policy
here
.
Editor's Note: The post was originally published on July 17, 2015. The content has been updated.