Hiyashi Chuka is a popular cold ramen dish of chilled noodles, shredded chicken, julienned cucumbers, and sliced tomatoes drizzled with my savory Sesame Miso Sauce. It's a refreshing meal to enjoy during the hot summer months.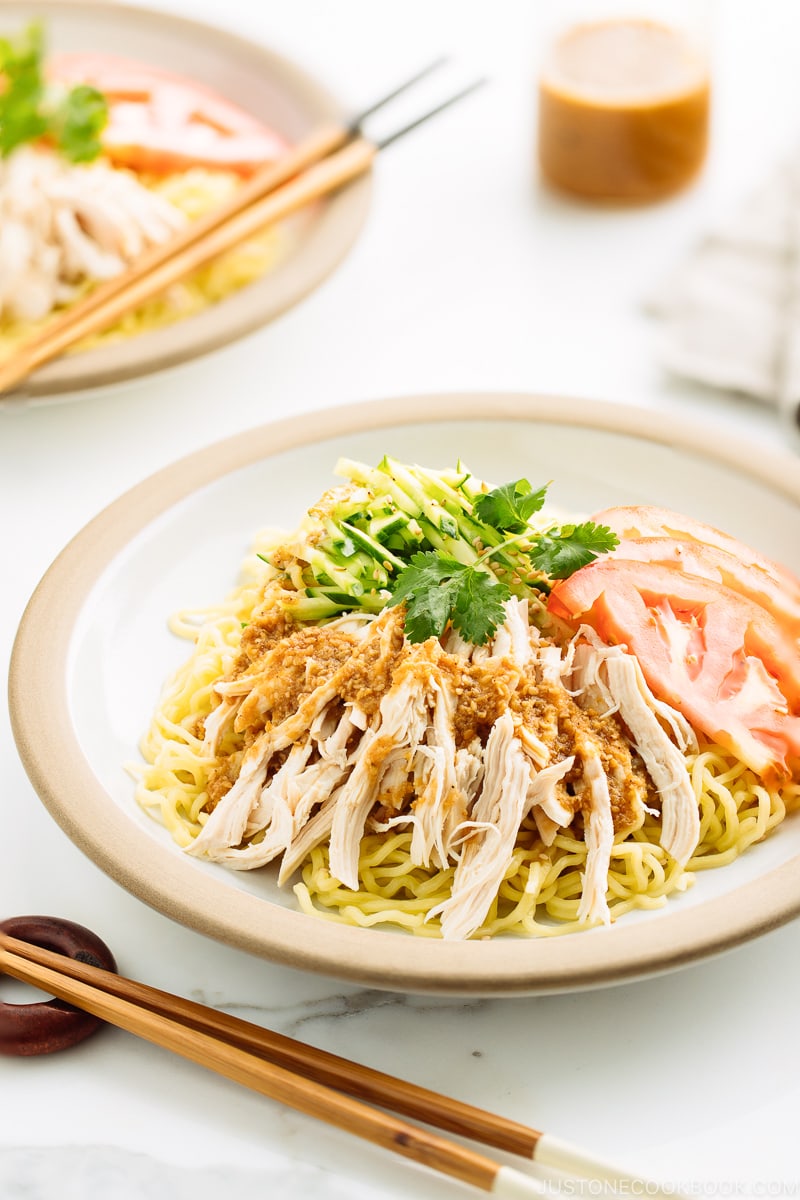 Aren't noodles the best? They seem to have a special power of bringing appetites regardless of the season and the mood.
During the hot and humid summer months in Japan, when we feel too darn hot to eat, we turn to cold noodles as the most delicious remedy to beat the heat. There are endless options of cold noodles, but today I'm going to introduce one of the favorites – Hiyashi Chuka (冷やし中華), which literally means cold Chinese-style (Noodles). It starts with chewy egg noodles, a mix of refreshing and crunchy toppings like shredded chicken, cucumber, and slices of tomato, all blanketed in a savory nutty sauce. Slurping down the chilled noodles, you will instantly feel cool and find your appetite and spirit back.
On Just One Cookbook, you can find the classic Hiyashi Chuka recipe with soy sauce-base sauce, and this version is with a sesame miso sauce.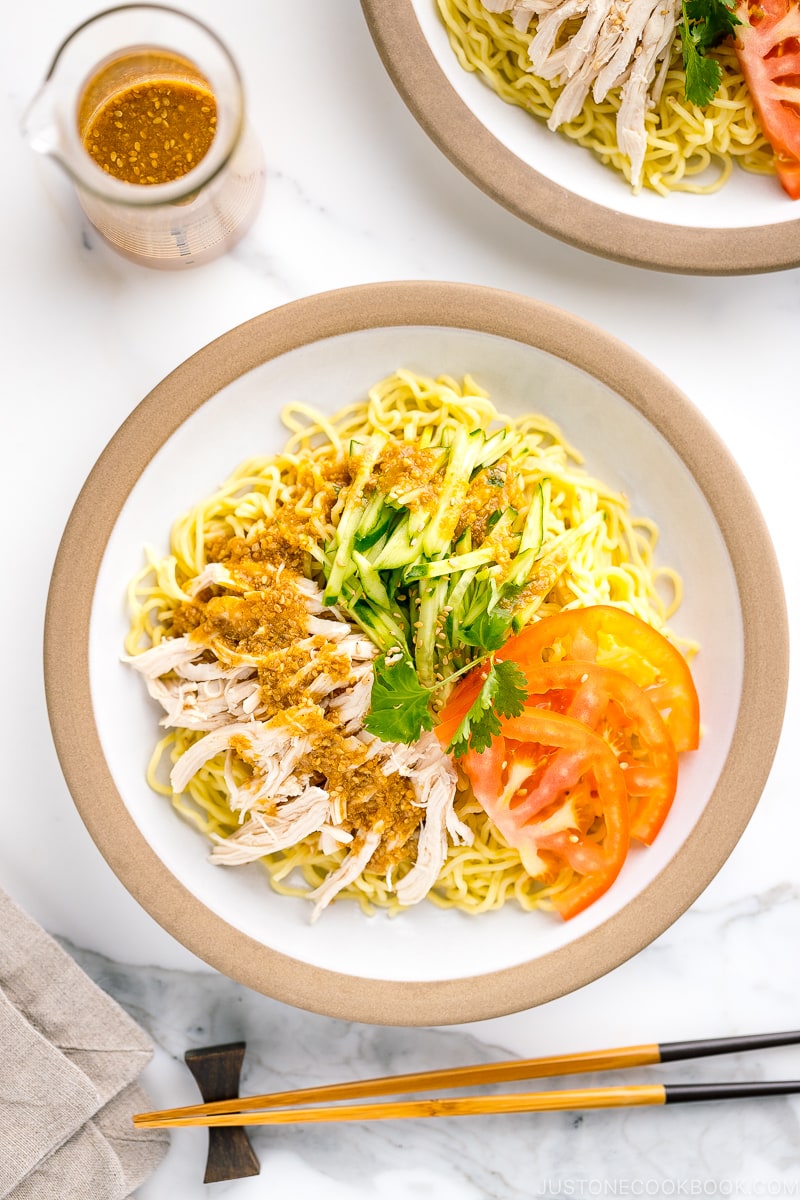 What's Hiyashi Chuka?
Despite the popularity of ramen all over the US and around the world, cold ramen is still not too familiar among many Japanese food lovers. As Japan's summer is pretty brutal with heat and humidity, most people long for chilled/cold noodle dish rather than ramen noodles in piping hot broth.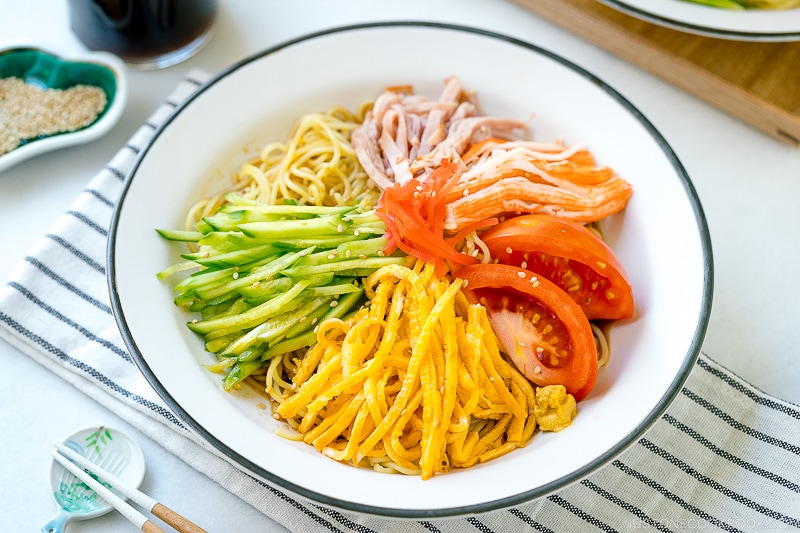 Hiyashi Chuka is served with cold ramen noodles placed on a plate with a rim (not a bowl), each group of toppings is placed radially (clockwise/counter-clockwise), like a pie chart. Then the sauce is poured over before it is served.
The store-bought Hiyashi Chuka package often comes with the sauce, but it includes MSG and preservatives. For a healthier option, you can easily make my soy sauce-based sauce shared in my other Hiyashi Chuka recipe or make this sesame miso sauce in today's recipe.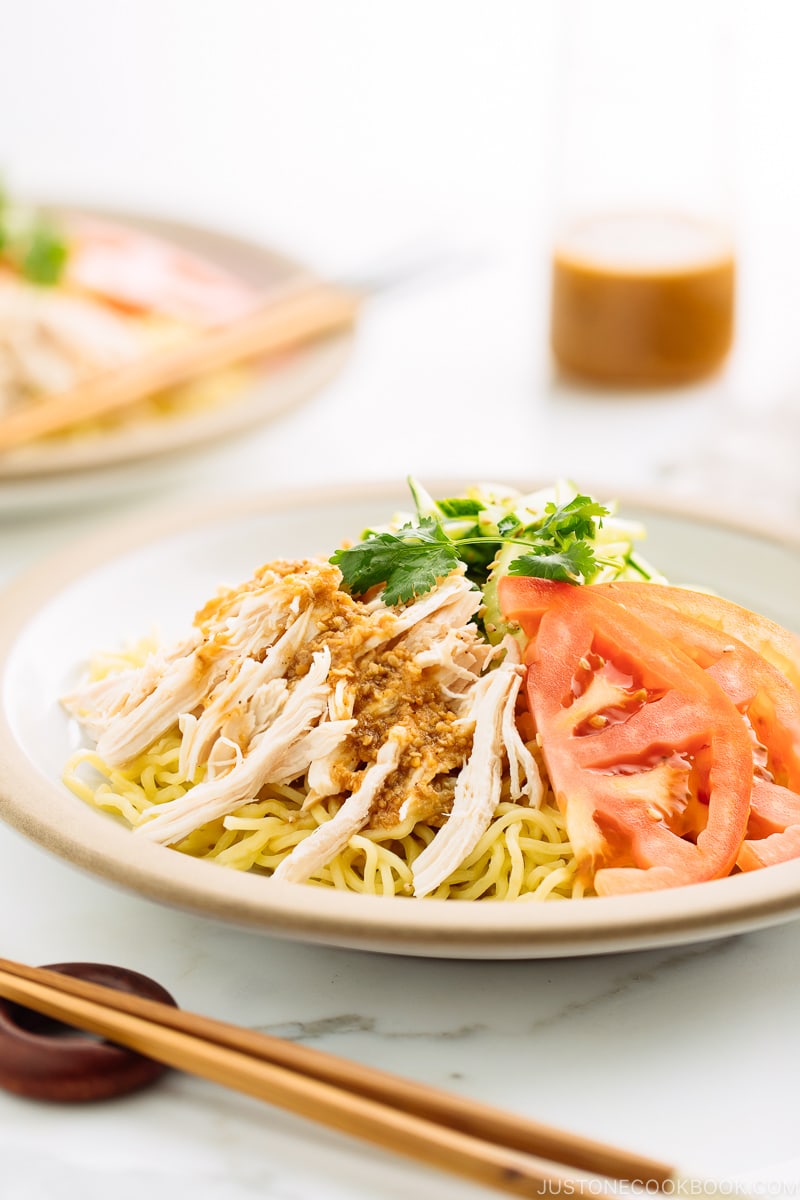 The sesame miso sauce is a simple mix of sesame seeds, miso, soy sauce, rice vinegar, sugar, sesame oil, and chicken stock. The sauce itself is light yet it delivers a dynamic punch of flavor – thanks to the umami-rich miso.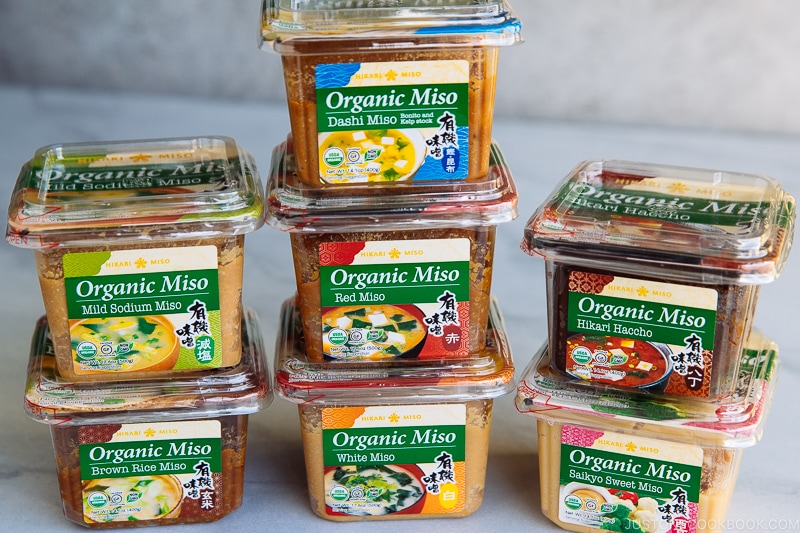 For this recipe, I used Hikari Miso® Organic Miso – Red Miso, but you can use other types of miso to try out different flavors. It is my favorite brand of miso. If you're interested to try it out, you can purchase Hikari Miso from a majority of Japanese/Asian grocery stores or on Amazon.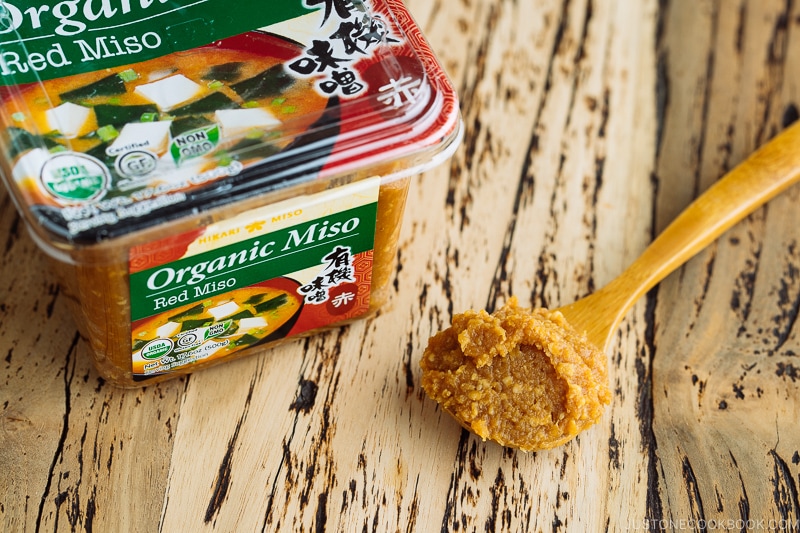 Make It Vegetarian/Vegan-Friendly
To make a vegetarian or vegan sauce, you can use kombu dashi or vegetable stock to replace the chicken stock.
For toppings, instead of chicken breast, you can use firm tofu that you bake/fry, aburaage (deep-fried tofu pouch), or various grilled vegetables to satisfy your cravings.
No matter what toppings you use, hiyashi chuka is quick to throw together. So ramen lovers, let's bring on the noodles greatness this summer!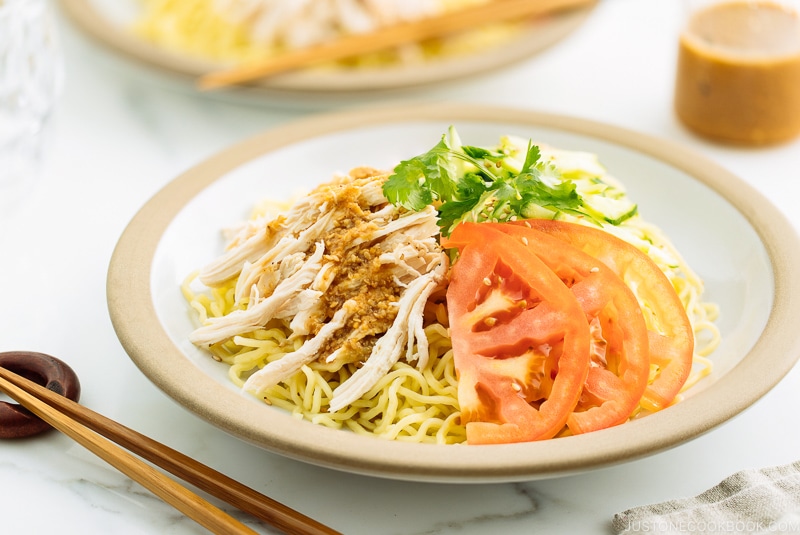 Wish to learn more about Japanese cooking? Sign up for our free newsletter to receive cooking tips & recipe updates! And stay in touch with me on Facebook, Pinterest, YouTube, and Instagram.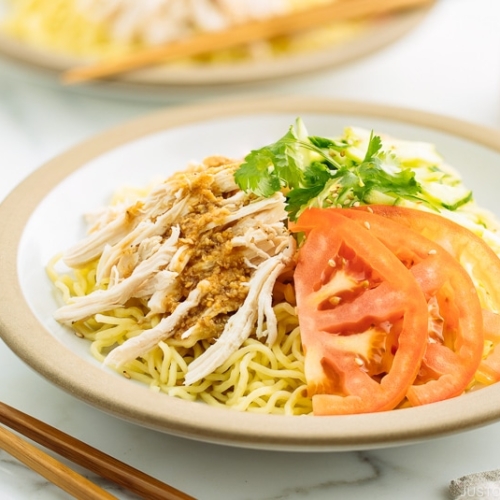 Hiyashi Chuka with Sesame Miso Sauce
Hiyashi Chuka is a popular cold ramen dish of chilled noodles, shredded chicken, julienned cucumbers, and sliced tomatoes drizzled with my savory Sesame Miso Sauce. It's a refreshing meal to enjoy during the hot summer months.
Ingredients
1

knob

ginger

2

green onions/scallions

4

cups

water

(about the temperature of cold tap water, for poaching the chicken)

½

lb

chicken breast

(I used half a chicken breast)

2

Tbsp

sake

1

tomato

1

sprig

cilantro (coriander)

(for garnish)

2

servings

hiyashi chuka noodles

(5-6 oz or 141-170 g of fresh ramen noodles per serving)
For the Sesame Miso Sauce
Japanese Ingredient Substitution:
If you want substitutes for Japanese condiments and ingredients, click
here
.
Instructions
Gather all the ingredients.
To Poach the Chicken
Slice the knob of ginger into thin slabs and cut the green onions into 2-inch (5 cm) pieces.

To a pot, add the water (for poaching) and the chicken breast.

Next, add the sliced ginger and green onions to the pot. Finally, add the sake and salt.

Bring the pot of water and chicken to a boil over medium heat. Once boiling, skim off the foam and scum.

Now, lower the heat to low and cover the pot with the lid slightly ajar. Gently cook the chicken for 15 minutes.
To Prepare the Toppings
In the meantime, peel the cucumber skin in stripes by alternating peeled and unpeeled strips down the length of the cucumber. Slice the cucumber thinly.

Cut the sliced cucumber into julienne strips. Thinly slice the tomatoes. Transfer them to a plate.
To Make the Sesame Miso Sauce
To make the Sesame Miso Sauce, grind the sesame seeds with a mortar and pestle. Set aside.

In a bowl or liquid measuring cup, combine the miso, soy sauce, rice vinegar, and granulated sugar.

Add the ground sesame seeds and sesame oil to the bowl. Mix it all together until smooth.

After 15 minutes of cooking the chicken, the poaching liquid is now a flavorful chicken stock. Reserve the indicated amount of this stock and gradually stir it into the sauce ingredients until well combined. Set aside.
To Shred the Chicken
Remove the chicken breast from the pot and shred it using two forks. Transfer it to the plate with the cucumber and tomato.
To Cook the Noodles
To cook the noodles, bring a pot of water to a boil. With your fingers, loosen and separate the fresh noodles and add them to the boiling water.

Cook according to the package instructions. When done, remove the noodles from the pot and plunge them into a bowl of iced water. This stops the cooking and chills the noodles.
To Serve
Drain the chilled noodles well and serve them on individual plates. Place the toppings on the noodles and sprinkle with extra sesame seeds. Garnish with the cilantro (optional) and drizzle with the Sesame Miso Sauce before serving.
To Store
You can keep the sauce and toppings in airtight containers separately, but I recommend preparing the noodles right before you serve. Store in the refrigerator for 3 days and in the freezer for a month.
Nutrition
Nutrition Facts
Hiyashi Chuka with Sesame Miso Sauce
Amount per Serving
% Daily Value*
* Percent Daily Values are based on a 2000 calorie diet.
©JustOneCookbook.com Content and photographs are copyright protected. Sharing of this recipe is both encouraged and appreciated. Copying and/or pasting full recipes to any website or social media is strictly prohibited. Please view my photo use policy
here
.