Originated in Sichuan, Twice Cooked Pork became one of the most popular Chinese dishes in Japan. The Japanese version has bell peppers, and it's less spicy. However, it's still very flavorful and super easy to make at home!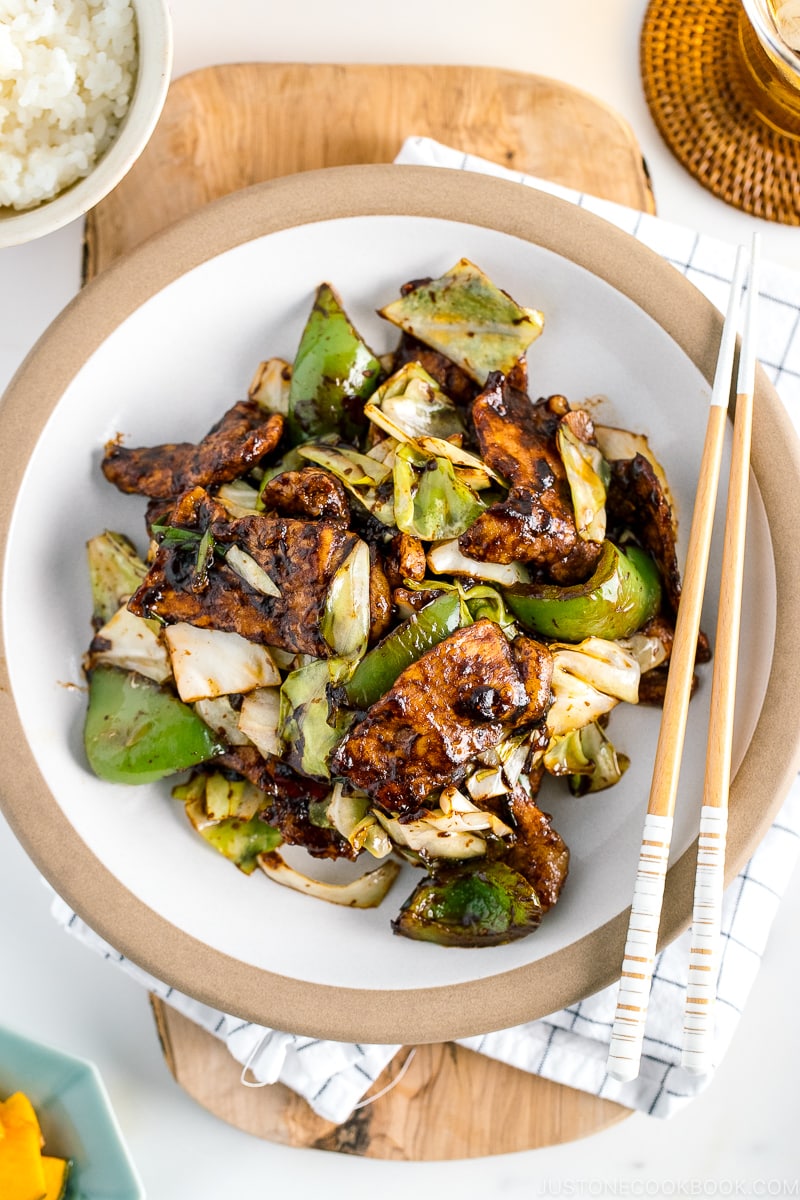 Japan offers many Chinese influenced foods, which often refer to as Chuka Ryori (中華料理). We've discussed more on this topic in this post if you wish to learn more about the history and background of Chuka Ryori.
Today, we'll go straight to a famous Chuka Ryori dish – Hoi Ko Ro (ホイコーロー; 回鍋肉), or universally known as Twice Cooked Pork. You might have tried it at your favorite Chinese restaurants. This recipe is slightly different as it has been adapted to suit the Japanese palate. Nevertheless, you still get a hot plate of tender, caramelized pork that is bursting with astounding flavors!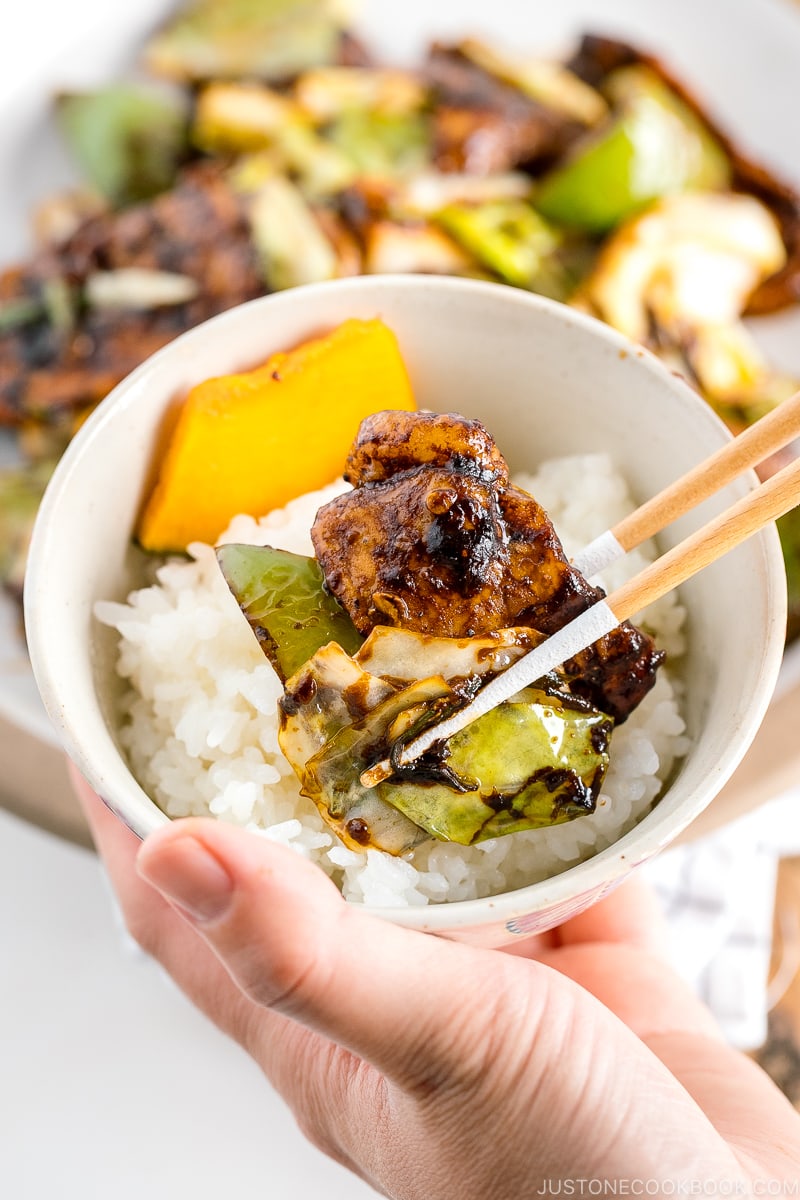 What is Twice Cooked Pork?
Twice Cooked Pork, or hui guo rou (回鍋肉), is a Sichuan dish of spicy pork belly. The name 'twice-cooked' comes from the cooking method that requires boiling the fatty pork first and then stir fry in the wok. The goal is to cook through the fat part without overcooking the lean part.
Somehow that got lost in translation in Japan. Instead of cooking the pork twice as reflected in the Chinese name "回鍋肉", we use thinly sliced pork belly or loin and leave out the simmering/boiling process entirely. So it's become a quick flash in the wok stir fry kind of dish.
How is the Japanese Twice Cooked Pork different from the Sichuan-counterpart?
One-step cooking process – There is no simmering in exotic aromatics required. With thinly sliced pork, you just need to stir fry the dish, so it's a lot quicker and easier than the Sichuan method. Not 'twice-cooked' per se, but similar in flavors and character.
Always with green bell pepper – That's the first difference Mr. JOC noticed when I was preparing the dish.
Not spicy at all – We skip the chili peppers entirely! Even though the origin of the dishes is supposedly spicy, the Japanese renditions tend to deviate from that. You'll find the younger generation in Japan is more open to spicy food due to wider exposure to international foods.
Lack of some authentic ingredients – The authentic Chinese Twice Cooked Pork includes fermented black beans called Douchi (豆豉). Even well-seasoned Japanese home cooks are equipped with only Doubanjiang and Tienmianjiang along with the oyster sauce. Fermented black beans are not yet a common condiment in Japan.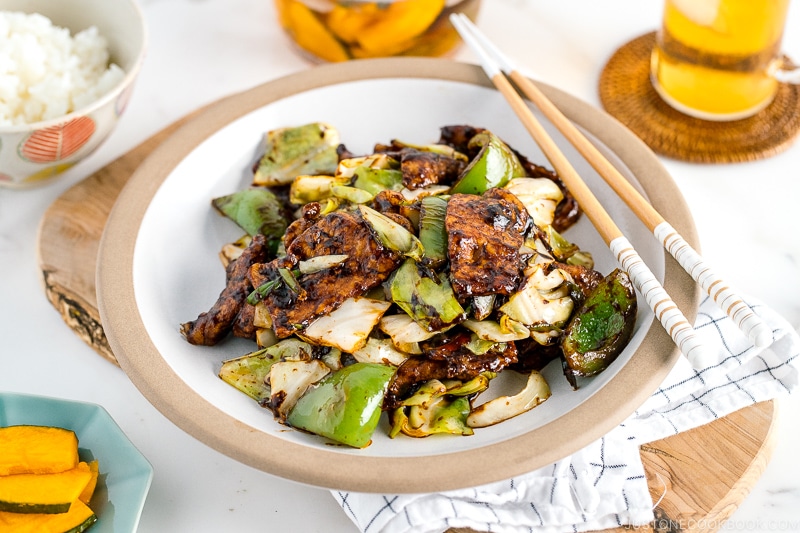 Japanese-Chinese Cuisine in Japan
Japanese-Chinese cuisine, which we call Chuka Ryori (中華料理), has its roots in Chinese cuisine but has evolved over time to suit the Japanese taste and appetite. It can be said that Chuka Ryori is its own category (more on that in this post).
For example, when you search Twice Cooked Pork (ホイコーロー) in Japanese, you will notice the dish is mostly brown with no hint of red chili color compared to the authentic 回鍋肉. Yet, Twice Cooked Pork is so popular in Japan that we even have a ready-to-go Chinese sauce made by Cook-Do.
The vacuum-packaged Chinese sauces above showcase all the favorites, which include Mapo Tofu, Mapo Nasu, Chinjao Rosu, Sweet & Sour Sauce, and Twice Cooked Pork. Many housewives love these ready-made sauces because they are so convenient. You can just grab a package from the grocery store or convenience store, then stir fry the ingredients with the sauce for a quick dinner!
Ingredients You'll Need
Thinly sliced pork – You can use pork belly or pork loin in this recipe. I used my favorite kurobuta pork loin from a local Japanese market (Suruki). This pork loin is so tender and does not become tough even after stir-frying! You can find thinly sliced pork belly and pork loin in Japanese, Korean, or Chinese grocery stores.
Cabbage – Regular green cabbage. Use the outer layer for its nice bright green color.
Green bell pepper – The addition is what makes it Japanese, but it can be optional.
Aromatics – Green onions and garlic.
Seasonings – You'll need doubanjiang (spicy chili bean sauce/broad bean paste), tienmienjiang (sweet bean sauce), sake, soy sauce, sugar, and white pepper. We'll also need potato starch (cornstarch) to dust on the pork.
If you make my Japanese Chinese dishes (Chuka Ryori) such as Miso Ramen, Mapo Tofu, Mapo Eggplant, and Black Sesame Dan Dan Noodles, you should have all the ingredients. For tienmienjiang, as I don't use it often in my recipes, I added a substitute in the recipe note.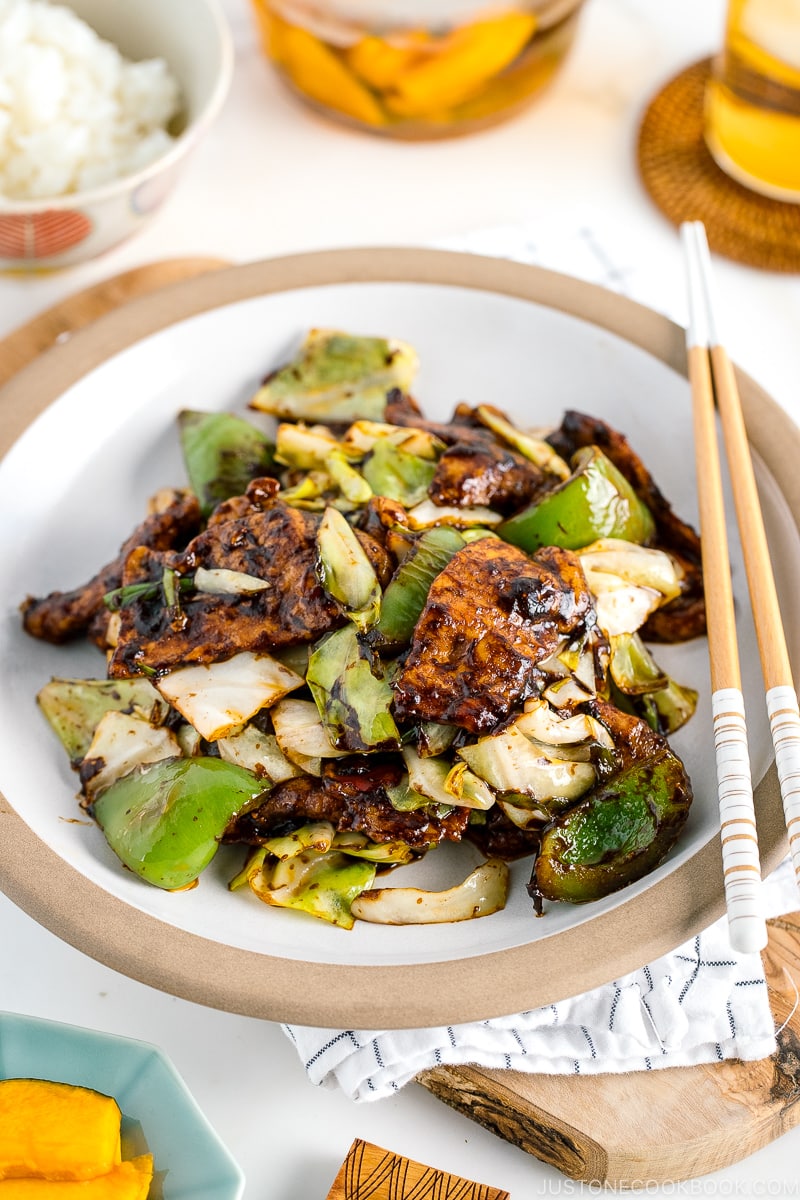 3 Quick Tips on Making Twice Cooked Pork
Use a big frying pan (I love this carbon steel pan that became non-stick after seasoning) or a wok (I use this one) that gives more surface for searing the pork.
Stir-frying is fast; make sure to pre-mix the sauce ingredients, chop all the veggies and season all the meat, and put everything by the stove before you start! Once the ingredients hit the hot wok, you should be ready to rock and roll.
Cook the vegetables ahead of time to ensure they are not under or overcooked.
I hope you enjoy this scrumptious stir fry dish. The rich and savory sauce will make you come back for more, so bring on the appetite!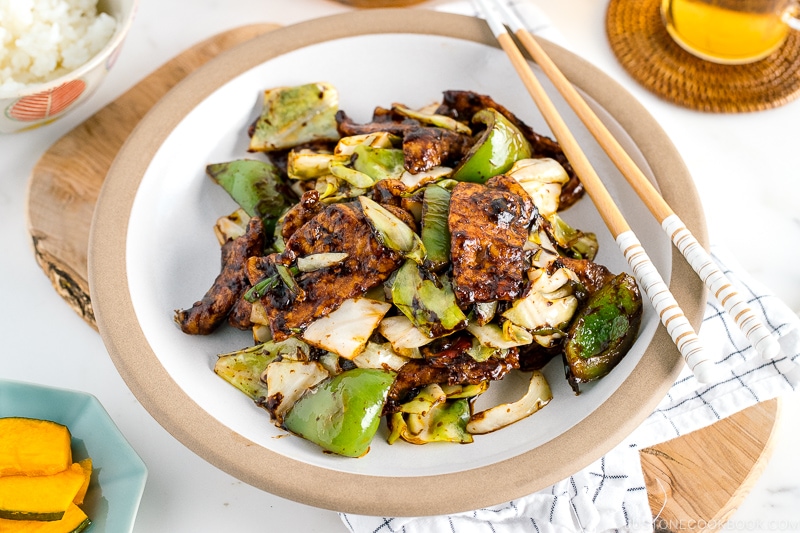 Wish to learn more about Japanese cooking? Sign up for our free newsletter to receive cooking tips & recipe updates! And stay in touch with me on Facebook, Pinterest, YouTube, and Instagram.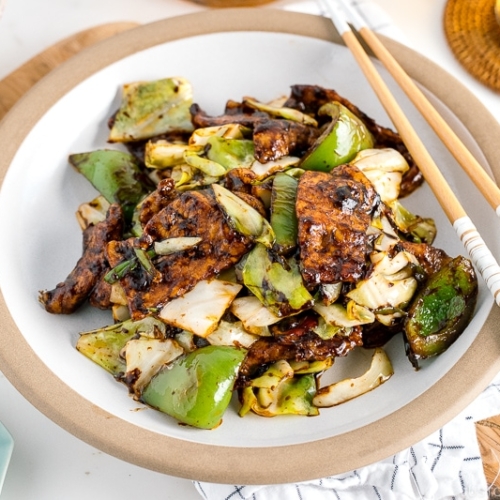 Twice Cooked Pork (Hoi Ko Ro)
Originated in Sichuan, Twice Cooked Pork became one of the most popular Chinese dishes in Japan. The Japanese version has bell peppers, and it's less spicy. However, it's still very flavorful and super easy to make at home!
Servings:
2
(as main dish)
Ingredients
For the Stir-Fry
½

green bell pepper

3-4

leaves

green cabbage

1

green onion/scallion

1

clove

garlic

2

Tbsp

neutral oil
Japanese Ingredient Substitution:
If you want substitutes for Japanese condiments and ingredients, click
here
.
Instructions
Gather all the ingredients.
To Prepare the Ingredients
In a small bowl, whisk together the ingredients for the sauce and set aside.

Remove the seeds from the green bell pepper. Cut into 1" (2.5 cm) pieces (I used "Rangiri" cutting technique). Cut the cabbage into 1-1.5 inches (2.5-3.8 cm) bite-sized pieces.

Thinly cut the green onion diagonally and cut the garlic clove to thin slices.

Cut the sliced pork into smaller pieces, roughly 2" x 2.5" (5 x 6.3 cm). Season the pork with salt and pepper.

Lightly coat the pork with potato starch/cornstarch.
To Stir Fry
In a wok or a large frying pan, heat 1 Tbsp oil over medium-high (or medium on the professional stove). Swirl the oil around the surface. When the oil is hot, add the green bell pepper and stir fry for 3-4 minutes.

Add the cabbage and stir fry for 2-3 minutes. When the vegetables are tender but still crisp, turn off the heat and transfer them to a plate. Make sure the vegetables are ready to eat as you will be reheating later (not to cook further).

Turn the heat back on over medium and add 1 Tbsp oil (the rest of the oil) and coat the bottom of the wok/pan. When the oil is hot, add the pork.

Spread it out in a single layer and cook until the bottom side is brown, then flip. The meat will release itself when it is nicely charred.

When the pork is no longer pink, add the green onion and garlic. Stir for 30 seconds and add in the seasoning sauce.

Stir to coat the meat and add the vegetables back in the wok/pan.

Toss everything together and season with white pepper. Transfer the dish to a serving plate. Enjoy!
To Store
You can store the leftovers in an airtight container in the refrigerator for up to 3 days and in the freezer for a month.
Nutrition
Nutrition Facts
Twice Cooked Pork (Hoi Ko Ro)
Amount per Serving
% Daily Value*
* Percent Daily Values are based on a 2000 calorie diet.
©JustOneCookbook.com Content and photographs are copyright protected. Sharing of this recipe is both encouraged and appreciated. Copying and/or pasting full recipes to any website or social media is strictly prohibited. Please view my photo use policy
here
.