Flavored with pork and chicken broth with a mix of toppings such as chashu and ramen egg, this bowl of Miso Ramen is going to satisfy your craving. You can make delicious ramen with authentic broth in less than 30 minutes!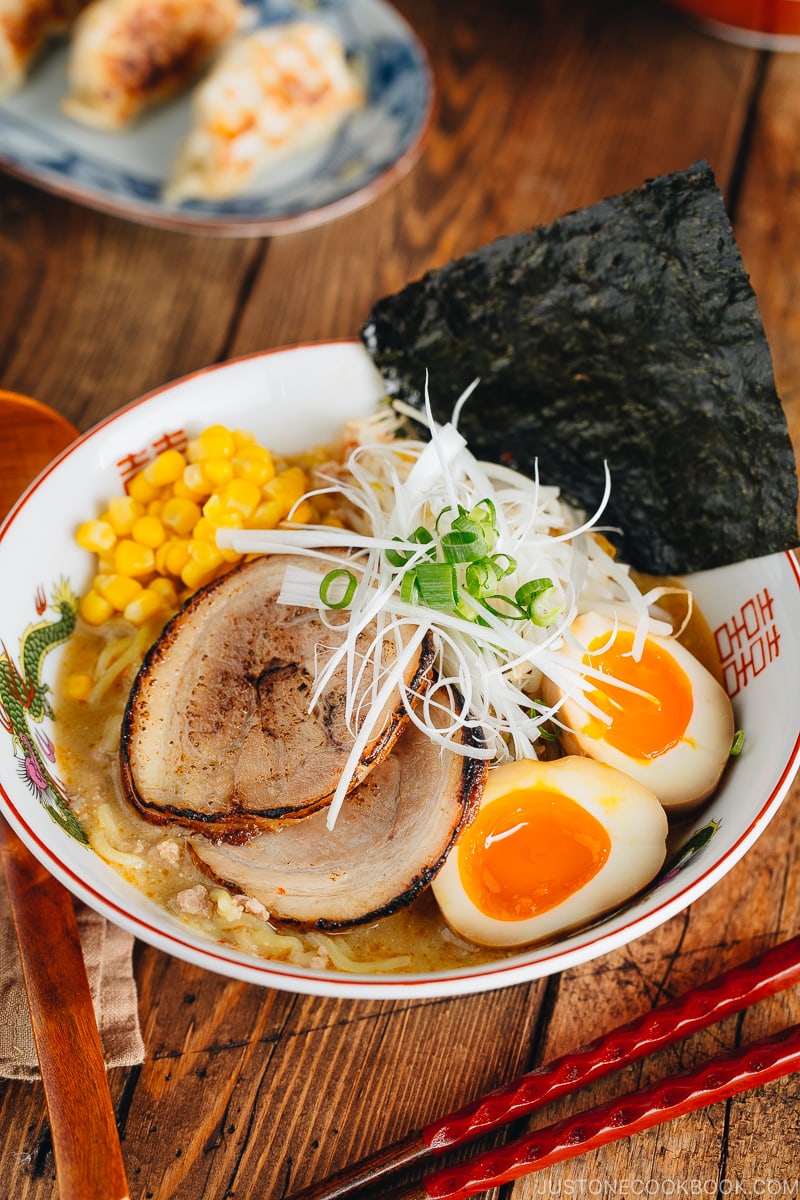 When you're in Japan, you will quickly learn that there are 3 basic ramen flavors: shio (salt), shoyu (soy sauce), and miso (fermented soybean paste).
If you're wondering about the tonkotsu ramen, that's actually a type of broth base and the tonkotsu means a pork bone broth. If you're interested in learning more about ramen, read our Japanese Ramen Guide for Beginners.
Today we'll make the popular and my favorite, Miso Ramen (味噌ラーメン).
Learn How to Make Miso Ramen at Home
Ramen consists of 3 components: soup, noodles, and toppings. In this post, I'll go over each topic in detail.
---
Part 1: Ramen Soup スープ
Although the Japanese enjoy eating ramen at ramen shops, it is common for Japanese moms to make ramen at home. Making good ramen soup from scratch requires a lot of time and effort, so most households use packaged ramen which includes 2-3 servings of fresh noodles and a concentrated soup base.
In this recipe, instead of spending many hours making the ramen soup base, I'll show you how to make a delicious ramen soup that takes just 15 minutes. Best of all, it tastes much better than the soup base that comes with the package.
In case you're wondering, the soup for miso ramen is not the "miso soup" made from dashi and miso paste.
Below, I explain the ingredients for Miso Ramen soup. I do not recommend skipping or substituting the following ingredients because each ingredient plays an important role. As a result, you get a rich and intensely savory bowl of miso ramen that will greatly satisfy your cravings.
5 Key Ingredients for Quick Miso Ramen Soup
Miso
Doubanjiang (spicy or non-spicy bean paste)
Sesame seeds and sesame oil
Homemade or store-bought chicken broth
White pepper powder
1. Miso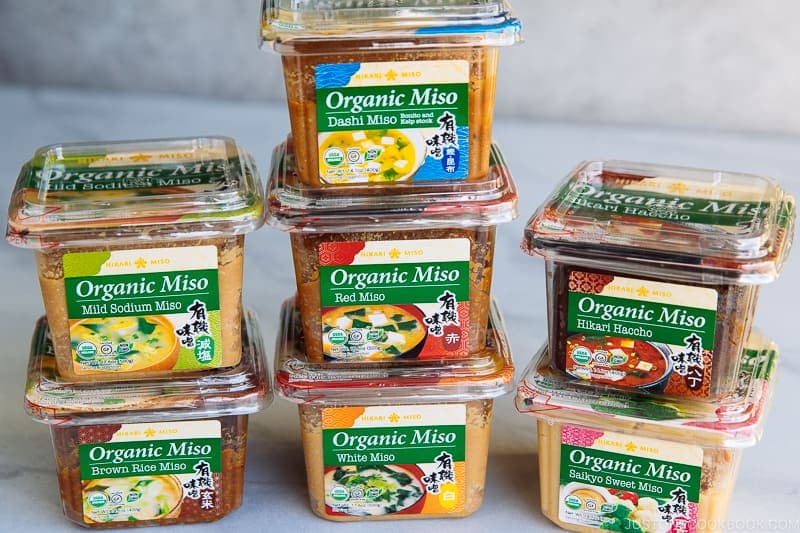 Miso is a Japanese fermented soybean paste, and it's one of the essential condiments in Japanese cooking. If you are new to miso, I highly recommend taking a look at my Miso pantry page.
Based on the type of miso and the brand that makes it, the flavor of miso varies. In most cases, there is no type or brand that is better or worse, except for your preference. I personally love Hikari Miso® and you will see me using this brand exclusively on my blog.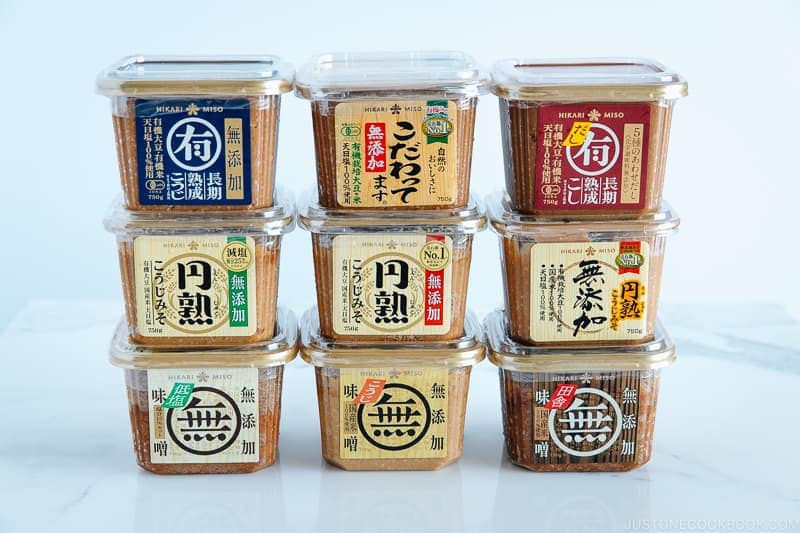 For miso ramen, use any miso type except for hatcho miso or saikyo miso. My favorite miso is kodawattemasu (see below).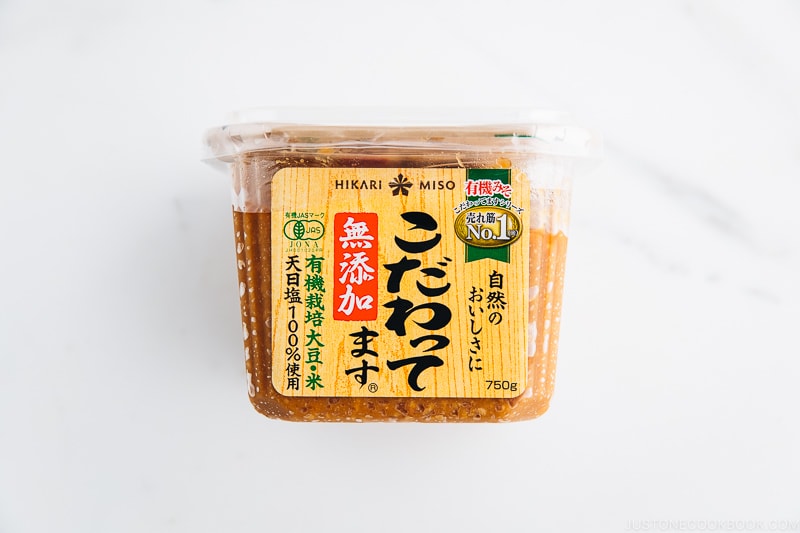 2. Doubanjiang: Spicy or Non-Spicy Bean Paste (Sauce)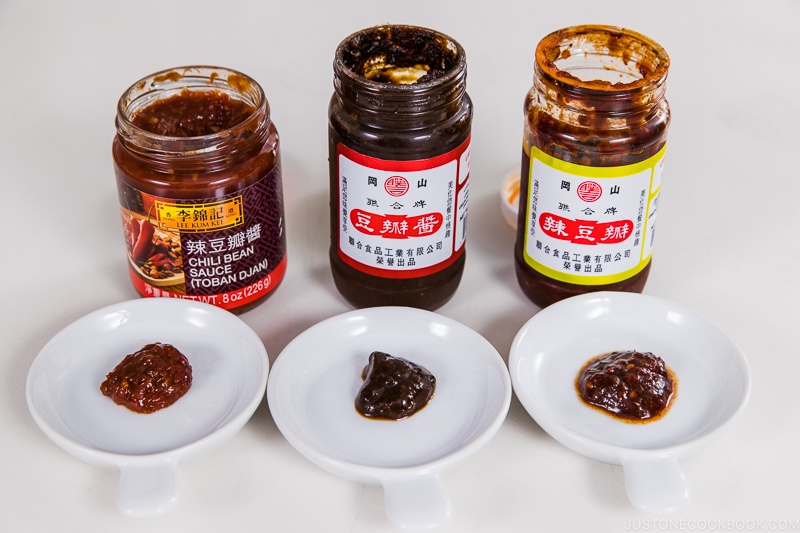 The key condiment in this recipe is doubanjiang (豆板醤) or spicy bean paste, a combination of fermented broad beans as the main ingredient, soybeans, and often hot chilies. The salty, savory, umami-rich paste adds an incredible depth and character to the broth that you should not substitute. You can add more if you like your soup to be spicy, but one teaspoon would be enough to give it a good kick.
Non-Spicy Doubanjiang: Did you know that there is NON-SPICY doubanjiang? Taiwan, Hong Kong, and Guandong in China have non-spicy doubanjiang. It has the same savory depth in the paste, but without the heat.
To distinguish the two versions, the Sichuan doubanjiang is called la-doubanjiang (辣豆瓣醬, "la" (辣) meaning 'hot' or 'spicy').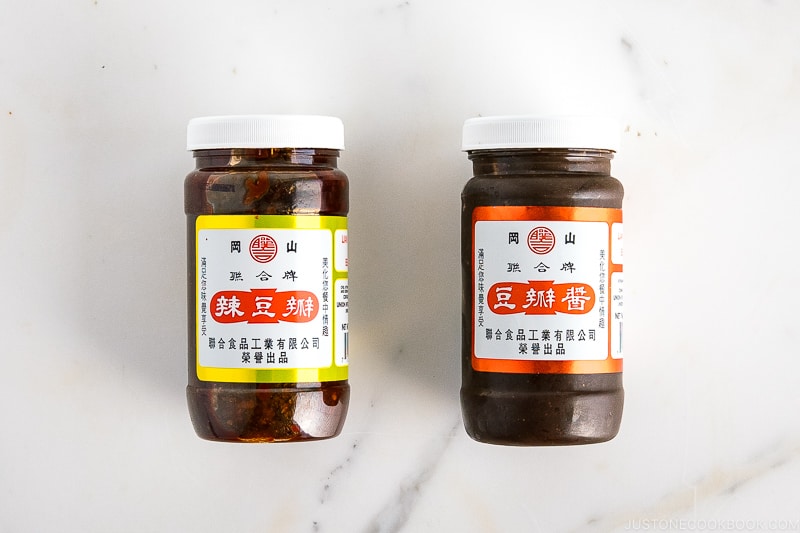 When the kids were small, I use only non-spicy doubanjiang to make my Mapo Tofu and Miso Ramen. Taiwanese brands like Kangshan (岡山) (above) and Ming Teh (明德) offer the doubanjiang made from fermented broad beans and soybeans, and they usually have both spicy and nonspicy versions.
You can get these Taiwanese brands at a local Chinese grocery store. Amazon does not sell the non-spicy doubanjiang at this time (please let me know if you find one).
Doubanjiang Substitute: If you really can't find doubanjiang, you can use gochujang (Korean chili paste; spicy) or doenjang (Korean soybean paste; non-spicy). However, the ingredients are slightly different and have different flavor profiles.
3. Sesame Seeds and Sesame Oil
Sesame flavor in this recipe is prominent as both sesame seeds and oil make the broth nuttier and richer, adding a nice aroma and flavor to the ramen soup.
Japanese households always have a set of suribachi (mortar) and surikogi (pestle) to grind sesame seeds, but if you don't have one, you can crush the sesame seeds with a food processor (or a coffee bean grinder).
The type of sesame oil you need is dark roasted sesame oil. It has a deep flavor of sesame and only 1 tablespoon would give plenty of fragrance to the soup.
4. Homemade or Store Bought Chicken Broth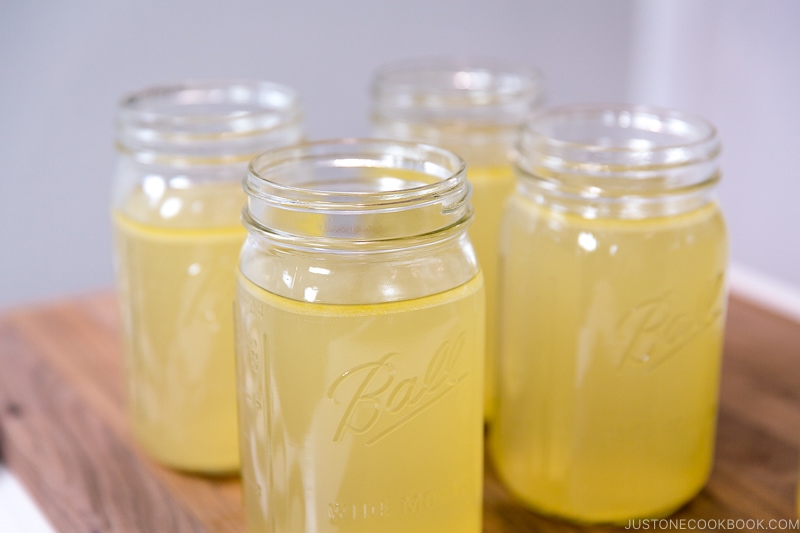 For a richer and more flavorful broth, homemade chicken stock is best. But it's okay to use store-bought broth to make ramen soup if you don't have the time.
I like chicken stock from Trader Joe's. Use less sodium stock and adjust the salt according to your liking. Remember, some chicken stock can be saltier, so you always have to taste your soup before adding salt.
5. White Pepper Powder
I believe white pepper powder is a magical spice in Chinese-style soups and fried rice. Just a few sprinkles of white pepper will elevate the flavor and add a nice kick without the spiciness. You can find white pepper powder in Asian grocery stores or specialty spice shops.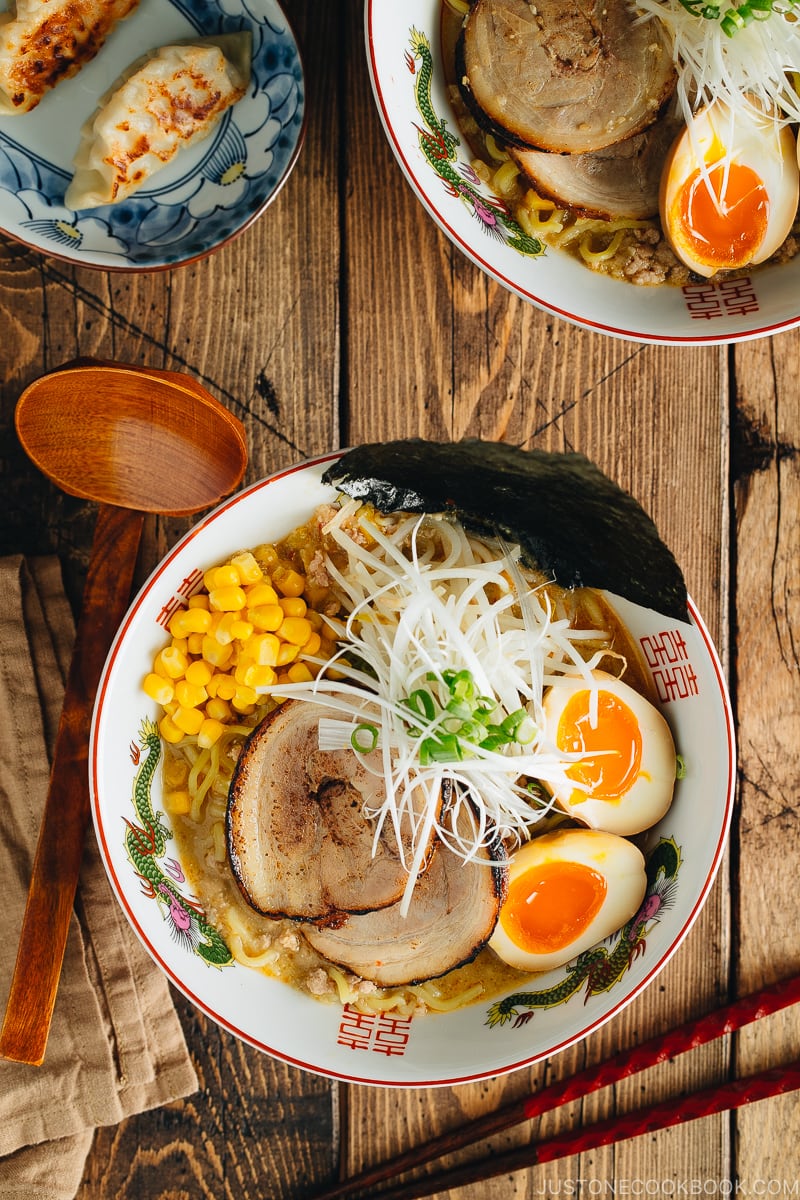 FAQs for Ramen Soup
Do we need to add sugar?
Sugar is not added to sweeten the dish, but it is there to counter the saltiness of miso and doubanjiang (fermented bean paste). Try adding 1 teaspoon at a time and taste the soup before adding more.
Do we need to use sake?
Unless you can't use it due to religious reasons, I strongly recommend using sake in Japanese cooking. Sake is an essential ingredient such as soy sauce and mirin in Japanese cooking. In this recipe, sake removes the unwanted smell from the meat and adds a subtle sweetness and umami to the soup. The best substitute would be dry sherry and Chinese rice wine.
---
Part 2: Ramen Noodles 麺
Ramen noodles are made from four basic ingredients: wheat flour, salt, water, and kansui (かん水, saltwater). Kansui is a type of alkaline mineral water, containing sodium carbonate and usually potassium carbonate, and sometimes a small amount of phosphoric acid. Although the color of the ramen noodles is yellowish, they are not egg noodles.
1. Fresh Noodles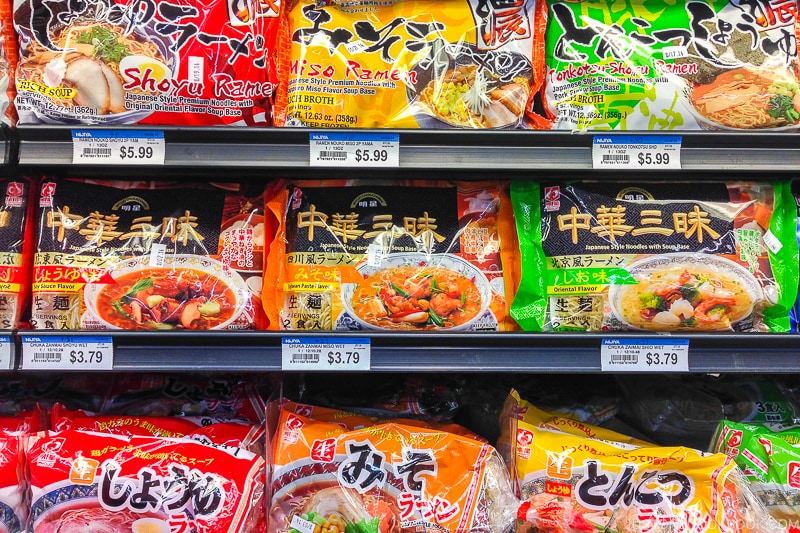 Ideally, fresh ramen noodles are the best. My favorite ramen noodles are from Sun Noodles, and I usually make my own soup instead of the soup base that comes with the package.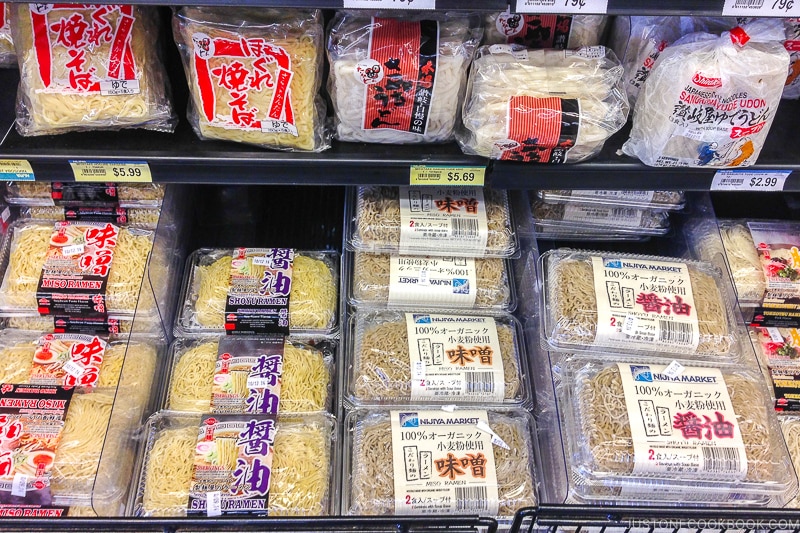 Fresh noodles are available in the refrigerated section of Japanese grocery stores and some Asian grocery stores. Some stores may keep the fresh ramen noodles in the freezer, so don't forget to check both sections.
Fresh gluten-free ramen noodles can be purchased from Kobayashi Seimen. They are made from rice and taste very similar to fresh ramen noodles.
2. Dried Noodles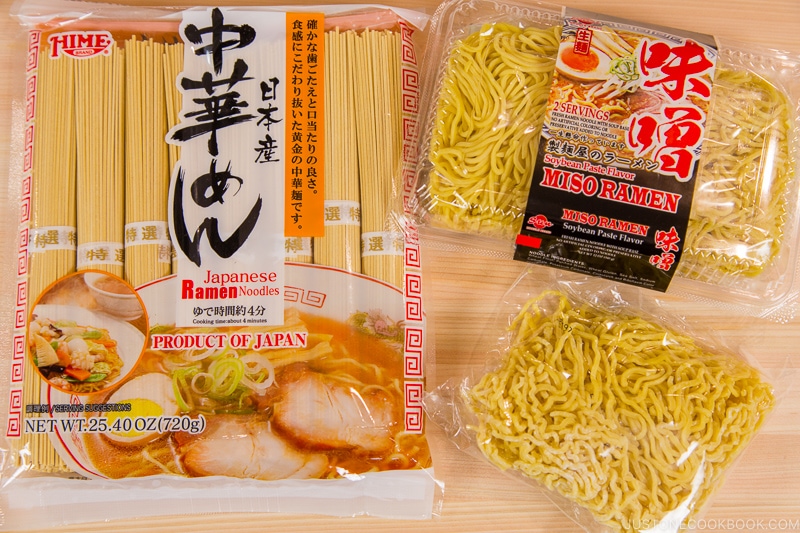 For those who don't have access to fresh ramen noodles, you can use dried noodles. I've tried HIME Japanese ramen noodles (you can purchase them on Amazon) and they are pretty good.
3 Tips for Cooking Ramen Noodles
There are three important tips I want to share with you when cooking ramen noodles.
Boil the ramen noodles in a big pot of water.
Do not salt the water like pasta.
Ramen noodles cook really fast. So make sure to prepare everything ahead of time. Once the noodles are cooked, you have to serve the ramen fast—in less than 30 seconds!
---
Part 3: Ramen Toppings トッピング
Choices are yours. Here are 7 toppings I added to this Miso Ramen recipe. Even though you would spend less than 30 minutes preparing the ramen on the day of eating, I do spend one day, usually the previous day, preparing my ramen toppings.
Main Toppings

Other Topping Ideas:
Now that you have the template on how to make the best miso ramen at home, it's time to impress yourself or someone you love with your bowl of ramen goodness. It's really simple, and dare I say more gratifying than the bowl from your ramen joint!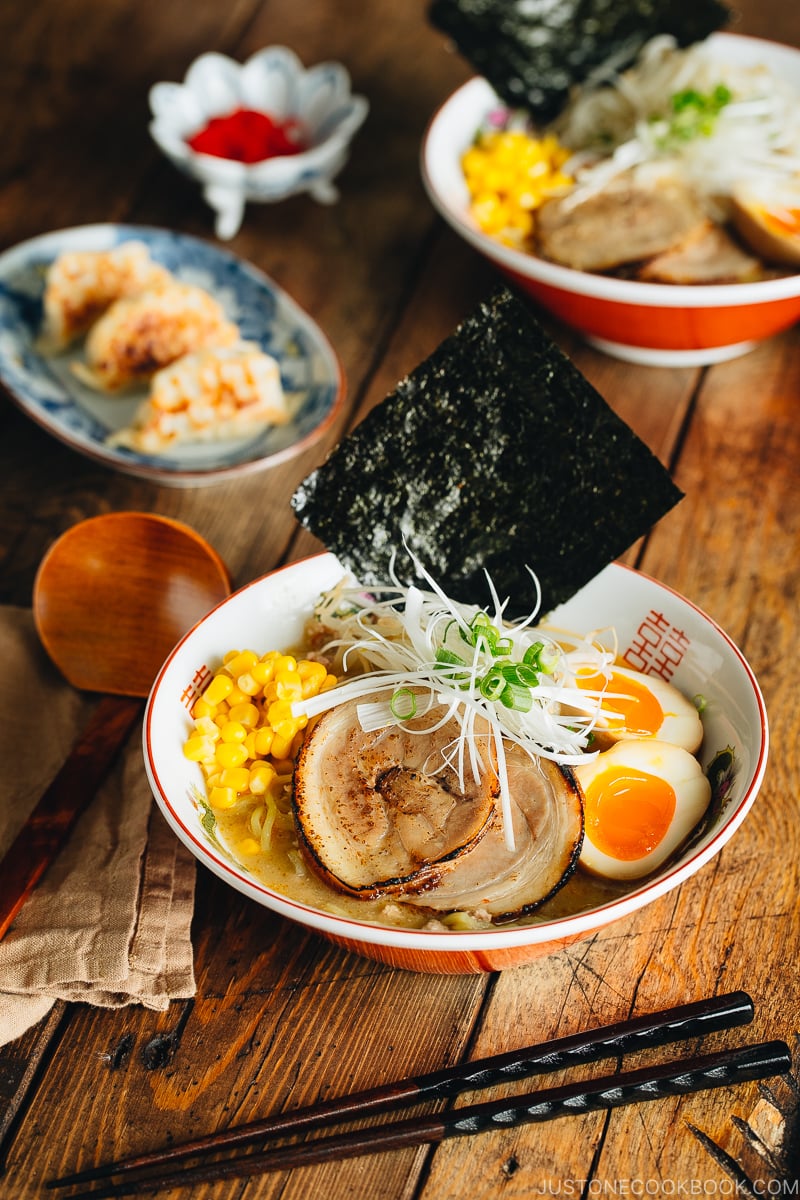 More Ramen Recipes You'll Love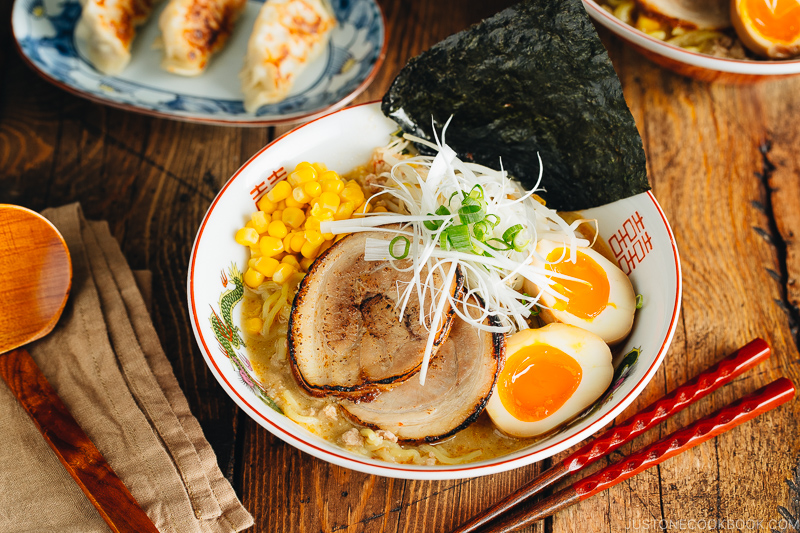 Wish to learn more about Japanese cooking? Sign up for our free newsletter to receive cooking tips & recipe updates! And stay in touch with me on Facebook, Pinterest, YouTube, and Instagram.
Miso Ramen
You can make delicious Miso Ramen with authentic broth in less than 30 minutes! Please note: Toppings are optional, and their recipes can be found in the hyperlinks. Chashu and Ramen Eggs require prepping one day ahead.
Video
Ingredients
For the Ramen and Optional Toppings:
For the Table (Optional):
Japanese Ingredient Substitution:
If you want substitutes for Japanese condiments and ingredients, click
here
.
Instructions
Gather all the ingredients.
To Prepare the Ramen Soup
Mince the shallot. Set these three prepared ingredients aside.

Grind the sesame seeds, leaving some seeds unground for texture.

In a medium pot, heat the sesame oil over medium-low heat and add the minced garlic, ginger, and shallot.

With a wooden spatula, stir fry until fragrant.

Add the meat and increase heat to medium. Cook the meat until no longer pink.

Add the spicy bean paste (la doubanjiang) or non-spicy bean paste (doubanjiang) and miso. Quickly blend well with the meat before they get burnt.

Add the ground sesame seeds and sugar and mix well.

Add the sake and chicken stock and bring the mixture to a simmer.

Taste your soup and add salt (if necessary) and white pepper. Each brand of chicken stock varies in saltiness, so you will have to taste your soup to decide how much salt to add.

Cover with the lid and keep the ramen soup simmering while you cook the noodles.
To Prepare the Toppings and Ramen Noodles
Bring a large pot of unsalted water to a boil (ramen noodles already include salt in the dough). When the water is boiling, ladle some hot water into the serving bowls to warm them up. Meanwhile, gently shake the fresh noodles with your hand to separate and loosen them up.

Important: Prepare the toppings ahead of time so you can serve the hot ramen immediately. For toppings, I use chashu, ramen egg, blanched bean sprout (or spicy bean sprouts), corn kernels, shiraga negi, chopped green onion, and a sheet of nori. Prepare a small dish of red pickled ginger, a bottle of la-yu (chili oil), and some white pepper powder on the table.

Cook the noodles according to the package instructions. I usually cook the noodles al dente (about 15 seconds less than the suggested cooking time). Before your noodles are done cooking, empty the hot water from the warmed ramen bowls.

When the noodles are done, quickly pick them up with a mesh sieve and shake out the excess water. You don't want to dilute your soup, so make sure to drain the water well. Serve the noodles into the warmed bowls.

Add the ramen soup and top with the various toppings you've prepared.

Place the toppings of your choice on top of the noodles and serve immediately.
Nutrition
Calories:
433
kcal
·
Carbohydrates:
37
g
·
Protein:
19
g
·
Fat:
25
g
·
Saturated Fat:
8
g
·
Trans Fat:
1
g
·
Cholesterol:
65
mg
·
Sodium:
1216
mg
·
Potassium:
341
mg
·
Fiber:
4
g
·
Sugar:
8
g
·
Vitamin A:
112
IU
·
Vitamin C:
4
mg
·
Calcium:
152
mg
·
Iron:
4
mg
©JustOneCookbook.com Content and photographs are copyright protected. Sharing of this recipe is both encouraged and appreciated. Copying and/or pasting full recipes to any website or social media is strictly prohibited. Please view my photo use policy
here
.
Editor's Note: This post was originally published in May 2011. New video and photos are added in September 2014. The video and images have been updated in May 2019. The post has been republished in February 2022.