Narutomaki is a tube-shaped fish cake with a swirl in the middle and jagged edges. Cut into slices and add to oden, salads, and ramen noodles.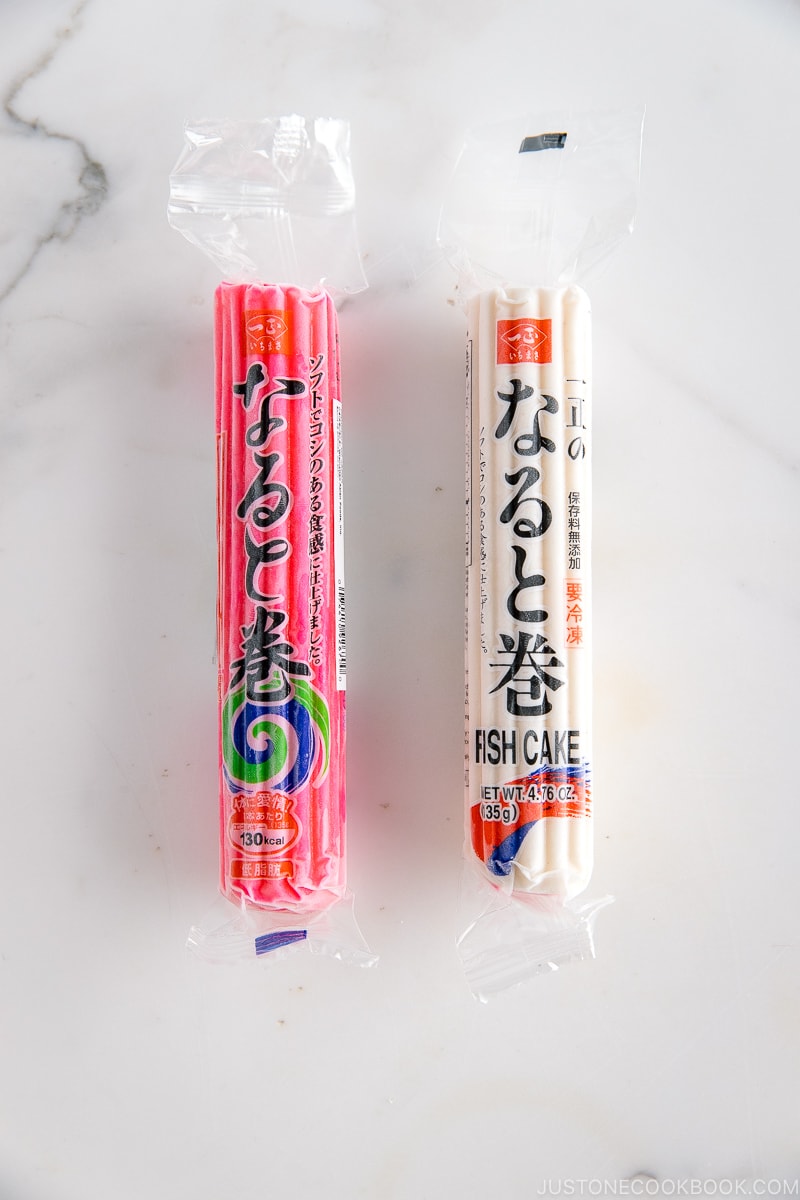 Narutomaki (鳴門巻き・なると巻き) or naruto is a type of kamaboko (cured fish paste surimi). Each slice has a pink or red spiral pattern, resembling the Naruto whirlpools between Awaji Island and Shikoku in the Naruto Strait. Eat it as is or top over noodle soups, such as ramen, udon, and soba. It has a characteristic chewiness and will add color and texture to your dish.
What is Narutomaki
Narutomaki, also known as naruto or narutomaki fish cakes, is commonly used as a noodle topping. These fish cakes are characterized by their unique pink swirl pattern. The main ingredient is white fish paste seasoned with other ingredients, such as salt, sugar, sake, mirin, egg whites, and starch. The pink swirl is from food coloring.
Making narutomaki involves removing the skin, bones, and fat from the fish flesh, seasoning it, and processing it into a fine paste, shaping it into a long cylindrical log. It's then colored with pink food coloring to create characteristic pink and white swirls. The log is then steamed or boiled until fully cooked and solidified. You can buy it in log form or pre-sliced into thin rounds.
Yaizu in Shizuoka prefecture (west of Tokyo, where Mt. Fuji resides), a coastal fishing port for tuna, bonito, skipjack, and mackerel, produces 90% of narutomaki.
What Does It Taste Like
It has a less rubbery, chewy texture and mild fishy seafood flavor than kamaboko.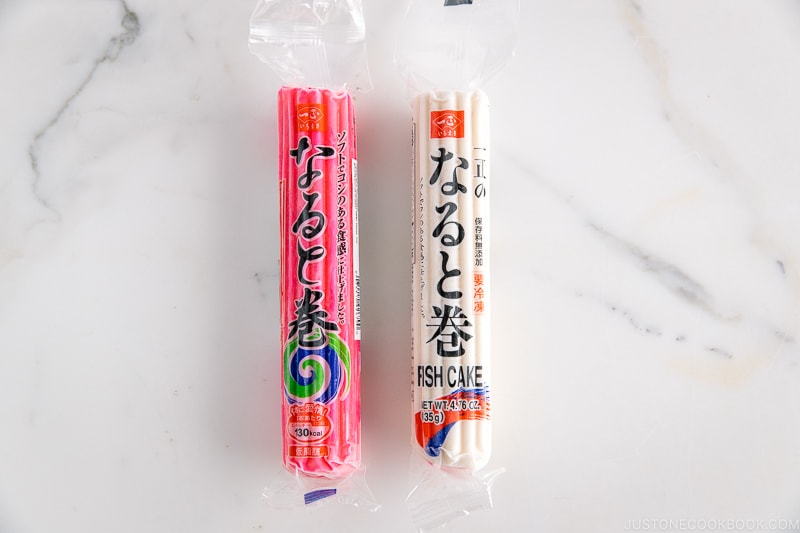 How To Use
Sliced narutomaki is a common topping on a bowl of ramen and udon, and since it's already cooked, you can eat it as a snack, add to dashi broth, or deep fry for tempura.
Recipes Using Narutomaki
Where To Buy
You can find it in the freezer or fridge section of Asian and Japanese supermarkets.
How To Store
Although it's cooked, keep it in the refrigerator and use it quickly once opened.
---
Wish to learn more about Japanese cooking? Sign up for our free newsletter to receive cooking tips & recipe updates! And stay in touch with me on Facebook, Pinterest, YouTube, and Instagram.