My Spicy Shoyu Ramen recipe is easy to make at home. Topped with soft-boiled egg, fish cake, nori seaweed, and fall-apart tender chashu pork belly, this delicious bowl of spicy delight will surely satisfy your ramen craving!
Are you ready for some toothsome noodles, melt-in-your-mouth chashu pork, pickled bamboo shoots, fresh chopped scallion, and a spicy broth that you can't stop slurping? I hope you are hungry because we're going to make some hot bowls of spicy shoyu ramen together. If noodle soup is your comfort food, you are going to enjoy this one.
What is Shoyu Ramen?
'Shoyu' means soy sauce in Japanese. Shoyu ramen simply refers to ramen served with a soy sauce-based broth that is usually in clear, brown color. It is one of the 3 main types of ramen categorized by the broth flavors. If you're in Tokyo, Shoyu is the most familiar form of ramen you'll find. 
To make a good bowl of ramen is an art form itself. Ramen chefs pull together different elements to define the bowl of noodles. Even the simplest of ramen requires close attention to the ingredients, be it the broth or noodles, making sure each one interacts harmoniously. But, please don't let this stop you from making ramen at home. So long as you have a well-stocked Japanese/Asian pantry, it is possible to whip up a ramen bowl that is of chef's quality. The beauty of homemade ramen is you get to control the saltiness of the soup.
How to Make Spicy Shoyu Ramen at Home
Since we're making spicy shoyu ramen today, the key ingredient for the recipe is spicy chili bean paste (la doubanjiang). You can always make slight modifications to the spiciness level. If you can't handle spicy food at all, you can use regular chili bean paste (doubanjiang) instead. More about this broad bean paste (doubanjiang) on this post and where you can find it.
1. Ramen Noodles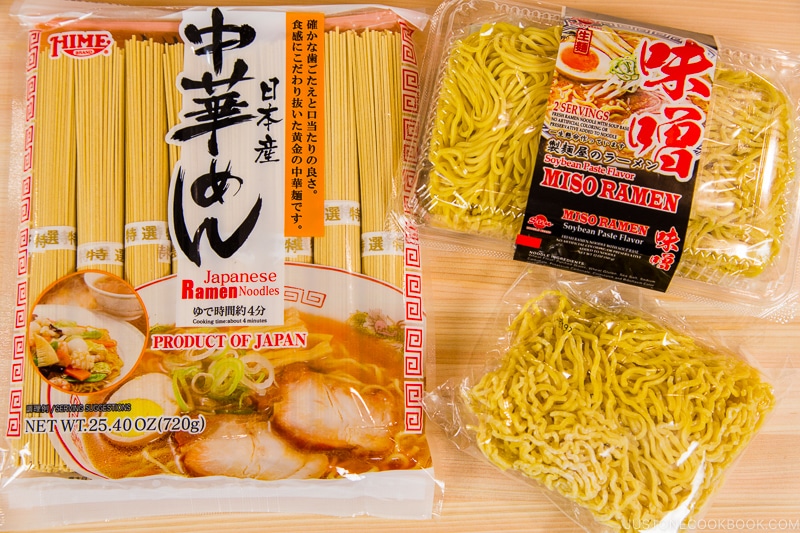 The noodles used in shoyu ramen are usually the springy curly type. In my local Japanese grocery stores, they sell packages of fresh ramen noodles (with soup packages included, but I don't use them). Sun Noodles make great noodles if you can find them locally.
2. Quick and Delicious Soup Broth
We all know that broth defines ramen. It is what brings the dish together. But many of us do not have the time to simmer the soup stock with bones and all for hours. To avoid compromising the flavor of homemade ramen broth, dashi or Japanese soup broth is elemental to give it extra depth besides the chicken stock we use in this recipe.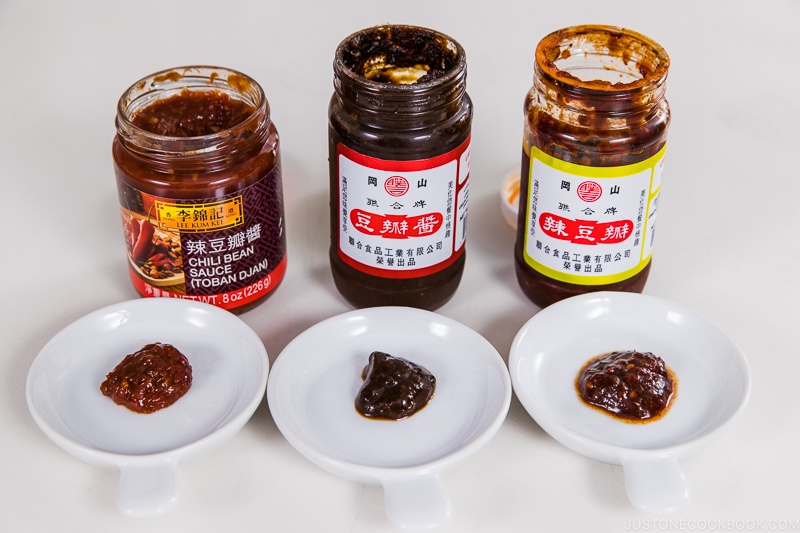 Another key element is doubanjiang (豆板醤) or spicy/non-spicy broad bean paste—a combination of fermented broad beans as the main ingredient, soybeans, and often hot chilies. The salty, savory, umami-rich paste adds an incredible depth and character to the broth that you should not substitute. You can add more if you like your soup to be spicy, but one teaspoon would be enough to give it a good kick.
Non-Spicy doubanjiang: You can find non-spicy versions made in Taiwan, Hong Kong, and Guangdong. It has the same savory depth in the paste, but without the heat.
To distinguish the two versions, the Sichuan doubanjiang is called la-doubanjiang (辣豆瓣醬, "la" (辣) meaning 'hot' or 'spicy').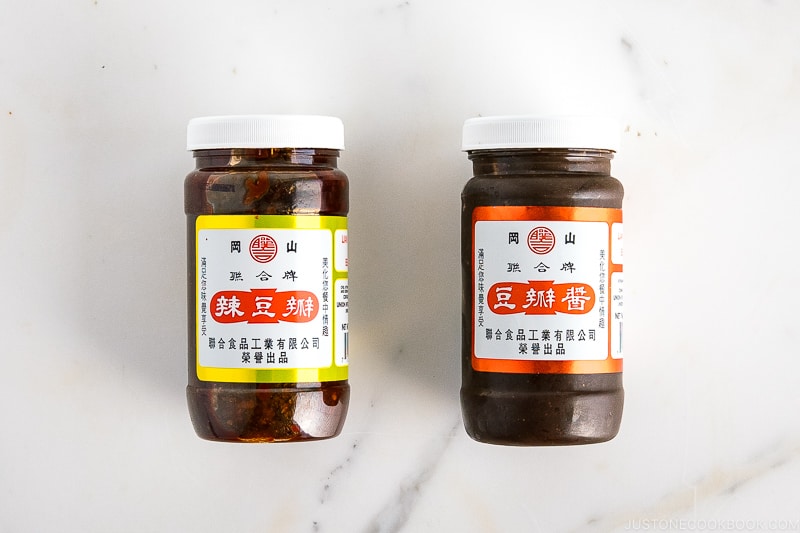 You can get these Taiwanese brands at your local Chinese grocery store. Amazon does not sell the non-spicy doubanjiang at this time (please let me know if you find one).
Doubanjiang substitute: If you really can't find doubanjiang, you can use gochujang (Korean chili paste; spicy) or doenjang (Korean soybean paste; non-spicy). However, the ingredients are slightly different and have different flavor profiles.
Dashi and doubanjiang along with the other condiments and aromatics will yield a flavorful, rich soup in less time.
3. The Toppings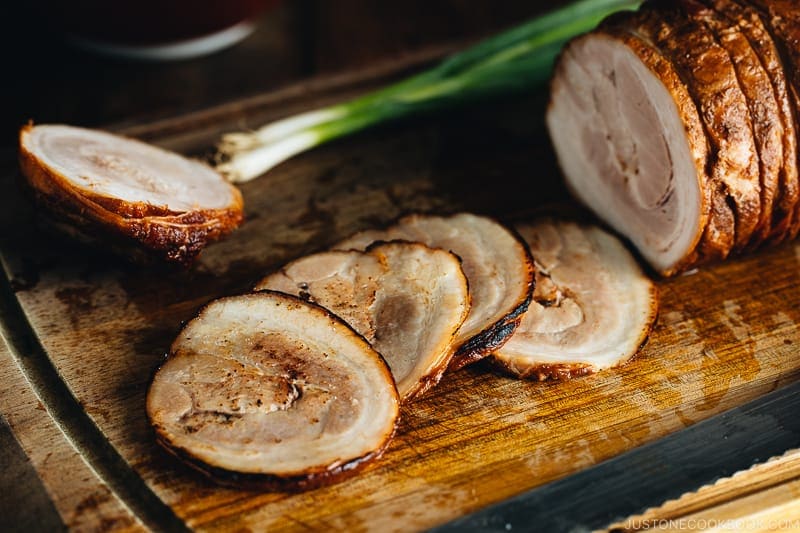 There are various toppings that can go into spicy shoyu ramen. In this recipe, I top the ramen with chashu pork belly, menma (bamboo shoots), narutomaki (fish cake), scallion, shiraga negi (Japanese long green onion), nori, and a soft-boiled egg. It may read like a long list of toppings, but you can definitely decide what you'd like to add to your ramen. Shiitake mushrooms are a great stand-in for chashu. Feel free to keep it as simple or complex as you like, although I do think that a soft-boiled egg is almost compulsory. You can make soy-marinated ramen egg. 
The workflow of assembling the ramen is to gather all your toppings first. Follow by cooking the soup broth and then the noodles. Make sure you cook the noodles just al dente because the hot broth will continue to cook the noodles. Soggy noodles in ramen are a no-no. When the bowl is ready, serve, and slurp! Swirl in a little bit of la-yu (Japanese chili oil) if you like an extra kick of spice. Enjoy!
Other Delicious Ramen Recipes on Just One Cookbook
Also, check out Japanese Ramen Guide for Beginners!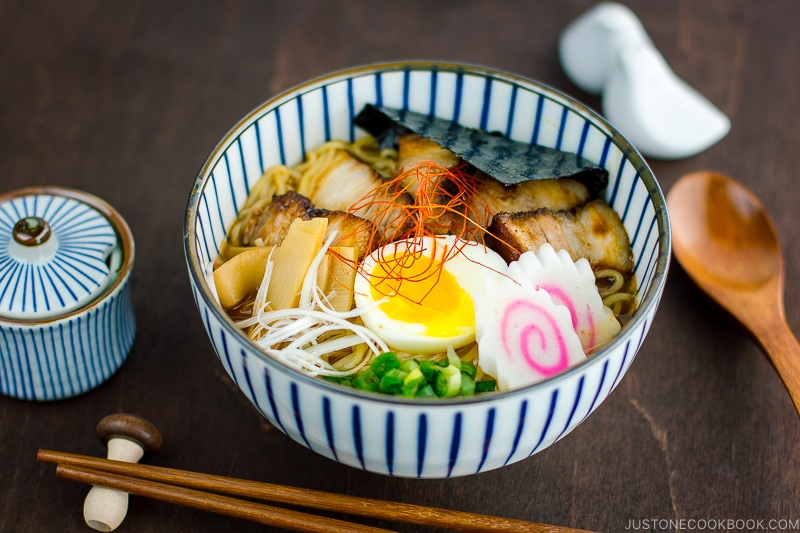 Wish to learn more about Japanese cooking? Sign up for our free newsletter to receive cooking tips & recipe updates! And stay in touch with me on Facebook, Pinterest, YouTube, and Instagram.
Spicy Shoyu Ramen
My Spicy Shoyu Ramen recipe is easy to make at home. Topped with soft-boiled egg, fish cake, nori seaweed, and fall-apart tender chashu pork belly, this delicious bowl of spicy delight will surely satisfy your ramen craving!
Japanese Ingredient Substitution:
If you want substitutes for Japanese condiments and ingredients, click
here
.
Instructions
To Prepare the Toppings
Prepare the ramen toppings ahead of time so you can serve the piping hot ramen soup immediately. I usually top my ramen with Chashu pork belly, Ramen Egg, blanched bean sprouts (or Spicy Bean Sprouts), corn kernels, Shiraga Negi (julienned long green onions), chopped green onion, and a sheet of nori seaweed. Prepare red pickled ginger in a small dish, white pepper powder, la-yu (chili oil), and Korean chili threads (optional) on the table.
To Prepare the Soup Broth
Preheat a large pot over medium heat. When hot, add the sesame oil. Then, add the garlic and ginger and sauté until fragrant.

Add the doubanjiang (spicy chili bean paste) and stir for 15 seconds.

Add the rest of the soup ingredients (the chicken stock, dashi, soy sauce, sake, salt, and sugar) and bring it to a boil. Once boiling, reduce the heat and simmer for a few minutes.

Check the flavor. It should be a little salty. This next step is optional, but if you prefer clear soup, you can strain the soup through a cheesecloth and put the soup back into the pot.

Keep the soup covered and simmering (not boiling) until you are ready to serve.
To Cook the Noodles
Bring a large pot of water to a boil (ramen noodles already include salt in the dough, so you do not need to salt the cooking water). When the water is boiling, ladle some of the hot water into the serving bowls to warm them up (and drain before adding the cooked noodles).

Loosen up the fresh noodles before putting them into the boiling water. Cook the noodles according to the package instructions. My personal recommendation is to reduce the cooking time by 30-60 seconds from the package instructions as the noodles will continue to cook once in the hot soup broth. When the noodles are done cooking, drain them completely.
To Serve
Divide the noodles into the serving bowls. Pour about 1½ cups of the soup into each bowl and place your toppings onto the ramen. Serve immediately.
To Store
You can keep the leftover soup and toppings separately in airtight containers and store in the refrigerator for up to 3 days. Cook the noodles right before serving.
Notes
Recipe by Namiko Chen of Just One Cookbook. All images and content on this site are copyright protected. Please do not use my images without my permission. If you'd like to share this recipe on your site, please re-write the recipe in your own words and link to this post as the original source. Thank you.
Nutrition
Calories:
404
kcal
·
Carbohydrates:
37
g
·
Protein:
15
g
·
Fat:
24
g
·
Saturated Fat:
8
g
·
Polyunsaturated Fat:
2
g
·
Monounsaturated Fat:
3
g
·
Trans Fat:
1
g
·
Cholesterol:
141
mg
·
Sodium:
1522
mg
·
Potassium:
236
mg
·
Fiber:
2
g
·
Sugar:
5
g
·
Vitamin A:
314
IU
·
Vitamin C:
8
mg
·
Calcium:
92
mg
·
Iron:
3
mg
©JustOneCookbook.com Content and photographs are copyright protected. Sharing of this recipe is both encouraged and appreciated. Copying and/or pasting full recipes to any website or social media is strictly prohibited. Please view my photo use policy
here
.
Editor's Note: The post was originally published on Nov 28, 2011. The content and photos have been updated in July 2017.