Wavy or straight, thin or thick, golden yellow ramen noodles are the most popular and recognizable Japanese noodles.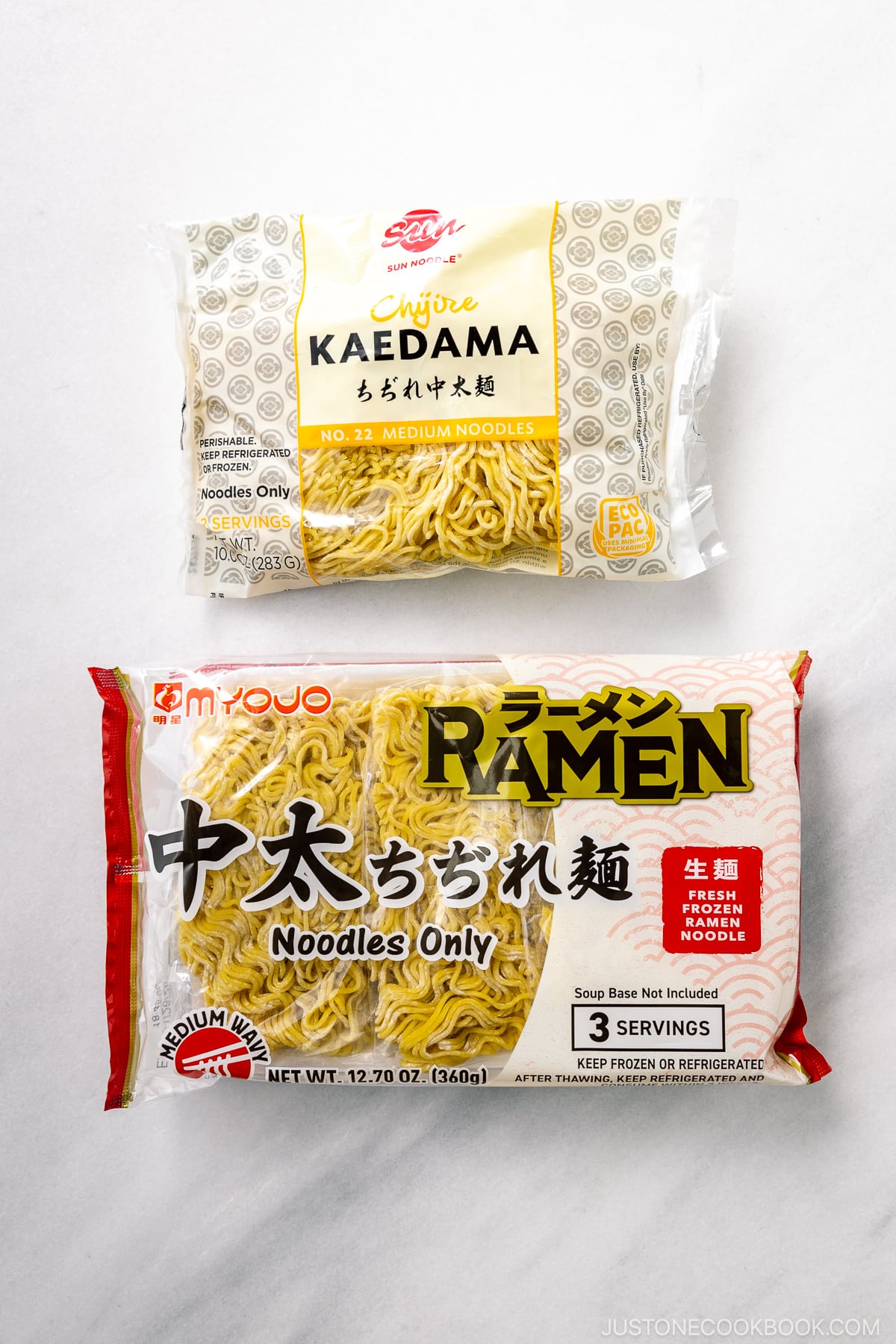 An adaptation of the Chinese wheat noodles, Japanese ramen noodles are embraced worldwide. These noodles come in various forms, shapes, and lengths but consist of just four ingredients: wheat flour, salt, water, and an alkaline agent (kansui かん水). Whether served in a hot soup, chilled with a light sauce, or stir-fried, people love ramen for its heartiness, versatility, convenience, and rich flavors.
Although instant noodles and lining up at famous ramen shops get all the craze, you can build a good bowl of ramen at home with dried or fresh noodles. It's the ultimate comfort food any time of the year.
🍜 For more on ramen, check out our Japanese Ramen Guide.
What Are Ramen Noodles
Ramen noodles are long wheat-based noodles. The bright yellow color is due to the alkaline solution, a vital ingredient that's an essential ingredient for chewy noodles. It's available dried or fresh with straight or wavy noodles. Cup ramen and packet noodles may conjure images of college-budget meals, but there's so much beyond cheap instant ramen noodles.
For the Japanese, ramen can be a quick meal at home or in any local ramen shop. Most ramen bowls are under USD$10, although there have been many creative endeavors with the humble dish in Japan and abroad.
While oily-rich ramen such as tonkotsu (とんこつ, pork bone broth) and toripaitan (鶏白湯, creamy chicken ramen) get a lot of buzz, not all ramen dishes are high in sodium, calories, and fat. There are simple broths like soy sauce and salt, which are much simpler yet delicious.
Varieties Of Ramen Noodles
There's a huge variety of ramen noodles, some imported from Japan and others made in the U.S. (and elsewhere). Yakisoba, sara udon, and hiyashi chuka noodles are also ramen noodles, as they're made with the same ingredients. These noodle recipes are just prepared differently.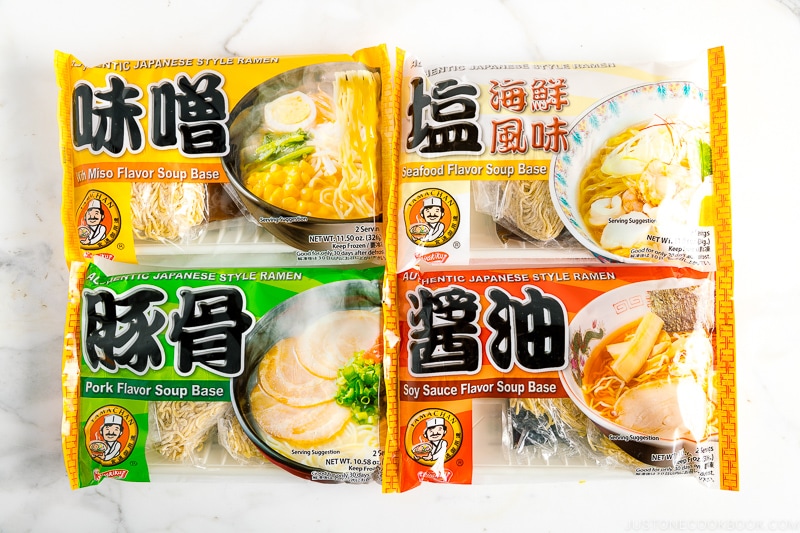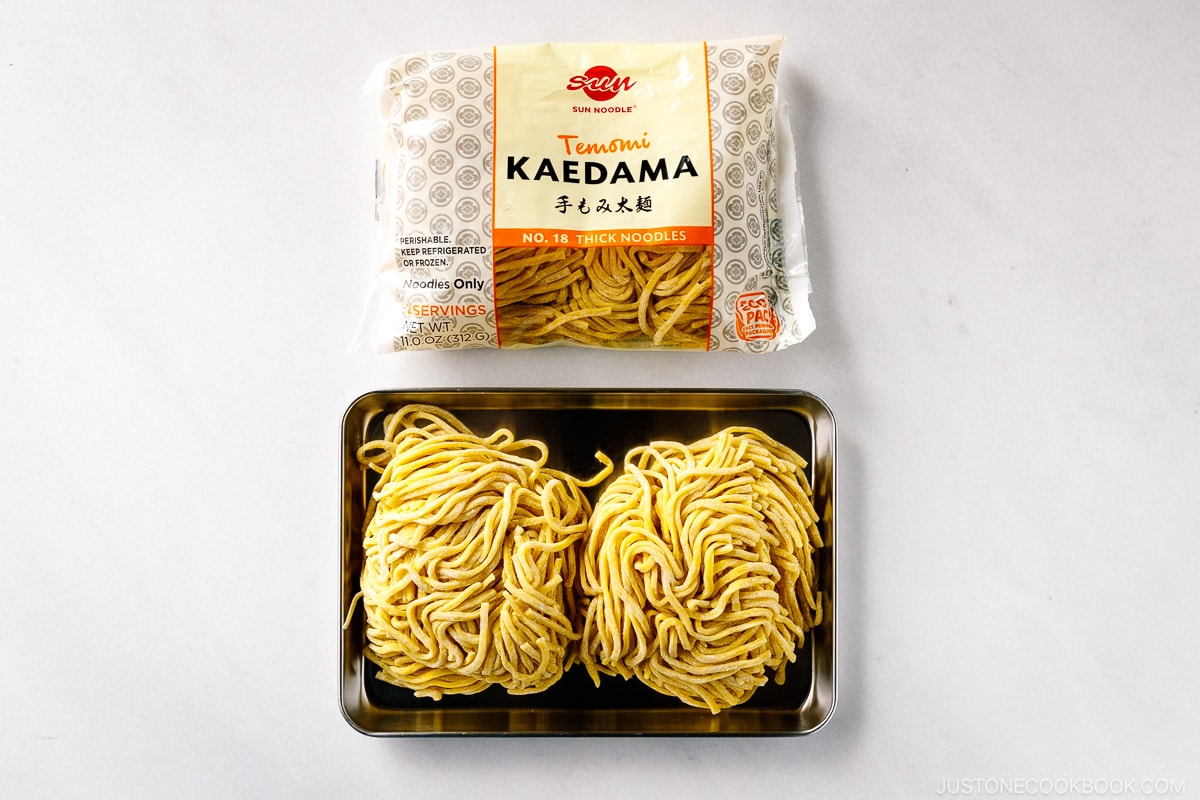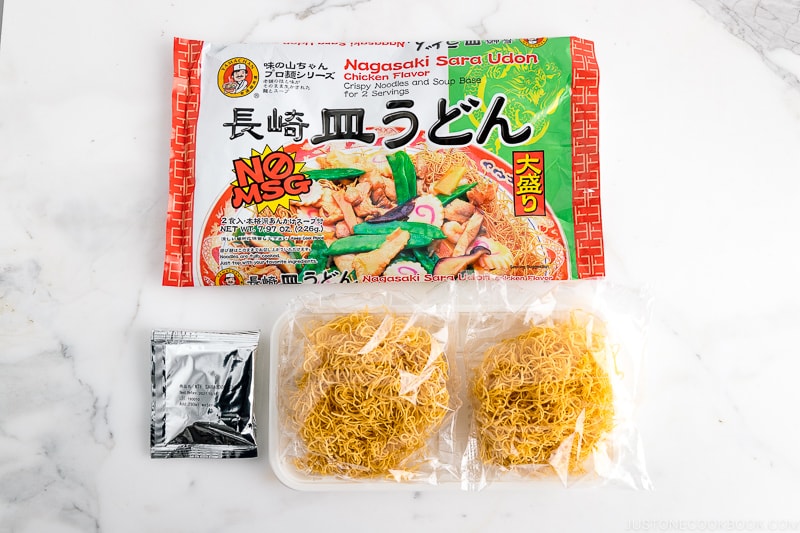 What Does It Taste Like
Ramen noodles have a distinct chewy, springy, slippery, and firm texture, unlike other Japanese noodles like udon, somen, or soba. It's also yellow, without the presence of egg or food coloring.
This is due to kansui (かん水), an alkaline solution. Adding kansui to the wheat flour dough inhibits gluten development and reduces acidity. This adds elasticity to the noodles, giving them the characteristic "bite" and the pale yellow color.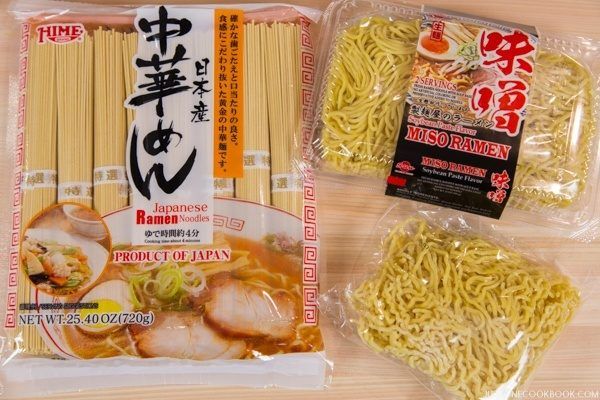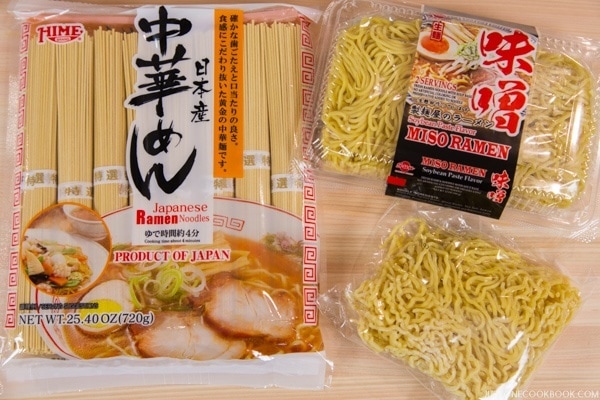 How To Use
From straight or wavy, thin or thick, wavy or straight, fresh or dried, there's a vast range of noodle variety. It's ultimately up to your personal preference. What's in common is that these noodles need a few minutes in boiling water to reconstitute.
It's worth noting that some noodles come with a seasoning packet, and some do not. Rest assured, even with the convenient ramen noodle soup packets, you can quickly whip up a tasty bowl at home like miso, tsukemen, spicy shoyu, vegetarian soy milk, and tan men. Don't forget the toppings like chashu, ramen eggs, menma, and veggies! Add soft-boiled eggs, minced garlic or ginger, green onions, sesame oil, or sesame seeds to level up your homemade ramen.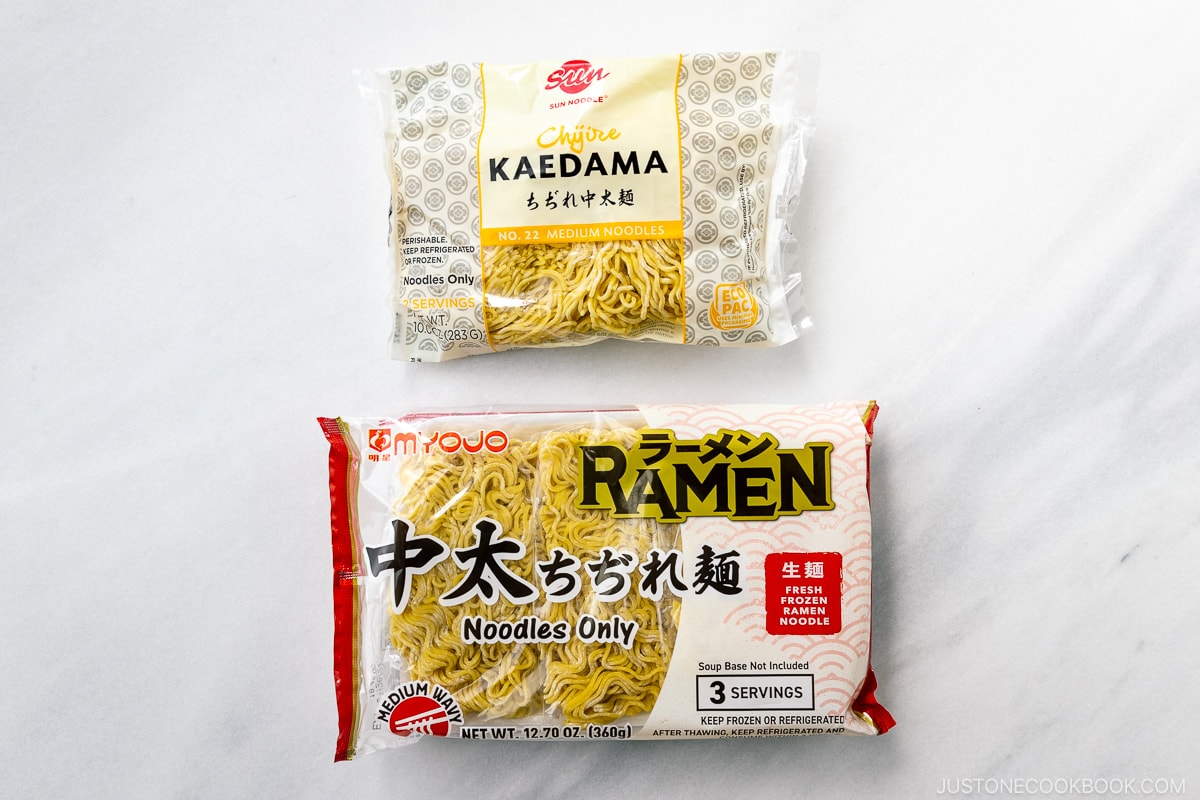 Where To Buy
One of the best fresh ramen noodles in the U.S. is Sun Noodles. Sun Noodle started in Hawaii, and now they have two factories in LA and New Jersey. You can find fresh noodles in the refrigerator section at Japanese grocery stores or some Asian grocery stores. Some of the packages come with prepared seasonings, just like instant ramen.
If you can't find it fresh, look for dried noodles. HIME Dried Ramen is the brand that I enjoy. The noodles are straight and sold packaged in bundles. You can find HIME Japanese Ramen Noodles on Amazon.
For gluten-free, try these GF Ramen Noodles.
How To Store
Keep dried noodles in a cool, dark place with low humidity, like a pantry. It keeps almost indefinitely if properly stored.
Store fresh noodles in the refrigerator and close the packs tightly to prevent the noodles from drying out. Fresh noodles freeze well, so freeze them in the original packaging or separate them into smaller bags. To use, thaw overnight in the refrigerator. Fresh noodles have a much shorter expiration date, around two to three weeks.
FAQs
Q: Can I make ramen noodles at home?
Yes, you can make ramen noodles from scratch! Check out Homemade Ramen Noodles Recipe on Serious Eats.
Q: Can I make tonkotsu ramen at home?
You can make tonkotsu ramen at home, but the porky-creamy broth is not a simple project. It's a laborious multi-step process that the Japanese outsource to ramen shops. But if you're curious, here's J. Kenji López-Alt's Tonkotsu Ramen recipe on Serious Eats.
Q: How much ramen noodles per serving?
Use roughly 5 to 6 oz (142 to 170 g) of fresh noodles per person. For dried noodles, I suggest one to two bundles per person.
---
Wish to learn more about Japanese cooking? Sign up for our free newsletter to receive cooking tips & recipe updates! And stay in touch with me on Facebook, Pinterest, YouTube, and Instagram.