Udon noodles are thick Japanese noodles, consisting of wheat flour, water, and salt. They are eaten hot and cold, in soups or with a simple garnish, and enjoyed year-round.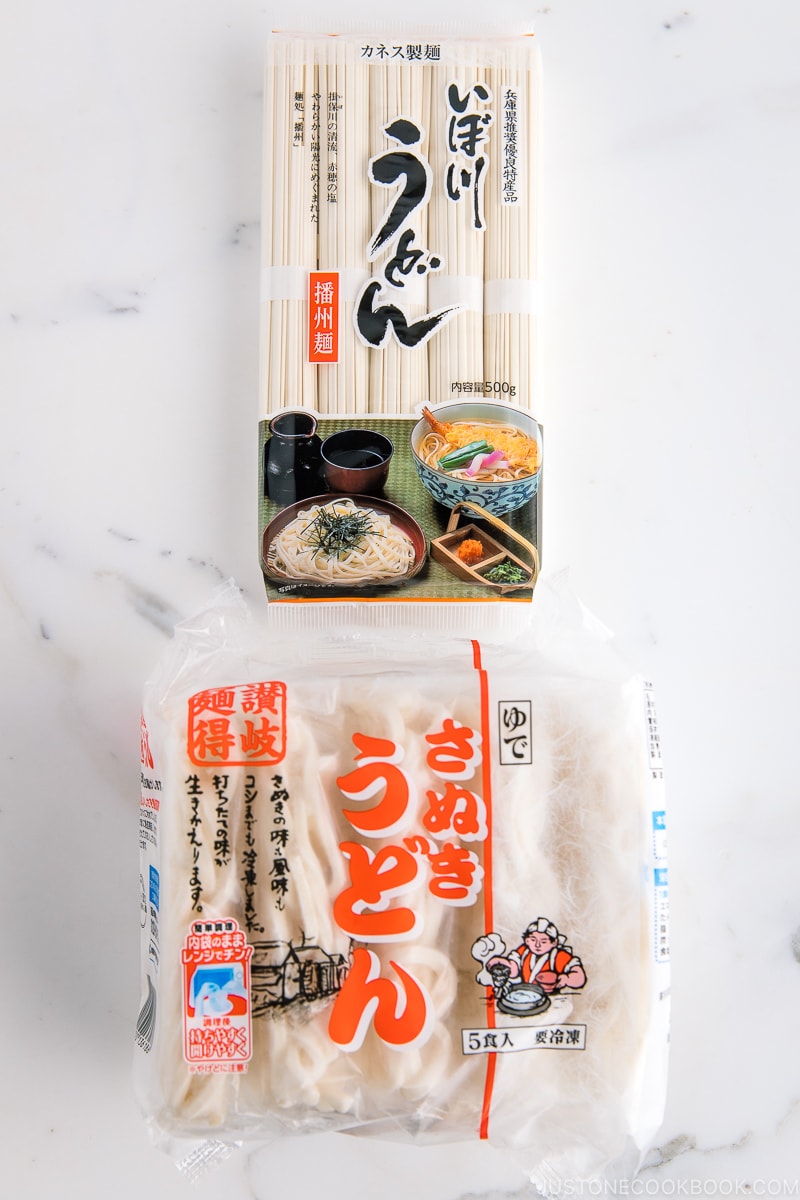 Udon (うどん) is a thick noodle made with three ingredients: wheat flour, water, and salt. Recognized for its chewy texture and white appearance, udon is served in a hot broth as a noodle soup, in a thick curry sauce, pan-fried with protein, or enjoyed cold with a dipping sauce. 
It is one of the most popular styles of Japanese noodles, along with soba, ramen, and somen.
What Is Udon
Udon is a wheat-based noodle. Although it is thicker than other Japanese noodles, it is gentle on the stomach and goes down the throat smoothly, an attribute the Japanese call nodogoshi ga ii (喉越しが良い). High-quality udon should be smooth yet has a bouncy and elastic character. 
Because of its mild flavor and ability to complement other flavors, you can enjoy udon countless ways. Be it a simple broth, light dressing, Japanese curry, stir-fried, or western-style gravy, it is delicious no matter how you prepare it.
What Does It Taste Like
It has a mild flavor with a springy, doughy texture. Depending on the style, some are thin and flat, and others are thicker with a chewier texture.
Regional Styles
In addition to the typical udon you're familiar with, there are regional styles, ranging from preparation, thickness, shape, and soup base. Here are two of the many regional types.
Sanuki Udon (讃岐うどん)
Known as the Capital of Udon, Kagawa prefecture is most famous for its Sanuki udon (讃岐 is the feudal name of present-day Kawaga). The handmade noodles are made with high-quality wheat and are prepared in the same method passed down for generations. 
Described for having koshi (コシ), or a good bite, people from all over Japan visit Kagawa for their famed sanuki udon. In Kagawa, over 900 udon shops offer myriad udon to compete for your appetite. If you get a chance, it is worth paying for a pilgrimage to this udon prefecture. 
Inaniwa Udon (稲庭うどん)
These thin and flat noodles hailing from Akita prefecture are udon noodles. While not as light as somen noodles, the noodles cook quickly and are soft and chewy when cooked.
Ise Udon (伊勢うどん)
Thought all udon was chewy and bouncy? Well, not Ise Udon, these extra thick and extra soft noodles. The noodles are cooked until very soft, seasoned with tamari (a regional soy sauce), a dashi base of katsuobushi and iriko, and garnished with chopped green onion. It became a popular dish served to tourists visiting Ise Shrine, Japan's most sacred Shinto shrine.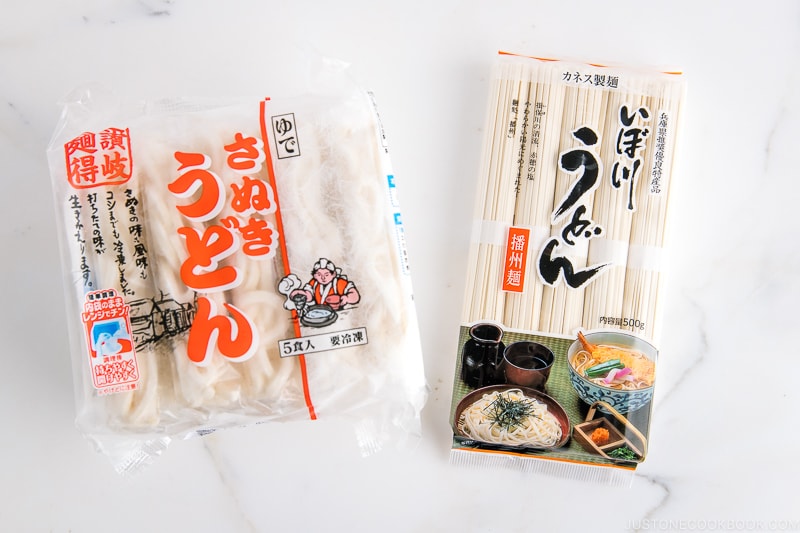 Origin of Udon
Like soba, udon came to Japan from China around the Nara period (710-794). Records show that it was first made in the shape of a slightly flattened rice cake, like a dumpling. It was a high-class food enjoyed reserved to the upper class.
Only later in the Edo period (1603-1867) was the elongated shape invented and enjoyed by everyone.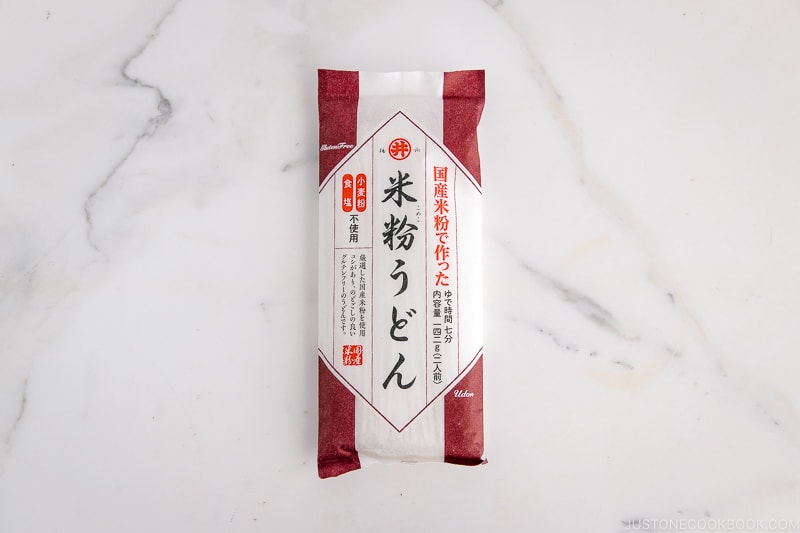 The Differences Between Udon Noodles and Soba Noodles
The main difference between the two is the ingredients. Udon is wheat-based, and soba is made from buckwheat flour or a combination of buckwheat and wheat flour. Therefore, they taste and look different.
The Japanese eat both noodles in similar styles, from hot soups to stir-fries to cold dishes.
🍜 Read What is the Difference Between Soba and Udon Noodles to learn more.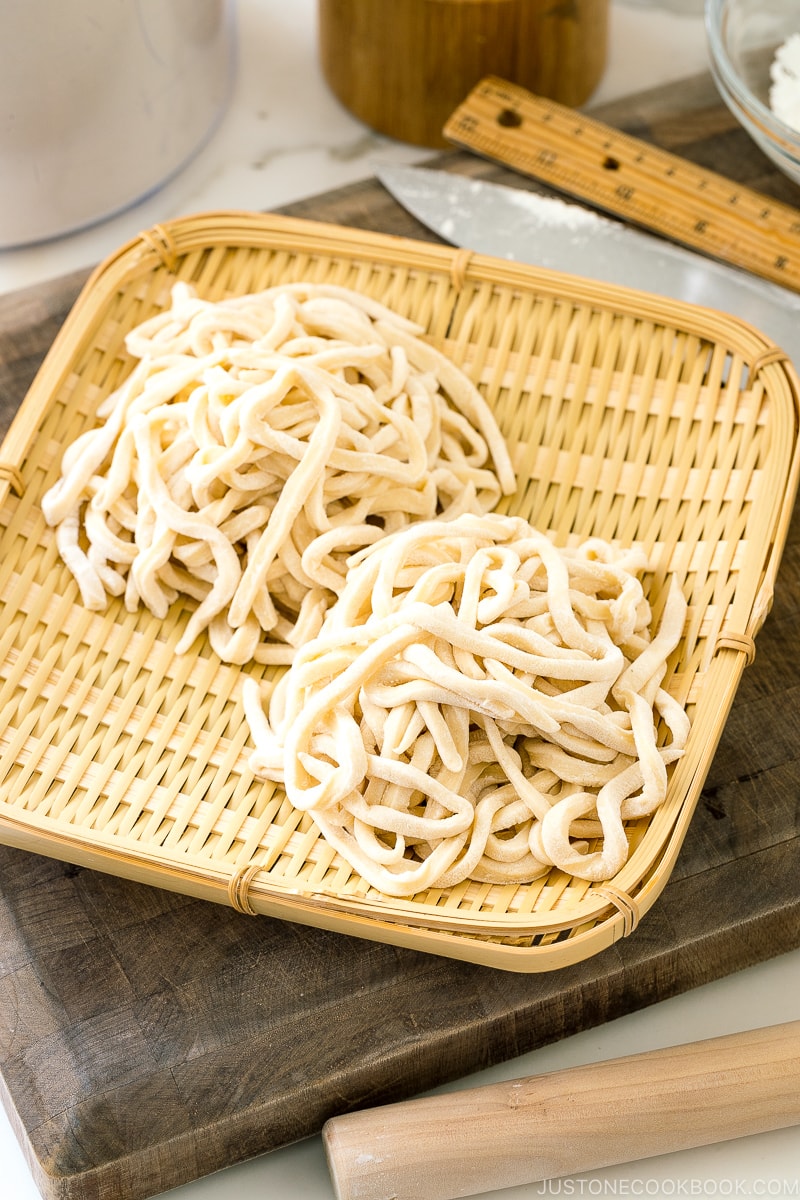 How to Cook Udon Noodles
Frozen udon only needs a minute or two to cook. Follow the package and add the noodles to a large pot of boiling water. Once it's done, drain well.
Dried noodles take much longer, up to 10 minutes. Make sure not to overcook it if you plan to stir fry or add it to soups.
Unlike soba or somen, udon holds well in stir-fries. You can load up with vegetables, tofu, chicken, or seafood.
Recipes Using Udon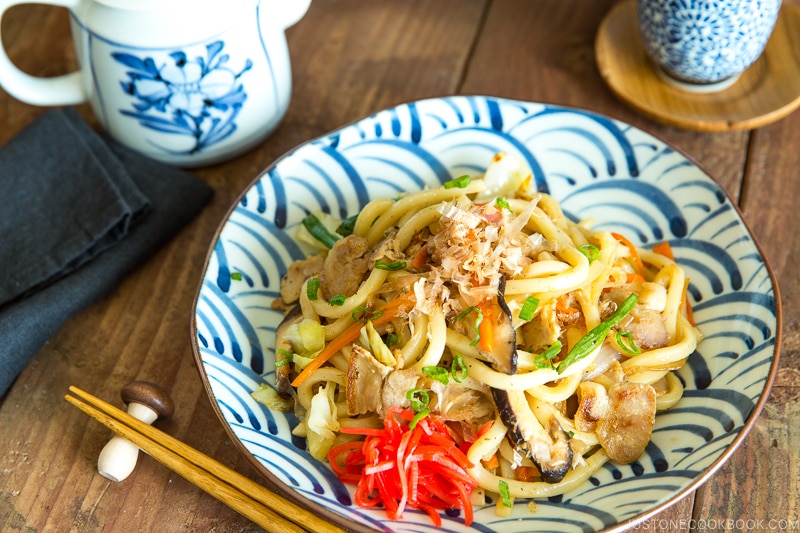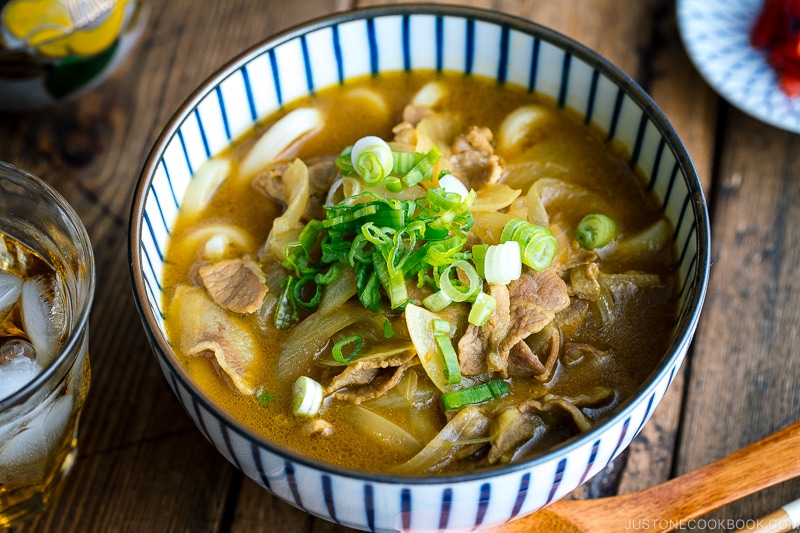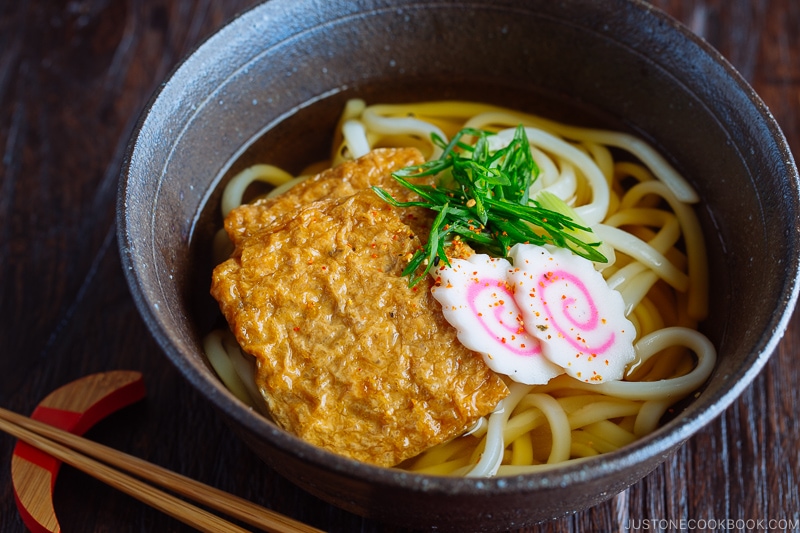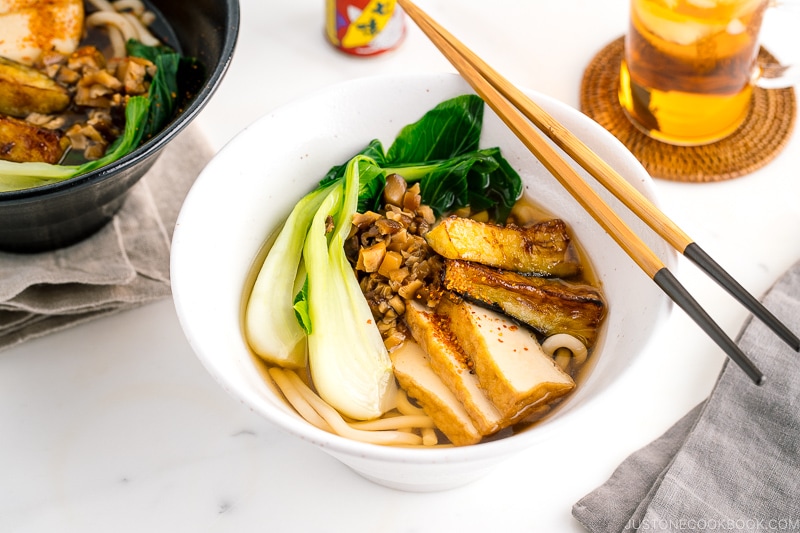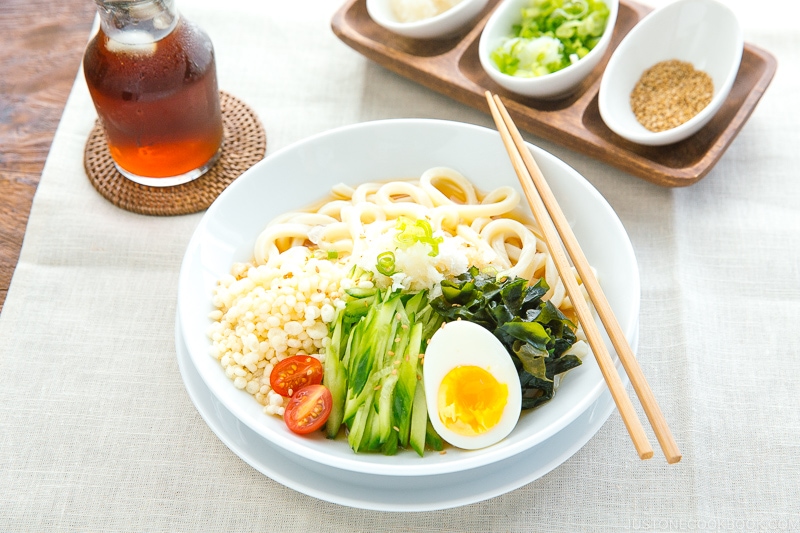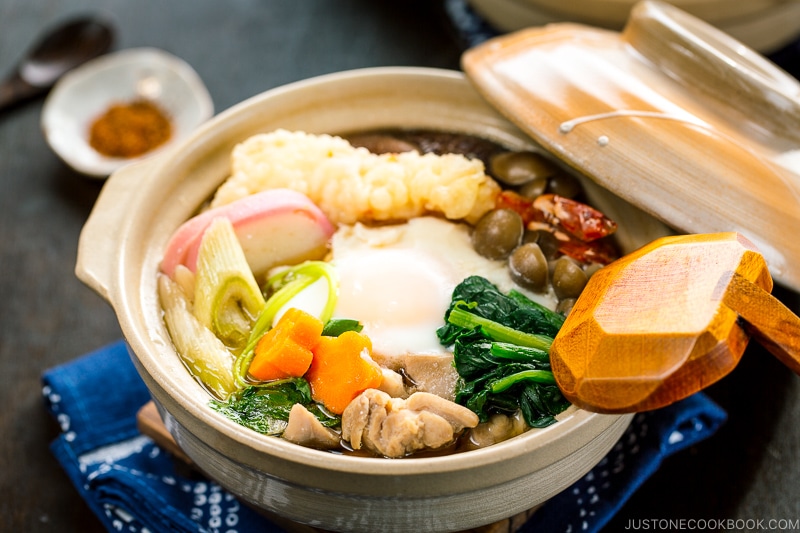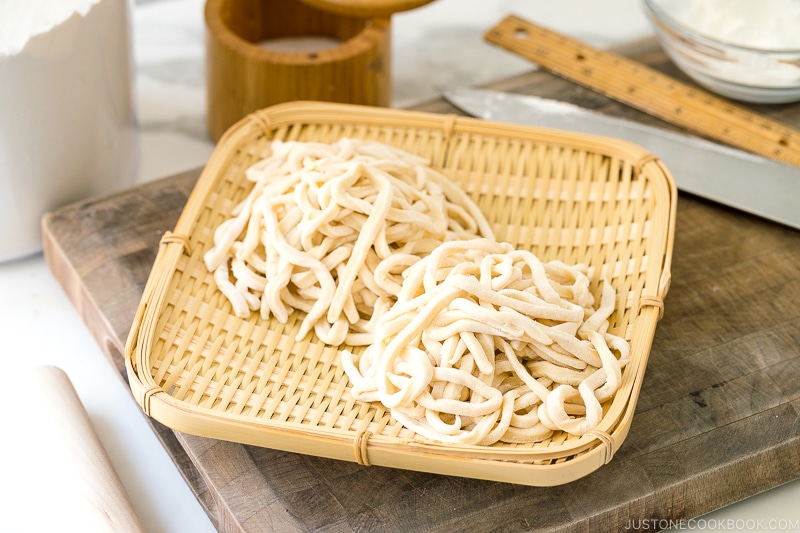 Where To Buy
Udon noodles are sold dried, fresh, or frozen at Japanese and Asian grocery stores and the Asian section of major American grocery stores. While dried noodles are convenient, fresh udon noodles have the best texture.
You can also make homemade udon! All you need is all-purpose flour, salt, and water. As the dough is extremely hard, you knead it with your feet! While you're at it, make the soup base by briefly boiling sake, mirin, soy sauce, and dashi.
---
Wish to learn more about Japanese cooking? Sign up for our free newsletter to receive cooking tips & recipe updates! And stay in touch with me on Facebook, Pinterest, YouTube, and Instagram.