Tamari is derived from soybeans and wheat and has a smoother and less salty flavor than regular soy sauce. It's a regional soy sauce from central Japan.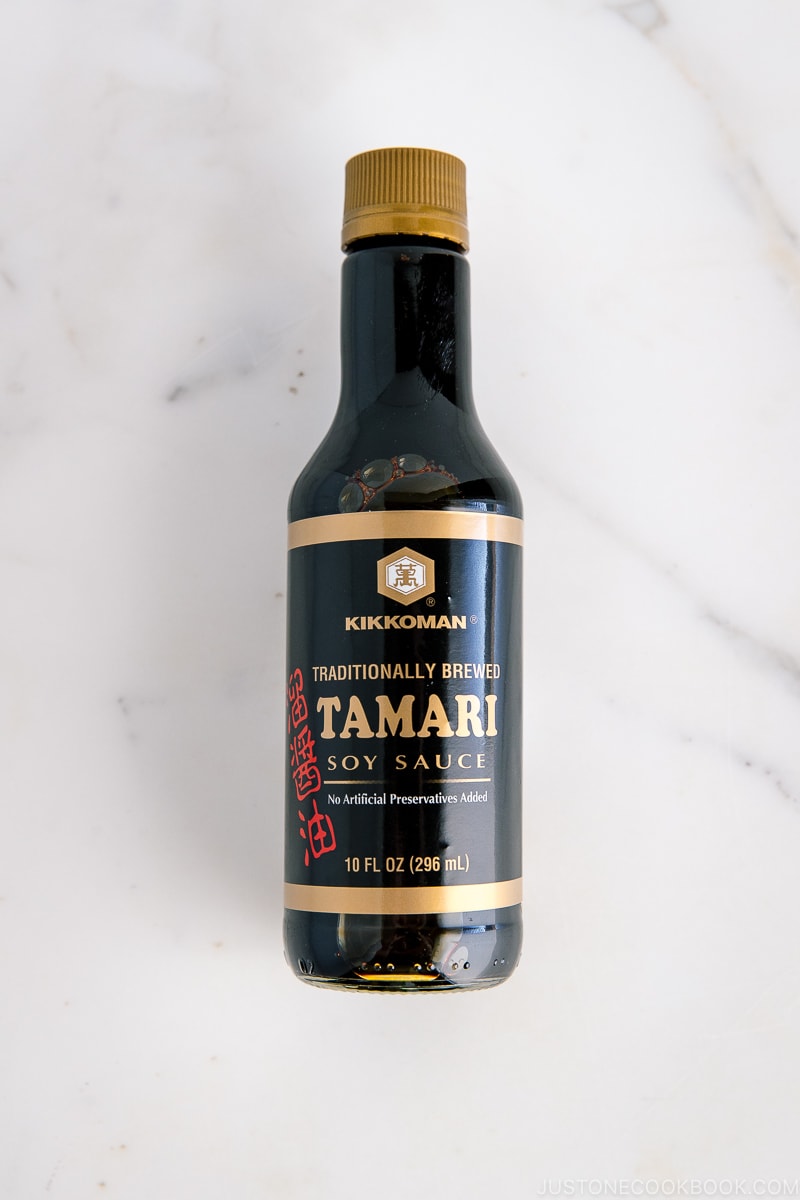 Tamari shoyu is a type of Japanese soy sauce produced and used in the Chubu (central) region of Japan (Nagoya area). It is rich in protein and contains little or no wheat. Tamari is thicker, richer, and darker than soy sauce and has a mellow flavor. The Japanese use it for dipping, seasoning, and marinades.
What Is Tamari
Tamari is a type of soy sauce formed as a byproduct of miso paste. During miso making, a liquid accumulates around the paste, hence tamari (溜まり) "to pool." The ingredient list is simple: just soybeans, salt, and water.
It's a distinctly flavorful ingredient that's more than just a gluten-free alternative to soy sauce.
What Does It Taste Like
It has a complex savory depth with a rich and thicker consistency, less sodium, and more umami than regular soy sauce.
What's The Difference Between Tamari and Regular Soy Sauce
Regular soy sauce contains wheat. It's made by brewing and fermenting steamed soybeans, salt, wheat, and water. The mixture is pressed, filtered, and bottled to make soy sauce.
Tamari is contains just soybeans and salt. It is higher in soy protein with a darker, thicker, and richer flavor than soy sauce. It'll darken your food more than regular soy sauce and it tends to be more expensive.
If you're looking for a gluten-free alternative to soy sauce, tamari may not be the best choice in terms of price. Not all tamari is gluten-free either, so check the label before use.
How To Use
It's often used as a dipping sauce or marinade. You could also substitute tamari for regular soy sauce when eating sushi, sashimi, or drizzle on tofu.
Where To Buy
With the popularity of Japanese cuisine, you can find tamari at conventional supermarkets, Japanese/Asian grocery stores, and health food stores.
How To Store
Store unopened bottles in a cool and dark place.
You can store opened bottles in the refrigerator or your pantry.
Substitutions
While you can use regular soy sauce and tamari interchangeably, tamari has a thicker texture so the final dish may differ.
You could also use coconut aminos or liquid aminos, but I don't recommend this as it has a different flavor profile.
To cook Japanese food with integrity, it's important to use Japanese soy sauce. Soy sauces from other countries are made for their respective cuisines. The taste and uses can differ significantly, which will alter your cooking. If you wish to achieve the best flavors and consistency in Japanese dishes, use Japanese soy sauce.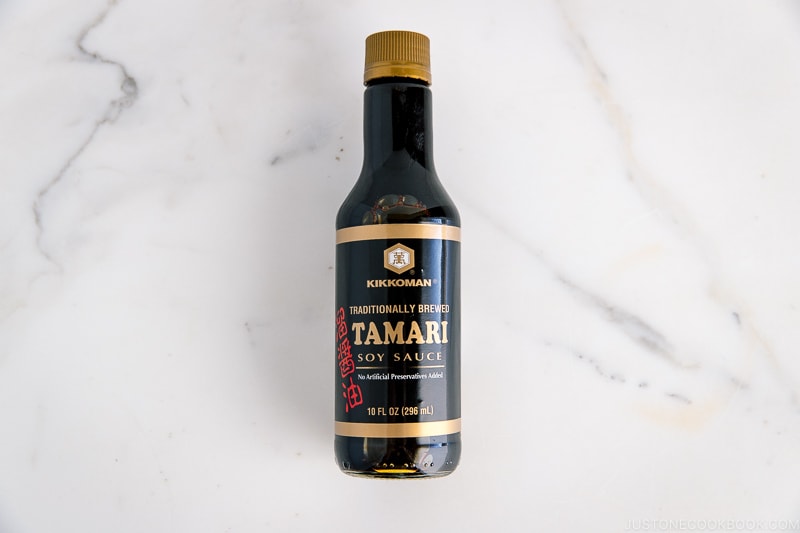 Health Benefits
Tamari is high in protein, about two grams per tablespoon. Like regular soy sauce, it is a good source of antioxidants, protein, vitamin K, and isoflavones. It also contains little to no additives. It's still high in sodium, so use it in moderation.
FAQs
Q: Are there different varieties of tamari soy sauce?
There are no varieties of tamari soy sauce, like a like or dark variety similar to soy sauce.
Q: Does tamari soy sauce contain MSG?
Tamari does not contain MSG or other additives. Most traditionally brewed soy sauce does not contain MSG either.
---
Wish to learn more about Japanese cooking? Sign up for our free newsletter to receive cooking tips & recipe updates! And stay in touch with me on Facebook, Pinterest, YouTube, and Instagram.