Print Recipe
Jump To Recipe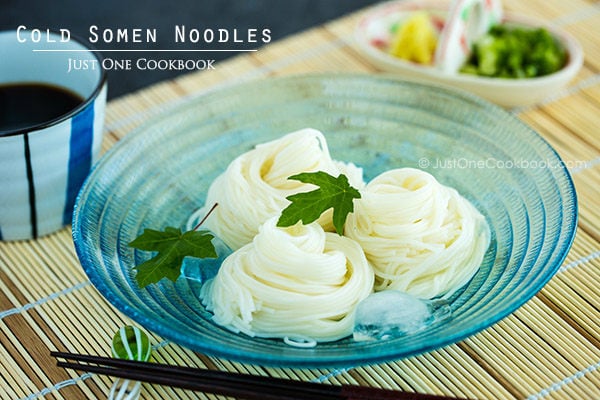 When the weather is so hot and you lose your appetite, what do you usually end up eating?  Growing up in Asia, summers were brutally hot.  For me, my favorite go-to dishes on these hot summer days are Japanese cold noodles dishes such as somen and soba.  As you slurp Cold Somen Noodles dipped in tsuyu, you feel your body starting to cool in the summer heat.
Sōmen (素麺,そうめん) are white Japanese noodles made of wheat flour and they are very thin, about 1 mm in diameter.  The dough is stretched with the help of vegetable oil to make very thin strips and then air dried (which is why you need rinse somen noodles after boiling).  Read more about the somen making process here.
Somen are usually served cold with a dipping sauce called Tsuyu (つゆ).  The dipping sauce is same Japanese dashi-based broth used in hot soup, but more concentrated in flavor.  The sauce is flavored with scallions and ginger.  You can also add shiso leaf or myoga if you can find them at Japanese grocery stores.  Along with somen noodles and dipping sauce, you can also serve additional ingredients such as shredded egg crepes (see How to Make Kinshi Tamago) and julienned cucumbers and ham.
Jin, my friend from middle school, sent me these packages of somen noodles from Shodo Island where he currently lives.  The pink somen noodles are made of Ume (梅), Japanese plum.  Tenobe (手延) Somen from Shodo Island has made the region famous as one of Japan's top three producers of somen noodles.  These somen noodles are hard to get oversea, but my favorite Ibonoito brand is available in Japanese grocery stores and I highly recommend this brand.
Enjoy and stay cool!
* We usually decorate the noodles with Japanese maple leaves, but I couldn't find them so I use maple leaves instead. 🙂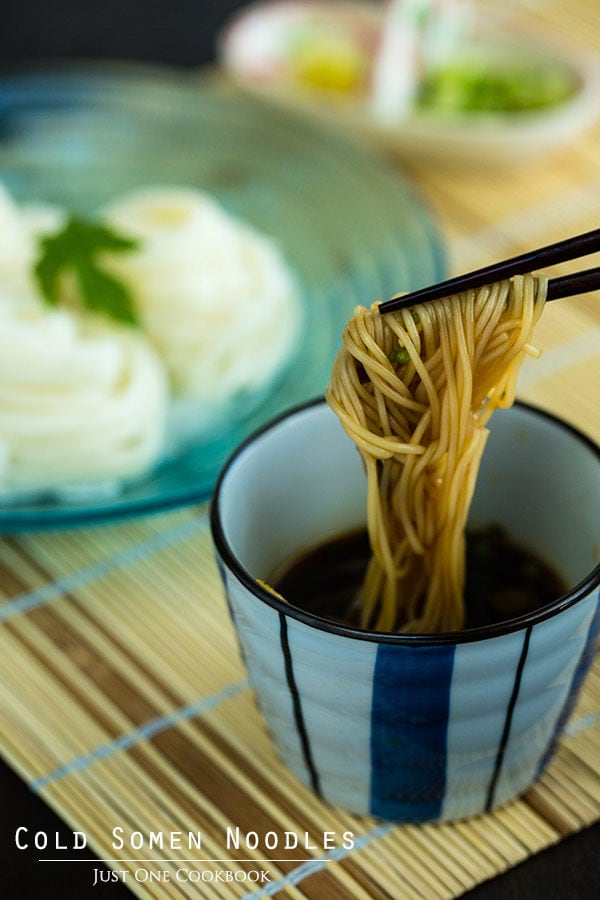 Don't want to miss a recipe? Sign up for the FREE Just One Cookbook newsletter delivered to your inbox! And stay in touch on Facebook, Google+, Pinterest, and Instagram for all the latest updates. Thank you so much for reading, and till next time!
Somen
Instructions
[Optional] Traditional Japanese restaurants tie up the noodles to enhance the appearance of the somen and this is how you do it. Tie the edge of somen noodles with cooking twine. This way noodles will stay in one direction while cooking. I normally skip this step for home use.


Boil water in a large pot. When boiling, remove the wrapper.


Add the somen noodles in the boiling water, stirring noodles with chopsticks so they don't stick to each other. Cook according to the package instructions. If necessary, add a little bit of cold water in the pot to prevent overflowing.


Drain somen in a colander and wash the noodles with hands under running water.


Once noodles are cold, find the knotted parts of somen noodles and pick them up. Cut off the edge and discard. Hold each bundle gently and arrange it nicely on a serving plate. Somen can be served with ice to keep cool.


Cut the scallion finely and grate the ginger. Put them in small dishes. Put Mentsuyu in small bowls and add cold (iced) water to dilute. Put small portion of scallion and ginger in the dipping sauce and dip the somen noodles to eat. Enjoy!

Recipe Notes
Mentsuyu (noodle soup base): Homemade recipe, click here.
Recipe by Namiko Chen of Just One Cookbook. All images and content on this site are copyright protected. Please do not use my images without my permission. If you'd like to share this recipe on your site, please re-write the recipe in your own words and link to this post as the original source. Thank you.