Kinshi Tamago (錦糸卵) is Japanese shredded egg crepe garnish made from a paper-thin omelette called Usuyaki Tamago (薄焼き卵). Use it to add color and extra protein to Chirashi Sushi, Hiyashi Chuka, Somen, and Unagi Donburi. It's easy to make and can be frozen for up to 4 weeks!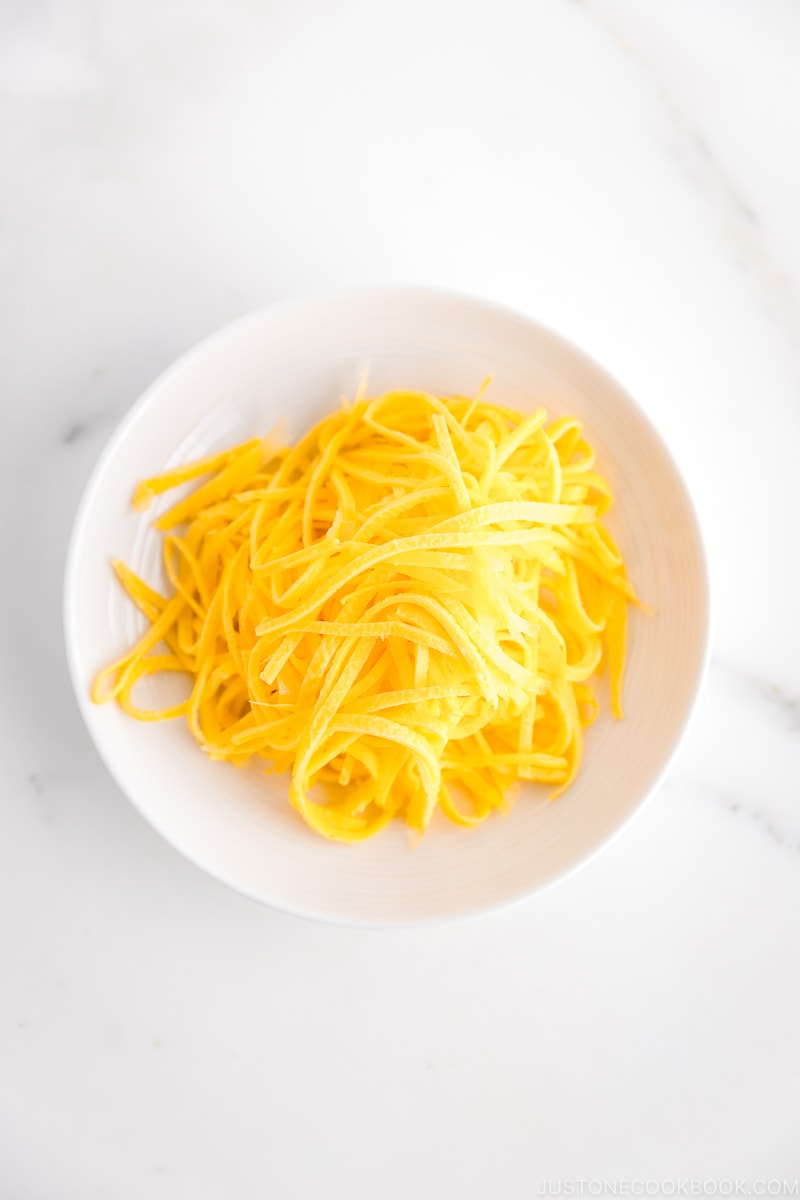 Many Japanese home meals are centered on eggs. We love our ramen eggs (eggs marinated in soy sauce mixture), tamagoyaki (omelette grilled in a special pan), onsen tamago (poached eggs in hot spring temperature), egg tofu, and more.
Here's another amazing thing to do with eggs: use as a brilliant garnish to bring life and vibrancy to a dish. Like these golden ribbons of egg crepe called Kinshi Tamago (錦糸卵)!
In this post, you will learn two Japanese preparations of eggs – Kinshi Tamago (錦糸卵) and Usuyaki Tamago (薄焼き卵).
What is Kinshi Tamago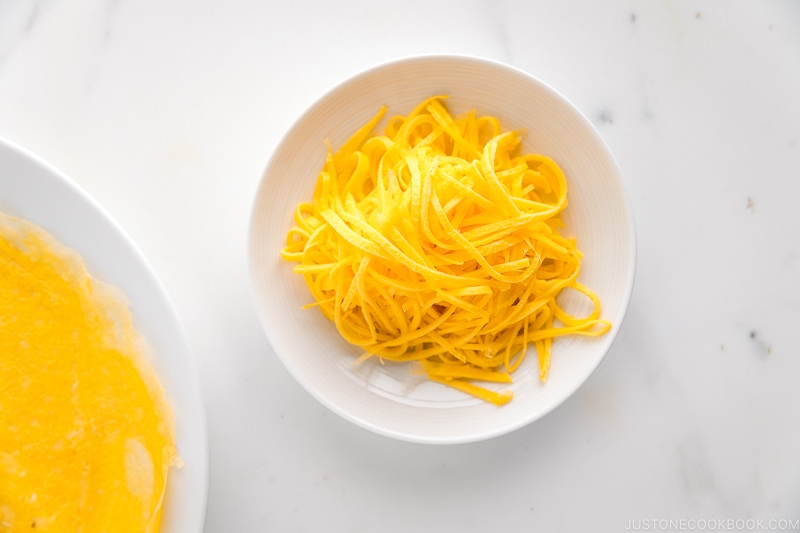 Eggs are called Tamago in Japanese, and Kinshi Tamago (錦糸卵) refers to shredded egg crepe garnish that you may have seen in dishes such as Chirashi Sushi and Hiyashi Chuka.
When added to a dish or a bento box, the bright yellow of these egg ribbons pops and catches your attention. It adds a layer of color and texture, and as a result enhancing the overall presentation of your meal. It's slightly sweet so children often love Kinshi Tamgo in their rice or noodle dishes. Moms (and dads) love it because the eggs add extra protein.
To make Kinshi Tamago, you will first need to make Usuyaki Tamago.
What is Usuyaki Tamago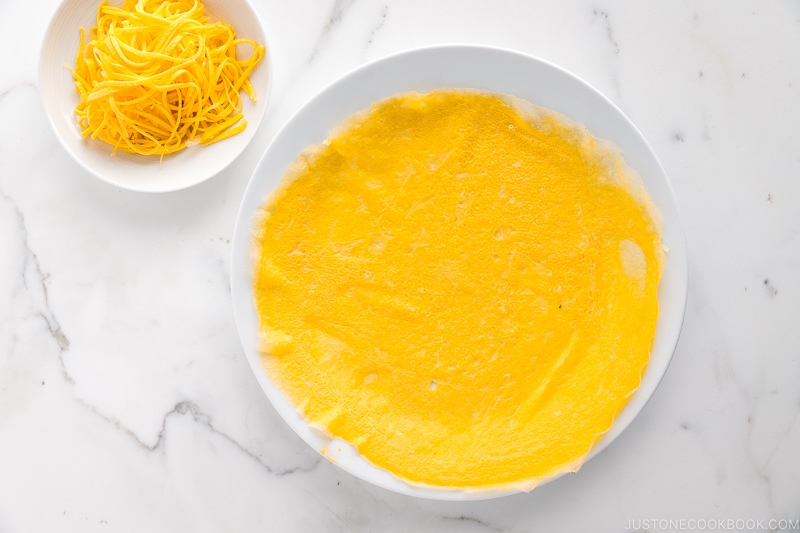 Usuyaki Tamago (薄焼き卵) is basically a paper-thin omelette or egg crepe before it's shredded into thin strips of Kinshi Tamago.
We also use Usuyaki Tamago to wrap sushi rice for Temari Sushi.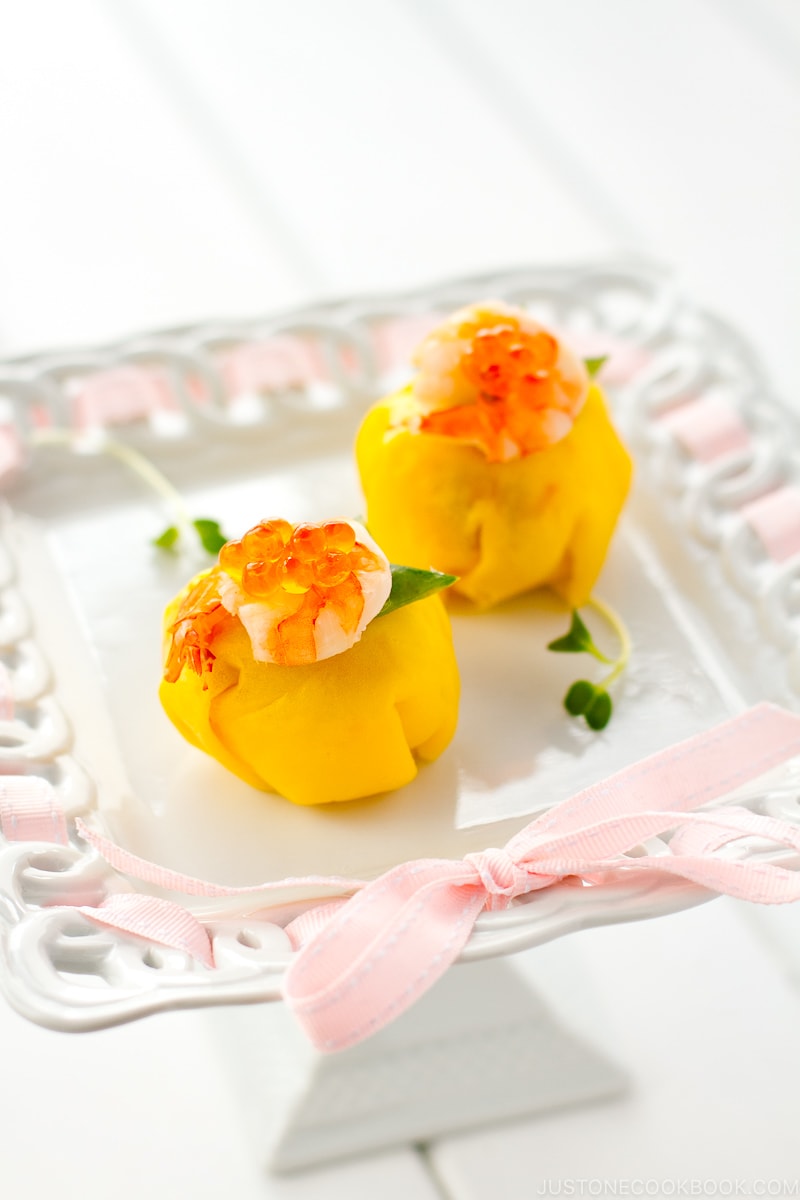 How to Make Kinshi Tamago
Ingredients You'll Need
Eggs
Mirin
Salt
Potato starch (cornstarch) + water
Kinshi Tamago has a gentle sweetness to it. You can either use mirin or sugar to sweeten the egg. I used mirin for its mild sweetness and the liquid yields a slightly thinner texture.
Overview: Cooking Steps
Beat the eggs and strain the mixture through a fine-mesh sieve.
Add the sesaoning and the slurry mixture.
Make egg crepes (See the instructions below for tips).
Let cool then cut into thin julienned strips.
Ready to garnish your dish!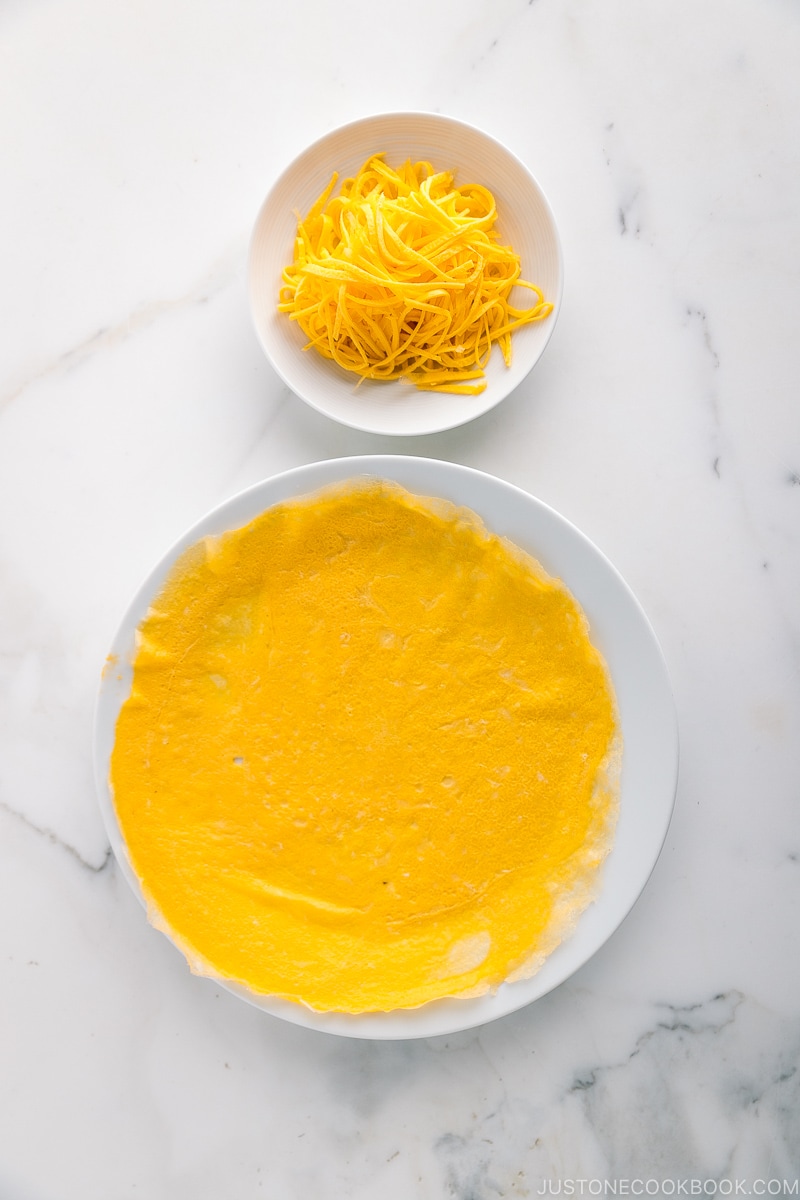 Tips to Make Kinshi Tamago
With chopsticks, beat the eggs vigorously until the egg whites are broken up.
Strain the egg mixture through a fine-mesh sieve to get a smooth texture.
Add potato starch (or cornstarch) to the egg mixture to prevent the egg crepe from breaking easily. Instead of adding it directly to the egg mixture, make a slurry mixture with water first. The liquid form of potato starch is much easier to combine with the egg mixture. Potato starch gives enough elasticity to make a thin crepe.
Cool the frying pan with a wet towel before adding the egg mixture. When you heat a frying pan, it gets hot spots which brown the egg. To make a nice bright yellow egg crepe, you want to avoid hot spots. The wet towel will bring the hot pan to even temperature. Wash the towel between batches to keep it cool.
Swirl the pan to spread the egg mixture quickly and cover the pan with a lid. The lid will keep enough heat to cook the surface of the thin egg mixture.
The shredded egg crepe can be kept frozen for 4 weeks, so you can make ahead, portion it out into small batches, and defrost to use it anytime you need to bring some colors to the otherwise dull-looking or brownish dishes!
Recipes To Use Kinshi Tamago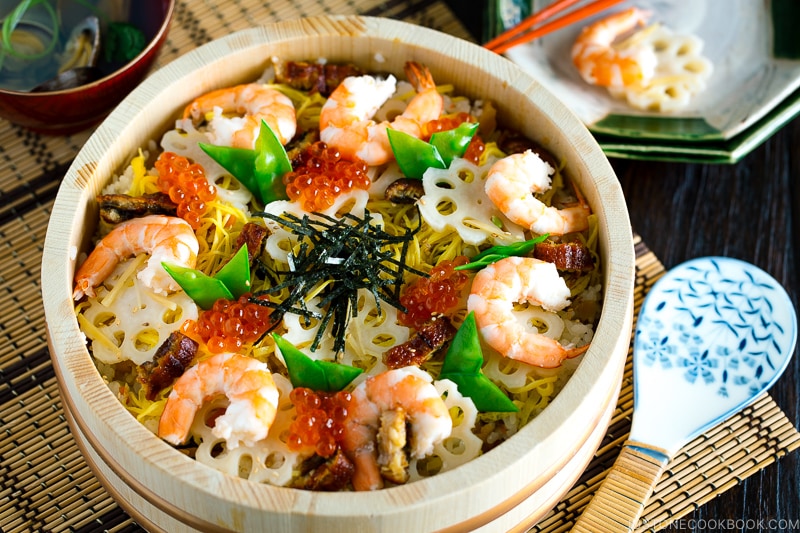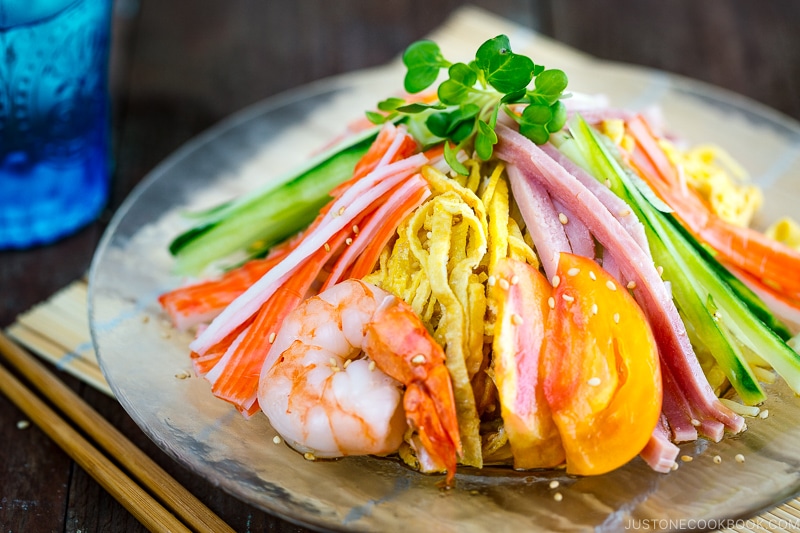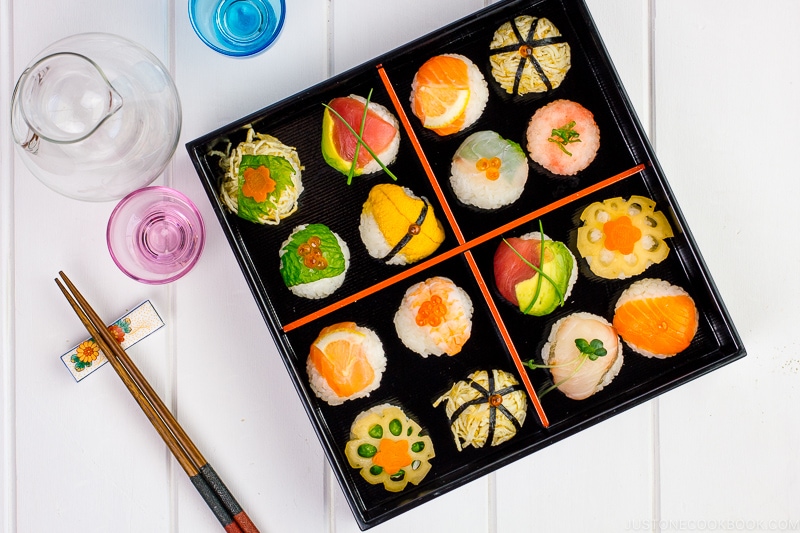 Practice Makes Perfect
It's not hard to make the perfect Usuyaki Tamago but if it's your first time trying, you probably need to practice a few times. The thinness of the crepe is key and you will get the hang of it once you learn the ideal ratio of egg mixture for your frying pan. Have fun making these gorgeous egg crepe and ribbons!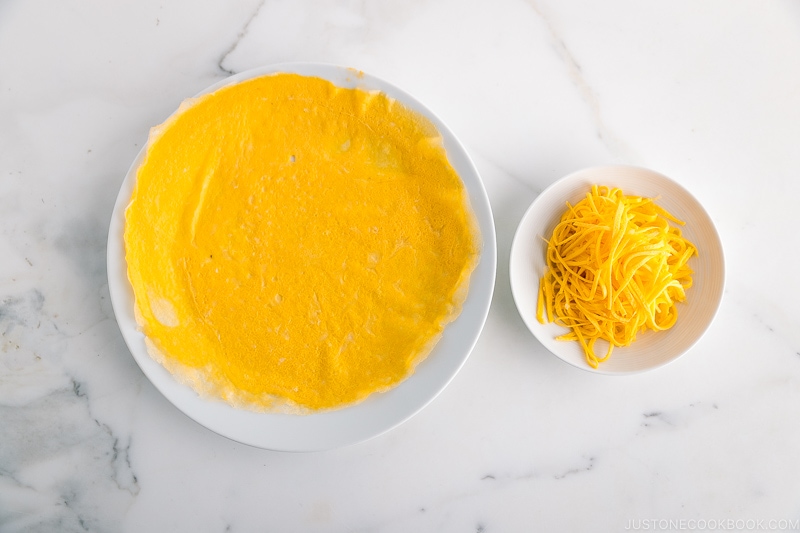 Wish to learn more about Japanese cooking? Sign up for our free newsletter to receive cooking tips & recipe updates! And stay in touch with me on Facebook, Pinterest, YouTube, and Instagram.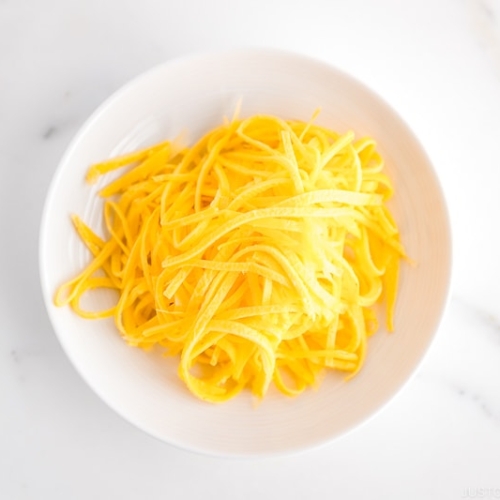 Kinshi Tamago (Shredded Egg Crepe/Omelette)
Kinshi Tamago is Japanese shredded egg crepe garnish made from a paper-thin omelette (Usuyaki Tamago). Use it to add color and protein for Chirashi Sushi, Hiyashi Chuka, Somen, and more!
Servings:
1
(small bowl as shown)
Ingredients
3

large eggs (50 g each w/o shell)

1

Tbsp

mirin

(Sub: 1 Tbsp water + 1 tsp sugar)

1

tsp

potato starch or cornstarch

(this will prevent the eggs from breaking easily)

1

tsp

water

(to mix with potato starch)

2

tsp

neutral oil

(to cook the egg crepe)
Japanese Ingredient Substitution:
If you want substitutes for Japanese condiments and ingredients, click
here
.
Instructions
Gather all the ingredients.
To Make Egg Mixture
In a bowl, crack the eggs and beat them with chopsticks (or a fork).

Strain the egg mixture through a sieve at least one time to get a silky smooth texture.

Add mirin and salt and mix well together.

Mix potato starch and water together until no lumps.

Add the potato starch mixture into the egg mixture and mix together.
To Make Egg Crepe (Usuyaki Tamago)
Heat a non-stick pan on medium heat. Prepare a damp towel and place it on the countertop. When the pan is hot, dip a silicone brush or a small piece of paper towel in vegetable oil and apply a thin layer of oil to the pan. Then transfer the pan to the towel to let cool slightly, about 5-7 seconds.

Put the pan back on the stove (medium heat), and pour a small amount of the egg mixture into the pan and quickly swirl it around by tilting the pan in all directions. You will know how much egg mixture is required to get the perfect thickness by practicing a couple of times.

Then turn off the heat and cover. If your pan is too hot, transfer the pan on top of the wet towel to stop browning the egg. Keep the lid on for 1-2 minutes or until the egg is solidified. After 1 minute, you can open the lid and touch the surface. If it's not wet, it's done. The egg crepe should be thin so it will cook fast.

The edges are drier so you can use a chopstick or spatula to lift the egg. It should come off nicely. If the egg is not cooked completely, cover and continue to cook. If this is your first time and you end up with a thick crepe, you may want to flip the egg and cook on low heat for a little longer.

Transfer the egg onto a bamboo sushi mat or paper towel and let it cool. You can raise the sushi mat or the paper towel by placing it on top of two chopsticks, etc. This will help cool faster as heat will escape from the bottom of the egg. Repeat this cooking process until all the egg mixture has been used. If there is a burnt spot on the pan, make sure you wipe off cleanly or wash it before working on the next batch. Don't forget to apply oil for the new batch and the towel is cold/wet.
To Make Shredded Egg Crepe/Omelette (Kinshi Tamago)
When egg crepes are completely cool, cut the round crepe in half or thirds.

Cut the crapes into thin julienne strips. Fluff them up and they are ready to use!
To Store
You can freeze Kinshi Tamago for up to 4 weeks. When you are ready to use, defrost naturally or microwave.
Nutrition
Nutrition Facts
Kinshi Tamago (Shredded Egg Crepe/Omelette)
Amount per Serving
% Daily Value*
* Percent Daily Values are based on a 2000 calorie diet.
©JustOneCookbook.com Content and photographs are copyright protected. Sharing of this recipe is both encouraged and appreciated. Copying and/or pasting full recipes to any website or social media is strictly prohibited. Please view my photo use policy
here
.
Editor's Note: This post was originally published on March 1, 2012. The images and blog content have been updated in July 2021.
Our Recommendations for Buying Sashimi Online


When we have a sudden craving for sashimi we usually buy from our local Japanese supermarkets. If you don't have a reliable shop to purchase quality sashimi nearby, we would recommend buying from Catalina Offshore online.
They've been in business for over forty years and all the sashimi products we've tried from them are outstanding. Use J1COOK20 for 10% discount. Disclosure: We earn a small percentage commission from your purchase of products linked to Catalina Offshore.