This easy Chirashi Sushi is made of sushi rice and topped with a beautiful medley of vegetables, egg crepe, and sashimi. Let's learn how to make a quick version today with a store-bought seasoning mix. We also have a traditional, made-from-scratch version on the blog.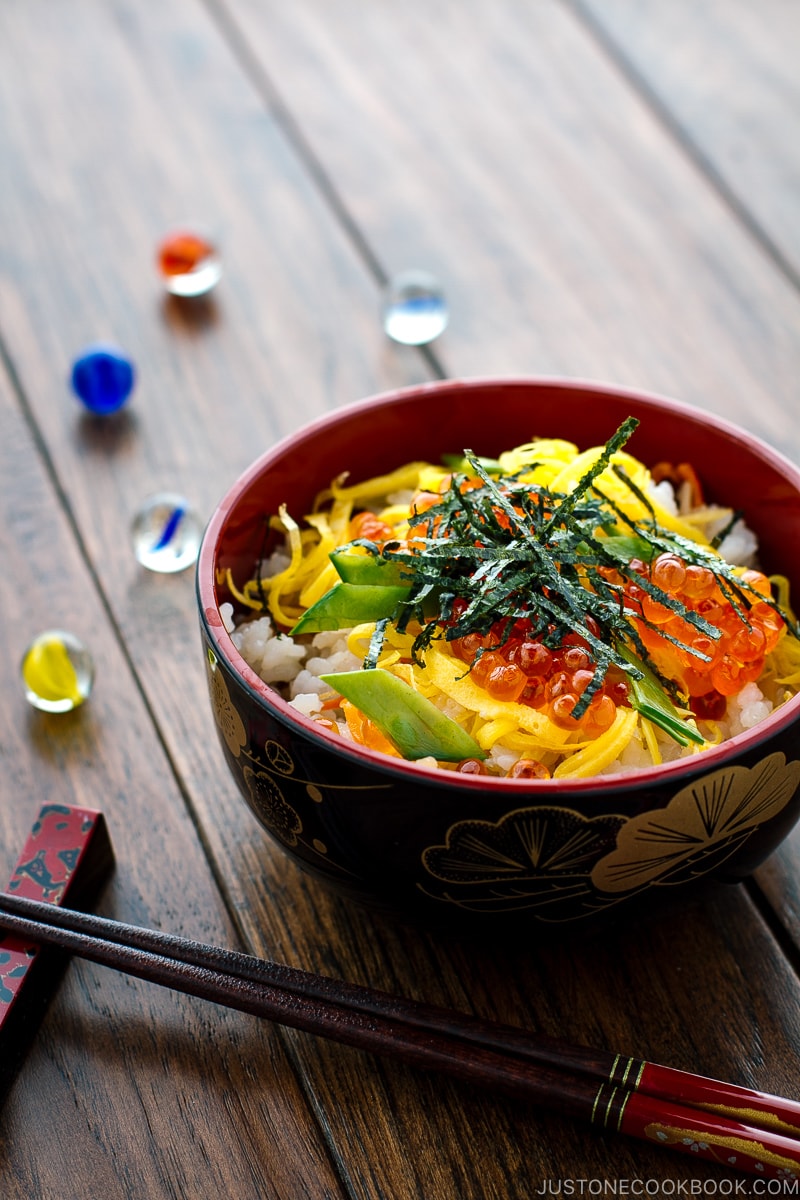 Chirashi sushi (we say chirashizushi in Japan) is bright and colorful sushi that the Japanese eat on happy occasions. It is pretty much a deconstructed sushi served on a large wooden platter or in a rice bowl.
You can make a traditional chirashi sushi from scratch (my recipe here) or take a shortcut version by using a premixed package. On regular days, Japanese home cooks often take the easy route by making Quick & Easy Chirashi Sushi. It's a low-lift way to experience sushi at home, with tons of tasty toppings. So let's make this at home today!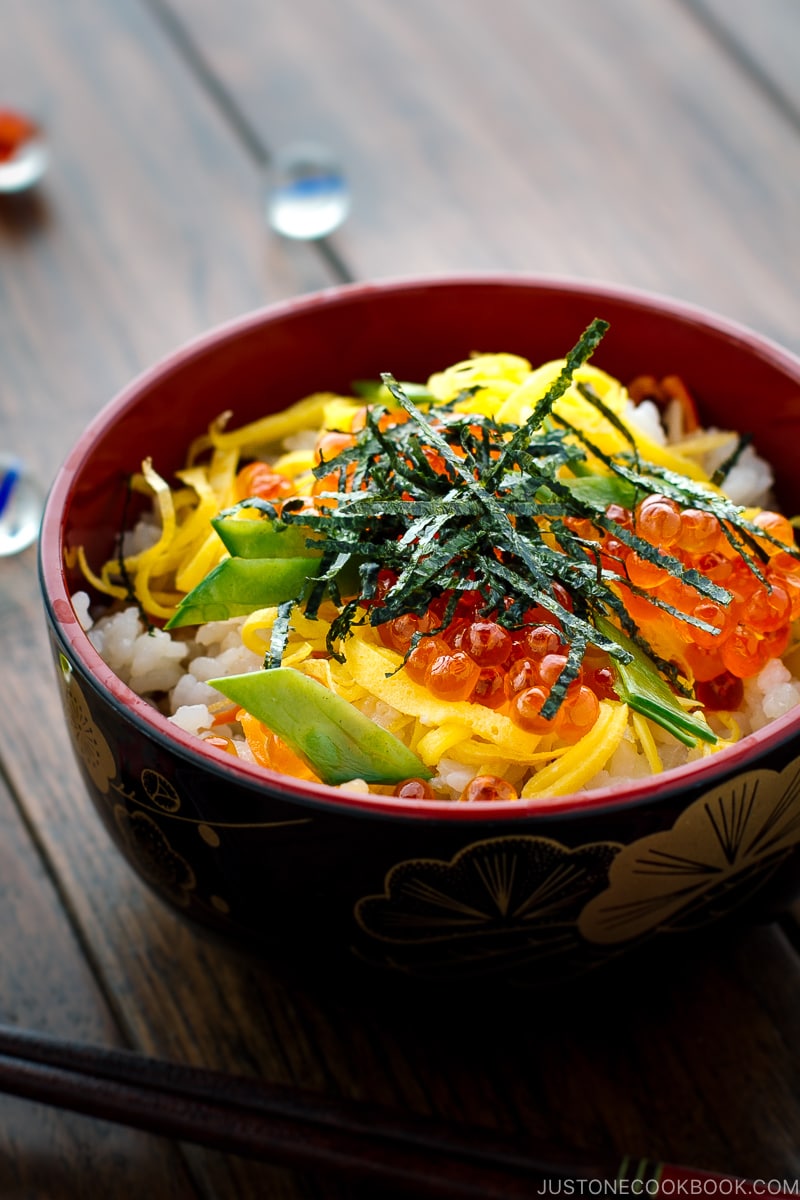 What is Chirashi Sushi?
Among all the different types of sushi in Japan, chirashi sushi (ちらし寿司), literally means "scattered sushi", is probably the most common sushi served in Japanese homes.
This traditional sushi is often prepared to celebrate special and happy occasions, such as festivals and parties. It is also served every March 3rd or Girl's Day when we celebrate the annual Hinamatsuri (Doll Festival).
Different Types of Chirashi Sushi
Each region in Japan serves a slightly different version of chirashi sushi with various ingredients and toppings.
For example, in the Osaka area, chirashi sushi is called barazushi (ばら寿司) or gomoku sushi (五目寿司). We would serve the sushi rice topped with unagi and cooked or uncooked vegetables.
In the Tokyo area, you'll find Edomae-Style Chirashi Sushi, which features assorted sashimi and colorful garnishes served in a bowl or a lacquered box. This style of chirashi is very similar to sashimi bowl, but the difference is chirashi uses vinegared rice (sushi rice) while sashimi bowl uses unseasoned plain rice.
What is the Difference between Chirashi and Poke Bowl?
First of all, chirashi sushi originates in Japan, and poke hails from Hawaii. Since Hawaiian food takes a lot of influence from Japanese food, you'll see some similarities between the two.
Both chirashi (the Edomae-style) and poke feature sashimi sushi, however, you can tell them apart from some of the local ingredients used in the dishes. For poke bowl, it is often topped with crushed candlenut (kukui nut), a favorite ingredient used in the Pacific islands.
Poke bowls also tend to feature one or two types of fish — such as tuna and salmon — that are marinated in a sauce and served on rice or salad. Chirashi sushi, on the other hand, contains no sauce and features a few types of seafood sashimi, such as tuna, salmon, hamachi (yellowtail), shrimp, roe, and shredded eggs.
How to Use Chirashi Sushi Mix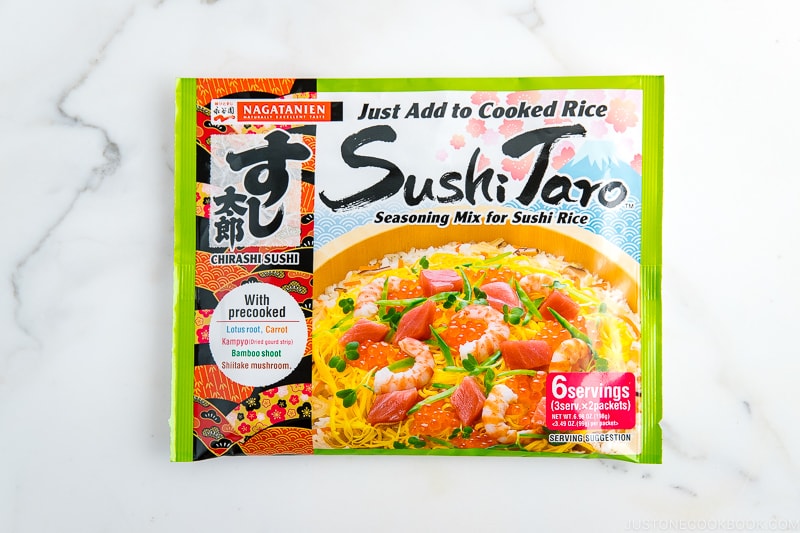 To make a quick version, you can use this convenient and budget-friendly chirashi sushi mix from your local Japanese/Asian grocery stores or Amazon. The package comes with a seasoned mixture of shiitake mushroom, carrots, burdock roots, dried kanpyo, shredded nori, and so on. It has most of the ingredients, but I like to throw in some add-ons like shredded eggs crepe, snap peas, and ikura (salmon roe) to make the dish extra special.
With cooked Japanese rice, you can enjoy delicious chirashi sushi in less than 30 minutes!
Homemade Chirashi Sushi – Everything From Scratch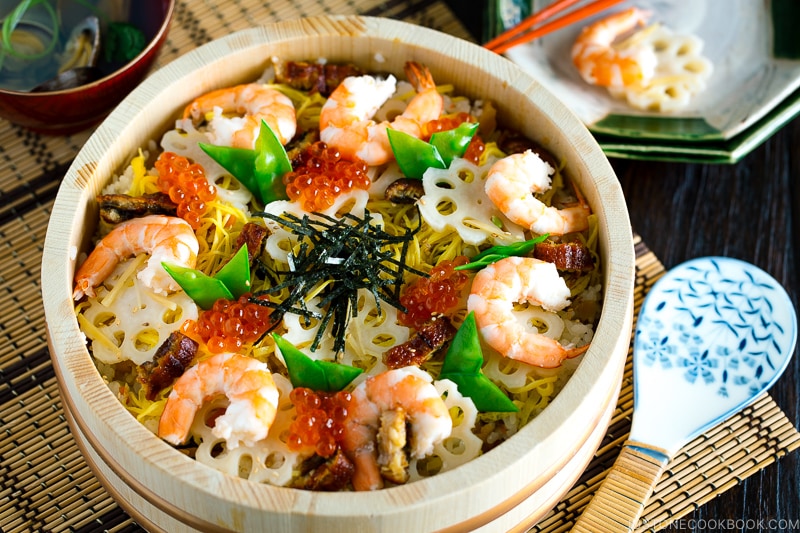 If you have the time and want to make everything from scratch, check out my Chirashi Sushi post. This is perfect for serving a larger crowd or as a potluck dish.
How to Reuse Leftover Chirashi Sushi
Buy inari-age (seasoned tofu pouch) and stuff the chirashi sushi to make inari sushi! It's one of my favorite ways to eat inari sushi.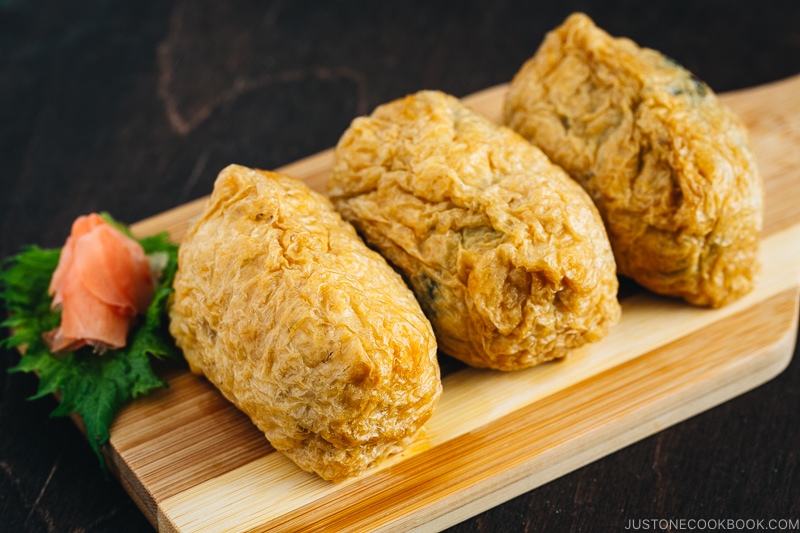 Whether you make chirashi sushi from scratch or with a chirashi sushi mix, you will enjoy this healthy and flavorful sushi on any occasion!
Other Delicious Sushi Recipes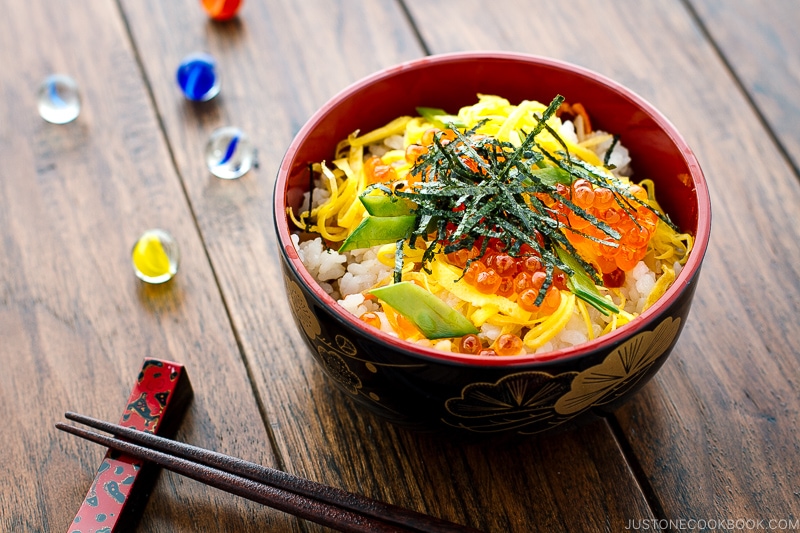 Wish to learn more about Japanese cooking? Sign up for our free newsletter to receive cooking tips & recipe updates! And stay in touch with me on Facebook, Pinterest, YouTube, and Instagram.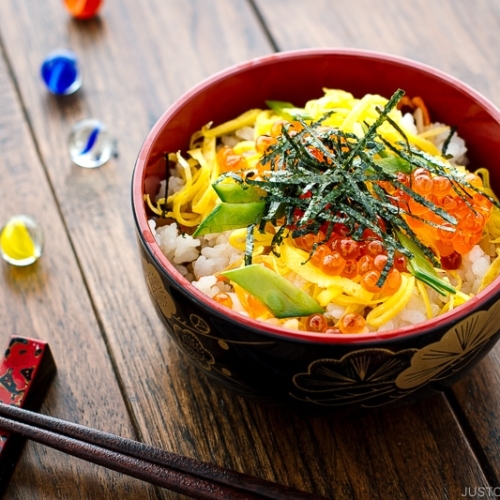 Quick and Easy Chirashi Sushi
Chirashi Sushi or 'scattered sushi' is a type of sushi that is commonly made by Japanese home cooks. 
Japanese Ingredient Substitution:
If you want substitutes for Japanese condiments and ingredients, click
here
.
Instructions
Put cooked rice in a large salad bowl or baking sheet (You can purchase a Hangiri or Sushi Oke on Amazon. My hangiri is 10" (26 cm) which is good for a family of 4). Add one packet of Chirashi Sushi Mix while the rice is hot.

Combine everything together. Instead of "mixing", use a slicing motion with a rice paddle to separate the grains.

Serve in a bowl or plate and garnish with Kinshi Tamago, ikura (salmon roe), and snow pea. You can put any topping you like, such as your favorite sashimi. Sprinkle shredded nori.
To Store
Rice gets hard when refrigerated; therefore, it's best to cover with plastic and a thick kitchen towel to store in the refrigerator.
Nutrition
Nutrition Facts
Quick and Easy Chirashi Sushi
Amount per Serving
% Daily Value*
* Percent Daily Values are based on a 2000 calorie diet.
©JustOneCookbook.com Content and photographs are copyright protected. Sharing of this recipe is both encouraged and appreciated. Copying and/or pasting full recipes to any website or social media is strictly prohibited. Please view my photo use policy
here
.
Our Recommendations for Buying Sashimi Online


When we have a sudden craving for sashimi we usually buy from our local Japanese supermarkets. If you don't have a reliable shop to purchase quality sashimi nearby, we would recommend buying from Catalina Offshore online.
They've been in business for over forty years and all the sashimi products we've tried from them are outstanding. Use J1COOK20 for 10% discount. Disclosure: We earn a small percentage commission from your purchase of products linked to Catalina Offshore.