Ikura salmon roe is marinated in soy sauce, dashi, and sake. These bright, plump beads are rich in Omega-3s, EPA, and DHA and will add sparkle and a briny flavor to any dish.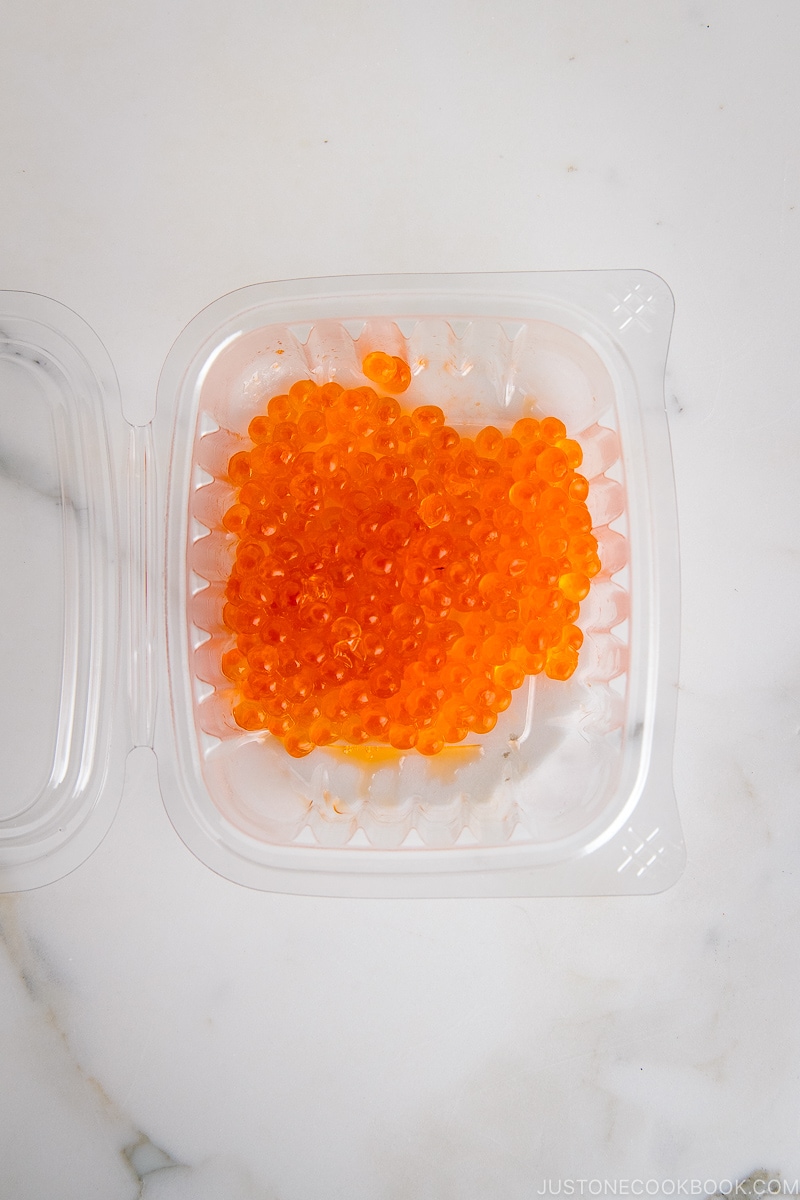 Delicate salmon roe, red caviar, salmon caviar, or Ikura (いくら) in Japanese is highly prized by seafood lovers worldwide. The Japanese eat ikura in sushi rolls or as a garnish on seafood and rice dishes. Although many associate caviar with luxury food, ikura is much more affordable.
What Is Ikura
Ikura refers to the roe of salmon and trout. It has a characteristic bright reddish-orange color. The size is around 5mm/.2 in in diameter.
The term is a loan word from Russian икра (ikra), which refers to all fish roe, not just salmon. The custom of eating salmon roe in Japan is relatively recent and hails back to the Taisho era (1912-1926). The Russians introduced the tradition of salt curing salmon roe, which the Japanese adjusted the recipe to their preference.
It refers to the eggs harvested from salmon just before spawning, in which the sac membrane is gently removed. It's then salted immediately as the membrane hardens when exposed to air. It's then marinated in soy sauce, dashi, sake, and mirin.
What Does It Taste Like
The roe has a soft texture, and the membrane easily pops in your mouth. The gooey and slightly oily insides have a salty umami flavor and a mild fishiness.
What Is Sujiko, And How Does It Relate To Ikura
You may hear the term sujiko (筋子) used interchangeably with ikura. Sujiko is the skeins of salmon eggs clustered in the sac membrane. It has a darker reddish color and is sold as the entire membrane or in sections.
The fish harvested for sujiko tends to have weaker membranes and immature eggs. Thus, as it's difficult to remove the sac membrane, it's seasoned and sold as is instead of loosening the eggs.
Where To Buy
Find ikura at Japanese grocery stores, high-end grocery stores, or specialty seafood stores. You might find salt-cured or seasoned ikura.
The roe may be harvested in Alaska or imported from Russia.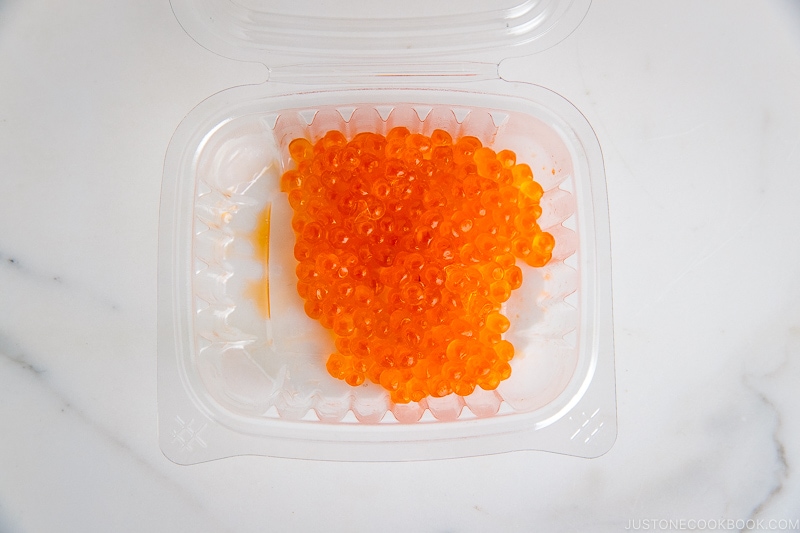 How To Choose The Best
Select ikura that are bright orange and plump. Avoid those that are wrinkly, dimpled, and dried out. Ikura is an expensive food product, so avoid suspiciously cheap ones.
Check the ingredient list and see if it doesn't contain food coloring or additives.
How To Store
Consume store-bought or home-cured ikura within a few days. Frozen ikura can last up to a month, but consume immediately after defrosting. Although ikura is processed, it's still raw seafood.
If you're concerned, check the smell and color before eating. Discard if the ikura has an odd funky odor, the egg membrane has popped, or looks opaque.
Recipes Using Ikura
The Japanese eat ikura raw or cured instead of cooking them. In addition to a sushi offering, use ikura as a lavish garnish on various seafood and rice dishes.
Health Benefits
Fish roe is an incredible source of Omega-3 fatty acids. Omega-3 can decrease the risks of heart diseases, reduce arthritis and inflammation, and protect the brain and other bodily systems. It also contains vitamin D, which benefits bone health and overall immune system functions. Some research even cites that fish roe facilitates brain development in children and increases women's fertility. It also contains vitamins B12, C, E, folate, thiamine, selenium, and protein.
However, fish eggs are also high in cholesterol. As ikura is salt-cured, it's also high in sodium. Like many delicacies, it should not be an issue as long as you consume it in moderation.
Note: Consuming raw or undercooked fish or shellfish may increase your risk of food-borne illness, especially if you have certain medical conditions.
FAQs
Q: What's The Difference Between Ikura, Tobiko, And Masago?
Size-wise, ikura is the biggest out of the three and the most expensive. It also has a gooier and fishier flavor.
Tobiko and Masago are popular ingredients in Japanese cuisine, but they can be hard to distinguish due to their similar appearance and flavor. 
Tobiko is the roe of flying fish, while masago is the capelin roe, an Atlantic and Arctic fish.
Color-wise, tobiko has a naturally brilliant bright color. Masago is naturally dull yellow and often dyed for appealing shine.
In terms of size, tobiko is slightly larger than masago.
Taste-wise, tobiko has a consistent crunch that masago lacks. Beyond the crunch factor, tobiko has a pronounced sweet and salty taste.
Tobiko is a higher quality seafood product and more expensive than masago. To save costs, many sushi restaurants may substitute tobiko for masago. If you see 'flying fish eggs' on the menu, you may get tobiko or masago.
---
Wish to learn more about Japanese cooking? Sign up for our free newsletter to receive cooking tips & recipe updates! And stay in touch with me on Facebook, Pinterest, YouTube, and Instagram.