Enjoyed as a delicacy in Japanese cuisine, Tobiko is the roe of Japanese flying fish. Use these bright orange fish eggs as a topping for nigiri sushi rolls, sashimi, and seafood dishes.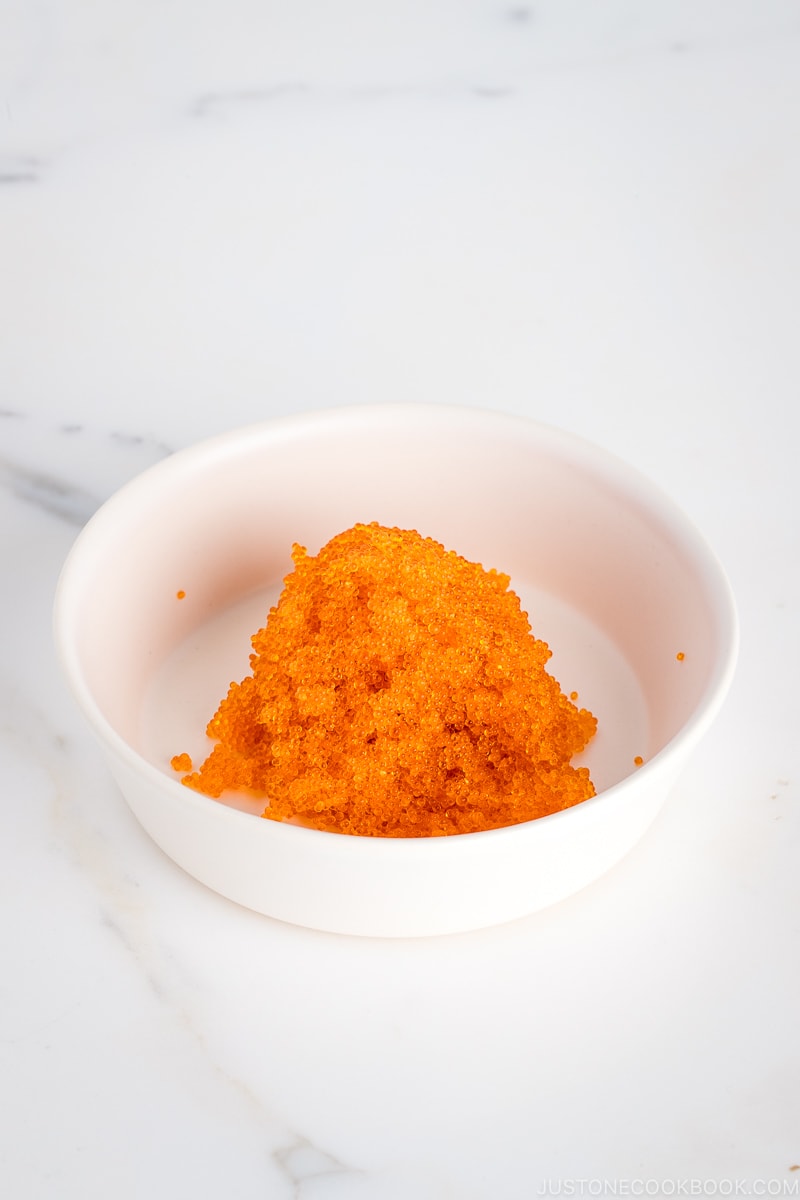 Tobiko (とびこ) refers to flying fish roe, the colorful tiny fish eggs often used as a garnish for sushi and various seafood dishes. The roe is just 1 millimeter in diameter and has a delightful crunch and bursting sensation in your mouth.
Tobiko refers to the roe of tropical flying fish, famous for their ability to leap and glide 200 meters out of the water to avoid predators. It can add a pop of color and texture to your dish.
What Is Tobiko
Tobiko, short for tobi-uo-no-ko (飛魚の子, "children of flying fish"), has a bright orange-red exterior, salty-sweet flavor, and unmistakable crunchy texture. These tiny raw fish eggs are often used as a garnish, such as California rolls. They are also delicious on their own.
You may find black, green, red, and yellow tobiko dyed for aesthetics. Common examples include squid ink, wasabi to make it green and spicy, yuzu to make it yellow and citrusy, and beet juice to make it red. So don't be surprised to see multicolored tobiko.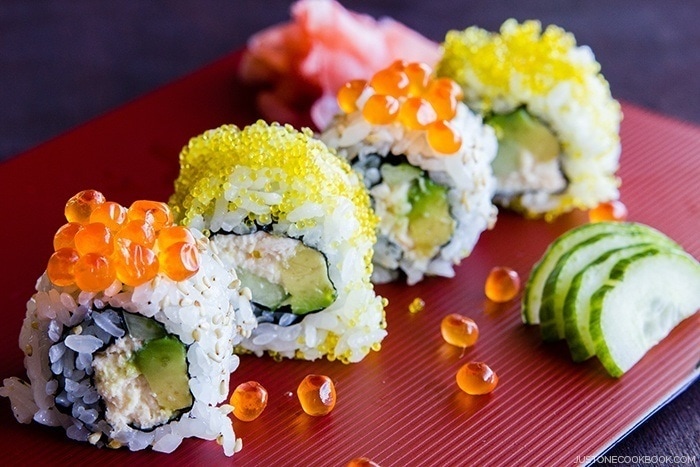 California roll topped with yellow yuzu-flavored tobiko and ikura (salmon roe).
Differences between Tobiko and Masago
Tobiko and Masago (真砂, "true sand") are popular ingredients in Japanese cuisine, but they can be hard to distinguish due to their similar appearance and flavor.
Here are the main differences:
Tobiko is the roe of flying fish, while masago is the capelin roe, an Atlantic and Arctic fish.
Color-wise, tobiko has a naturally brilliant bright color. Masago is naturally dull yellow and often dyed for an appealing shine.
In terms of size, tobiko is slightly larger than masago.
Taste-wise, tobiko has a consistent, unique crunch that masago lacks. Beyond the crunch factor, tobiko has a pronounced sweet and salty taste.
Tobiko is a higher quality seafood product and more expensive than masago. To save costs, many sushi restaurants substitute tobiko for masago. If you see 'flying fish eggs,' you may get tobiko or masago at restaurants.
What Does It Taste
Tobiko is salt-cured, usually with dashi, salt, mirin, and rice vinegar. As a result, it has a mildly sweet and salty flavor, like seaweed.
How To Use
Use tobiko as a garnish to add color and texture to any seafood or rice dish.
Where To Buy
You can find tobiko in the seafood section of Japanese or Asian grocery stores and some high-end seafood stores. They are usually sold in small packs.
How To Choose The Best
High-end fresh tobiko is cured in salt but may be difficult to find. Most tobiko is highly processed and heavily seasoned for preservation purposes.
How To Store
You can freeze tobiko for up to six months. Once thawed, you should eat it within three to four days.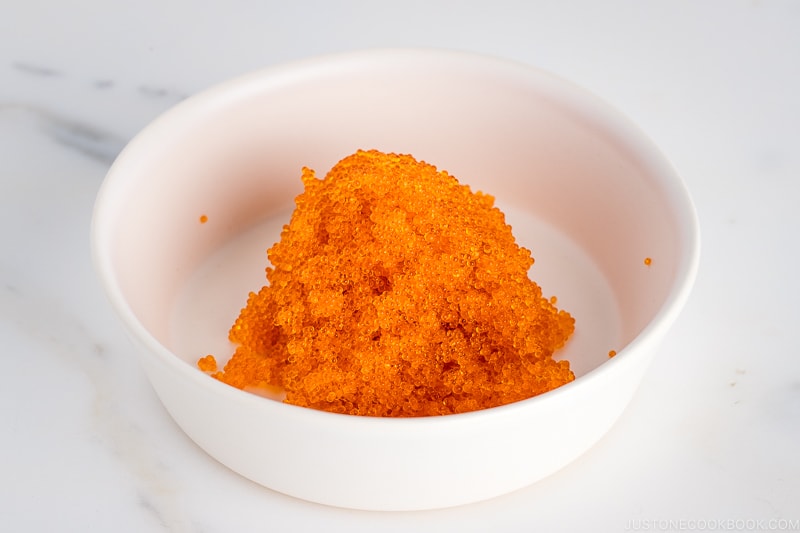 How To Use Tobiko
You can enjoy tobiko as a garnish for sushi rolls and other seafood dishes or consume it as a tobiko sushi roll.
In addition to sushi, try tobiko as a topping for crabcakes, salads, cheese, crackers, or omelets. As the texture and color hold up well, you can add it to liquids, like sauces and dressings, to amp up the flavors of your dish.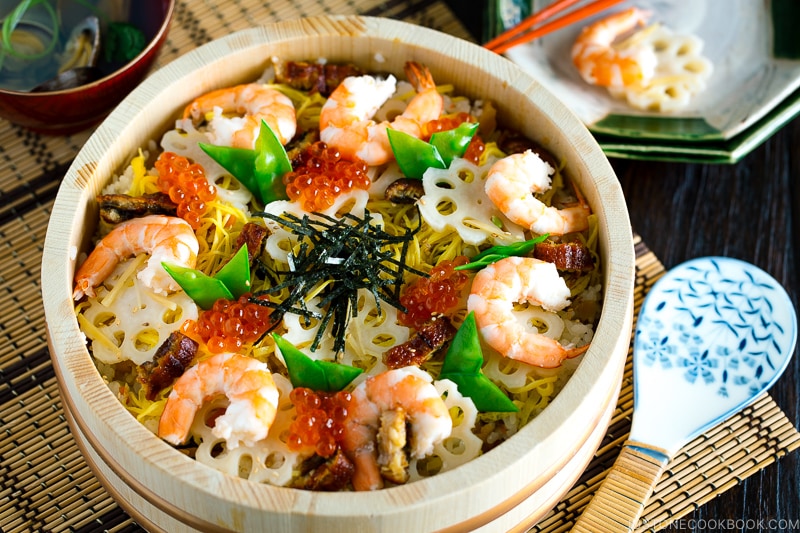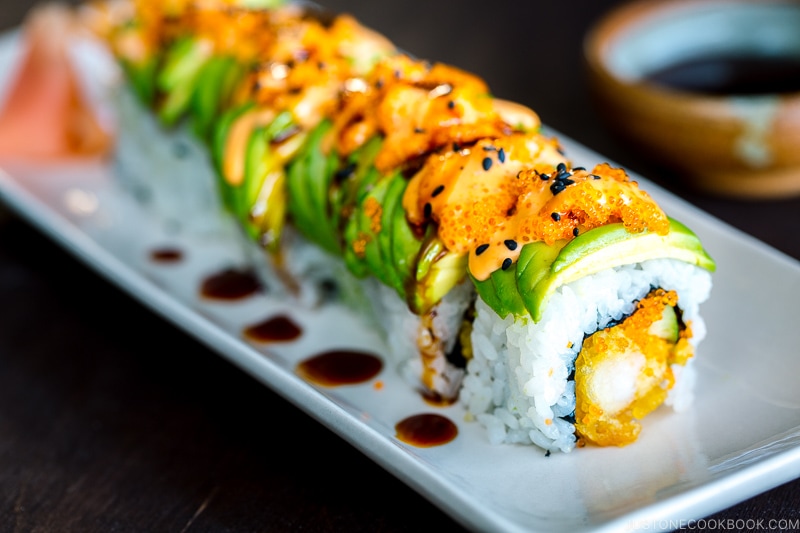 Substitution
Known as Japanese caviar, Ikura salmon roe is used similarly to Tobiko as an ingredient or garnish. Ikura is much bigger than tobiko but has a gooey interior and a fishier flavor. It also has a similar jewel-like appearance and makes a great garnish.
Masago is a cheaper substitute but much softer in texture. Depending on the dish, you may be able to swap with tarako or mentaiko, although the fish eggs are smaller.
Health Benefits
Like other fish eggs, tobiko is high in proteins, minerals, and omega-3 fatty acids and low in calories. Notably, it's high in phospholipid fats, which may help protect vital organs like the heart and liver, reduce inflammation, and improve learning capacity.
However, it also has a high cholesterol and sodium content, so while consuming small amounts as a garnish is not a problem, it's best to consume it in moderation.
FAQs
Q: Is tobiko the same as cavier?
Traditionally, "caviar" refers only to roe from wild sturgeon in the Caspian and the Black Sea. Nowadays, caviar is used as a generic term for different classes of fish eggs. In Japanese cuisine, when we say Japanese caviar, it usually refers to Ikura (salmon roe).
Q: Is tobiko gluten-free?
Tobiko is naturally gluten-free. However, check the label, as some contain soy sauce, which is not necessarily gluten-free unless specified.
---
Wish to learn more about Japanese cooking? Sign up for our free newsletter to receive cooking tips & recipe updates! And stay in touch with me on Facebook, Pinterest, YouTube, and Instagram.