Enjoyed as a delicacy in Japanese cuisine, Tobiko is the roe (eggs) of tropical flying fish. The tiny, bright orange roe is commonly served as a topping or garnishes for sushi rolls, sashimi, crab cakes, and seafood dishes.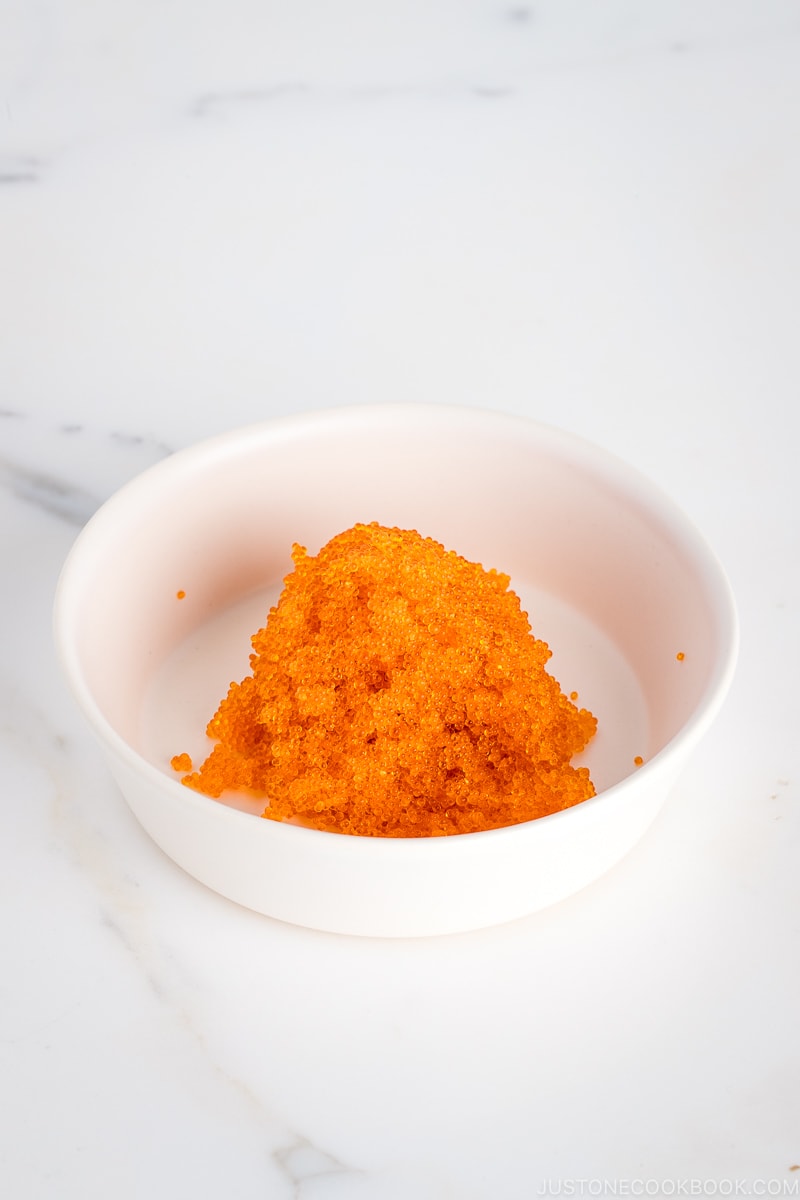 What is Tobiko?
In Japanese, the word Tobiko (とびこ) refers to the roe (eggs) of tropical flying fish, which are famous for their ability to leap and glide for 200 meters out of water.
Tobiko, or flying fish roe, is known for its bright orange-red color, salty-sweet flavor, and an unmistakable crunchy texture. Considered as one of the most prized sushi roe, these tiny raw fish eggs are often used as a garnish or finishing touch to rolls, including the popular California rolls. They are also delicious on their own in sashimi.
Sometimes you will find tobiko come in black, green, yellow, and red varieties. That's when other natural ingredients are used to infuse colors and flavors to the fish roes. Common examples include squid ink to dye it black, wasabi to make it green and spicy, yuzu to make it yellow and citrusy, or beet to make it red. So don't be alarm when you see a multicolored range of Tobiko when you order your sushi rolls.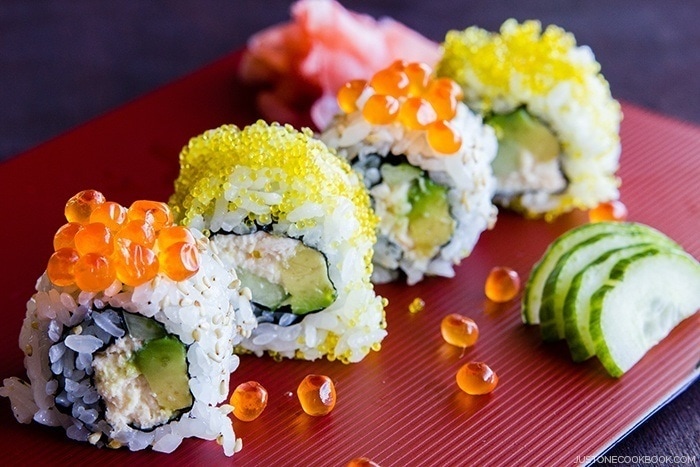 California roll topped with yellow yuzu-flavored tobiko and ikura (salmon roe). 
Differences between Tobiko and Masago
Both Tobiko and Masago are popular ingredients used in Japanese cuisine, but it can be hard to distinguish due to their similar appearance and flavor.
Here are the main differences:
Tobiko is the roe of flying fish, while Masago is the roe of Capelin, an Atlantic and Arctic fish.
Color-wise, Tobiko has a naturally brilliant bright color. Masago is usually duller and often dyed to give it a more appealing shine.
In terms of size, Tobiko is slightly larger than Masago.
Taste-wise, Tobiko has a consistent unique crunch that Masago is lacking. Beyond the crunch factor, Tobiko also has a pronounced sweet and salty taste, which makes it a versatile ingredient to enjoy. Any true lovers of fish roe would go for Tobiko.
The bottom line is Tobiko is a higher quality seafood product and more expensive than Masago. To save costs, many sushi restaurants may substitute Tabiko for Masago. At the restaurants, when you see 'flying fish eggs' and not the Japanese name on the menu, you may get either Tobiko or Masago.
Is Tobiko The Same as Cavier?
Traditionally, the term Caviar refers only to roe from wild sturgeon in the Caspian and the Black Sea. Nowadays, caviar is sometimes being used as a generic term for different classes of fish eggs. In Japanese cuisine, when we say Japanese caviar, it is usually referring to Ikura (salmon roe).
Where Can I Buy Tobiko?
You can buy Tobiko from any Japanese or well-stocked Asian grocery stores in the seafood section. They are usually sold in small containers, and sometimes in a variety pack of orange, red, black and green.
Handling & Storage
You can freeze Tabiko for up to 6 months. Once thawed, you should eat it within 3-4 days.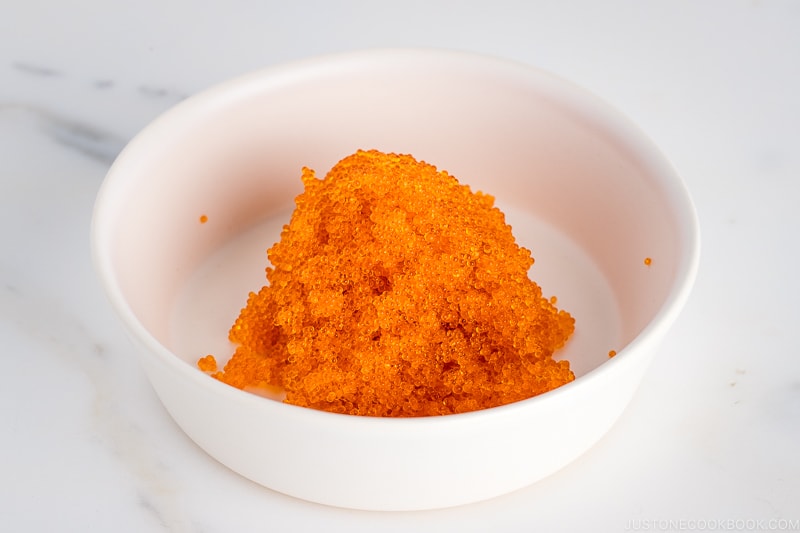 Recipes and How to Enjoy Tobiko:
You can enjoy Tobiko as the main topping for sushi, or as a garnish to enhance sushi roll, or as an outer coating for sushi.
In addition to sushi, Tobiko is also lovely as a topping or garnishes for crabcakes, salads, cheese and crackers, or even in omelets. As the texture and color hold up well, you can add it to liquids, like sauces and dressings, to amp up flavors of your dish. Here are some delicious recipes using Tobiko: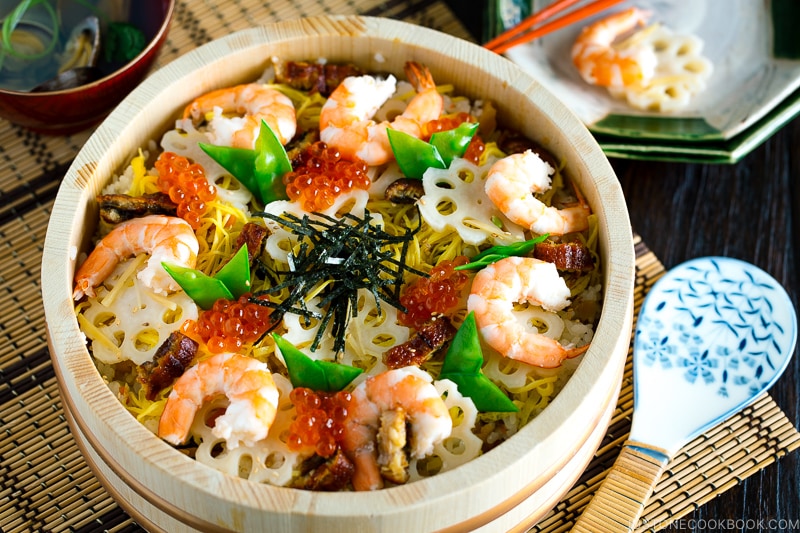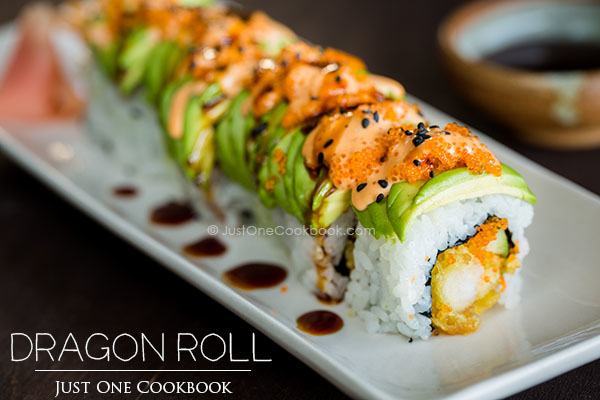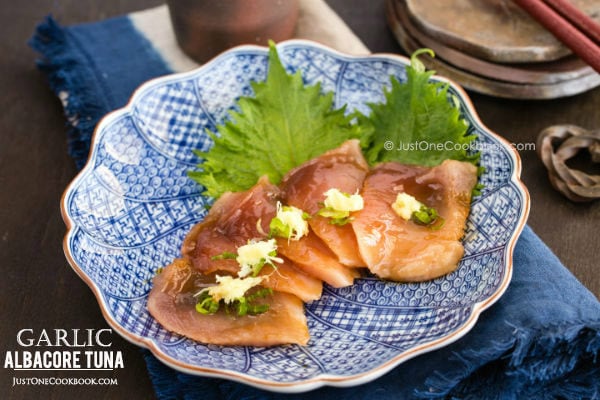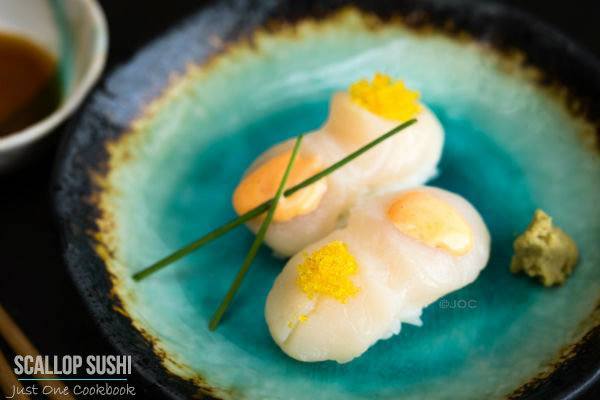 Similar Japanese Ingredient:
Ikura (salmon roe) – Known as the Japanese caviar, Ikura salmon roe is used similarly to Tobiko as an ingredient or garnish on top of sushi rolls.
Wish to learn more about Japanese ingredients? Visit our Pantry page.
Our Recommendations for Buying Sashimi Online


When we have a sudden craving for sashimi we usually buy from our local Japanese supermarkets. If you don't have a reliable shop to purchase quality sashimi nearby, we would recommend buying from Catalina Offshore online.
They've been in business for over forty years and all the sashimi products we've tried from them are outstanding. Use J1COOK20 for 10% discount. Disclosure: We earn a small percentage commission from your purchase of products linked to Catalina Offshore.