Marinated in rice vinegar, sake, chili pepper, sugar, and salt, this easy Japanese Pickled Daikon recipe makes the best accompaniment to many of your main dishes. It's tangy, slightly sweet and refreshingly crunchy.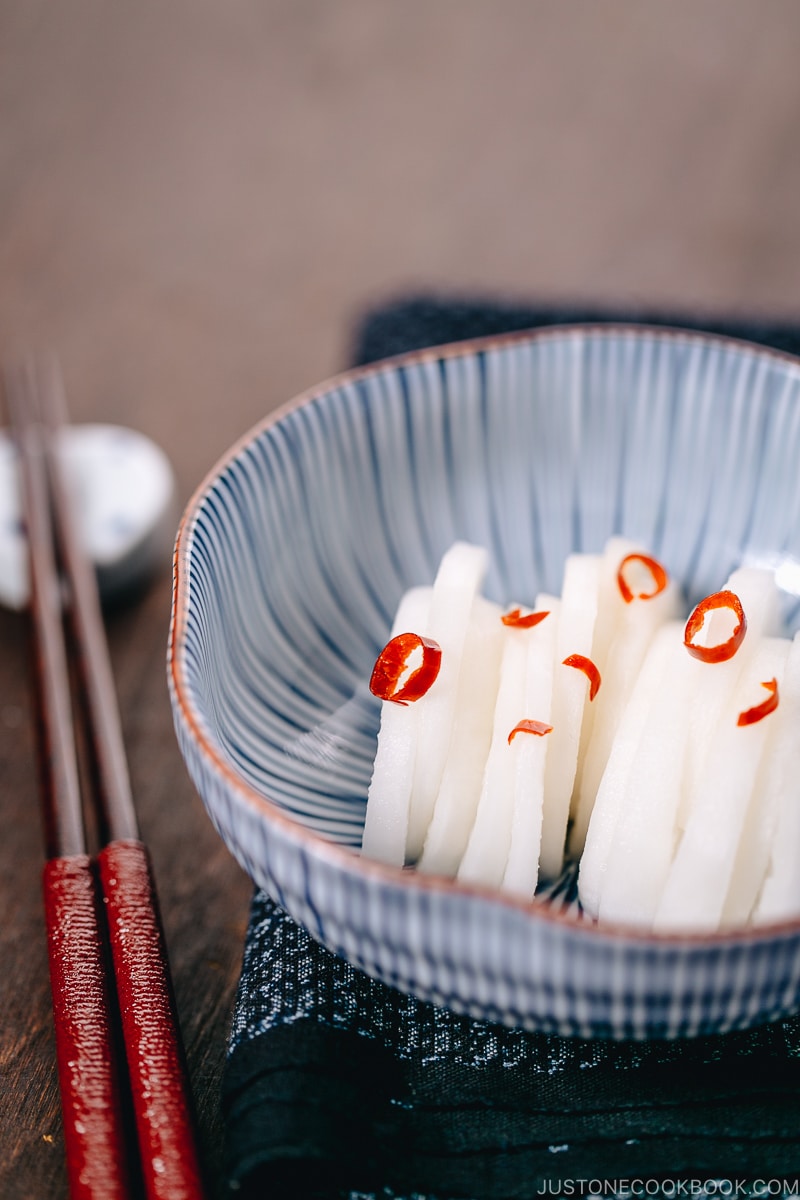 Root vegetables like daikon radishes are especially delicious in winter months, so let's grab some daikon at your local Japanese or Asian grocery store and make this easy Japanese Pickled Daikon!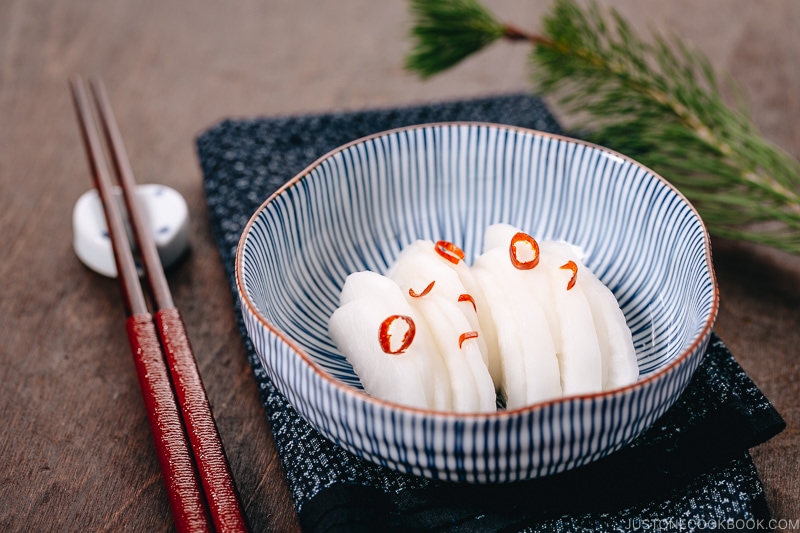 In Japan, pickles, or we call it Tsukemono (漬物), are a staple for Japanese meal. They are usually served with rice and considered as a necessary accompaniment to Japanese meals. There are a wide variety of Tsukemono, from simple Pickled Cucumbers preserved in salt to delicate vegetables preserved in rice bran. There is even a Tsukemono (called Fukujinzuke 福神漬) that goes with Japanese Curry!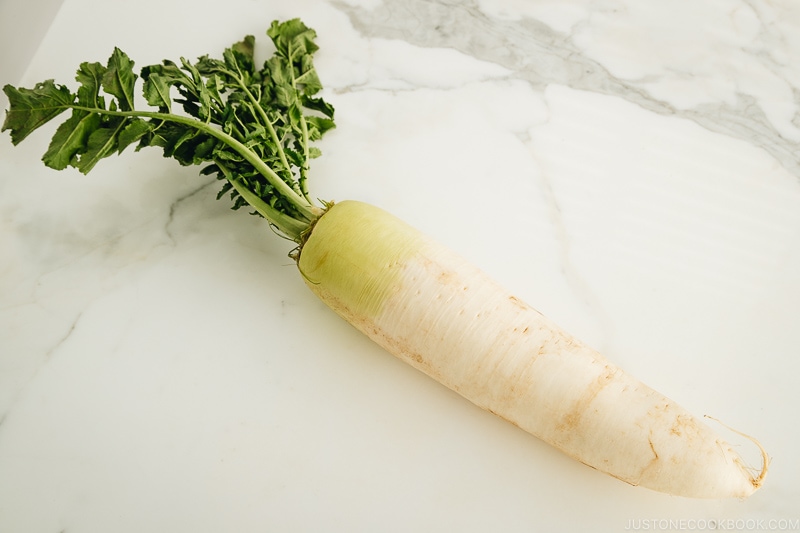 Daikon (大根) are large white radishes used in Asian cooking. They taste like radishes but with a milder flavor. The thickest green part of the root closest to the top is the sweetest, whereas the narrow bottom area of the root is peppery and pungent. The texture varies depending on how you prepare the radish. They are crisp when raw and tender when cooked.
Daikon – Selection & Preparation
Daikon radishes are available all year round but they are extra juicy and have a milder taste during the cold winter months. Although they are often sold without their tops at the Asian market, the entire plant is edible. Usually, Japanese stores sell the whole daikon including the leaves. And the green leaves are the best part of the vegetable, so don't throw them away. I like to chop the leaves into small pieces and add them into Miso Soup or make furikake (rice seasoning). So good!
Daikon tastes the best when it's juicy. To select good daikon, the skin should be smooth and it should feel heavy. The dried daikon might taste peppery, so be careful when you select daikon at a store. You can cut off whatever amount you need for your cooking, and place the remaining in a plastic bag and keep in the refrigerator for up to 2-3 weeks. Daikon is a versatile and convenient root vegetable; Aside from enjoying it pickled or raw in salads, it can also be stir-fried, grilled, or simmered in soup. I often use daikon and the greens in soup, nabe, garnish, and Oden.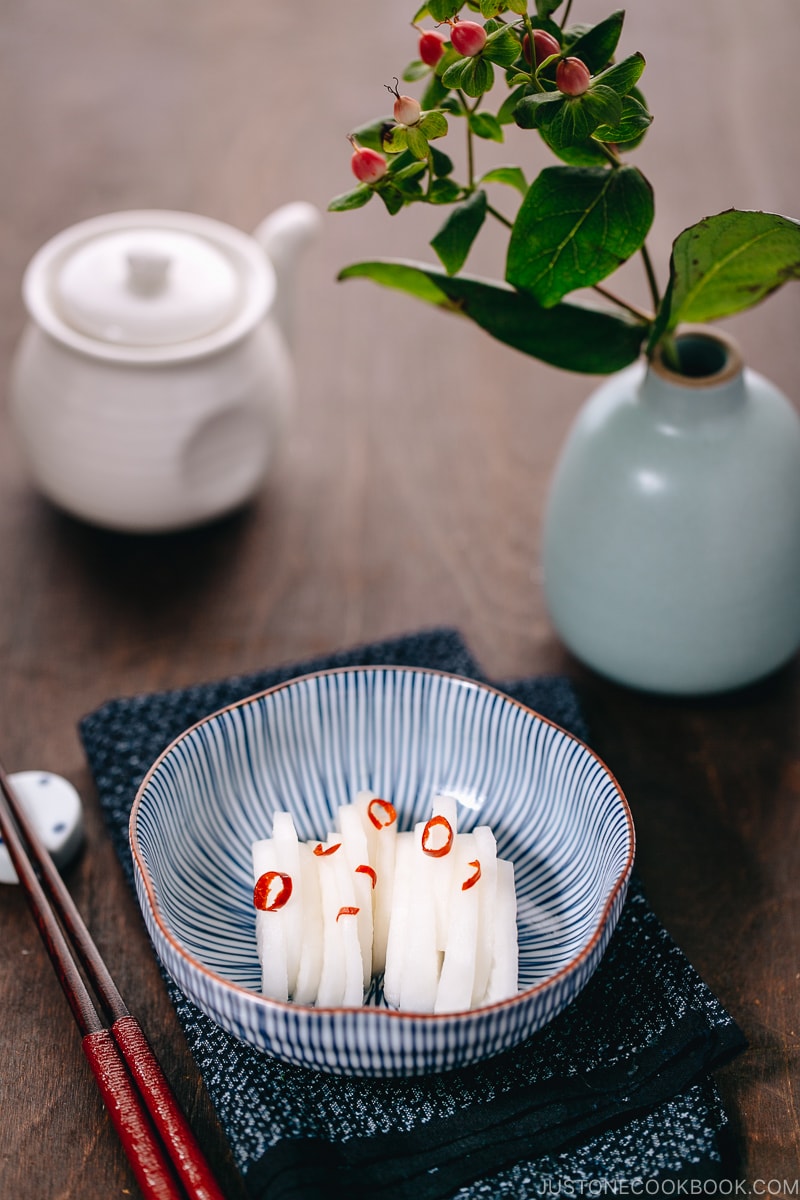 How to make pickled daikon
When you pickle daikon, it will turn into an amazing side dish. All you need is the right amount of rice vinegar, sugar, and salt (sake and red chili pepper are optional). Even the peppery daikon will mellow out nicely with a sweet and salty flavor when you pickle them. To remove the bitter & peppery taste of daikon, you can soak it in cold water.
The amount of sugar and salt might look too much for your standard pickle dish. However, daikon releases lots of water during pickling process which dilutes the condiments. Also, the Japanese always eat pickled dishes with rice. The tangy sweet pickles and plain rice complement each other very well. Therefore, these pickles are not meant to eaten alone like a salad. We consider pickles as a palate cleanser between dishes and we call this kind of dish "Hashi Yasume" (literally, chopstick rest 箸休め).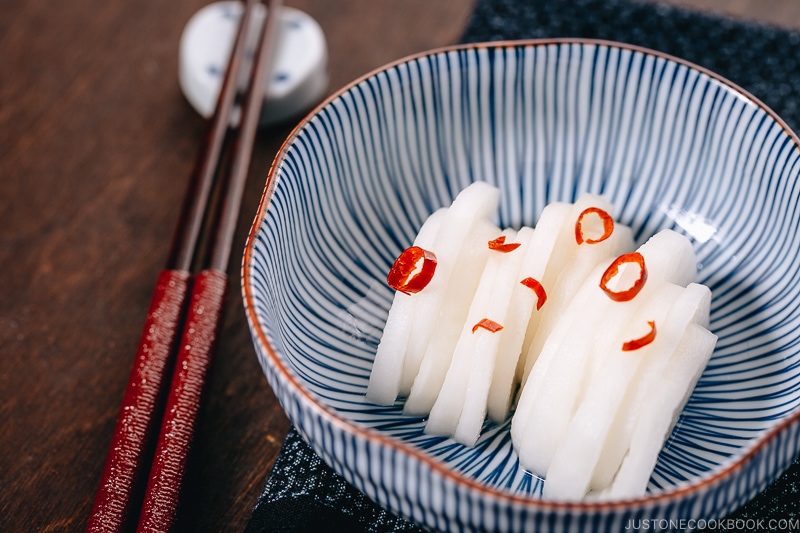 If pickles are not your thing or you prefer to eat daikon raw, then try my Daikon Salad. The crunchy texture is fun and addicting to eat and so refreshing! Hope you enjoy cooking with daikon!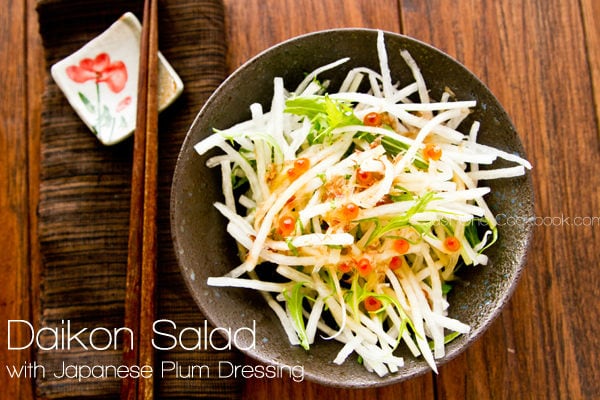 Wish to learn more about Japanese cooking? Sign up for our free newsletter to receive cooking tips & recipe updates! And stay in touch with me on Facebook, Pinterest, YouTube, and Instagram.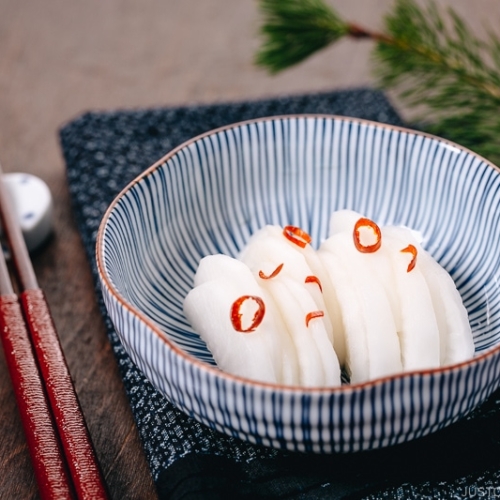 Pickled Daikon
Marinated in rice vinegar, sake, chili pepper, sugar, and salt, this easy Japanese Pickled Daikon recipe makes the best accompaniment to many of your main dishes. It's tangy, slightly sweet and refreshingly crunchy.
Japanese Ingredient Substitution:
If you want substitutes for Japanese condiments and ingredients, click
here
.
Instructions
Gather all the ingredients.

Peel daikon and cut into ¼ inch (6 mm) slices.

Cut the chili peppers into small pieces and discard the seeds if you prefer less spicy.


Put all the ingredients in a resealable plastic bag and rub well.

Remove the air from the bag and close it. You can start enjoying it after 2-3 hours.
To Store
You can keep the pickles in the refrigerator for a month. When the flavor is getting strong, remove the solution and store the pickles in an airtight container.
Nutrition
Calories:
34
kcal
·
Carbohydrates:
8
g
·
Protein:
1
g
·
Fat:
1
g
·
Saturated Fat:
1
g
·
Sodium:
296
mg
·
Potassium:
173
mg
·
Fiber:
1
g
·
Sugar:
7
g
·
Vitamin A:
22
IU
·
Vitamin C:
17
mg
·
Calcium:
21
mg
·
Iron:
1
mg
©JustOneCookbook.com Content and photographs are copyright protected. Sharing of this recipe is both encouraged and appreciated. Copying and/or pasting full recipes to any website or social media is strictly prohibited. Please view my photo use policy
here
.