Marinated in rice vinegar, sake, chili pepper, sugar, and salt, this easy Japanese Pickled Daikon recipe makes the best accompaniment to many of your main dishes. It's tangy, slightly sweet and refreshingly crunchy.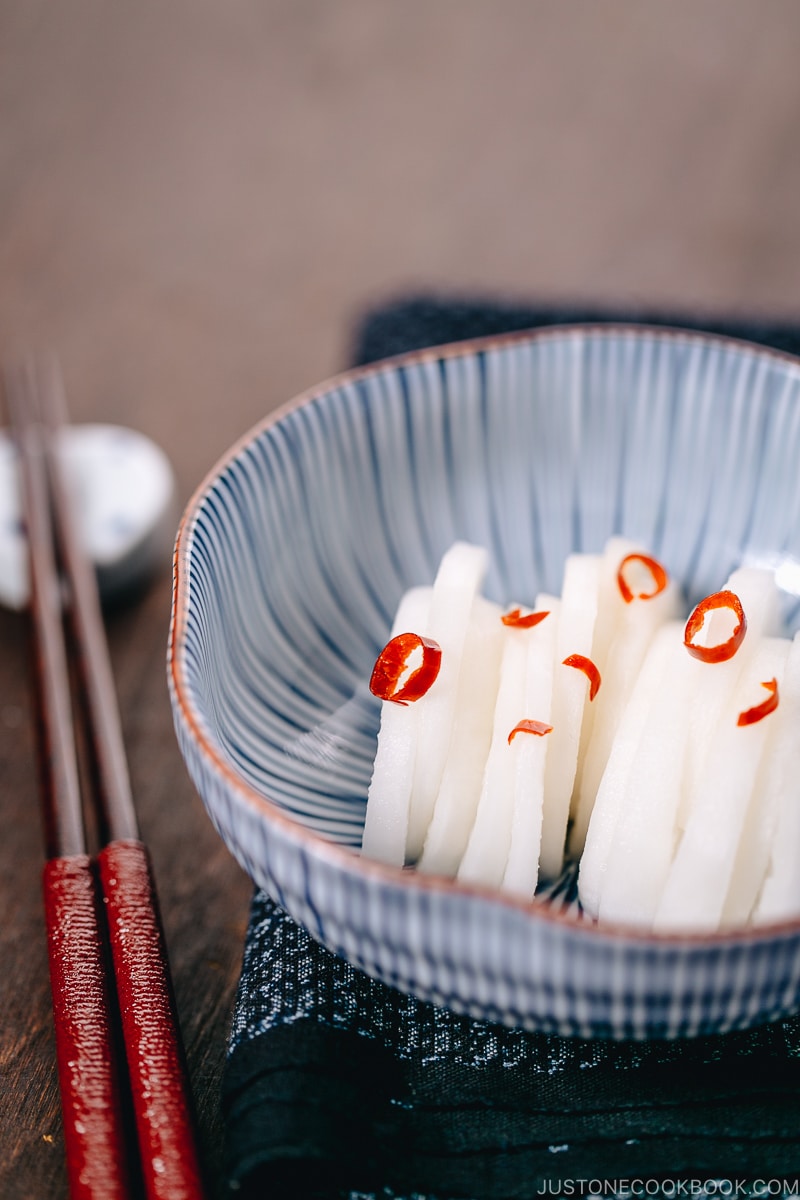 Root vegetables like daikon radishes are especially delicious in winter months, so let's grab some daikon at your local Japanese or Asian grocery store and make this easy Japanese Pickled Daikon!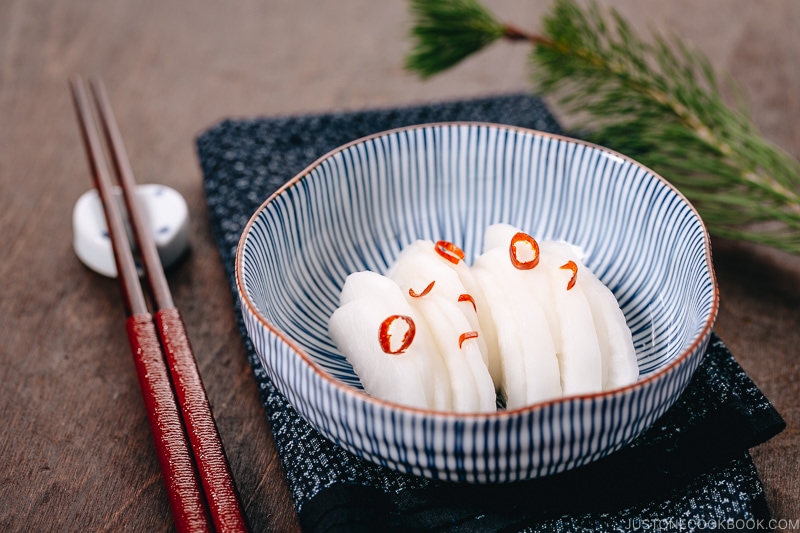 Why You'll Love this Recipe
Quick and so easy to make! Ideal for beginners who are new to pickling vegetables.
Extremely versatile. Not only does it complement Japanese meals, the sweet and tangy flavor also goes really well with many Asian dishes. You could serve it with a rice meal or even as an accompaniment to your Asian-style pulled pork or meatball sandwiches.
Ready in 2-3 hours. No long marination needed.
Store well in the refrigerator for up to a month!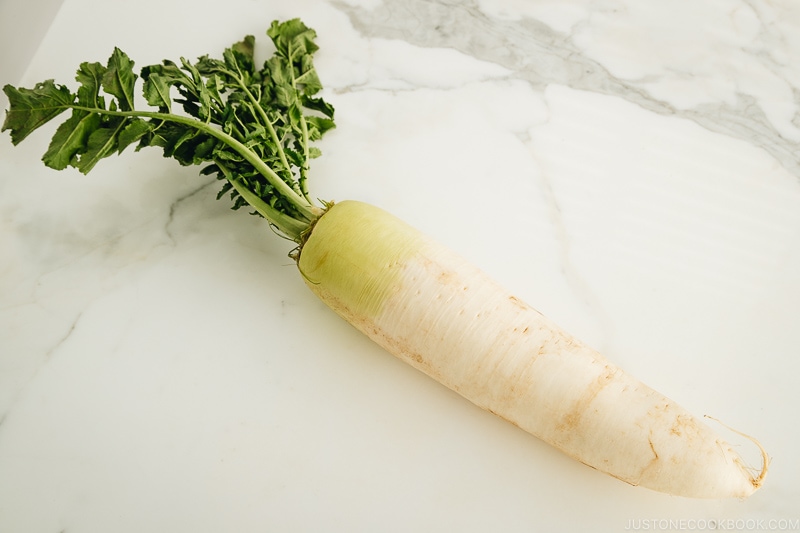 What is Daikon Radish?
Daikon (大根), also known as winter radish or Japanese radish, is a variety of large white radish used in Asian cooking. It is especially popular in Japanese cooking.
What does daikon taste like? It tastes like regular red radishes but with a much milder flavor. When eaten raw, it has a refreshing crunch and a light peppery taste. Once cooked, it gets tender, sweet, and really juicy. Which makes it a great choice for soups, hot pots, and stews.
Why is daikon so healthy? Why is it so popular in the Japanese diet especially in the wintertime? In addition to its great flavor and versatility, daikon is known for its many health benefits and plays a big part in the nutritionally balanced meals in our culture. It is high in vitamin C, calcium, magnesium, copper, folate, and so on.
Eating pickled daikon has an added advantage as it offers excellent source of probiotics that is good for your gut health.
How to Select and Prepare Daikon
Daikon radishes are available all year round but they are extra juicy and have a milder taste during the cold winter months.
To select good daikon, the skin should be smooth and it should feel heavy. Look for whole daikon that include the green top if possible. The green leaves are the best part of this winter radish! I like to chop the leaves into small pieces and add them into Miso Soup or make Furikake (rice seasoning). So good!
One of the most popular ways to prepare daikon is to pickle it, like the recipe I share here. Even the peppery daikon will mellow out nicely with a sweet and salty flavor when you pickle them. To remove the bitter & peppery taste of daikon, you can soak it in cold water.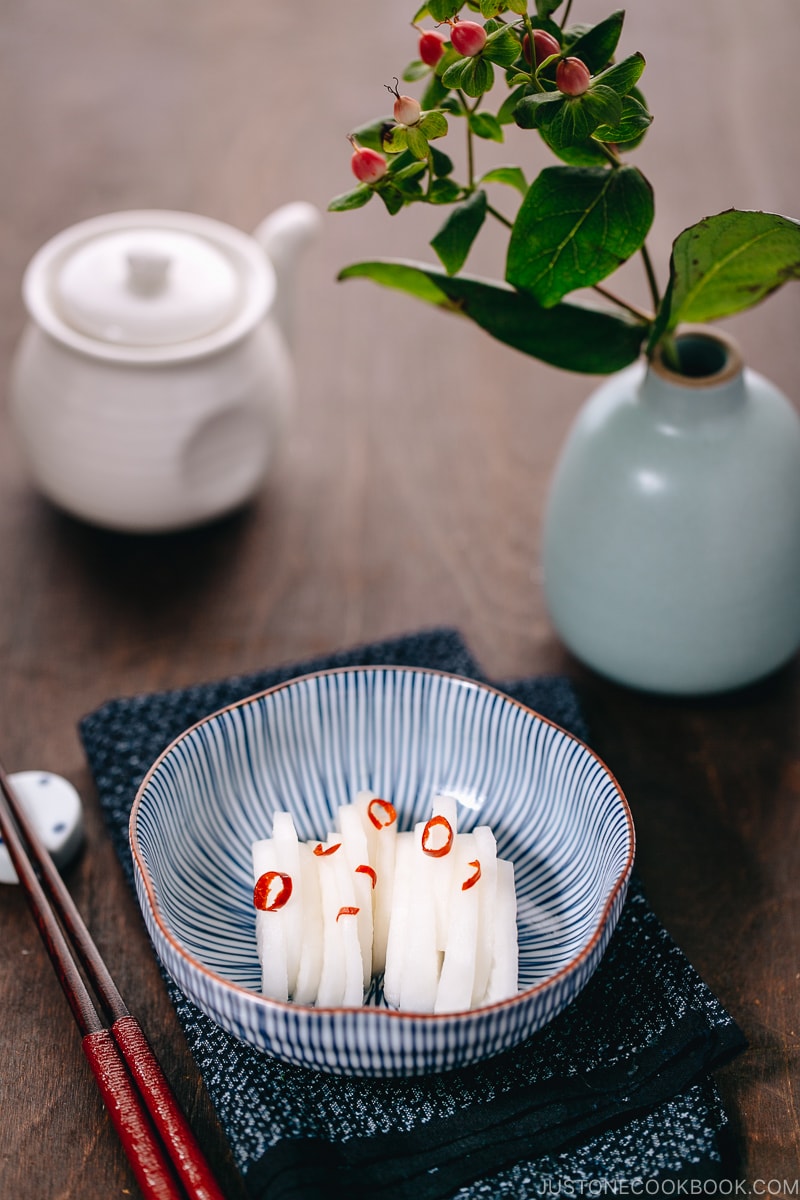 How to Make Japanese Pickled Daikon
Ingredients You'll Need
Daikon radish
Rice vinegar – Mild, slightly sweet, and delicate tasting and it's most suited for Japanese and Asian cooking. I wouldn't recommend using apple cider vinegar for this recipe.
Sake (Japanese rice wine) (optional)
Salt and sugar – We'll need a decent amount of sugar and salt for this recipe as daikon releases lots of water during the pickling process.
Dried red chili pepper – Optional but adds a little kick and color to the dish.
Overview: Cooking Steps
Peel daikon and cut into thin half-moon slices.
Cut the chili peppers into small pieces and discard the seeds if you prefer less spicy.
Place all the ingredients in a resealable plastic bag and rub well. Remove the air before you seal the bag. You can start enjoying it after 2-3 hours!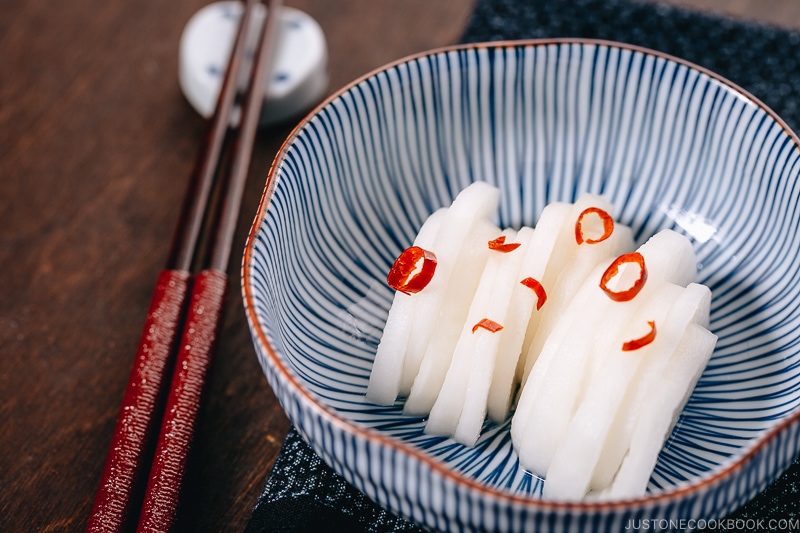 What to Serve the Pickled Daikon With
This Japanese pickled daikon recipe is not meant to be eaten alone like a salad. We consider pickles as a palate cleanser between dishes and we call this kind of dish "hashi yasume" (literally, chopstick rest 箸休め).
I often serve the pickled daikon as part of an ichiju sansai (one soup, three dishes) meal, especially if the main dish is deep-fried. But you can also enjoy it with Instant Pot Asian pulled pork, BBQ Short Ribs, Sticky Asian Ribs, and sandwiches.
FAQs
Q: Can I make a double batch of this recipe?
For my recipe, I used only half the size of a large daikon. Please go ahead to make a double batch if you prefer to use up the entire daikon.
Q: Do I need to peel a daikon?
For Japanese cooking, we typically peel the skin as it can be rather thick.
More Easy Pickles Recipes You'll Like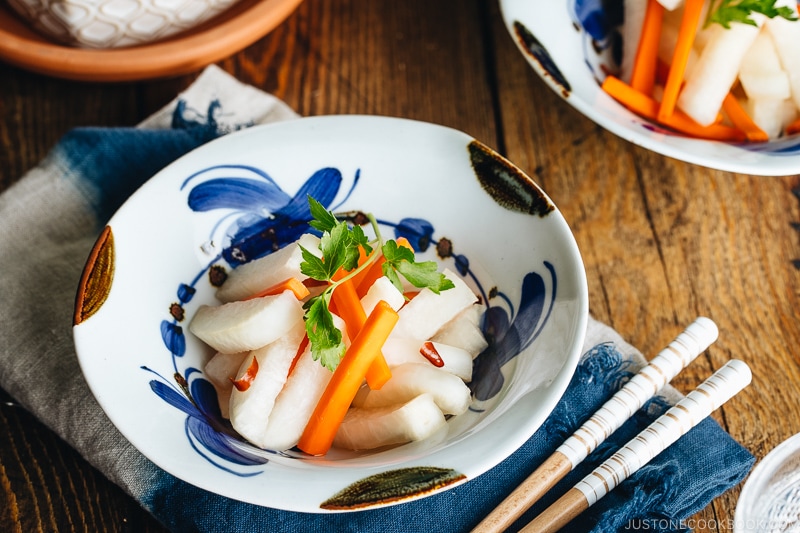 In Japan, pickles, or we call it tsukemono (漬物), are a staple for Japanese meal. They are usually served with rice and considered as a necessary accompaniment to Japanese meals. Here are more pickle recipes you'll love:
Wish to learn more about Japanese cooking? Sign up for our free newsletter to receive cooking tips & recipe updates! And stay in touch with me on Facebook, Pinterest, YouTube, and Instagram.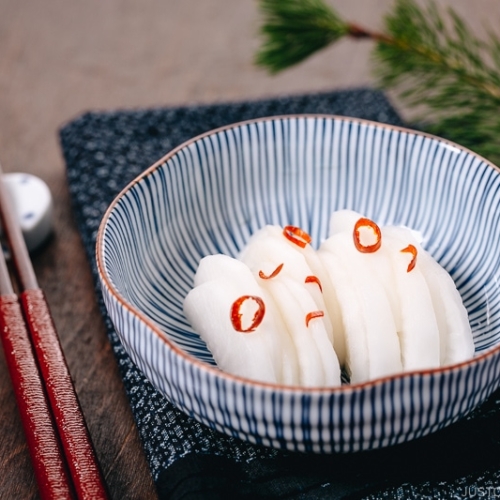 Pickled Daikon
Marinated in rice vinegar, sake, chili pepper, sugar, and salt, this easy Japanese Pickled Daikon recipe makes the best accompaniment to many of your main dishes. It's tangy, slightly sweet and refreshingly crunchy.
Japanese Ingredient Substitution:
If you want substitutes for Japanese condiments and ingredients, click
here
.
Instructions
Gather all the ingredients.

Peel

1 lb daikon radish

and cut it in half lengthwise. Then, cut the daikon into ¼-inch (6-mm) slices.

Cut

1 dried red chili pepper

into small pieces. Discard the seeds if you prefer less spicy.

Put the daikon, chili pepper,

2 Tbsp rice vinegar (unseasoned)

,

1 tsp sake

,

1 Tbsp Diamond Crystal kosher salt

, and

⅓ cup sugar

in a resealable plastic bag and rub well.

Remove the air from the bag and close it. You can start enjoying it after 2–3 hours.
To Store
You can keep the pickles in the refrigerator for a month. When the flavor is getting strong, remove the pickling liquid and store the pickles in an airtight container or a jar.
Nutrition
Nutrition Facts
Pickled Daikon
Amount per Serving
% Daily Value*
* Percent Daily Values are based on a 2000 calorie diet.
©JustOneCookbook.com Content and photographs are copyright protected. Sharing of this recipe is both encouraged and appreciated. Copying and/or pasting full recipes to any website or social media is strictly prohibited. Please view my photo use policy
here
.