You don't have to wait until the weekend to enjoy baby back ribs. With the Instant Pot, you can prepare Sticky Asian Ribs in less than 90 minutes! Slathered with caramelized glaze, these ribs are absolutely finger-licking good!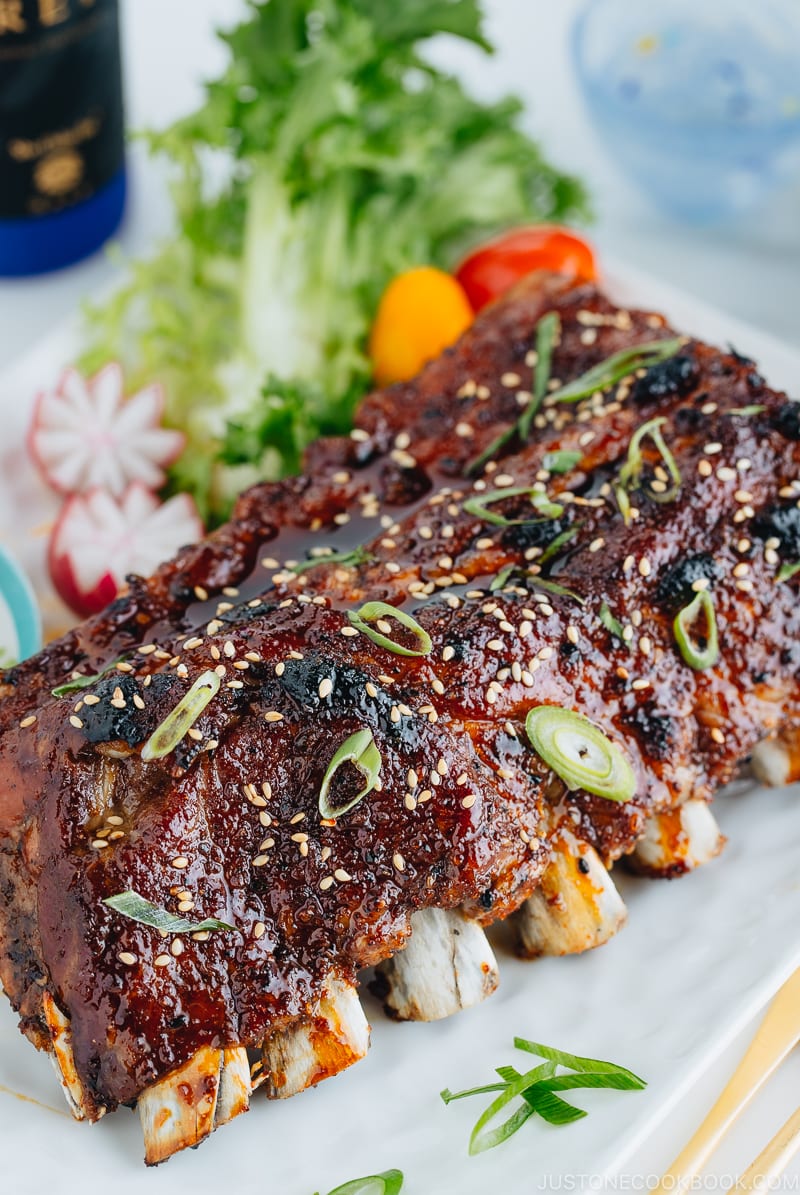 One of my cooking dreams was to make baby back ribs at home. I'm not a big meat eater, and on a daily basis, I eat more vegetables than meat. However, I have a soft spot for Yakiniku (Japanese BBQ) and fall-off-the-bone baby back ribs smothered with a sweet-savory delicious sauce, which I discovered when I came to America.
Since our good friend John makes killer smoked baby back ribs, Mr. JOC and I didn't have to get our own smoker and make our own. The only problem was that I couldn't eat good ribs when I want to eat them. That's when I started to make my ribs in the Instant Pot. Today I'll show you our family's favorite, Instant Pot Sticky Asian Ribs (甘辛スペアリブ).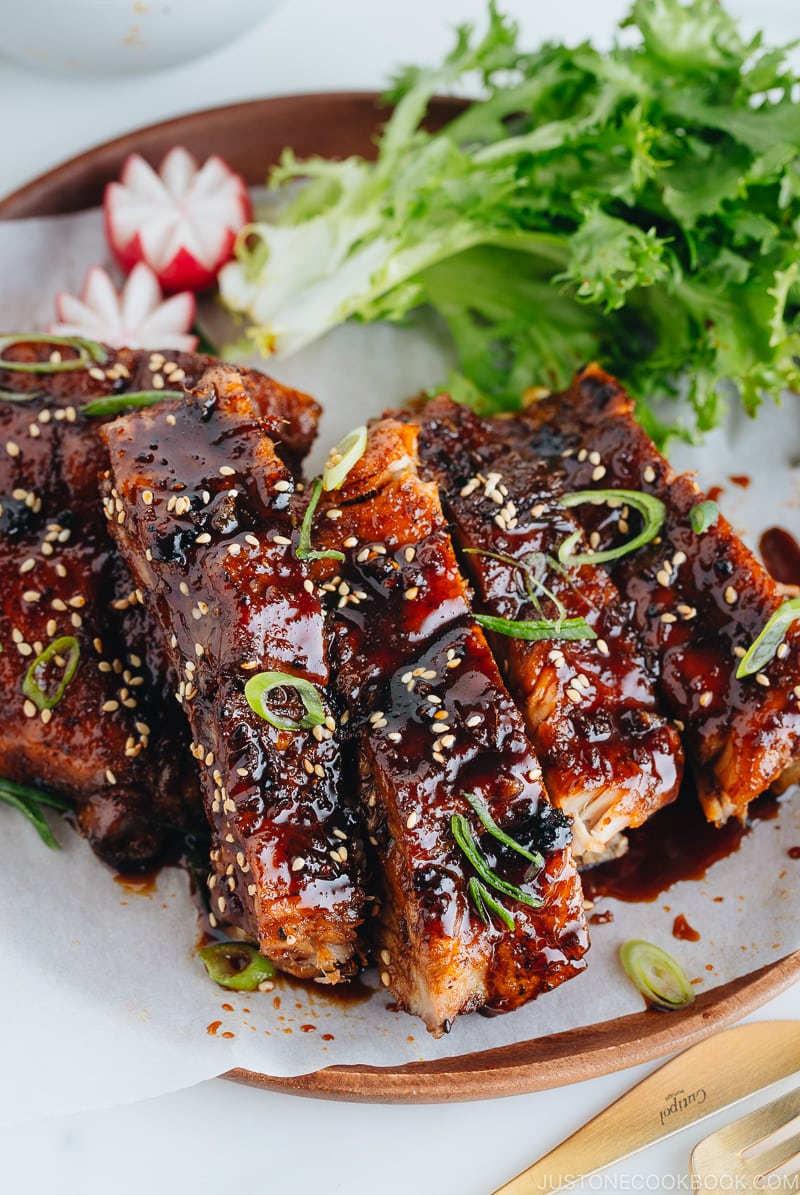 Making Ribs in the Instant Pot
Until you give this recipe a try, you probably won't believe how amazing this recipe and Instant Pot is! Compared to the common 2-to-3-hour slow-cooking oven method, cooking baby back ribs in the pressure cooker drastically cuts down the cooking time. And it comes together super fast for a weeknight meal.
Without the pressure cooker, there is NO way you can eat fall-off-the-bone ribs in less than 90 minutes from start to finish, which includes the 30-minute resting time for the ribs with dry rub.
Pressure cooking ribs for 25-30 minutes is plenty for the meat to come off the bone. You will need to use the oven (broiler) to finish it off, but that's just several minutes. Too easy? You must give it a try!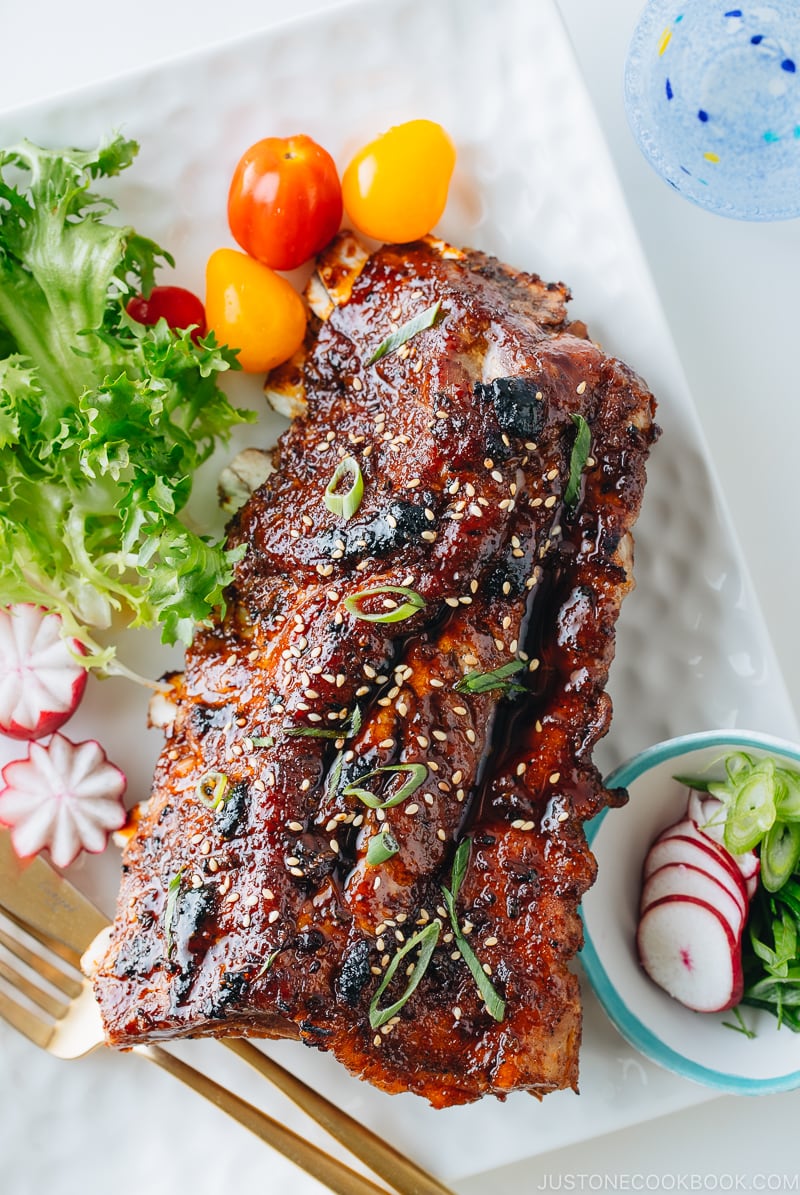 Delicious Sticky Asian Sauce
You can definitely use this recipe as a base for the American style ribs. Rub in the baby back ribs with your go-to dry rub, cook in the Instant Pot, and apply homemade/store-bought BBQ sauce before placing the ribs into the oven to broil.
H0wever, I want to introduce you to this delicious Sticky Asian Sauce today! All you need is the typical Japanese condiments: sake, mirin, soy sauce, and rice vinegar. I sweetened the sauce with brown sugar and honey and give the sauce a kick with garlic and ginger.
With this sauce, this dish goes well with even rice or noodles! Isn't it nice to add variations to your baby back rib recipes?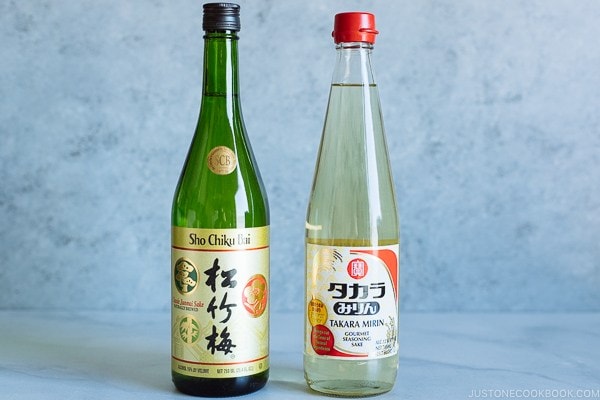 If you are new to Japanese cooking and want to know more about both sake and mirin, the essential condiments for Japanese cooking, you can find more information on each condiment on these pages.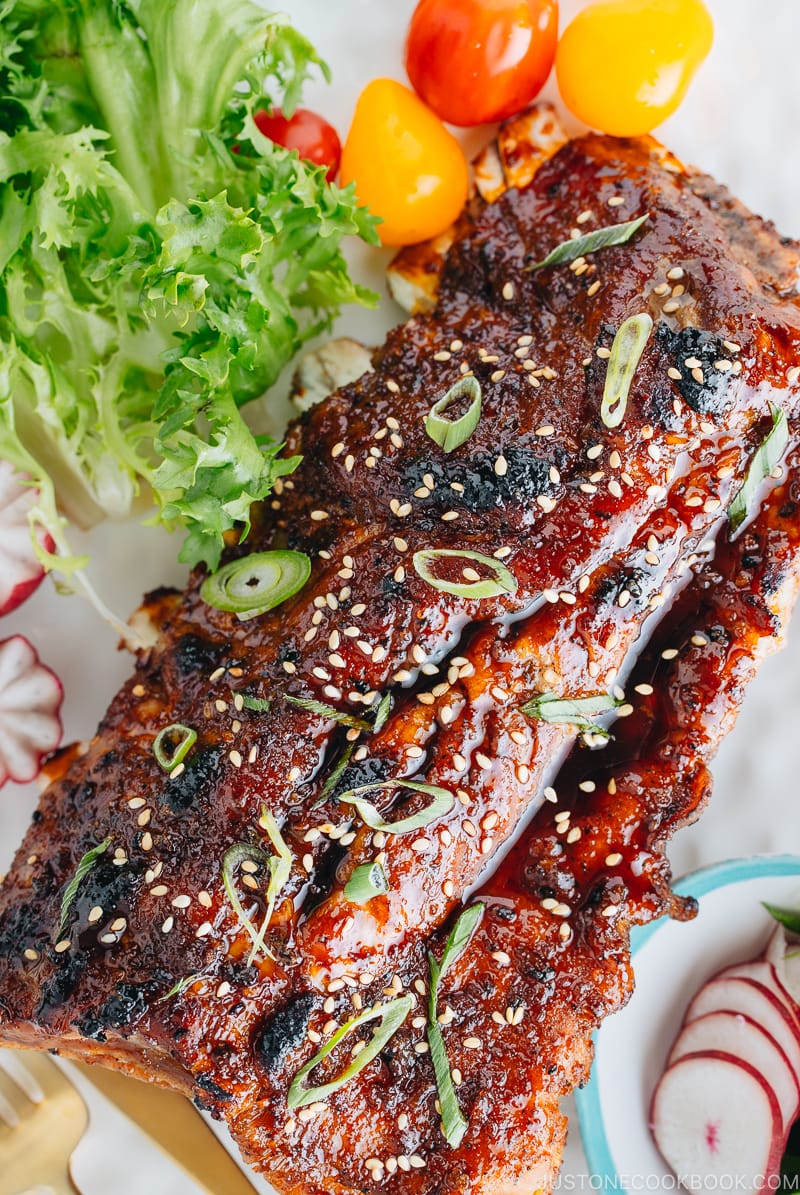 5 Tips to Make Amazing Sticky Asian Ribs
Even though this recipe is pretty straightforward and easy, I thought I'd give some tips that I found important.
1. Remove membrane
For the very first ribs I made, I completely forgot to remove the membrane, so I thought I would add a reminder here. The membrane is white, very thin connective tissue and located on the back (the bone side) of the ribs. Your butcher may already have the membrane removed. If not, you can ask them to remove it for you.
If you buy already packaged ribs, then you can remove it yourself very easily. Just flip the ribs so the top (meaty part) is face down. Pull the corner of the membrane using a paper towel because it's slippery. No special skills needed here, just use your fingers and a paper towel to pull it off. 
2. Use dry rub
The flavor in the baby back ribs starts with the dry rub. This mix of seasonings and salt helps break down the fibers in the meat to create a complex depth in flavor.
The dry rub is a mixture of only dry seasonings and you need to rub them into the meat and set aside for 30 minutes. The dry rub that I use for this recipe is a simple concoction of salt, black pepper, white pepper and shichimi togarashi (Japanese Seven Spice). Shichimi togarashi is a beloved Japanese spice blend made of Japanese chili powder, orange peel, sesame seeds, Japanese pepper, ginger, and seaweed. It gives a spicy, citrusy and nutty flavor to everything you sprinkle on.
3. Use Apple Cider Vinegar
Acidity in the vinegar breaks down the ligaments and tenderizes the meat as well as adding some sweetness. I use a mix of water and apple cider vinegar to flavor my ribs as they cook.
4. Place ribs vertically
To support the weight, make sure to place the rack with the ends of the ribs facing up and on top of the wire rack without touching the liquid.
5. Finish off in the broiler/grill
After pressure cooking, the meat is super tender but looks rather steamed. Therefore, it's important to finish off the ribs in the broiler or over the grill to give some nice char. The sauce you apply on the ribs will be caramelized in the high heat and it gives luscious look on the baby back ribs.
Extra Tip:
Gently

remove the ribs from the Instant Pot

No, I'm not joking, the meat is so tender that it might literally fall off the bone (and yes, that happened to me). The pressure cooking time is 25-30 minutes. If the presentation is important to you, cook for 25 minutes as I do in this recipe. It is still tender, but the meat won't' fall off the bone too easily.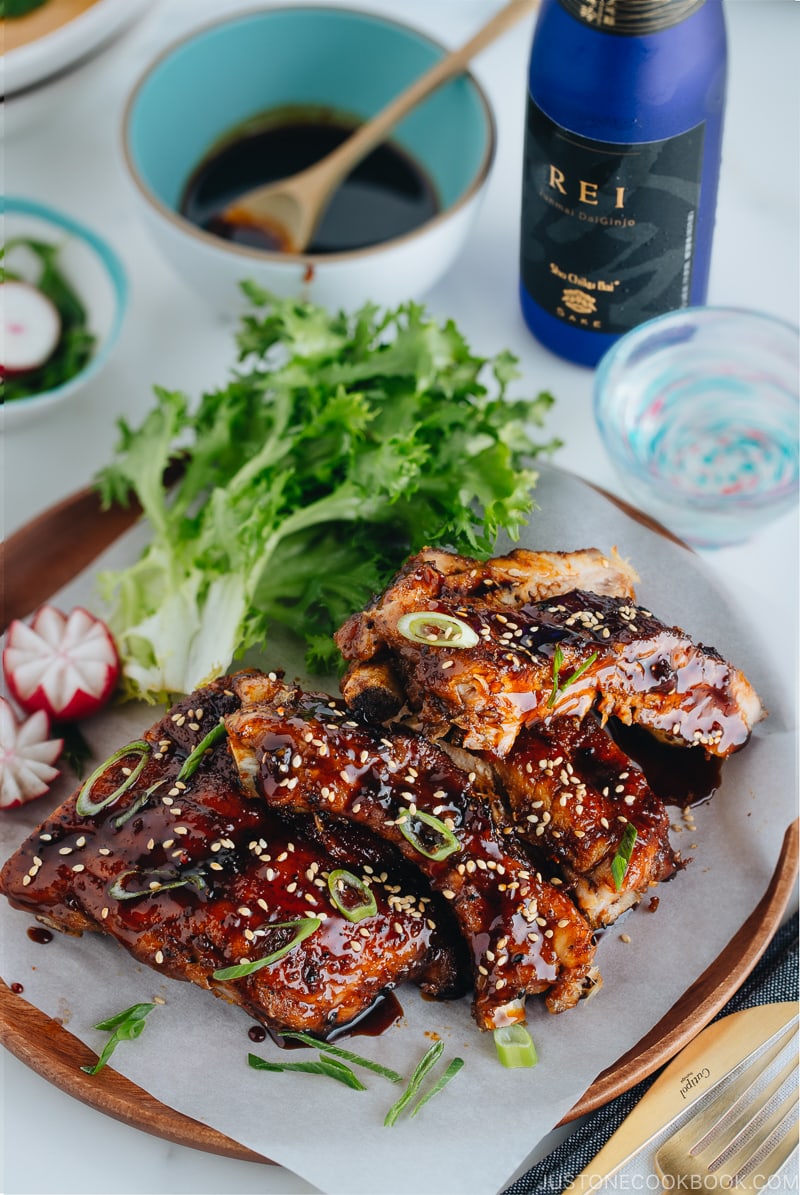 Sake Pairing with Sho Chiku Bai REI Junmai Daiginjo
We paired this tender juicy fall off the bone ribs with the exquisite Sho Chiku Bai REI Junmai Daiginjo. REI is one of our favorite sakes as it's versatile and can be enjoyed with a wide range of dishes.
As you bite into the juicy ribs slathered in the sweet and tangy sauce, sip REI and the cold and smooth sake cuts right through the fatty meat with its fruity flavors. It instantly refreshes your taste buds and leaves you wanting another sip and another big bite of the ribs.
The floral characteristics of Sho Chiku Bai REI Junmai Dainginjo compliment the flavors of the ribs really well and we highly recommend pairing it with flavorful dishes like these ribs.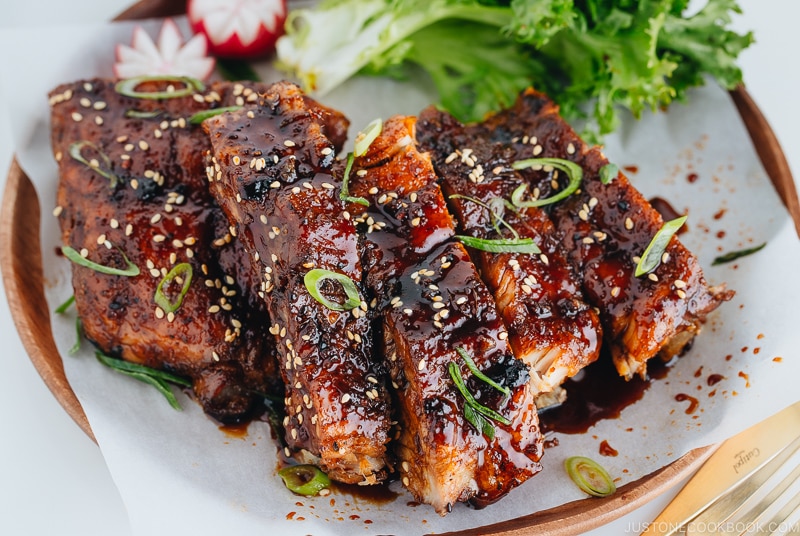 Japanese Ingredient Substitution: If you want to look for substitutes for Japanese condiments and ingredients, click here.
Wish to learn more about Japanese cooking? Sign up for our free newsletter to receive cooking tips & recipe updates! And stay in touch with me on Facebook, Pinterest, YouTube, and Instagram.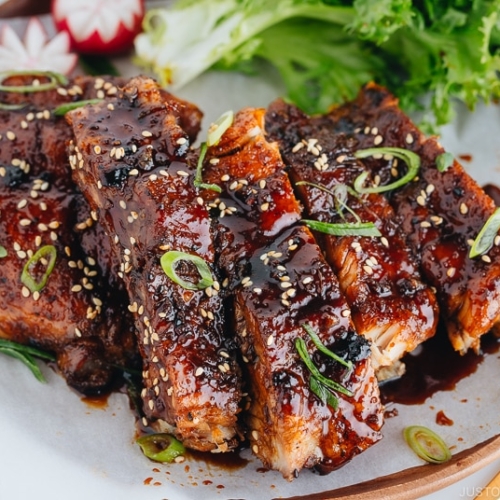 Instant Pot Sticky Asian Ribs
Make these Sticky Asian Ribs in less than 90 minutes using the Instant Pot! Slathered with caramelized glaze, these ribs are absolutely finger-licking good!
Servings:
3
(to 4 as main dish)
Ingredients
Japanese Ingredient Substitution:
If you want substitutes for Japanese condiments and ingredients, click
here
.
Instructions
Gather all the ingredients.
To Prepare Ribs
In a small bowl, mix together all the dry rub ingredients:

2 tsp salt,

1 tsp freshly ground black pepper,

2 tsp shichimi togarashi, and

¼ tsp white pepper.

Remove the membrane from the underside of the ribs, pulling it down the entire length with a paper towel (because it's very slippery!). You can ask the butcher to remove it for you. The ribs on the right are without membrane.

Season the ribs with the dry rub mixture on both sides of the ribs. Here I use UchiCook's Maraca Sifter. This is so convenient to sprinkle seasonings evenly!

Use dry rub to cover all sides, and then rub in thoroughly on both sides. Set aside for 30 minutes.
To Prepare the Sauce
In a small saucepan, combine ¼ cup sake, ¼ cup mirin, ½ cup soy sauce, 1 Tbsp rice vinegar, 4 Tbsp brown sugar, and 3 Tbsp honey.

Cook/simmer on low heat for next 30-40 minutes.

Turn off the heat. The sauce may be still liquid-like, but once it cools down, the sauce will get thicken further. The sauce will be roughly ⅔ cup after cool down.
To Pressure Cook Ribs
Place the metal steam rack into a 6-QT Instant Pot. Add 1 cup water and ¼ cup apple cider vinegar. 

Put the ribs upright on top of the rack, wrapping in a circle.

Select Manual setting; adjust the pressure to high, and set time for 25-30 minutes (if you want the meat to fall off the bone, do 30 minutes). If you use spare ribs, set time for 30-35 minutes.


When finished cooking, natural release for 5 minutes, then quick release the air (be careful and cover your fingers with a kitchen towel).
To Broil the Ribs
Preheat the broiler* with a rack placed about 6" (15 cm) away from the top heating element (in the center of the oven) for 5 minutes. When broiling, you don't control the temperature in the oven; instead, you control the distance between the broiler and the surface of the food. It's similar to using hotter and cooler zones on your grill. *Broiler setting: Low (450ºF/232ºC), Medium (500ºF/260ºC), and High (550ºF/288ºC). I usually use medium (6" away) or high (8" away).

Line a baking sheet with aluminum foil and place a wire rack. Transfer the ribs from the Instant Pot to the wire rack.

Brush with the sauce on both sides of the ribs.

Place into oven and broil until the sauce is caramelized, bubbly, and brown, about 3-4 minutes.

Remove from the oven and brush more sauce on the ribs.
To Serve
Sprinkle sesame seeds and chopped green onion. Serve immediately with the remaining sauce.
Equipment
Instant Pot (Pressure Cooker)
Nutrition
Calories:
838
kcal
·
Carbohydrates:
13
g
·
Protein:
65
g
·
Fat:
55
g
·
Saturated Fat:
19
g
·
Trans Fat:
1
g
·
Cholesterol:
230
mg
·
Sodium:
1319
mg
·
Potassium:
896
mg
·
Fiber:
1
g
·
Sugar:
11
g
·
Vitamin A:
313
IU
·
Vitamin C:
1
mg
·
Calcium:
142
mg
·
Iron:
3
mg
©JustOneCookbook.com Content and photographs are copyright protected. Sharing of this recipe is both encouraged and appreciated. Copying and/or pasting full recipes to any website or social media is strictly prohibited. Please view my photo use policy
here
.