Celebrate happy occasions with these colorful ball-shaped Temari Sushi! They're easily the prettiest sushi you can make at home. They make the perfect sushi to serve if you're hosting a party or potluck.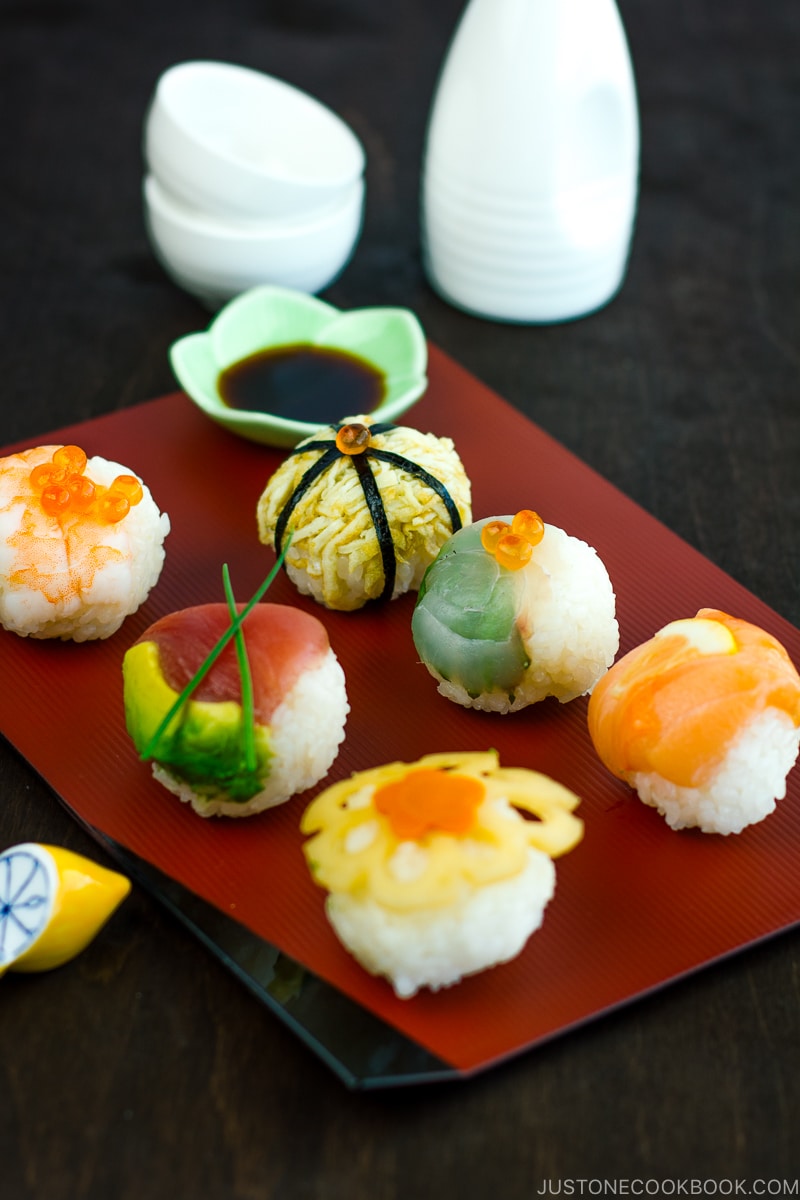 Here are the cutest and daintiest sushi you can easily make at home – Temari Sushi or Temarizushi (手まり寿司). Adorned with a variety of colorful toppings, these sushi balls are often served during happy occasions like Hinamatsuri (Girl's Day) in Japan.
What is Temari Sushi?
Temari (手毬), which means "handball" in English, is a traditional Japanese embroidered ball, which people used to play with. These days, Temari balls are treated more as decorative ornaments in the house rather than a children's toy.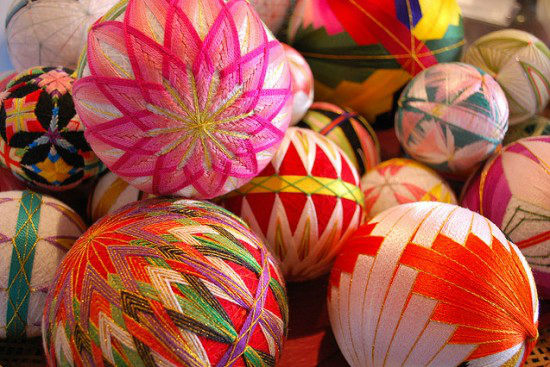 Temari Balls made by 90 year old lady in Japan
Photo Courtesy of NanaAkua (click for more photos)
As you may have guessed, Temari Sushi was named after these brightly colored Temari balls. A fine example of food imitates everyday objects.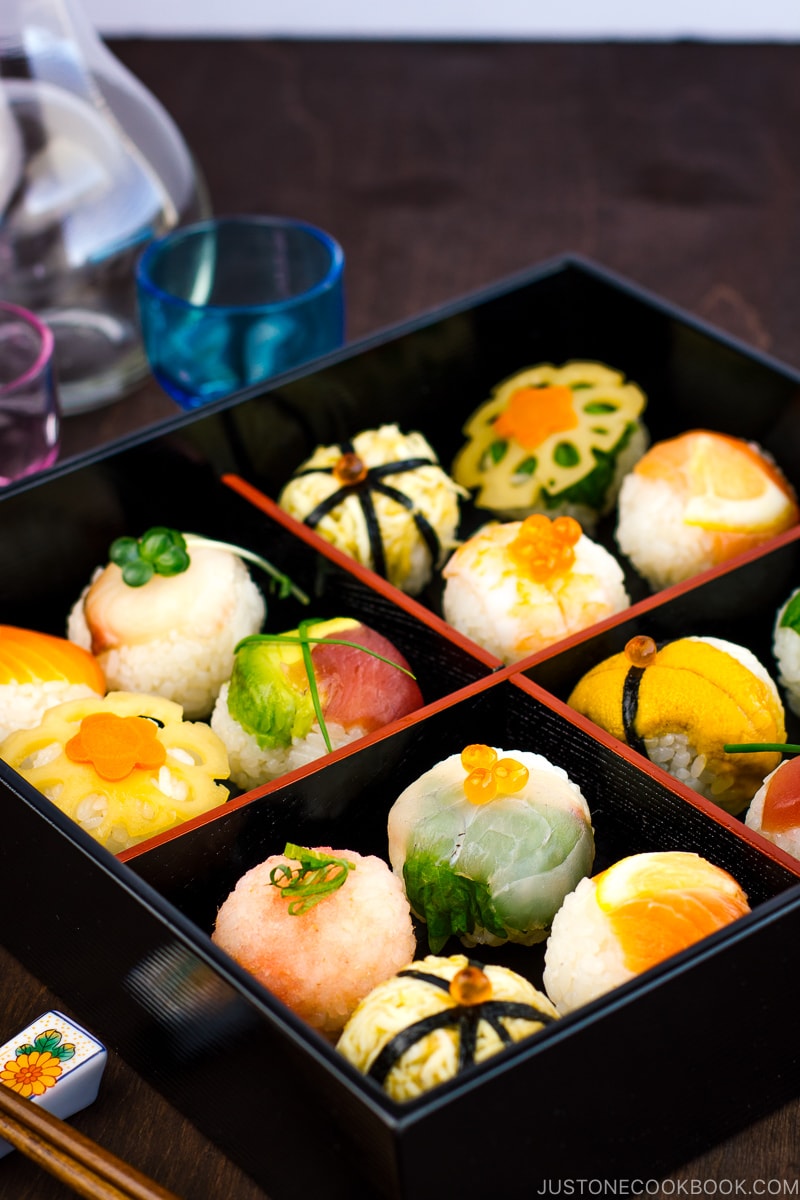 How to Make Temari Sushi
Temari Sushi basically consists of 2 parts:
sushi rice as the base
ingredients of your choice as the toppings
1) Make perfect sushi rice
For all sushi, the rice is just as important as the toppings or fillings. Once you master the secret of making the rice, you will be ready to dish up all kinds of mouth-watering sushi recipes. So start with this step-by-step sushi rice guide.
2) Choose your ingredients
From raw fish to assorted vegetables, you can literally work with an array of ingredients for Temari Sushi.
If you love raw fish, pick the freshest sashimi-grade seafood like salmon, tuna, and tai (sea bream).
Not a fan of raw fish? Use boiled shrimp, smoked salmon, boiled crab, grilled meat, or anything that's cooked.
For vegetarian or vegan, you can make Temari Sushi with your favorite vegetables. They can be fresh, grilled or roasted.
You can also layer the ingredients with thinly sliced cucumber, avocado, kinshi tamago (shredded eggs), and herbs to make the sushi more colorful.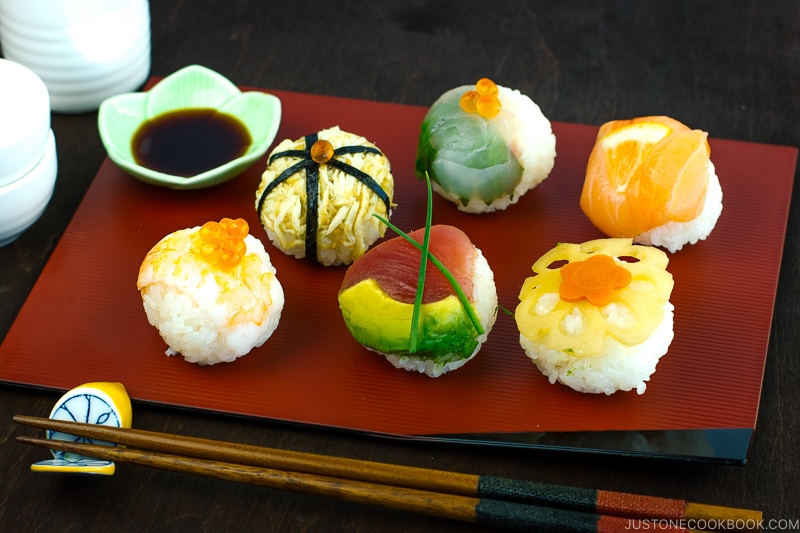 Tips to Make The Prettiest Temari Sushi
Here are some useful tips to dress up your Temari Sushi:
Use contrasting colors like red (tuna) and green (avocado).
Think textures. Ingredients such as octopus sashimi, kinshi tamago (shredded egg crepes) are great for creating textures.
Make use of translucent ingredients such as super thinly sliced cucumber and tai (sea bream). When you place other ingredients underneath these materials, it creates a unique sheer to the presentation.
Decorate Temari Sushi with colorful garnish that pops such as ikura (salmon roe), flower-shaped carrots, nori (seaweed) strips, thinly sliced lemon, chives, or microgreens.
The key is to mix, match and layer.
Unlike nigiri sushi or sushi rolls, you don't need any practice or expert skill to make Temari Sushi. The sushi balls will naturally form a nice round shape with the help of plastic wrap. You don't even have to worry about getting your hands sticky.
As you can see, the possibilities are endless for Temari Sushi. Let your creativity shines and has fun making homemade Temari Sushi!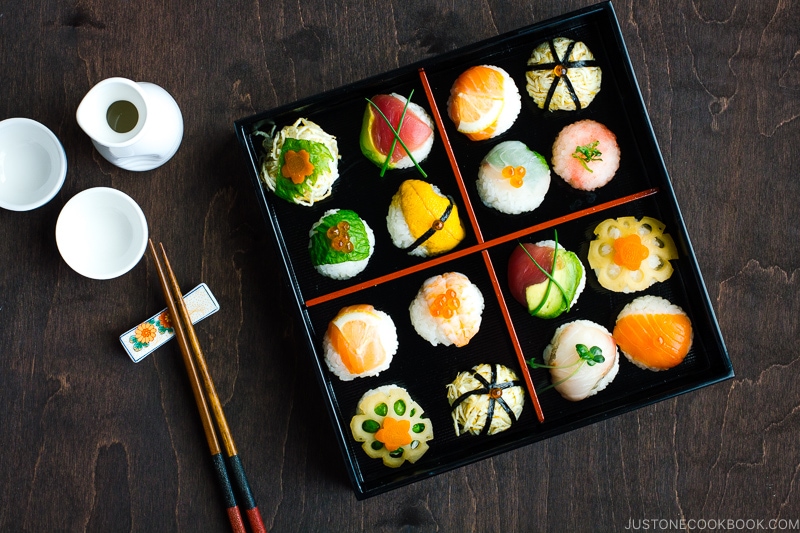 From top, left to right:
Egg + Shiso + Carrot
Avocado + Tuna
Smoked Salmon + Lemon
Egg + Nori Seaweed + Ikura
Shiso + Ikura
Uni (sea urchin) + Nori Seaweed + Ikura
Shiso + Tai (Sea Bream)
Sakura Denbu + Shiso,
Smoked Salmon + Lemon
Shrimp + Ikura
Avocado + Tuna
Lotus Root + Carrot
Shiso + Lotus Root + Carrot
Egg + Nori Seaweed + Ikura
Hamachi (yellowtail) + Kaiware Daikon
Salmon + Ikura
Wish to learn more about Japanese cooking? Sign up for our free newsletter to receive cooking tips & recipe updates! And stay in touch with me on Facebook, Pinterest, YouTube, and Instagram.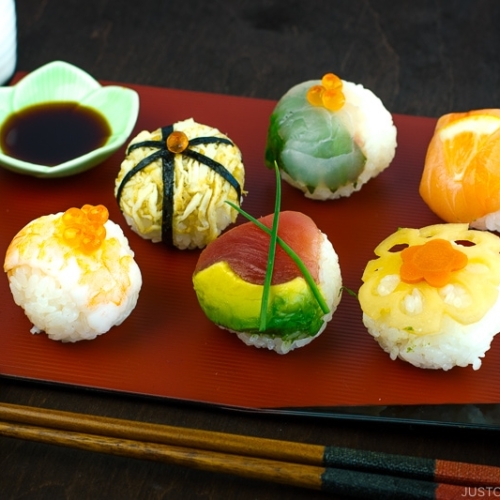 Temari Sushi
Celebrate happy occasions with these colorful ball-shaped Temari Sushi! They're easily the prettiest sushi you can make at home. They make the perfect sushi to serve if you're hosting a party or potluck. 
Servings:
4
(28 Temari Sushi)
Ingredients
Japanese Ingredient Substitution:
If you want substitutes for Japanese condiments and ingredients, click
here
.
Instructions
To Make the Sushi Rice (prepare ahead of time)
If you haven't made

5 cups sushi rice (cooked and seasoned)

yet, you must start making sushi rice (steamed rice seasoned with sweet vinegar) first as it takes at least 1 hour 40 minutes to prepare. Please note that 2¼ cups (450 g, 3 rice cooker cups) of uncooked Japanese short-grain rice yield 6⅔ cups (990 g) of cooked rice.
To Make the Seasoned Lotus Root and Carrot
Thinly slice

½ inch lotus root (renkon)

crosswise. If you want to make a flower-shaped lotus root, follow my tutorial for Hana Renkon.

Thinly slice

½ inch carrot

crosswise. If you want to make a flower-shaped carrot, follow my tutorial for Hanagiri.

In a small saucepan, put the sliced lotus root, sliced carrot, and the seasoning ingredients:

½ cup dashi (Japanese soup stock)

,

1 tsp sake

,

1 tsp mirin

,

1 tsp sugar

,

2 tsp usukuchi (light-colored) soy sauce

, and

⅛ tsp Diamond Crystal kosher salt

. Bring it to a simmer and cook on medium heat until tender.
To Make the Kinshi Tamago (Shredded Egg Crepe)
In a bowl, whisk

1 large egg (50 g each w/o shell)

and

⅛ tsp Diamond Crystal kosher salt

together. In a non-stick frying pan, heat

1 Tbsp neutral oil

over medium heat. Pour the egg mixture into the pan and make sure the egg is spread evenly. Flip once the bottom side is cooked. When the egg is cooked, take it out and chiffonade the egg into thin strips. You can follow my Kinshi Tamago tutorial for step-by-step instructions and photos.
To Make the Balls of Sushi Rice
Place a sheet of plastic wrap on top of a kitchen scale. Measure 30 g (2 Tbsp) of sushi rice and make a round ball. Transfer to a plate and measure the next batch. Make sure to cover the rice balls with plastic wrap and the sushi rice with a damp towel to prevent the rice from drying out.
To Cut the Sashimi
Cut the sashimi of your choice into thin slices. You can use

sashimi-grade salmon

,

sashimi-grade tuna (maguro)

,

sashimi-grade sea bream (tai)

,

sashimi-grade yellowtail (hamachi)

,

uni (sea urchin)

,

cooked shrimp

, and even

smoked salmon

.
To Make the Temari Sushi
Place a sheet of plastic on the work surface. In the center, lay the topping of your choice. These include sashimi slices, seasoned lotus root and carrot, shredded egg crepe, slices of

¼ avocado

, a bit of the

¼ cup sakura denbu (seasoned cod fish flakes)

, sections of

3 shiso leaves (perilla/ooba)

,and so on. Then, place a sushi rice ball on top of the ingredient. Wrap the plastic around the rice ball and twist to tighten. Shape it nicely so it has a nice ball shape. Unwrap and set aside.

Continue with other ingredients you prepared.

Garnish the Temari Sushi as you like. You can use thin strips cut from

½ sheet nori (dried laver seaweed)

, tiny wedges cut from

2 slices lemon

, cut pieces of

5 sprigs chives

, and some

ikura (salmon roe)

, as you wish.
To Store
Sashimi-grade fish must be eaten within 24 hours. Keep the leftovers in an airtight container and store in the refrigerator for a day. Temari Sushi should be consumed right away, but they can be stored in the refrigerator for up to 24 hours. I highly recommend keeping them in an airtight container or a plate wrapped tightly with plastic and then wrap around the container/plate with a thick kitchen towel so the food stay safe in a cool environment but rice doesn't get hard from cold air in the refrigerator.
Nutrition
Nutrition Facts
Temari Sushi
Amount per Serving
% Daily Value*
* Percent Daily Values are based on a 2000 calorie diet.
©JustOneCookbook.com Content and photographs are copyright protected. Sharing of this recipe is both encouraged and appreciated. Copying and/or pasting full recipes to any website or social media is strictly prohibited. Please view my photo use policy
here
.
Our Recommendations for Buying Sashimi Online


When we have a sudden craving for sashimi we usually buy from our local Japanese supermarkets. If you don't have a reliable shop to purchase quality sashimi nearby, we would recommend buying from Catalina Offshore online.
They've been in business for over forty years and all the sashimi products we've tried from them are outstanding. Use J1COOK20 for 10% discount. Disclosure: We earn a small percentage commission from your purchase of products linked to Catalina Offshore.