One of the easiest and the cutest sushi that you can make at home is called Temari Sushi (手まり寿司).
These colorful ball-shape sushi with various toppings are often served during happy occasions like Hinamatsuri (Girl's Day) in Japan.
What's Temari Sushi?
First of all, let me explain what's temari?  Temari (literally means "hand ball" in English) is a traditional Japanese embroidered ball, which people used to play with in Japan.  These days, temari balls are treated more as decorative ornaments in the house rather than a children's toy.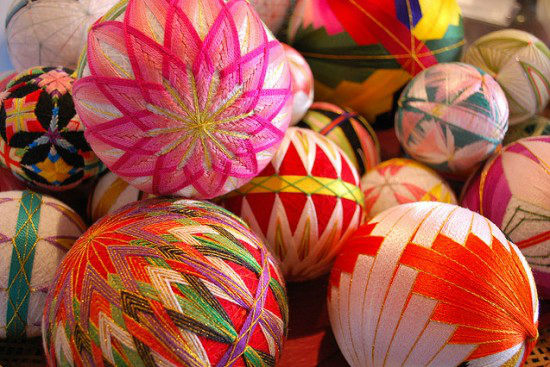 Temari Balls made by 90 year old lady in Japan
Photo Courtesy of NanaAkua (click for more photos)
Temari Sushi was named after these temari balls as temari sushi's round shape and colorful toppings resemble them.
Temari sushi basically consists of 2 parts: the bottom part with sushi rice and top part with ingredients of your choice.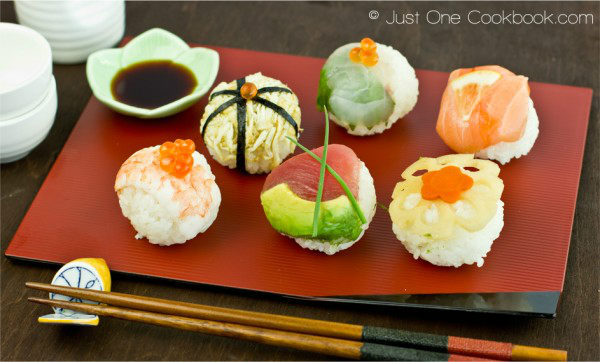 Ingredients for Temari Sushi
If you love sushi, use your favorite sashimi (raw fish) as the topping.  Sashimi fish like salmon, tuna, tai (sea bream) work great!
If you are not a fan of raw fish, use boiled shrimp, smoked salmon, boiled crab, grilled meat, or anything that's cooked.
If you are vegetarian or vegan, you can make temari sushi with your favorite vegetables.  They can be grilled/roasted first (so they are tender), or use fresh vegetables as well.
Whether you use fish or not, you can always layer the ingredients with cucumber, avocado, kinshi tamago (shredded eggs) and herbs to make it more colorful.
How to Make Temari Sushi
Unlike nigiri sushi or sushi rolls, you don't need to master the art of making sushi to make this temari sushi.  Here are the basic guidelines.
Very easy right?  You don't need to worry about your hands getting sticky with rice or having uneven shapes because your sushi ball will naturally become nice ball shape with the plastic wrap.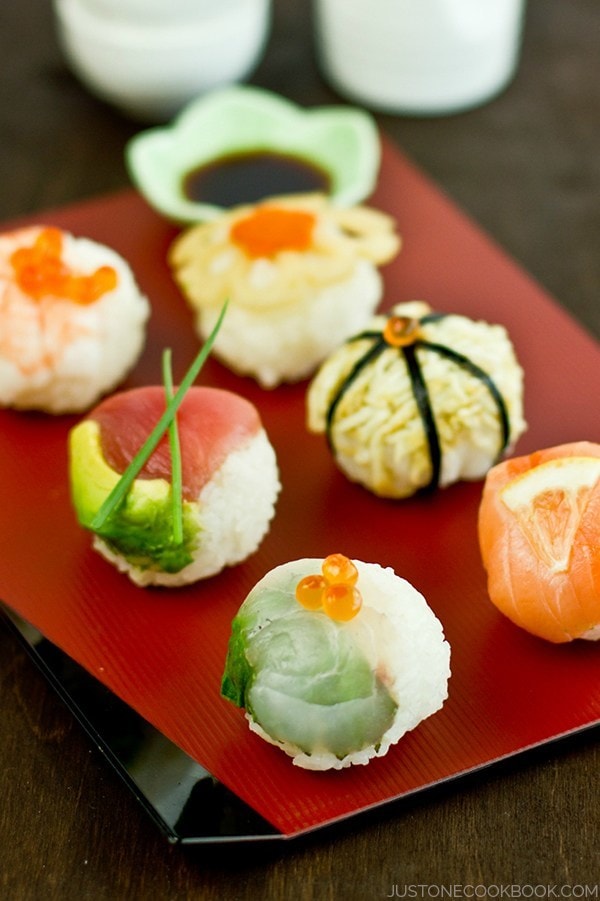 Tips to Make Your Temari Sushi Even More Beautiful
Here are some useful tips to dress up your temari sushi.
Use contrasting colors like red (tuna) and green (avocado).
Use ingredients with texture, like octopus sashimi and kinshi tamago (shredded egg crepes).
Use translucent ingredients such as super thinly sliced cucumber and tai (sea bream). If you put ingredients underneath these materials, you can still see through.
Garnish temari sushi with ikura (salmon roe), flower-shape cutout carrot, nori (seaweed) strips, super thinly sliced lemon, chives, kaiware daikon (radish sprout), or microgreens.
Don't be afraid to mix and match different kind of ingredients and try layering them.  Let your creativity side shine and have fun making homemade temari sushi!
From top, left to right:
Egg + Shiso + Carrot
Avocado + Tuna
Smoked Salmon + Lemon
Egg + Nori Seaweed + Ikura
Shiso + Ikura
Uni (sea urchin) + Nori Seaweed + Ikura
Shiso + Tai (Sea Bream)
Sakura Denbu + Shiso,
Smoked Samon + Lemon
Shrimp + Ikura
Avocado + Tuna
Lotus Root + Carrot
Shiso + Lotus Root + Carrot
Egg + Nori Seaweed + Ikura
Hamachi (yellowtail) + Kaiware Daikon
Salmon + Ikura
Don't want to miss a recipe? Sign up for the FREE Just One Cookbook newsletter delivered to your inbox! And stay in touch on Facebook, Google+, Pinterest, and Instagram for all the latest updates. Thank you so much for reading, and till next time!
Temari Sushi
One of the easiest and the cutest sushi that you can make at home is called Temari Sushi (手まり寿司).
Keyword:
rice ball, sushi
Servings
:
4
(28 Temari Sushi)
Ingredients
Your Selection of Sashimi:
Sashimi-grade salmon

Sashimi-grade Sea Bream (Tai)

Sashimi-grade yellowtail (Hamachi)

cooked shrimp

smoked salmon
Instructions
Remove the part of lotus root to make it look like flower pattern.


And cut out the carrot slices to look like flower.


In a small saucepan, bring Seasoning to a boil and add lotus root and carrot. Cook until soft.


In a non-stick frying pan heat oil over medium heat. In a bowl, whisk egg and salt together. Pour the egg mixture into the pan and make sure the egg is spread evenly. Flip once the bottom side is cooked. When the egg is cooked, take it out and chiffonade the egg into thin strips.


Place a sheet of plastic wrap on top of scale and measure 30g (2 Tbsp) of sushi rice and make a round ball. Transfer to a plate and measure next batch. Make sure to cover the rice ball with saran wrap and sushi rice with the damp towel to prevent from the rice drying.


Cut Sashimi into thin slices.


Place a sheet of plastic wrap and lay down the sashimi of your choice. Put the sushi rice ball on top, wrap the saran wrap around the rice ball. Twist and close the wrap tightly make a ball shape.


Continue with other ingredients.


Garnish with ikura, kaiware daikon, and other miniature greens.
Recipe Notes
Recipe by Namiko Chen of Just One Cookbook. All images and content on this site are copyright protected. Please do not use my images without my permission. If you'd like to share this recipe on your site, please re-write the recipe in your own words and link to this post as the original source. Thank you.