Nori is dried sheets of seaweed that are high in nutrients. Use it to wrap sushi rice and rice balls, eat with rice, add to soups, garnish on top of dishes, and more.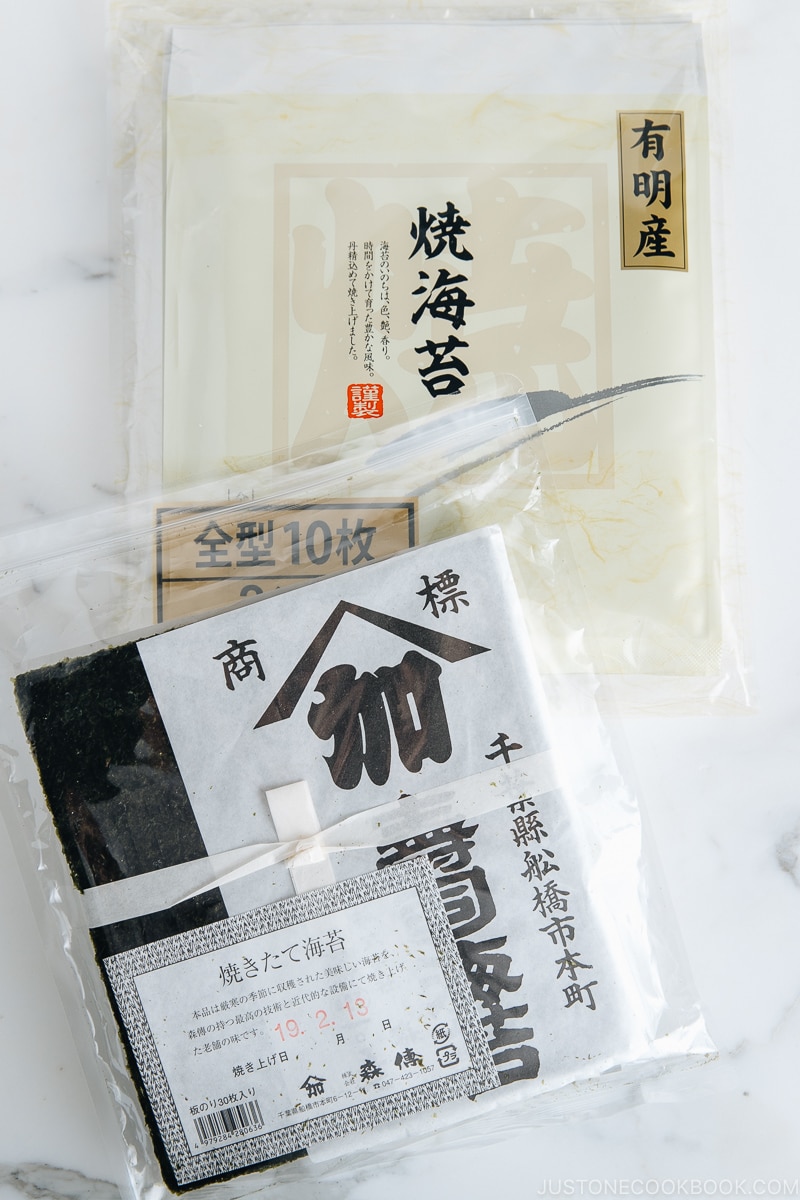 Nori (海苔) is an edible seaweed eaten in Japanese and Korean cuisine. It's a red algae that turns dark green when dried and has been eaten in Japan as early as the eighth century. These thin and crackly sheets are made through shredding and rack-drying, similar to papermaking.
What Is Nori
Nori (literally "ocean moss" in Japanese) is dried seaweed sheets. It resembles smooth black sheets of paper. You may already be familiar with nori as it's one of the most known Japanese sea vegetables.
It's usually plain and unflavored. If you prefer nori with a punch of flavor, try seasoned nori called ajitsuke nori (味付けのり), seasoned with soy sauce, salt, and sesame oil. There are several grades of nori, ranging from the cheap to the high-end. Some companies label seasoned nori as "seaweed snacks."
Nori is farm-raised in the cold and calm coastlines of Kyushu (southern Japan), Seto islands, Tokai (central Japan), Chiba, and Sanriku (northern Japan).
For more on seaweed varieties, please read Discover Seaweed: The Essential Ingredient of the Japanese Diet
What Does it Taste
Nori tastes slightly salty with an umami aftertaste.
How to Use Nori
It's not difficult to incorporate nori into your meals. Nori can be plain or seasoned and come in large square sheets or smaller rectangles for convenience. You may know it as a wrap for sushi rolls, raw fish, and onigiri.
Finely cut nori, called kizami nori (刻み海苔), is great as a garnish on rice, noodles, salad, and pasta dishes. It adds aroma, flavor, and color to your plate.
Nori no tsukudani (海苔の佃煮) is a nori paste cooked in soy sauce. You can eat this with rice.
Aonori (青海苔) or Aosa (あおさ), green nori flakes, are made from a different variety of green algae. Sprinkle these aromatic flakes over okonomiyaki, takoyaki, and yakisoba.
Roasted Nori (Nori Sheet)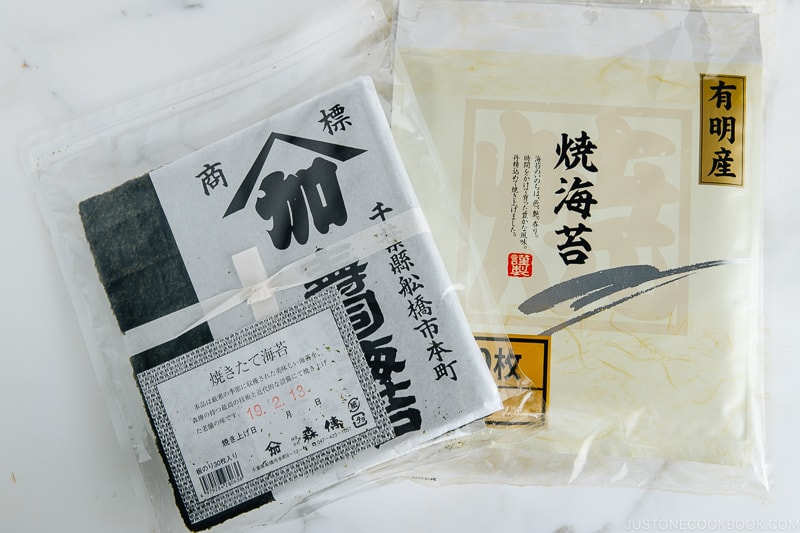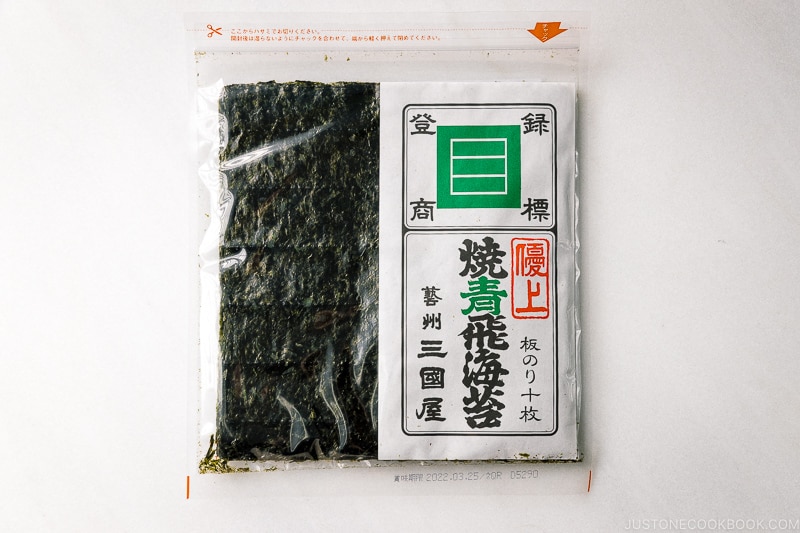 Seasoned Nori (Ajitsuke Nori)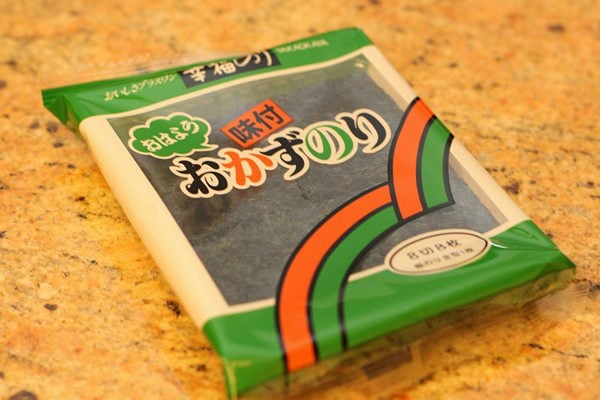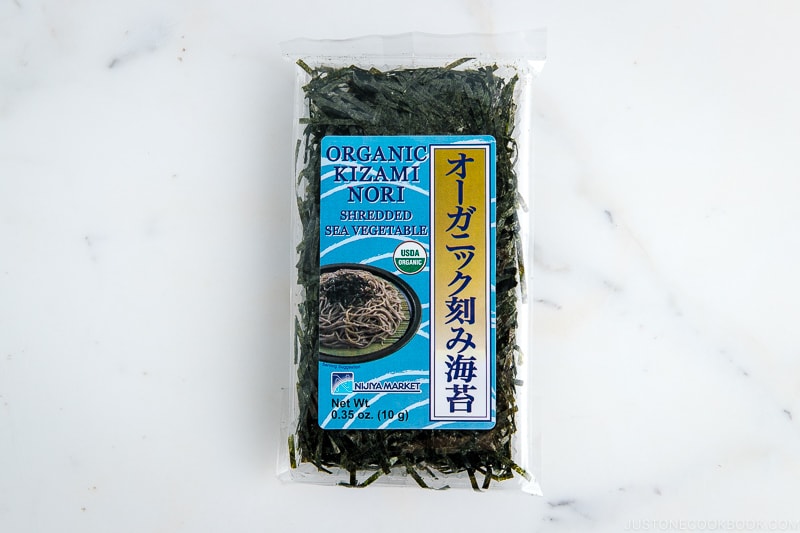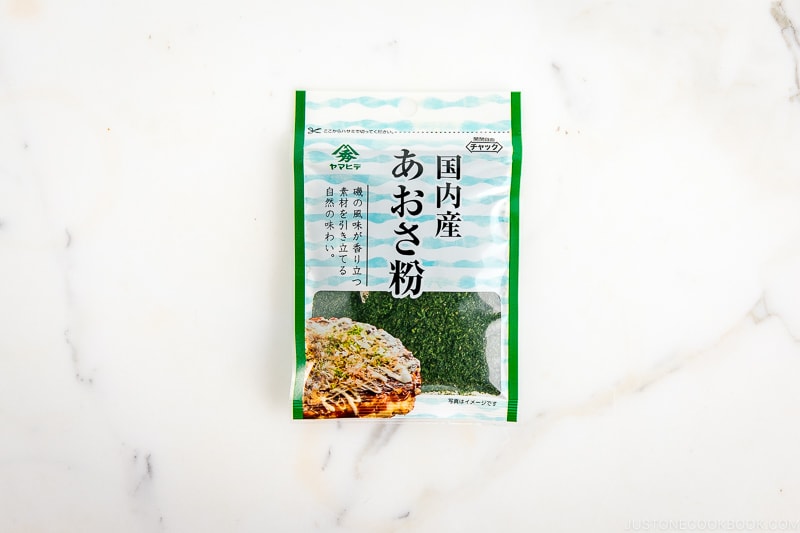 Where To Buy
You can find nori in the Asian section of most supermarkets. Check out the Asian/Japanese grocery stores or online for more variety.
How to Choose The Best
Finding good-quality nori outside Japan may be difficult. Therefore, I recommend buying nori imported from Japan, which is more expensive but is a safer choice. If it's high-quality nori, it will also mention its origin. So do check the labels before purchasing.
How To Store
Nori is extremely sensitive to heat, direct sunlight, and humidity. As nori can last for a while in its original packaging, buy small packs if you don't eat it frequently. Seal opened bags of nori very well in an air-tight container or zip-top bag to expel air in a cool and dry place. If transferring nori into a different bag, make sure to put the silicone gel packet, to help absorb moisture. Nori can become stale quickly, losing its taste and scent. To refresh nori, crisp it over an open flame.
Substitutions
Depending on the dish, you could use Korean nori called gim. Gim is salted seaweed sheets with holes like Swiss cheese. Gim is also eaten with rice or used as a wrapper for gimpab (Korean rice rolls). Just note the extra salt.
Health Benefits
Nori is a fat-free, alkaline food rich in protein and antioxidants. As well as containing various vitamins and minerals, it is rich in iodine, which is essential in hormone development. A single nori sheet has the same amount of calcium as 20ml of milk or one egg. It's also high in dietary fiber, which can aid digestion, and low in calories and carbohydrates.
FAQs
Q: Is nori vegan?
Yes, nori is vegan, and its production method does not contain animal products.
Q: Is nori allergy-friendly and gluten-free?
You should avoid nori if you are allergic to crustaceans. Check the product label warning for any allergens. It can also contain toxic chemicals such as cadmium and arsenic, but it's safe to eat in moderate amounts.
Nori is naturally gluten-free.
---
Wish to learn more about Japanese cooking? Sign up for our free newsletter to receive cooking tips & recipe updates! And stay in touch with me on Facebook, Pinterest, YouTube, and Instagram.