Onsen Tamago literally means 'hot spring eggs' in Japanese. It refers to eggs that are slowly cooked in hot spring water to create silky egg whites and custard-like yolk. Here's how you can make this delicious egg recipe at home.
In the past, I've shared some popular Japanese egg recipes on Just One Cookbook such as Omurice, Tamagoyaki, and Ramen Egg (Ajitsuke Tamago). Today I'll add another popular dish to the egg recipe collection, and it's Onsen Tamago (温泉卵).
What's Onsen Tamago?
Onsen means hot springs, and tamago means eggs in Japanese. Why is the name "hot springs eggs"? Originally, eggs that were prepared this way were slow-cooked in Japan's warm hot springs water.
What's so special about these eggs? These eggs are perfectly poached inside its shell. While the whites are soft and silky, the yolk comes out firm but retains the color and creamy texture of an uncooked yolk. It's basically the complete opposite of soft-boiled eggs, which are firm whites and soft egg yolk.
The Chemistry Behind Onsen Tamago
This special texture is achieved because egg yolk and egg white solidify at different temperatures. Egg yolks solidify at 158°F (70°C) and egg whites solidify at 176°F (80°C). Therefore, if we maintain the cooking water to be at 149-154°F (65-68°C) for 30 minutes, we'll get a perfect spherical poached egg, creamy and silky on the outside and firm on the inside.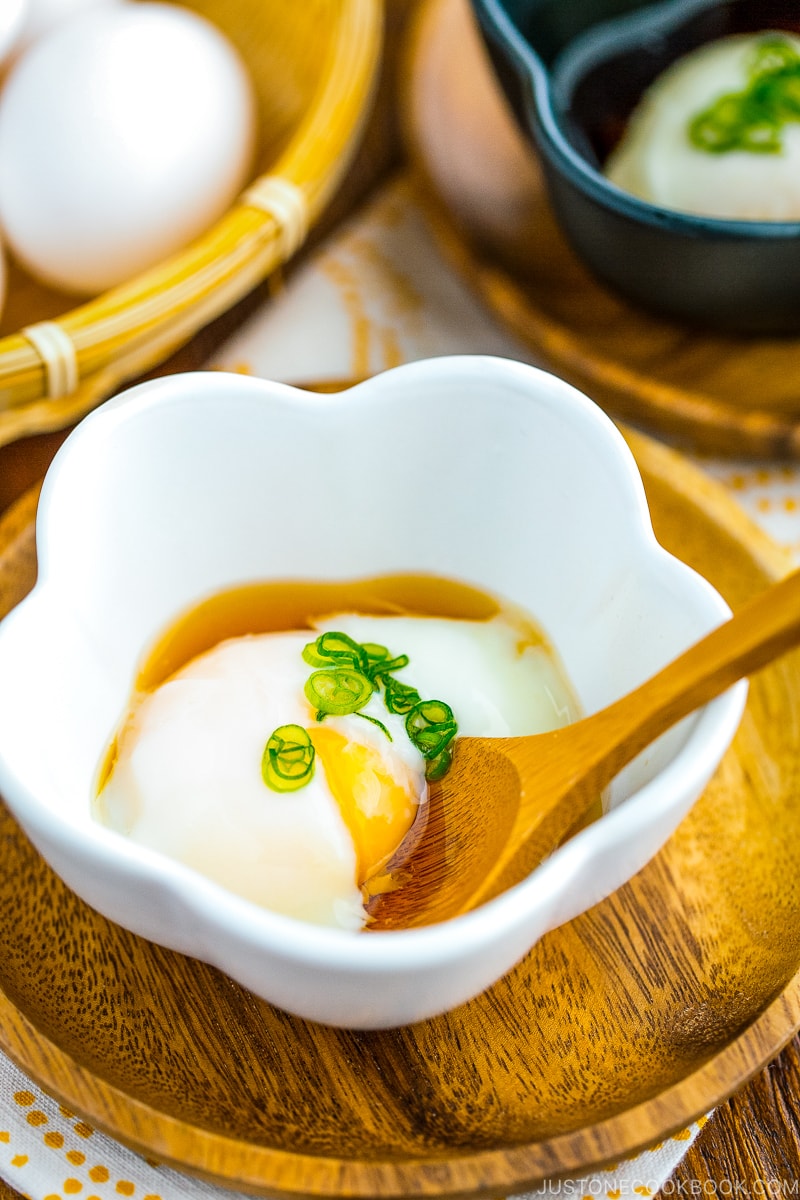 This Recipe Works for EVERYONE
There are many ways to make the perfect onsen tamago, but this technique does not require a microwave, a thermometer, or any special cooking gadget.
Here are the highlights of this technique:
Requires just a stove and pot (which I hope everyone has in their kitchen).
Does NOT require a thermometer.
Use refrigerated eggs. Some recipes require eggs to be "room temperature", but the "room" temperature could be different depending on where you live.
Not required to soak eggs in iced water after cooking, in case you don't have ice cubes handy.
If you follow my recipe precisely, you should be able to achieve perfect onsen tamago as the final result. The only requirement is to use 4 large eggs. If you use different size eggs or reduce/increase the number of eggs, it will not work as the water temperature will change.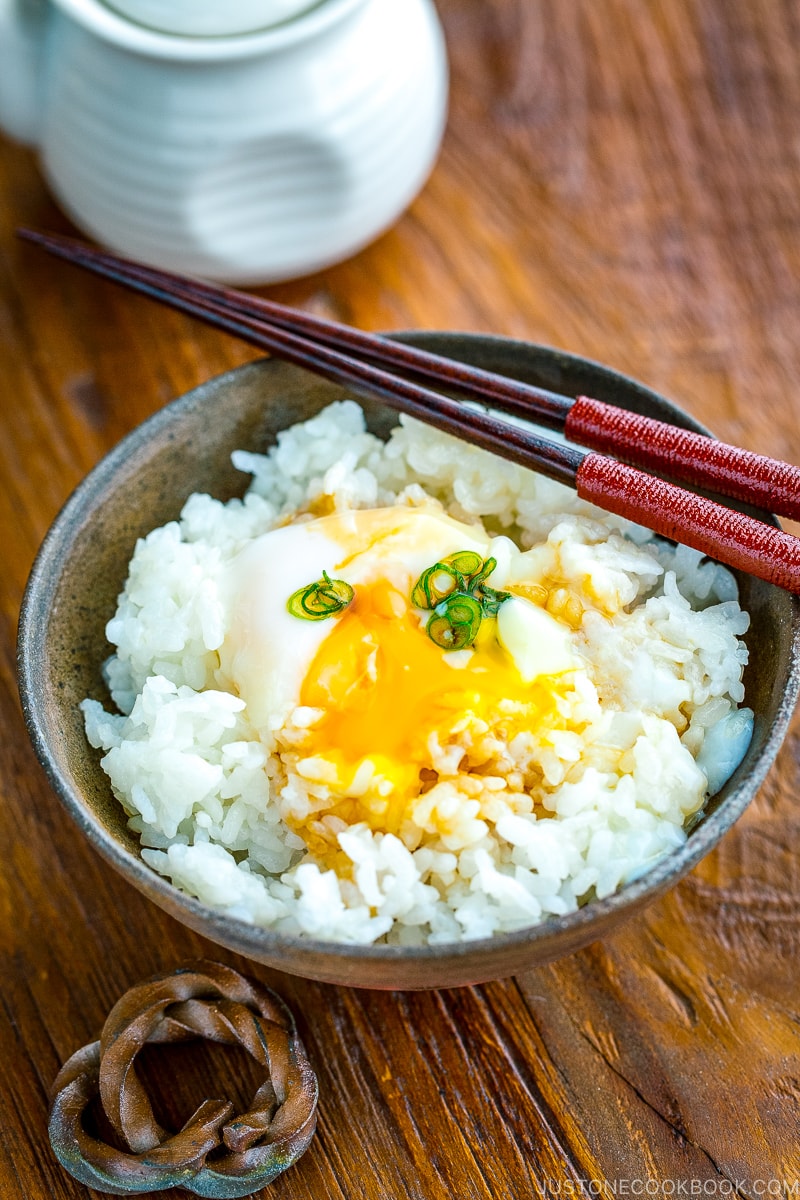 How Do you Enjoy Onsen Tamago?
You can enjoy onsen tamago with a dashi-based soy sauce (だし醤油) which is usually served as a part of Japanese breakfast. Also, you can place it on top of the steamed rice, splash some soy sauce over, mix, and enjoy; serve with gyudon, curry rice, soba noodle soup, and cold udon; or even mix with carbonara (my favorite!).
Now let's get started! The best part about this recipe is you do not need to visit hot springs in Japan to enjoy these special eggs. Make the perfect onsen tamago right at home!
Disclaimer: Many people in the world including the Japanese consume uncooked eggs in their cuisine. However, according to the FDA, eggs should be cooked to 165 degrees °F (74 °C) in order to be considered safe. The perfect temperature for cooking onsen tamago is 149-154 degrees °F (65-68 °C), which is below the guideline. There is a risk of salmonella by consuming undercooked eggs.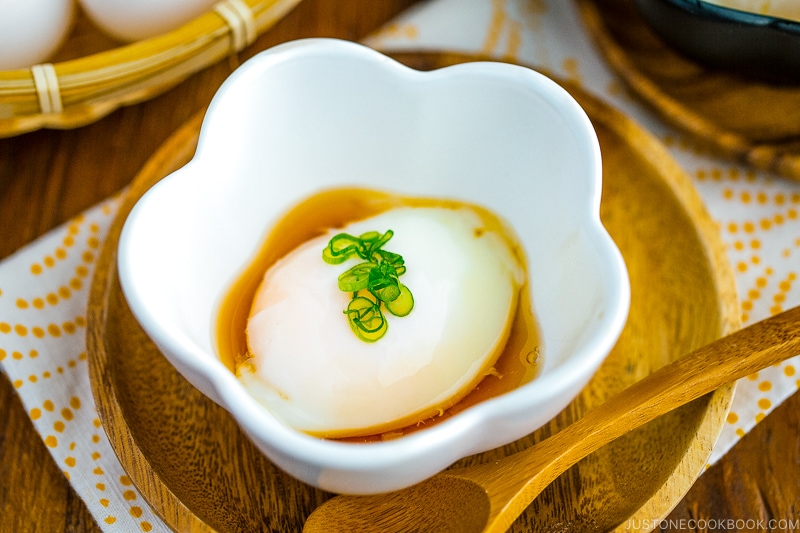 Wish to learn more about Japanese cooking? Sign up for our free newsletter to receive cooking tips & recipe updates! And stay in touch with me on Facebook, Pinterest, YouTube, and Instagram.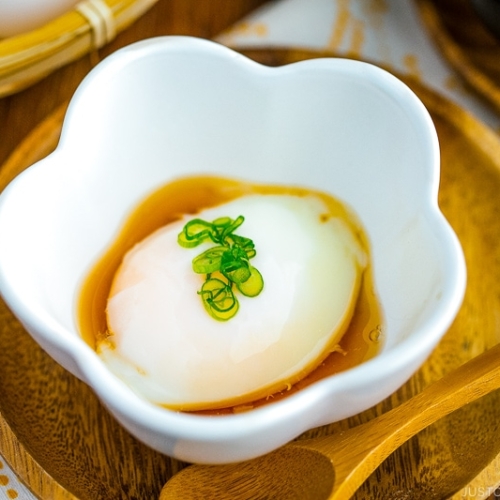 Onsen Tamago (Japanese Slow-Cooked Eggs)
Onsen Tamago literally means "hot spring eggs" in Japanese. It refers to eggs slowly cooked in the shell in natural hot spring water to create silky egg whites and custard-like yolks. Here's how you can make this delicious egg recipe at home.
Video
Ingredients
4¼

cups

water

(measure 4¼ cups and remove 4 tsp, to be precise)

¾

cup

tap water

(¾ cup + 4 tsp, to be precise; the water needs to be colder than room temperature)

4

large eggs (50 g each w/o shell)

(refrigerated)
Japanese Ingredient Substitution:
If you want substitutes for Japanese condiments and ingredients, click
here
.
Instructions
Gather all the ingredients. You will need a small heavy-bottomed saucepan (I use 1.5 QT); you will need to cover the eggs completely with the water.

Add the water to the saucepan, cover with a tight-fitting lid, and bring it to a boil.

Once boiling, remove the pot from the heat. Take the eggs out of the refrigerator. Add the cold tap water to the pot and gently submerge the cold eggs in the hot water. Immediately cover and set the timer for 17 minutes.

If you'd like to enjoy the onsen tamago with the sauce, combine the dashi, mirin, and soy sauce in a small saucepan and bring it to a boil. Add the katsuobushi, turn off the heat, and let the katsuobushi sink to the bottom of the pan. After 30 seconds or so, strain through a sieve and set the sauce aside. You can keep the sauce in the refrigerator for 4-5 days.

Cut the scallion into thin slices and set aside.

Once 17 minutes have passed, gently take the eggs out of the water and set them aside for 5 minutes.

You can enjoy the onsen tamago either warm or at room temperature. Crack the egg into a small bowl, pour the sauce into the bowl, and garnish with the sliced scallion. 
To Store
You can keep the uncracked onsen tamago for 1-2 days in the refrigerator. To reheat, remove the onsen tamago from the fridge and bring it to room temperature. To warm it up further, place it in a bowl of 160ºF (70ºC) water for 10 minutes. Do not reheat higher than that; otherwise, the heat will cook the egg.
Nutrition
Nutrition Facts
Onsen Tamago (Japanese Slow-Cooked Eggs)
Amount per Serving
% Daily Value*
* Percent Daily Values are based on a 2000 calorie diet.
©JustOneCookbook.com Content and photographs are copyright protected. Sharing of this recipe is both encouraged and appreciated. Copying and/or pasting full recipes to any website or social media is strictly prohibited. Please view my photo use policy
here
.