Served in a delicate umami broth, this classic Udon Noodle Soup (or Kake Udon) is a bowl of true comfort. Simple yet full of soul, it is a thing of beauty. Enjoy the noodle soup as is or top it with tempura, fish cake, tofu, or vegetable.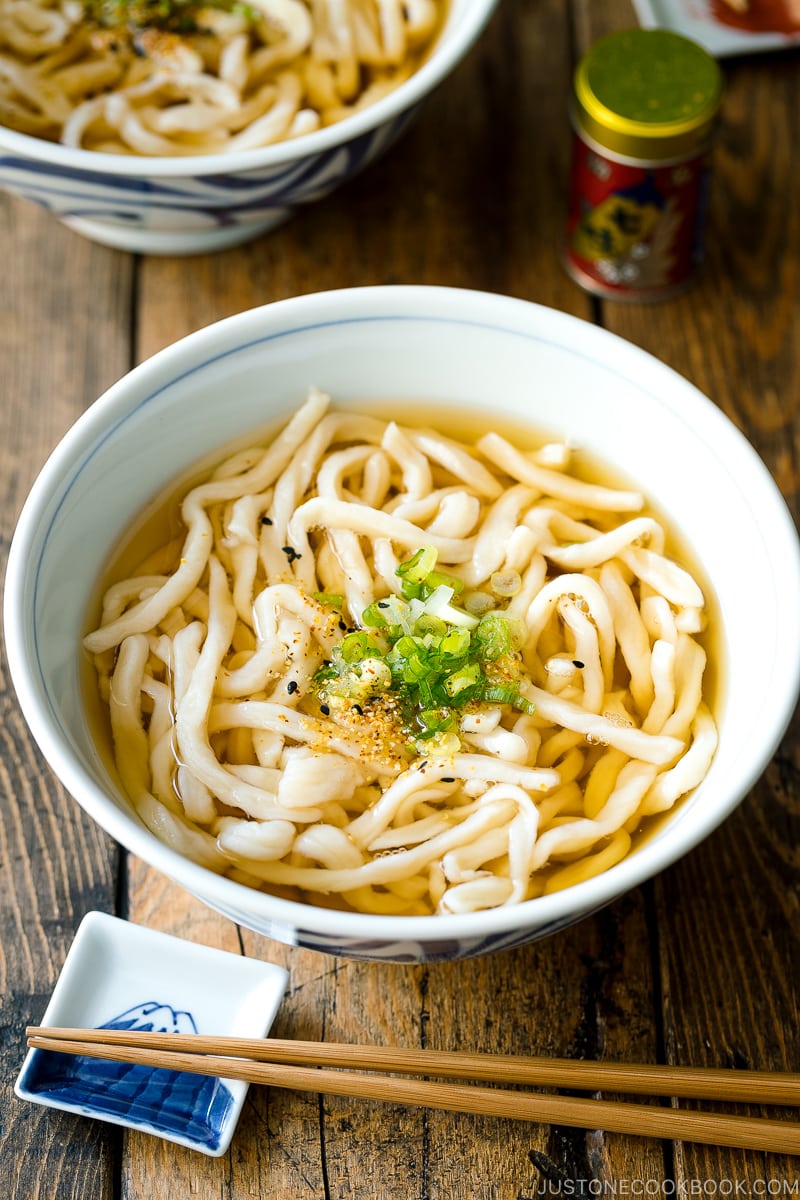 Of all the Japanese noodles, udon is often the one that I turn to when I'm in need of comfort. To me, these chewy, slippery noodles seem to have a special power to soothe any troubles and satisfy one's hunger. We eat them at any time of day – be it a quick lunch or a fulfilling dinner. And they are perfect hot, cold, or anywhere in between.
I love all kinds of udon dishes, but nothing beats the classic simple hot udon noodle called Kake Udon. Today let's learn more about it and how we can make an authentic bowl at home.
What is Kake Udon
Kake Udon (かけうどん) is the most basic form of hot udon noodle soup, made of udon noodles sitting in a flavorful dashi based broth. In my opinion, it is most inspiring as it is exactly the kind of food that celebrates simplicity.
In the Kansai region known for big cities like Osaka, Kobe, and Kyoto, this udon noodle soup is called Su Udon (素うどん). The major difference is the color of the soup broth as it's much lighter than the one in the Kanto region (Tokyo area). The Kansai regions often use light-colored soy sauce called Usukuchi Shoyu (薄口醤油).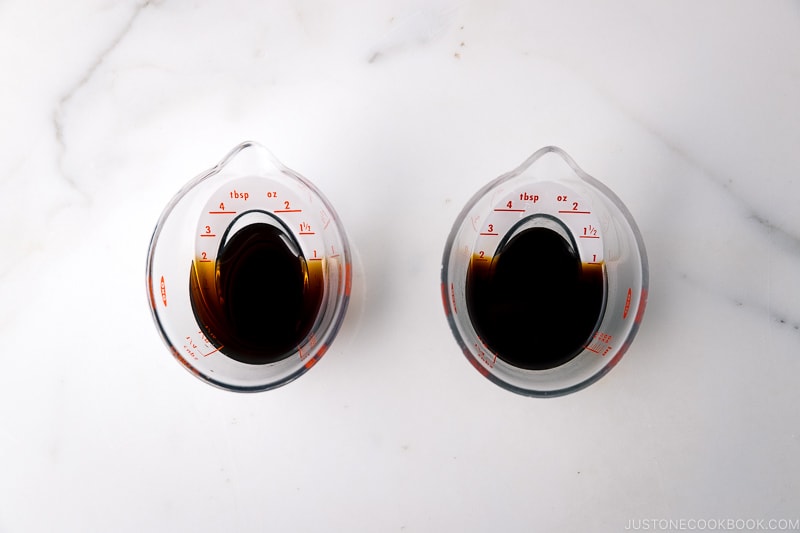 This simple udon noodle soup can be transformed into something more when you change up the seasonings or toppings. You can make Tanuki Udon with Tenkasu (fried tempura bits), or you can make Kitsune Udon with seasoned fried tofu called Inari Age.
Kake Udon vs. Kamaage Udon
Before we move on, I want to briefly talk about Kamaage Udon (釜揚げうどん), which is another type of udon noodle dish that looks similar to Kake Udon.
Many people tend to get confused with both types of udon as they are served with minimal garnishes, despite being prepared differently.
Kamaage literally translates to "pull out of the pot" and it has a unique serving style. Unlike most udon noodles where they get a quick rinse under cold running water after cooked, Kamaage Udon is served in a bowl directly from the pot, often with the hot cooking liquid. Because the cooked noodle is never rinsed with cold water, kamaage udon has a distinct softer, velvety texture and starchy flavor. You would then dip the noodles into a dipping broth 'tsuyu' that is served alongside.
So it is rather different from Kake Udon where the noodles are chewy with a supple bite and a dashi broth is poured over into the bowl of noodles.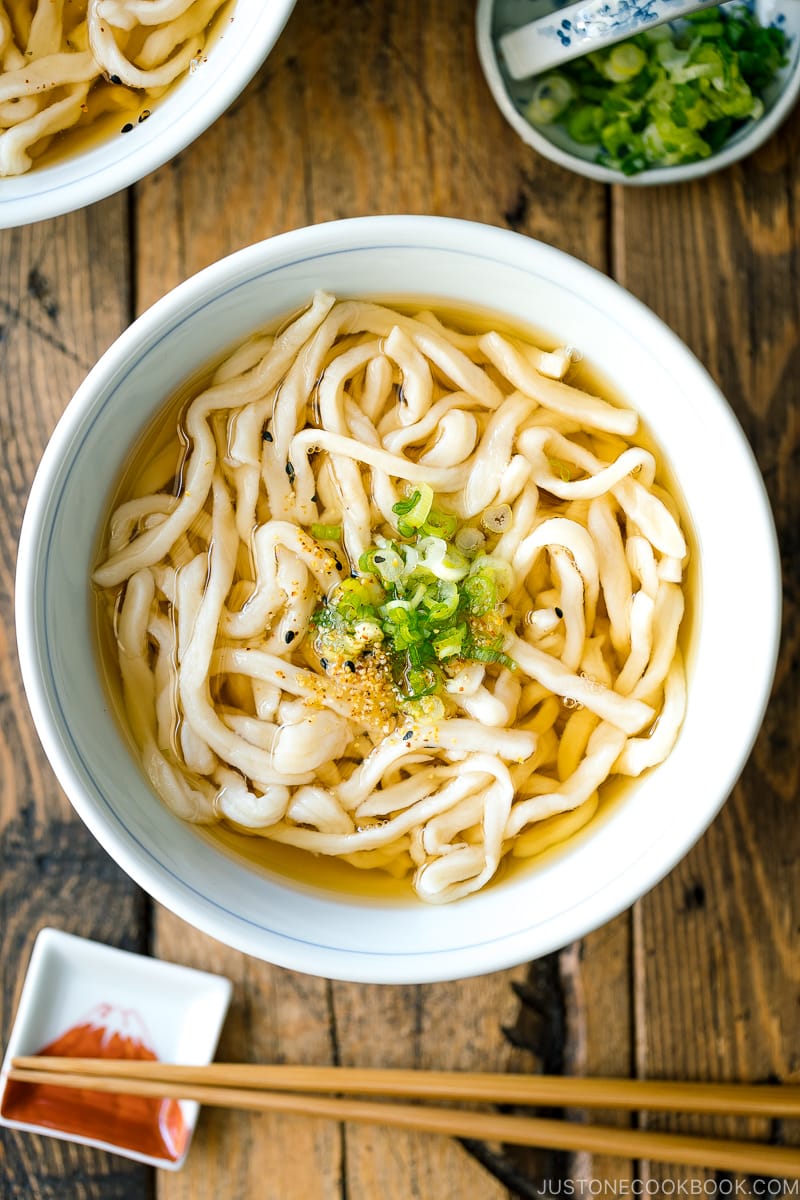 3 Important Components of Udon Noodle Soup
1: Udon Noodles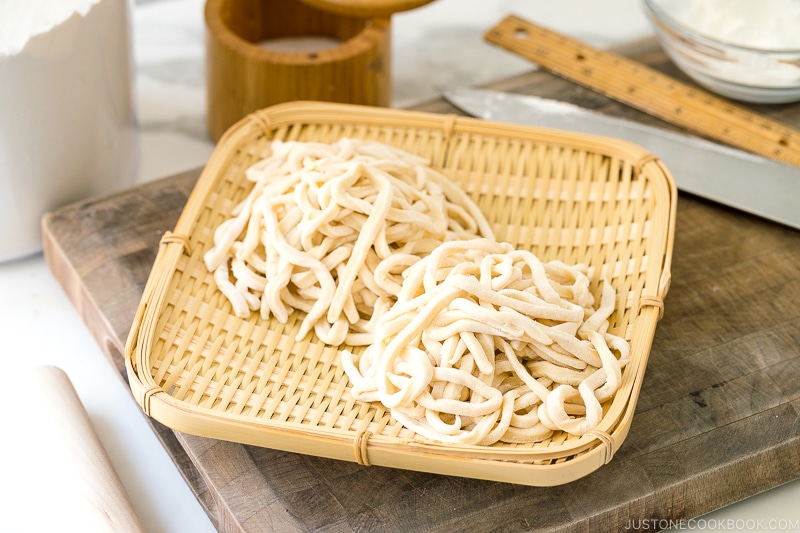 There are so many regions (prefectures) in Japan that are known for udon noodles. The most well-known prefecture is Kagawa in Shikoku region, followed by Fukuoka in Kyushu region and Saitama in Kanto region.
Kagawa is known for Sanuki Udon (讃岐うどん), which is characterized by its chewy and elastic noodles and sardine soup stock.
In Japan, you can find fresh udon noodles in the refrigerator section or dried udon noodles on the shelf. Here in the U.S., we can only buy frozen udon noodles or dried udon noodles.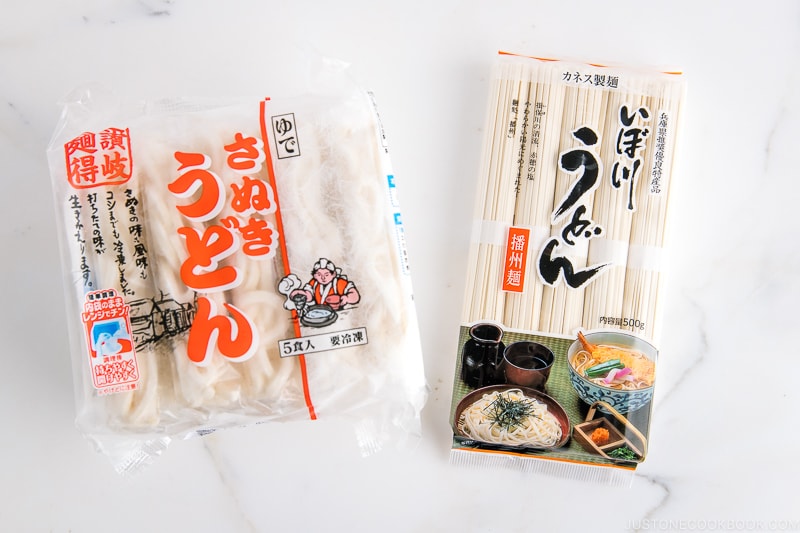 I also recommend making udon noodles from scratch! Udon is very easy to make compared to pasta or soba noodles! Check out my tutorial on how to make homemade udon noodles and video.
How to Cook Udon Noodles
To cook udon noodles, prepare a large pot of water. They contain quite a bit of salt already so we do not need to salt the water (same for soba noodles!). Cook the noodles according to the package instructions.
📝 When the udon noodles are cooked and drained, always rinse the starch under cold running water. This gives the noodles a firm, but chewy texture.
📝 For hot udon noodle soup, the noodles are quickly dunked in warm water (in a second pot) before being served in a bowl. I don't always prepare the second pot of warm water (sorry I am lazy), so I quickly run the noodles in hot water in the sink (switch from cold to hot on the faucet). Not the proper way, but it does the job.
2: Dashi Broth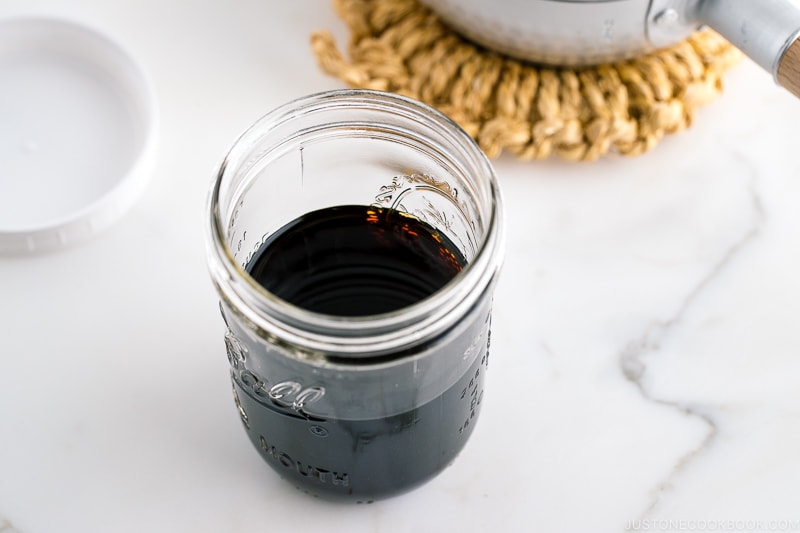 Next, prepare the soup broth.
The udon soup or broth is made of dashi (Japanese soup stock) seasoned with basic Japanese condiments -soy sauce, mirin, (sometimes sake), sugar, and salt.
As I explained earlier, the main difference between the east and west of Japan is the use of different soy sauce.
Tokyo area – use regular soy sauce (Koikuchi Shoyu)
Osaka area – use light-colored soy sauce (Usukuchi Shoyu)
The broth color is quite different between the regions. I make mine with regular soy sauce.
How to Make the Udon Broth
I'll share two methods here so you have the options.
Broth Made with Dashi
Make dashi (Japanese soup stock) – You can make it from scratch with kombu and katsuobushi. For vegetarians/vegans, make Vegan Dashi. It takes only 30 minutes or less, but if you need to speed things up, use a dashi packet or dashi powder.
Season the dashi – Add soy sauce, mirin, sugar, and salt. Ready to pour over the noodles!
Broth Made with Mentsuyu and Water
Measure mentsuyu and water – Mentsuyu is made with kombu and katsuobushi so you can skip making dashi.
Heat up – To make hot udon soup, heat up the mentsuyu broth in a pot. Otherwise, you can use it directly on cold noodles.
In my refrigerator, I always have a bottle of store-bought Mentsuyu or a jar of Homemade Mentsuyu. It's very convenient if you want to make noodle soup instantly. For those who enjoy soba and udon noodles, I definitely recommend keeping Mentsuyu in the fridge.
📝 Each udon bowl requires roughly 300 ml (1 ¼ cup) of broth.
3: Topping Choices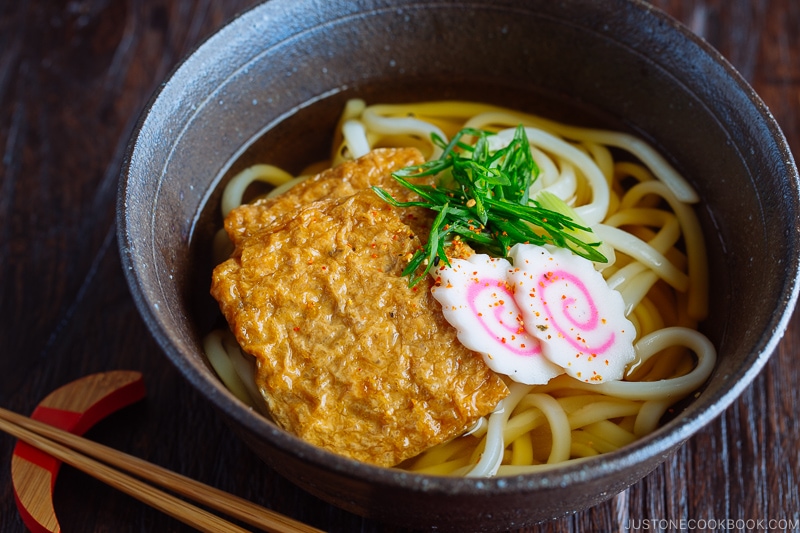 Lastly, the topping. Kake Udon is all about simplicity, so we usually garnish the noodles with chopped green onion and that's about it. However, you can add different toppings to make it fancier!
There are plenty of options and these ingredients are available at Japanese markets.
Basics
Toppings – No Prep Required: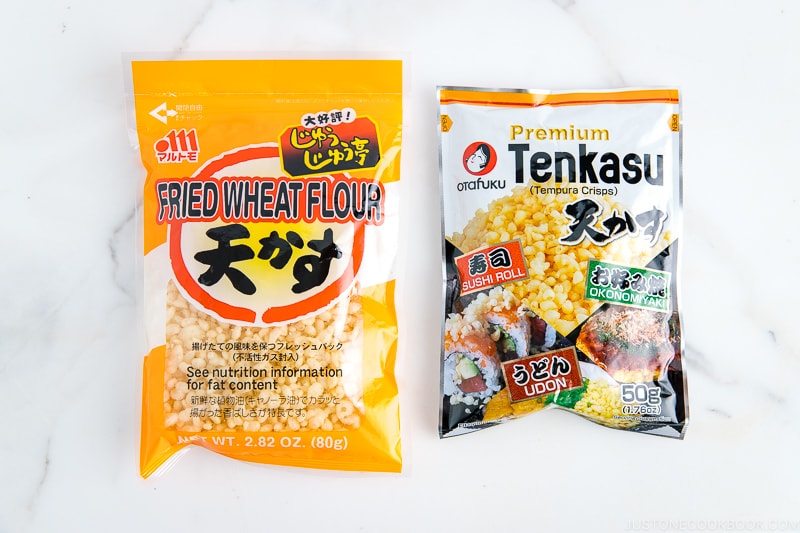 Additional prep required: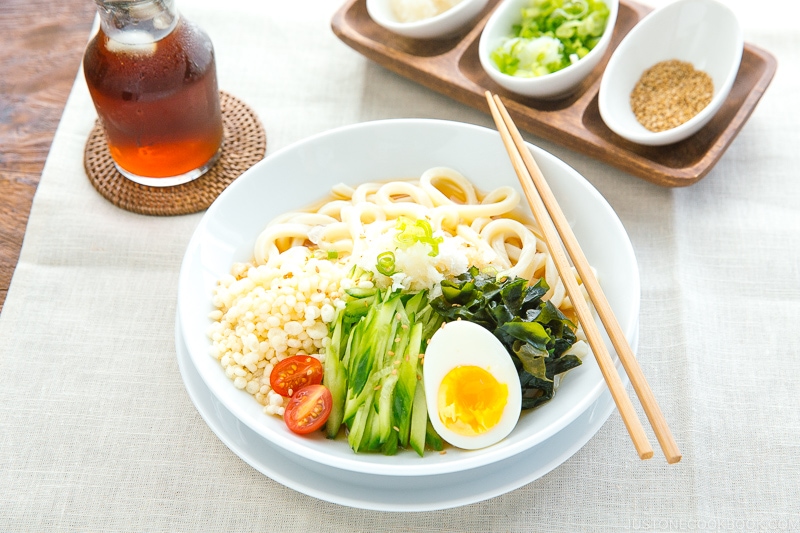 As you can see, the possibility is endless. No matter how you prepare it, udon is bound to satisfy.
More Delicious Udon Recipes
Tableware from Musubi Kiln
I've partnered with a great ceramic online shop from Japan called Musubi Kiln. You will get 10% off with a coupon code JUSTONECOOKBOOK for your purchase. In this post, I've used: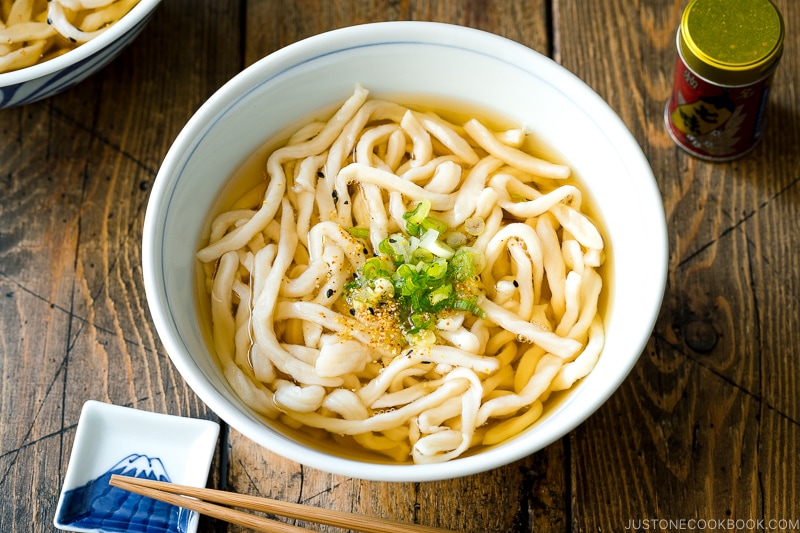 Wish to learn more about Japanese cooking? Sign up for our free newsletter to receive cooking tips & recipe updates! And stay in touch with me on Facebook, Pinterest, YouTube, and Instagram.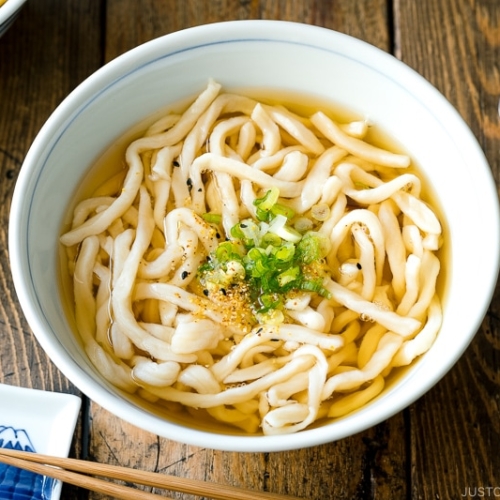 Udon Noodle Soup (Kake Udon)
This classic Udon Noodle Soup (Kake Udon or Su Udon) is all about simplicity. With thick chewy noodles and a delicate umami broth, it's a bowl of true comfort. Enjoy this hot noodle soup as is for a vegan-adaptable meal, or top it with tempura, fish cake, tofu, or vegetables for a more substantial lunch or dinner. You can make either my homemade dashi-based broth or a quicker version using store-bought noodle soup base.
Ingredients
Japanese Ingredient Substitution:
If you want substitutes for Japanese condiments and ingredients, click
here
.
Instructions
To Prepare the Homemade Udon Broth
In a medium saucepan, add the dashi, mirin, sugar, soy sauce, and salt.

Bring the broth to a gentle simmer. Once the broth is simmering, remove it from the heat. Cover with a lid and set aside.
To Prepare the Quick Udon Broth (with mentsuyu; optional)
Follow the instructions on your concentrated mentsuyu bottle for the correct mentsuyu-to-water dilution ratio for noodle soup broth (shown here as めんのかけつゆ).

In a medium saucepan, combine the water, mentsuyu, and mirin. Bring it to a simmer over medium heat. Once simmering, remove the pot from the heat. Cover with a lid and set aside.
To Cook the Udon Noodles
Bring a large pot of water to a boil. When the water comes to a full rolling boil, add the udon noodles and cook according to the package instructions. For fresh homemade udon, separate and untangle the strands of noodles with your hands, and cook for 10 minutes.

Using chopsticks, stir the noodles so they don't stick to the bottom of the pot.

When the noodles are done cooking, drain them in a colander and cool under cold running water.

Once the noodles are cool enough to touch, use your hands to rinse them well under the cold running water to remove the starch and give the noodles a firm texture. Then, switch to hot running water to warm up the noodles; alternatively, you can heat them up in a pot of hot water.
To Serve
Serve the hot udon noodles in individual bowls. Pour the hot broth over the noodles and top with the chopped green onions and shichimi togarashi (optional).
Nutrition
Calories:
271
kcal
·
Carbohydrates:
54
g
·
Protein:
8
g
·
Fat:
1
g
·
Polyunsaturated Fat:
1
g
·
Sodium:
554
mg
·
Potassium:
41
mg
·
Fiber:
4
g
·
Sugar:
3
g
·
Vitamin A:
60
IU
·
Vitamin C:
1
mg
·
Calcium:
25
mg
·
Iron:
1
mg
©JustOneCookbook.com Content and photographs are copyright protected. Sharing of this recipe is both encouraged and appreciated. Copying and/or pasting full recipes to any website or social media is strictly prohibited. Please view my photo use policy
here
.