Craving a steamy bowl of hot noodle soup? This heartwarming Beef Udon is my go-to Japanese comfort dish. My recipe serves up tender sliced beef on top of thick, chewy udon noodles in a savory broth. What's not to love?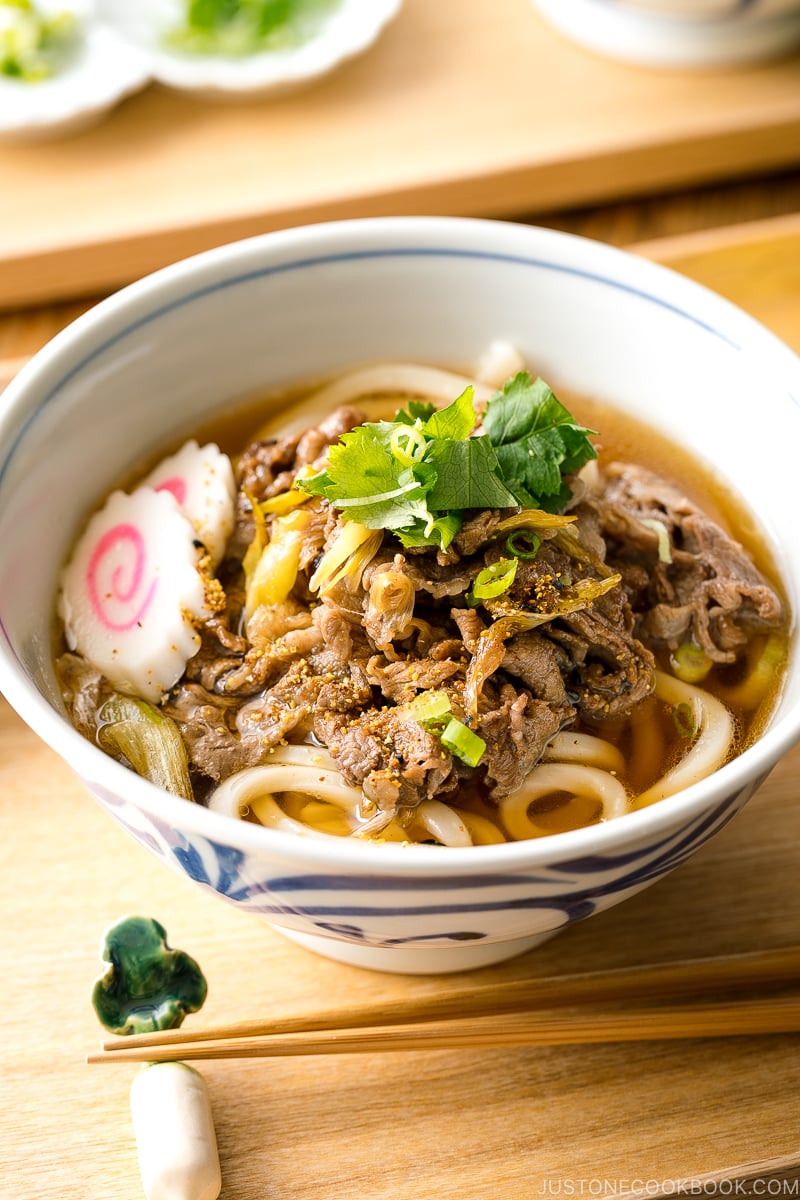 When my family visited Takayama in Japan in 2015, we had the opportunity to enjoy this warm udon noodle soup with Hida beef. Made of freshly cooked udon noodles in a fragrant hot soup, topped with sweet juicy sliced beef, the beef udon was delicious and perfect. Today, we are going to recreate this Beef Udon (肉うどん) back in our own kitchen.
Despite its simplicity, this noodle soup is packed with flavor! The savory broth, seasoned tender beef, caramelized scallion, and chewy smooth noodles — that's all you really need for a well-composed bowl of noodle soup.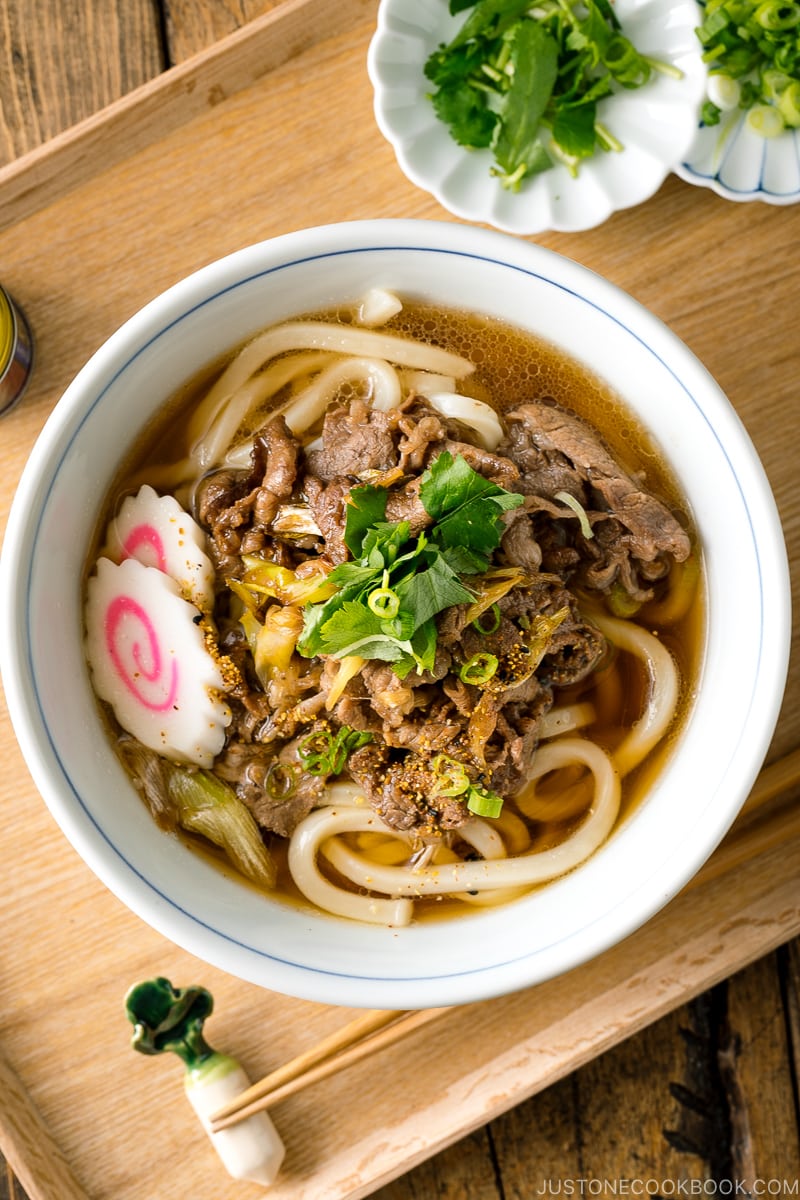 How to Make Beef Udon
Ingredients You'll Need
Udon noodles – Can be frozen, fresh, or dried. Wish to learn more about this noodle? Click here.
Thinly sliced beef – It works great with "shabu shabu beef" from a Japanese market, but you can always slice your own.
Negi (Japanese long onion) – You can use green onion as a substitute.
Dashi (Japanese soup stock) – More about it below.
Condiments: soy sauce, sake, mirin, and sugar.
Optional toppings: narutomaki (fish cake), green onion, mitsuba (Japanese herb), etc.
With basic Japanese condiments, you can easily make this delicious noodle soup at home.
Overview: Cooking Step
Prepare dashi broth and add the seasonings to make udon soup broth.
Stir fry the negi (or green onion) and thinly sliced beef. Season them with soy sauce and sugar.
Cook udon noodles according to the package instructions and drain well.
Assemble udon noodles and broth in individual bowls. Top with cooked beef and other toppings of your choice.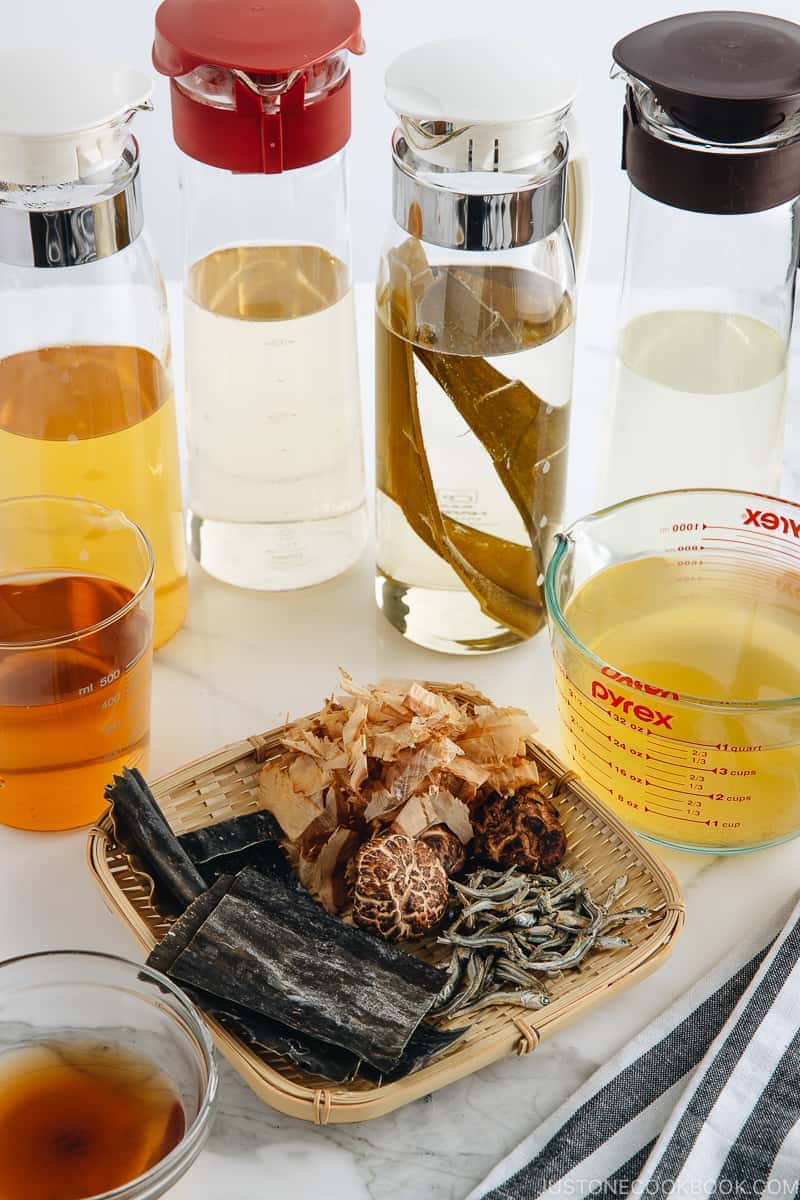 All About Dashi – Japanese Soup Stock
The key to the most flavorful broth for beef udon is dashi — the quintessential Japanese soup stock. Dashi is clear, delicate, mildly sweet, and full of umami. It is the base flavor for a superb bowl of beef udon.
I have a complete guide on how to make dashi and a video tutorial below.
I often make a big batch of homemade dashi so I can reach for it anytime when I cook udon soup or all my other Japanese dishes.
How to Make Dashi
For those who had never made dashi, it might sound intimidating. But trust me, it's easier to make dashi than any other broth out there; all you do is drop the ingredients in water and let them steep. That's it!
You have 3 methods to choose from:
Dashi powder – The easiest and quickest (1 minute!), but the flavor may not be the best.
Dashi packet – It has good flavor and very convenient (5 minutes).
Dashi making from scratch – The best broth. And even with this method, you only need 20 minutes!
Is there any dashi that's vegan?
Yes! Among the five types of dashi broth, two of them are vegan-friendly.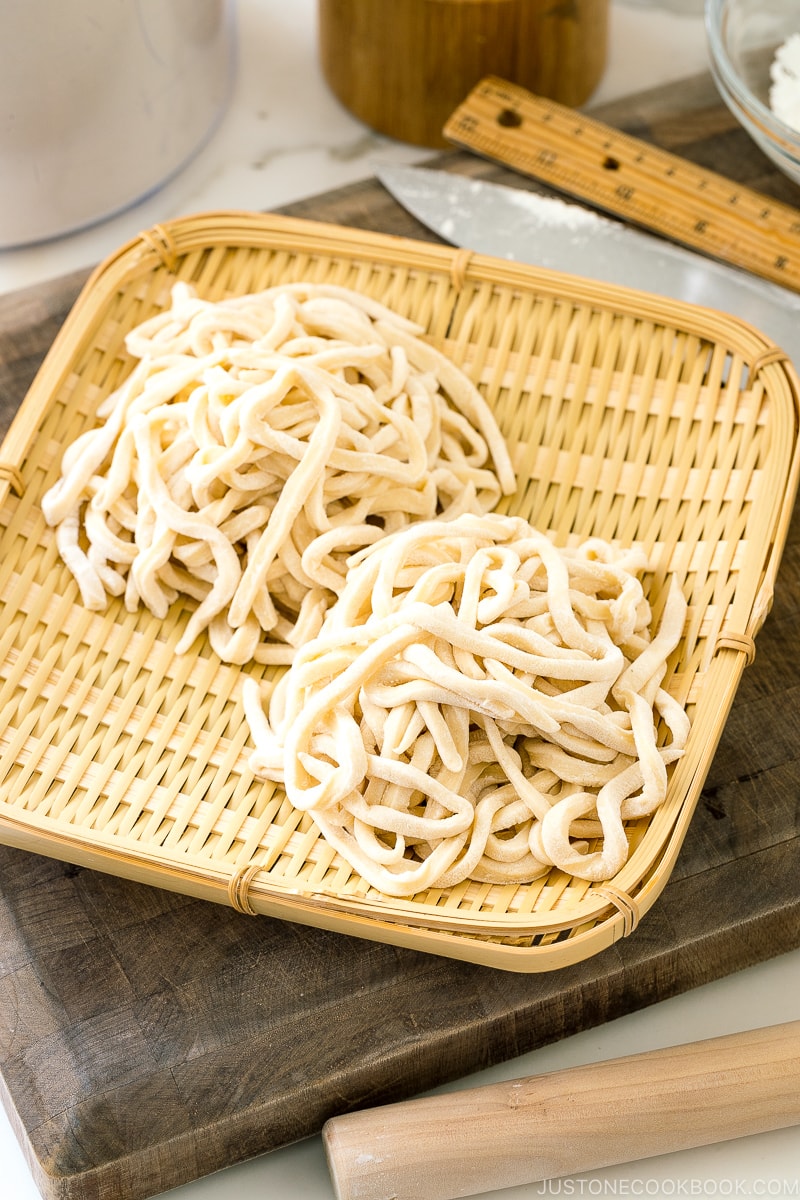 Make Homemade Udon Noodles
If you have extra time, I recommend making Homemade Udon Noodles from scratch! All you need is flour, water, and salt.
The texture of the dough is much firmer than bread dough, so traditionally, the Japanese used our feet to knead the udon noodles. Isn't it fun? Check out the post to see how we make udon noodles in Japan.
Tableware from Musubi Kiln
I've partnered with a great ceramic online shop from Japan called Musubi Kiln. You will get 10% off with a coupon code JUSTONECOOKBOOK for your purchase. In this post, I've used: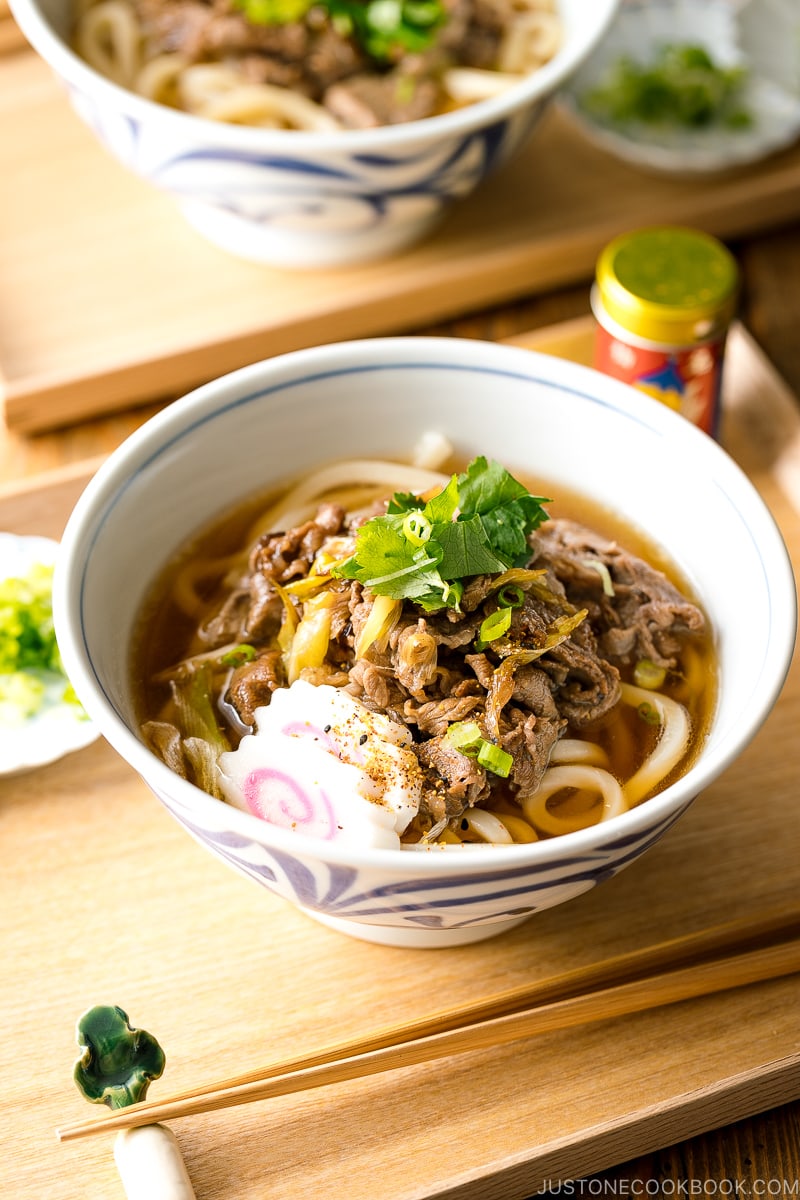 Hungry for More Udon Noodle Recipes?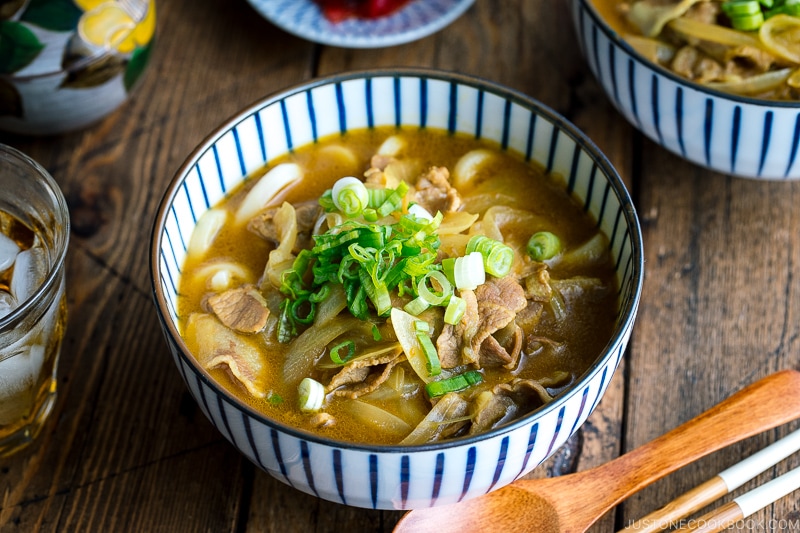 Don't miss out on these delicious recipes with udon noodles: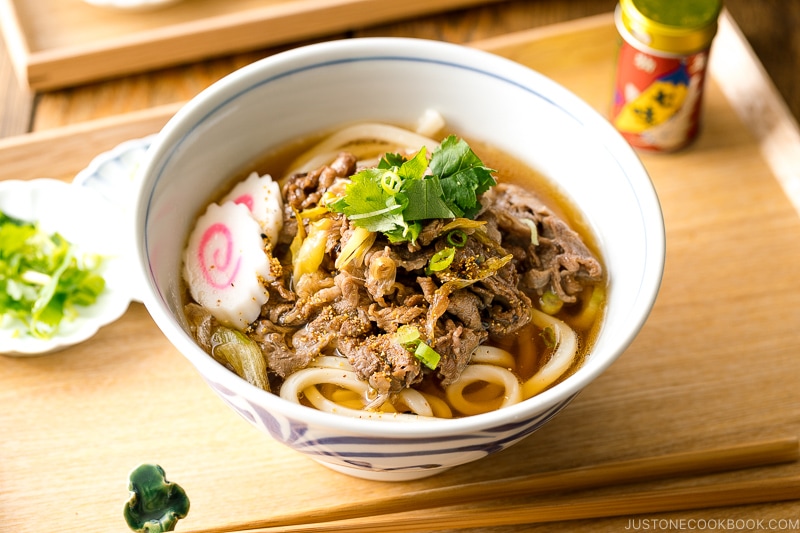 Wish to learn more about Japanese cooking? Sign up for our free newsletter to receive cooking tips & recipe updates! And stay in touch with me on Facebook, Pinterest, YouTube, and Instagram.
Beef Udon
Craving a steamy bowl of hot noodle soup? This heartwarming Beef Udon is my go-to Japanese comfort dish. My recipe serves up tender sliced beef on top of thick, chewy udon noodles in a savory broth. What's not to love?
Video
Ingredients
Japanese Ingredient Substitution:
If you want substitutes for Japanese condiments and ingredients, click
here
.
Instructions
Gather all the ingredients. Bring a large pot of water to a boil for the udon noodles. Once boiling, keep it covered on low heat until you're ready to cook the noodles.
To Make the Broth from Scratch
First, make

2½ cups dashi (Japanese soup stock)

of your choice. (To make udon broth with mentsuyu (noodle soup base), see the instructions at the end of the recipe.) Here, I'll show you how to make a quick dashi using a dashi packet (you can find it on Amazon). In a medium saucepan, add

2½

cups or

600

ml water and

1

dashi packet. Bring it to a boil over medium heat.

Simmer for 2–3 minutes. Then, squeeze the liquid from the dashi packet and discard the packet.

Add

1½ Tbsp soy sauce

,

1 Tbsp mirin

,

1 tsp sugar

, and

⅛ tsp Diamond Crystal kosher salt

and mix it all together. Cover the pot with a lid to prevent evaporation and keep it hot. Remove it from the heat and set aside.
To Prepare the Ingredients
Cut the white part of

½ Tokyo negi (naga negi; long green onion)

diagonally into ½-inch (1.3 cm) slices. Set aside.

Thinly slice the leaves and tender stems of

4 sprigs mitsuba (Japanese parsley)

(optional).

Cut

1 green onion/scallion

into thin slices. Transfer the green onion slices and mitsuba to a small plate or bowl for topping the soup later.

Diagonally cut

4 slices narutomaki (fish cakes)

. Then, cut

6–8 oz thinly sliced beef (chuck or ribeye)

in half, about 1½ to 2 inches (3.8-5 cm) wide.
To Cook the Beef
Heat the frying pan on medium heat. When it's hot, add

1 Tbsp neutral oil

and the Tokyo negi.

Sauté the negi until golden brown and tender. Then, add the meat and cook until it's no longer pink.

Add

2 tsp sugar

and

1 Tbsp soy sauce

.

Stir-fry the meat until it is well coated with the seasoning. Remove from the heat.
To Boil the Udon Noodles
Cook

2 servings udon noodles

in boiling water according to the package instructions. For frozen udon noodles, boil from frozen for 1 minute to reheat. Drain well and rinse quickly with water to remove the excess starch.
To Serve
Divide the well-drained udon noodles into individual serving bowls and pour the hot broth over the noodles to cover.

Place the stir-fried beef, narutomaki, green onions, and mitsuba on top. If you like it spicy, sprinkle

shichimi togarashi (Japanese seven spice)

on top. Enjoy!
To Store
You can keep the stir-fried beef, udon noodles, and broth separately in airtight containers and store them in the refrigerator for up to 3 days.
To Make the Broth with Mentsuyu (Optional)
In a medium saucepan, combine

⅓ cup mentsuyu (concentrated noodle soup base)

,

2⅓ cups water

, and

1 Tbsp mirin

and mix well. Bring the mixture to a gentle simmer over medium heat. Cover with a lid and turn off the heat. The udon broth is now ready to use.
Nutrition
Nutrition Facts
Beef Udon
Amount per Serving
% Daily Value*
* Percent Daily Values are based on a 2000 calorie diet.
©JustOneCookbook.com Content and photographs are copyright protected. Sharing of this recipe is both encouraged and appreciated. Copying and/or pasting full recipes to any website or social media is strictly prohibited. Please view my photo use policy
here
.
Editor's Note: This post was originally published on November 8, 2015. It's been updated with new images and video.