Craving for a steamy bowl of hot noodle soup? This Beef Udon, my-go-to Japanese comfort dish is absolutely heart-warming. Tender sliced beef on top of slippery warm udon noodle in a savory broth. What's not to love?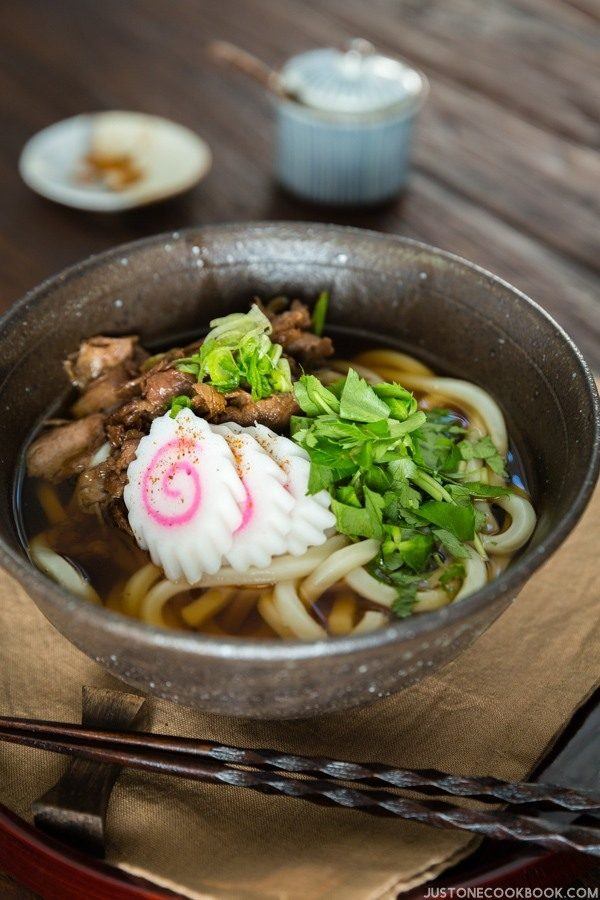 When we visited Takayama in Japan this past summer, we enjoyed this warm beef udon noodle soup with Hida beef.  This comfort dish is made of warm udon noodles in a savory hot soup topped with thinly sliced beef seasoned and stir fried.
Watch How To Make Beef Udon 肉うどんの作り方
Beef udon is a Japanese comfort dish made of tender sliced beef seasoned and stir fried on top of warm udon noodle in a savory dashi broth.
Beef Udon Packed with Flavors
Don't be tricked by the simple ingredients.  This udon recipe is packed with tons of flavors from savory dashi broth, beef, and caramelized scallion.  The beef is seasoned with sweet soy sauce so if you think basic udon dish like Kitsune Udon is too simple, then this might be the udon recipe for you!
The best part of this recipe (besides it is so delicious!!!) is how easy it is to make at home.
We use only basic Japanese condiments that are used in most Japanese cooking – soy sauce, mirin, sake – and udon noodles which can be purchased in Japanese or Asian grocery stores (and some American grocery stores).  Udon noodles come dried noodles, or can be found vacuum sealed in refrigerated or freezer section.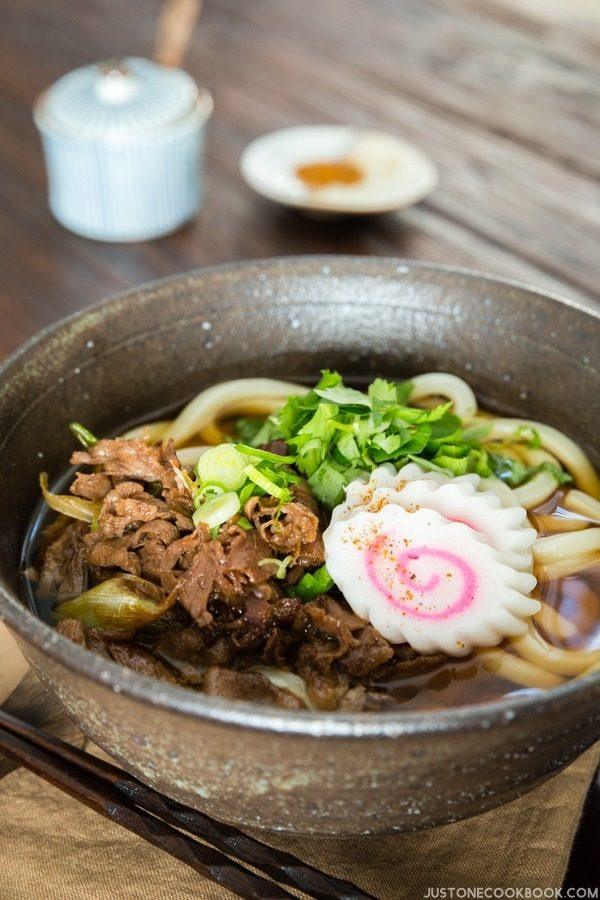 Use Dashi in
Beef Udon
You will need to make Japanese soup stock "dashi" to complete this dish.  If you make dashi from scratch, the broth will taste much better and you would want to suck up the entire beef udon soup!
If dashi sound foreign to you, don't feel intimidated.  You can always take a short cut and use dashi powder or dashi packet instead (which takes 5 minutes.  See how we use it).  But remember, Japanese stock – dashi is much easier to make compared to vegetable or chicken/beef stock and it takes less than 30 minutes.
Watch How to Make Dashi だしの作り方
Quick and savory homemade dashi with kombu (seaweed) and bonito flakes.
Most Japanese household prepare a big pot of dashi everyday or at least a few times a week.  What do we do with the dashi?  A lot of Japanese recipe requires dashi and of course we make miso soup with it!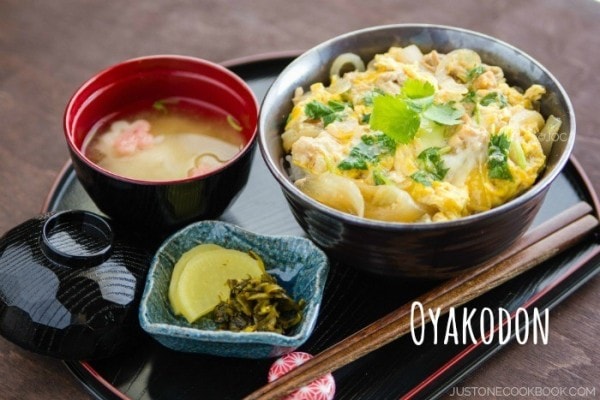 So we make a big pot of dashi first, and save parts of dashi for all the recipes that require dashi and make miso soup with the rest.  For example, when you make Oyakodon (above), a part of dashi goes to making oyakodon, and the rest can be used for the miso soup.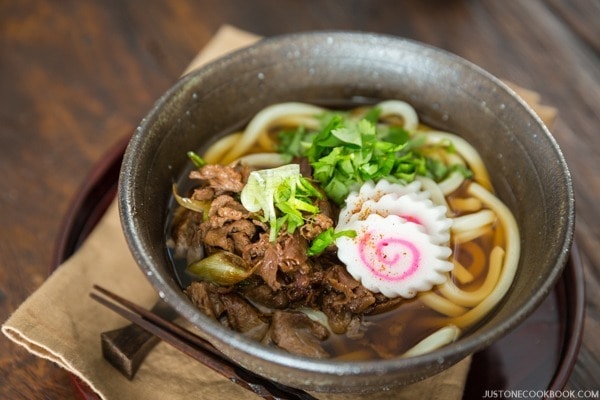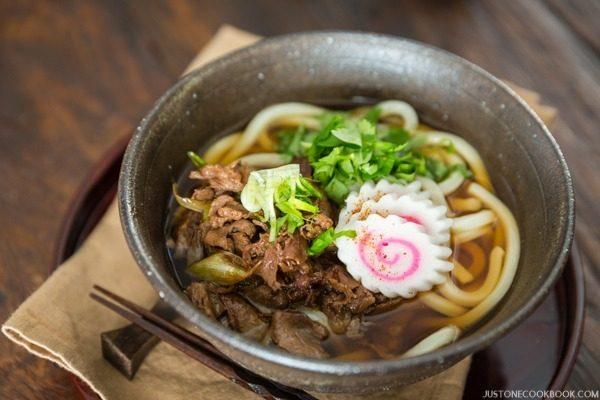 I hope you enjoy making Beef Udon!  If you try it, don't forget to share your picture on Instagram, Facebook, or Twitter with #JustOneCookbook.  Thank you so much for reading, and till next time!
Don't want to miss a recipe? Sign up for the FREE Just One Cookbook newsletter delivered to your inbox! And stay in touch on Facebook, Google+, Pinterest, and Instagram for all the latest updates.
Beef Udon
Craving for a steamy bowl of hot noodle soup? This Beef Udon, my-go-to Japanese comfort dish is absolutely heart-warming. Tender sliced beef on top of slippery warm udon noodle in a savory broth. What's not to love?
Course:
Main Course, Soup
Keyword:
noodle soup, udon noodle
Instructions
Gather all the ingredients.

In a small saucepan, add 2 cups (480 ml) dashi and 1 tsp. sugar.


Add 1 Tbsp. mirin and 1 Tbsp. soy sauce and bring it to a boil.


Taste the soup and adjust the taste with Kosher salt as it will enhance the flavor without adding additional sugar or soy sauce. Cover and keep it on low heat.


Cut the Tokyo negi (or use sub) and Narutomaki (fish cake) diagonally.


Cut the Mitsuba (optional) into small pieces and thinly slice one onion/scallion (used for topping).


Cut the thinly sliced meat into bite size pieces.


Bring a big pot of water to a boil. Once boiling, cook the frozen udon for 1 minute. Loosen up the noodles once they started to separate.


Once the udon is done cooking, use fine sieve to drain water and transfer to serving bowls.


While cooking udon, you can start heating the large frying pan. Once it's heated, add 1 Tbsp. vegetable oil and cook the Tokyo negi until tender.


Add the meat and brown all sides. Don't move the meat around until it's nicely seared.


Once the meat is nicely browned, add ½ to 1 Tbsp. sugar and 1 Tbsp. soy sauce. When the sauce has caramelized and slightly thicken, turn off the heat.


By this time, the noodle should be in the serving bowls. Pour the hot soup over the udon noodles in the bowls. Then serve the meat on top of the udon noodles.


Place the narutomaki (fish cake) and garnish with scallion and mitsuba. If you like it spicy, sprinkle Shichimi Togarashi (Japanese 7 spice). Enjoy!

Recipe Notes
Recipe by Namiko Chen of Just One Cookbook. All images and content on this site are copyright protected. Please do not use my images without my permission. If you'd like to share this recipe on your site, please re-write the recipe in your own words and link to this post as the original source. Thank you.