Located in the mountainous Hida region of Gifu Prefecture, Takayama boasts one of Japan's most picturesque townscapes and many famous festivals. Join us for a tour around the morning market, some delicious eats, and enjoy the Edo period structures and giant festival floats.
Takayama (飛騨高山) in Gifu Prefecture was the last stop during our 1 week trip this summer in Japan. Prior to Takayama we had stopped in Kanazawa, Tateyama, and the majestic Kurobe Gorge. I really looked forward to visiting Takayama for several reasons:
It was our only stay in a ryokan (Japanese style hotel) during the 1 week trip, and I couldn't wait for relaxing in onsen (hot springs) and eat Kaiseki Ryori.
I love beautiful mountain scenery and Japanese old towns; the town hasn't changed much since 400 years ago.
It's a city with lots of Japanesee culture and history and hosts one of the most famous festival in Japan.
As there are quite a bit to share, I'll do this over 4 posts. Part 1 covering the northern part of the city, part 2 focusing on the city center area, part 3 sharing our experience with the hotel and foods we enjoyed, and lastly part 4 talking about our side excursion to Shirakawago (白川郷).
Click on the map to enlarge.
From Toyama, where we stayed previous night, to Takayama, you will take the JR Hida line (JR飛騨線). The ride takes either roughly 90 min or 2 hours depending on the time you depart. The view along the way is mostly Japanese countryside and mountain green scenery. On the train itself, the seats are quite spacious and the ride is very comfortable and relaxing.
We left Toyama early in the morning and arrived around 10 AM in Takayama. Our hotel Honjin Hiranoya Kachoan (本陣平野屋花兆庵) is about a 9-minute walk from the Takayama station, but they offer a free limousine pick up from the station for their guests. Our children were excited when we were picked up as we've been walking for 4 days, and there will be a lot more walking over the next 2 days in Takayama.
Things to do in

Takayama
One thing to keep in mind when you visit Takayama: the town is quite small compared to other touristy city in Japan. For example in Kyoto and Kanazawa you would need to take a bus to see the different attractions. In Takayama, we didn't need to take any public transportation as almost all the popular points of interests are within a 15 min walk from our hotel.
Ready to go sightseeing? Go ahead and drop off your bag at the hotel and let's head on over to Miyagawa Morning Market.
Miyagawa Morning Market (宮川朝市)
Miyagawa Morning Market is located right next to the Miyagawa river near the center of the town, and it's the larger one of the two morning markets in Takayama.
Both morning markets close at noon so make sure you get there by 10 AM if you want to check out the goodies. Why do they close at noon? It's because most of the produce booths are setup by local farmers and they need to get back to work on their farms. What's really cool about the morning markets is that they are not only for tourist, but the locals shop there as well.
As you arrive at the market's south entrance, you will see booths setup all along the river side on the left selling local produce, seasonal fruits, vegetables, food, and flowers.
On the opposite side of the booths, there are stores that sells local specialties, you can find souvenirs, preserved vegetables, fabrics, and artisan bowls and ceramic wares. With so many selections, what did I end up buying? I purchased miso with hoba leaves (朴葉味噌) as it's something you don't typically see in Tokyo area and we absolutely loved it when we had it the previous night.

Kusakabe Heritage House  (日下部民藝館)
As you finish browsing the Miyagawa Morning Market, make a right and you'll find Kusakabe Mingeikan (Kusakabe Heritage House, 日下部民藝館) and Yoshijima-ke (Yoshijima Heritage House, 吉島家住宅), which are located next to each other. These two historical buildings were built during the Meiji period and are important Japanese cultural assets as prime examples of Meiji era architecture.
As both houses are fairly similar, you can browse one or the other. We decided to visit Kusakabe Heritage House.
The structure was built by the Kusakabe family, a very successful merchant family that had lent money to the public office. The original building burnt down in 1875 and the current one has been there since 1879. The house was built by master carpenter Jisuke Kawashiri, to resemble structures from the Edo period. Inside the house, you can see the impressive giant pillars used to hold up the building.
You are able to explore the various rooms in the heritage house as well as go upstairs where antiques are on display.
Between the main house and the warehouse in the back (which has more antiques on display), there's a small courtyard where you can sit and relax, and they serve you tea as part of the experience.
Here is the exterior of Yoshijima Heritage House and you can see there are quite a bit of similarities between the two buildings. Here are some images of the building interior.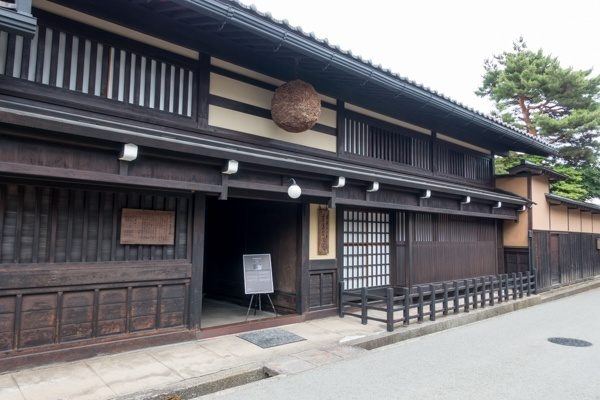 After visiting Kusakabe Heritage House, we grabbed a quick lunch at Yayoi Ramen but I'll talk about the food in a later post. Let's continue on with more fun activities.
Osenbei Factory  – Yume Kojo Hida 夢工場飛騨
Just a few blocks up from Kusakabe Heritage House is Yume Kojo Hida, an osenbei factory where you can make your own delicious and crispy osenbei.
Have you tried the Japanese rice cracker called osenbei (お煎餅) before? It's a simple grilled cracker made from rice, and usually dipped in soy sauce to give it brown color and salty and umami flavor. It goes really well with green tea for an afternoon snack.
The factory has a few rows of furnace where you sit and grill the osenbei dough slowly over an electric grill. The worker will first show you how to make them and give you tips so you won't burn them. Osenbei burns very quickly if you're not careful and each osenbei only takes 1-2 min to make. Our children had a really fun time grilling and eating the osenbei they made.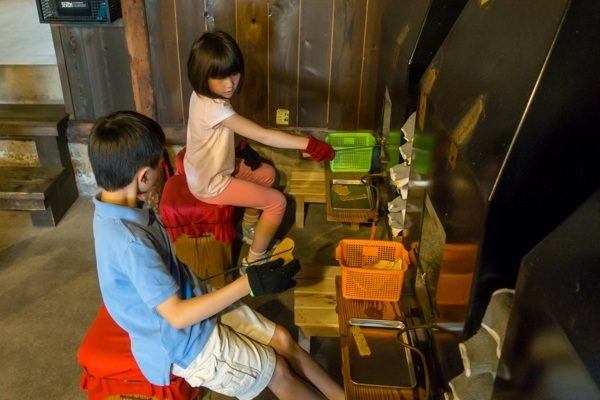 After our family enjoyed eating the osenbei, we continued on to Sakurayama Hachiman Shrine and Takayama Festival Float Exhibition Hall close by.
Sakurayama Hachiman Shrine (櫻山八幡宮)
The history of Sakurayama Hachiman Shrine goes back to 400 AD, and it was enlarged by Lord Kanamori (大名金森氏) in 1683. After you go through the first gate, the stone path and steps leads to the shrine.
To the side of the stone path are a few stores and restaurants and it was very peaceful without many visitors there that day. Though the shrine is not particularly large, it's one of the most visited shrines in Takayama with over 1.5 million people each year.
Takayama Yatai Kaikan 高山祭屋台会館
Right next to the shrine is the Takayama Yatai Kaikan. As I mentioned earlier, one of the reasons Takayama is really famous is for its spring and fall festivals, and especially the fall festival which is considered one of the 3 great festivals in Japan (along with Kyoto's Gion Matsuri and Chichibu Yomatsuri).
The shrine had received special permission to display 4 of the autumn festival floats, rotated 3 times a year. Each float also has a name, and at Yatai Kaikan there's English explanation on the background story for the particular float.
The "Mikoshi" (神輿) float above is a portable shrine, and it weighs about 2.5 tons and requires up to 80 people to carry. As it's quite difficult to find 80 people that are the same height, a replacement float is used during the festival.
The float below is one of my favorite and it's called "Hotei-tai" (布袋台), and it features dancing figurines, Hotei 布袋 (Laughing Buddha with the Big Belly – it's one of Japan's Seven Lucky Gods) and Karako 唐子 (a boy who wears Chinese style clothes).
The figurines require 8 people to operate inside the float moving 36 strings, making the figurines jump and perform during the festival.
Here's the YouTube video for Hotei-Tai performance during Takayama festival.
These floats are really impressive when you see them up close, with some of the are as high as a 3-story building.
The following float is one of the most treasured due to its historical significance as the hanging scroll was imported during Ming Dynasty from China.
As you walk all over Takayama, you will see quite a few "Yatai Gura" (屋台蔵). This is where they store the floats when not used for festivals. In front of each storage unit, there a picture of what the float stored inside looks like.
Higashiyama Walking Course 東山寺町・東山遊歩道
Time to head outdoors and go for a bit of a hike. Start heading towards south eastern part of the city for Higashiyama Walking Course. This walking course takes you through a number of historical temples and shrines. Why are they all clustered in one area? In 1588, as Lord Kanamori (大名金森氏) started building Takayama Castle (高山城) and the town center, the temples and shrines were all moved to the eastern hills.
There are a total of 16 temples here and they vary between 500 to 1,300 years old. It was very peaceful walking on the paths and looking at these well preserved historical buildings and their surrounding landscapes.
After we finished walking on the course, it's getting late in the afternoon so you know what that means??? It's time to head back to the hotel and soak in the onsen (hot springs) to relax our mind and body and get ready for our delicious dinner.
Are you ready for part 2 of Takayama (飛騨高山)? Let's go!
If you enjoy this post, please check out my other travel blog posts! I've shared my travel experiences in Sapporo, Asakusa, Kyoto, Kanazawa, and other places in Japan. I hope my travel and eating guide are helpful for you when you visit Japan.
Don't want to miss a recipe? Sign up for the FREE Just One Cookbook newsletter delivered to your inbox! And stay in touch on Facebook,Google+, Pinterest, and Instagram for all the latest updates.