The Tateyama Kurobe Alpine Route is one of the most magnificent mountain routes in Japan. Open in April each year, visitors get to enjoy the Snow Corridor (Yuki no Otani, 雪の大谷) that reaches up to 6-story-tall!
After spending our first night resting in Toyama, our journey continues onward to Tateyama Kurobe Alpine Route (立山黒部アルペンルート) in the Northern Japan Alps. If you'd like to read from the beginning of our week-long trip, start from this Kanazawa post first.
What's so cool about this route? Even though Murodo (室堂) is the highest point along the route where you can travel with a vehicle, it is not particularly high at 2,450 m (8,038 ft). However, this area gets one of the most snow falls in the world! When the route opens in April of each year, the Snow Corridor (Yuki no Otani, 雪の大谷) is typically about 20 m (65 ft) high. That's about the size a 6-story building!
We were lucky as we got to make the 2015 Snow Corridor cutoff date by just 1 week (it closed on June 22nd)! The Tateyama Kurobe Alpine Route is still open after June 22nd, but you don't get to walk up close to the corridor and enjoy the spectacular view. The route is open from mid-April to the end of November of each year and the beautiful scenery is great for hiking and trekking.
From Toyama Station to Tateyama Station
We started off from the Toyama station and the station is a bit confusing to navigate. There are terminals for Shinkansen, trolley cars, and multiple train lines.
To go to Tateyama, you want to head for Toyama Chihō Railway (富山地方鉄道) entrance in the ESTA/MARIER building. The train ticket from Dentetsu-Toyama (電鉄富山) station to Tateyama (立山) station is ¥1,630 one way and it takes about 1 hour. You will enjoy this scenic ride with the views of the Japanese countryside.
As the train ride progress along, buildings and cities disappear and the train track is nestled within tall trees and greens.
At Tateyama station, there's the typical souvenir gift shop and you can purchase Tateyama Kurobe Alpine Route tickets there. As the route is quite popular especially between April and June, I highly recommend reserving your tickets online beforehand which was what we did.
If you choose to travel the entire route between Tateyama and Ogizawa (扇沢), you will need to take 7 different rides, ranging from the cable car to trolley bus and it will take about 6-7 hours for 1 way. Based on Alpine Route's FAQ, a round trip between Tateyama and Kurobe Dam (黒部ダム) takes between 8-9 hours, so plan your trip accordingly.
You cannot take your own personal car on the route as it's part of Chubu Sangaku National Park; however, you can have your car delivered from one end to the other for ¥26,000. Yikes! As our week-long journey will continue to Takayama (高山) after Tateyama, we decided not to go all the way to Ogizawa and just enjoy the Snow Corridor at Murodo (室堂).
While browsing at the souvenir shop at Tateyama station, I found strawberry cheesecake Kit Kat. That's a new flavor that I haven't tried before.
While waiting at the station for the cable car, there is a screen showing 4 different points along the Alpine Route and current temperature at the locations.
There are roughly around 1 million visitors a year that come to Tateyama Kurobe Alpine Route. To speed up the boarding process, there is 1 line for individual customers and 2 lines for tours and large groups.
Cable Car Ride between Tateyama and Bejodaira
The first ride between Tateyama and Bijodaira (美女平) station is via a 7-minute cable car ride. The slope is extremely steep at 24 degrees and the cable car travels up 500 m in elevation. The cable car itself was quite interesting, as the cars themselves are built at an angle. The funicular railway works with 2 cable cars that counterbalance one another as they go up and down the slope.
As you board, you climb up the stairs at the station as if you're about to board an amusement park ride.
Once inside the car, you can descent down the steps to catch the cool view as the car leaves the station.
As we were going up in the cable car, I was worried if we would get to enjoy the scenery because it was really foggy. As we look out we could see some trees but mostly fog.
As you can see in the picture below, when we arrived at Bijodaira station, it was still very foggy outside the station.
Bus Ride from Bijodaira to Murodo
At Bijodaira (美女平) station, you'll board the bus to head up to Murodo (室堂).
Since we were traveling in the middle of June, it was fairly warm when our journey started at Bijodaira and there wasn't any snow nearby. The ride from Bijodaira to Murodo takes 50 minutes.
On the way up, quite a bit of the ride was completely in the fog. Inside the bus, there is a video playing on the TV screen explained each point of interest along the way. However, most of the time all we could see is a blanket of white fog.
About 20 minutes into the ride, the fog started to clear and we begin to see patches of snow. My children were very excited as we didn't get to go to Lake Tahoe (in Northern California) this year to enjoy the snow!
About 30 minutes and midway into the bus ride, you see Midagahara Hotel (弥陀ヶ原ホテル) at Midagahara Highlands (弥陀ヶ原高原).
Even though the biggest attraction is the Snow Corridor in the spring, the Tateyama Kurobe Alpine Route is very popular with hikers in the summer and fall with its beautiful colors and mountain scenery.
Soon after passing Midagahara Highlands, snow slowly had taken over the landscape. Everywhere you looked, there was snow. We have officially reversed the season and went from summer to winter… whoo hoo!
Tateyama Kurobe Alpine Route at Murodo Station
The bus arrives at Murodo and we put on our jackets. The Murodo terminal is a fairly large structure and it's connected to Hotel Tateyama. (ホテル立山).
From the Murodo Terminal, it's just a quick 5-minute walk to the Snow Corridor (Yuki no Otani).
When we visited on June 17th, the snow was still at 11 meters. You can see how the Snow Corridor slowly changed over 2 months at Alpine Route's site.
Besides the Snow Corridor, there was also a pyramid made of snow and a sledding hill for you to enjoy.
The sleds are free and we recommend wearing waterproof pants because our children's pants were completely soaked after sledding.
After our fun time in the snow, time to fill up the tummy. We walked up to Restaurant Tateyama (立山レストラン) on the 2nd floor of the Murodo Terminal (室堂ターミナル) building.
As we keep seeing the local specialty white shrimp (白海老) being offered on menus during our trip, we decided to try it. It was served top of rice with soup and a salad. The deep fried shrimp was quite tasty with the sweet dashi sauce.
In the Toyama region, their udon noodles are different from regular Japanese udon noodles. The name for it is Himi Udon (氷見うどん) and it's much thinner than regular Japanese udon. We also tried it during our lunch and the simple udon noodles paired really well with the deep fried white shrimps on the side.
While eating our lunch, we saw skiers hiking up the snowy mountains carrying skies. Wonder where they are going…
Sightseeing & Eating in Toyama
Toyama Castle
After we returned to Toyama from the Tateyama Kurobe Alpine Route, we still had a bit of time so we decided to visit Toyama Castle (富山城). Why the castle? Well, there aren't too many tourist activities to do in Toyama so our options were quite limited.
The Toyama Castle is a replica made of concrete and steel. The original Toyama Castle was built 1543 but was destroyed during the war in the late 1500s. It was rebuilt many times throughout history but subsequently destroyed by earthquake and fire.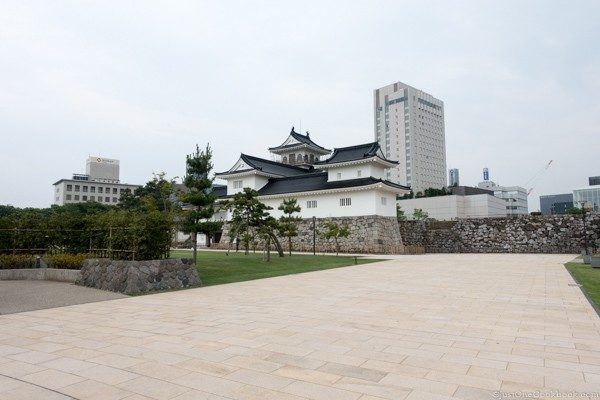 The castle today houses the Toyama Municipal Folk Museum (富山市郷土博物館) and showcases the history of Toyama Castle. For non-Japanese speakers, the museum offers a binder with English explanations.
Toyama City Bike Sharing
After visiting the Toyama Castle, we were walking towards Izakaya Dai for dinner. We saw a very interesting bike-sharing program offered by Toyama City called "Cyclocity-Toyama".
Once you have an annual or short term subscription, it's free to rent a bicycle for 0-30 min, ¥200 for 30-60 min, and ¥500 for each 30 min after. I wish my city in Japan has a great program like that as well!
One interesting side observation I have about Toyama is even during rush hour time on a weekday, the streets are quite empty. Where is everyone?
Izakaya Dai 酒菜工房 だい
For dinner that night, we stuck to our theme the entire week, izakaya. After a somewhat disappointing experience at Oyaji, we are hoping Izakaya Dai (酒菜工房 だい) will be better. Oh my, what a fantastic and amazing meal! Let me describe it a bit more in detail.
The restaurant itself is on the 2nd floor of the building not far from the Toyama station. It has just 6 small tables and another 6 seats at the bar counter.
On the menu, the house recommended dish names are written in red.
What made Izakaya Dai so good? From the tableware they used to present each dish to how the food was arranged, all the dishes they served were really delicate and refined.
We started off from small appetizer dishes, and this Tomato Salad in a beautiful glass bowl was one of them.
Look at the beautiful assorted sashimi (9 kinds) presented on the black plate (Himi Maguro 氷見まぐろ, Baigai バイ貝, Aji あじ, Houbo ほうぼう, Shime Saba しめ鯖, Hirame Kombu-Jime ヒラメの昆布じめ, Iwatako 岩タコ, Gando がんど, Shiraebi 白海老).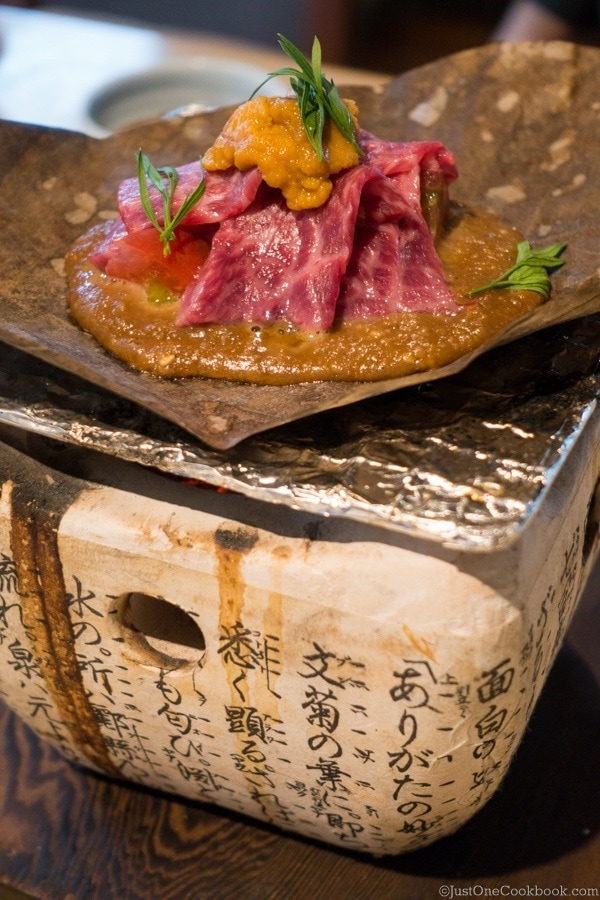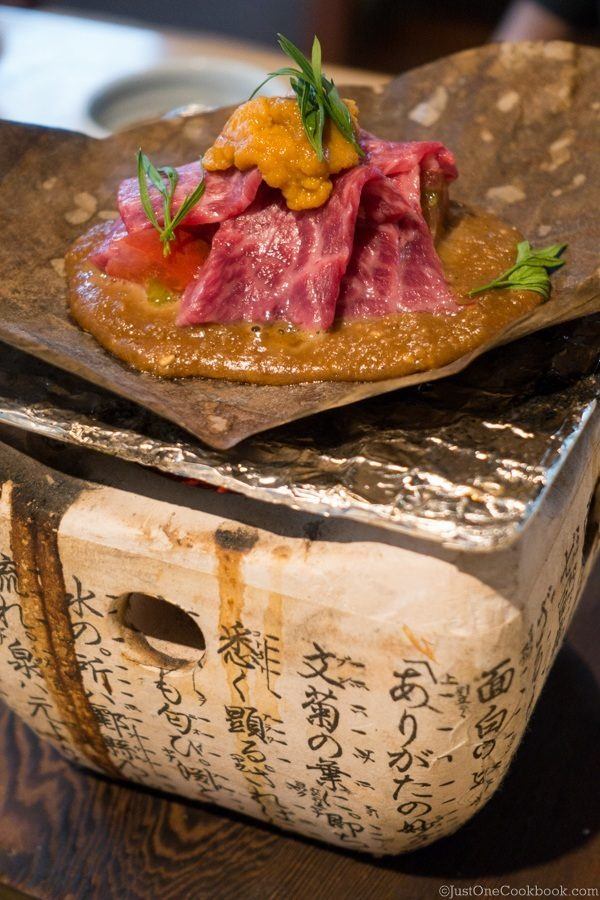 Uni, marbled Hida beef (飛騨牛), and tomato slices are grilled in Hoba Miso (朴葉味噌 miso on a dried leaf of magnolia). The flavor was fantastic as the uni, beef, and miso worked well together with the aroma of hoba.
This delicate dish, Nodoguro Shio Tataki (のど黒塩たたき), was actually the best dish of the night. Slightly seared Nodoguro Shio Tataki served on top of the ice, along with freshly grated wasabi on shark skin wasabi grater and kabosu (a type of Japanese citrus). They only offer 10 servings per day and it was so amazingly good. The slightly charred taste from the searing, the chilled fresh fish texture, and really good wasabi. I am drooling just thinking about it and my description doesn't serve it justice.
Grilled bamboo with salt or sauce, the bamboos were crunchy yet tender on the inside.
Tai Kama Aradaki (鯛頭あらだき) with fava beans and clams. The dashi was amazing and I even finished the soup!
Kuro Mozuku, Junsai and Sudachi Somen (黒もずくとじゅん菜とすだちのそうめん). It was refreshing and delicious with the citrus flavor!
Genge (Eelpout) tempura, served with bone crackers (ゲンゲ天ぷら 骨せんべい付).
The majority of the dishes are between 600 and 1500 yen. We were very satisfied and impressed with all the dishes and we highly recommend this restaurant if you are staying near Toyama station!
Now let's continue our trip, next stop is Takayama (飛騨高山) – Part 1!
If you enjoy this post, please check out my other travel blog posts! I've shared my travel experiences in Sapporo, Asakusa, Kyoto, Kanazawa, and other places in Japan. I hope my travel and eating guide are helpful for you when you visit Japan.
Don't want to miss a recipe? Sign up for the FREE Just One Cookbook newsletter delivered to your inbox! And stay in touch on Facebook, Pinterest, and Instagram for all the latest updates.