There's nothing more comforting than a steaming bowl of Vegetarian Udon Noodle Soup! Made with vegan dashi broth and topped with minced mushroom, tofu, crispy fried eggplant, and bok choy, this is going to be your favorite thing to eat all year round.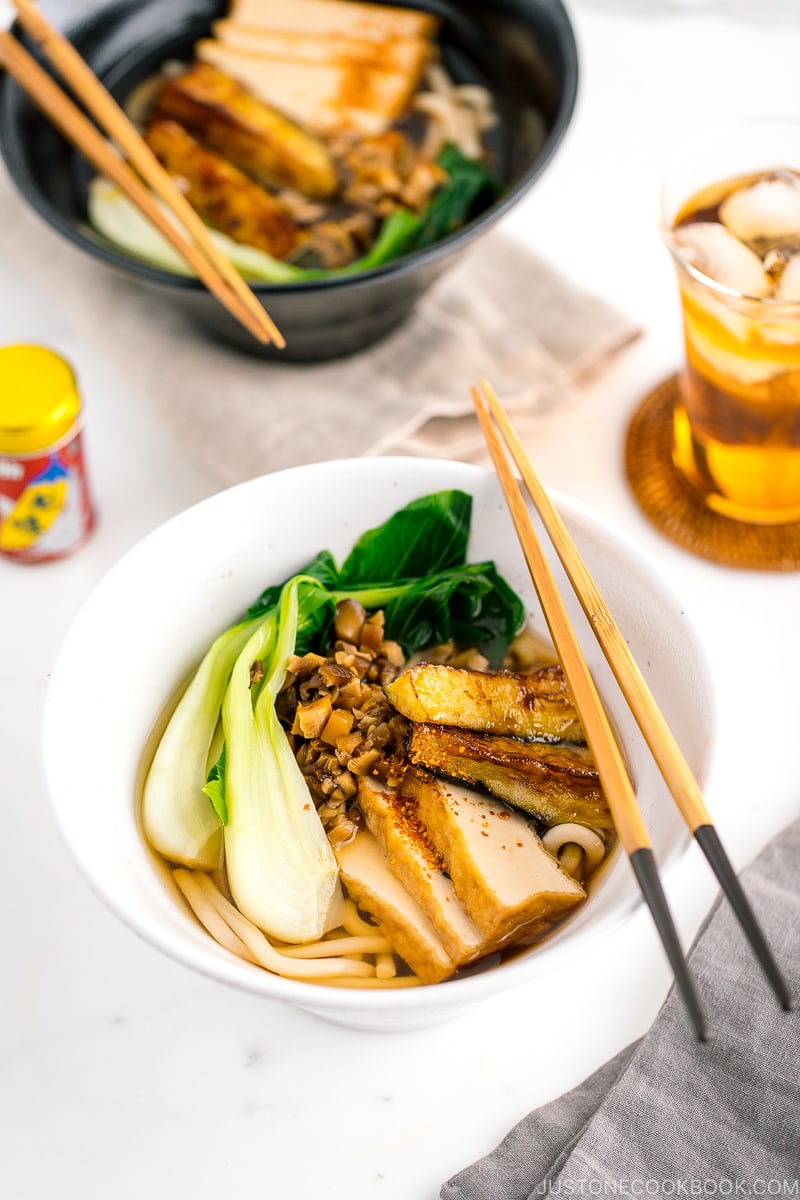 One of my recent challenges has been to make more vegetarian and vegan recipes that are approved by my family. They are a tough crowd when it comes to judging my cooking but this Vegetarian Udon absolutely won their hearts. It's light and delicate, yet so flavorful and comforting; we never get tired of it.
The best part? You can easily customize it with what you have on hand. I'll show you how I've been making this noodle soup!
Why You'll Love This Vegetarian Udon Noodle Soup
The best dashi broth that is vegan and vegetarian friendly.
Light, yet so flavorful – It's the power of umami-rich ingredients, guys!
3 easy cooking steps – Make the soup broth, prepare the toppings, and heat the udon noodles right before assembling.
Versatile – You can add any toppings you like to keep the dish interesting!
Make-ahead – You can make the soup broth ahead of time and use it within 3-4 days.
My non-vegan family approved – By that, it means that the udon soup is so flavorful and satisfying that they didn't even mind that it didn't have any meat or fish in the broth or topping.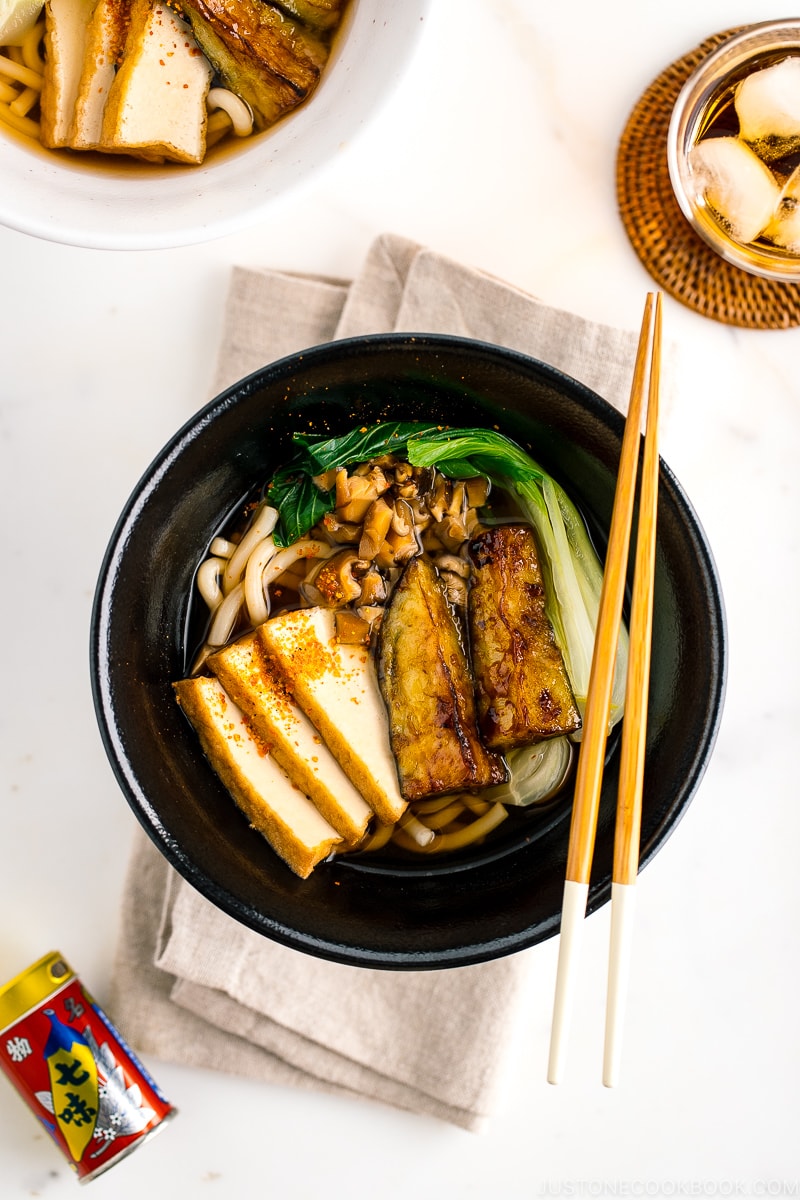 3 Ingredients That Make Vegetarian Udon Incredibly Delicious!
1. Vegan Dashi (Japanese Soup Stock)
I hope all my vegan and vegetarian readers would try making udon noodle soup with dashi, instead of vegetable broth. Many people don't realize that dashi can be vegan/vegetarian as dashi is sometimes translated as "seafood stock".
As I mentioned in this ultimate dashi guide post, you can create an authentic Japanese flavor by using dashi made only with kombu and dried shiitake mushrooms. Using the right soup stock, it will give you a subtle yet umami character in all your Japanese cooking.
2. Sweet and Savory Minced Mushrooms
First I rehydrated the dried shiitake mushrooms to extract their umami and use the liquid for the broth. Instead of tossing the mushrooms away, I minced them up and used them as a topping for the udon soup.
They are practical and economical, so no mushrooms are gone to waste! If you prefer to use the mushrooms for something else, save them for a stir fry, hot pot, or as an addition to rice.
3. Crispy Tofu & Fried Seasoned Eggplant
When I think of a good satisfying ingredient for my omnivore family, I need savory and hearty food for maximum enjoyment.
I love using both fried tofu and eggplants for this dish because frying adds to the overall flavor of the dish. Some of you may want to keep it "healthier" with non-oil and that's okay. But if you're all for some good bites, definitely try this. Think this way: Between fried tofu and regular tofu, which one is more flavorful?
I used ready-fried tofu in this recipe and I only needed to fry the eggplants. Eggplant is like a sponge – it absorbs all the flavors from the seasoning! Make sure to coat the eggplant with potato starch (or cornstarch) to give the extra crispiness. Really important!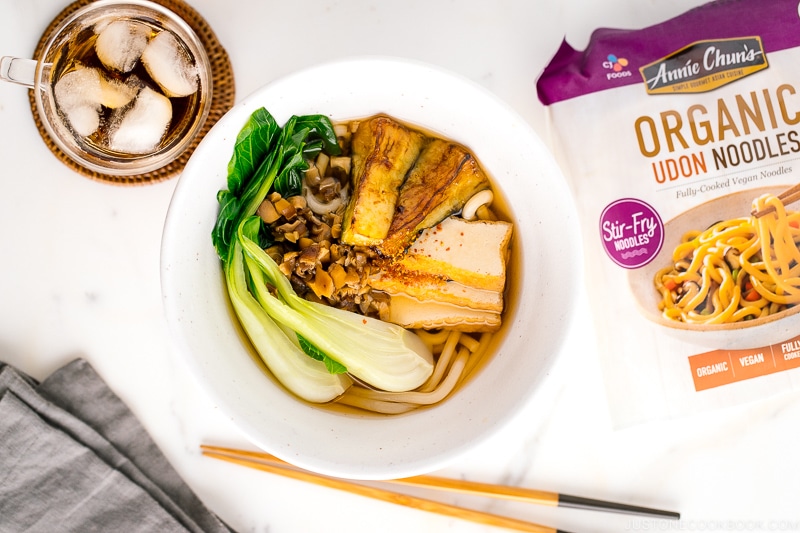 Stock Up On These Convenient and Delicious Udon Noodles
I recently discovered Annie Chun's Organic Udon Noodles and was impressed by the quality and convenience of the product. I've been eating frozen or refrigerated udon noodles all this time, but I didn't realize that there are udon noodles like these that are fully cooked and sealed for freshness. You can easily store them in a cool dark place or kitchen pantry and use it whenever you need them! How cool is that?
Annie Chun's Organic Udon Noodles are:
organic, and high in quality.
able to be stored in the pantry (yes, at room temperature).
pre-cooked, so you can put together a tasty meal in a flash!
It's great for an emergency and you can keep your refrigerator or freezer space open for other foods.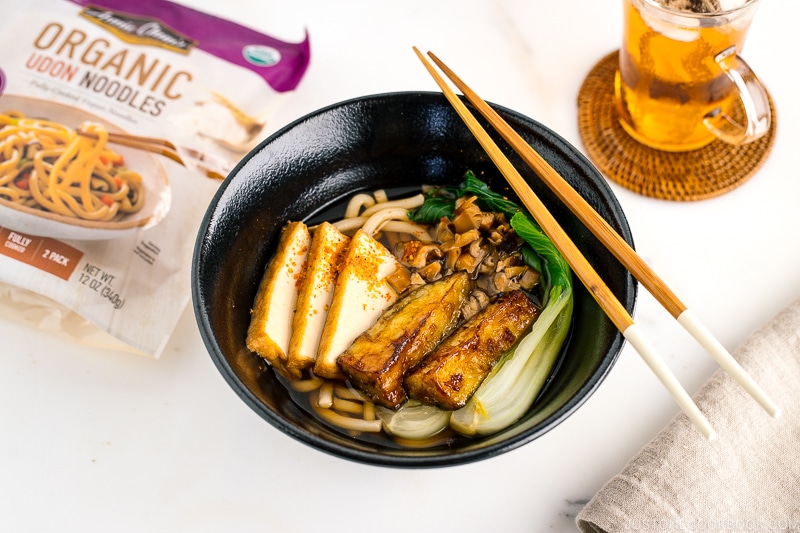 10 Helpful Cooking Tips
If you have time, soak kombu and dried shiitake mushrooms in water overnight in the fridge for slow steeping; otherwise, just 30 minutes will do.
Cut the eggplants into wedges with skin-on, so eggplant pieces will keep their shape after cooking.
Potato starch (cornstarch) is to make the eggplant crispy. Don't skip it.
Don't skimp on the oil when cooking the eggplants. The oil helps to crisp up the texture.
Cut mushrooms into small bits that mimic the meat's texture.
Keep adding water when simmering the minced mushrooms with seasonings. It will only intensify the flavors as it cooks and you don't have to worry too much about overcooking it.
Remove kombu from the dashi broth right before boiling it to avoid sliminess and bitterness. You can reuse this kombu to make a furikake rice seasoning or simmered kombu tsukudani (simmered kombu).
Heat up fried tofu in the broth if you like, but it's not necessary.
Blanch the leafy green vegetable in the same pot of boiling water that you will cook the udon noodles in.
You can add udon noodles directly to the soup broth if you are using Annie Chun's organic noodles (as its package instructions mention). However, I like to keep my broth clean and clear (no starch from the noodles), so I very quickly loosen them in a pot of boiling water (that I used for blanching veggies).
Substitutions
Kombu and Dried Shiitake Mushrooms – They are the key ingredients for the broth. You can use one of them but I

strongly

recommend both as each ingredient yields different umami flavors. If you really have no access to both ingredients, vegetable broth is your last resort. But it will, unfortunately, lack authentic Japanese flavors.
Fresh shiitake mushrooms – I use them to add more volume to the minced dried shiitake mushrooms. You can use any mushrooms such as portobello, king oyster, etc.
Eggplant – You can use zucchini, potatoes, sweet potatoes, roasted squash, etc.
Fried tofu – You can use crispy baked tofu or regular tofu (Don't use silken tofu as they break easily).
Bok choy – Any green vegetable would work to add freshness. I like some leafy ones that I can blanch right before cooking udon noodles.
Have more questions on ingredients? Leave a comment below and we'll help you!
More Delicious Udon Recipes You'll Love: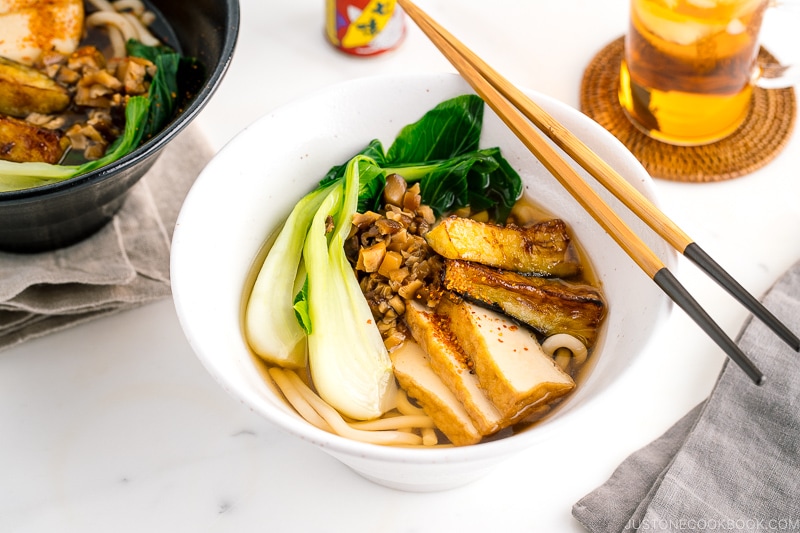 Wish to learn more about Japanese cooking? Sign up for our free newsletter to receive cooking tips & recipe updates! And stay in touch with me on Facebook, Pinterest, YouTube, and Instagram.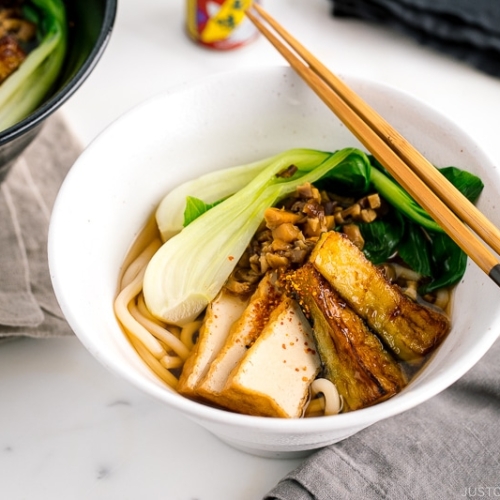 Vegetarian Udon
There's nothing more nourishing and comforting than a steaming bowl of Vegetarian Udon Noodle Soup! Made with vegan dashi broth and topped with minced mushroom, tofu, crispy fried eggplant, and bok choy, this is going to be your favorite thing to eat all year round.  
Ingredients
Japanese Ingredient Substitution:
If you want substitutes for Japanese condiments and ingredients, click
here
.
Instructions
Gather all the ingredients.
To Make Vegan Dashi Broth
In a medium pot or bowl, add

2½ cups water

,

1 piece kombu

, and

2 pieces dried shiitake mushrooms

. Steep for at least 30 minutes or overnight.
To Make the Crispy Seasoned Eggplant
Trim off the ends of

1 Japanese or Chinese eggplant

and cut into roughly 2-inch wedges with the skin-on. The skin will hold the shape together. Without the skin, the flesh will become too soft.

As soon as you cut the eggplant, soak them in water to remove astringency. Set aside for 10–15 minutes and dry them with a paper towel.

Sprinkle

1 Tbsp potato starch or cornstarch

and coat the eggplant nicely.

Heat the oil in a large frying pan over medium-high heat (or medium heat on a professional stove). Start frying the eggplant. Do not touch too often. Only flip them when the bottom sides are nicely brown. If they stick to the pan, be patient and wait till the eggplant slice release itself from the bottom when they form a nice crust (but be sure that pan is greased).

If you feel that

3–4 Tbsp oil

is not enough, then add more. Make sure to adjust the heat so it doesn't take a long time to brown the eggplant. You don't want overcooked and mushy eggplant.

When the eggplant is golden brown, reduce the heat to medium and season the eggplant with

1 Tbsp mirin

and

1 Tbsp soy sauce

.

The potato starch (or cornstarch) will thicken the sauce quickly, so flip around to coat the eggplant with the sauce. Then transfer to a plate.
To Prepare the Other Toppings
Cut the

3 oz deep-fried firm tofu cutlet (atsuage)

into thin slices.

Cut

2 Shanghai bok choy

in half lengthwise.
To Make the Sweet and Savory Minced Mushrooms
Remove the stems of

2 shiitake mushrooms

and slice the caps thinly.

Squeeze the liquid out from the dried shiitake mushrooms (keep that liquid for the soup broth) and remove the stems.

Cut the mushroom caps into thin slices and then mince them.

Cut the dried shiitake mushrooms into the same size as fresh shiitake mushrooms.

In a small saucepan, add both mushrooms,

½ Tbsp sugar

, and

1 Tbsp soy sauce

.

Add

2–3 Tbsp water

and bring it to a simmer. Continue adding water so the bottom of the pot has some liquid.

Simmer until the shiitake mushrooms are tender and absorb the flavors.
To Make the Udon Soup Broth
Transfer the kombu and shiitake dashi broth (including the hydrated kombu) to the saucepan and bring it to a simmer.

Right before boiling, remove the kombu. With a fine-mesh simmer, skim off the foam and scum floating on the surface of the broth.

Add

1 Tbsp mirin

,

1 tsp sugar

, and

1 Tbsp soy sauce

.

Add

¼ tsp Diamond Crystal kosher salt

and the fried tofu. Turn off the heat and cover (so it won't evaporate).
To Blanch the Bok Choy, Cook the Noodles, and Assemble
In a large pot of boiling water, blanch the bok choy just until it turns bright green and tender, about 2 to 2½ minutes, and transfer to a plate. I undercook slightly and so the remaining heat will continue to cook a bit more. For this recipe, I didn't "blanch and shock" for retaining the vegetable color and crunch as I usually do since I wanted to keep the bok choy warm.

Cook or reheat

12 oz udon noodles

according to the package instructions.

Drain the udon noodles well and serve them in individual bowls. Divide and serve the fried firm tofu and soup broth.

Top the noodles with blanched bok choy, minced mushrooms, and fried eggplant. Serve immediately with

shichimi togarashi (Japanese seven spice)

on the side for a spicy kick.
Notes
Recipe by Namiko Chen of Just One Cookbook. All images and content on this site are copyright protected. Please do not use my images without my permission. If you'd like to share this recipe on your site, please re-write the recipe and link to this post as the original source. Thank you.
Nutrition
Nutrition Facts
Vegetarian Udon
Amount per Serving
% Daily Value*
* Percent Daily Values are based on a 2000 calorie diet.
©JustOneCookbook.com Content and photographs are copyright protected. Sharing of this recipe is both encouraged and appreciated. Copying and/or pasting full recipes to any website or social media is strictly prohibited. Please view my photo use policy
here
.