Gently fried sweet potatoes covered in a sugary coat. This Japanese-style Candied Sweet Potatoes (daigaku imo) recipe is a wonderful way to enjoy this fall vegetable.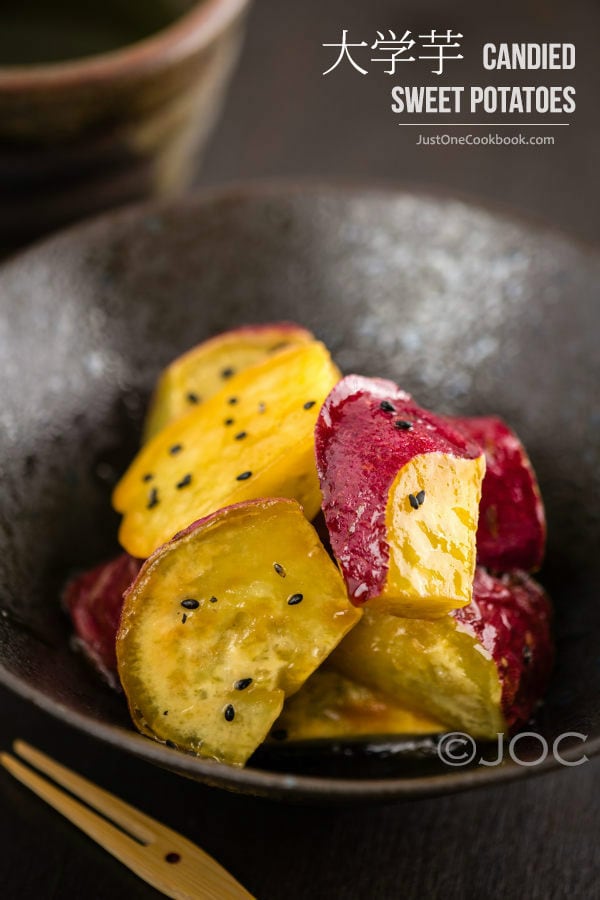 Fall is here and it's my favorite season of the year.  I love seeing the leaves turn into beautiful colors and make joyful crackling sounds as you step on them.  And I love cooking on the cool days of autumn with seasonal vegetables like this dish of Candied Sweet Potatoes (Daigaku Imo, 大学芋).
How To Make Candied Sweet Potatoes (Daigaku Imo) 大学芋の作り方
Japanese candied sweet potatoes (Daigaku Imo) covered in a sugary coat and garnished with black sesame seeds.
I deeply miss Japan's beautiful autumn season, when the rice is harvested and fresh, local vegetables are plentiful.  We say, "Fall is the season for big appetites".  And it's true.  After a few months of steamy hot summer days, our appetite returns with the cooling weather, enthusiastic to cook and eat all those wonderful fresh ingredients.
When I was in kindergarten, I remember I went to harvest sweet potatoes as part of a school excursion.  We brought home sweet potatoes straight from the field, and my mom made these bright, candied sweet potatoes.
The sweet potatoes were deep fried till crispy, glazed in a sweet sugary syrup and finished with a sprinkle of black sesame seeds.  My dad and I love all kinds of potatoes, but this dish was one of our favorites.
Japanese-style Sweet Potatoes with a Nostalgic Name
In Japanese, these candied sweet potatoes are called Daigaku Imo (大学芋), literally meaning "University Potatoes".  There are a few theories regarding the origin of the name (according to Japanese Wikipedia) but basically this dish was a popular snack at universities in Tokyo during early 1900's.
This Japanese snack is still popular today and can be found at many food stands and school festivals during the fall season.  However, as I live outside of Japan, only way to enjoy this snack is to make my own at home.
Following tradition, I've been deep frying the sweet potatoes for many years.  However, this year my friend suggested a new method of both steaming and very shallow frying.
To be honest, I was skeptical.  There's no way the candied sweet potatoes could taste better than the old-fashioned deep fried method, right?  Well, I gave it a shot.  And I was blown away.  This candied sweet potatoes recipe is pretty close to the deep fried version – just as delicious and even easier to make.
The sweet potatoes are crispy on the outside, and creamy soft in the middle.  The sticky, sugary outer layer makes this a wonderful dessert or afternoon snack.
I hope you enjoy this sweet and slightly savory daigaku imo.  Thank you so much for reading!
Don't want to miss a recipe? Sign up for the FREE Just One Cookbook newsletter delivered to your inbox! And stay in touch on Facebook, Google+, Pinterest, and Instagram for all the latest updates. Thank you so much for reading, and till next time!
Candied Sweet Potatoes
Gently fried sweet potatoes covered in a sugary coat. This Japanese-style Candied Sweet Potatoes (daigaku imo) recipe is a wonderful way to enjoy this fall vegetable.
Course:
Dessert, Side Dish, Snack
Keyword:
daigaku imo, sweet potato
Ingredients
11

oz

Japanese sweet potato (Satsumaimo)

(11 oz = 300 g)

3

Tbsp

neutral flavor oil (vegetable, canola, etc)

5

Tbsp

sugar

¼

tsp

soy sauce

¼

tsp

rice vinegar
Instructions
Gather all the ingredients.

We don't peel the skin of sweet potato so wash carefully.


Cut diagonally while rotating the sweet potato a quarter between cuts. This Japanese cutting technique is called "

Rangiri

".

Soak in water for 15 minutes to remove starch. Change the water a few times.


Wrap the frying pan's lid with kitchen cloth. This is to prevent condensation on the lid dripping into sweet potatoes while cooking.


Do not heat the frying pan yet. Add sugar, oil, soy sauce and rice vinegar in the pan and combine all together.


Dry the sweet potatoes completely with paper towel and place in the pan.


Cover with the lid and turn on the heat to medium.


When you hear bubbling sound from the pan, turn the heat to low to medium-low, and set timer for 2 minutes. Open the lid and flip the sweet potatoes every 2-3 minute so that all sides will have nice golden brown color and get flavored.


Depends on the size of sweet potatoes, the cooking time varies, cook for 8-10 minutes or until an inserted skewer goes through smoothly (I personally prefer it a bit tougher than completely soft texture). Now transfer to the serving plate/bowl and sprinkle black sesame seeds.

Recipe Notes
* Vinegar helps the sugar from hardening when it cools down.
Recipe by Namiko Chen of Just One Cookbook. All images and content on this site are copyright protected. Please do not use my images without my permission. If you'd like to share this recipe on your site, please re-write the recipe in your own words and link to this post as the original source. Thank you.