Tororo kombu is dried kelp shavings. It's an umami-rich ingredient used as a garnish over soups, noodles, or rice bowls.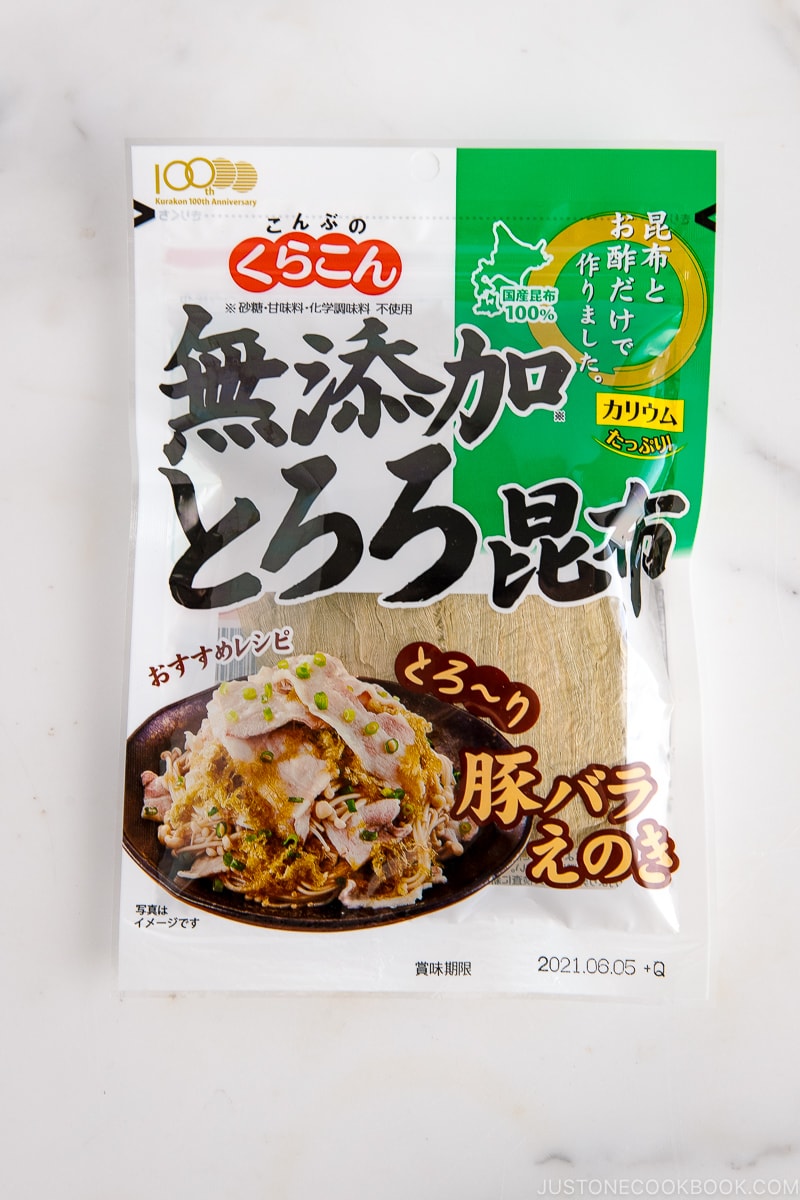 Tororo Kombu (とろろ昆布) is thin and long flakes made by shaving dried kombu kelp softened in vinegar. The machine-shaved paper-thin strips become mushy like grated mountain yam (tororo とろろ) when added to hot water or liquids, hence its name.
What Is Tororo Kombu
Tororo kombu is a traditional Japanese food of thinly shaved kombu sheets pickled in vinegar and layered on top of each other before shredding. Like other varieties of kombu, it's high in calcium, iron, and water-soluble fiber. The northern island of Hokkaido is famous for its kombu harvest.
Another type of shaved kombu is oboro kombu (朧昆布). It's more expensive as it's hand-shaven and uses high-quality kombu. Taste-wise, it's mostly the same; it's just a difference in production method.
What Does It Taste
It has a slightly sweet and umami-rich flavor.
How To Use
Use the popular ingredient as a garnish for yakisoba, udon, ramen, chilled tofu, as a wrapper for onigiri rice balls, or tamagoyaki filling. You can sprinkle it in clear broths and miso soup or eat it with white rice. It'll add a savory flavor to your dish.
Recipes Using Tororo Kombu
Where To Buy
You can purchase Tororo Kombu in Japanese grocery stores or online (global shipping available).
How To Store
Press out the air and seal opened packages very well. Store them in a cool, dark place and away from humidity and moisture.
---
Wish to learn more about Japanese cooking? Sign up for our free newsletter to receive cooking tips & recipe updates! And stay in touch with me on Facebook, Pinterest, YouTube, and Instagram.