Served with a red wine reduction sauce, this homemade Japanese hamburger steak (Hambagu) is incredibly juicy and melts in your mouth!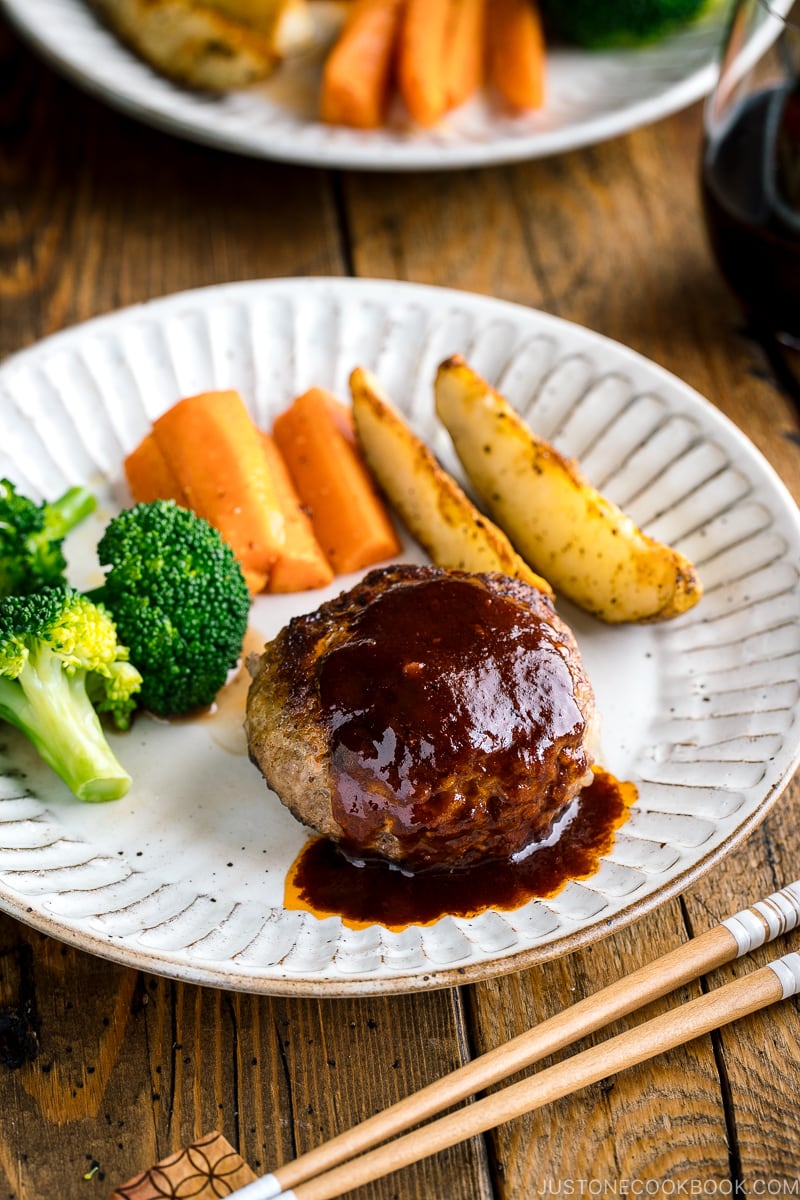 I still remember vividly how my mom and I spent many evenings making Japanese Hamburger Steak or Hambagu (ハンバーグ). If I was home, she would call me around 4:30 PM and always encouraged my presence in the kitchen. Unless I was in the middle of a novel that I couldn't stop reading, I didn't mind helping her out most of the time. That's how I learned to cook Japanese food from her.
What is Hambagu
Japanese Hamburger Steak, or we call it Hambāgu (ハンバーグ) or Hambāgu Steak (ハンバーグステーキ), is a popular dish enjoyed both at home and at Yoshoku (Japanese style western food) restaurants. It's a steak made from ground meat and usually served with rice rather than buns.
While researching facts about Hambāgu on Japanese Wiki, I learned that there is an American version of hamburger steak and it's very similar to a dish called Salisbury Steak, which I've never tried before.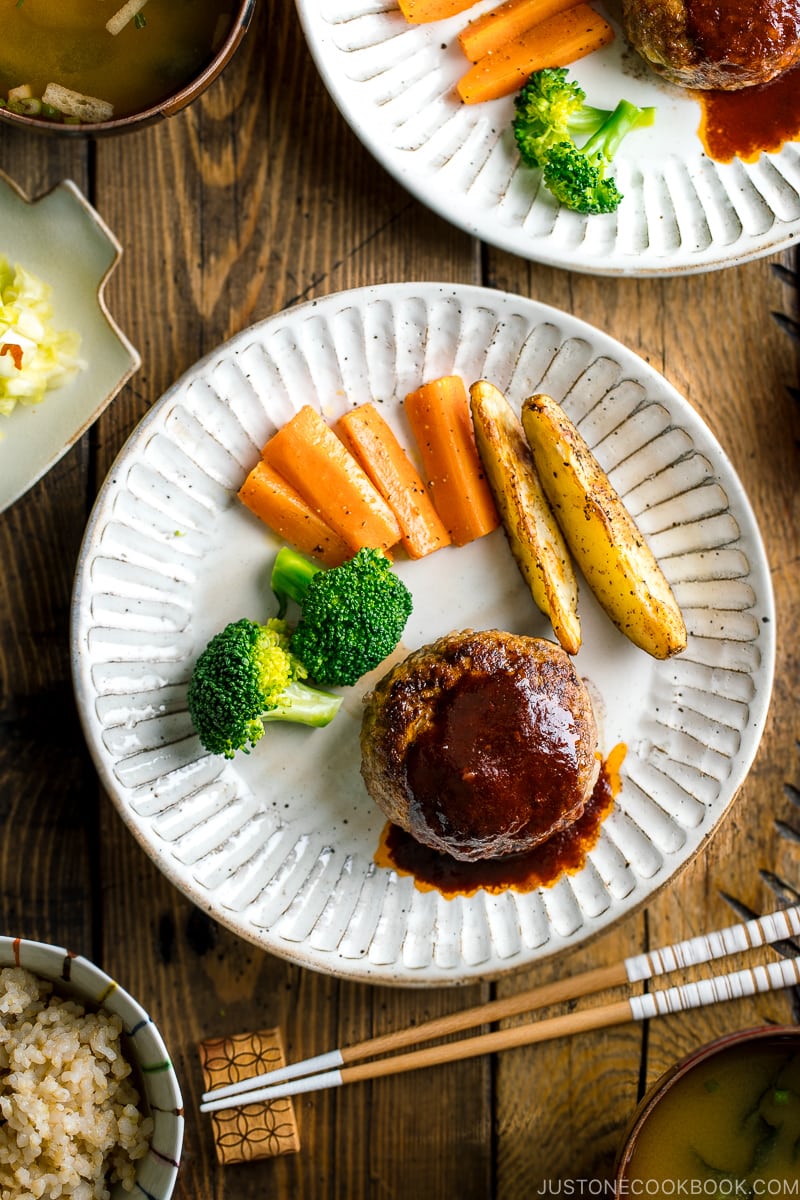 Variations of Japanese Hamburger Steak
The common theme for all these hamburger steaks is that they are made from a blend of minced beef and other ingredients.
There are many variations of Hambāgu in Japan, like Wafu Hambāgu (soy sauce-based sauce with grated daikon), Teriyaki Hambāgu, Demi-glacé Hambāgu, and more. You'll also find different topping options, such as sautéed shimeji mushrooms and a fried egg.
Today I'm sharing the basic Hambāgu recipe with a delicious homemade sauce.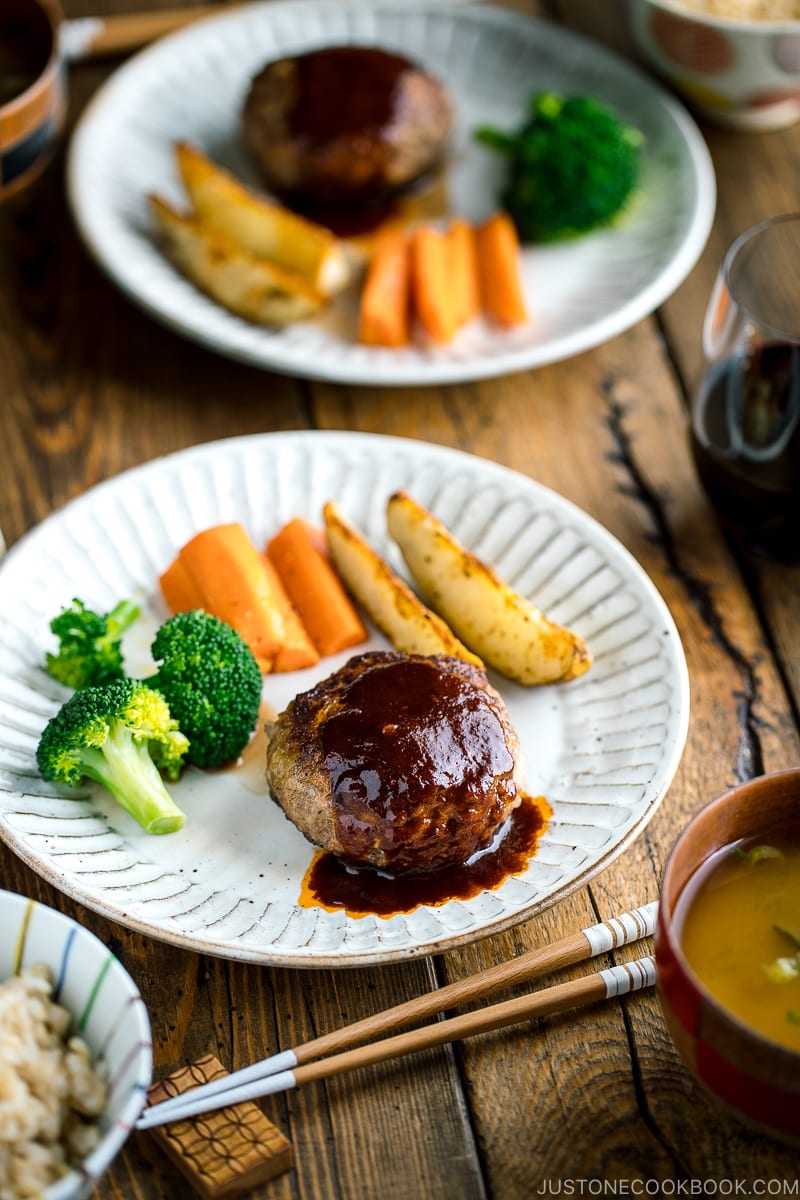 Use of Both Ground Beef and Ground Pork
Hambāgu in Japan is typically made from both ground beef and ground pork. Supermarkets in Japan sell a convenient package of both ground beef and ground pork (we call it Aibiki Niku 合いびき肉) so that we don't have to buy the meat separately. The common ratio of Aibiki Niku is 7:3.
For this Hambagu recipe, you can decide the beef/pork ratio either 2:1 (8 oz/4 oz) or 3:1 (9 oz/3 oz).
We often use this Aibiki Niku for Menchi Katsu, Spaghetti Meat Sauce, Curry Doria (Rice Gratin), and Hambāgu recipes.
7 Tips to Make Perfect Hamburger Steak
To enhance the flavor of Hambāgu, below are a few important tips, which I learned from my mom. I also included a video on how to toss hamburger steak to force out the air pockets.
Sauté onion slowly and then cool it down completely. The cooked onion will add natural sweetness to Hambāgu.
Knead the mixture with your hand until it's pale and sticky.
Play catch, tossing meat mixture from your left hand to your right hand. Do this a couple of times in order to release the air inside. If you skip it, the hambagu will crack while cooking.
Let the meat patties cool in the refrigerator for 20-30 minutes to solidify fats and take them out right before cooking.
Indent the center of each patty with 2-3 fingertips to avoid explosion or crumbling of the meat patties when you cook. The meat will expand during cooking, and the indentation will disappear.
Use wine for steam cooking and the delicious sauce. If you can't consume alcohol, use beef/chicken stock instead.
Cook the red wine reduction sauce in the same pan. The rich grease left in the pan adds another layer of flavor to the already juicy Hambāgu.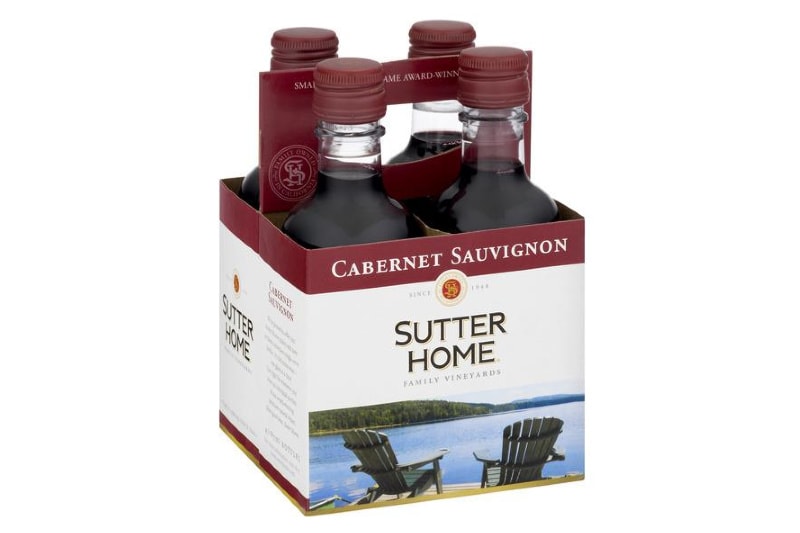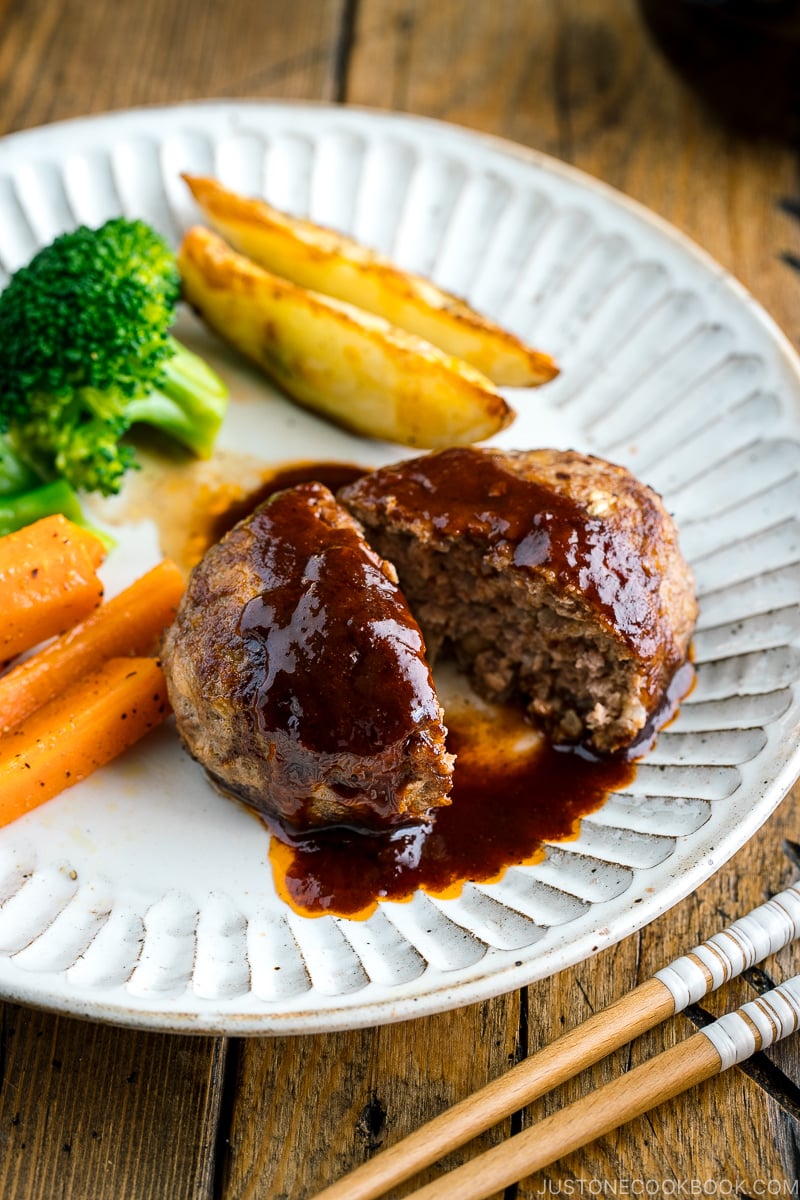 How to Serve Hambagu
Serve the Hamburger Steak with a bed of grilled vegetables. If you want to make it into a Japanese-style meal, serve this dish with steamed rice, miso soup, and a salad. You will have a fancy and extra special dinner that doesn't cost a bomb. This is exactly the kind of recipe that calls for a bottle of red wine and a reason to celebrate.
Other Japanese Hamburger Recipes You'll Enjoy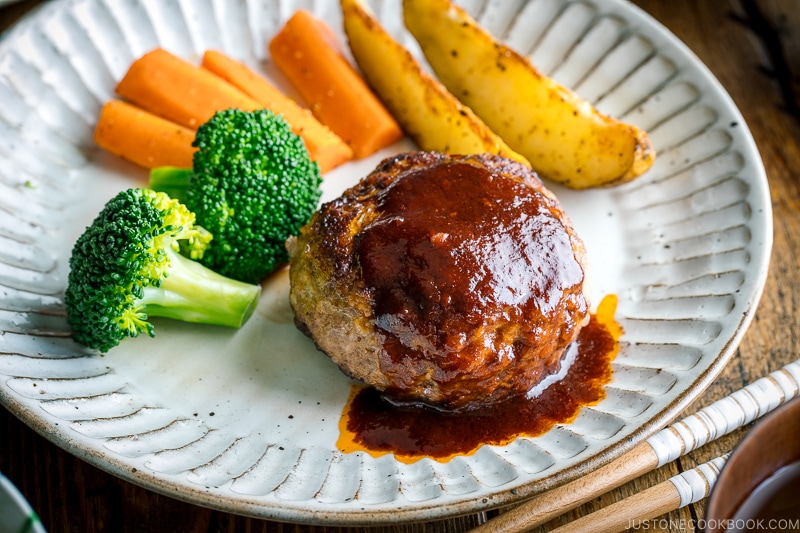 Wish to learn more about Japanese cooking? Sign up for our free newsletter to receive cooking tips & recipe updates! And stay in touch with me on Facebook, Pinterest, YouTube, and Instagram.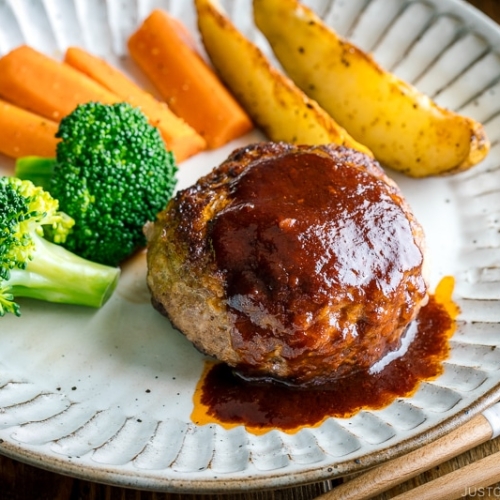 Japanese Hamburger Steak (Hambagu)
Served with a red wine reduction sauce, this Japanese Hamburger Steak (Hambagu) is big on flavors. The meat is juicy and melts in your mouth. It's perfect to make in a hot frying pan either in the kitchen or on the grill!
Video
Servings:
4
hambagu steaks (4 oz patty each)
Ingredients
For the Hambagu Patties
½

onion

(5 oz, 142 g)

1

Tbsp

neutral-flavored oil (vegetable, rice bran, canola, etc.)

¾

lb

ground beef and pork combination

(12 oz; a good beef-to-pork ratio is 2 to 1 (8 oz/4 oz) or 3 to 1 (9 oz/3 oz). You can make hambagu with 100% beef; however, it will not be as juicy and tender as a combination of the two meats)

½

tsp

kosher salt (Diamond Crystal; use half for table salt)

freshly ground black pepper

½

tsp

nutmeg

2

Tbsp

milk

1

large egg (50 g w/o shell)
For Cooking the Hambagu
1

Tbsp

neutral-flavored oil (vegetable, rice bran, canola, etc.)

3

Tbsp

red wine

(for steaming; this mini wine is perfect for the small amount needed in this recipe; you can substitute beef/chicken stock, although I highly recommend red wine)
For the Sauce
1

Tbsp

unsalted butter

3

Tbsp

ketchup

(adjust the amount as some ketchup is sweeter than others)

3

Tbsp

tonkatsu sauce (you can substitute Worcestershire sauce, but you must add sugar to balance out the sourness as tonkatsu sauce is sweeter than Worcestershire sauce; you can also make Homemade Tonkatsu Sauce)

3

Tbsp

red wine

(this mini wine is perfect for the small amount needed in this recipe; you can substitute beef/chicken stock, although I highly recommend red wine)

3

Tbsp

water
Japanese Ingredient Substitution:
If you want substitutes for Japanese condiments and ingredients, click
here
.
Instructions
Gather all the ingredients.
Before You Start
Please note that this recipe requires 30 minutes of inactive resting time (patties in the refrigerator) in addition to the total active cooking time.
To Make the Hambagu Patties
Mince the onion finely: Lay the half onion flat side down on the cutting board. With the knife tip pointing toward the root end, make ¼-inch (6 mm) vertical slices to within ½ inch (1.3 cm) of the root end. Next, with the knife's edge toward the root, make ¼-inch (6 mm) horizontal slices, again keeping the root end intact.

Then, make perpendicular cuts down through the vertical slices you made. To chop the onions finer, you can run your knife through them using a rocking motion. Be sure to hold down the tip of the knife; otherwise, the onions will go flying around the room.

Heat the oil in a large pan over medium heat and add the onions.

Sauté the onions until tender and almost translucent. Transfer to a large bowl and let it cool.

Once the onions are cool, add the ground beef and pork to the bowl. Add the salt, black pepper as you like, and nutmeg.

Add the milk, panko, and egg.

Start mixing it all together with a silicone spatula or spoon.

Then, switch to mixing by hand and knead the mixture until it's sticky and pale.

Divide the mixture into quarters (4 oz or 113 g each) or six smaller portions. Scoop out one portion.

Toss it from one hand to the other repeatedly about five times in order to release any air inside the mixture (see the video link above). Tip: Without releasing the air inside, the hamburger steaks will likely crack while cooking.

Make an oval-shaped patty and place on a tray or plate. Repeat with the remaining portions. Cover the patties with plastic wrap and keep them in the refrigerator for at least 30 minutes before cooking so that the meat combines well and the fat solidifies.
To Cook the Hambagu
In a large pan, heat the oil over medium heat and place the patties gently into the pan. Indent the center of each patty with two fingers because the centers will rise with the heat.

Cook the patties until browned on the bottom side, about 3 minutes. Then carefully flip and cook for another 3 minutes until browned.

Add the red wine for steaming the patties and reduce the heat to low. Cover the pan with a lid and cook for 5-7 minutes to thoroughly cook the inside of the patties (adjust the cooking time depending on the thickness of the patties).

Uncover and check that it's done by inserting a skewer; if clear juice comes out, it's done. Increase the heat to medium to let the alcohol finish evaporating. When it's almost finished, transfer the hamburger steaks to individual plates. Do not wash the pan as you will make the sauce next using the pan juices.
To Make the Sauce
In the same frying pan (without cleaning), add the unsalted butter, ketchup, and tonkatsu sauce.

Add the water and red wine for the sauce to the pan.

Mix well together and bring the sauce to a simmer over medium heat; let the alcohol evaporate.

When the sauce thickens (and you can draw a line on the bottom of the frying pan with a spatula), remove from the heat. Drizzle the sauce over the hamburger steaks. Pour the leftover sauce in a small bowl or jar and bring it to the table in case anyone wants to add more. We typically serve steamed rice, miso soup, and steamed vegetables or a salad with this meal.
To Store
Transfer the leftover hamburger steaks to an airtight container and let them cool completely. You can store them in the refrigerator for up to 3 days and the freezer for up to a month.
Nutrition
Calories:
286
kcal
·
Carbohydrates:
11
g
·
Protein:
21
g
·
Fat:
15
g
·
Saturated Fat:
10
g
·
Trans Fat:
1
g
·
Cholesterol:
105
mg
·
Sodium:
494
mg
·
Potassium:
427
mg
·
Fiber:
1
g
·
Sugar:
6
g
·
Vitamin A:
181
IU
·
Vitamin C:
3
mg
·
Calcium:
45
mg
·
Iron:
3
mg
©JustOneCookbook.com Content and photographs are copyright protected. Sharing of this recipe is both encouraged and appreciated. Copying and/or pasting full recipes to any website or social media is strictly prohibited. Please view my photo use policy
here
.
Editor's Note: The post was originally published on December 17, 2012. The content has been updated in August 2017. The post has been updated with a new video and images in June 2020.