Have you tried hamburger that is both extra crunchy and juicy? One of the popular yoshoku foods (western style Japanese food) in Japan, these Menchi Katsu (Japanese Ground Meat Cutlets) deliver the satisfactory of flavorful meat and the x-factor of deep-fried goodness. Breaded in golden panko breadcrumbs, they are seriously good!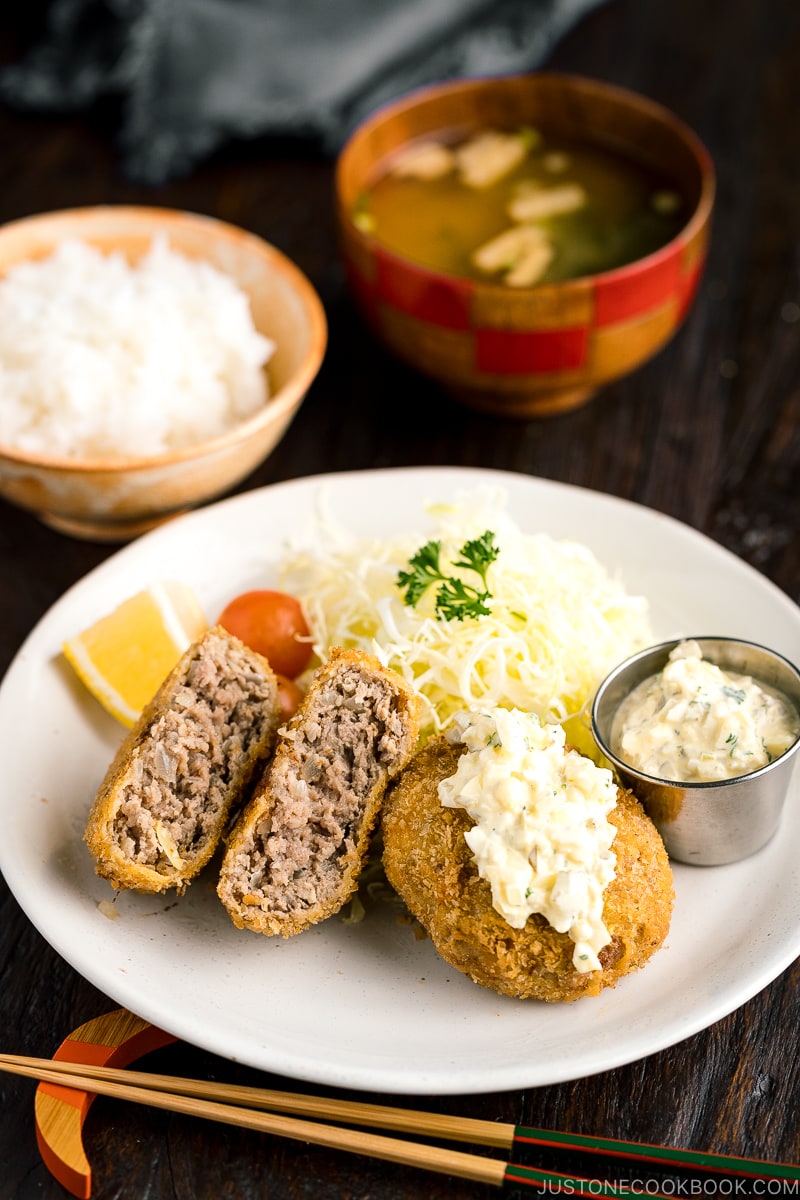 In comparison to well-known western style Japanese food (yoshoku) such as hamburger steak, omurice, and Japanese curry, Menchi Katsu (メンチカツ) may not be as recognizable outside of Japan. However, if you are at butcher shops and delis in Japan, you will get to buy freshly made, juicy and delicious minced meat cutlets aka Menchi Katsu. They are actually pretty easy to make, so give this recipe a try at home!
What is Menchi Katsu?
Simply speaking, Menchi Katsu (メンチカツ) is ground meat cutlet. In Kansai (Osaka area), it's called Minchi Katsu (ミンチカツ) as Minchi or Menchi in Japanese means "minced", and katsu is "cutlet", anything panko-breaded and deep-fried.
If you have tried hambagu (Japanese-style Salisbury steak), Menchi Katsu is basically a hambagu that's breaded in panko breadcrumbs like tonkatsu, and then deep-fried. Like a smaller size hamburger, but with an extra layer of crunchiness from the flake-like panko.
Menchi Katsu originated in a western style Japanese restaurant in Tokyo during the Meiji era, which is over 100 years ago. Then early Showa era, it became popular in Kansai region where it's known as Minch Katsu.
Today, one of the best places to enjoy Menchi Katsu is at the butcher shops as they use the freshest quality meat to make the patties and deep fry at the store.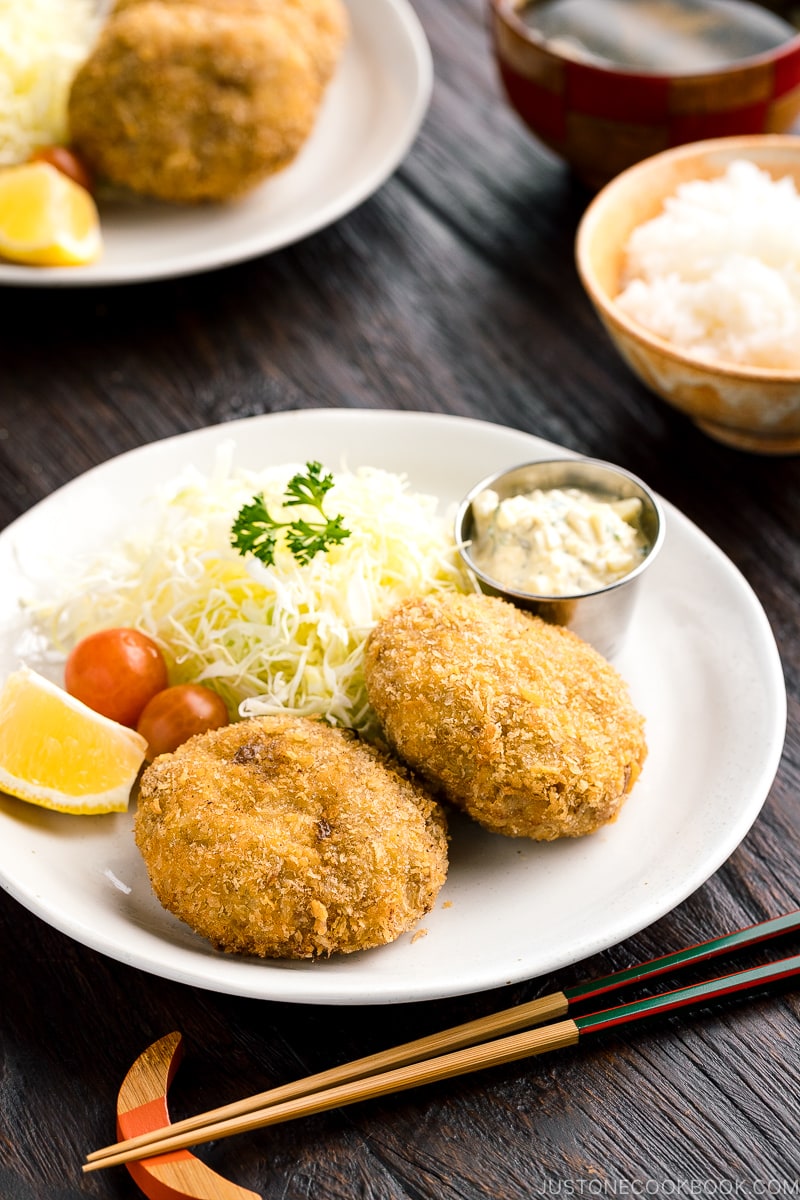 3 Easy Tips to Remember When Making Menchi Katsu
1. Use the combination of beef and pork
Typically menchi katsu is made with both beef and pork, with beef being slightly more than pork. You can adjust the ratio as you like, but using these two types of meat makes the patties juicy and tender.
2. Knead the meat mixture until sticky and pale in color
It's important to knead the meat well with your hands or wooden spatula. The mixture will turn into a pale color and become sticky.
3. Rub the oil on hands before shaping the meat mixture
To avoid the meat sticking to your hands, make sure to use a small amount of oil to rub on your hands before shaping the meat patties with your hands.
4. Release the air by tossing the patties
When the air pockets appear in the patties, it can be easily broken into pieces. Make sure to toss the patties between your hands and let the air escape from the meat patty.
5. Refrigerate the patties for at least 30 minutes
While you are shaping the meat mixture into patties, some fat gets melted. To achieve juicy patties, you will need to solidify the fat that has melted. Refrigerate the patties for 30 to 60 minutes before moving to the next step will do the trick.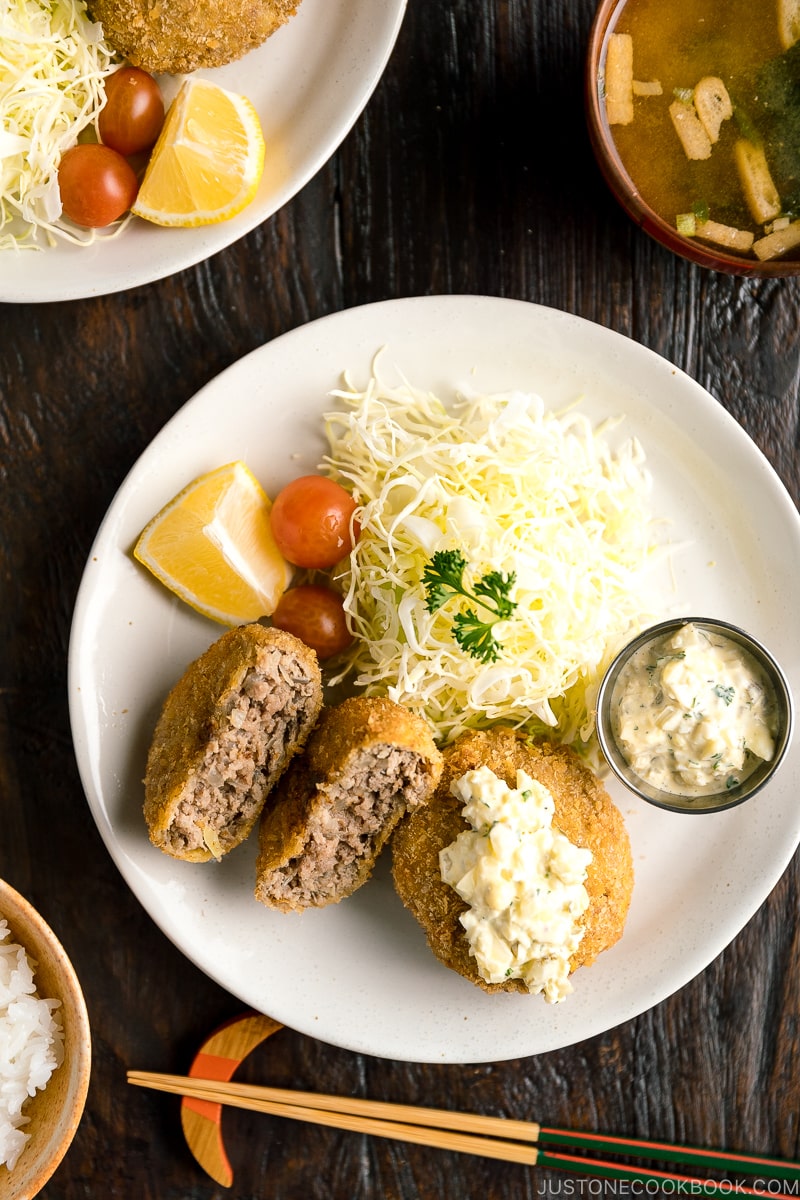 Enjoy Menchi Katsu with Homemade Tartar Sauce
Menchi Katsu is delicious as it is without any sauce, but sometimes it is served with tonkatsu sauce, Worcestershire sauce (Japanese Usuta-sauce), or a combination of the tonkatsu and Worcestershire sauce.
I like to serve Menchi Katsu with homemade tartar sauce. The creamy egg and mayo along with tangy pickles go really well with Mechi Katsu. In general, deep fried food goes well with tangy sauce, which is why Tonkatsu or Worcestershire sauce works best.
If you don't have time to make the homemade tartar sauce, just serve Menchi Katsu straight up or with a simple sauce like Tonkatsu sauce or Worcestershire sauce.
No Deep Frying at Home? How about Baked Menchi Katsu?
You can use my pre-toasting panko technique to make Baked Menchi Katsu just like the Baked Chicken Katsu, Baked Tonkatsu, and Baked Croquette recipes.
Enjoy Menchi Katsu with a bowl of steamed rice and a side of miso soup.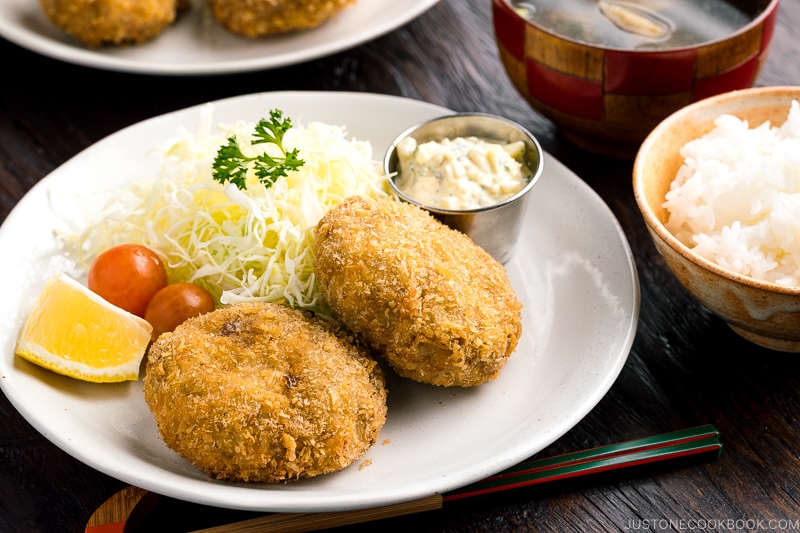 Wish to learn more about Japanese cooking? Sign up for our free newsletter to receive cooking tips & recipe updates! And stay in touch with me on Facebook, Pinterest, YouTube, and Instagram.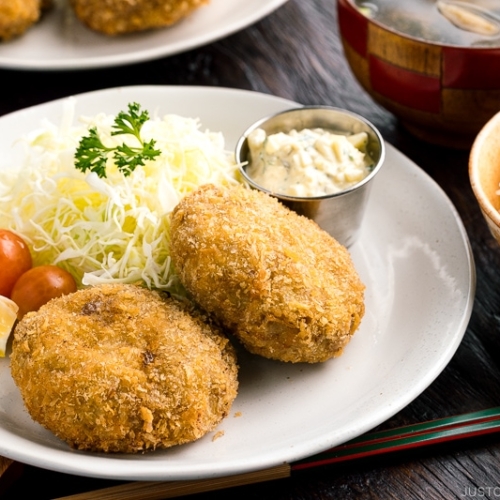 Menchi Katsu
Breaded in panko breadcrumbs and deep fried to golden color, these Menchi Katsu (Japanese Ground Meat Cutlet) are one of the popular yoshoku foods (western style Japanese food) in Japan.
Ingredients
½

onion

1

Tbsp

extra virgin olive oil

1

lb

ground beef and pork combination

(normally 70% beef & 30% pork)

2

Tbsp

panko (Japanese breadcrumbs)

1

Tbsp

milk

1

large egg (50 g w/o shell)

½

tsp

nutmeg

½

tsp

kosher salt (Diamond Crystal; use half for table salt)

freshly ground black pepper

3

cups

neutral-flavored oil (vegetable, rice bran, canola, etc.)
For coating patties:
½

cup

all-purpose flour (plain flour)

(for dredging)

2

large eggs (50 g each w/o shell)

(for dredging)

1 ½

cup

panko (Japanese breadcrumbs)

(for dredging)
Sauce options:
tonkatsu sauce (for homemade tonkatsu sauce recipe, click here)

Worcestershire sauce

tonkatsu or Worcestershire sauce + ketchup
Japanese Ingredient Substitution:
If you want substitutes for Japanese condiments and ingredients, click
here
.
Instructions
Gather all the ingredients.

Mince the onion.

Heat the olive oil in a frying pan over medium heat and saute onion until translucent and golden brown.

Transfer the onion to a large bowl and set aside to cool.

In the large bowl with the onion, add the ground meat, 2 Tbsp panko, 1 Tbsp milk, 1 large egg, ½ tsp nutmeg, ½ tsp Kosher salt, and freshly ground black pepper.

Knead well with hands until the meat mixture becomes pale and sticky.

Roughly divide the mixture into 6 balls.

Toss each ball from one hand to the other hand repeatedly about 5 times in order to release air inside the ball so the meat patty won't break when you deep fry.

Now shape each ball into an oval shape patty and place on a plate. Cover with plastic and rest in the refrigerator for 30-60 minutes in order to solidify the fat.

Prepare 3 separate bowls: flour, beaten eggs, and panko. Dredge and coat each patty in flour, egg, and panko.

When you are coating panko, fix the patties into a nice oval shape.

Heat the oil to 340ºF (170ºC) and gently place the patties into the oil. Do not crowd the oil as meat patties will decrease the oil temperature too fast.

Deep fry for 3 minutes on each side (total 6 minutes). For the first 2 minutes, don't touch the patties as they are soft and easy to break.

Drain oil for 1-2 minutes and the remaining heat will cook inside the patty. Pick up the crumbs in the oil as they darken the oil and stick to the new patties.

Serve immediately with tonkatsu sauce, Worcestershire sauce, the combination of the two sauces, or the homemade tartar sauce.
To Store
Let cool Menchi Katsu completely and store in an airtight container. You can freeze for up to a month. When you're ready to eat, reheat at 350ºF (180ºC) in the oven. It's more difficult to deep fry frozen raw patties until they are cooked through. Therefore, I recommend deep frying the patties first before freezing them.
Nutrition
Calories:
477
kcal
·
Carbohydrates:
25
g
·
Protein:
32
g
·
Fat:
27
g
·
Saturated Fat:
15
g
·
Polyunsaturated Fat:
2
g
·
Monounsaturated Fat:
8
g
·
Trans Fat:
1
g
·
Cholesterol:
182
mg
·
Sodium:
425
mg
·
Potassium:
506
mg
·
Fiber:
1
g
·
Sugar:
2
g
·
Vitamin A:
169
IU
·
Vitamin C:
1
mg
·
Calcium:
74
mg
·
Iron:
5
mg
©JustOneCookbook.com Content and photographs are copyright protected. Sharing of this recipe is both encouraged and appreciated. Copying and/or pasting full recipes to any website or social media is strictly prohibited. Please view my photo use policy
here
.
Editor's Note: This post was originally published on January 14, 2011. The images, the content, and the recipe were updated in August 2018.