This steamy bowl of Soba Noodle Soup will bring you extra comfort on cold days! Topped it with crispy shrimp tempura, kamaboko fish cake, and sliced scallion. It's ready in about 30 minutes from start to finish.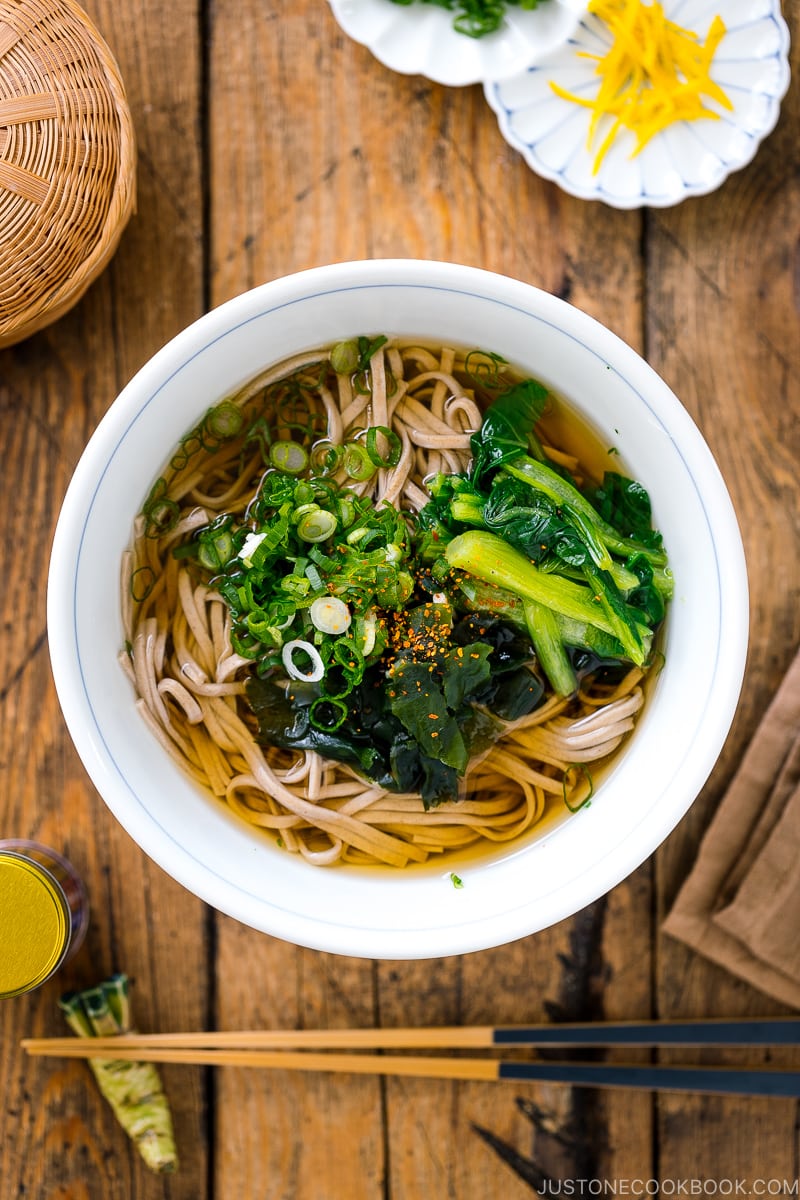 Soba noodles in a tasty dashi broth paired with various toppings are one of the best things to eat when you are in the mood for hot noodle soup. Today, we'll learn how to make an authentic bowl of Japanese Soba Noodle Soup (温かいお蕎麦) at home and will go over the various topping options such as crispy shrimp tempura, fish cake, and some vegan-friendly ingredients.
What is Authentic Soba Noodle Soup
While you can find many variations of soba noodle soups in Japan, tempura soba is one of the popular ways to enjoy the simplicity of buckwheat noodles.
When cooked soba noodle is served with a hot warm soup at its simplest, it is known as kake soba (かけそば).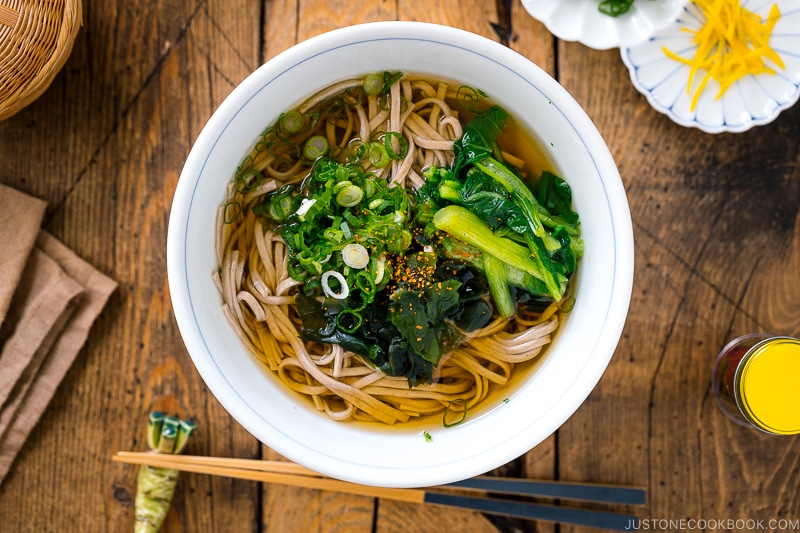 Kake soba is usually topped with minimal garnishes such as chopped scallions or wakame seaweed. It is basically used as a broad term for any simple hot soba noodle soup.
What Are Soba Noodles (Buckwheat Noodles)
Soba noodle is commonly referred to as a type of thin noodles made from buckwheat flour, or a combination of buckwheat and wheat flour. You can learn more about this type of noodle on my soba pantry page.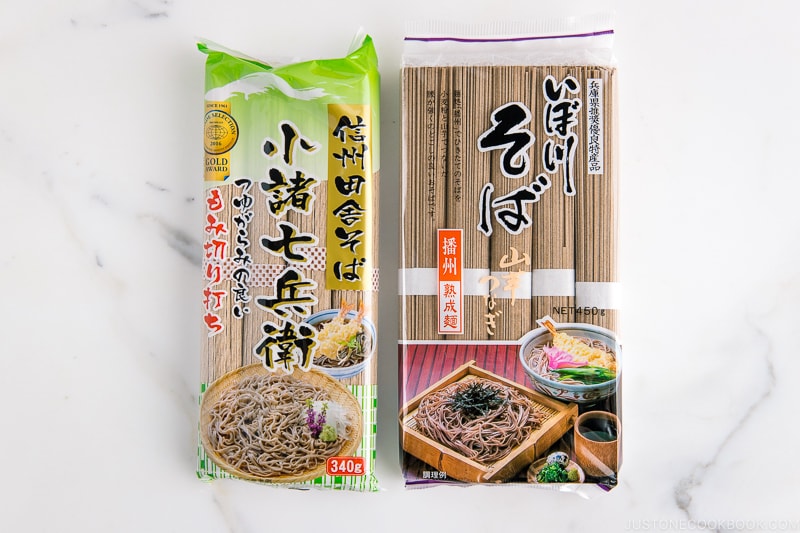 In general, soba noodles are pretty much available at any Asian and mainstream grocery store in the US. Typically sold dried in bundles in packages, you can also find fresh soba in the refrigerated or freezer sections at Japanese or Asian grocery stores.
I often stock up some dried soba noodles in my pantry so I can make soba soup like this anytime.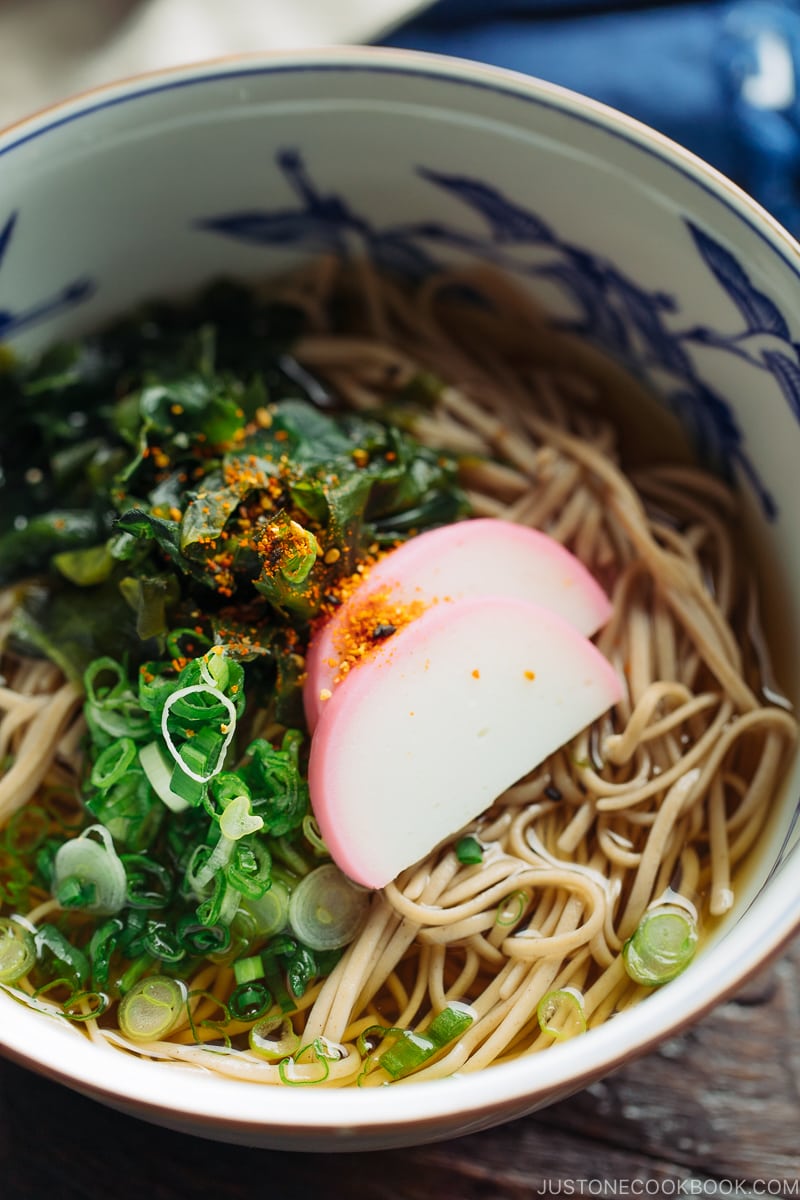 2 Ways to Make Soba Broth
There are two ways to make delicious soba broth. My recipe card below shows you both options.
Make the Soba Broth from Scratch: Make Awase Dashi (made with kombu and bonito flakes) or Vegan Dashi made with kombu and dried shiitake mushrooms. Then, season the dashi with soy sauce, sake, and mirin.
Make the Soba Broth with Concentrated Mentsuyu: Use the convenient bottle of mentsuyu, the Japanese soup base used in soba and udon noodle dishes. You just need to dilute it with hot water to make a soup broth.
When the nutty buckwheat noodles immerse in the delicious hot broth, you'd get a bowl of noodle soup that is light, yet does not lack umami complexity. It's perfect for everyday dinner.
8 Popular Soba Toppings
As I mentioned earlier, the simple soba noodles soup is called Kake Soba (かけそば). It's simply composed of cooked soba noodles in a soba broth, optionally with chopped green onion and wakame seaweed.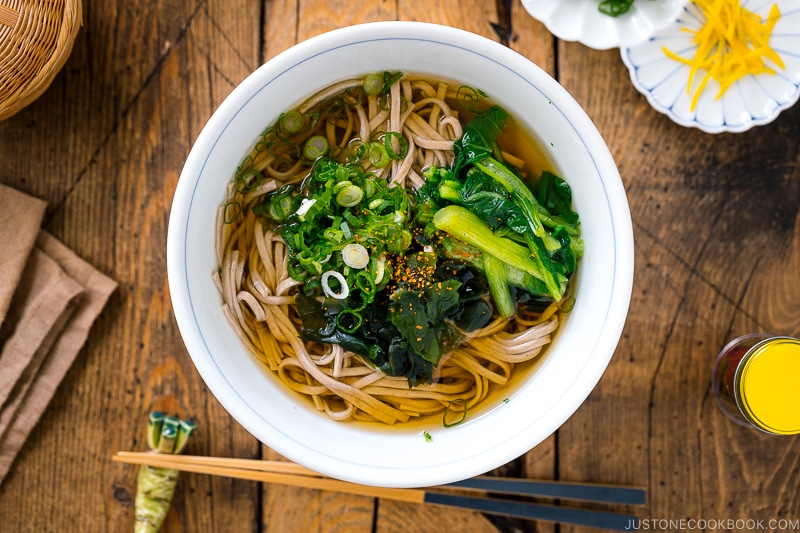 The kake soba or plain soba noodle soup is like a blank canvas. You can put different kinds of toppings to enjoy layers of flavors. Here are the top 8 popular toppings for soba noodle soup in Japan.
1. Tempura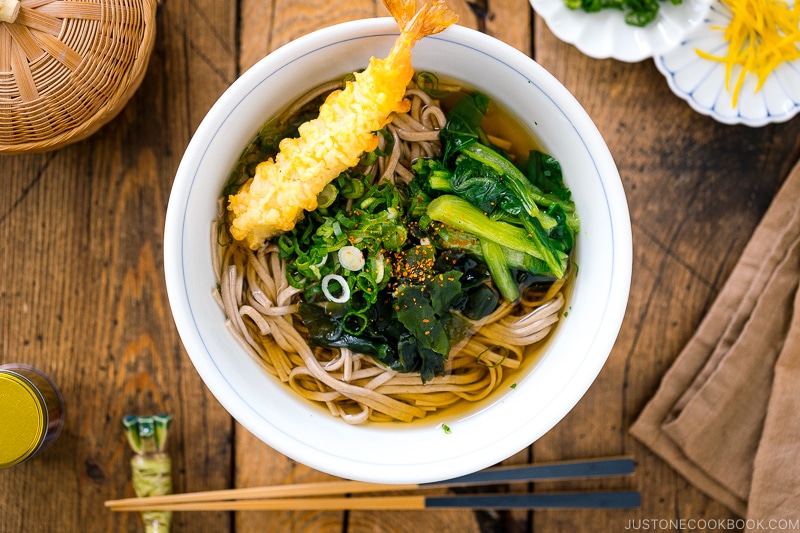 In Japan, tempura soba can be served with different ingredients such as sweet potato, eggplant, chikuwa fish cake, and shiitake mushrooms, but shrimp tempura is certainly the most classic choice.
At soba noodle shops, the chefs would fry up fantastically fresh tempura and serve it straight with the soba noodle soup. Everything is hot and fresh! It's truly the best of both worlds.
If you're up for it, you can follow my Tempura recipe and make it from scratch at home. If you're vegetarian, my favorite is eggplant tempura and Japanese sweet potato tempura!
For a quick weeknight dinner, you can use frozen shrimp tempura as I used in this recipe. You can find packaged frozen tempura in the freezer section at Japanese/Asian grocery stores, or regular grocery stores like Trader Joe's, Whole Foods, Costco, etc.
📝 In Japan, you can find Tempura Soba (天ぷらそば) on the menu at a soba noodle shop. Tempura is typically served on a separate dish along with a bowl of soba noodle soup.
2. Kamaboko Fish Cake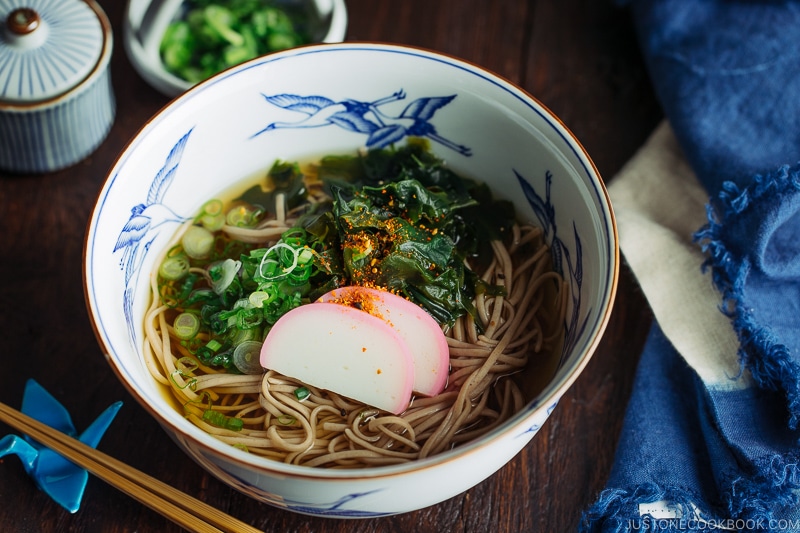 Among many fish cakes available in Japan, the two most popular ones that are often used in noodle soup are kamaboko (かまぼこ) and narutomaki (なると巻).
Kamaboko fish cakes are more commonly used for soba noodle soup while narutomaki fish cakes are found on ramen and udon noodle soup.
3. Satsumaage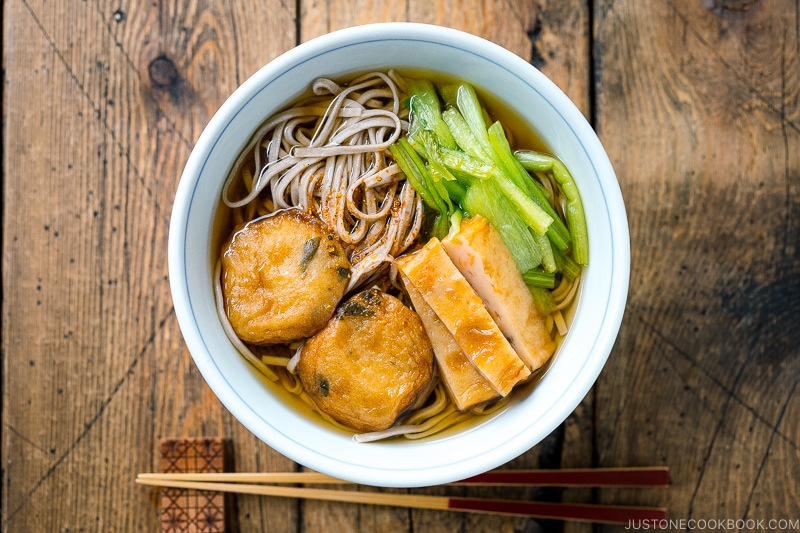 Satsuma-age (さつま揚げ, 薩摩揚げ) is a type of fried fish cake originating from Kagoshima, Japan. It was originally from Chinese cuisine and then brought over to Okinawa and Kyushu regions.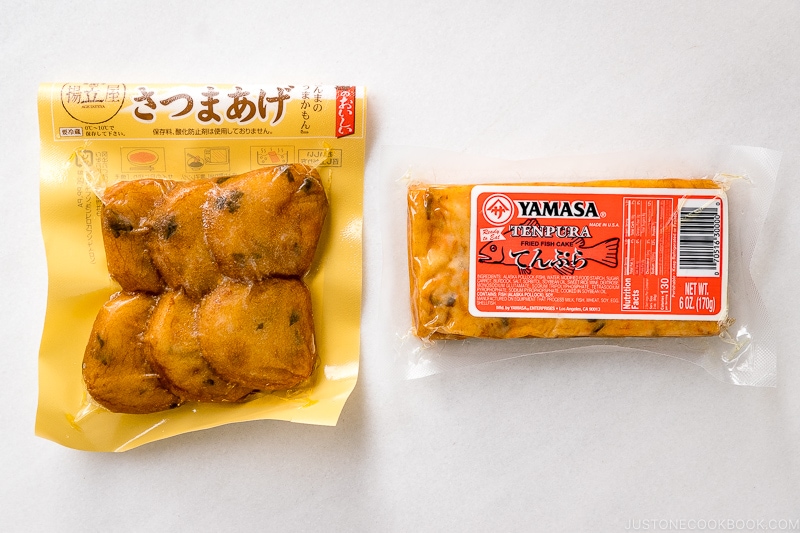 Surimi (fish paste) and flour are mixed to make a compact paste that is solidified through deep-frying, which is why you see the brown skin on the outside and white skin on the inside.
Satsuma-age often includes seafood (squid and octopus) or chopped vegetables such as gobo (burdock root), lotus root, carrot, and edamame.
You can purchase different kinds of packaged satsuma-age at Japanese or Asian grocery stores.
4. Onsen Tamago (or Raw Egg)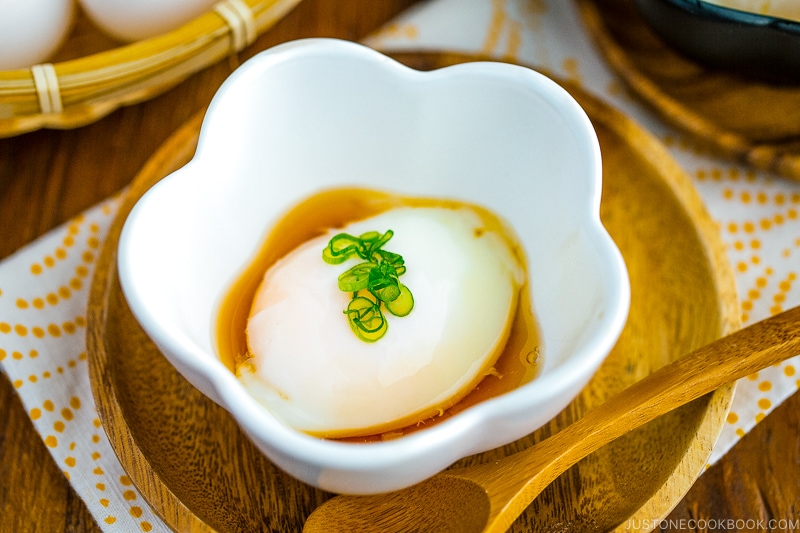 These slow-cooked eggs called Onsen Tamago are perfect on top of the soba noodle soup!
Eggs raised and produced in Japan are safe to eat raw, and many people enjoy the hot soba noodle with the raw egg on top (but please do not try it outside of Japan).
5. Inari Age (Seasoned Fried Tofu) (Vegan)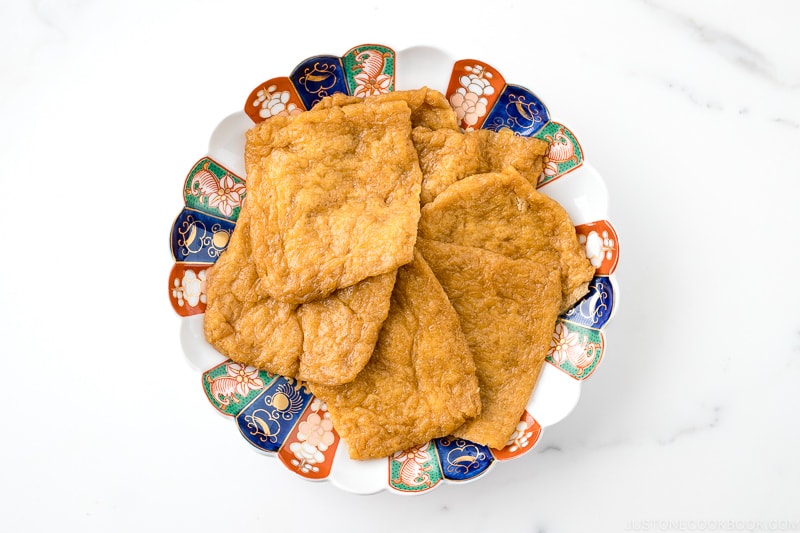 It's always my favorite topping for udon and soba noodle soup as it gives a sweet taste and the tofu absorbs the delicious broth.
📝 In Japan, you can find Kitsune Soba (きつね蕎麦) on the menu at a soba noodle shop. Typically, the fried tofu is a large piece, about twice the size you make at home.
6. Blanched Leafy Greens and Fresh Garnish (Vegan)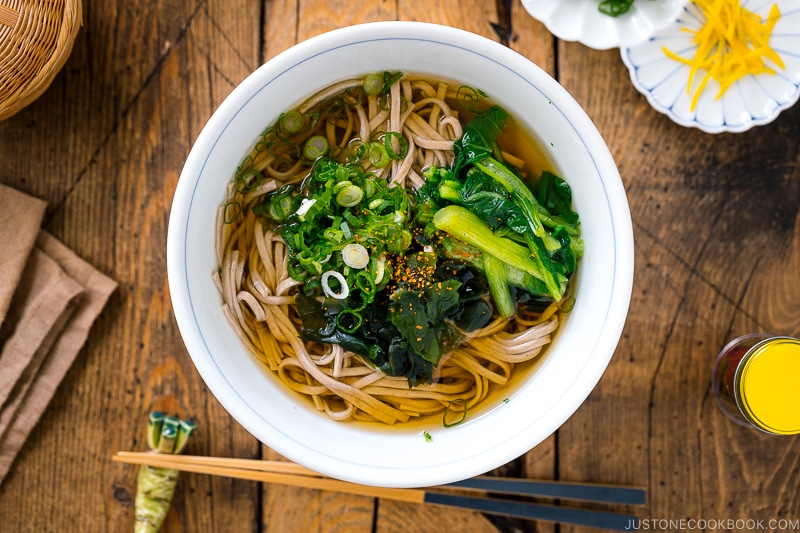 Blanched spinach
Blanched koma

tsuna

(

Japanese mustard spinach)
Chopped green onions
Chopped mitsuba (Japanese parsley)
Feel free to be creative with what you have in your fridge!
7. Different Types of Seaweed (Vegan)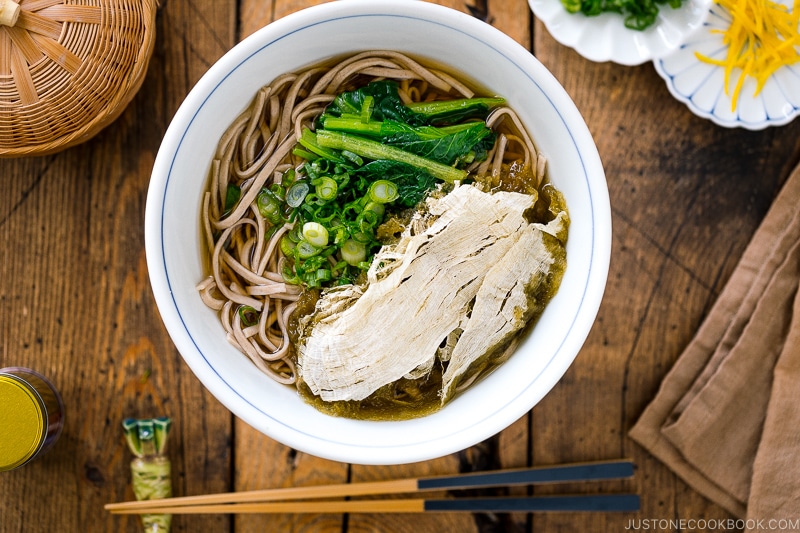 Different types of seaweed are a popular topping for soba noodle soups! Here, we have tororo kombu (とろろ昆布).
Tororo kombu is made of dried kelp and vinegar. It has a slightly tangy flavor and a gooey and slimy texture when soaked in the broth. It gives unique texture and flavor to the soup.
Another popular seaweed topping is wakame seaweed. Rehydrate dried wakame seaweed in the water.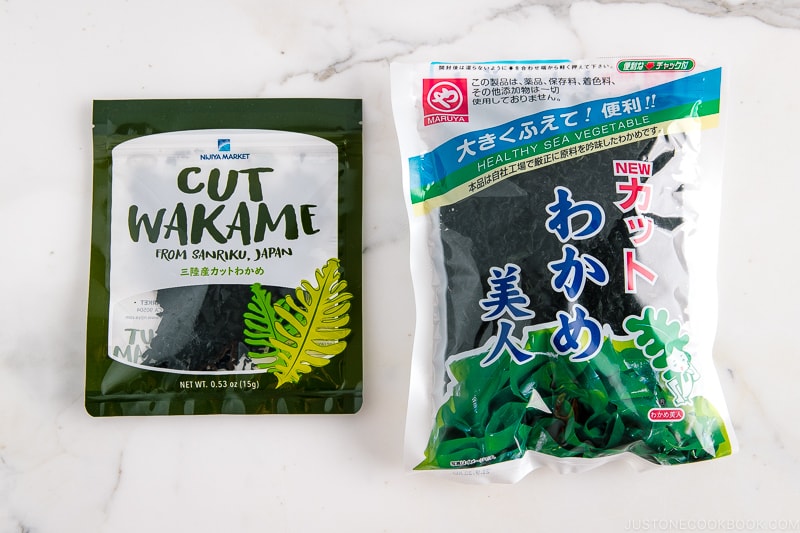 Don't add the seaweed directly to the noodle soup. Dried wakame seaweed releases some salt, and you don't want to make your noodle soup salty. When rehydrated, drain well and add on top of the noodle soup.
You can also put shredded nori seaweed on top of the soba noodle soup as a garnish.
8. Grated Nagaimo (Vegan)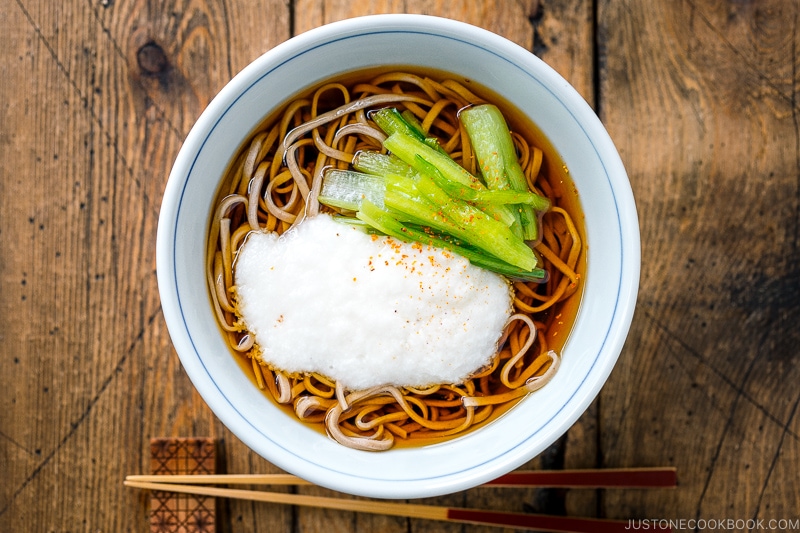 A slightly slimy, mild-flavored mountain yam called nagaimo (mountain yam) is a popular topping for soba noodle soup.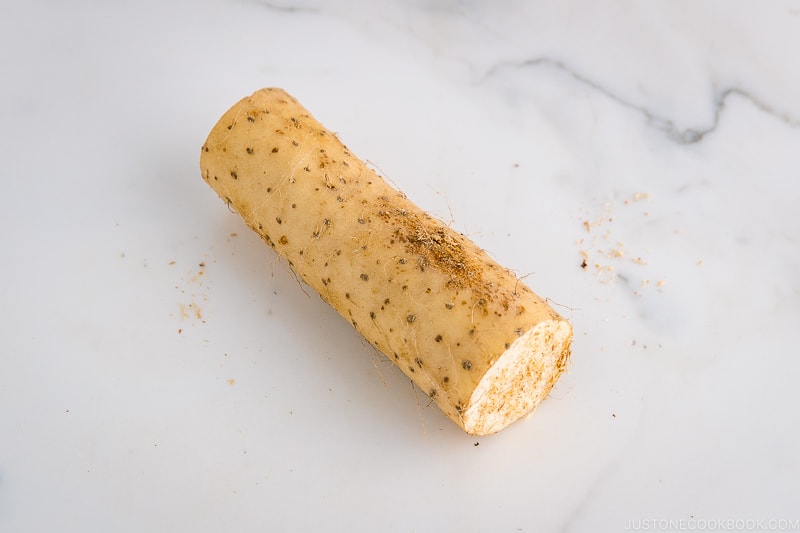 The slippery, "neba neba" texture of the yam is what people are after. People usually love it or dislike it.
📝 In Japan, you can find Tororo Soba (とろろ蕎麦) on the menu at a soba noodle shop. Tororo Soba is often accompanied by a raw quail/chicken egg placed on top of the grated yam.
9. Tempura Scraps (Tenkasu, Agedama) (Vegan)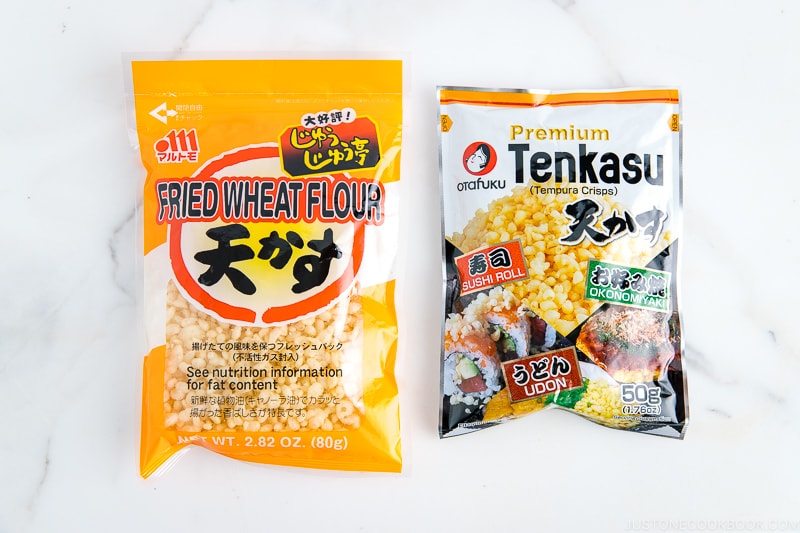 Tenkasu or agedama are crunchy tempura scraps of deep-fried batter. They are used in Takoyaki, Okonomiyaki, and udon/soba noodle soups. They have a nice crunch and add a depth of flavor to the broth.
And More!
Mochi (Kiri Mochi)—Check out the udon version called Chikara Udon!
Umeboshi (pickled plums)
Sudachi (Japanese citrus)
Pan-fried/grilled meat (duck, chicken, beef, and pork)
Vegan-Friendly Toppings
Tofu (pan-fried tofu, crispy tofu puffs)
Stir-fried mushrooms
Pan-fried or roasted veggies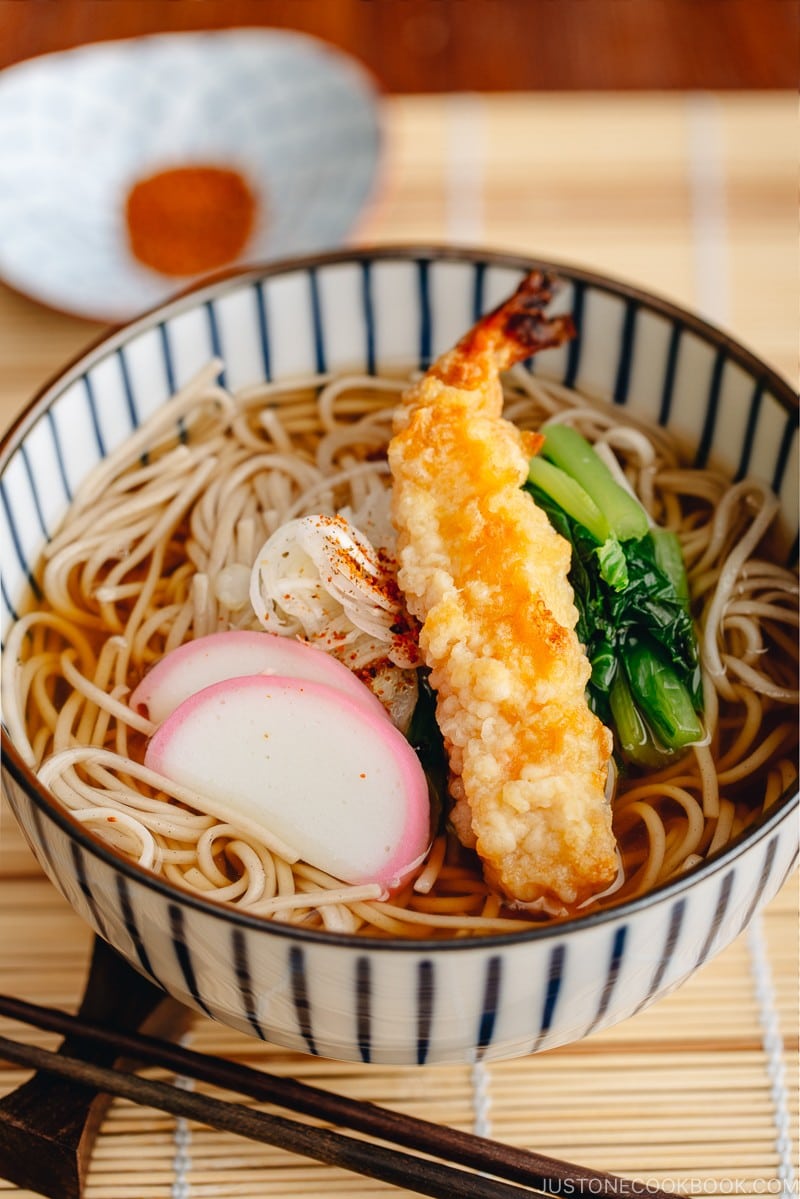 How To Make a Classic Soba Noodle Soup
For this recipe post, I will share a classic soba noodle soup with shrimp tempura, kamaboko fish cake, komatsuna, and green onions (see the picture above).
If you are vegan, please omit shrimp tempura and fish cake, and use vegan-friendly toppings of your choice I mentioned earlier. I will explain in detail how to make this soba noodle soup with vegan options in the recipe card below.
Ingredients You'll Need
Soba Noodles (buckwheat noodles)
Soba Broth: kombu (dried kelp), katsuobushi (dried bonito flakes; optional), sake, mirin, and soy sauce. Alternatively, you can use mentsuyu (noodle soup base) to quickly make the soup.
Optional Toppings: shrimp tempura, scallion, blanched spinach or komatsuna, kamaboko fish cake, wakame seaweed… so many possibilities.
Overview: Cooking Steps
Prepare the soba broth by making the dashi and then adding the seasonings. If you have a bottle of mentsuyu (noodle soup base), dilute it with water to make the soba broth.
Prepare the toppings.
Cook the soba noodles.
Serve the soba noodles and the broth in the donburi bowl and add the toppings on top.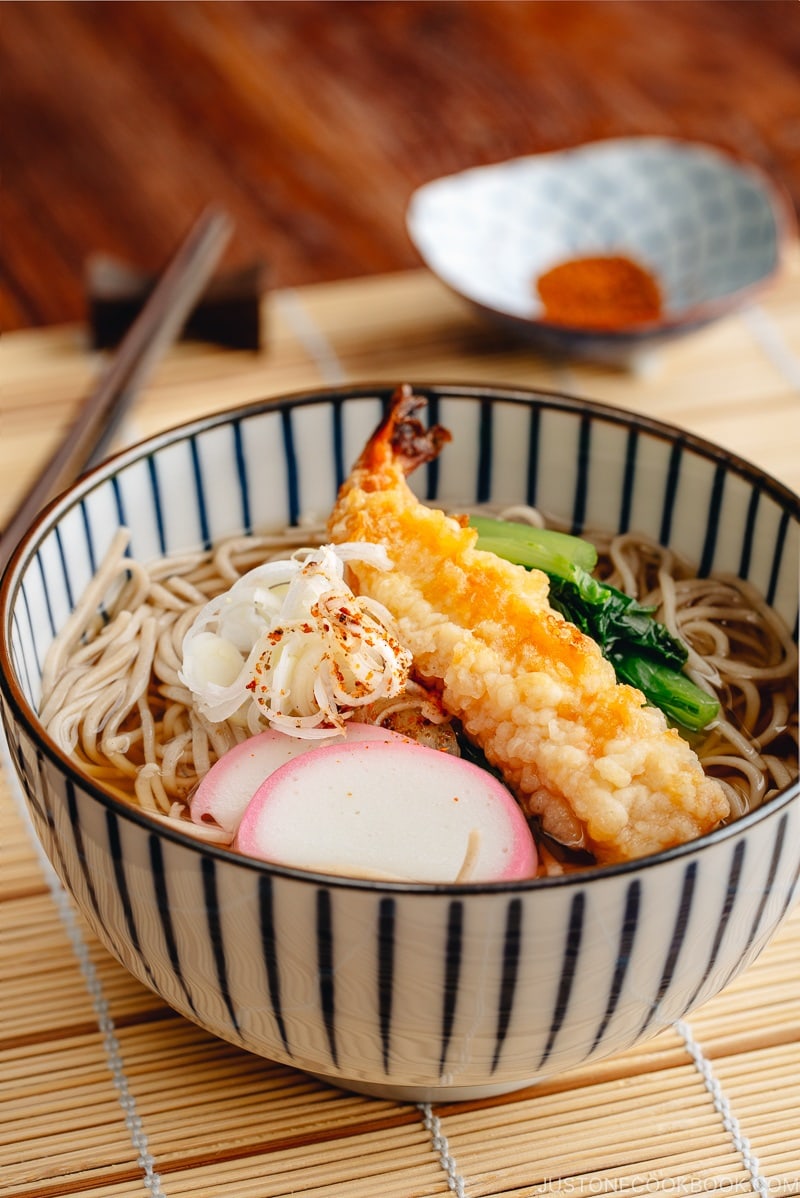 Frequently Asked Questions
I'm vegan. Can I still enjoy soba noodle soup?
Of course! Soba noodles are vegan-friendly, so you will only need to adjust the soup broth. Unfortunately, the quick and easy method of using a store-bought bottle of mentsuyu (noodle soup base) doesn't work as it contains katsuobushi (dried bonito).
However, you can easily make Vegan Dashi from scratch by soaking the kombu and dried shiitake in water or simply omit adding katsuobushi (dried bonito flakes) from the recipe shown below.
I'm gluten-free. Is soba 100% buckwheat?
Many brands of soba noodles that are available outside of Japan contain wheat and are NOT made with 100% buckwheat flour.
For those who are gluten-free, search for soba noodles that are called Juwari Soba (十割蕎麦, 十割そば). These are 100% buckwheat noodles. The texture of the noodles is less springy and dense, yet it has a more buckwheat flavor.
Other Popular Soba Noodle Recipes You'll Love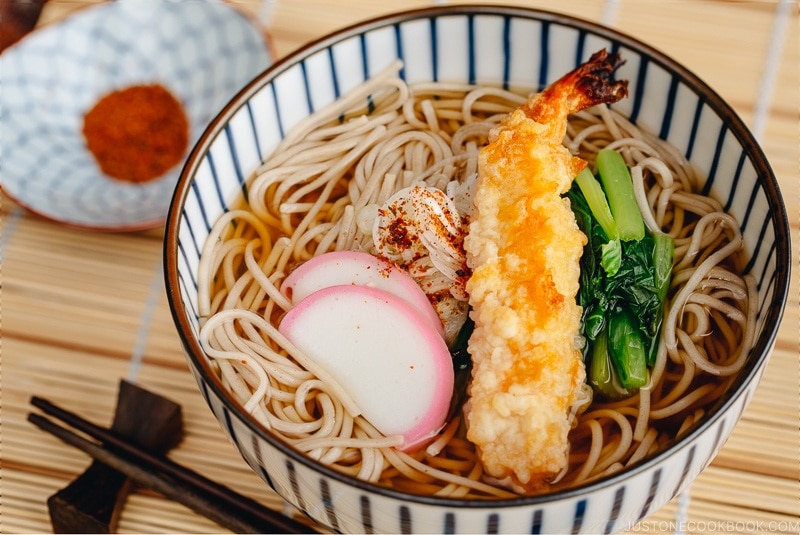 Wish to learn more about Japanese cooking? Sign up for our free newsletter to receive cooking tips & recipe updates! And stay in touch with me on Facebook, Pinterest, YouTube, and Instagram.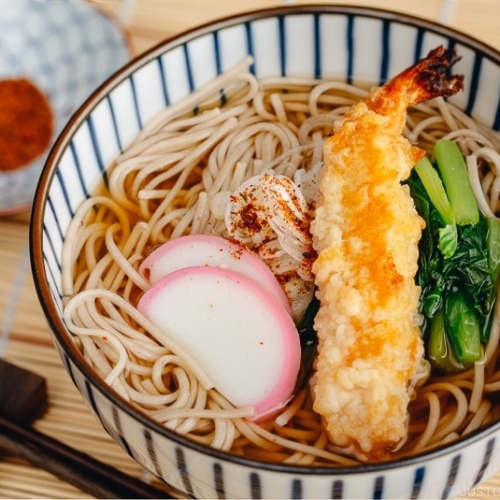 Soba Noodle Soup
This steamy bowl of Soba Noodle Soup will bring you extra comfort on cold days! Topped it with crispy shrimp tempura, kamaboko fish cake, and sliced scallion. It's ready in about 30 minutes from start to finish.
Video
Ingredients
Japanese Ingredient Substitution:
If you want substitutes for Japanese condiments and ingredients, click
here
.
Instructions
To Make the Soba Broth from Scratch (without mentsuyu)
Soak

1 piece kombu (dried kelp)

in

3 cups water

overnight (optional, if you have time). Otherwise, soak the kombu for at least 30 minutes.

Transfer the kombu and water into a saucepan. Bring the water to a boil. When it's almost boiling, remove the kombu from the water and reserve it for another use (see below*). If you're vegan or vegetarian, this kombu dashi is your soup base, so skip the next step.

Add

1 cup katsuobushi (dried bonito flakes)

and simmer for 30 seconds. Then turn off the heat and let the katsuobushi sink to the bottom of the pot. Let the katsuobushi steep for about 10 minutes.

Strain the liquid in a fine-mesh sieve over another saucepan (I also placed a paper towel in the bottom of the sieve beforehand to help gather the bonito flakes). Gently twist and squeeze the paper towel to release any remaining dashi into the saucepan. Reserve the katsuobushi for another use (see below*). Now you have awase dashi.

Add

1 Tbsp sake

,

2 Tbsp mirin

,

2 Tbsp soy sauce

, and

1 tsp Diamond Crystal kosher salt

to the dashi and bring the broth to a simmer. Cover with the lid to keep hot and set aside.

*Use the spent kombu and katsuobushi to make Homemade Furikake Rice Seasoning. You can also save the drained katsuobushi and kombu in the freezer until you're ready to make the furikake.
To Prepare the Toppings
Please note that there is a variety of topping options (including vegan) available for Soba Noodle Soup. Read more about other choices in the blog post.

Bake

2 pieces frozen shrimp tempura

, flipping halfway through, at 400ºF (200ºC) for 20 minutes, or according to the package instructions.

Insert a knife at the bottom of

4 slices kamaboko (fish cake)

to separate it from the wooden board. Then cut the kamaboko into ¼-inch slices.

Slice

1 green onion/scallion

thinly and cut

2 oz komatsuna

into 2-inch pieces.

Boil the komatsuna in salted water. I first boil the hard stems of the komatsuna since they take longer to cook. Then, I add the leafy green parts later. Once they are tender, take the komatsuna out and soak in ice water to stop the cooking. Drain well.
To Cook the Soba Noodles
Meanwhile, reheat the soup broth on low heat and boil two large pots of water—one for cooking the soba noodles and the other for warming up the noodles after rinsing them (the second is optional; see my shortcut below). Unlike pasta, you do not need to add salt to the cooking water. Once the water in the first pot is boiling, cook

7 oz dried soba noodles (buckwheat noodles)

for 30 seconds less than the package instructions. Mine says to cook for 4 minutes, so I cook for 3 minutes and 30 seconds.

Drain the soba noodles in a colander and rinse them with your hand under cold running water to get rid of the starch. Next, warm up the noodles again. My Shortcut Way: Switching to hot running water, quickly rinse the noodles in the colander to warm them up. Shake and drain completely. Transfer the warmed noodles to individual bowls.

The Traditional Way: After rinsing the soba noodles under cold running water, drain and transfer them to the second pot of boiling water for just 5–8 seconds to quickly warm them up. Then, drain and transfer the warmed noodles to individual bowls.
To Assemble
Pour the piping-hot soba broth over the noodles and garnish with the toppings of your choice. Sprinkle

shichimi togarashi (Japanese seven spice)

on top if you like it spicy. Serve immediately.
To Store
You can keep the leftover soup, noodles, and toppings separately in airtight containers and store in the refrigerator for 2 days.
To Make the Quick Soba Broth (with Concentrated Mentsuyu; Optional)
Follow your mentsuyu (noodle soup base) bottle instructions for the correct dilution ratio for soba broth. I use a dilution ratio of 1 to 7 for kaketsuyu (noodle broth).
Nutrition
Nutrition Facts
Soba Noodle Soup
Amount per Serving
% Daily Value*
* Percent Daily Values are based on a 2000 calorie diet.
©JustOneCookbook.com Content and photographs are copyright protected. Sharing of this recipe is both encouraged and appreciated. Copying and/or pasting full recipes to any website or social media is strictly prohibited. Please view my photo use policy
here
.
Editor's Note: This post was originally published on December 30, 2014. The post has been updated with new content and images in April 2022.