Wakame is a type of seaweed used in many different ways in Japanese cuisine. Learn about its culinary uses, varieties, health benefits, and how to incorporate more wakame into your diet.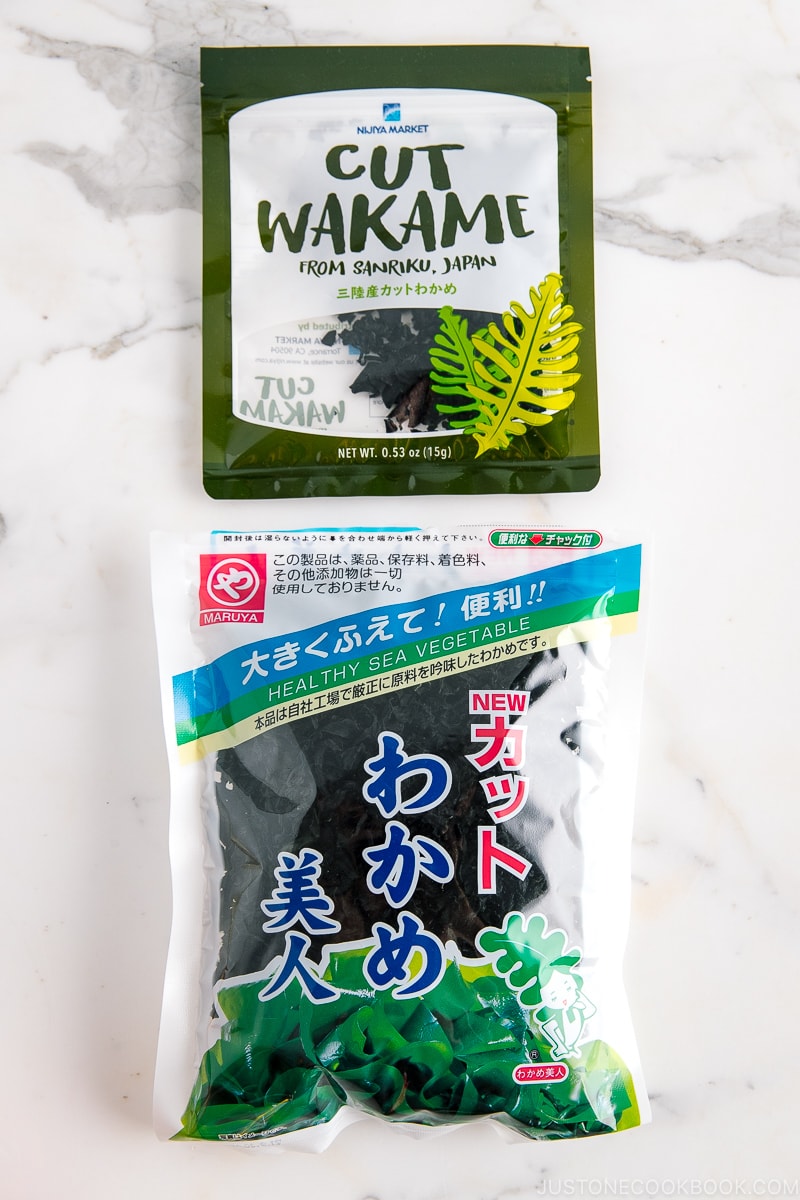 Wakame (わかめ・若布) is a type of edible seaweed. It is commonly used in miso soup, tofu salad, and side dishes such as sunomono. It's a nutrient-dense sea vegetable that has been cultivated in Japan and Korea for centuries.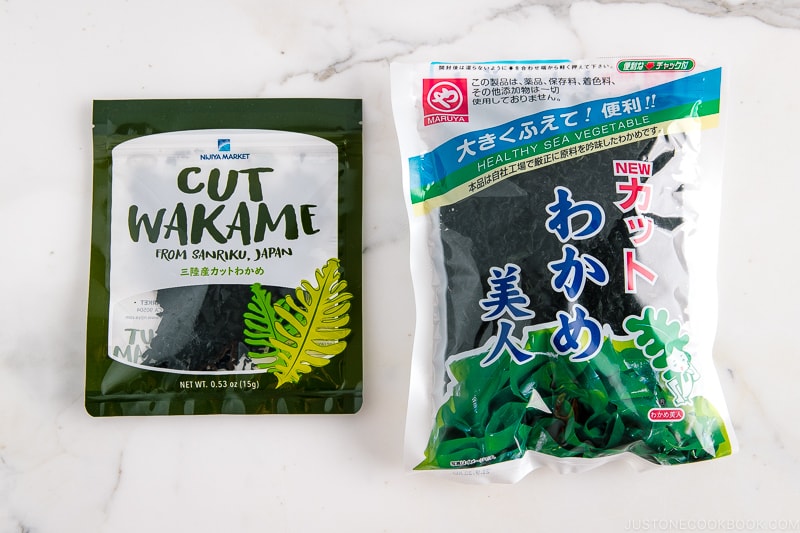 What is wakame?
Grown in cool and mineral-rich arctic currents, wakame has been harvested in Japan for generations since the Nara period (710-794). The green or brown algae can be referred to as "sea mustard" due to its resemblance to cooked mustard greens. The scientific name is undaria pinnatifida. It's more sustainable than wild harvesting and can protect reefs from storms and filter pollutants from seawater.
Types and Varieties
Outside of Japan, you will most likely find dried or salted wakame. You can find fresh wakame in Japan year-round. As dried and salted wakame is high in sodium, soak in water before use.
What does it taste like?
It has a briny, subtly sweet, and umami flavor. The texture can be described as silky, satiny, and slightly rubbery.
How to use wakame
Wakame is a versatile ingredient in Japanese cuisine. In addition to adding it to miso soup and salads, you could make a Japanese seaweed salad by dressing it with soy sauce, rice vinegar, and sesame oil.
Where to buy
You can find dried wakame in most Asian/Chinese/Japanese grocery stores or perhaps even in the Asian section at the supermarket. You can also find it online at Amazon and other online retail sites. Salted wakame will be in the refrigerated section.
Fresh wakame may be difficult to find outside of Japan but it is kept in the refrigerated section.
How to choose the best wakame
Check the label when buying wakame. You can find dried and salted wakame imported from Japan.
How to store
Store opened or unopened dried wakame in your pantry or anywhere with low humidity. Make sure to properly seal opened packets of wakame. You can also store rehydrated wakame in the fridge.
Store salted or fresh wakame in the refrigerator. While salted wakame has a longer expiration date, consume fresh wakame within a few days.
Substitutions
Depending on the dish, you may be able to replace wakame with other types of seaweed.
What are the health benefits?
Surprisingly, there are lots of health benefits of wakame. It's low in calories and known for its ability to balance blood sugar and insulin levels, manage body weight, and lowers the risk of some cancers. It's rich in minerals such as iodine, manganese, folate, magnesium, and calcium. It also contains vitamins A, C, E, and K, as well as iron, copper, and phosphorus. The antioxidants in wakame may help to rejuvenate, moisturize, and improve your skin health.
A study on obese mice found that fucoxanthin, a compound present in wakame may promote weight loss and prevent diabetes by promoting fat burning within the fat cells.
Iodine is essential to thyroid function and the production of thyroid hormones, which help support growth, metabolism, protein synthesis, and cell repair. It's one of the highest foods containing iodine, and consuming wakame can prevent hypothyroidism, a condition triggered by iodine deficiency.
It also can lower cholesterol and high blood pressure. Although there is limited research on humans, animal studies show that it may play a role in cholesterol management and heart health.
There are so many health benefits that perhaps you could add a few grams of wakame to your daily diet!
FAQs
Q: How do I rehydrate dried wakame?
To rehydrate wakame, submerge it in water for 5-10 minutes, squeeze it out, and it's ready to use! If it still tastes salty, submerge it in clean water once more and repeat. Dried wakame expands a lot, so start with a pinch or two.
Q: What's the difference between wakame, kombu, nori, and other types of seaweed?
Please read Discover Seaweed: The Essential Ingredient of the Japanese Diet about the different types of seaweed.
Recipes Using Wakame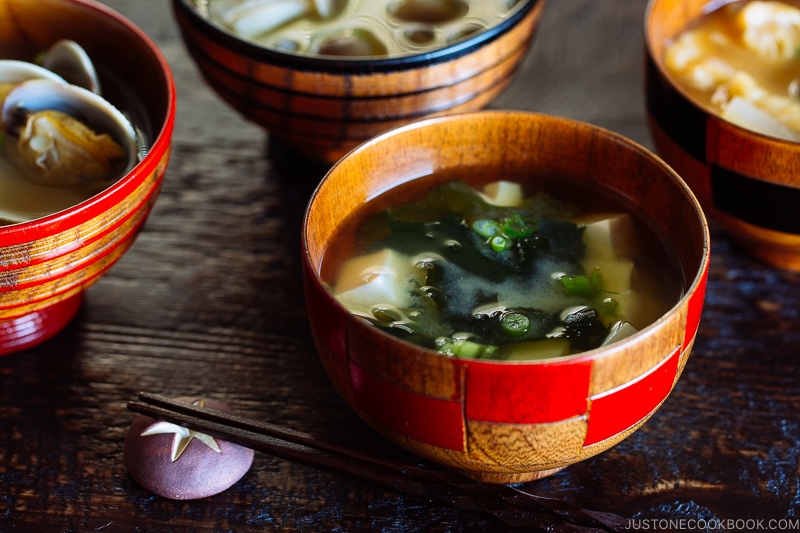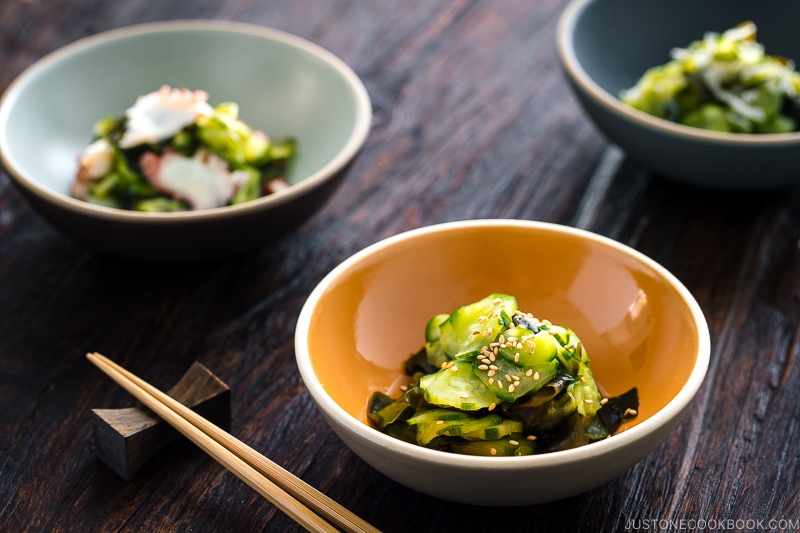 Wish to learn more about Japanese cooking? Sign up for our free newsletter to receive cooking tips & recipe updates! And stay in touch with me on Facebook, Pinterest, YouTube, and Instagram.